These Overnight Sourdough Waffles have a creamy texture with a flavorful tang and a crispy crust. Sourdough adds a delicious tang and is the only leavener for this recipe (no baking powder required!).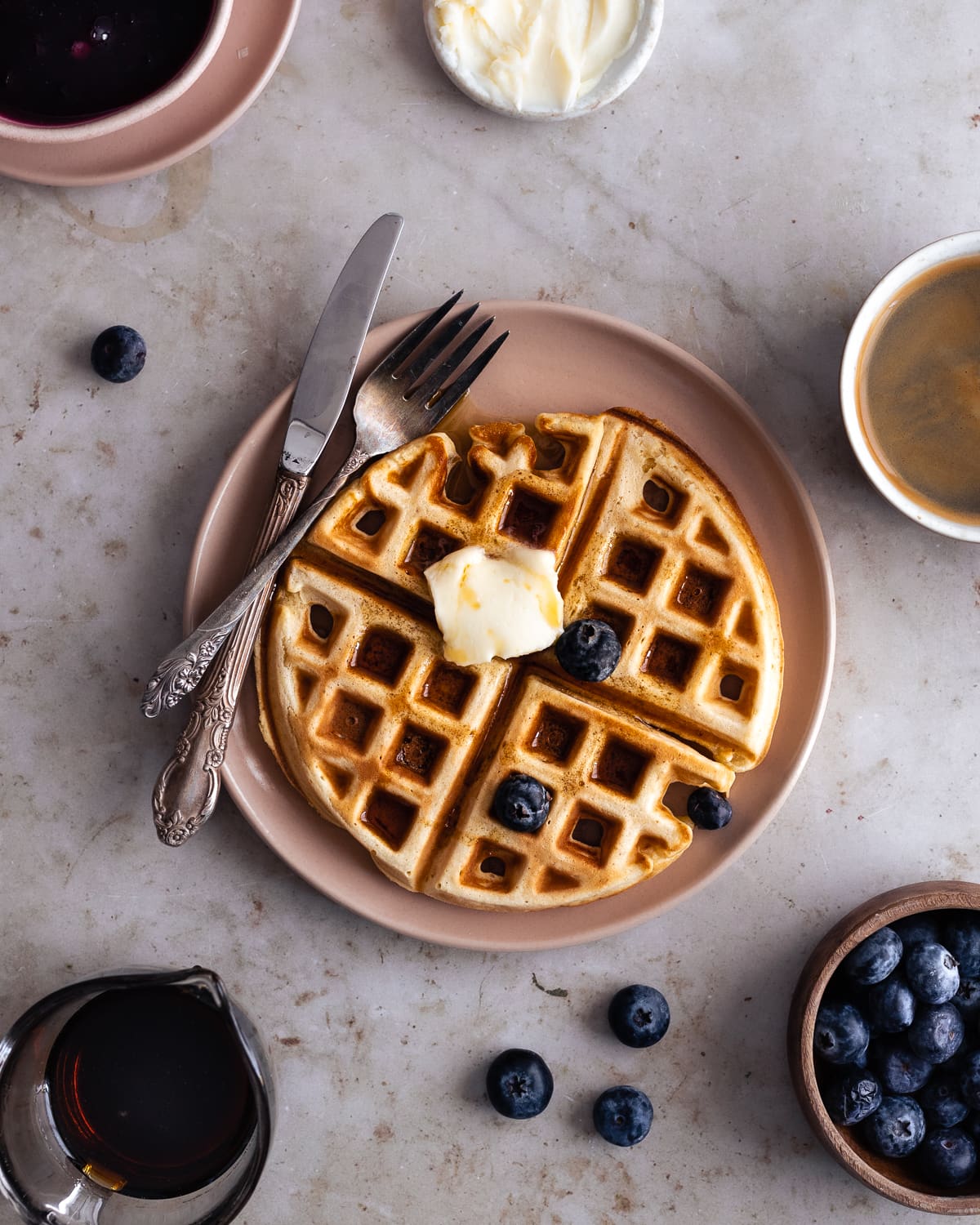 Waffles always make mornings feel so much more special. Since you need to make the batter the night before, this recipe does require a little bit of planning. But the batter is straightforward and comes together quickly. Plus it's really nice to wake up with everything ready to go and with little to no prep needed while I'm still half asleep in the morning.
Looking for more delicious sourdough breakfast recipes? Try my Sourdough Buttermilk Pancakes, Sourdough Crepes, Sourdough Discard Biscuits and Sourdough Scones.
Jump to:
How to make delicious sourdough waffles
This recipe makes very crispy waffles! I find that most sourdough waffle recipes, while delicious, turn out soft without a crunchy crust because there are too many leavening agents in the batter. This recipe only uses sourdough starter to make the batter rise which results in a waffle with a crispy crust and a brioche-like texture. 
Should I use sourdough discard or active starter for these waffles?
You can make so much more than basic sourdough bread with your sourdough starter! Unlike most regular waffles, these Sourdough Waffles do not use chemical leaveners (baking powder or baking soda). Instead, they get their rise purely from sourdough starter, so you'll need to use a mature, active sourdough starter for this recipe. 
Do not use sourdough starter discard for this recipe. If you want to use your excess, unfed sourdough starter check out my Sourdough Discard Waffle Recipe instead. 
What Goes with Sourdough Waffles
These sourdough waffles taste great with both sweet and savory toppings! Get creative and use your favorite toppings. I love to top mine with homemade blueberry preserves or raspberry preserves and fresh whipped cream. For a heartier meal, serve them with fried chicken and hot honey. Or keep it simple with maple syrup, fresh berries and homemade cultured butter. Serve them for dessert topped with ice cream, nuts and chocolate syrup.
Overnight Batter Ingredients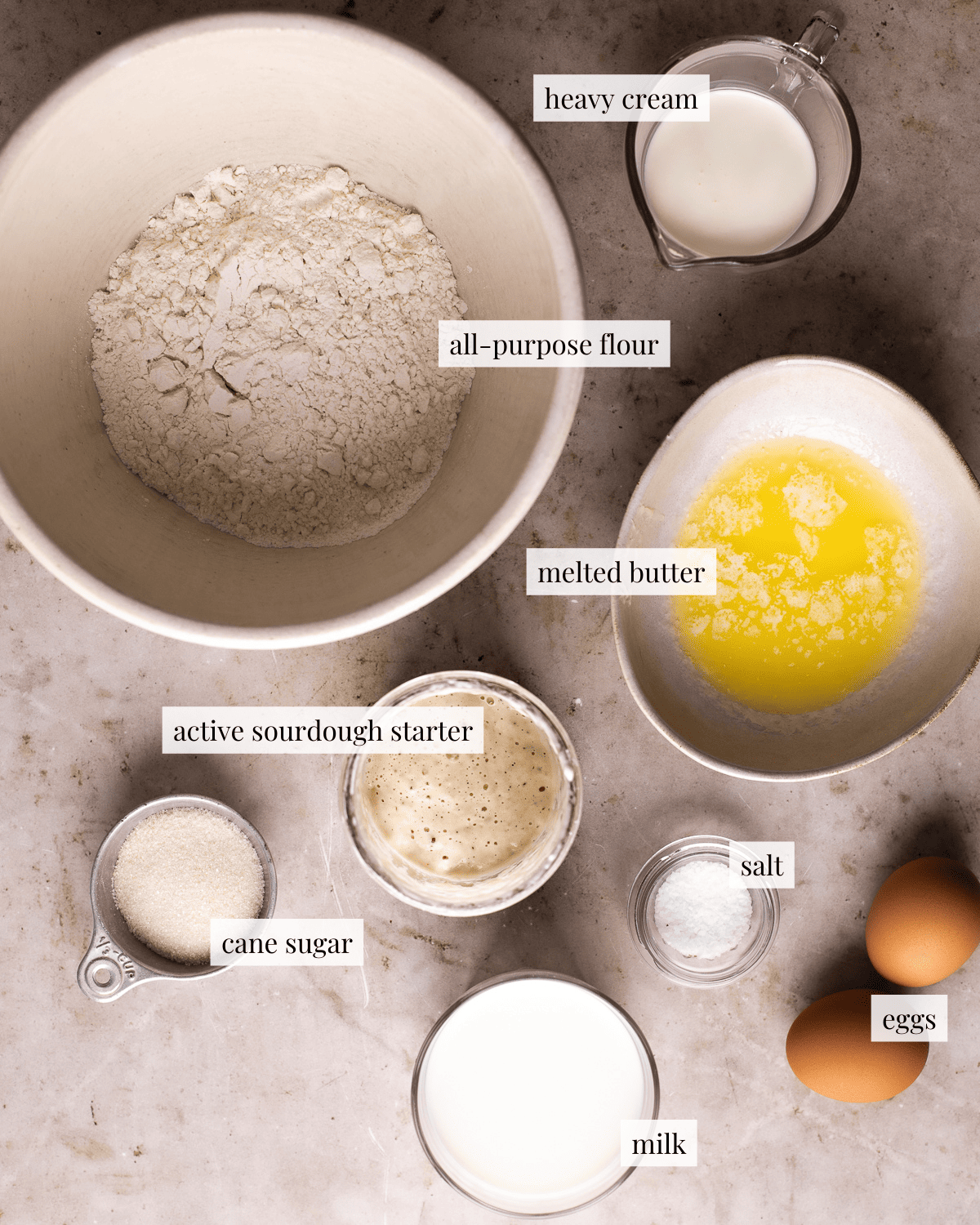 Cane sugar: I like to use cane sugar in my recipes because it's produced using more environmentally friendly. I use it as an alternative to white sugar in my recipes for Sourdough Chocolate Shortbread, Sourdough Discard Zucchini Bread and Sourdough Buttermilk Pancakes.
Salt: Use sea salt or kosher salt for the best results. Different brands and types come in varying grain sizes, keep this in mind when using volume measurements, gram measures will be the same.
Sourdough starter: Use a mature and active starter, not sourdough discard.
Step-by-step Instructions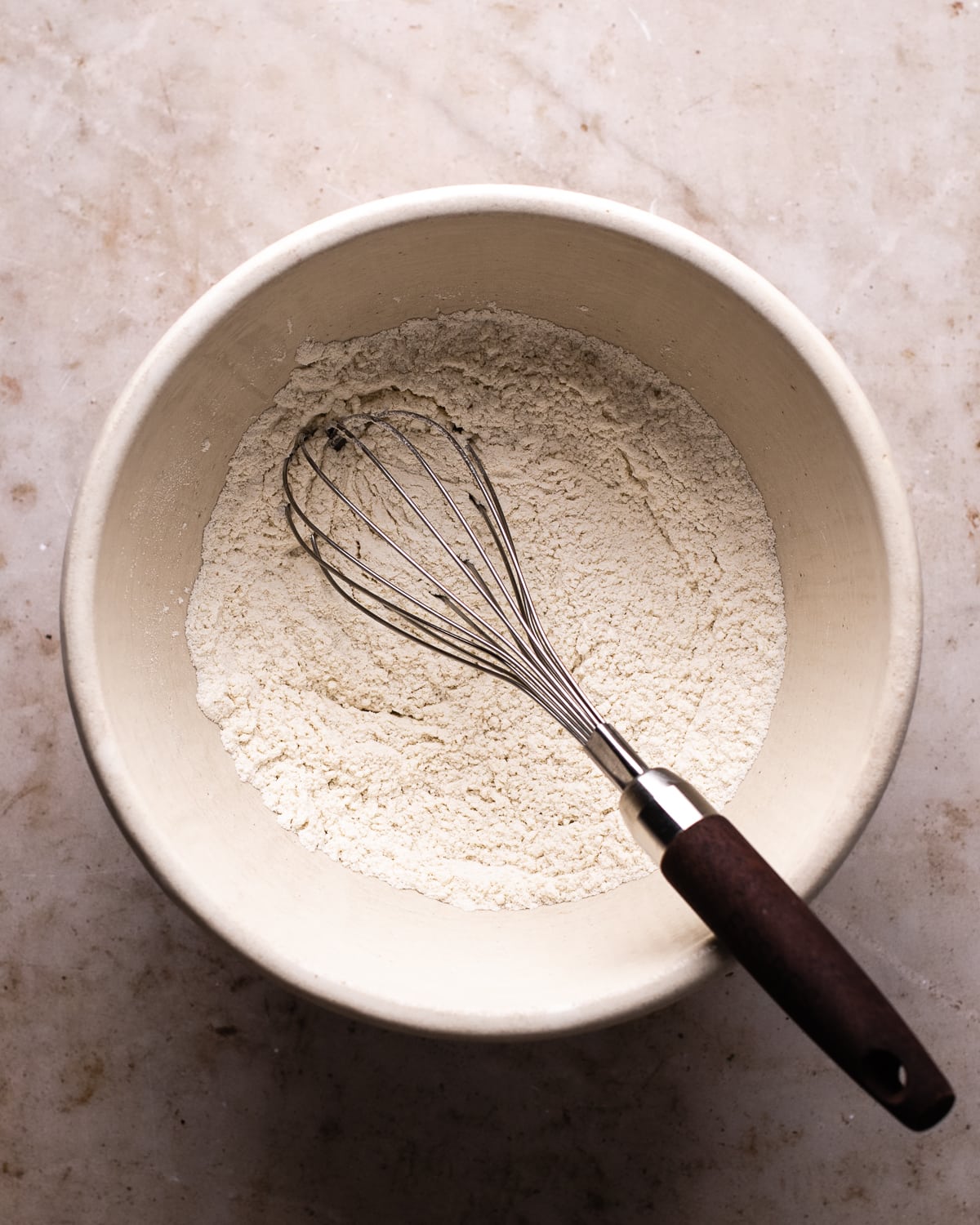 STEP 1: Whisk the flour, sugar and salt together.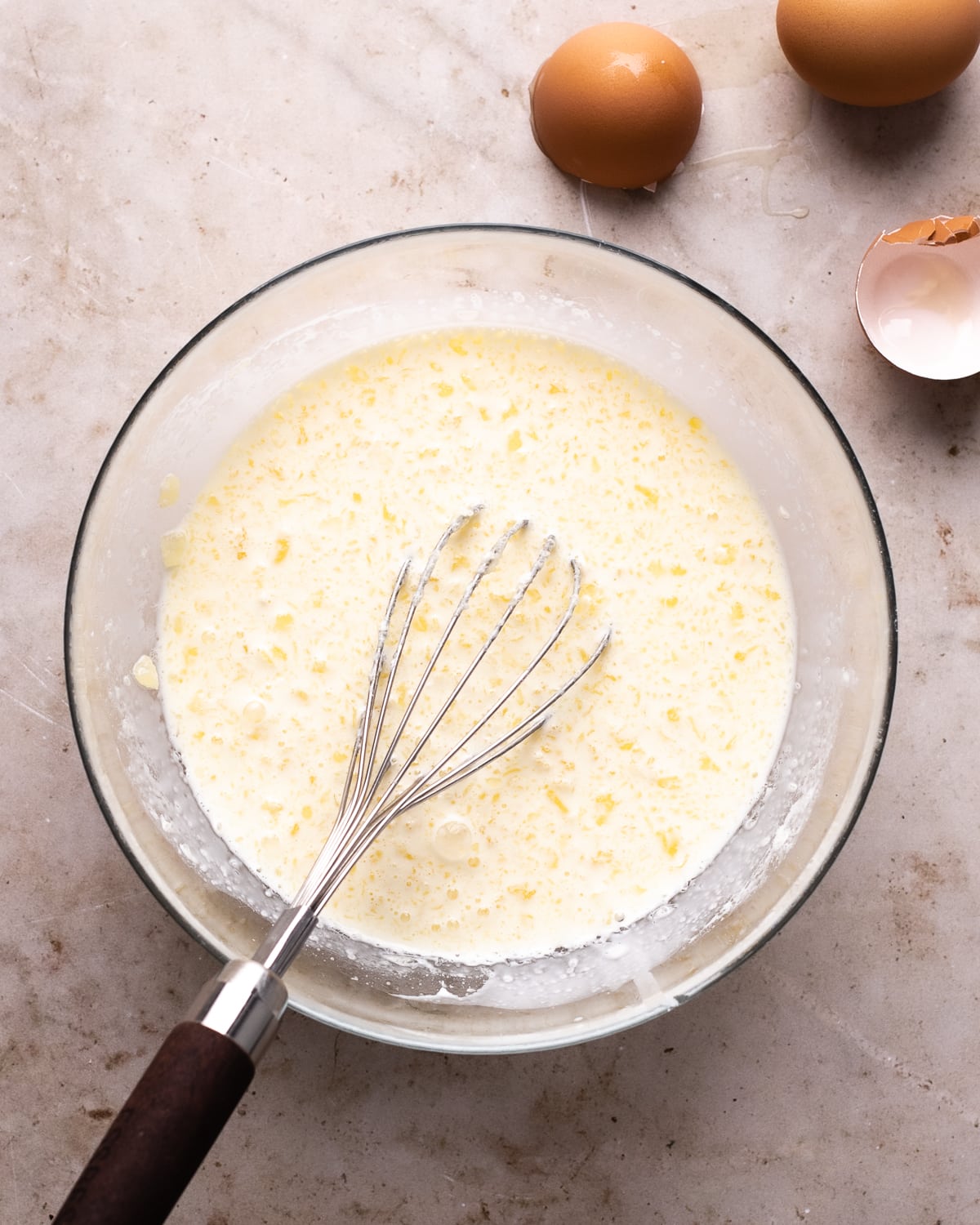 STEP 2: Combine the sourdough starter, milk and eggs, whisk until eggs and starter are dissolved.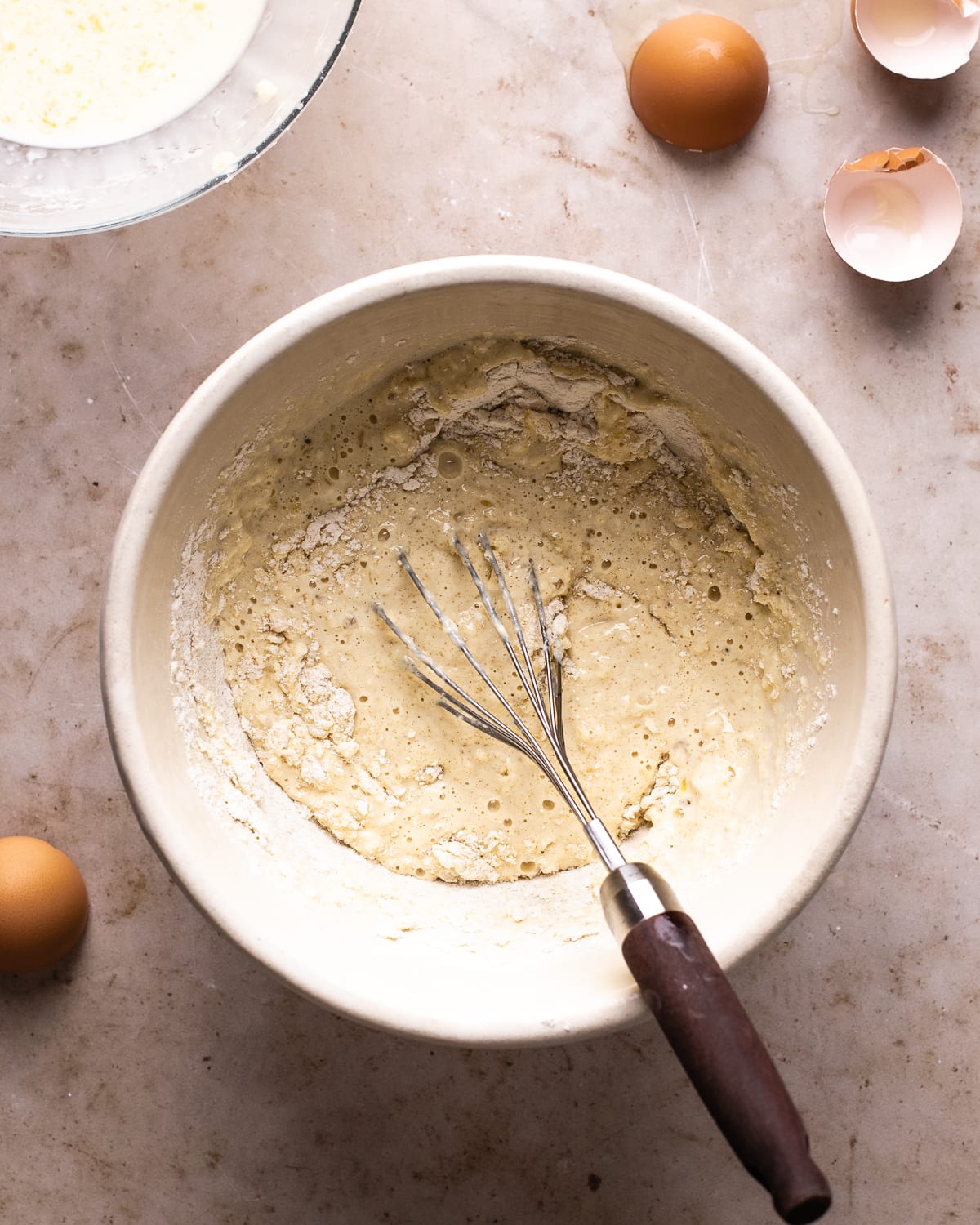 STEP 3: Stir the wet ingredients into the dry ingredients.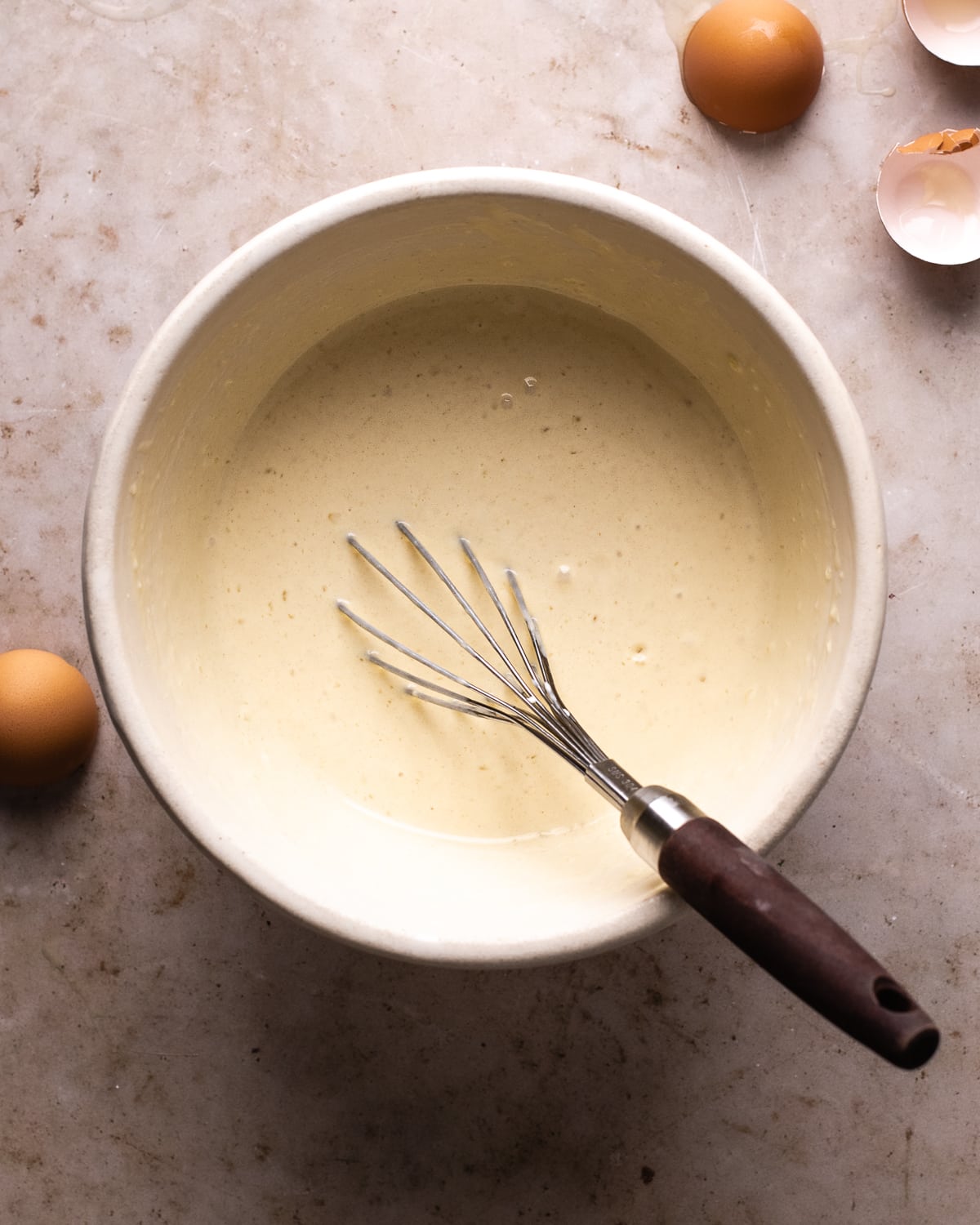 STEP 4: Whisk the mixture until completely smooth
TIP: Whisking the batter helps with gluten development, resulting in airy, crispy waffles.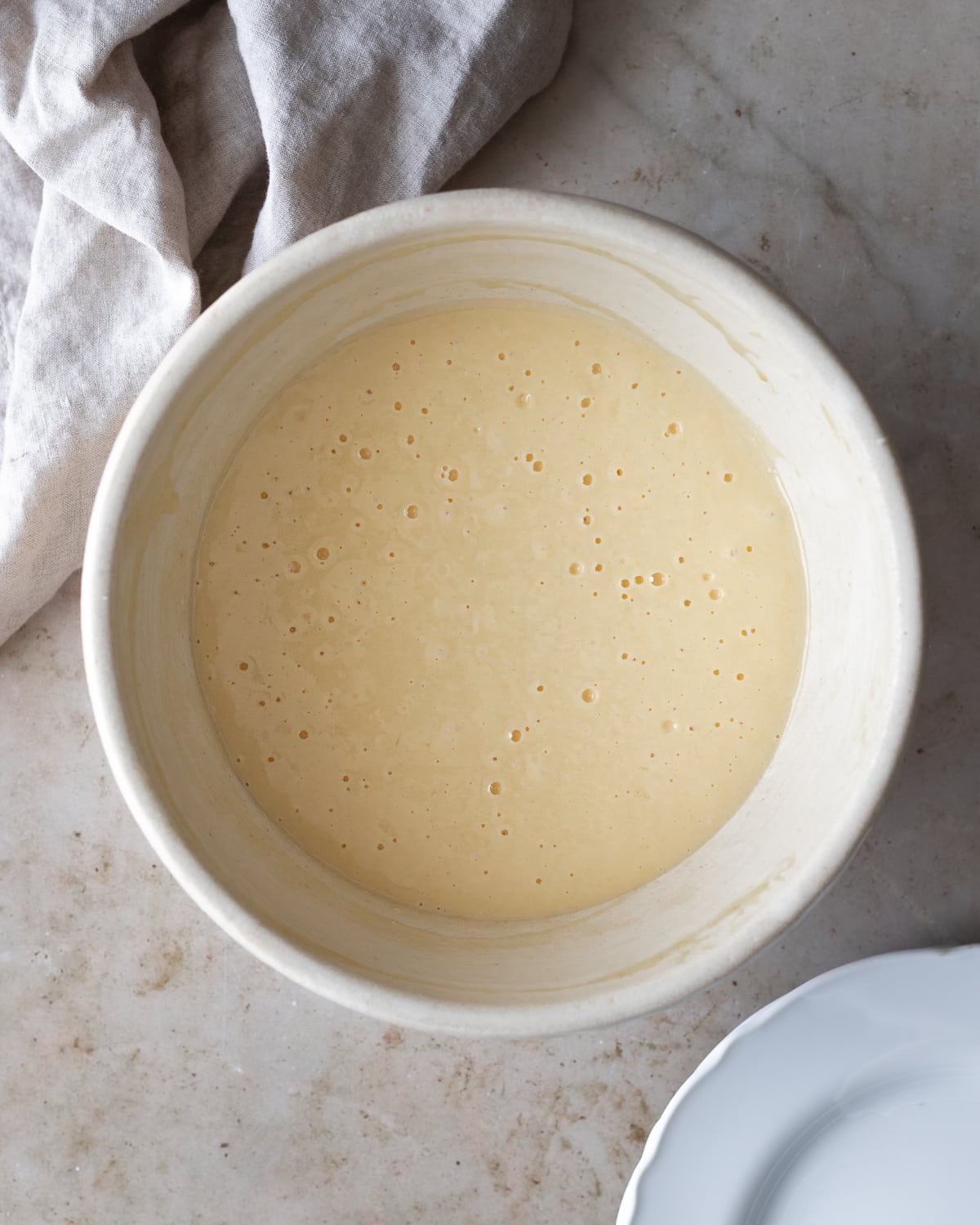 STEP 5: Cover the bowl with plastic wrap and let the batter ferment overnight in a warm place.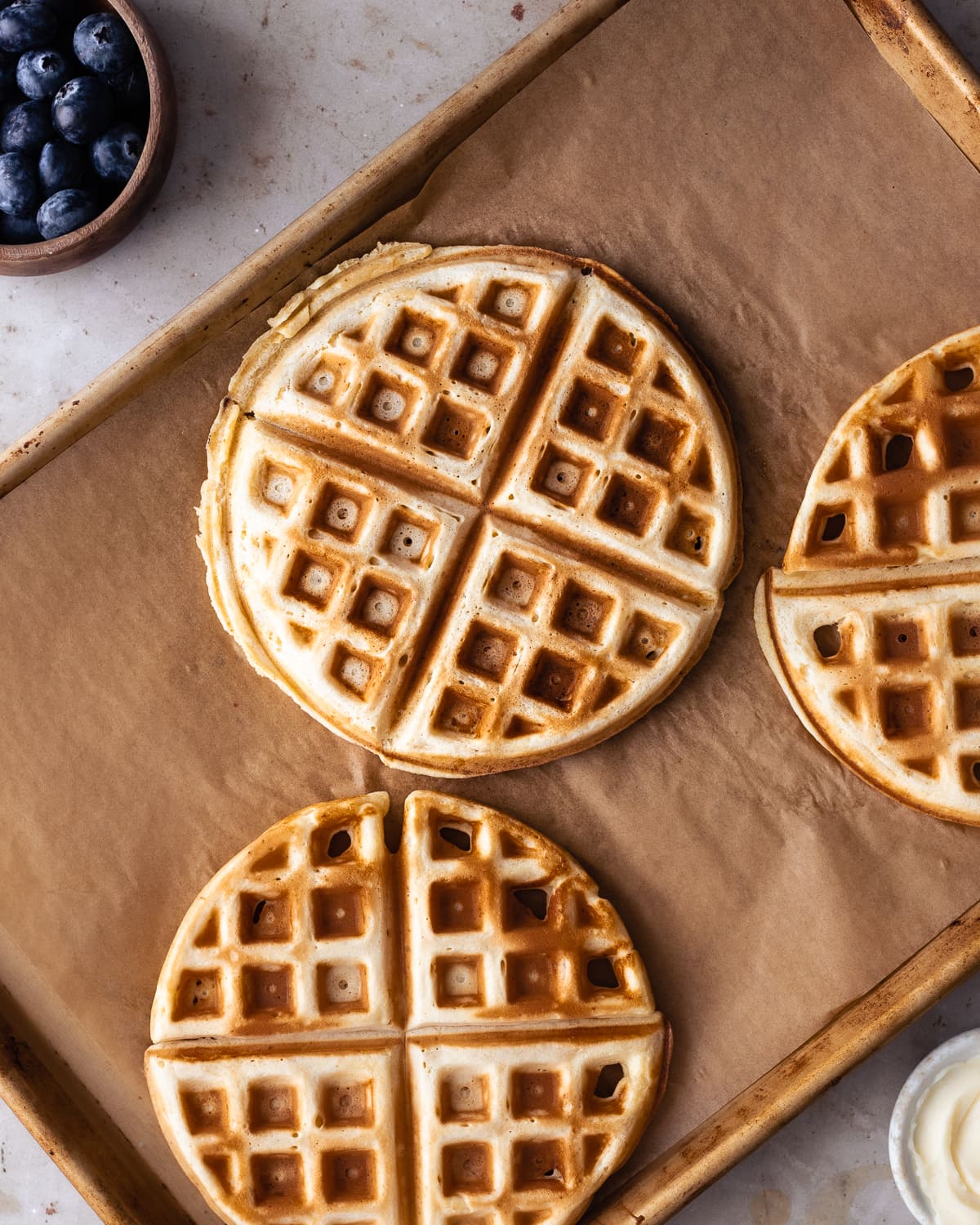 STEP 6: Cook batter in waffle iron until golden brown, transfer cooked waffles to baking sheet and toast at 350 F for 5 to 10 minutes.  
Can I Make These Sourdough Waffles in Advance?
Absolutely! If you want to make these waffles in advance, it's best to precook your batter. Skip toasting your waffles if you plan to store them for a longer period of time.
To freeze your waffles
Freeze waffles on a baking sheet in a single layer, once they are completely frozen (about 2 hours), wrap each waffle in foil, store wrapped waffles in a ziptop bag and store in the freezer for up to 1 month. 
To reheat your waffles
No need to defrost your waffles before reheating.
In a toaster: Reheat waffles in the toaster oven for 5 to 10 minutes or until completely heated through.
In the oven: Reheat waffles on a large, parchment-lined baking sheet at 350 F for 10 to 15 minutes or until completely heated through.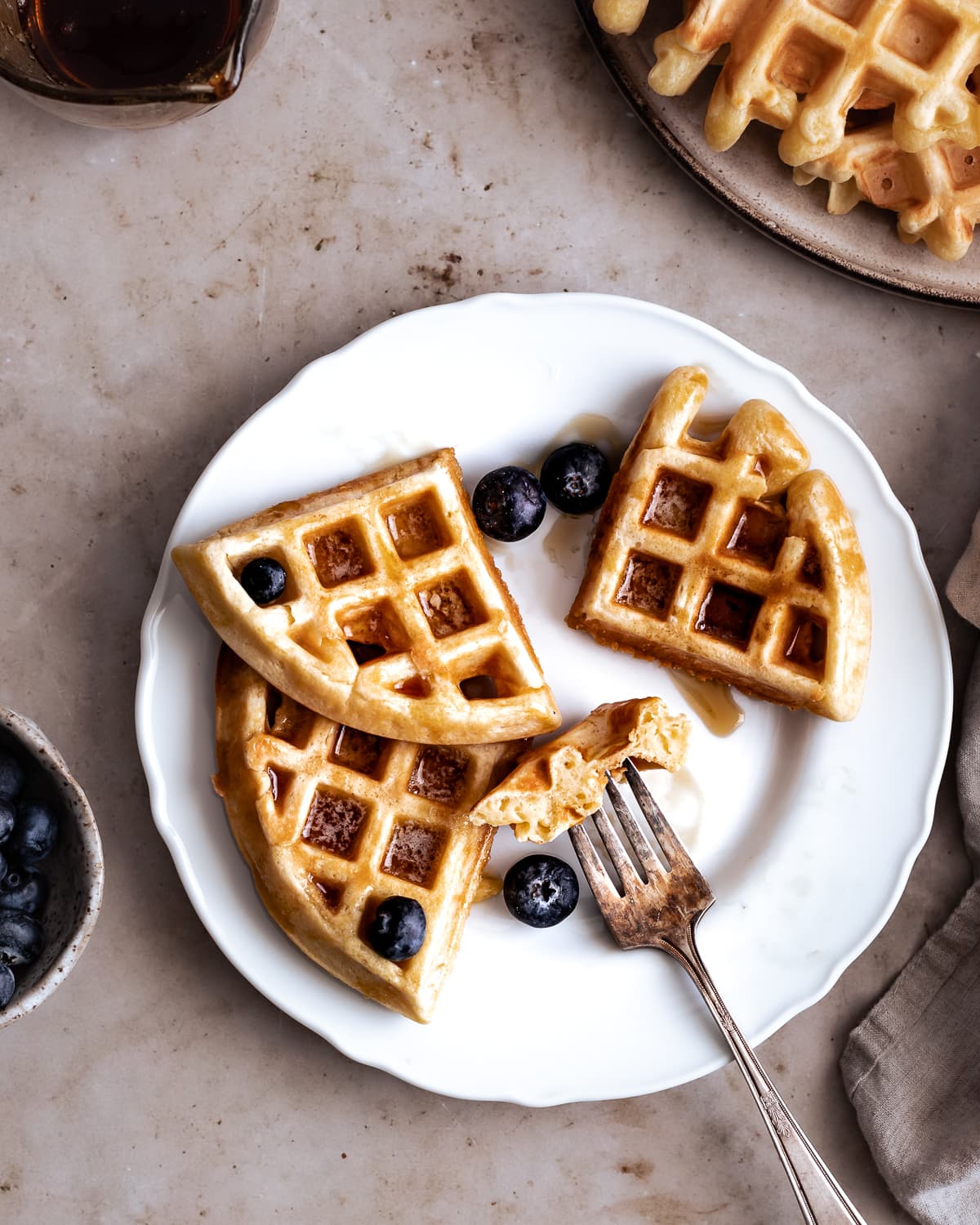 Tips for Success
Don't use leftover sourdough starter - Use a freshly-fed active sourdough starter, this means your starter was fed 4 to 8 hours before you make your batter. The starter should be bubbly and active. Do not use discard or starter that has fallen. At this the microorganisms in your starter will begin to produce a lot of acid, which will give your waffles an unpleasant sour flavor.
Watch out for over proofing - Just like anything leavened with yeast, there's a danger of your waffle batter over proofing. This batter needs at least 6 to 8 hours to rise, however it's very important not to let your batter ferment for longer than 16 hours. Over proofed waffles will develop an unpleasant sour flavor. Ferment at room temperature (72 F or a little colder).
Toast the waffles - Don't skip this step! It only adds a few minutes to the process but gives these waffles a super crispy golden crust. I prefer cooking all the batter and toasting everything at once. An added benefit of doing this is you actually get to sit and enjoy your breakfast, without getting stuck standing in front of your waffle iron while everyone else eats.
Questions?
How many waffles does this recipe make? 
The number of waffles you make depends on the size of your waffle maker. This recipe makes about 6 to 8 waffles in an 8-inch waffle maker. You'll need to portion out your batter and cook your waffles depending on the size of your waffle iron. If you're making waffles for a crowd, just make a double batch. 
How long does the batter need to rise?

Sourdough starter is not as efficient as instant or active dry yeast at leavening. Ingredients such as eggs, milk and cream slow fermentation down even further so you'll need to give your batter at least 8-hours to rise. Your batter should look bubbly when you're ready to make your waffles. 

You can make the batter up to 16 hours in advance, any longer and it they may develop an unpleasant sour flavor. 
Can I make this recipe the same day?
You can make these waffles the same day, but you'll need to add another leavener to your batter. Add 1 packet of yeast (7 grams) and cook the batter once it appears bubbly, about 45 minutes to an hour.
More Breakfast Sourdough Discard Recipes
---
Did you make this recipe?
⭐⭐⭐⭐⭐
Please leave a star rating and review this recipe if you enjoyed it! I read all the comments and love hearing your feedback.
THANK YOU!
---
Overnight Sourdough Waffles Recipe
Use your active sourdough starter to make these delicious Overnight Sourdough Waffles, with no baking powder or baking soda required! Mix up an easy batter the night before and have tender, crispy waffles on the table with minimal prep in the morning.
Ingredients
240

grams

all-purpose flour

28

grams

cane sugar

4

grams

salt

75

grams

sourdough starter

mature and active

226

grams

milk

80

grams

heavy cream

2

eggs

large

42

grams

unsalted butter

melted
Instructions
Make the batter: In a large bowl, whisk together the flour, sugar and salt until completely combined.

240 grams all-purpose flour,

28 grams cane sugar,

4 grams salt

In a separate bowl, combine the sourdough starter, milk, heavy cream, eggs and melted butter, whisk until no traces of eggs and discard remain. The butter may solidify because of the temperature difference, this is totally normal!

75 grams sourdough starter,

226 grams milk,

80 grams heavy cream,

2 eggs,

42 grams unsalted butter

Fold the wet ingredients into the dry ingredients. Whisk until the batter is completely smooth, you'll need to build a little bit of gluten in your batter for a crisp crust and an airy interior crumb.

Allow batter to rise: Cover the bowl with plastic wrap and set the bowl in warm place. Allow the batter to ferment untouched overnight. Do not let your batter ferment for longer than 16 hours or your batter may become too sour.

Prep: Preheat your waffle iron to medium-high. Line two large baking sheets with parchment paper.

Cook the waffles: Pour ½ cup of batter into your waffle maker. Cook the waffle for 5 to 7 minutes or until golden brown. Place cooked waffles on parchment-lined baking sheet. Repeat with remaining waffles.

Toast waffles: Toast waffles for 5 to 10 minutes or until they warm and have crisped up.

Serve: Serve hot waffles with your choice of toppings!

Store: Freeze waffles in a single layer on a baking sheet until completely frozen, at least 2 hours. Wrap each waffle individually in aluminum foil. Place wrapped waffles in freezer bags and freeze for up to a month. Don't toast your waffles if you plan to freeze them.
Notes
When in doubt, use gram over volume measures.
Whisk your batter until no lumps remain, you'll want your batter to build a little bit of gluten.
The amount of batter you'll use and how many waffles you make will depend on the size of your waffle maker.
Nutrition
Calories:
236
kcal
|
Carbohydrates:
30
g
|
Protein:
6
g
|
Fat:
10
g
|
Saturated Fat:
6
g
|
Polyunsaturated Fat:
1
g
|
Monounsaturated Fat:
3
g
|
Trans Fat:
0.2
g
|
Cholesterol:
67
mg
|
Sodium:
224
mg
|
Potassium:
101
mg
|
Fiber:
1
g
|
Sugar:
5
g
|
Vitamin A:
383
IU
|
Vitamin C:
0.1
mg
|
Calcium:
53
mg
|
Iron:
2
mg
Did you make this recipe?
I'd love to know! Leave a star rating and comment below. Don't forget to pin this recipe on Pinterest and share a photo and tag @makeitdough on Instagram