Use your sourdough discard to make these flaky, buttery Sourdough Discard Biscuits. Made with just a few simple ingredients, sourdough discard adds a depth of flavor to these biscuits. In less than 45 minutes you'll have hot and fresh biscuits on the table.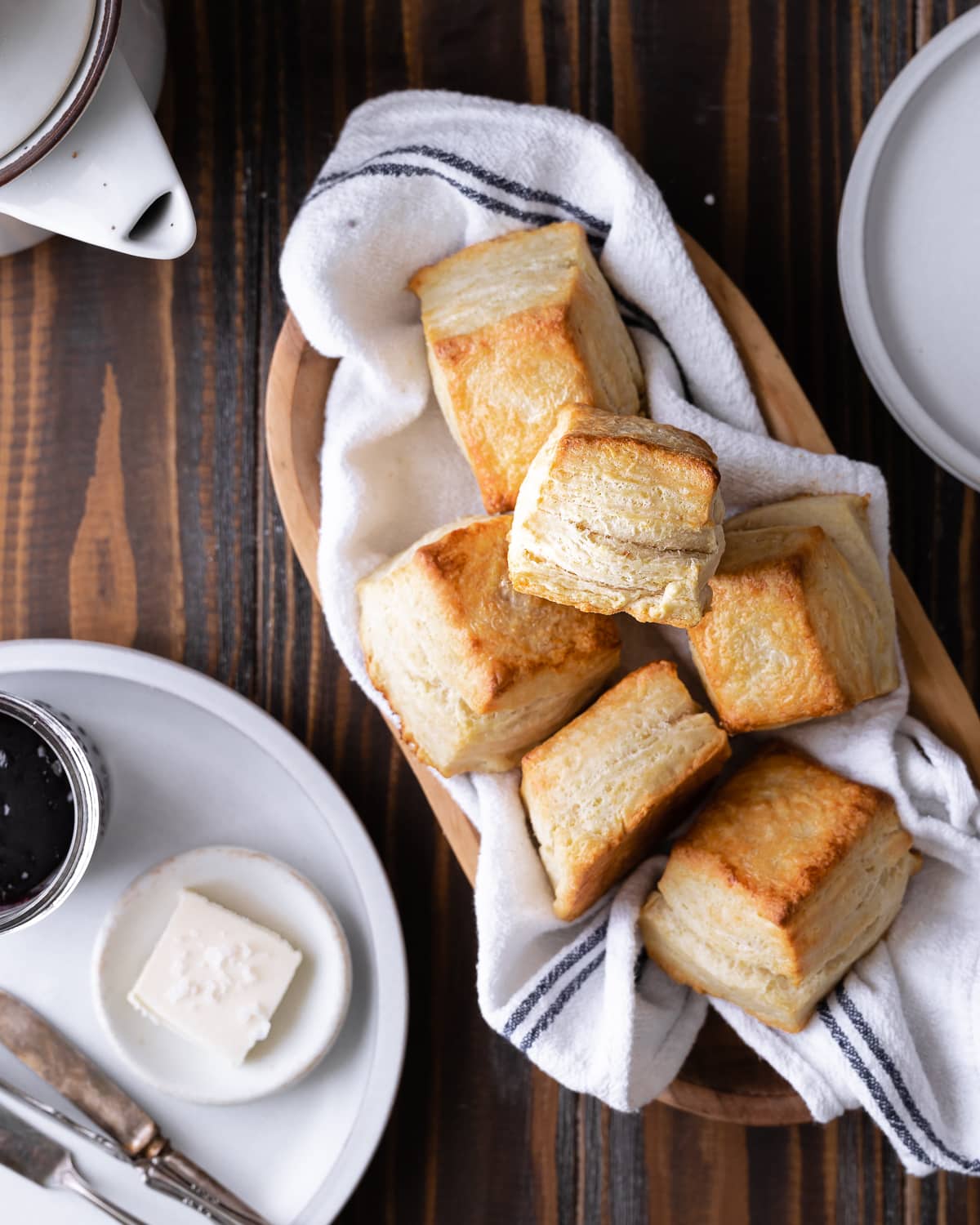 Before making these, I thought fluffy biscuits could only come from a can. But these homemade sourdough biscuits are so much better than anything you can get from the freezer section, and the best part is how easy they are to make.
Love breakfast sourdough recipes? Try these Sourdough Waffles and Sourdough Pancakes.
Jump to:
Why I love this recipe
Easy, one bowl recipe!
Mix the dough by hand - no special equipment required.
Sourdough discard complements the richness of butter.
Make tender, flaky biscuits in less than 45 minutes from start to finish.
What you need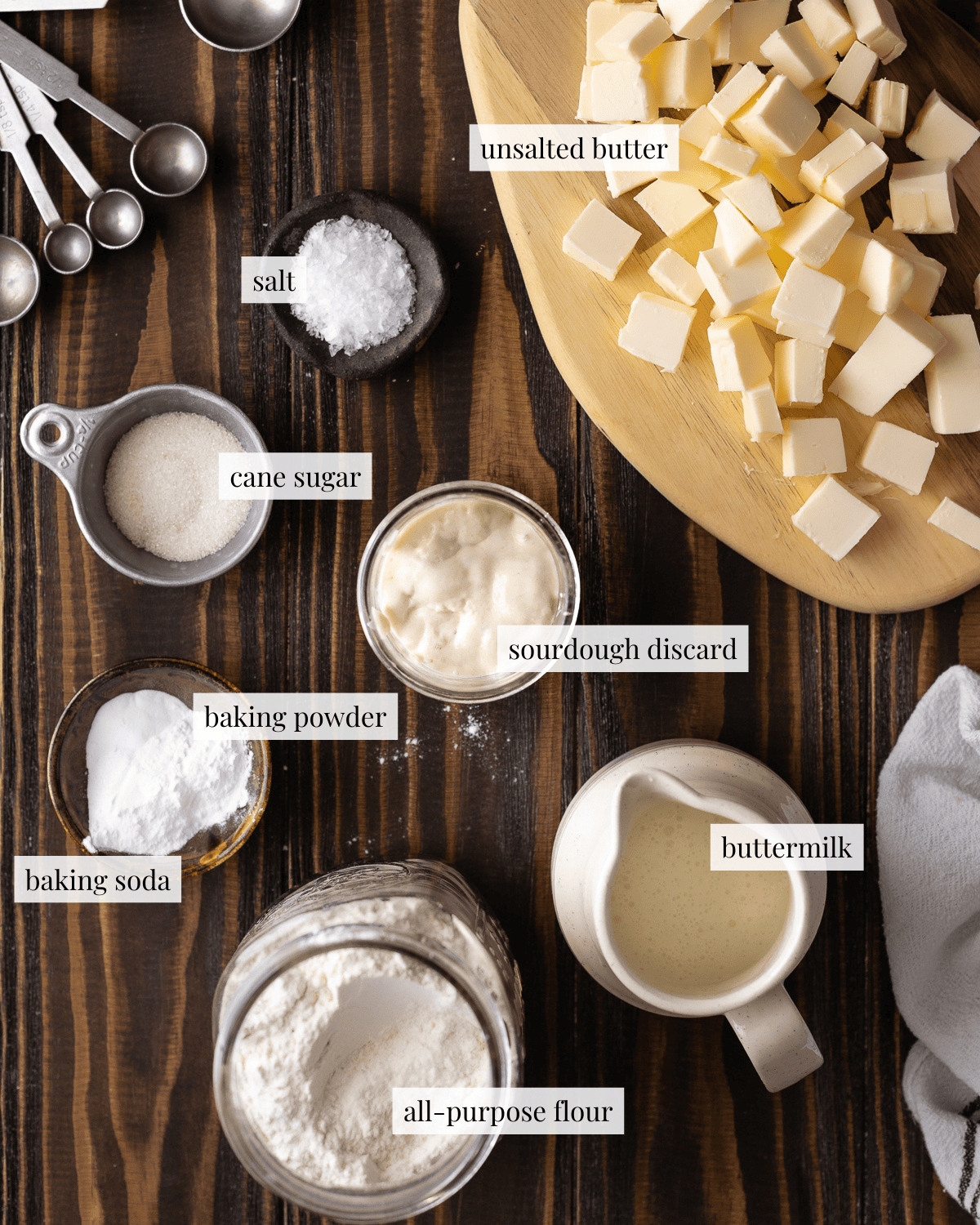 All-purpose Flour: The perfect protein content for tender biscuits, do not substitute whole wheat or your biscuits may before too dense and gummy
Sourdough Discard: If you don't have any discard, add freshly-fed sourdough starter or 60 grams all-purpose flour and 60 grams water to your dough
Buttermilk: Substitute milk and add ¼ teaspoon apple cider vinegar into the dough
See the recipe card for detailed ingredient information.
TIP: For tender biscuits, start with cold ingredients, especially cold butter. It creates steam during baking, resulting in tender biscuits with flaky layers. While warm butter will simply melt out of the dough as it bakes.
Baking with your sourdough discard
Biscuits are a type of quick bread, which are leavened using chemical leaveners (baking soda and baking powder) instead of biological leaveners (commercial yeast or sourdough). Because you won't be using an active sourdough starter to make these biscuits rise you can bake with your sourdough discard straight from the refrigerator without activating or feeding it first.
Want more sourdough quick bread ideas? Try my recipes for Sourdough Irish Soda Bread, Sourdough Scones and Sourdough Cornbread.
How to make sourdough discard biscuits
STEP 1. Mix flour, baking powder, baking soda and salt together.
STEP 2. Dissolve the sourdough discard in buttermilk.
TIP: Baking powder and baking soda have an expiration date. If your leaveners have been in your pantry for over 6 months, test them by combining a pinch with a little bit of vinegar, if it bubbles then it will still work for this recipe.
STEP 3. Rub the butter into the flour.
STEP 4. Make a well in the center of the flour mixture and pour the sourdough buttermilk mixture in the center.
TIP: Rubbing and smearing the butter into the flour with your palms will create flaky layers in your biscuits.
STEP 5. Stir the ingredients together and knead gently until no dry bits of flour remain.
STEP 6. Roll the dough out into a rectangle, about ½-inch in thickness. Divide the dough into 3 portions, stack the portions.
TIP: While you want to prevent gluten development in biscuits, make sure you knead your dough enough until all the flour is hydrated or you may end up with gummy spots in your sourdough biscuits.
STEP 7. Roll out the dough into a 7-by-9 inch rectangle. Divide the dough into a 4-by-3 grid to make 12 biscuits.
STEP 8. Brush the dough with melted butter and buttermilk, bake at 400 F for 20 to 25 minutes.
TIP: Use a light-colored baking sheet. A dark baking sheet will get too hot and may cause the bottom of your biscuits to burn.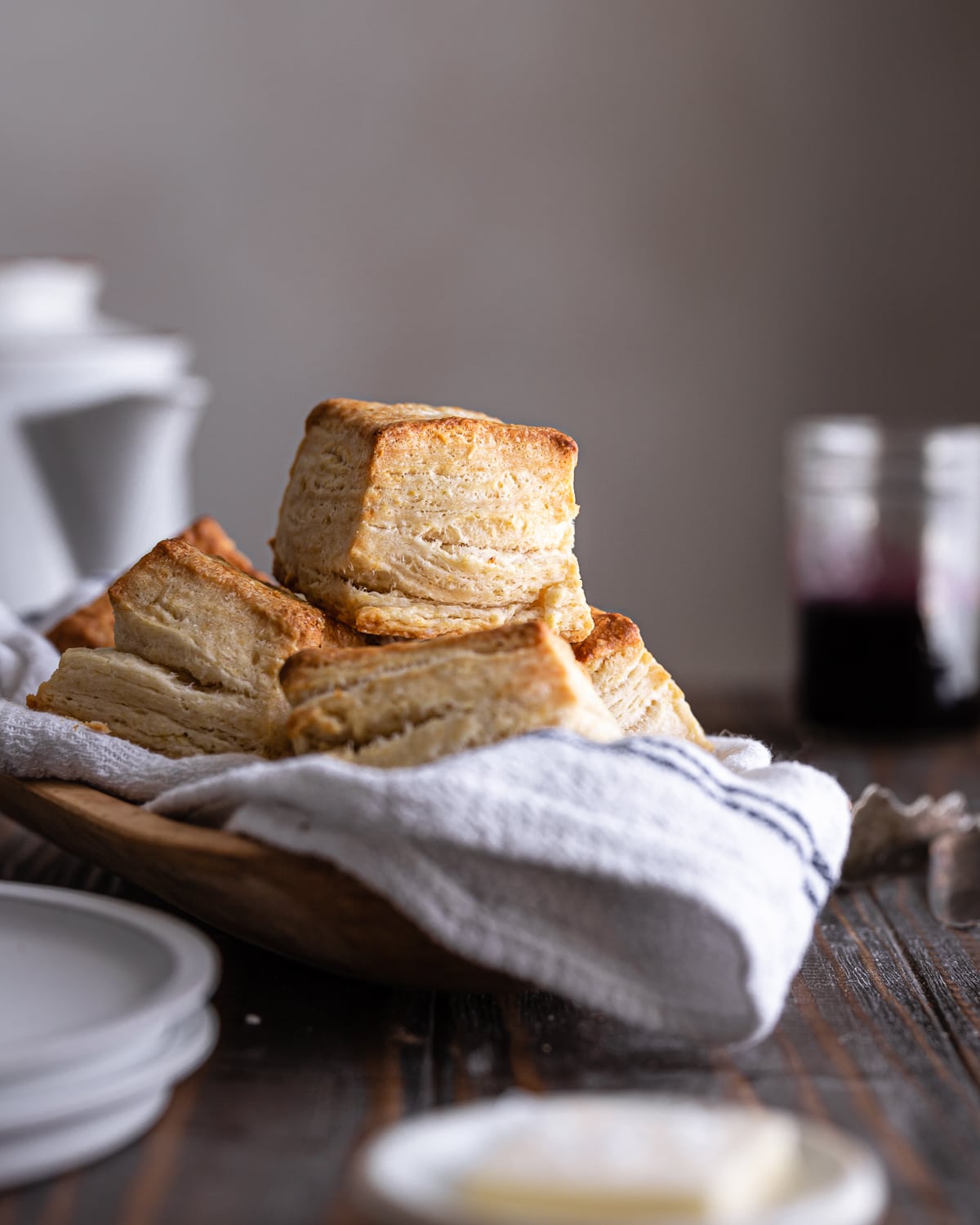 Baker's Tips
Weigh your ingredients instead of measuring by volume (tablespoons and cups), it's more accurate and will help guarantee the success of your bake.
Use buttermilk! It's acidic and when combined with baking soda, it creates a chemical reaction that produces carbon dioxide that makes your biscuits airy and light.
If you feel the butter in your dough begins to melt, or if your dough begins to feel too sticky, don't be afraid to wrap it up and refrigerate for a few minutes to let the butter solidify.
Make ahead instructions
Once you make the dough, it can be frozen for longer term storage.
To freeze your biscuit dough:
Divide your biscuit dough into 12 portions.
Arrange your biscuits side-by-side on a parchment-lined baking sheet (no need to space them out)
Freeze the tray uncovered for at least 1 hour.
Transfer the frozen biscuit dough to an airtight container or a freezer bag.
Store frozen biscuits in the freezer for up to 3 months.
To bake frozen biscuits
Preheat the oven to 375 F.
Arrange biscuits at least 1-inch apart on a baking sheet lined with parchment paper.
Brush the top of the dough with melted butter and milk (or buttermilk).
Bake the biscuits for 25 to 30 minutes or until golden brown.
What to serve with sourdough biscuits
These biscuits have a sourdough tang that's delicious with homemade cultured butter and blueberry preserves. They are sturdy enough for a bacon and egg breakfast sandwich. Or serve them with sausage gravy or as a side with stews for a hearty meal.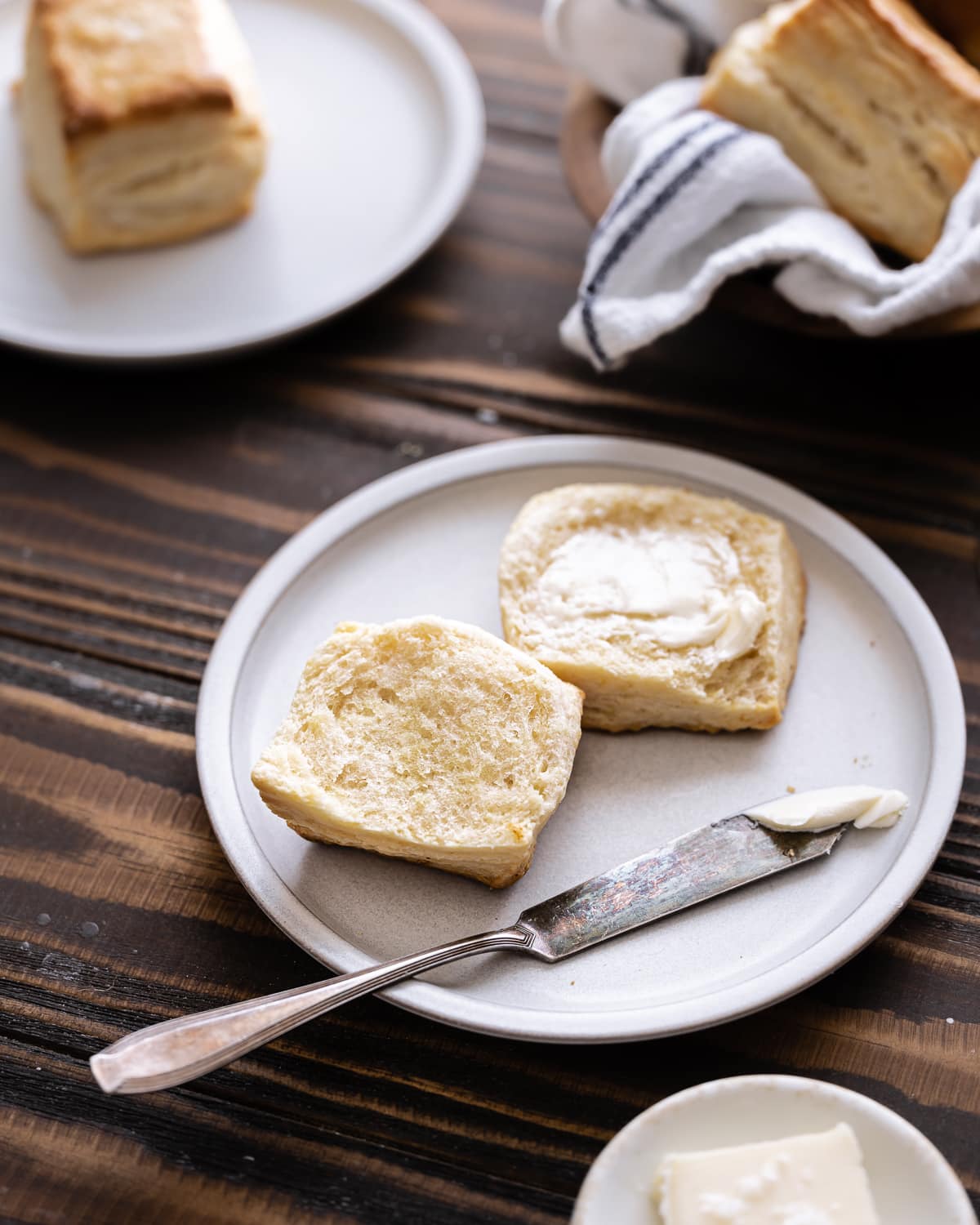 Recipe FAQs
Why didn't my biscuits rise?
Your leaveners are past their prime. Baking soda and baking powder have a shelf life and after a point are no longer viable. Test your leaveners by combining a teaspoon with a drop of vinegar, if it fizzes it's still good and you can still use it. If it does not it will no longer make your bread rise and it should be thrown away. 

Your butter got too warm. As your biscuits bake, ideally the water in your butter will evaporate and your dough will puff up into individual flaky layers. However, if your butter gets too hot from too much handling, the butter will simply melt out of your dough. If your butter begins to feel too soft as you're working the dough, simply refrigerate it for 15 minutes before continuing. 
Why did my biscuits turn out dense? 
Biscuits require a light hand. Knead your dough enough so that all of the flour is hydrated but do not work your dough too much or it may develop too much gluten.
What's the difference between a biscuit and a scone? 
Biscuits and scones are both quick breads. Scone recipes usually include eggs while biscuits do not.  
Can I use active starter instead of baking powder and baking soda in my biscuits instead?
No, biological leaveners such as sourdough starters require a combination of time and gluten development to make baked goods rise. As yeast ferments, it releases CO2 which gets trapped by strong gluten networks in the dough. Gluten development will negatively affect the texture of your biscuits. 
You May Also Like
---
Did this recipe rise to the occasion?
⭐⭐⭐⭐⭐
We knead your feedback! Did our recipe impress your taste buds? Leave a star rating and write a review to help us create even better recipes.
I read all the comments and love hearing your feedback.
THANK YOU!
---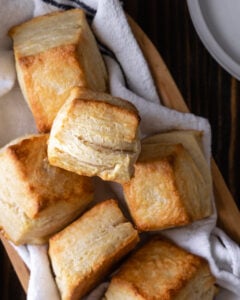 Sourdough Discard Biscuits
Use your sourdough discard to make these flaky, buttery Sourdough Discard Biscuits. You'll love peeling apart the delicious fluffy layers. Made with just a few simple ingredients, sourdough discard adds a depth of flavor to this easy biscuit recipe.
This section may contain affiliate links
Ingredients
Dough
388

grams

all-purpose flour

10

grams

baking powder

2

grams

baking soda

6

grams

salt

12

grams

cane sugar

120

grams

sourdough discard

180

grams

buttermilk

see note

226

grams

unsalted butter

chilled, cut into ½ inch pieces
Egg wash
28

grams

buttermilk

14

grams

unsalted butter

melted
Instructions
Prep: Preheat your oven to 425 F. Line an 18 by 13 inch baking sheet with parchment paper or lightly grease a cast-iron skillet.

Make the dough: In a large bowl, whisk together flour, baking powder, baking soda, sugar and salt.

388 grams all-purpose flour,

10 grams baking powder,

2 grams baking soda,

6 grams salt,

12 grams cane sugar

Stir the sourdough discard and buttermilk together until the sourdough discard is dissolved. Set aside.

120 grams sourdough discard,

180 grams buttermilk

Rub the butter pieces into the dry ingredients (or use a pastry cutter) until all of the flour is coated in fat and the mixture resembles wet sand.

226 grams unsalted butter

Make a well in the center of the flour. Pour the sourdough mixture into the center. Stir until your mixture forms a shaggy dough.

Knead the dough: Knead the dough until all the dough appears cohesive and no dry bits of flour remain.

Laminate the dough: Transfer the dough on a lightly floured surface or a piece of parchment paper. Using a rolling pin, flatten the dough out into a ½-inch thick rectangle.

Divide the dough 3 portions, stack the dough on top of each other. Repeat.

Shape: Roll the dough out into a 9 by 7-inch rectangle. Using a bench scraper or knife, trim the edges off your dough. Cut biscuits into a 4 by 3 grid or use a 2-inch biscuit cutter to make 12 portions.

Bake: Whisk the milk and melted butter together. Using a pastry brush, brush the tops of the dough (avoid the sides).

28 grams buttermilk,

14 grams unsalted butter

Reduce oven temperature to 400 F and bake biscuits until deep golden brown on bottom and golden on top, 20–25 minutes.

Transfer the hot biscuits into a large bowl lined with a tea towel to keep them warm.

Enjoy and store: These homemade biscuits are best enjoyed fresh from the oven. But will keep well in an airtight container at room temperature for up to 3 days.
Tips
These recipes were developed and tested using grams for precise measurements. To increase your chances of success, I recommend investing in a kitchen scale. I've included rough volume estimates (in tablespoons and cups), but they might not be totally accurate.
Remember all ovens are unique, these recipes were tested in my oven which runs cooler than others. You might need to lower the temperature if your bake appears to be browning too quickly. Monitor your bake closely and make adjustments if needed.
Notes
No sourdough discard? Add 60 grams of water and 60 grams of flour to your dough.  Make ahead instructions: Unbaked biscuits can be frozen up to 1 month. Freeze, uncovered, on baking sheet until solid, then transfer to a resealable plastic bag. Baking frozen biscuits: Do not thaw before baking, bake at 400 F for 30 minutes or until the biscuits are golden brown and register 200 F when probed with an instant-read thermometer. Buttermilk substitutions: You really can't beat the texture that buttermilk imparts in these biscuits. However, if you don't have any on hand, feel free to sub whole milk mixed with 14 grams (1 tbsp) of vinegar or lemon juice, or sour cream or yogurt thinned out with a little bit of milk.
Nutrition
Calories:
285
kcal
|
Carbohydrates:
29
g
|
Protein:
4
g
|
Fat:
17
g
|
Saturated Fat:
11
g
|
Polyunsaturated Fat:
1
g
|
Monounsaturated Fat:
4
g
|
Trans Fat:
1
g
|
Cholesterol:
45
mg
|
Sodium:
347
mg
|
Potassium:
63
mg
|
Fiber:
1
g
|
Sugar:
2
g
|
Vitamin A:
528
IU
|
Calcium:
79
mg
|
Iron:
2
mg