Rich, and chewy with an irresistible shiny top, this Sourdough Brownie recipe is the answer to your chocolate cravings. This recipe is a great way to use sourdough discard which adds a delicious tang, making this ultimate chocolate treat even more satisfying. In less than 1 hour, you'll have delicious brownies with just one bowl and no special equipment.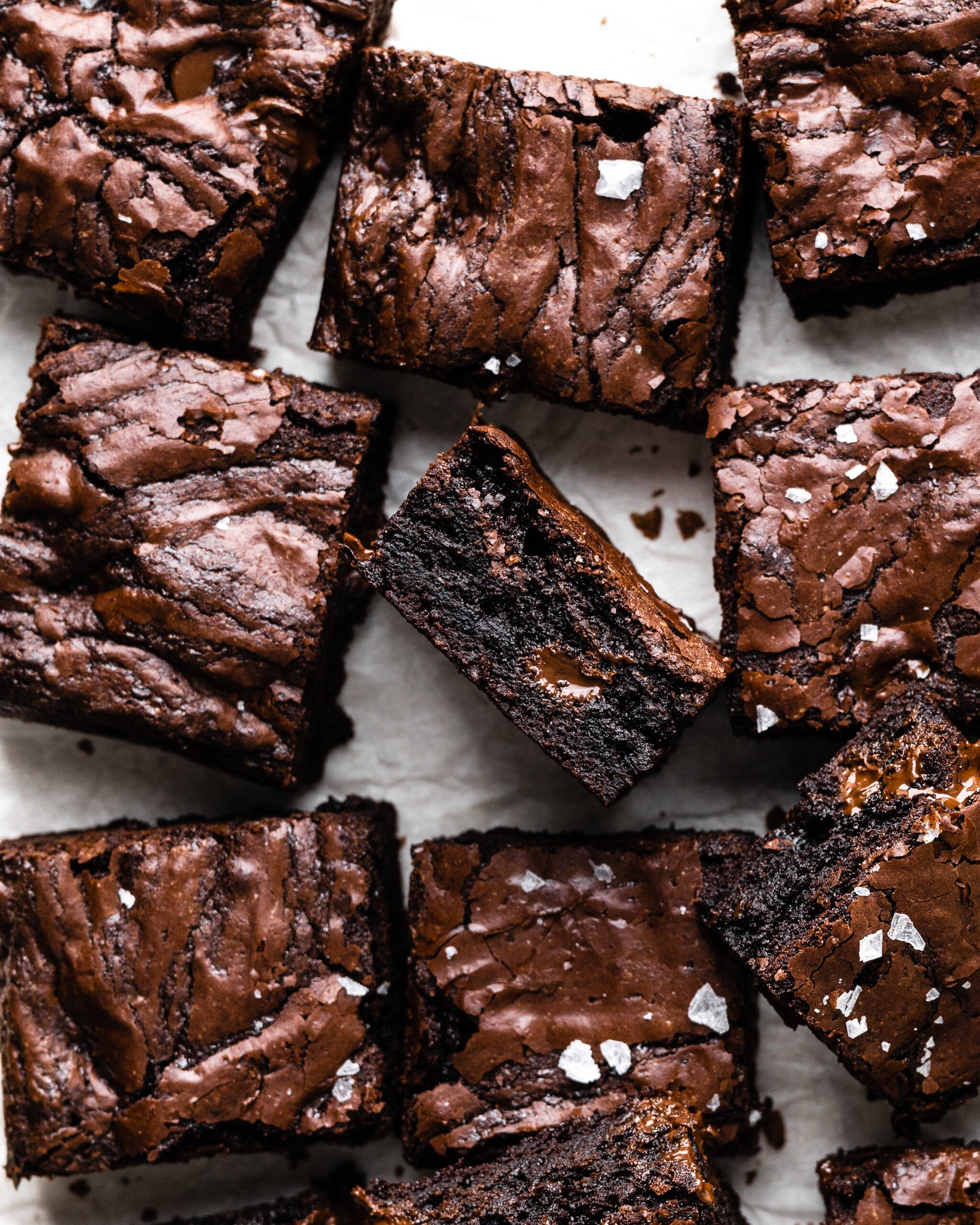 Jump to:
My perfect brownie
My perfect brownie is rich and chewy on the inside with crisp edges and a gorgeous, shiny crackly top. I've created a lot of sourdough discard brownies recipes over the years, like my Butterscotch Fudge Brownies from my cookbook and although these were delicious they didn't tick all the boxes. 
They never satisfied my quest for the perfect chocolate brownies because they were all missing one crucial element: the shiny, papery thin top. While I got the texture and flavor spot on, this one element that makes brownies absolutely irresistible kept eluding me. I mean what's a good brownie without one? Just a really delicious, dense chocolate cake. While I wouldn't consider my previous attempts a complete failure, they all left me utterly dissatisfied and I didn't touch brownies again until I knew I could make my perfect brownies.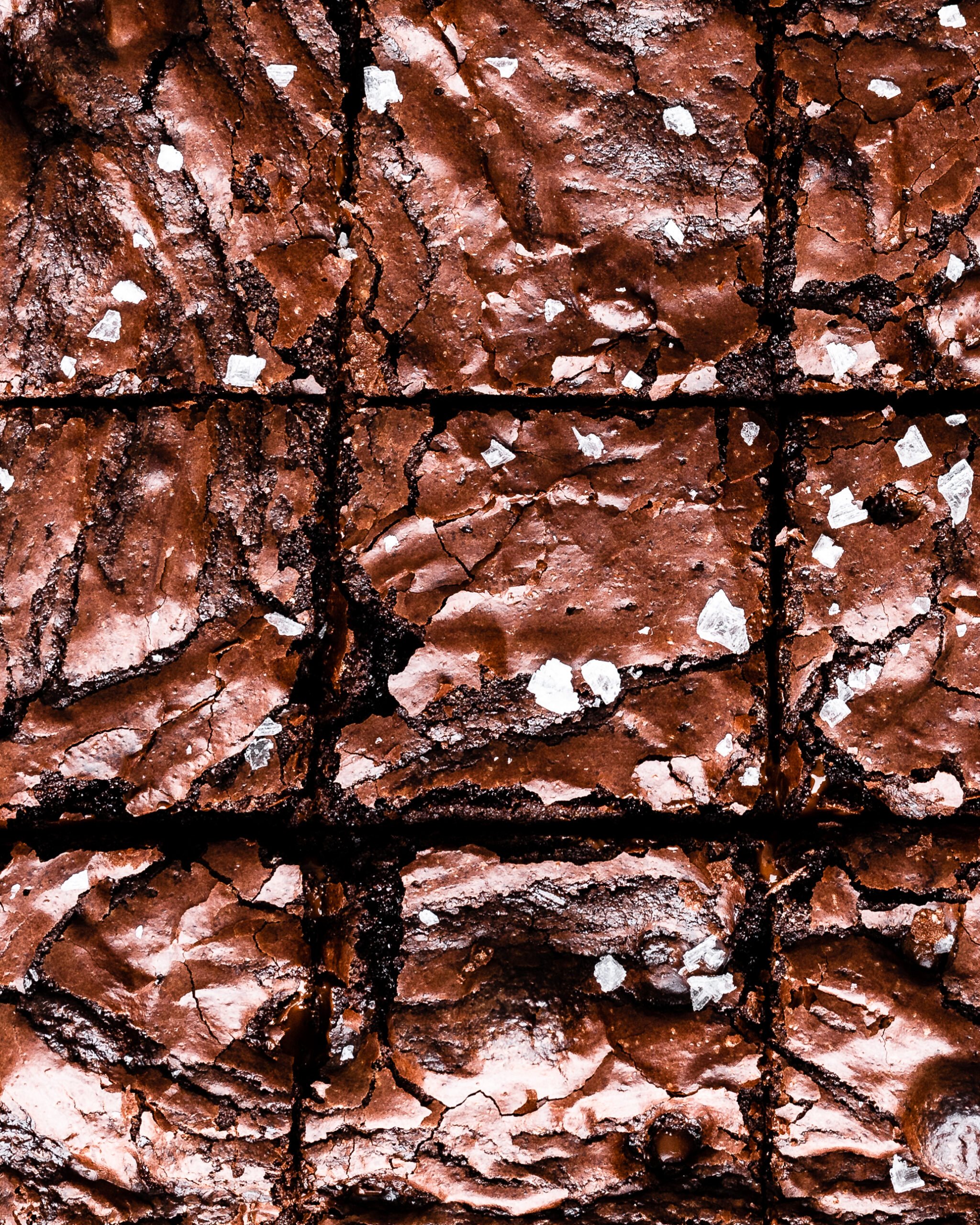 How to make brownies with a shiny, crackly crust
After hours of research (more like years tbh), reading articles by baking gurus like Tessa at Handle the Heat, PJ Hamel at King Arthur Baking Company, the indisputable team at America's Test Kitchen, I was finally ready to make an attempt at brownies again.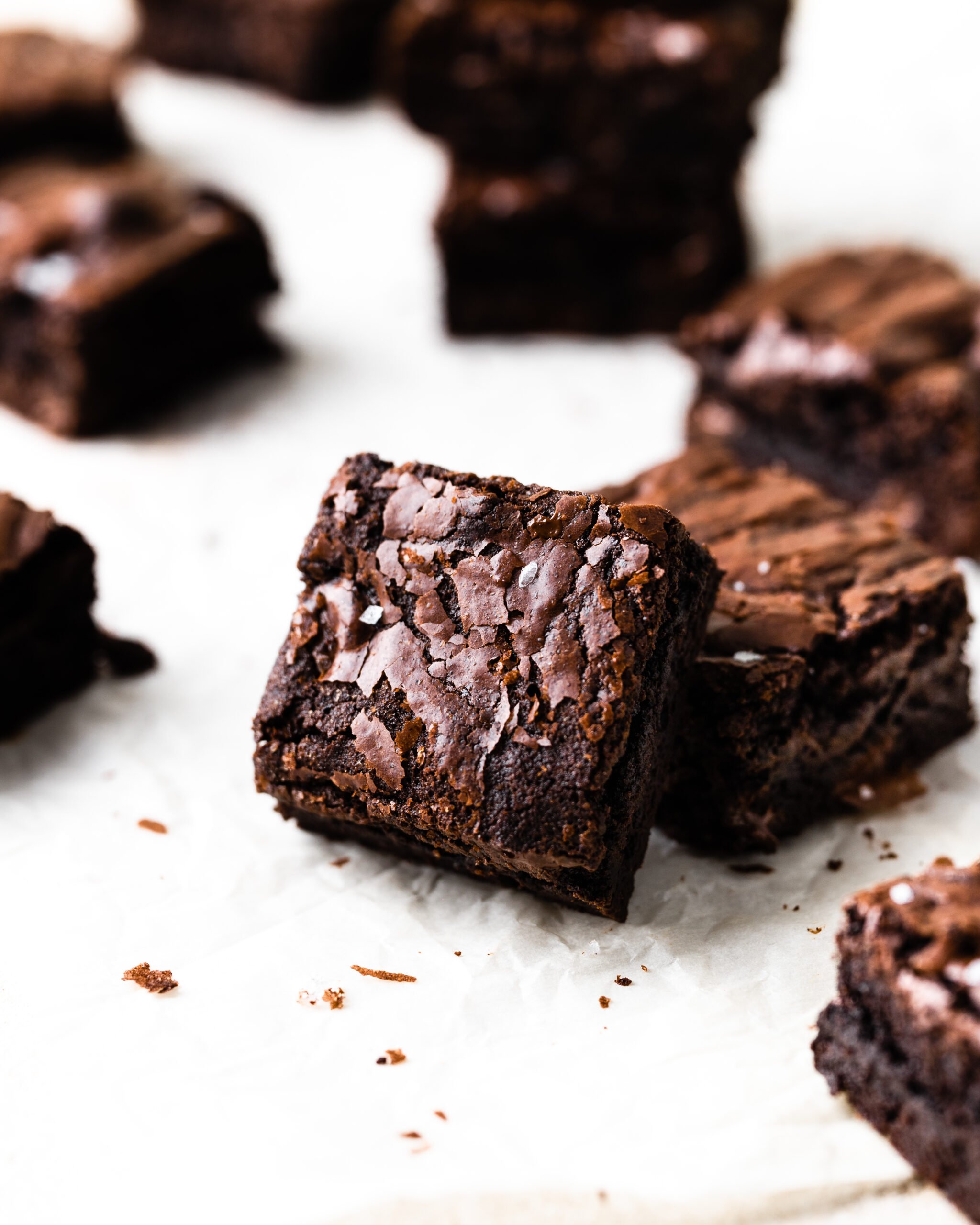 Dissolve sugar properly
The crust is a result of the sugar melting and migrating to the surface of the brownies as the batter bakes, forming a delicate layer of meringue. White sugar needs to be dissolved completely in the brownie batter or you'll end up with grainy, dull brownies.
In this recipe, I microwave the sugar with butter. The hot butter helps, but because sugar dissolves in water and not fat, the little bit of moisture in butter is aided by the water locked in sourdough discard to dissolve the sugar fully.
Control the moisture in the batter
Although we need water to dissolve sugar, too much liquid will create watery brownies that can't dry out enough to form our meringue top. This is why so many of my brownies failed in the past.
I didn't know that the ingredients I chose added too much moisture to my batter. Dark brown sugar, espresso shots, extra egg whites, while these ingredients are harmless on their own, in combination with the water locked in sourdough discard prevented my shiny top from forming. Adding a touch of cornstarch binds even more moisture which helps with both the texture and the appearance of these brownies.
Add chocolate chips
If you're looking for a "secret ingredient" to the perfect brownies, this is as close as you'll get. Although a lot of recipes swear by adding chocolate chips to result in a glossy crust, the science behind it is not 100% clear. It's thought that the soy lecithin, milk solids, and additional dissolved sugars in chocolate chips contribute to attaining that shiny, delicate top.
In her tests, PJ Hamel found that the only thing that could guarantee her crust is their addition. However, my other brownie recipes always include chocolate chips but did not have the top I wanted, so I believe that they have to be used in conjunction with the other elements I list here.
Love chocolate sourdough recipes? Try my Sourdough Chocolate Muffins, Sourdough Chocolate Cookies, Sourdough Chocolate Cake and Chocolate Sourdough Bread.
Baking with sourdough discard
Sourdough discard adds a delicious tangy flavor to balance the rich flavor of these brownies. Since you're not using it as a leavener, you can use your discard straight from the refrigerator. There's no need to feed it or activate it before mixing it into your batter. Older discard will have a tangier, more acidic flavor than a freshly-fed sourdough starter. Both will work for this recipe, you'll just get a slightly different flavor profile but your bake will still be delicious!
Need more ideas for using your excess sourdough starter? Check out my Collection of Sourdough Discard Recipes!
What you need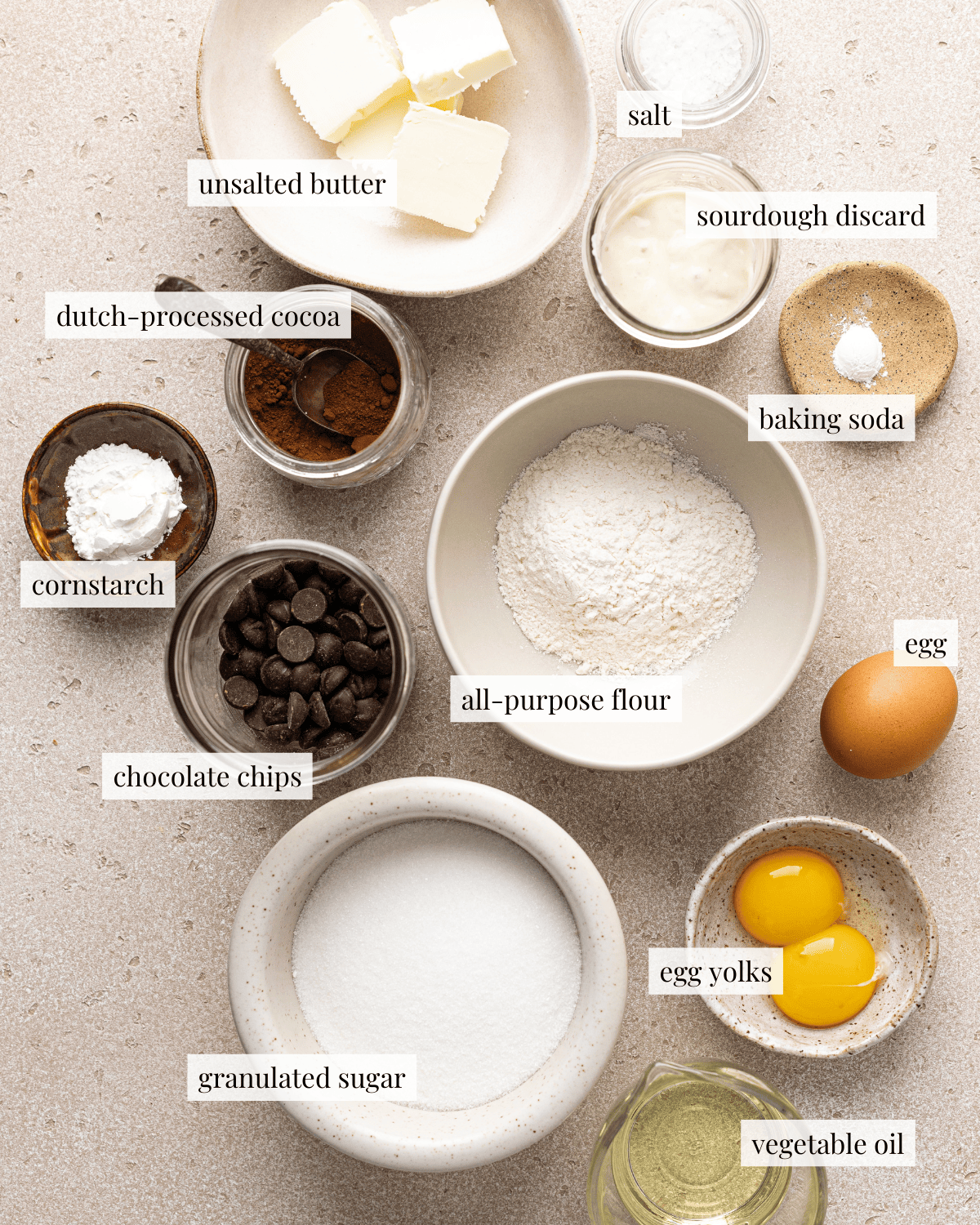 Unsalted butter: Make sure you get your butter is hot when you stir your sugar in! It will help with dissolving the sugar.
Granulated sugar - White sugar is the best choice for brownies since it doesn't contain as much moisture as other sugars, it also results in a chewier texture and richer flavor than using powdered sugar which some recipes call for.
Eggs: This recipe uses large eggs. You'll need 1 whole egg and 2 yolks for the perfect balance of richness without adding too much moisture into the batter.
Vegetable oil: Helps keep these brownies chewy, use any neutral-flavored oil like vegetable, canola or grape seed.
Sourdough discard: You can use your sourdough discard or excess sourdough starter directly from the fridge. Add 28 grams of flour and 28 grams of water into your batter if you don't have any sourdough discard.
Cocoa powder: I used Dutch-processed cocoa powder, but natural cocoa powder will work just as well for this recipe.
All-purpose flour: Do not substitute another type of flour, like whole wheat or cake flour, or it will ruin the texture of these brownies.
Baking soda: This recipe only uses a little bit of baking soda to keep these brownies light without making them too cakey or chalky.
Cornstarch: Helps absorb excess moisture and thicken the batter, feel free to substitute another starch like potato or tapioca.
Salt: I used Morton's Kosher Salt for this recipe and a little bit of Maldon Salt Dusted on top. Double the amount 1 teaspoon if you're using Diamond Crystal (gram measurement should be the same).
Chocolate chips: Use your favorite brand. Milk chocolate or semi-sweet works best since they have more sugar.
Step-by-step instructions
1. Microwave sugar and butter together and whisk until sugar is dissolved
2. Whisk in egg and egg yolks until the sugar looks dissolved
3. Stir in the vegetable oil, cocoa powder
4. Whisk in sourdough discard until no traces remain
5. Using a rubber spatula stir in the flour, baking soda, cornstarch and salt
6. Fold in the chocolate chips until evenly distributed
7. Pour batter into in an 8 by 8 pan lined with parchment paper
8. Bake brownies at 325 F for 30 minutes
Recipe FAQs
I don't have enough sourdough discard, can I still make this recipe?
Absolutely! Simply use the same proportion of freshly fed sourdough starter in the recipe. Your starter won't add a strong tangy flavor to your brownies, but it will still work. 

If you don't have a starter, but still want to try out this recipe, simply add 28 grams of all-purpose flour and 28 grams of water to your batter.
Why do my brownies taste chalky and bland?
You overbaked your brownies. It's better to underbake these brownies since overbaking will dull the flavor of chocolate and result in chalky, bland brownies. Only bake until the brownies are set, and until a toothpick inserted in the center comes out with a few moist crumbs attached. Don't mistake melted chocolate chips for uncooked batter. 
Should brownies be refrigerated?
Brownies will keep well at room temperature stored in an airtight container for up to 3 days. Refrigerate for up to a week. 

For long-term storage, wrap your brownies in foil and freeze for up to 1 month. Frozen brownie bars are what? YUM!!!
You may also like
Did you make this recipe?
⭐⭐⭐⭐⭐
Please leave a star rating and review this recipe if you enjoyed it! I read all the comments and love hearing your feedback.
THANK YOU!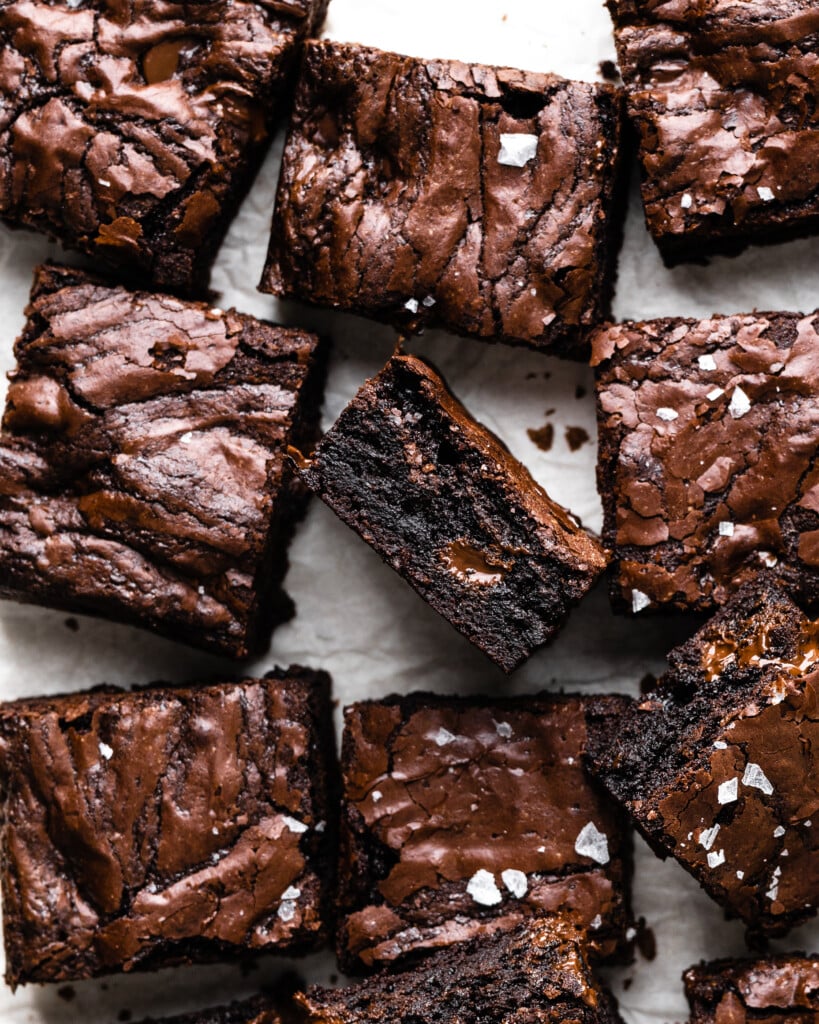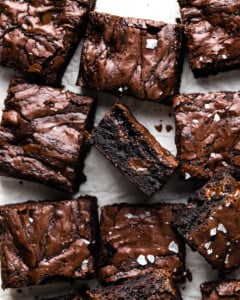 Sourdough Brownie Recipe
Rich, and chewy with an irresistible shiny top, this Sourdough Brownie recipe is pretty darn close to perfect. Sourdough discard adds a delicious tang that makes this ultimate chocolate treat even more satisfying.
Ingredients
70

grams

unsalted butter

250

grams

granulated sugar

1

egg

large

2

egg yolks

72

grams

vegetable oil

75

grams

cocoa powder

56

grams

sourdough discard

40

grams

all-purpose flour

⅛

teaspoon

baking soda

7

grams

cornstarch

4

grams

salt

Morton's Kosher Salt

100

grams

chocolate chips

Pinch

flaky sea salt

optional
Instructions
Prep: Preheat the oven to 325 F with the rack in the middle. Line an 8-by-8 baking pan with two pieces of parchment stacked perpendicular to each other, cut longer pieces for an overhang.

Mix sugar and butter: Combine butter and sugar in a large mixing bowl (you'll be using this bowl for the entire recipe so choose an appropriate size). Microwave for 2 minutes, whisk until completely combined.

70 grams unsalted butter,

250 grams granulated sugar

Whisk in eggs: Let the mixture cool slightly, whisk in the egg and egg yolks until the sugar appears completely dissolved.

Add in cocoa powder and wet ingredients: Whisk in the cocoa powder and vegetable oil. Stir in the sourdough discard thoroughly until no traces remain.

72 grams vegetable oil,

75 grams cocoa powder,

56 grams sourdough discard

Fold in dry ingredients: Add the all-purpose flour, baking soda, cornstarch and salt. Use a rubber spatula to fold the ingredients in until no dry bits remain.

40 grams all-purpose flour,

⅛ teaspoon baking soda,

7 grams cornstarch,

4 grams salt

Add chocolate chips: Stir the chocolate chips into the batter until evenly distributed.

100 grams chocolate chips

Bake: Pour the batter into your prepared pan. Bake for 30 minutes or until the brownies are set and a toothpick inserted in the center comes out with moist crumbs attached. Transfer the pan to a wire rack to cool completely before slicing.

Enjoy and store: Sprinkle flaky sea salt on top, if using. Slice the brownies into 9 to 16 squares. Store brownies in an airtight container at room temperature for up to 3 days.
Notes
When in doubt, use weight over volume measures.
Dissolve sugar completely or your brownies will be grainy and dull instead of chewy and shiny.
Don't over bake your brownies or they may taste chalky and lose their rich chocolate flavor
Nutrition
Calories:
198
kcal
|
Carbohydrates:
25
g
|
Protein:
2
g
|
Fat:
11
g
|
Saturated Fat:
5
g
|
Polyunsaturated Fat:
3
g
|
Monounsaturated Fat:
3
g
|
Trans Fat:
0.2
g
|
Cholesterol:
44
mg
|
Sodium:
112
mg
|
Potassium:
99
mg
|
Fiber:
2
g
|
Sugar:
19
g
|
Vitamin A:
157
IU
|
Calcium:
17
mg
|
Iron:
1
mg
Did you make this recipe?
I'd love to know! Leave a star rating and comment below. Don't forget to pin this recipe on Pinterest and share a photo and tag @makeitdough on Instagram