Make delicious, delicate, tender Sourdough Crepes with crispy edges using a few simple ingredients and your sourdough discard. Serve them for breakfast with maple syrup or your favorite fruit fillings or for lunch and dinner with your choice of savory fillings.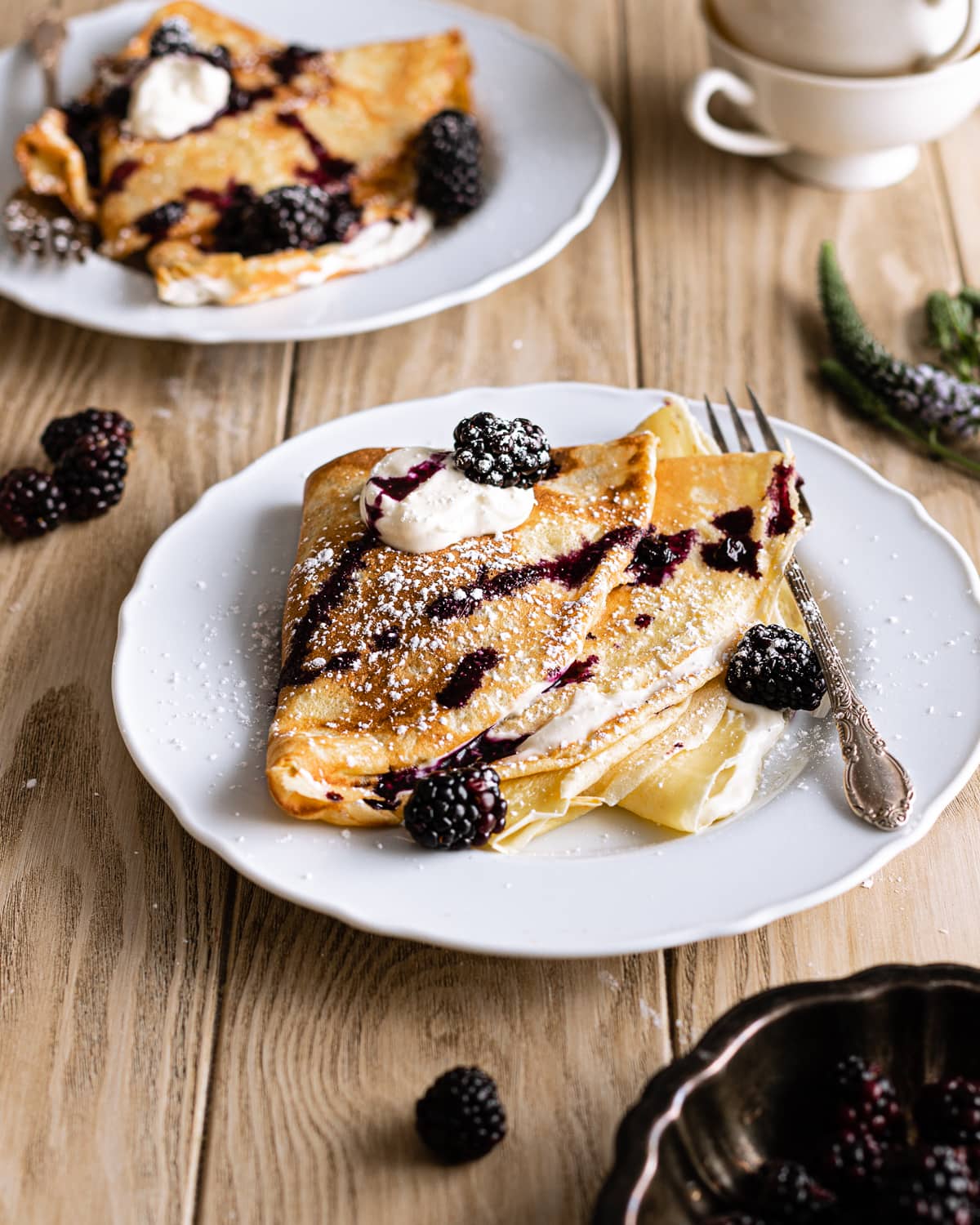 Crepes are thin pancakes made with eggs, flour, milk, butter and salt. They aren't as fluffy as pancakes because the batter doesn't include leaveners like baking powder and baking soda. They are a bit like a delicate flatbread that can be filled with both sweet or savory fillings.
This crepe recipe is quickly becoming my favorite way to use up my sourdough discard for breakfast! They are soft, and buttery and satisfy both my sweet and salty cravings.
Love breakfast recipes? Try my Crispy Overnight Sourdough Waffles or Fluffy Sourdough Discard Pancakes.
Tips for Success
Gradually whisk the flour in to prevent lumps in the batter.
Let the batter rest for 30 minutes before cooking, this will allow air bubbles to subside and prevent your crepes from breaking apart while you fry them.
Don't let the batter ferment for too long or your crepes may become too sour and develop off flavors.
Use a non-stick skillet or well-seasoned cast iron pan, using a stainless steel pan may cause your crepes to stick and break apart.
Wait until the first side is cooked before flipping your crepe.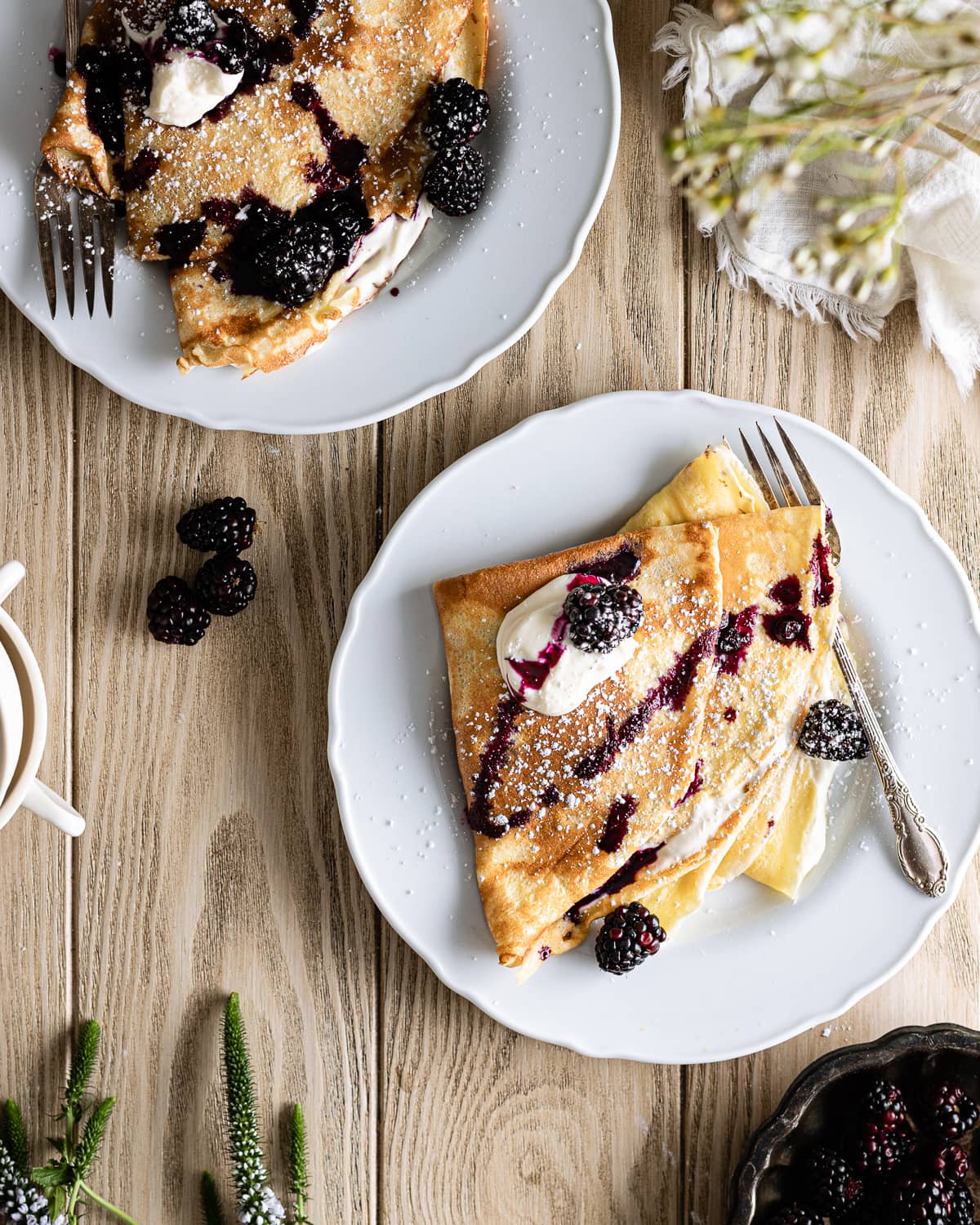 Using Sourdough Discard
When incorporated into crepes, sourdough discard imparts a delicious tangy flavor that's not overpowering. Since you're not using it as a leavener, you can use your discard straight from the refrigerator. There's no need to feed it or activate it before mixing it into your batter. Older discard will have a tangier, more acidic flavor than a freshly-fed sourdough starter. Both will work for this recipe, you'll just get a slightly different flavor.
Mixing your batter too early may make your crepes too sour. I wouldn't recommend letting your batter ferment for more than 4 hours. I prefer to cook all of my batter and store my crepes. They heat up beautifully so you can make them ahead, and store them in the refrigerator for a quick and easy breakfast, snack or light meal.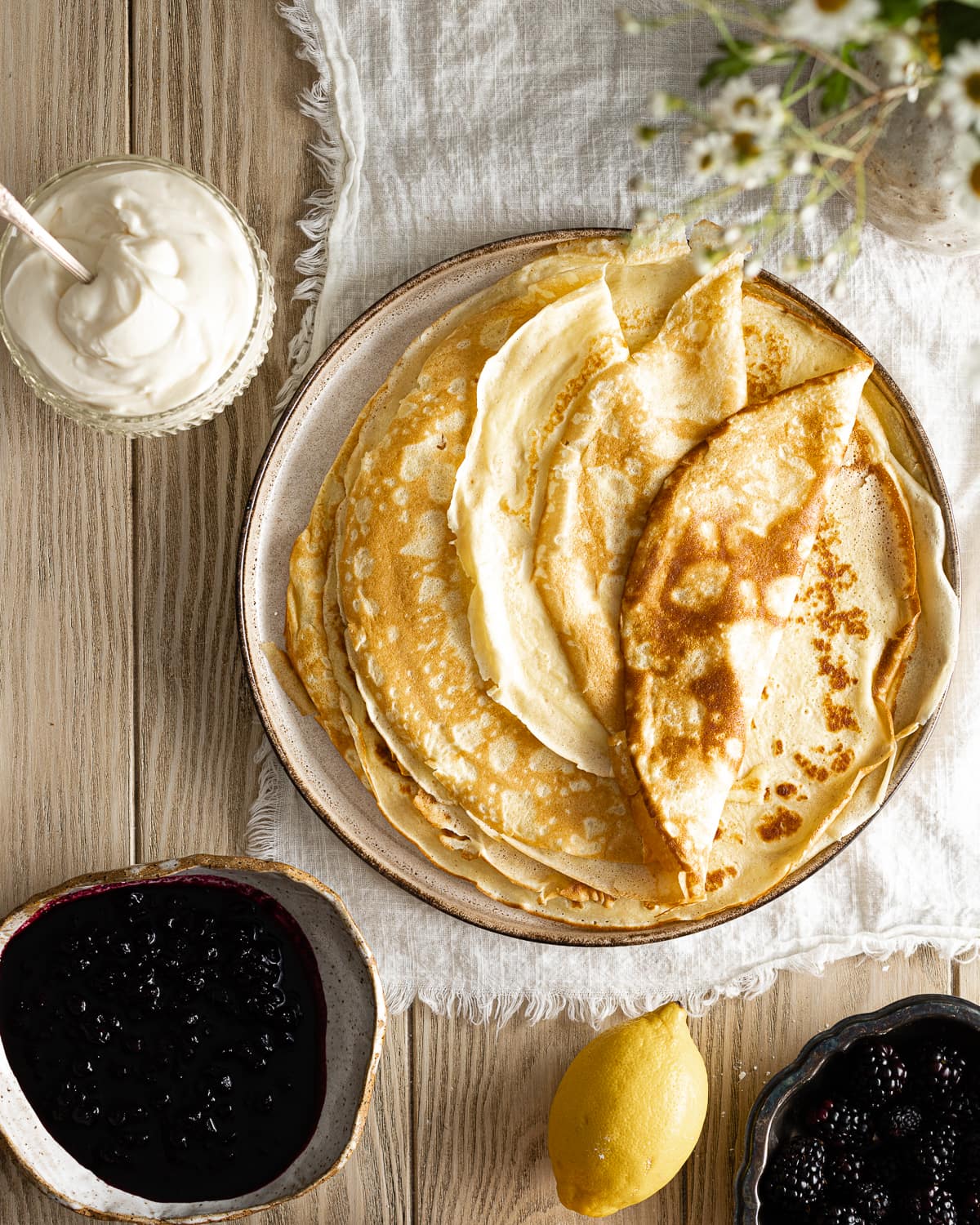 Sourdough Crepe Batter Ingredients
Crepes are thin pancakes made with batter without any baking powder or any other leaveners. These sourdough crepes are made with basic pantry ingredients, I skip the vanilla so you can fill them with both sweet and savory toppings.
Large eggs - binds the ingredients and imparts the signature spongey texture to crepes, I haven't tried an alternative that works well as a substitute.
Whole milk - substitute your favorite plant-based alternative
Sourdough discard - don't have discard? Add 56 grams of water and 56 grams of flour to your batter.
Cane sugar - I prefer using cane sugar whenever I can since it's produced more sustainably than granulated sugar, feel free to substitute granulated sugar or brown sugar if that's all you have in your pantry.
Melted unsalted butter - imparts a rich buttery flavor to these crepes, substitute coconut oil or your favorite plant-based alternative
All-purpose flour - keeps these crepes light and tender, you can substitute a small amount of whole wheat flour in the batter to add more flavor (for example, use 45 g all-purpose and 15 g whole wheat), but don't use all whole wheat or your crepes may become dense and rubbery.
Salt - use kosher salt or sea salt for this recipe.
See the recipe card for the full ingredient amounts.
How To Make Sourdough Crepes
Always start with a preheated pan! Your first won't be the best or prettiest, this is totally ok. Each subsequent crepe will be better as you get comfortable with the process.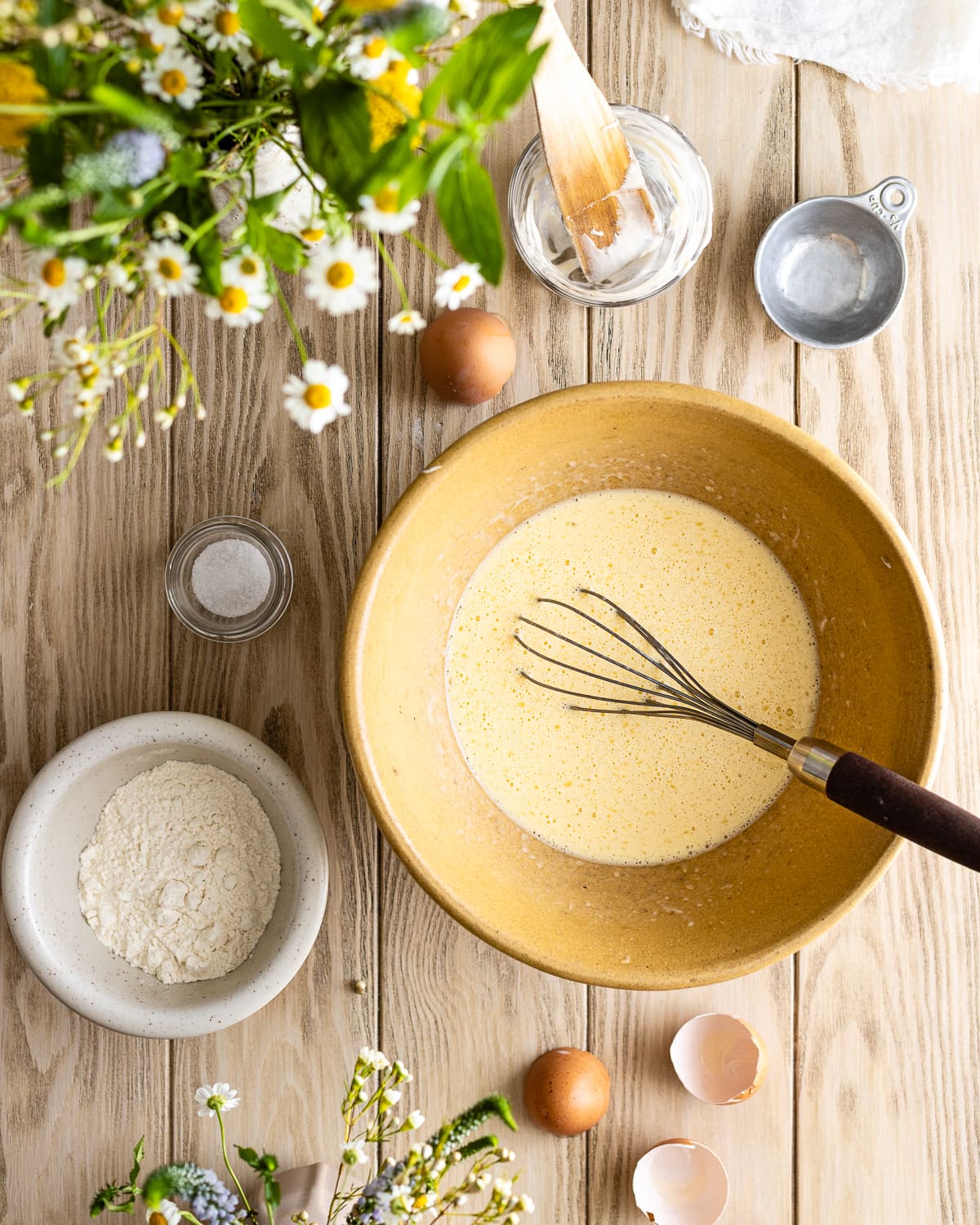 1. Whisk the eggs, milk, sourdough discard, sugar and melted butter together in a large bowl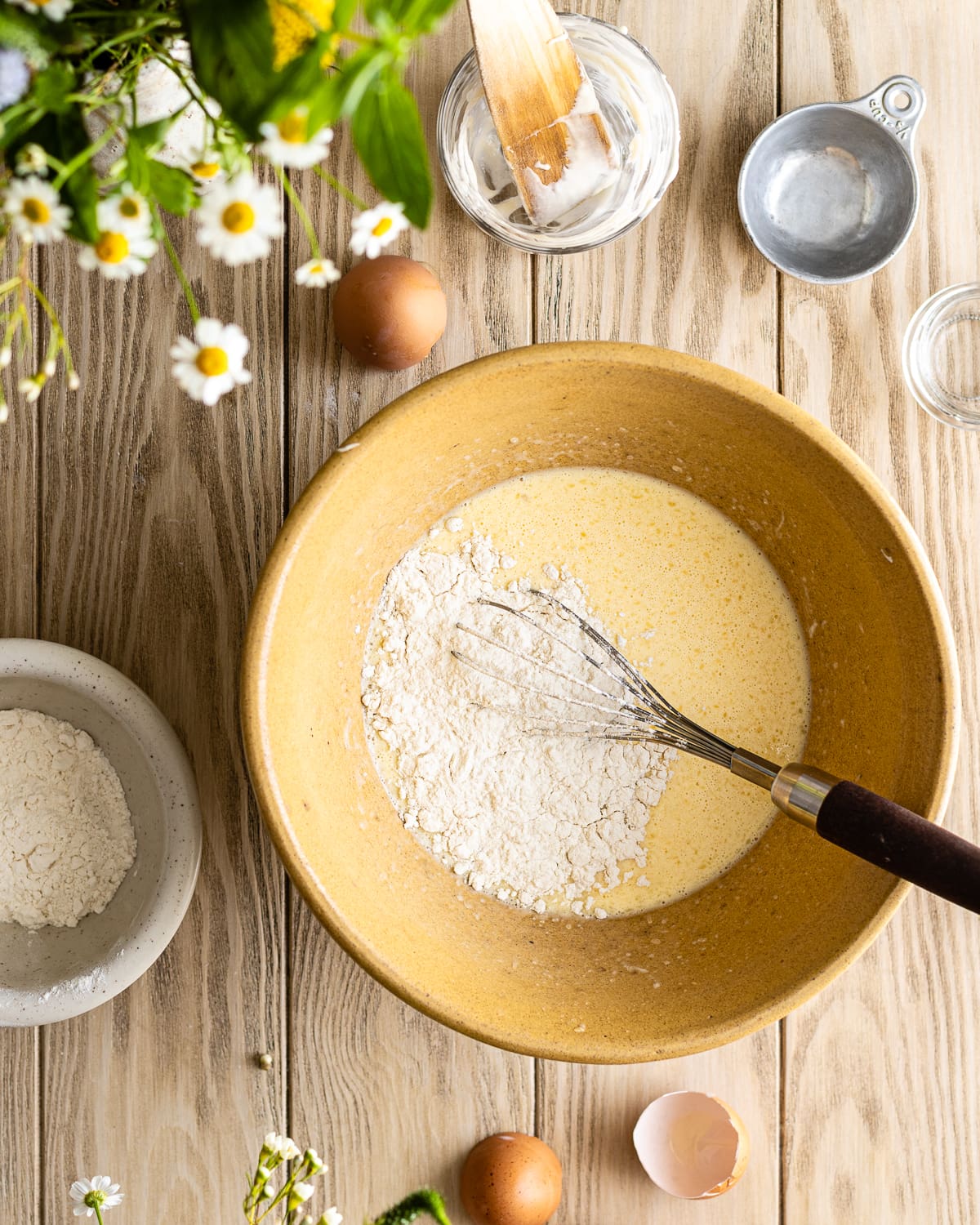 2. Stir half of the all-purpose flour into the batter at a time to avoid lumps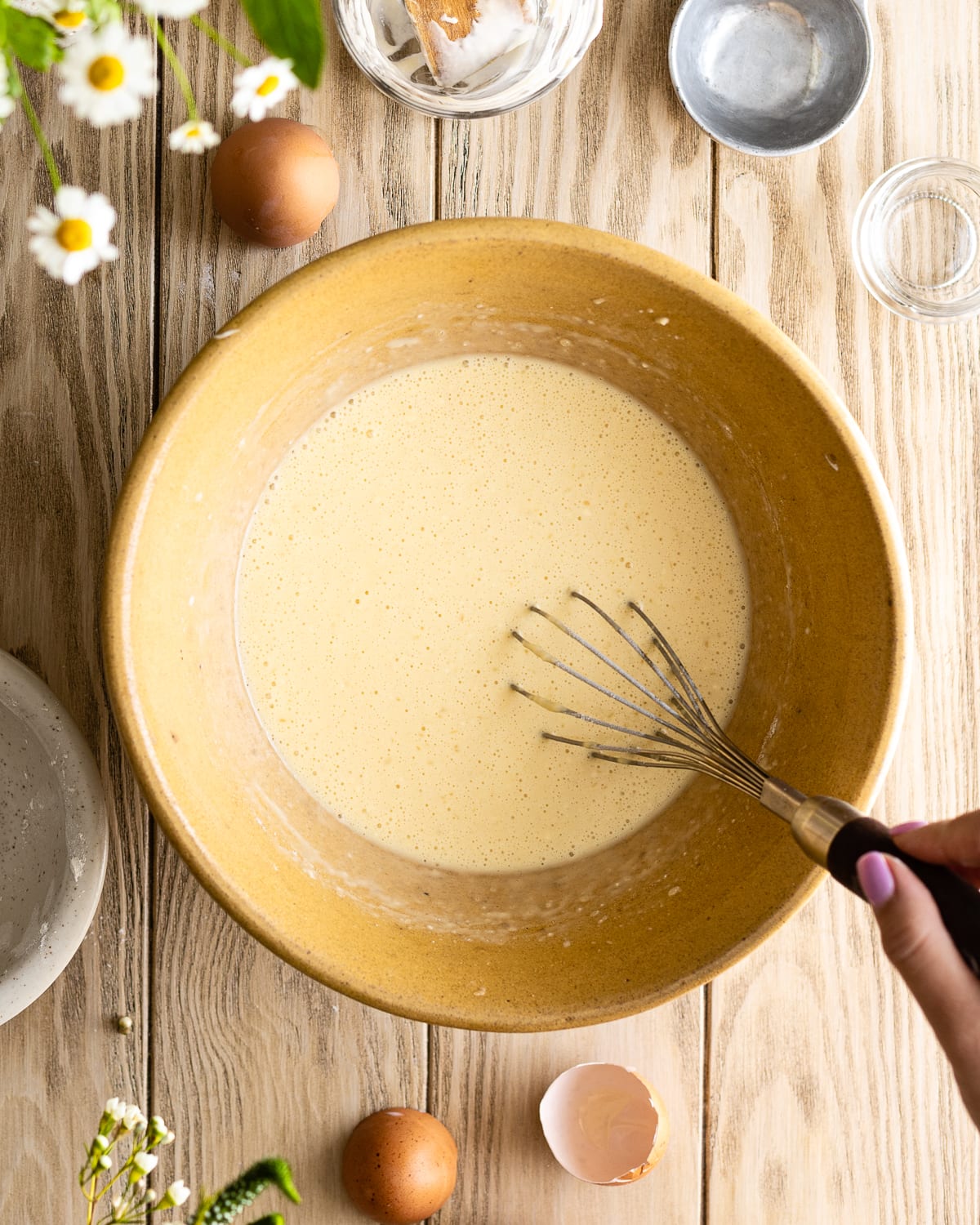 3. Add in the salt and whisk until the batter is completely smooth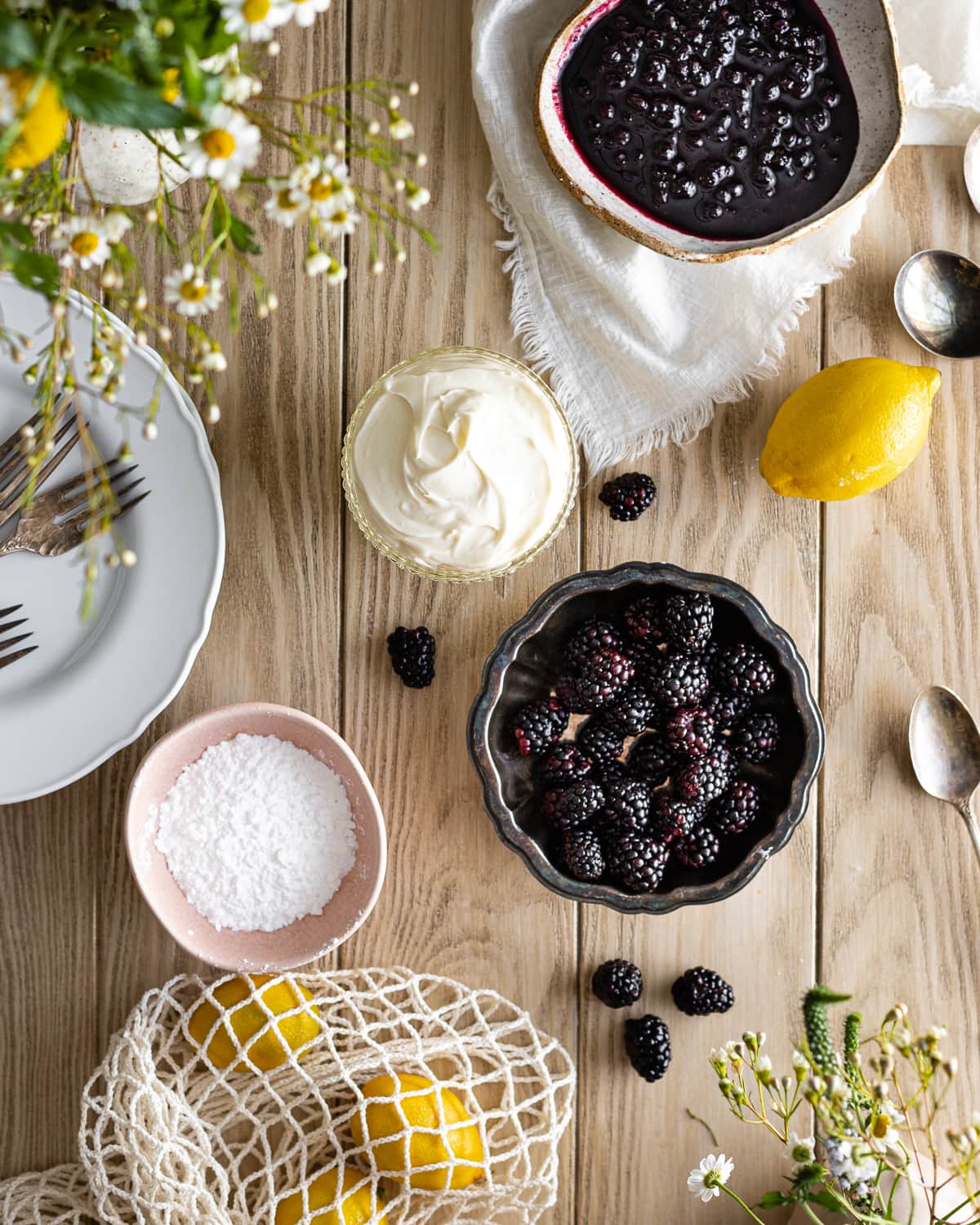 4. Prepare the toppings while your crepe batter rests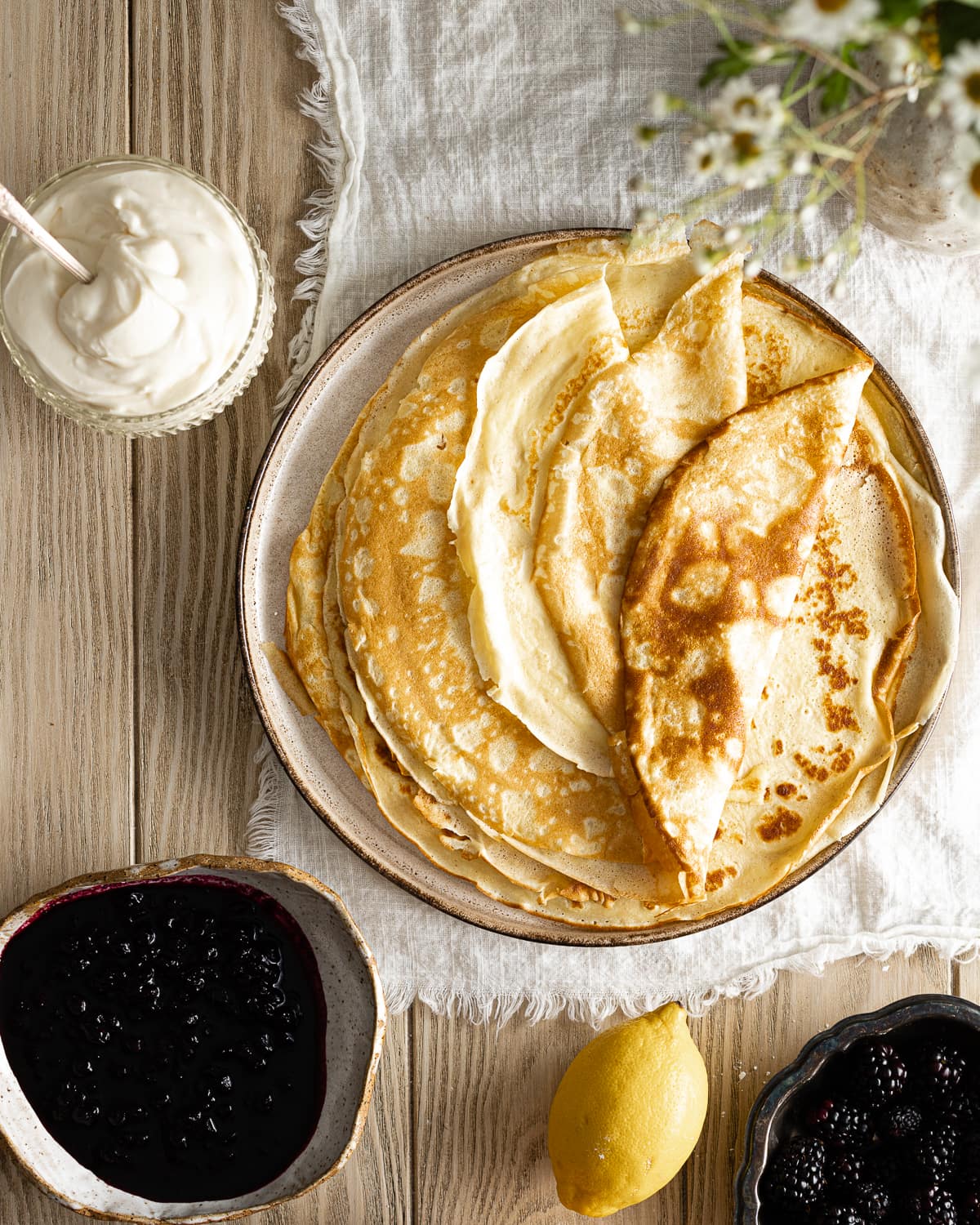 5. Cook the batter in a non-stick skillet over medium-low heat for 1 minute on each side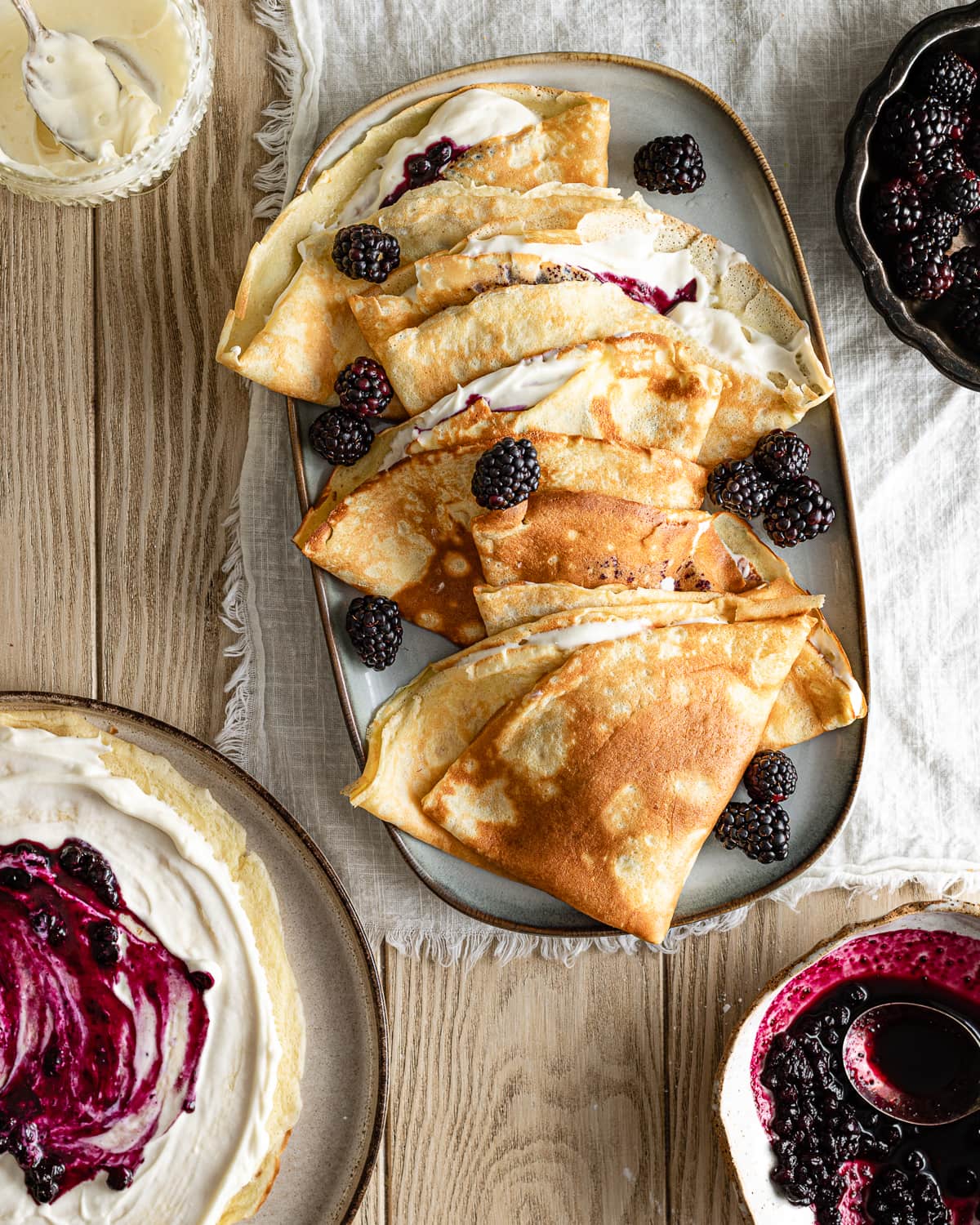 6. Fill crepes with your choice of fillings
Serving Suggestions for Sourdough Crepes
One of my most treasured memories is eating a crepe sucre sprinkled with sugar and a squeeze of lemon sitting by a pond at a park in Lyon, France. Today, my favorite way to enjoy crepes is with cream cheese filling, blueberry preserves, or raspberry preserves. Serve them with ham and gruyere cheese or smoked salmon and crème fraîche for a savory lunch or light dinner. Crepes are so versatile, have them with maple syrup or nutella and strawberries or even with spinach, artichoke and cheese, the possibilities are endless!
Questions?
What's the difference between crepes and pancakes?
Crepes are thin pancakes made without any leaveners and usually served with fillings. They have an eggy and tender texture with crispy edges. While pancakes are much fluffier and are leavened using baking powder and sometimes baking soda. Pancakes are usually topped with sweet toppings like maple syrup, butter and fruit.
Are crepes better hot or cold?
Crepes can be served hot or cold. I prefer crepes with savory fillings served hot. But sweet crepes can either be hot or cold.
Why did my crepes tear?
Don't skip the rest period for your batter! This allows the gluten bonds that hold your crepes together to get stronger and the air bubbles to subside resulting in strong crepes that won't tear when you fill them!
You May Also Like
---
---
Did you make this recipe?
Please leave a star rating and review this recipe if you enjoyed it! I read all the comments and love hearing your feedback.
THANK YOU!
---
---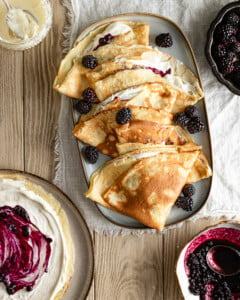 Sourdough Discard Crepes
Make the most delicious, delicate, tender Sourdough Crepes with crispy edges using your sourdough discard and just a few simple ingredients.
Equipment
Kitchen scale

ladle

fish spatula

10-inch skillet or cast iron pan
Ingredients
226

grams

whole milk

3

egg

large

113

grams

sourdough discard

24

grams

cane sugar

28

grams

unsalted butter

melted (plus more for cooking)

60

grams

all-purpose flour

4

grams

salt
Instructions
Mix the wet ingredients: Whisk together the eggs, milk, sourdough discard, sugar and melted butter in a large bowl until no traces of egg yolk remain and the discard is dissolved.

Stir in the dry ingredients: Stir half the flour in and whisk until no dry bits of flour remain. Add the remaining flour and salt and whisk until the batter looks smooth and cohesive.

Let the batter rest: Cover the bowl with plastic wrap and let the batter rest at room temperature for at least 30 minutes. This will allow the air bubbles to subside and prevent your crepes from breaking up in the pan. Don't let your batter ferment for too long or your crepes may taste too sour.

Prep your fillings and toppings while your batter rests.

Cook the crepes: Preheat a skillet over medium heat with ½ tablespoon of butter.

Pour ½ cup of into the hot skillet and spread the batter into a thin, even layer. You can do this by either swirling the pan or using the back of a ladle.

After 1 minute, gently peel the edges of the crepe away from the bottom of the pan.

Flip the crepe and cook for another 30 seconds to 1 minute. Place cooked crepe on a large plate.

Repeat with the remaining batter. Stack the cooked crepes on the plate until ready to serve.

Enjoy: Spread favorite fillings and add toppings to your crepes and serve.

Store and reheat: Cover the plate with aluminum foil and store crepes in the refrigerator for up to 1 week. Reheat crepes in a hot skillet until completely warmed.
Notes
When in dough, use weight over volume measures.
Calories are calculated based on crepes without any filling or toppings. 
Nutrition
Calories:
117
kcal
|
Carbohydrates:
13
g
|
Protein:
4
g
|
Fat:
5
g
|
Saturated Fat:
3
g
|
Polyunsaturated Fat:
0.5
g
|
Monounsaturated Fat:
2
g
|
Trans Fat:
0.1
g
|
Cholesterol:
72
mg
|
Sodium:
229
mg
|
Potassium:
74
mg
|
Fiber:
0.3
g
|
Sugar:
4
g
|
Vitamin A:
222
IU
|
Calcium:
46
mg
|
Iron:
1
mg
Did you make this recipe?
I'd love to know! Rate this recipe and leave a comment below. Share a photo and tag @makeitdough on Instagram