Rich, creamy, and luscious this Cream Cheese Crepe Filling is so easy to make and only takes four ingredients. It's delicious on crepes of course, but this versatile topping can be served with berries for an easy dessert or used to dress up a slice of cake.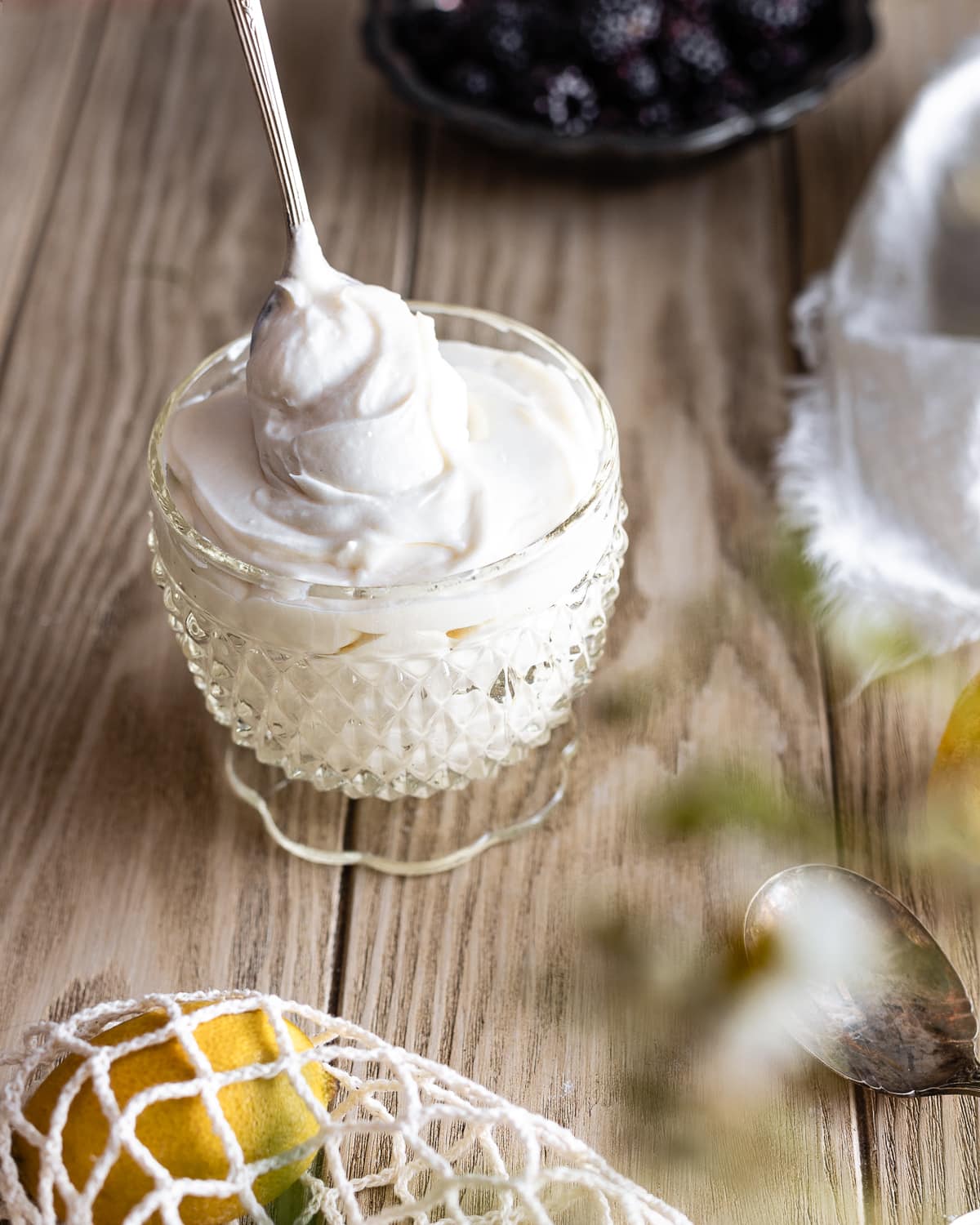 Jump to:
Why I love this cream cheese filling
This homemade cream cheese filling is my absolute favorite way to dress up my sourdough discard crepes. It tastes great with fresh fruit, blueberry preserves, raspberry preserves, or fruit sauces. This filling is so good, I have to try hard not to eat it by the spoonful before it makes it into my crepes and onto the table.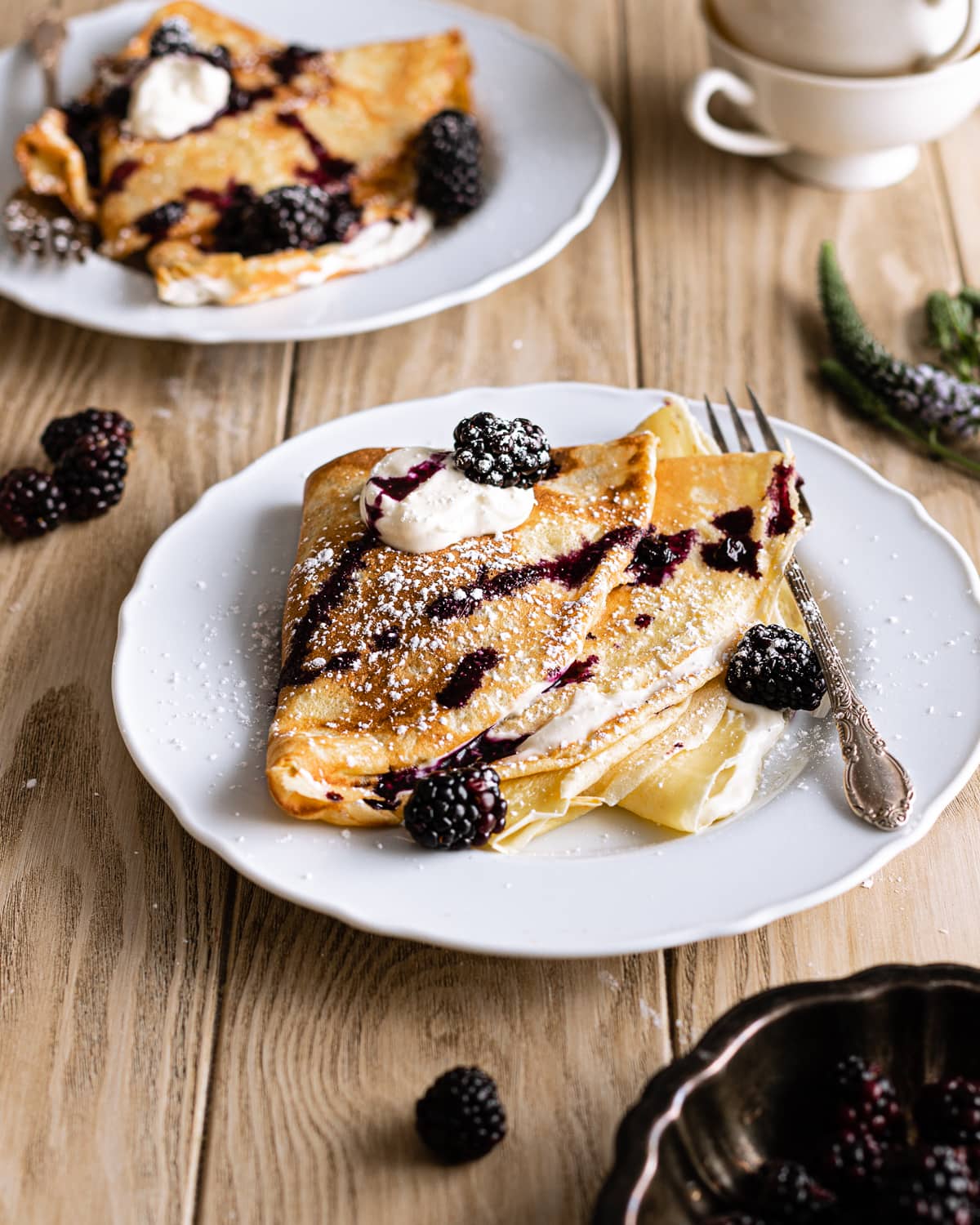 If you love homemade spreads, try my Homemade Cultured Butter recipe!
What You Need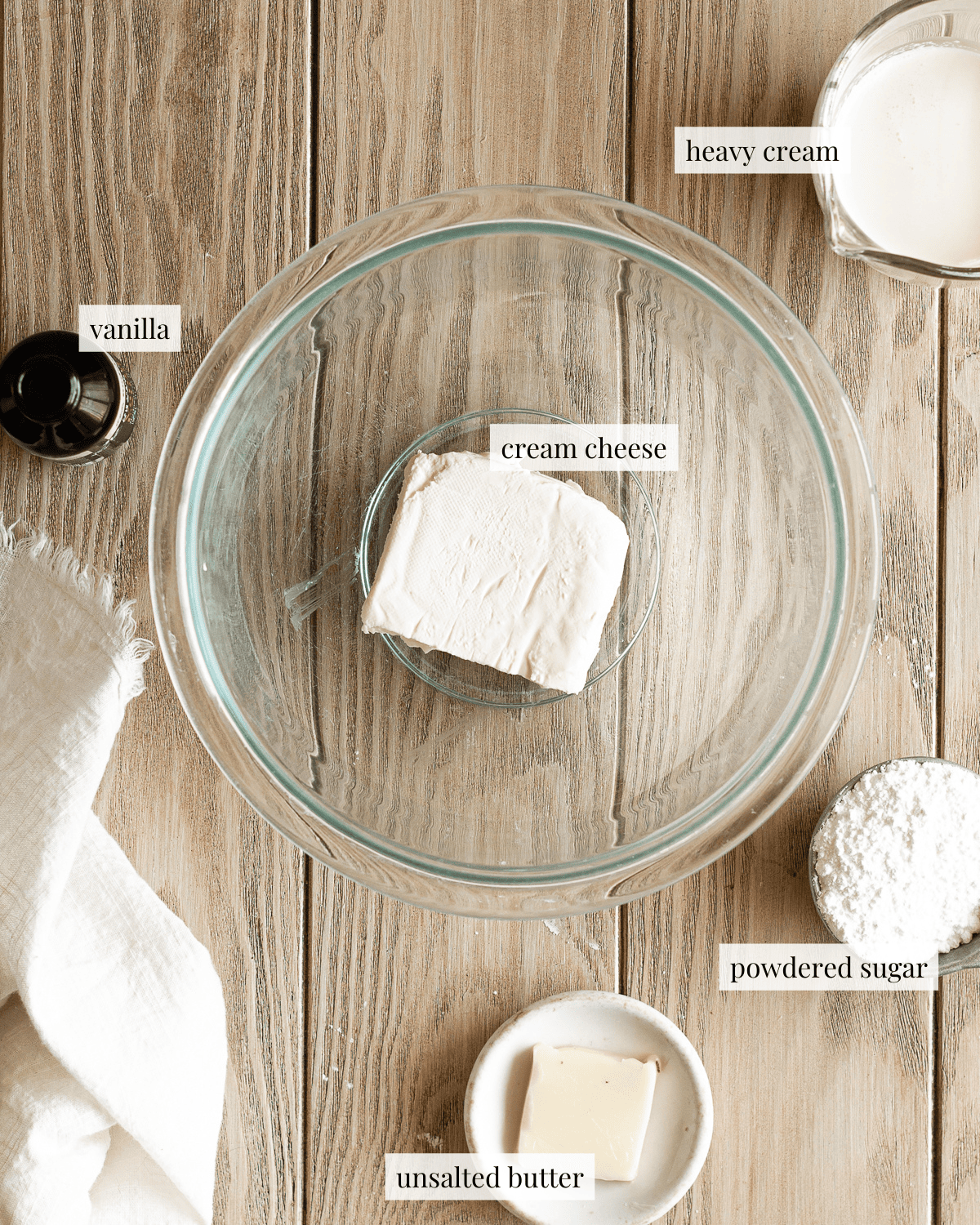 Cream cheese: Cream cheese adds a delicious tang that balances the sweetness of this filling, it also serves as a stabilizer that helps the filling hold its shape and maintain its luscious texture. I've never attempted to use a plant-based alternative, but if you are aware of one that works in cream cheese frosting it should work in this recipe as well.
Powdered sugar: Powdered sugar adds sweetness and imparts a silky texture to this filling, add more if you want your filling to be sweeter
Heavy cream: Imparts lightness by aerating the filling, do not substitute milk or your filling may become too watery
Unsalted butter: Adds a bit of richness and a lovely butter flavor to this filling, substitute your favorite plant-based alternative
Additions
There are so many ways to customize this cream cheese filling!
Here are my favorites:
Lemon Cream Cheese Filling: Add zest of 1 lemon
Chantilly Cream Cheese Fillig: Add 8 grams (½ tablespoon) of vanilla extract
Bourbon Cream Cheese Filling: Add 14 grams (1 tablespoon) of bourbon
Chocolate Cream Cheese Filling: Add 14 grams (2 tablespoons) of cocoa powder
Strawberry Cream Cheese Filling: Add 14 grams (1 tablespoon) of strawberry jam or jelly
Honey Cream Cheese Filling: Add 28 grams of honey (2 tablespoons) of honey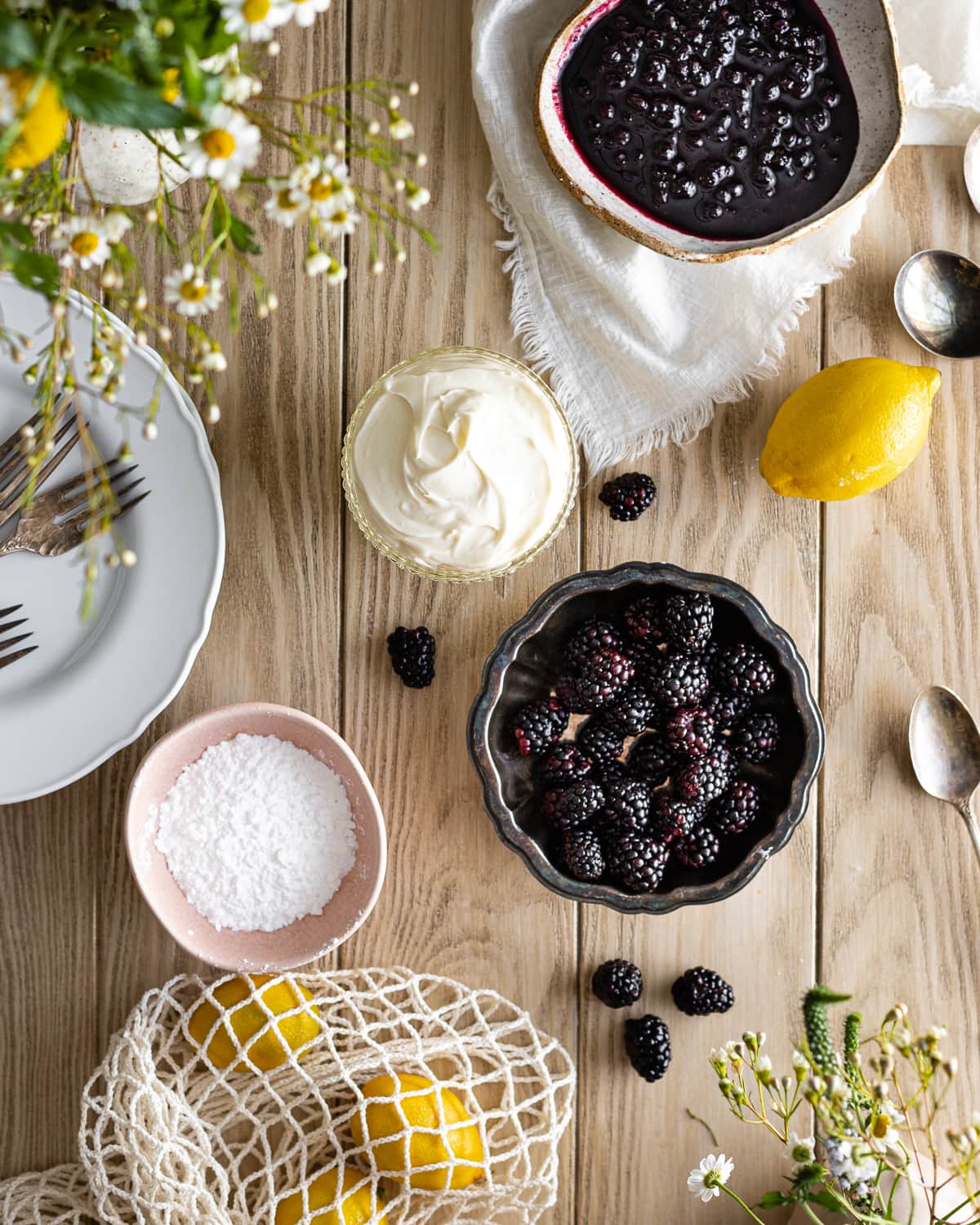 Step-by-step Instructions: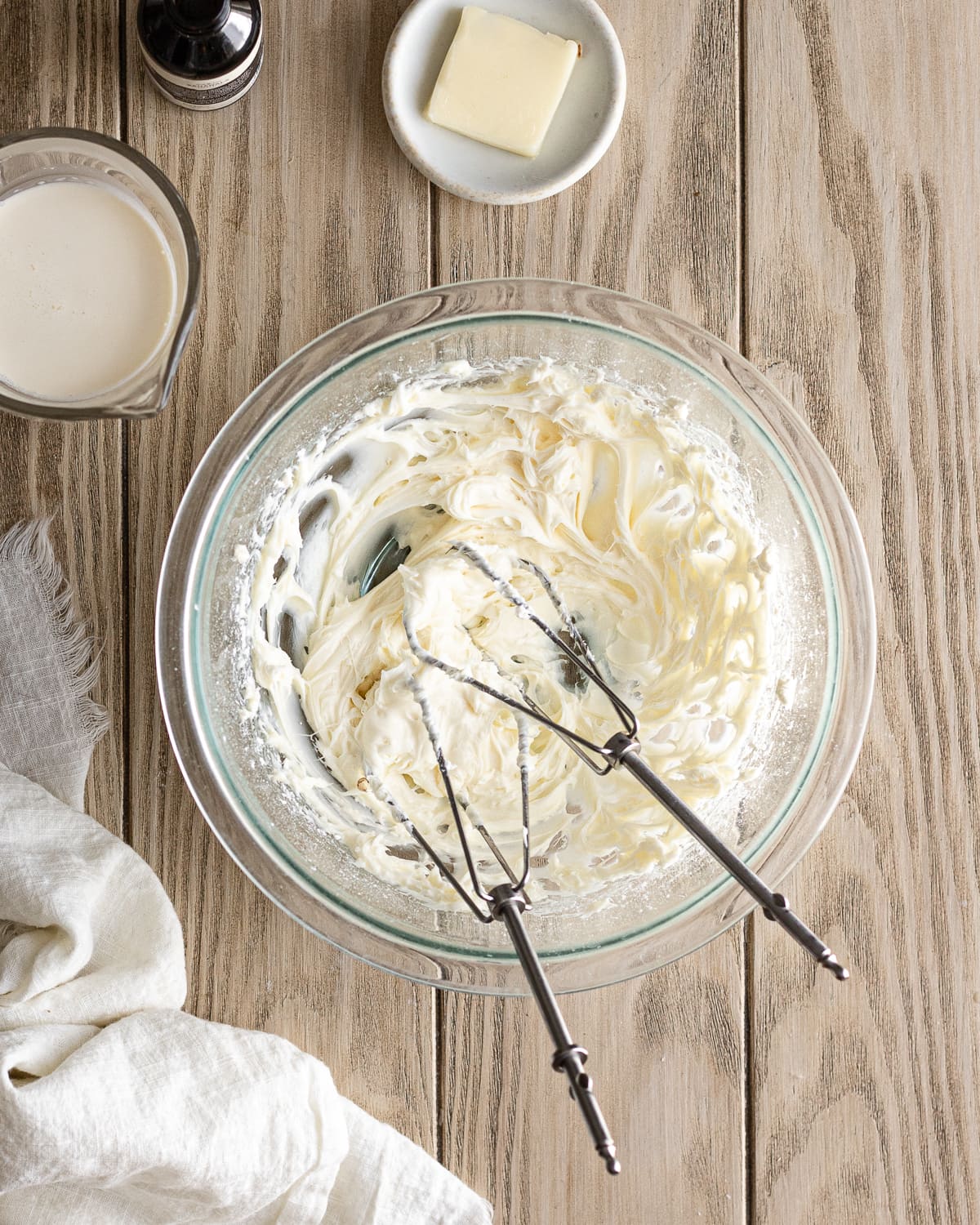 STEP 1. Beat the cream cheese and powdered sugar together until no lumps remain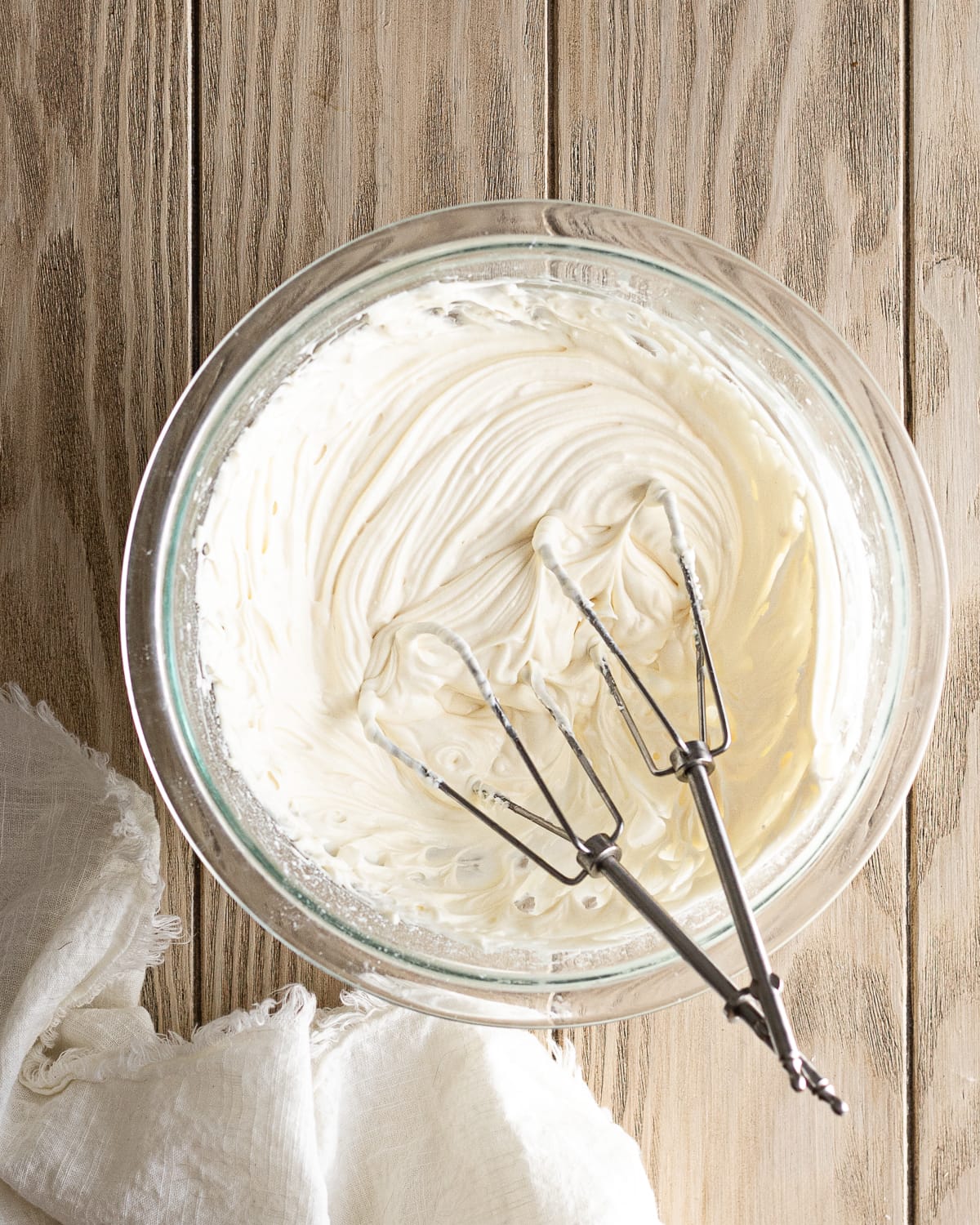 STEP 2. Whisk in the heavy cream until the filling has thickened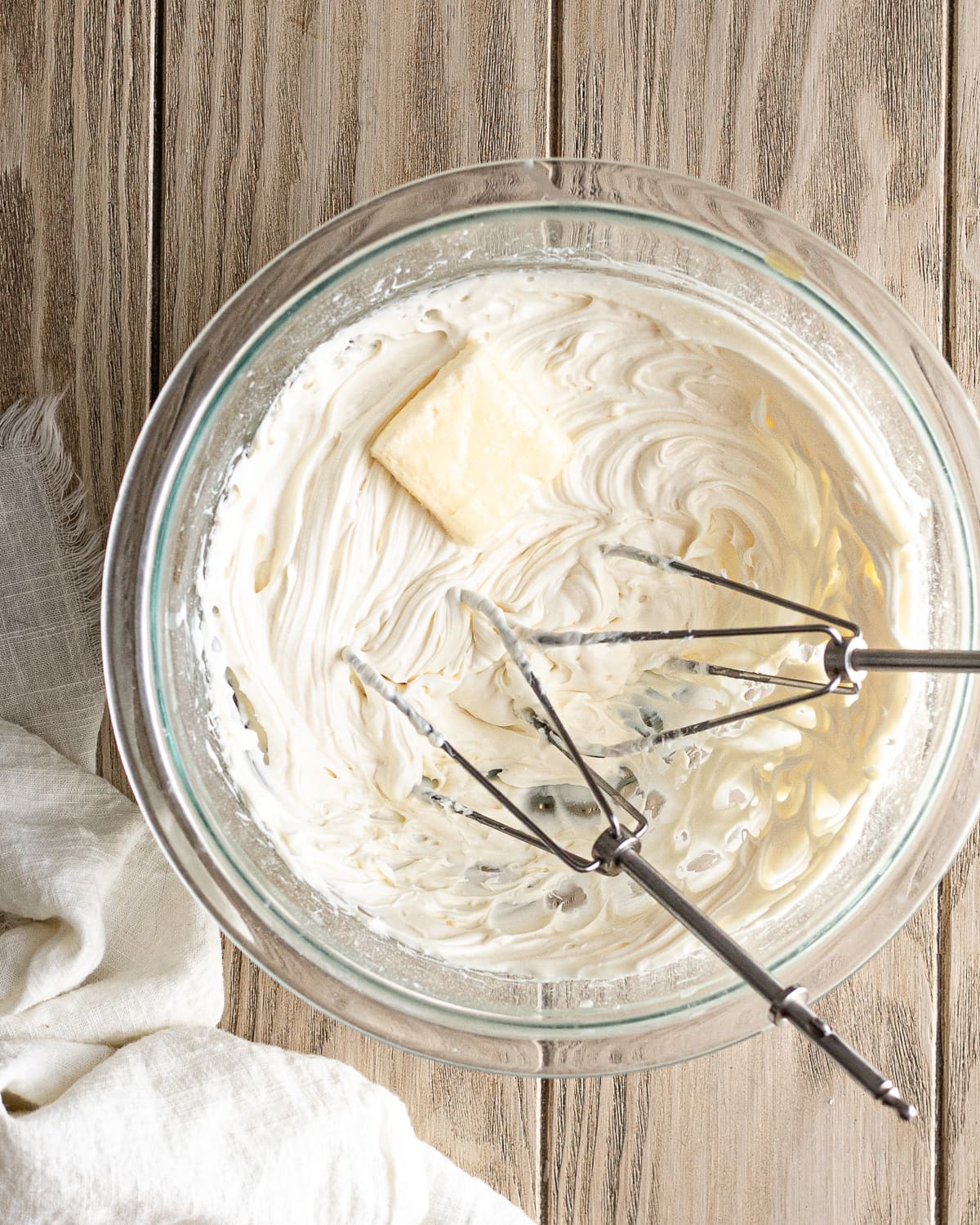 STEP 3. Add in the softened butter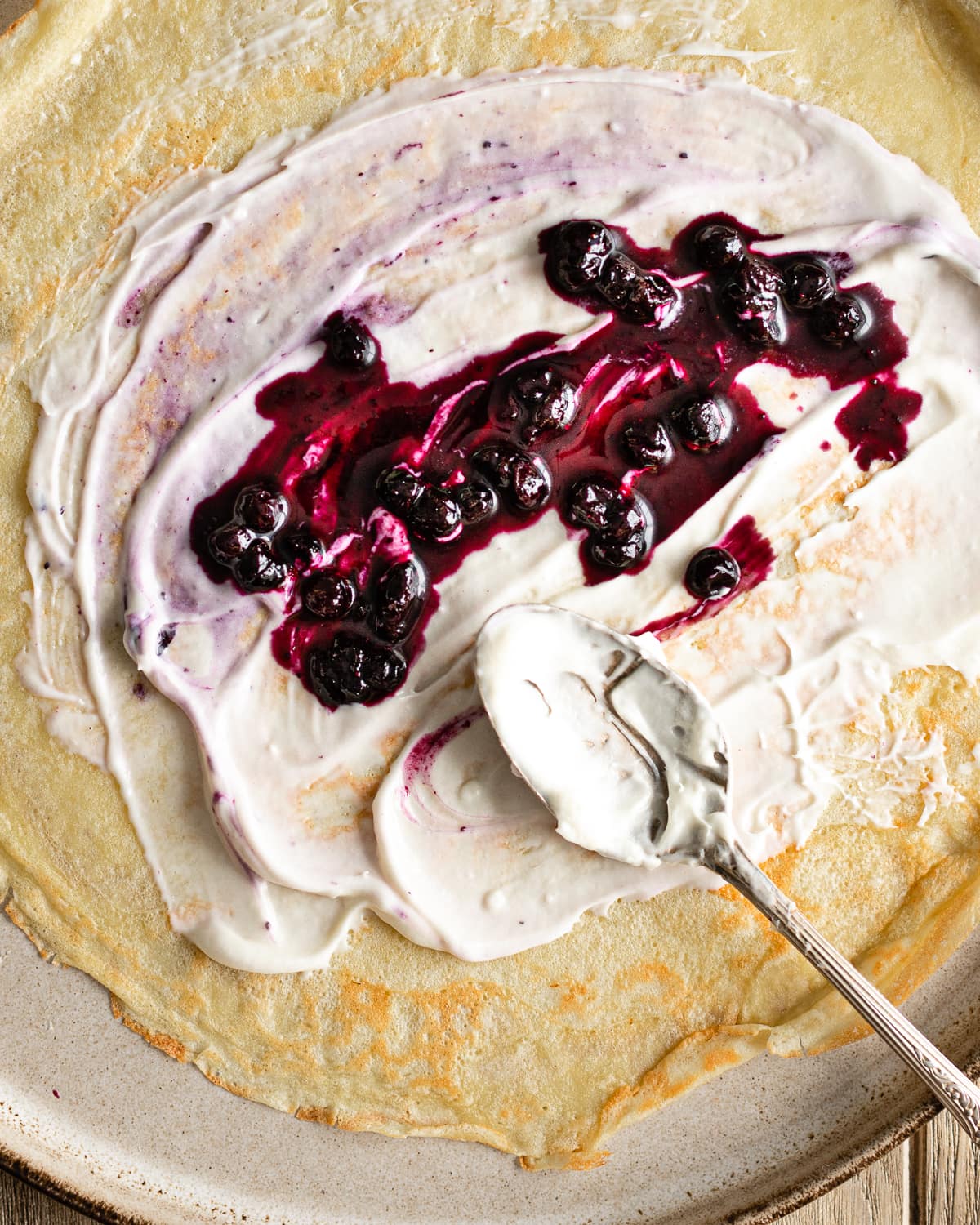 STEP 4. Use immediately or store for up to 1 week
Recipe FAQs
Do I need to soften my cream cheese for this recipe?
No, I used to always forget to leave out my cream cheese to soften it. But I learned that if you use a hand mixer, you can just beat the cream cheese on its own until the block breaks up to soften it. It will easily combine with your powdered sugar. 

I learned this trick from my best friend, Hang who sells custom cakes in Philadelphia! It has made making frosting and filling made with cream cheese so much easier.  
 How do I store my cream cheese crepe filling?
Because it's made with dairy products such as cream cheese and heavy cream you must refrigerate this filling. Store it in an airtight container in the refrigerator for up to 1 week.
Can I fill my crepes ahead of time?
Absolutely! I love doing this, especially if I want to use up all my cream cheese filling. Place a dollop of filling in the center of your crepe, and fold the edges towards the center to make a square package.

Store the filled crepes in a container for up to 3 days.

Reheat the crepes in a skillet over medium heat with a little bit of butter.
---
You May Also Like
---
Did this recipe rise to the occasion?
⭐⭐⭐⭐⭐
We knead your feedback! Did our recipe impress your taste buds? Leave a star rating and write a review to help us create even better recipes.
I read all the comments and love hearing your feedback.
THANK YOU!
---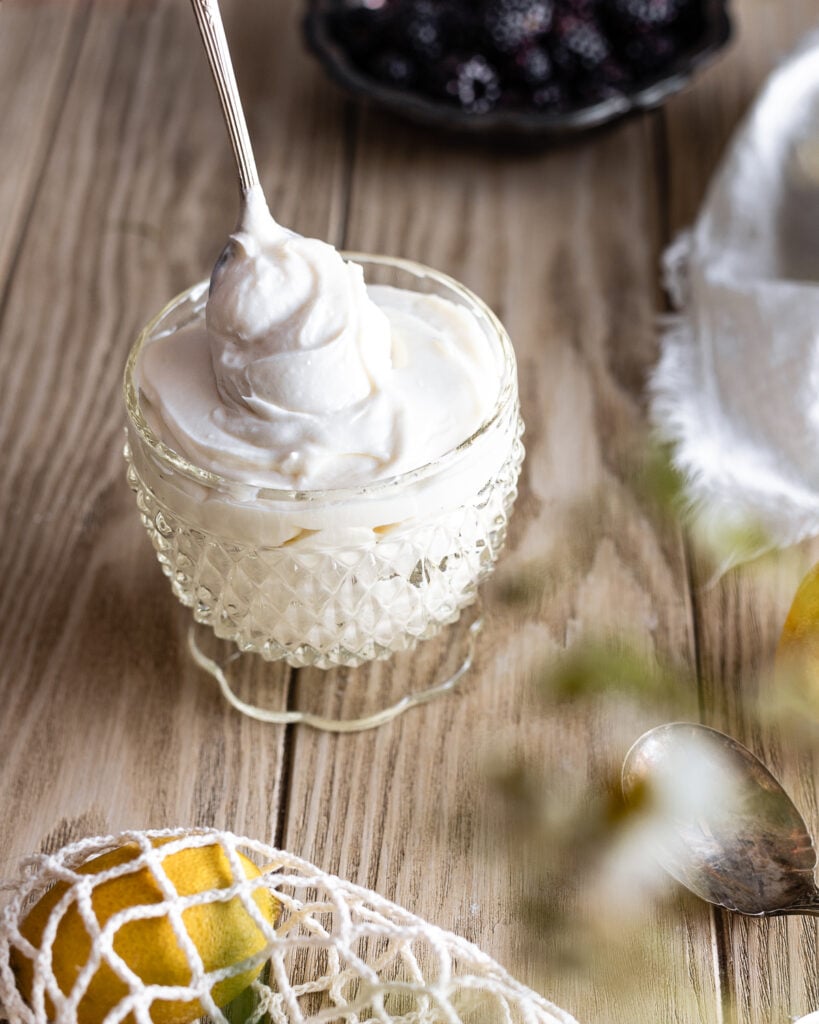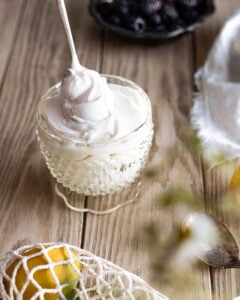 Cream Cheese Crepe Filling
Rich, creamy, and luscious this Cream Cheese Crepe Filling is so easy to make and only takes four ingredients.
This section may contain affiliate links
Ingredients
113

grams

cream cheese

30

grams

powdered sugar

75

grams

heavy cream

14

grams

unsalted butter

softened
Instructions
Place cream cheese in a medium-sized mixing bowl. Using a hand mixer with beaters, beat the cream cheese until it has broken up.

Add the powdered sugar and continue beating until the mixture is smooth.

Add the heavy cream and vanilla (if using) into the bowl and continue to beat until the mixture has thickened, about 3 to 5 minutes.

Beat in the softened butter until completely incorporated.

Serve immediately or store in an airtight container in the refrigerator for up to 1 week.
Tips
These recipes were developed and tested using grams for precise measurements. To increase your chances of success, I recommend investing in a kitchen scale. I've included rough volume estimates (in tablespoons and cups), but they might not be totally accurate.
Remember all ovens are unique, these recipes were tested in my oven which runs cooler than others. You might need to lower the temperature if your bake appears to be browning too quickly. Monitor your bake closely and make adjustments if needed.
Notes
When in doubt use gram over volume measures.
Nutrition
Calories:
54
kcal
|
Carbohydrates:
2
g
|
Protein:
1
g
|
Fat:
5
g
|
Saturated Fat:
3
g
|
Polyunsaturated Fat:
0.2
g
|
Monounsaturated Fat:
1
g
|
Trans Fat:
0.03
g
|
Cholesterol:
14
mg
|
Sodium:
24
mg
|
Potassium:
14
mg
|
Sugar:
2
g
|
Vitamin A:
186
IU
|
Vitamin C:
0.03
mg
|
Calcium:
10
mg
|
Iron:
0.01
mg