Tender and cakey these easy Sourdough Discard Scones are a delicious hearty treat. Butter and sourdough discard impart a rich flavor that makes these scones delicious on their own or slathered with butter and homemade raspberry preserves. This 1-hour simple scone recipe is easy to make and uses basic ingredients you already have in your pantry.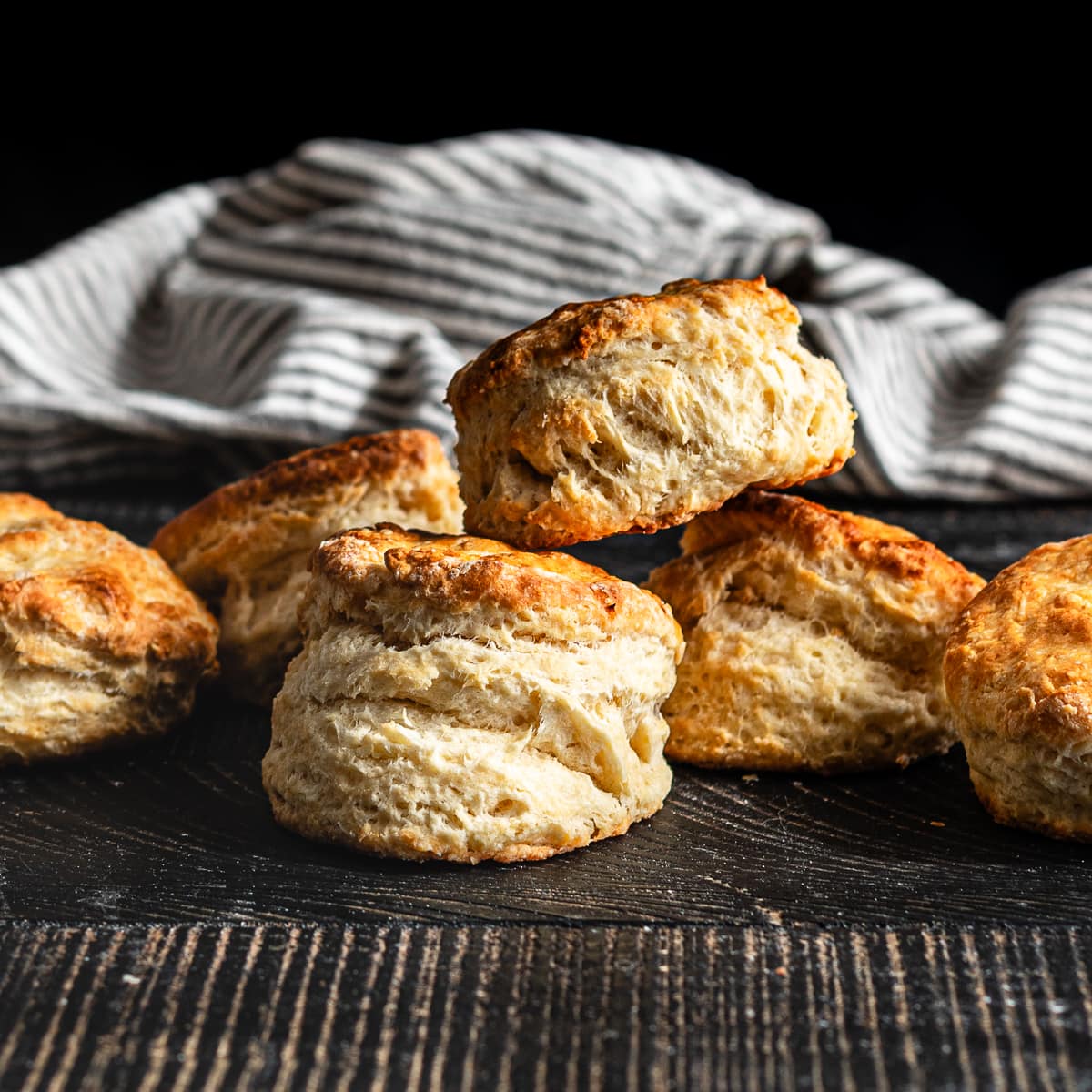 Jump to:
What is a scone?
Scones are a type of quick bread or bread that's leavened with chemical leaveners like baking soda or baking powder instead of a biological leavener such as commercial yeast or sourdough starter. Because you won't be using your starter to make these sourdough scones rise, you can use your discard in this recipe straight from the fridge without activating it.
What differentiates scones from biscuits is the inclusion of an egg. This gives scones a more crumbly texture, as opposed to the flakey, layered texture of a biscuit. Unlike my favorite sourdough biscuit recipe, which uses a make-shift lamination technique and yields tons of flaky layers, these delicious scones come together really quickly and have a finer, cakier crumb.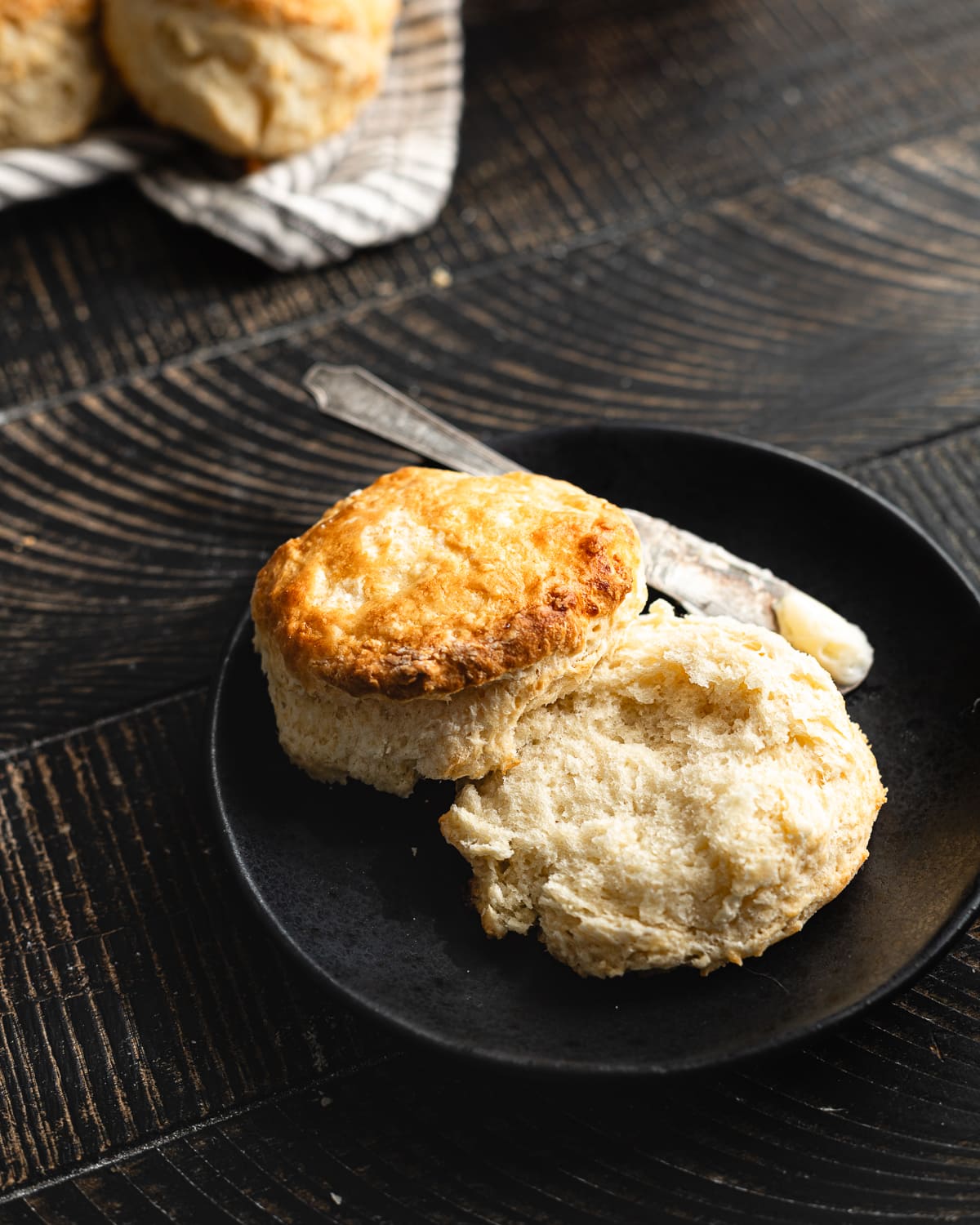 Want to make your own butter and buttermilk? Check out my recipe for Homemade Cultured Butter.
Sourdough discard quick breads
If you've been following the blog for a while, you're probably already familiar with my obsession with sourdough quick breads. I love having recipes like my Sourdough Discard Biscuits, and my Cream Cheese Biscuits from my book Sourdough Every Day, in my back pocket for times when I want to serve fresh baked goods but don't have time to prepare a Sourdough Loaf. These Sourdough Scones fit right into the category and are perfect for when I want a more cakey and tender breakfast treat.
Baking with discard starter
Quick breads use chemical leaveners to get their rise, in this recipe we'll be using baking powder to achieve the fluffy, tender texture that we want. Adding sourdough discard adds a great tang to these scones and in the case of this recipe, we'll only be using it for flavor. Since you are not using it as the main leavener, your sourdough starter does not need to be activated or fed and can be used straight from the fridge.
Your discard will affect the flavor of your scones. If you're using sourdough that's been in the fridge for weeks it will add more acidity, which you won't get when using a freshly fed starter. Both will work for this recipe but you'll get different results.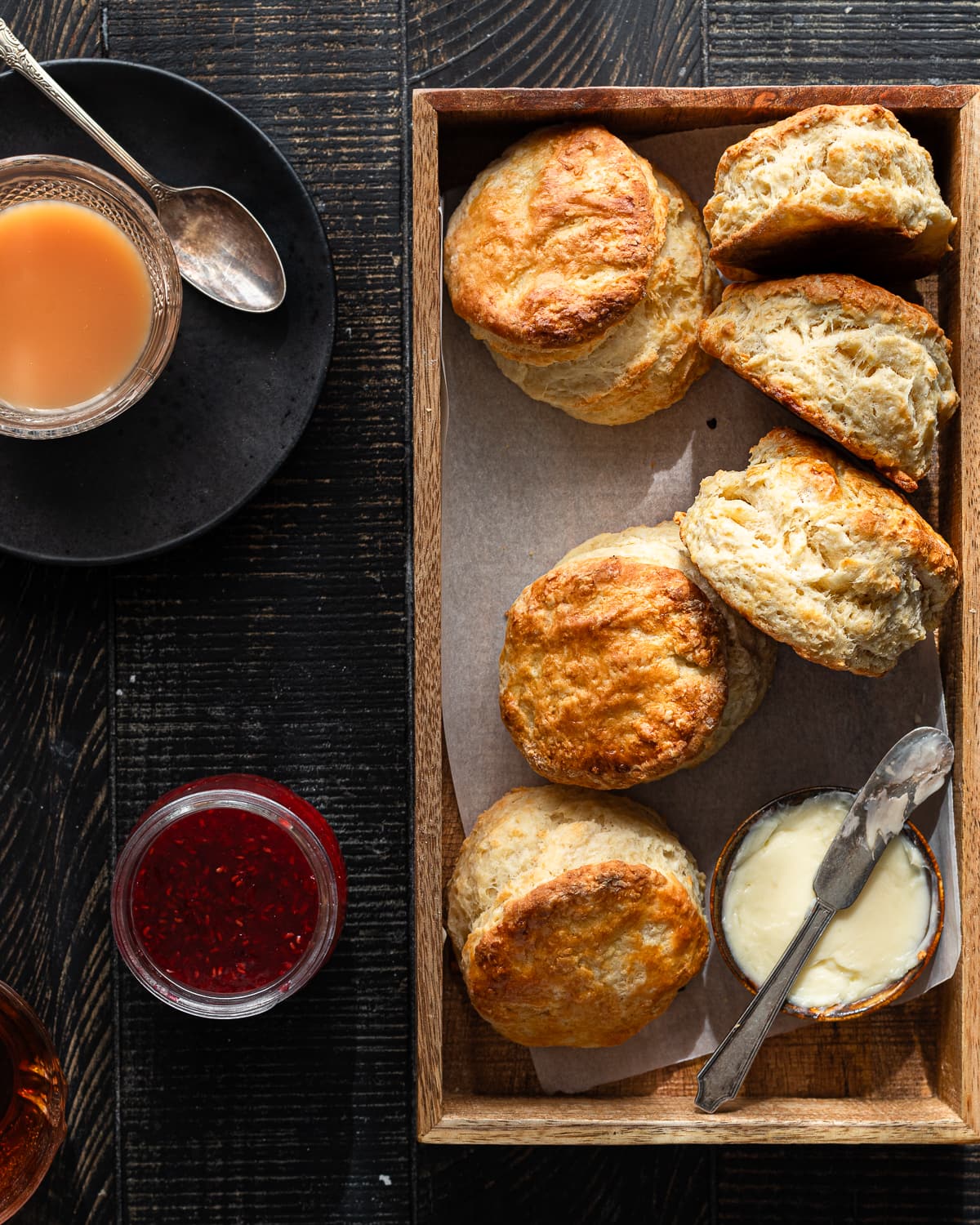 What you need
Buttermilk: Store bought or homemade buttermilk will both work for this recipe. Substitute whole milk with ¼ teaspoon of apple cider vinegar or lemon juice. You can use excess buttermilk to make Sourdough Buttermilk Pancakes, Sourdough Discard Biscuits and Sourdough Discard Blueberry Muffins.
Sourdough discard: Sourdough discard adds a delicious tang to these scones. If you don't have any extra sourdough discard, you can substitute active starter or add 56 grams of water and 56 grams of all-purpose flour into your dough.
Salt: Use sea salt or kosher salt for the best results. You may need to adjust your measurements if you use teaspoons, but the gram measures will be the same.
TIP: Keep your ingredients and dough cold so that the butter doesn't melt before the scones are baked.
Add-ins
This is a basic scone recipe without any fillings or add-ins. I took inspiration for this recipe from Irish Scones, which are traditionally left plain or with dried currants. They serve as a blank canvas for delicious toppings like cream, fruit preserves and butter (maybe all three).
You can always add dried fruit like currants, raisins or cranberries to your dough after cutting your butter in. Orange zest and lemon zest are also great additions that will add freshness and flavor to your scones without changing the texture of your tender scones. You can even add chocolate chips, but it's best not to use fresh fruit because it will add excess hydration to the dough, so adding them in may make your scones too wet causing them to spread while they bake. It's best to use a recipe specifically developed with the addition of these ingredients like these Sourdough Cranberry Orange Scones.
Step-by-step Guide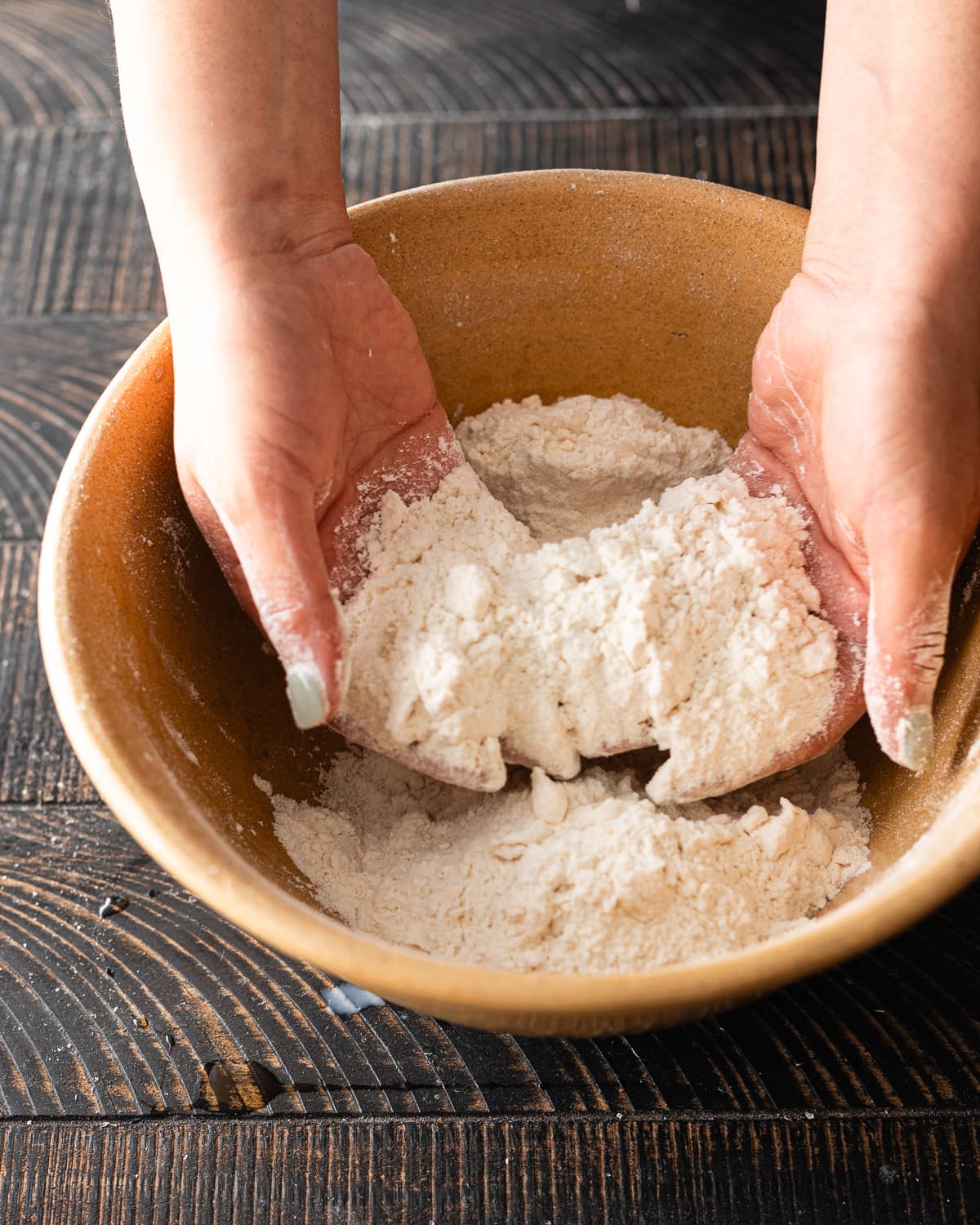 STEP 1: Mix the dry ingredients and rub the butter into the mixture until coarse crumbs form. Add in the wet ingredients and knead the dough lightly.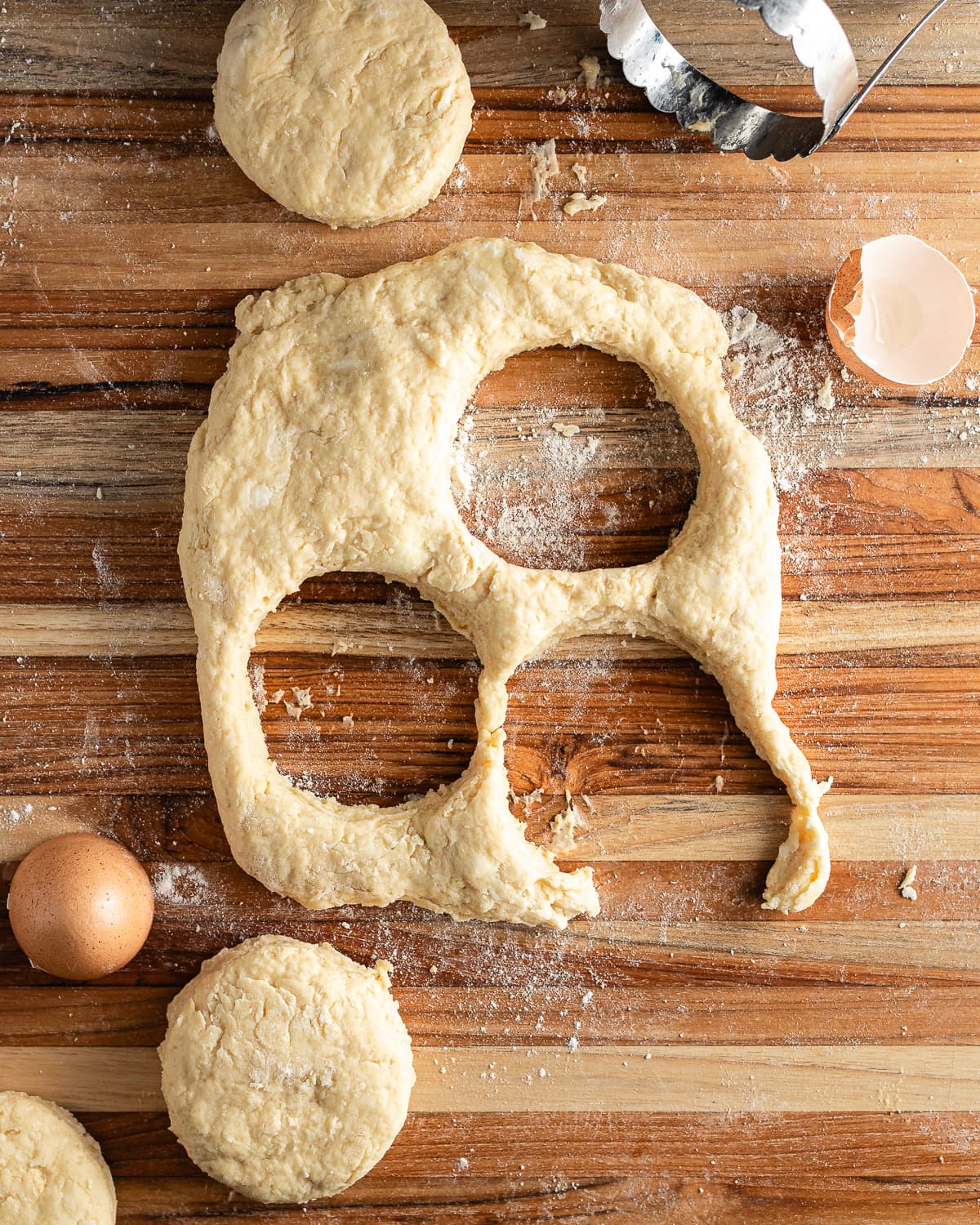 STEP 2: Flatten the dough out into rectangle roughly 1-inch thick, use a 3-inch biscuit cutter to cut out your scones.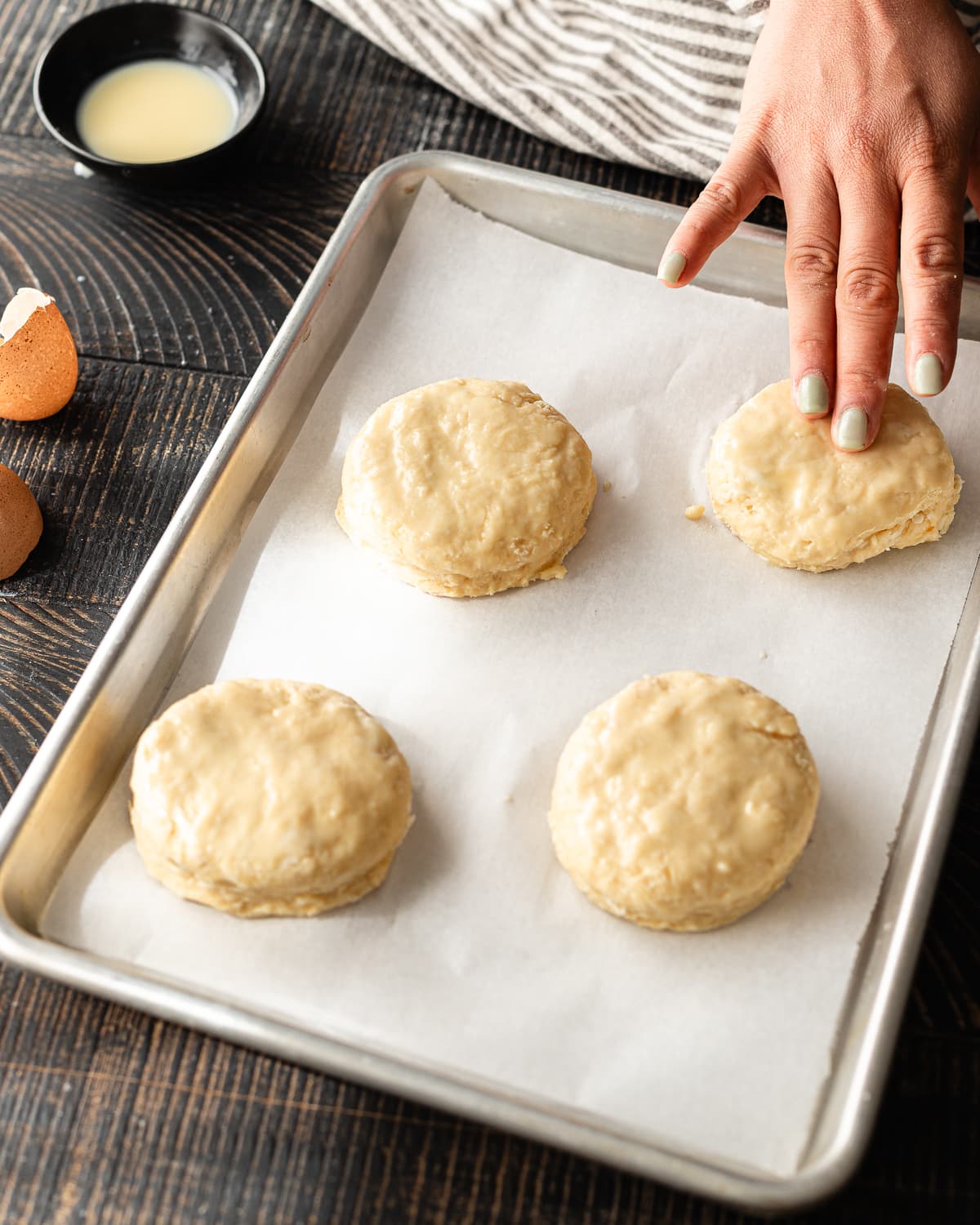 STEP 3: Place scones on a parchment-lined baking sheet and glaze with excess milk and egg mixture.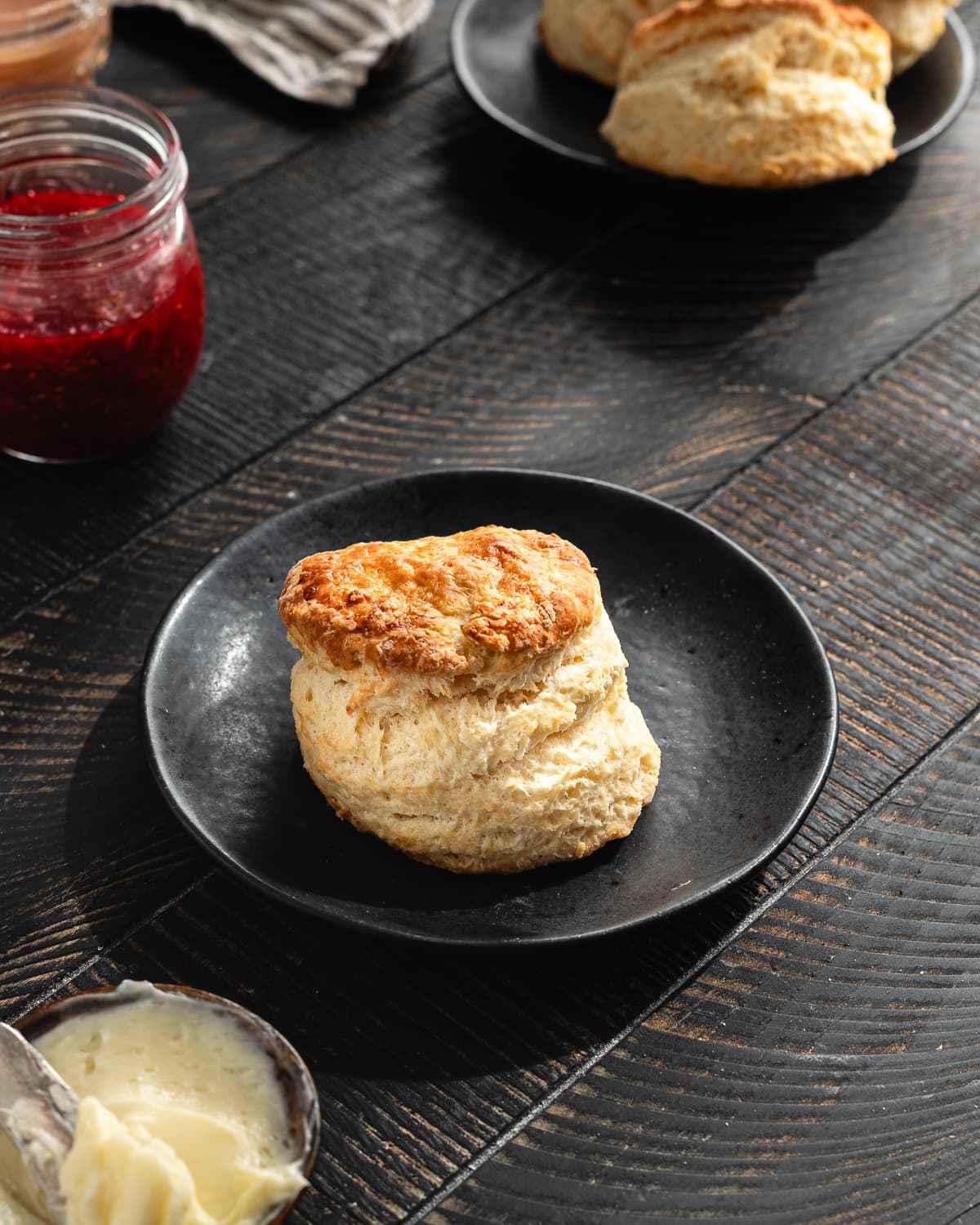 STEP 4: Bake at 425 F for 10 minutes, turn down heat to 325 F and bake for another 10 minutes or until evenly browned.
Baker's Tips
Make sure your baking powder is still fresh and active before making this recipe, chemical leaveners have a limited shelf life if your baking powder is expired it will not help your scones rise.
Use buttermilk, buttermilk is a byproduct of the butter-making process it has a higher fat content resulting in a richer, softer crumb. It's also naturally acidic and reacts with baking powder to help scones rise higher.
Use high-quality butter. These scones are all about the butter flavor, so splurge on European butter (which has a higher % of fat) or organic grass-fed butter which has a better flavor.
Recipe FAQs
Why didn't my scones rise?
Your leaveners may be past their prime. Baking soda and baking powder have a shelf life and after a point are no longer viable. Test your leaveners by combining a teaspoon with a drop of vinegar, if it fizzes it's still good and you can still use it. If it does not it will no longer make your bread rise and it should be thrown away.
Why are my scones so dense and gummy?
You may have not kneaded your dough enough and you may have left some dry patches of flour in your dough. Without overworking your dough, knead it lightly just until all of the flour is hydrated.
What's the difference between a biscuit and a scone?
Biscuits and scones are both quick breads. Scone recipes usually include eggs and other add-ins such as dried or fresh fruits while biscuits do not.
Can I use active starter instead of baking powder and baking soda as the leavener for my scones?
No, biological leaveners such as sourdough starters require a combination of time and gluten development to make baked goods rise. As yeast ferments, it releases CO2 which gets trapped by strong gluten networks in the dough. Gluten development will negatively affect the texture of your scones.
Can I make these scones without sourdough discard?
Absolutely! Simply use the same proportion of freshly fed sourdough starter in the recipe. Your starter won't add a strong tangy flavor to your scones, but will still work.

If you don't have a starter, but still want to try out this recipe, simply add 56 grams of all-purpose flour and 56 grams of water to your dough.
You may also like
---
Did you make this recipe?
⭐⭐⭐⭐⭐
Please leave a star rating and review this recipe if you enjoyed it! I read all the comments and love hearing your feedback.
THANK YOU!
---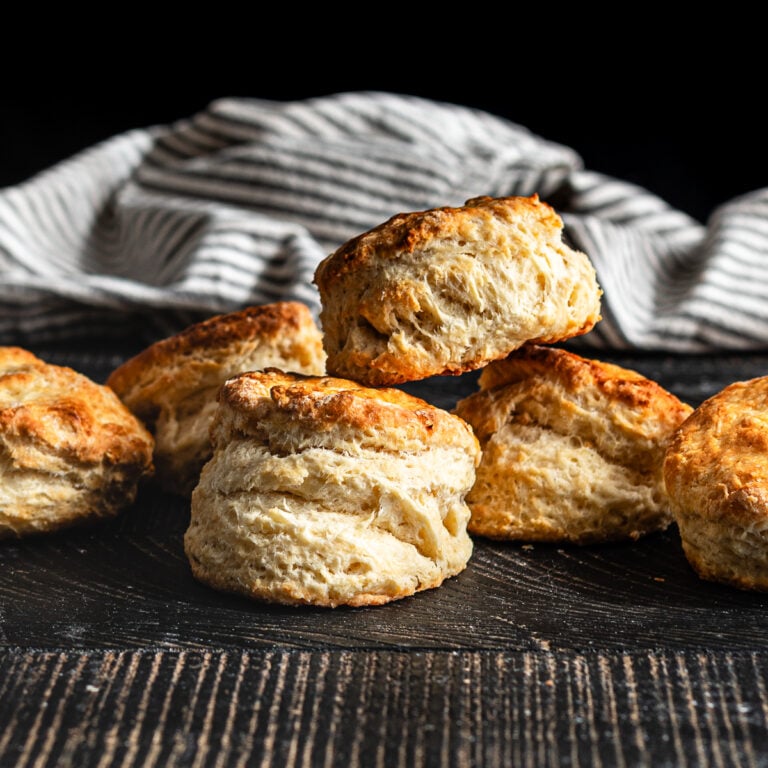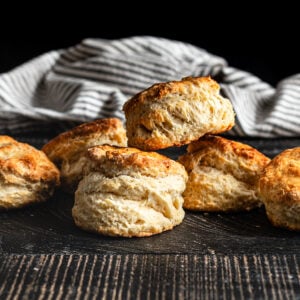 Sourdough Scone Recipe
Tender and cakey these easy Sourdough Discard Scones are the perfect quick bake for a seriously hearty breakfast. 
Ingredients
150

g

buttermilk

1

egg

large

113

g

sourdough discard

300

g

all-purpose flour

14

g

baking powder

3

grams

kosher salt

30

grams

granulated sugar

56

grams

unsalted butter

frozen and cubed
Instructions
Prep
Preheat your oven to 425 F (220 C). Line a 18 by 13 inch baking sheet with parchment paper, and set aside.  
Make the scone dough
Whisk together the egg and milk in a large glass measuring cup, until completely combined. Set aside 3 tablespoons of the mixture (for glazing your scones).

Add the sourdough discard into the egg mixture and stir until no traces of sourdough remain. Set mixture aside. 

In a large mixing bowl, whisk together flour, baking powder, salt and sugar.

300 g all-purpose flour,

14 g baking powder,

3 grams kosher salt,

30 grams granulated sugar

Rub the butter in by hand or with a pastry cutter until the mixture resembles fine breadcrumbs. 

Make a well in the center of the flour mixture, and pour in half of the milk mixture. With a large open hand gently mix the ingredients together until a shaggy dough forms. Add the remaining milk mixture and incorporate any leftover dry bits of flour. 
Knead
Turn the dough out onto a clean surface and fold the dough on itself 4 or 5 times or until no traces of dry flour remain. Use a light hand and don't overwork the dough, but make sure the dough is cohesive and well incorporated and not crumbly. 
Shape
Using a 3-inch biscuit cutter, cut scones and transfer them to prepared baking sheet. Brush the top of the scones with reserved milk and egg mixture. 
Bake
Bake scones for 10 minutes at 425 F (220 C) and then reduce oven temperature to 325 F (160 C) for another 10 to 15 minutes or until the scones are golden brown. Don't over bake or your scones will turn out too tough and crusty.
Enjoy and store
Take scones out of the oven and place on a wire rack to cool. Eat warm, filled with jam, butter or cream. These delicious sourdough scones are best eaten the day they are baked, but leftover scones keep well in an airtight container at room temperature for up to 2 days.
Notes
Make sure you use a light hand when making these scones and avoid overworking the gluten or your end result will be tough and dry. 
These are best enjoyed the day they are baked, but will keep well in an airtight container for up to 2 days. 
Buttermilk results in fluffier scones, substitute whole milk with

¼ teaspoon apple cider vinegar or lemon juice. 
Nutrition
Calories:
234
kcal
|
Carbohydrates:
36
g
|
Protein:
6
g
|
Fat:
7
g
|
Saturated Fat:
4
g
|
Polyunsaturated Fat:
1
g
|
Monounsaturated Fat:
2
g
|
Trans Fat:
0.2
g
|
Cholesterol:
38
mg
|
Sodium:
360
mg
|
Potassium:
75
mg
|
Fiber:
1
g
|
Sugar:
5
g
|
Vitamin A:
236
IU
|
Calcium:
135
mg
|
Iron:
2
mg
Did you make this recipe?
I'd love to know! Leave a star rating and comment below. Don't forget to pin this recipe on Pinterest and share a photo and tag @makeitdough on Instagram
You may also like