Tender and cakey these easy Sourdough Discard Scones are the perfect quick bake for a seriously hearty breakfast.
These are all about the butter flavor, so treat yourself and splurge on European butter (which has a higher % of fat) when you make these. Slather on your favorite jam and cream, and you are sure to impress your family and friends with this new delicious treat.
Sourdough discard quick breads
If you've been following the blog for a while, you're probably already familiar with my obsession with sourdough quick breads. I love having recipes like my Sourdough Discard Biscuits, and my Cream Cheese Biscuits from my book Sourdough Every Day, in my back pocket for times when I want to serve fresh baked goods but don't have time to prepare a Sourdough Loaf. These Sourdough Scones fit right into the category and are perfect for when I want a more cakey and tender breakfast treat.
Baking with sourdough discard
Quick breads use chemical leaveners to get their rise, in this recipe we'll be using baking powder to achieve the fluffy, tender texture that we want. Adding sourdough discard adds a great tang to these scones and in the case of this recipe, we'll only be using it for flavor. Since you are not using it as the main leavener, your sourdough starter does not need to be activated or fed and can be used straight from the fridge.
Your discard will affect the flavor of your scones. If you're using sourdough that's been in the fridge for weeks it will add more acidity, which you won't get when using a freshly fed starter. Both will work for this recipe but you'll get different results.
What is a scone?
Scones are a type of quick bread or bread that's leavened with chemical leaveners like baking soda or baking powder instead of a biological leavener such as commercial yeast or sourdough starter. Because you won't be using your starter to make these sourdough scones rise, you can use your discard in this recipe straight from the fridge without activating it.
What differentiates scones from biscuits is the inclusion of an egg. This gives scones a more crumbly texture, as opposed to the flakey, layered texture of a biscuit. Unlike my favorite sourdough biscuit recipe, which uses a make-shift lamination technique and yields tons of flaky layers, these come together really quickly and have a finer, cakier crumb.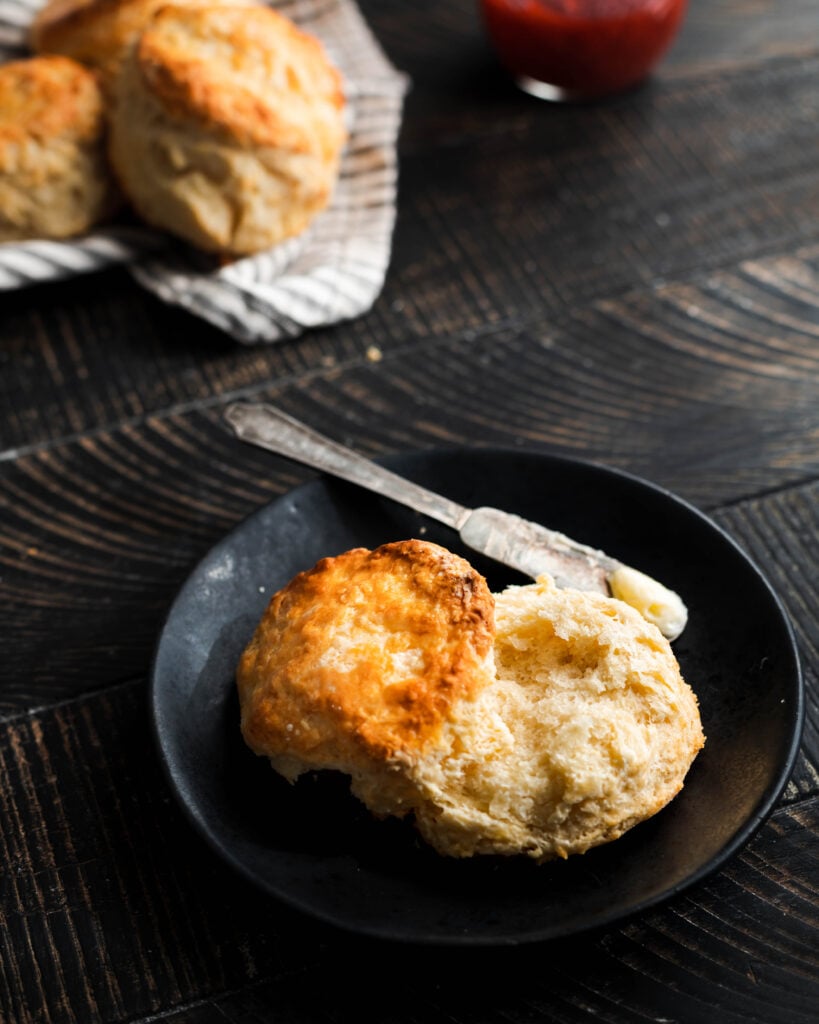 Add-ins
I took inspiration for this recipe from Irish Scones, which are traditionally left plain or with a simple addition of dried currants. They serve as a blank canvas for delicious toppings like cream, jam and butter (maybe all three). You can always add in dried fruit like currants or raisins and incorporate them in the dry ingredients before cutting your butter in. Fresh fruits add excess hydration which this recipe does not account for, so adding them in may make your scones too wet causing them to spread while they bake.
Let's make Sourdough Discard Scones
| | | | |
| --- | --- | --- | --- |
| Quantity | | Ingredients | Baker's % |
| 150 grams | ⅔ cup | Whole milk | 50% |
| 50 grams | 1 large | Egg | 17% |
| 100 grams | ½ cup | Sourdough discard | 33% |
| 300 grams | 2 ½ cups | All-purpose flour | 100% |
| 14 grams | 3 tsp | Baking powder | 5% |
| 3 grams | ½ tsp | Kosher salt | 1% |
| 30 grams | 2 ½ tbsp | Granulated sugar | 10% |
| 60 grams | 4 tbsp | Unsalted butter (cubed, preferably frozen) | 20% |
Here's your step-by-step guide to making these fluffy scones!
Mix the dry ingredients and rub the butter into the mixture until coarse crumbs form
Add in the wet ingredients and knead the dough lightly
Flatten the dough out into rectangle roughly 1-inch thick, use a 3-inch biscuit cutter to cut out your scones
Place scones on a parchment-lined baking sheet and glaze with excess milk and egg mixture
Bake at 425F for 10 minutes, turn down heat to 325F and bake for another 10 minutes or until evenly browned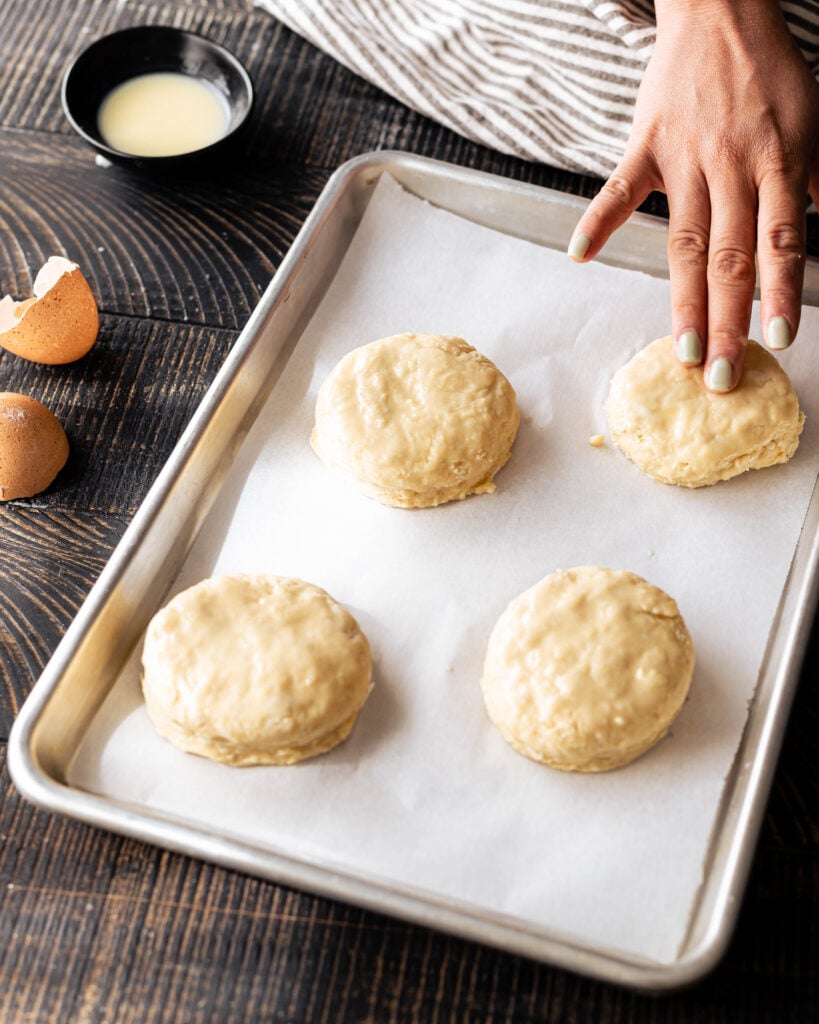 Print
Sourdough Discard Scones
Tender and cakey these easy Sourdough Discard Scones are the perfect quick bake for a seriously hearty breakfast. 
Author:
Prep Time:

30 minutes

Cook Time:

20 minutes

Total Time:

50 minutes

Yield:

6

to

8

scones

1

x
150 g (⅔ cup) whole milk
50 g (1 large) egg
100 g (½ cup) sourdough discard
300 g (2 ½ cups) all-purpose flour
14 g (3 tsp) baking powder 
3 grams (½ tsp) kosher salt
30 grams (2 ½ tbsp) granulated sugar
60 grams (4 tbsp) unsalted butter, frozen and cubed
Instructions
Prep: Preheat your oven to 425 F (220 C). Line a 18 by 13 inch baking sheet with parchment paper, and set aside.  
Make the dough: Whisk together the egg and milk in a large glass measuring cup, until completely combined. Set aside 3 tablespoons of the mixture (for glazing your scones). Add the sourdough discard into the egg mixture and stir until no traces of sourdough remain. Set mixture aside. 
In a large mixing bowl, whisk together flour, baking powder, salt and sugar. Rub the butter in by hand or with a pastry cutter until the mixture resembles fine breadcrumbs. 
Make a well in the center of the flour mixture, and pour in half of the milk mixture. With a large open hand gently mix the ingredients together until a shaggy dough forms. Add the remaining milk mixture and incorporate any leftover dry bits of flour. 
Knead: Turn the dough out onto a clean surface and fold the dough on itself 4 or 5 times or until no traces of dry flour remain. Use a light hand and don't overwork the dough, but make sure the dough is cohesive and well incorporated and not crumbly. 
Shape: Pat the dough down until it is an even 1-inch thickness. Using a 3-inch biscuit cutter, cut out your scones and transfer them to your lined baking sheet. Re-roll your dough and repeat. 
Bake: Glaze scones with reserved milk and egg mixture.  Bake scones for 10 minutes at 425 F (220 C) and then reduce oven temperature to 325 F (160 C) for another 10 minutes. Don't over bake or your scones will turn out too tough and crusty. 
Enjoy and store: Take scones out of the oven and place on a wire rack to cool. Eat warm, filled with jam, butter or cream. 
Notes
Make sure you use a light hand when making these scones and avoid overworking the gluten or your end result will be tough and dry. 
These are best enjoyed the day they are baked, but will keep well in an airtight container for up to 2 days. 
If you have any on hand, using buttermilk results in fluffier scones
Keywords: scones, sourdough discard recipes, quick bread
This post was originally published on March 14, 2021. An updated version was published on March 8, 2022.
Please share this recipe if you enjoyed it! Remember to post a photo and tag me @makeitdough when you make this delicious recipe, so I can check out your bake