An incredibly moist and flavorful loaf cake with aromatic cinnamon and hearty walnuts this Sourdough Discard Zucchini Bread is a great way to use up excess sourdough starter and zucchinis. Using vegetable oil in lieu of butter makes for a light tender crumb, and the addition of sourdough keeps helps these loaves resist staling for days. This simple one-bowl batter comes together in less than 20 minutes!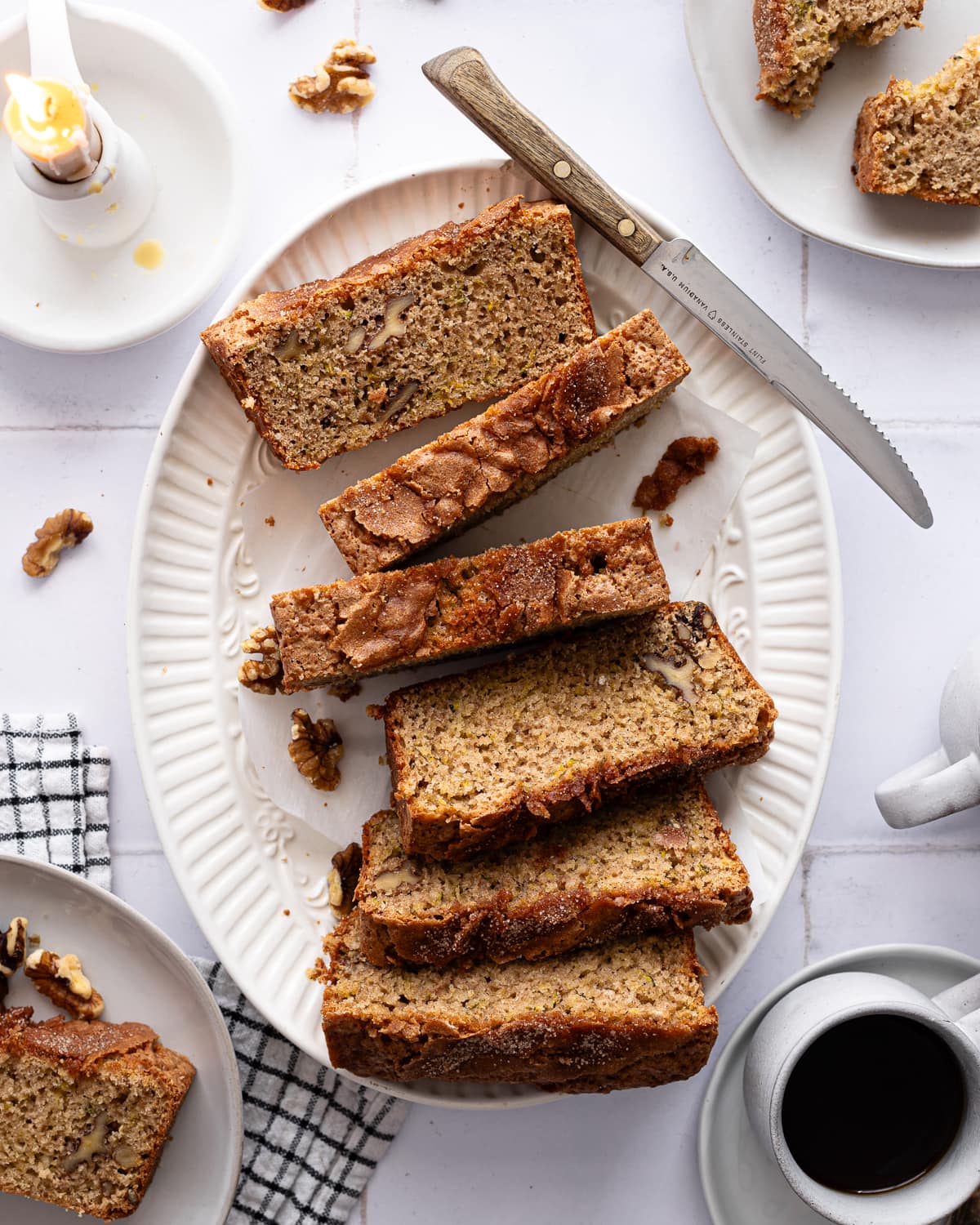 I'm always taking on new baking projects and there are only a few recipes I make repeatedly. This zucchini bread recipe is one that I make every year. This loaf is moist, lightly spiced and is a comforting treat every year. So when late summer arrives and zucchinis are plentiful I always make a loaf of this Sourdough Zucchini Bread.
Jump to:
A nostalgic recipe
This Sourdough Zucchini Bread is based on a recipe passed down to me by my boyfriend's mom. She's an avid gardener so she's always had a huge crop of zucchinis every year. Long story short, she's baked a ton of zucchini bread for us over the years and hers is one of the most delicious ones I've ever eaten.
Some years ago, she was kind enough to share her recipe with me. It's a simple straight-forward recipe that always produces a delicious, satisfying loaf and I knew I had to include it in my first cookbook, Sourdough Every Day. I adapted her recipe by including sourdough discard. The recipe I'm sharing here is a modified version, with a few changes that I think both simplify the process and result in a much better bread.
Want more sourdough recipes? Check out my cookbook Sourdough Every Day, you can even purchase a signed copy!
Why I love this recipe
No squeezing excess moisture out of the zucchini
Batter uses one bowl and takes less than 20 minutes
Light and tender crumb with a crunchy sugar crust
Great way to use up a lot of sourdough discard - 113 grams (½ cup)!
Endlessly adaptable! I love walnuts in my zucchini bread but feel free to add your choice of nuts, citrus zest, dried fruit and even chocolate chips
What is zucchini bread?
Zucchini bread is a type of quick bread, or bread that uses chemical leaveners like baking soda and baking powder to get its rise. What makes it unique is the addition of grated zucchini in the batter. Zucchini has a very mild flavor so it won't add a vegetal flavor to baked goods. In addition to adding a nice texture, it's also mostly comprised of water so it adds a lot of moisture to the loaf.
The batter also uses pantry staples like all-purpose flour, salt, eggs, sugar and sometimes dairy (milk, sour cream or yogurt) for moisture. Recipes can use butter or oil, I like to use oil in my recipe because it keeps the loaf moist and light. Most recipes include cinnamon and vanilla for flavor.
Looking for more sourdough quick bread recipes? Try my Sourdough Discard Banana Nut Bread, Sourdough Discard Banana Bread, Sourdough Discard Pumpkin Bread.
What is sourdough discard?
Sourdough discard is any portion of your sourdough starter that you do not use to make bread. It's usually past the point of being viable for bread making since the yeast have exhausted their food source and are considerably weak. There's more bacterial activity in a sourdough discard so it's also usually more acidic, this acidity prevents it from growing harmful pathogens like mold or any other microorganisms that may cause spoilage. This is why discard usually has an acidic aroma and flavor, and why it can be kept for long periods of time without being fed.
I usually store my sourdough discard in a food-safe container in the refrigerator until I'm ready to use it. It does not need to be fed at all.
Baking with sourdough discard
Sourdough discard adds a great tangy flavor to this Zucchini Bread. Since you're not using it as a leavener, your sourdough starter does not need to be activated or fed for it to work in this recipe and you can use it straight from the refrigerator. Older discard will have a tangier, more acidic flavor than freshly-fed sourdough starter. Both will work for this recipe, you'll get a slightly different flavor but your bake will still be delicious!
Looking for more sweet sourdough discard recipes? Check out my Favorite Sourdough Discard Dessert Recipes!
What you need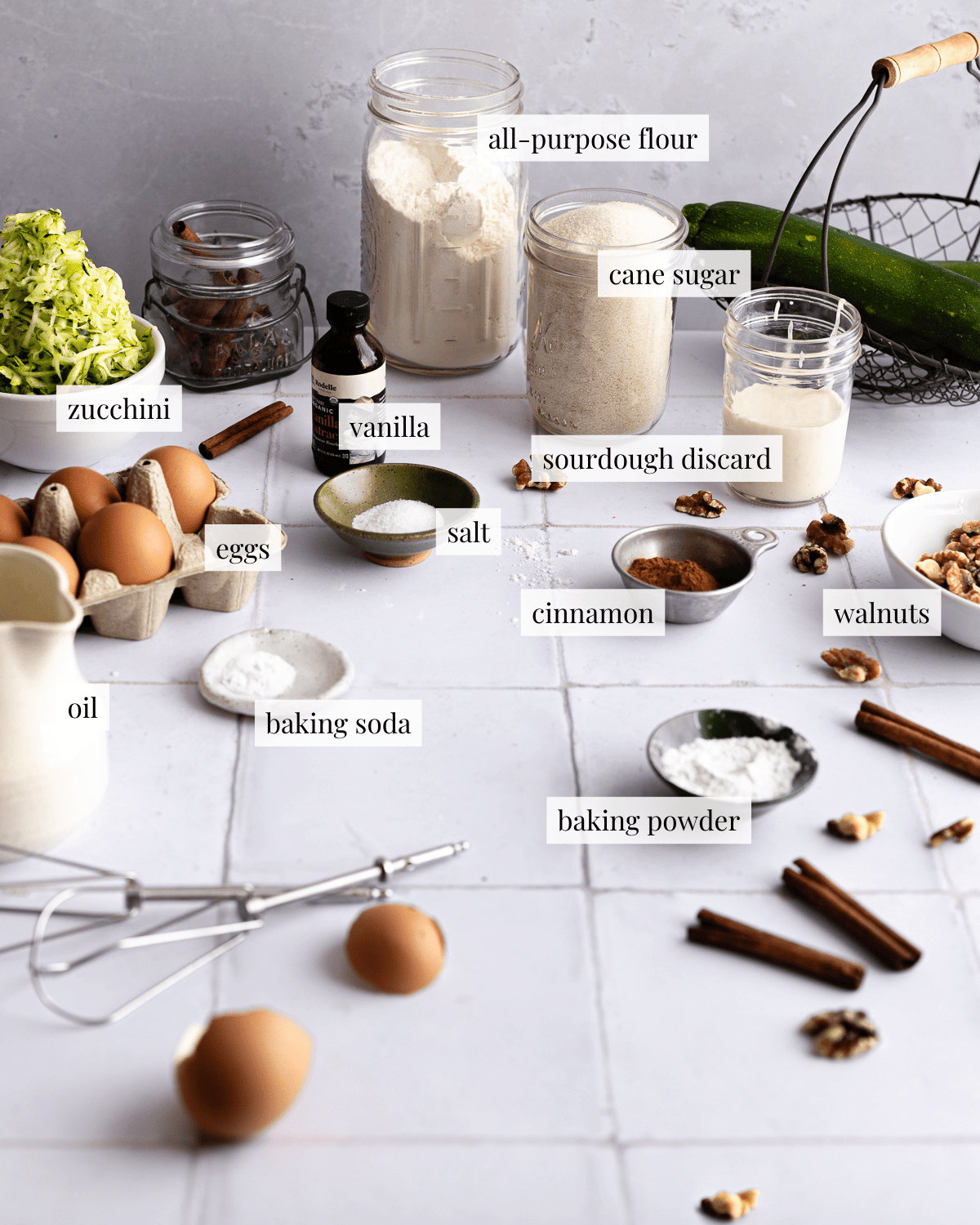 All-purpose flour: low protein content of all-purpose flour imparts a soft and tender texture to this zucchini bread.
Baking powder: The main leavener, adds lightness and lift.
Baking soda: Helps baking powder with leavening and increases the maillard reaction which helps with browning. Baking soda also helps give this bread a more robust structure, don't leave it out or your bread will end up gummy and pale.
Salt: Use sea salt or kosher salt for the best results, different brands of salt have varying grain sizes, so it's best to weigh your salt instead of measuring with a teaspoon.
Vanilla and cinnamon: Adds an aromatic flavor to the bread. If you don't have any on hand feel free to leave them out.
Oil: Tenderizes the crumb, adds moisture and prevents the cake from drying out. Use a neutral-flavored oil like grapeseed, vegetable or canola oil. If you're in a pinch, use olive oil, however it will add some flavor to your loaf.
Cane sugar: I prefer cane sugar over white granulated sugar because it is produced using more sustainable methods. Feel free to substitute white sugar, do not use brown sugar because it will add too much moisture and weigh down your cake.
Eggs: Binds the ingredients together, creates structure and stability in the batter. Use large eggs (about 50 grams in the shell).
Sourdough discard: Adds a delicious tangy flavor and moisture that keeps this loaf tasting fresher for longer. If you don't have any sourdough discard, you can use active starter or add 56 grams of flour and 56 grams of water to your batter.
Zucchini: This recipe does not require you to peel or squeeze the excess moisture out of your zucchini, this makes it even more important to weight your ingredients rather than measuring by cups. If you add too much to your batter, it may cause your bake to become too gummy. Grate your zucchini before measuring it out the recipe.
Step-by-step instructions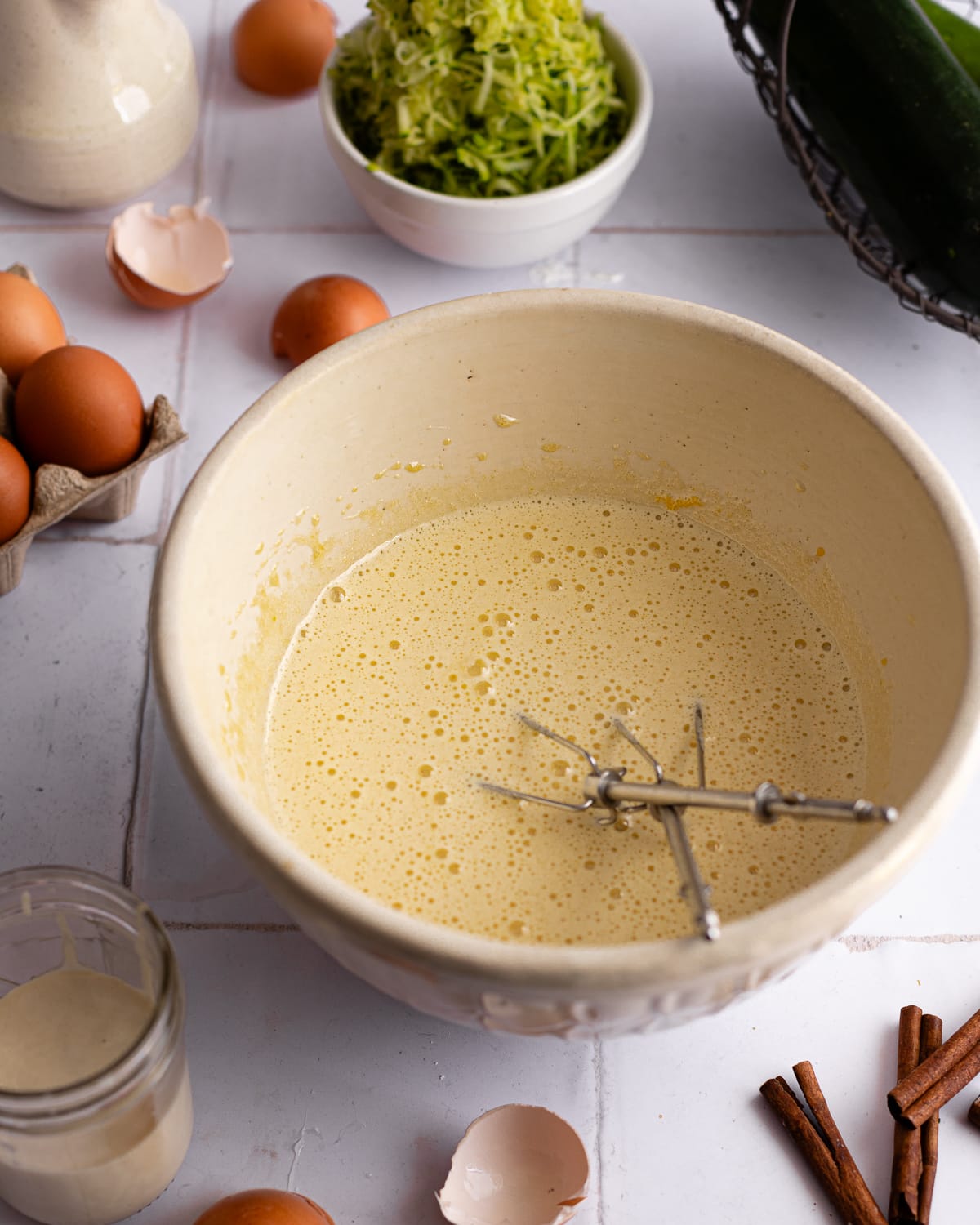 1. Beat eggs, sugar and vanilla together until foamy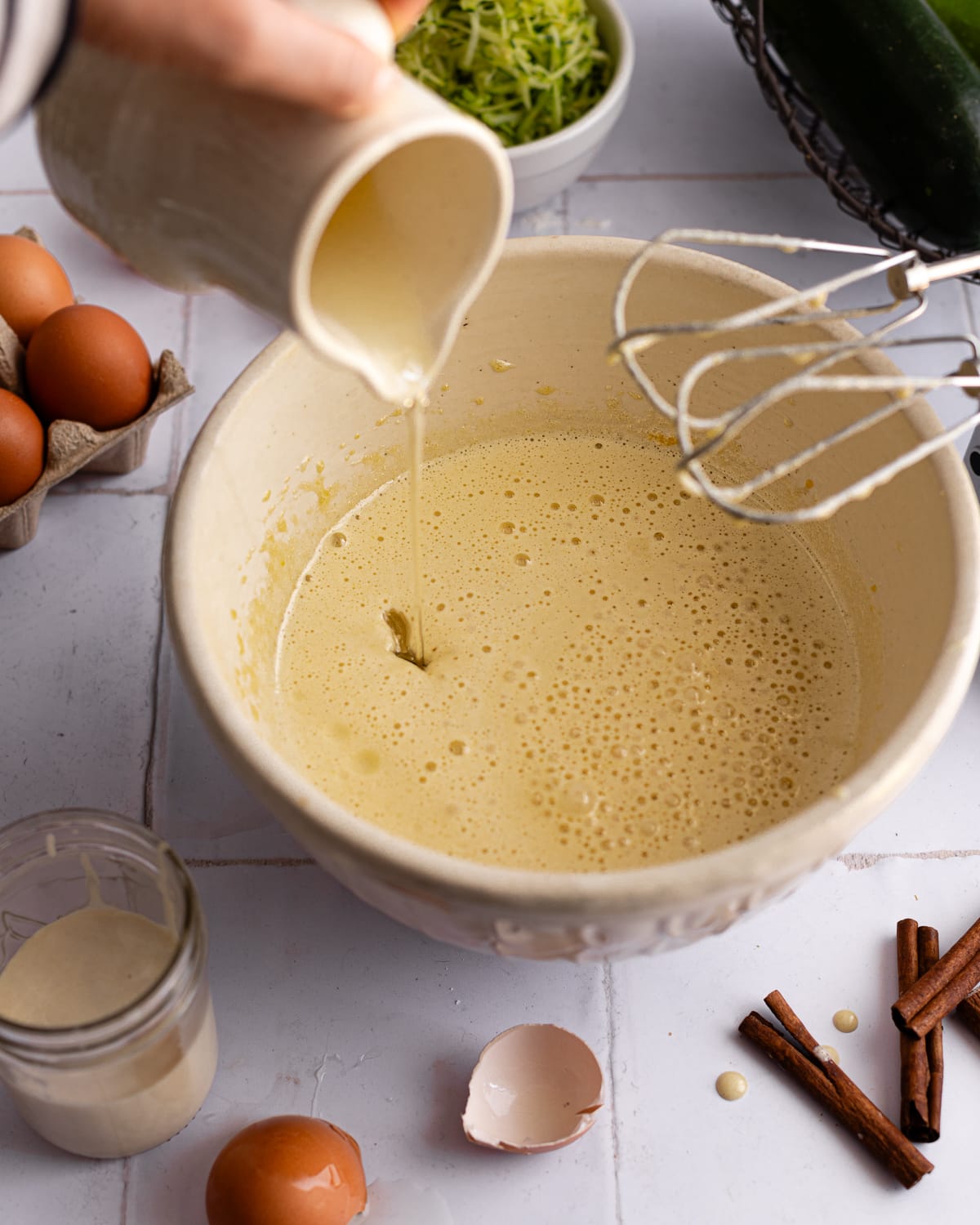 2. Stream the oil in until emulsified
3. Stir in the sourdough discard and zucchini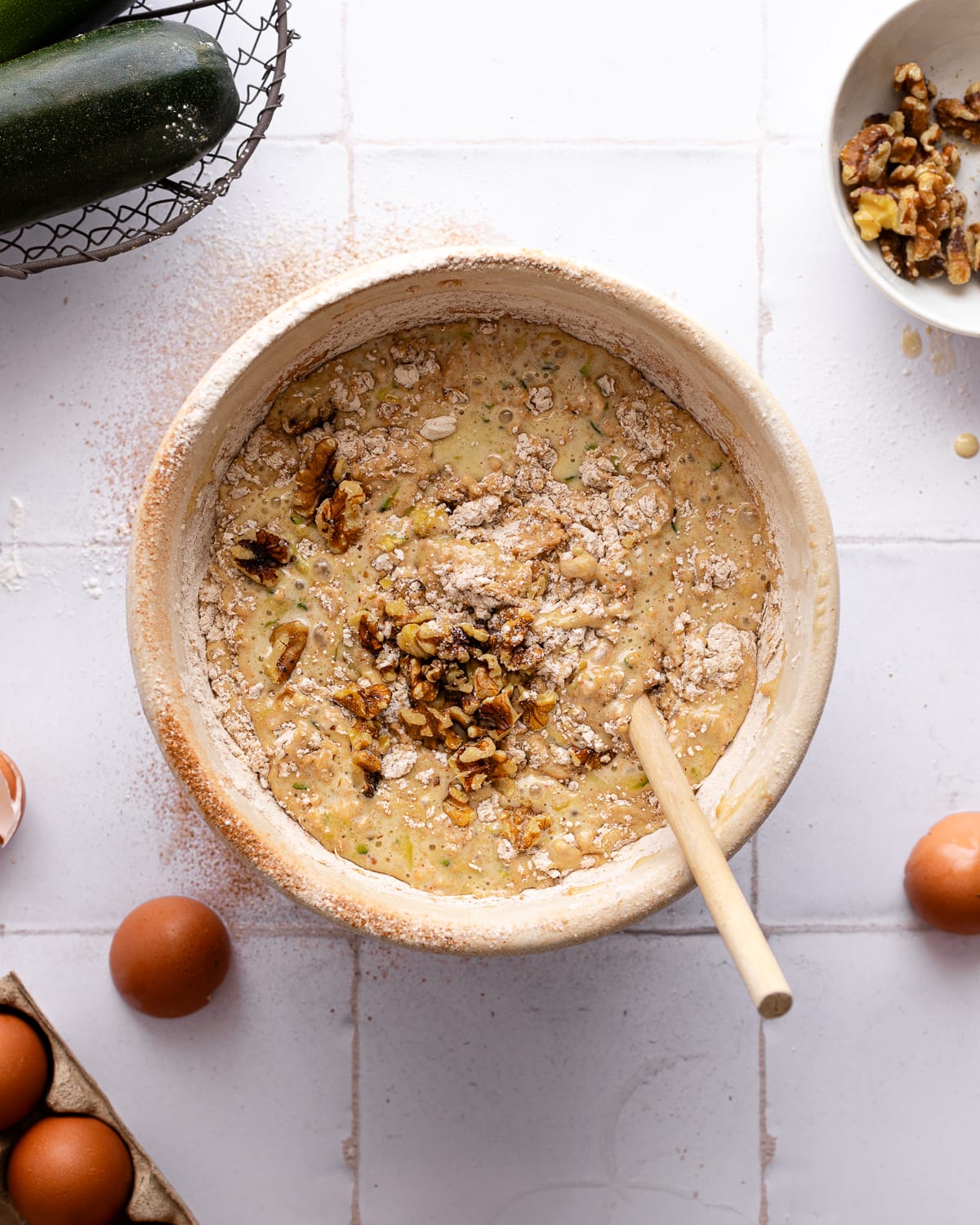 4. Fold the dry ingredients in a third at a time, add walnuts in with last addition of flour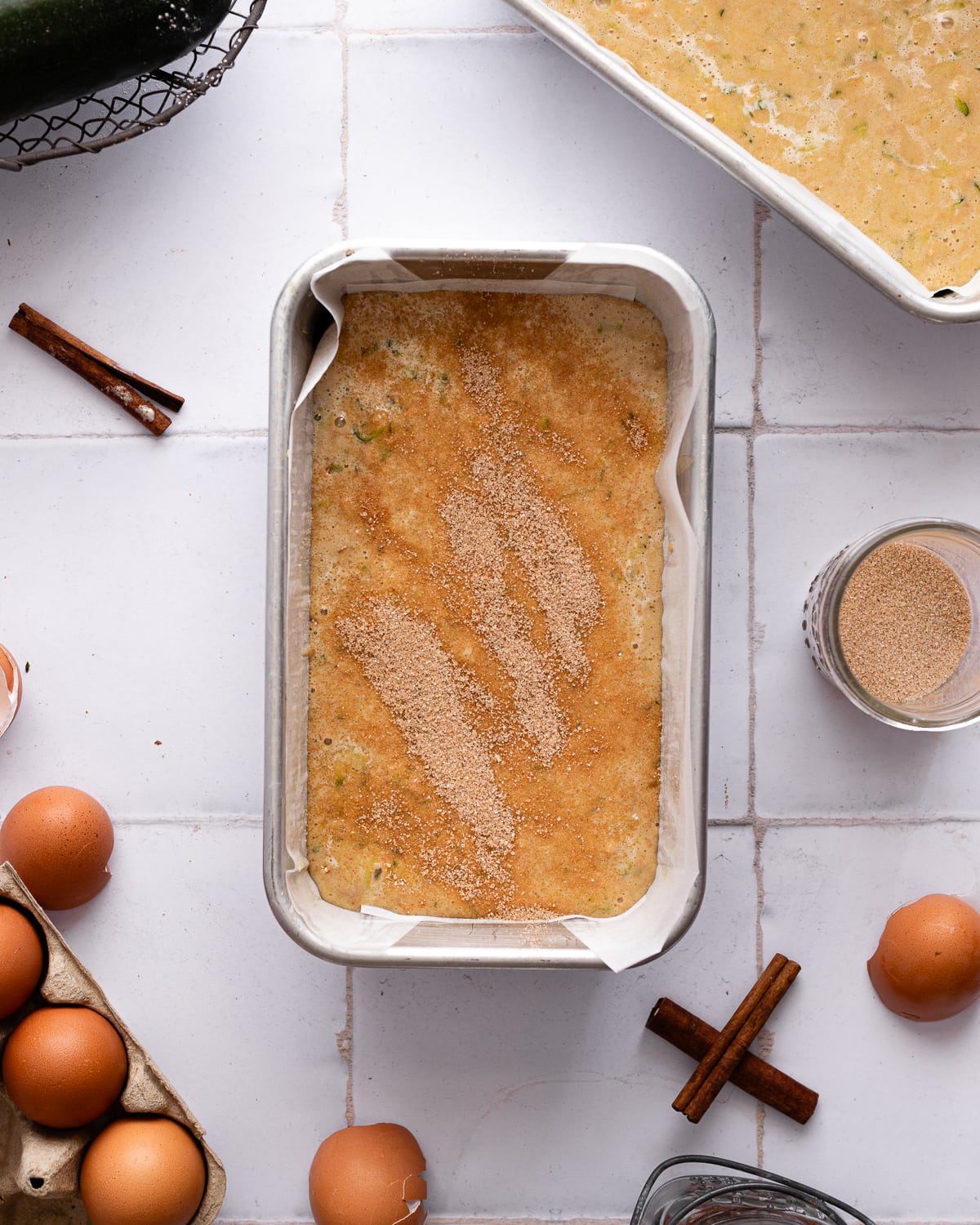 5. Pour the batter into prepared pans, sprinkle cinnamon sugar on top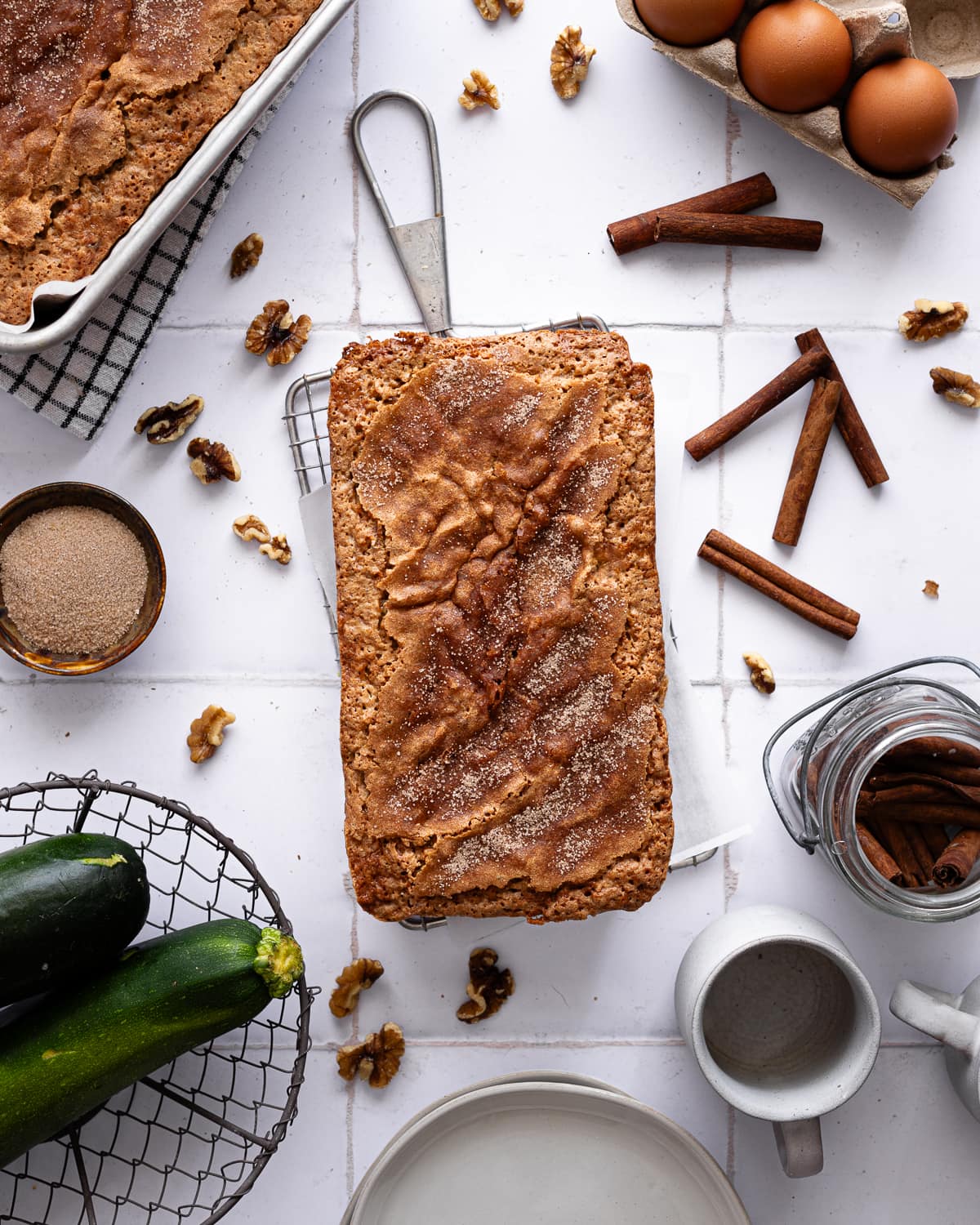 6. Bake loaf at 325 F for 60 to 65 minutes
Recipe FAQs
Do you leave the skin on zucchini when making bread?
Absolutely! Zucchini skin is nutritious and edible. It doesn't affect the flavor and the visible dark green flecks look really pretty in the crumb. 
I don't have enough sourdough discard, can I still make this recipe?
Absolutely! Simply use the same proportion of freshly fed sourdough starter in the recipe. Your starter won't add a strong tangy flavor to your zucchini bread, but will still work. 

If you don't have a starter, but still want to try out this recipe, simply add 56 grams of all-purpose flour and 56 grams of water to your batter.   
Do I need to squeeze the moisture out of my zucchini for this recipe?
No! The wonder of this recipe is that it has been developed to account for the excess moisture in zucchini. Zucchini bread is a simple quick bread and I didn't want to go through the fuss and mess of squeezing it out for this recipe. 
Why is my zucchini bread dense and gummy?

Opening the oven door before your loaf is fully baked could also cause your bread to be too gummy. In this case, your bread will sink and the interior will be gummy. 

You may have developed too much gluten in your batter. It helps to fold your flour into the batter ⅓ at a time to ensure all of the flour is incorporated without overmixing. 

Your baking soda and baking powder are not fresh. Chemical leaveners have a shelf life, this means that after some time, they lose their abilities to make baked goods rise. If you've had yours in your pantry for some time, test them by adding a drop of vinegar to a teaspoon of baking powder or baking soda. If the mixture fizzes then they are still ok to use. 
Why is my zucchini bread dry?
This could be the cause of mismeasuring your ingredients or overbaking your bread. For the best results, weigh your ingredients instead of measuring by cups and tablespoons, it's more accurate. Try your best not to overbake the loaf or it will dry out the crumb and the exterior will be too crusty. 
What should I bake my loaf in?
You'll need two loaf pans for this recipe. I used a 9 by 6-inch loaf pan to bake my loaves, these were a little too big for the amount of batter in the recipe so my Zucchini bread turned out a little shorter than I wanted. If you'd like taller loaves, use a 8 by 5-inch loaf pan instead. 
You may also like
---
Did you make this recipe?
⭐⭐⭐⭐⭐
Please leave a star rating and review this recipe if you enjoyed it! I read all the comments and love hearing your feedback.
THANK YOU!
---
Sourdough Discard Zucchini Bread
An incredibly moist and flavorful loaf cake with aromatic cinnamon and hearty walnuts this Sourdough Discard Zucchini Bread is a great way to use up excess sourdough starter and zucchinis.
Ingredients
Batter
3

egg

large

420

grams

cane sugar

5

grams

vanilla extract

143

grams

vegetable oil

113

grams

sourdough discard

270

grams

zucchini

medium-sized, grated

345

grams

all-purpose flour

6

grams

salt

¼

teaspoon

baking soda

1

teaspoon

baking powder

8

grams

cinnamon

ground

50

grams

walnuts

chopped
Topping
30

grams

cane sugar

1

teaspoon

cinnamon
Instructions
Prep: Line two 8 by 4 inch baking pans with parchment paper and preheat your oven to 325 F.

Make the batter: Using a handmixer with beaters or a stand mixer with a paddle attachment, beat eggs, vanilla, and sugar together in a large bowl until the mixture appears light and has increased slightly in volume.

3 egg,

420 grams cane sugar,

5 grams vanilla extract

Drizzle the oil into the batter and continue beating until the mixture is fully emulsified.

Beat the sourdough discard and zucchini into the batter until no streaks of discard remain.

113 grams sourdough discard,

270 grams zucchini

Fold all the cinnamon, salt, baking soda, baking powder, cinnamon and a third of the flour in to the batter.

345 grams all-purpose flour,

6 grams salt,

¼ teaspoon baking soda,

8 grams cinnamon,

1 teaspoon baking powder

Continue folding the flour in gently. Add the walnuts in with the last addition of flour. Try not to leave any large streaks of flour or you'll get powdery, dry spots in the loaf.

Divide the batter evenly between the loaf pans. Whisk the cinnamon and sugar together. Sprinkle cinnamon sugar on top of the batter.

30 grams cane sugar,

1 teaspoon cinnamon

Bake: Bake for 60 to 65 minutes, or until a toothpick inserted in the center of the loaf comes out clean.

Enjoy: Allow the loaves to cool inside the pans on top of a wire rack for 20 minutes. Remove loaves from the pans, and allow to cool completely before serving.

Store: This bread is even better the day after it's baked and keeps well in an airtight container at room temperature for up to 1 week.
Notes
When in doubt, use weight over volume measures
Don't over mix the batter or your zucchini bread will turn out tough and rubbery
Do your best to incorporate all the flour into the batter, or you will end up with patches of dry flour in your loaf
Make sure your chemical leaveners are still fresh and viable before making this recipe
Nutrition
Calories:
310
kcal
|
Carbohydrates:
47
g
|
Protein:
4
g
|
Fat:
12
g
|
Saturated Fat:
2
g
|
Polyunsaturated Fat:
7
g
|
Monounsaturated Fat:
3
g
|
Trans Fat:
0.1
g
|
Cholesterol:
31
mg
|
Sodium:
204
mg
|
Potassium:
96
mg
|
Fiber:
1
g
|
Sugar:
29
g
|
Vitamin A:
81
IU
|
Vitamin C:
3
mg
|
Calcium:
35
mg
|
Iron:
1
mg
Did you make this recipe?
I'd love to know! Leave a star rating and comment below. Don't forget to pin this recipe on Pinterest and share a photo and tag @makeitdough on Instagram