With a soft and airy crumb studded with cranberries and walnuts, you'll fall in love with this subtly sweet Cranberry Walnut Sourdough Bread. Whether toasted and slathered with homemade cultured butter or paired with chicken salad, this bread will elevate your sourdough baking routine to delicious new heights.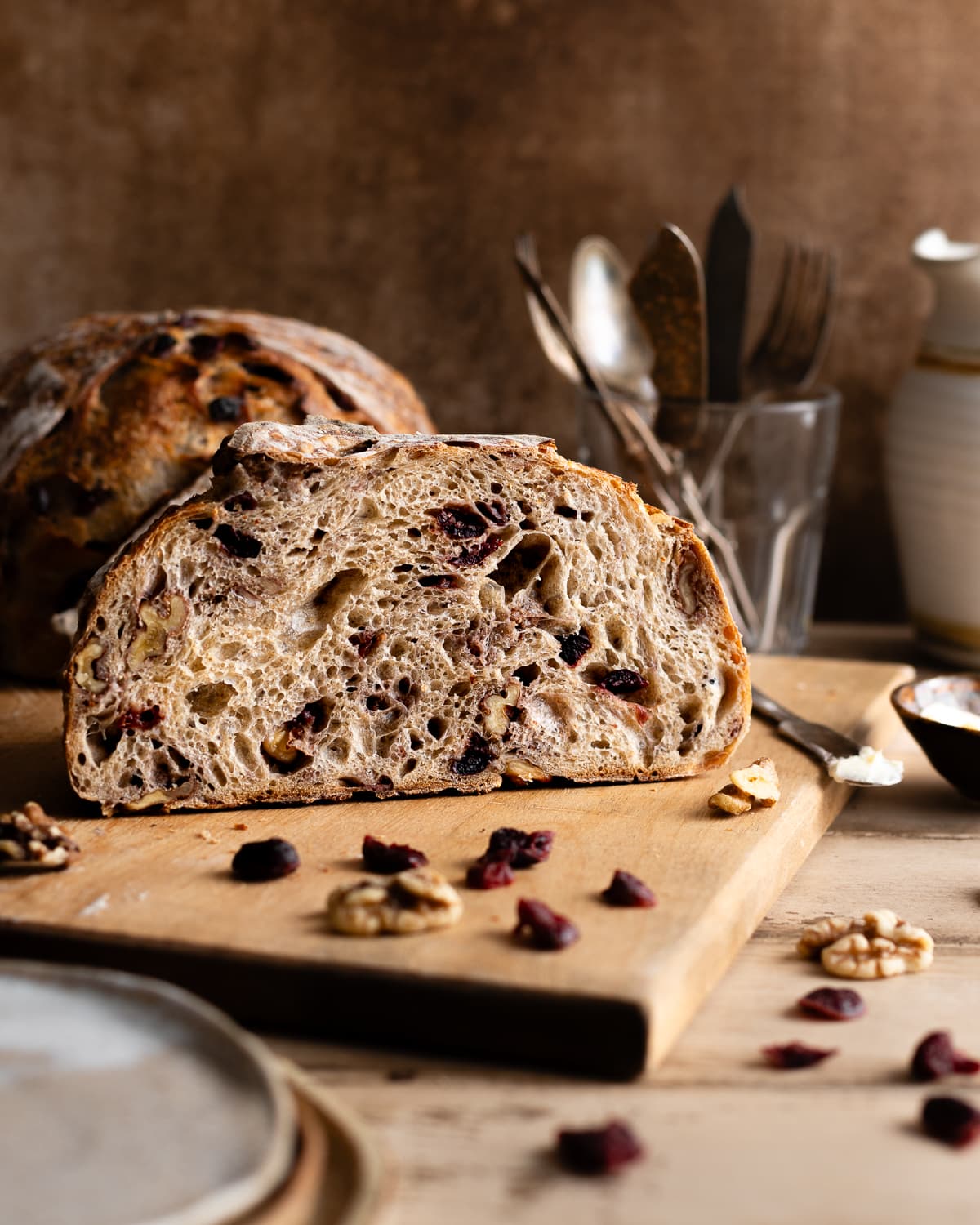 With the earthy walnuts and tart cranberries, the slightly sweet crumb, and the delicate, golden-brown crust, this loaf is a winter staple in our house. We love eating thick slices on their own or toasting them slathered with butter. Luckily, with dried cranberries and walnuts accessible throughout the year, you can whip up this loaf anytime the craving strikes.
Jump to:
Why I love this recipe
Great way to infuse some creativity into basic sourdough bread
Mixed by hand, no stand mixer required
Crispy, golden brown crust with a creamy, soft crumb
Packed with earthy walnuts and tart cranberries
Delicious with savory dishes or sweet toppings
Adding inclusions to bread
Although this loaf has been a household favorite for years, the main reason I'm only sharing the recipe now is I've had trouble with getting the cranberries and walnuts evenly distributed throughout the crumb in the past.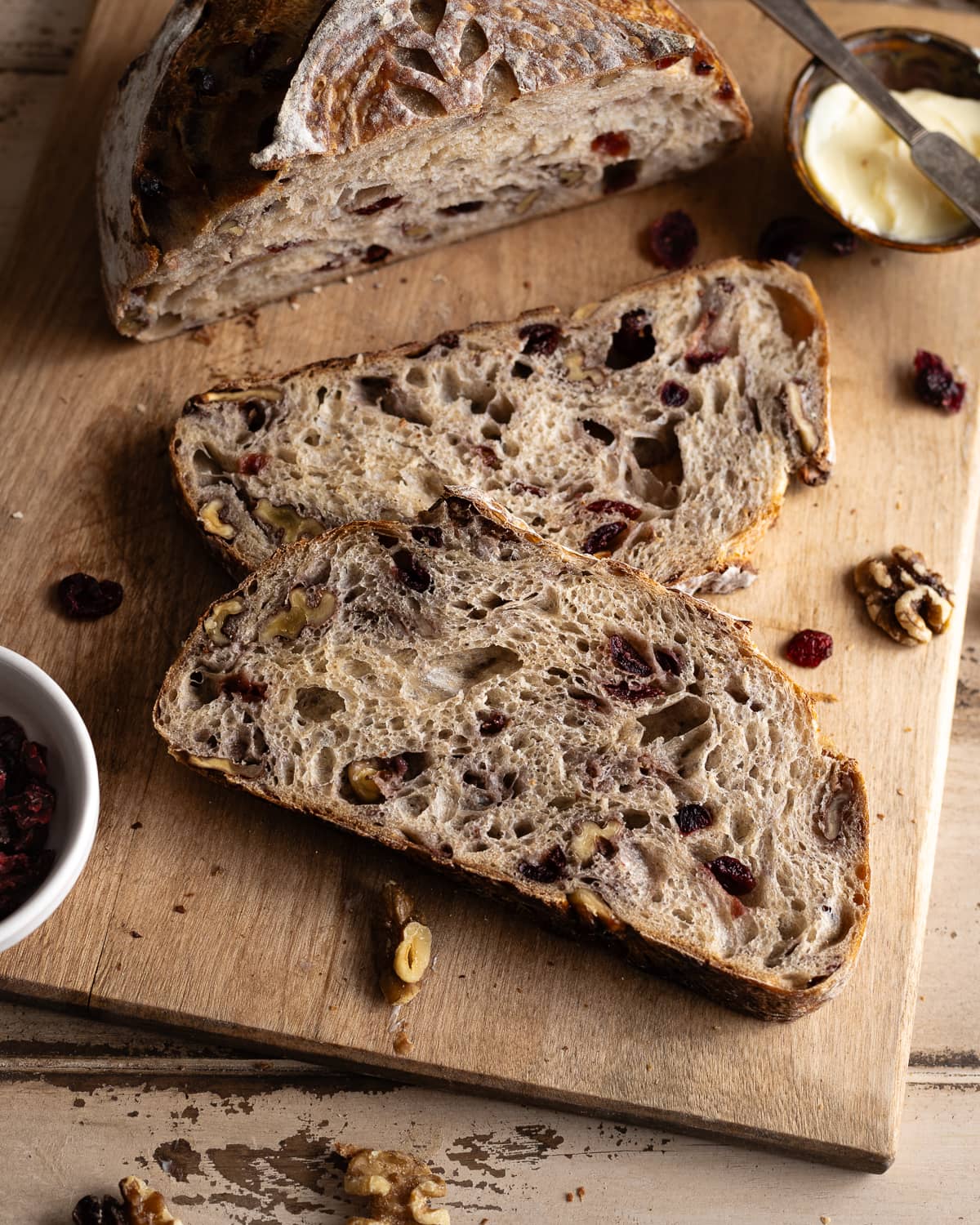 In my previous tests, I would add the mix-ins during lamination or I would mix it up all together with the flour. Both methods fell short, leading to an uneven distribution of the mix-ins, leaving several spots devoid of nuts or cranberries. In some instances, the crumb would be too dense or the mix-ins would break through the surface of the dough.
I realized I was overcomplicating the process! To keep the crumb light and airy, I incorporated autolyse which kickstarts gluten formation and helps prevent the cranberries and nuts from breaking through the dough. I also fold the fillings in early, followed by subsequent coil folds that evenly and gently distribute them throughout the dough.
What you need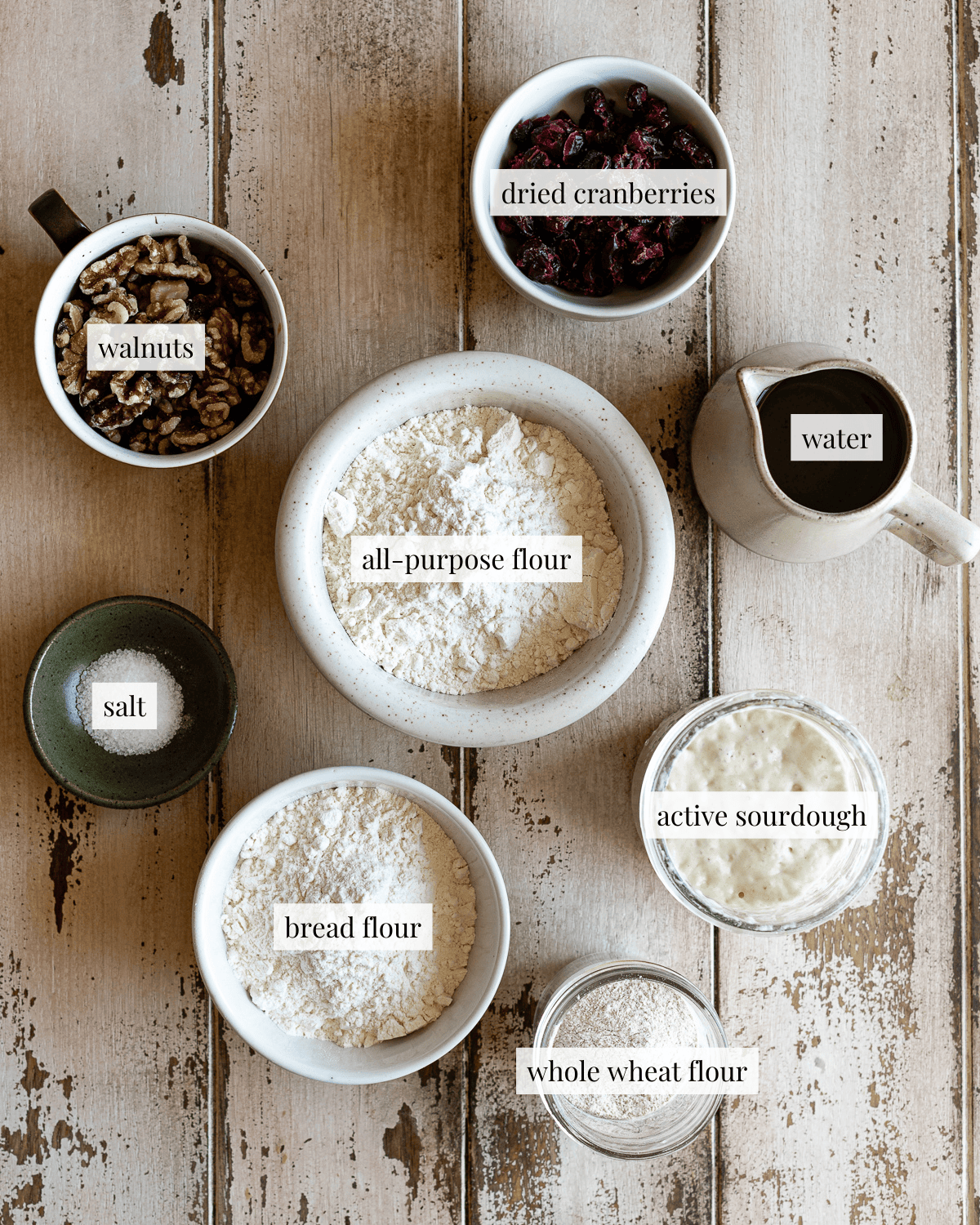 Flour: This recipe blends all-purpose flour, bread flour, and whole wheat to create the perfect balance of structure, texture, and flavor. Avoid using 100 percent whole wheat flour as it can result in a dense loaf. While 100 percent bread flour is an option, it may compromise the desired tender and creamy texture leading to excessively chewy bread.
Active sourdough starter: You'll need a mature, active bubbly starter for this recipe. Feed your starter the night before or at least 4 hours before you make your dough.
Dried cranberries: Both sweetened or unsweetened cranberries will work for this recipe. Don't skip soaking as dried fruit has a tendency to absorb water from the dough potentially resulting in a tough, dry loaf.
Walnuts: Toasting your walnuts will intensify their nutty flavor. Feel free to substitute pecans.
TIP: Don't attempt to make this recipe with a weak, immature starter as this will hinder fermentation, resulting in a dense and gummy loaf of bread.
Test your sourdough starter for readiness before attempting to bake this bread.
See recipe card for detailed ingredient information.
Variations
Pecans are a great alternative for walnuts in this recipe.
Substitute Raisins, dried cherries or blueberries for the cranberries.
Add orange or lemon zest to the dough.
Soak the cranberries in Port Wine or Bourbon to add more flavor.
Add some chocolate chips for a sweeter variation.
Step-by-step instruction
Baking this sourdough cranberry bread is a two-day process, with most of the steps being passive. Make sure you read the instructions from start to finish before beginning the recipe.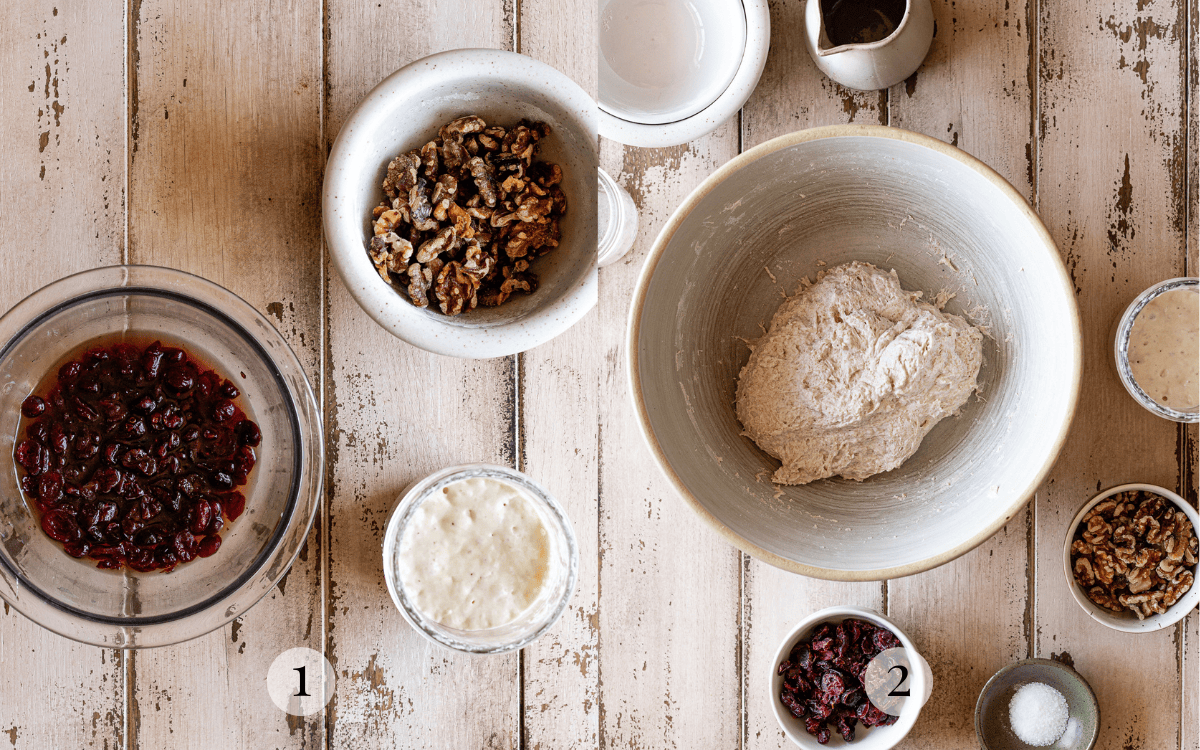 STEP 1 Prep: Activate sourdough starter, toast walnuts and soak cranberries (image 1). Mix flours and water, autolyse for 30 minutes (image 2).
TIP: Autolyse kickstarts gluten development, making dough stronger with minimal effort, so it won't tear when the mix-ins are added. Check out my post on how to autolyse sourdough to find out more.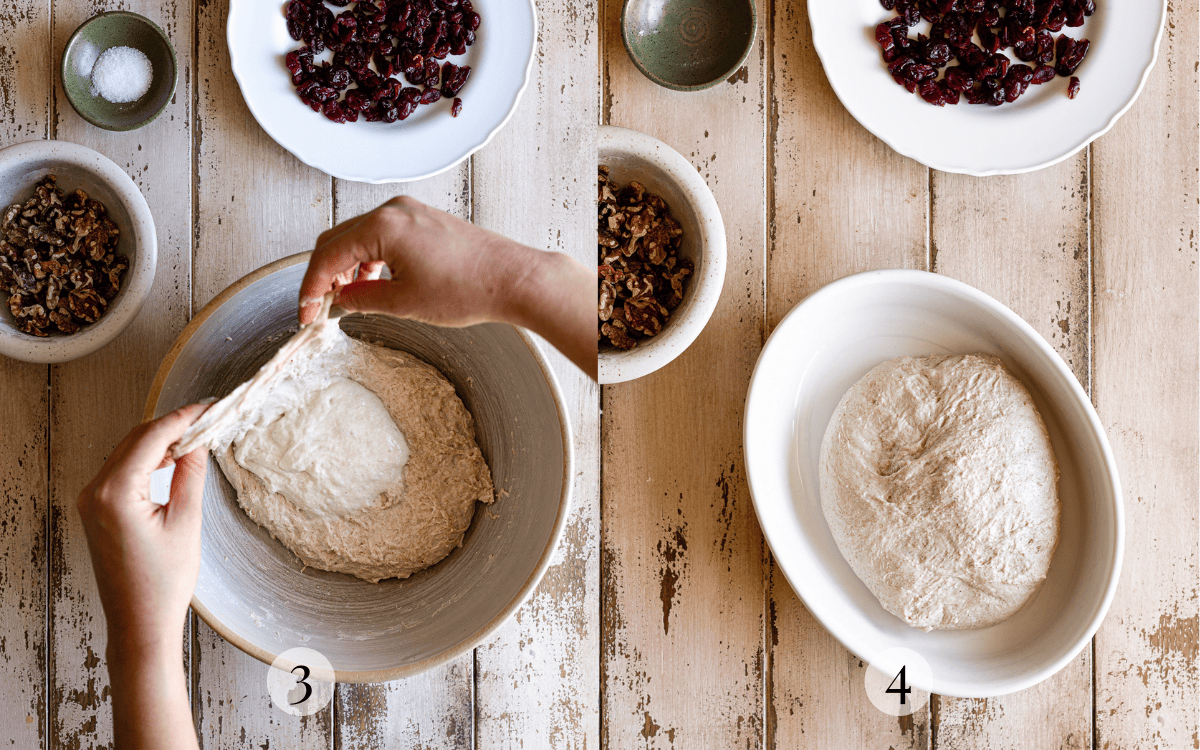 STEP 2 Make the dough: Fold the sourdough starter and salt into the autolysed dough (image 3). Continue mixing until the starter and salt are completely incorporated, transfer the dough to a clean, lightly oiled container (image 4). Cover and let the dough rest for 30 minutes.
TIP: Knead the dough by hand until you no longer feel any grains of salt. Using your hands allows you to get a better feel for dough and is a great way to improve your bread-baking abilities!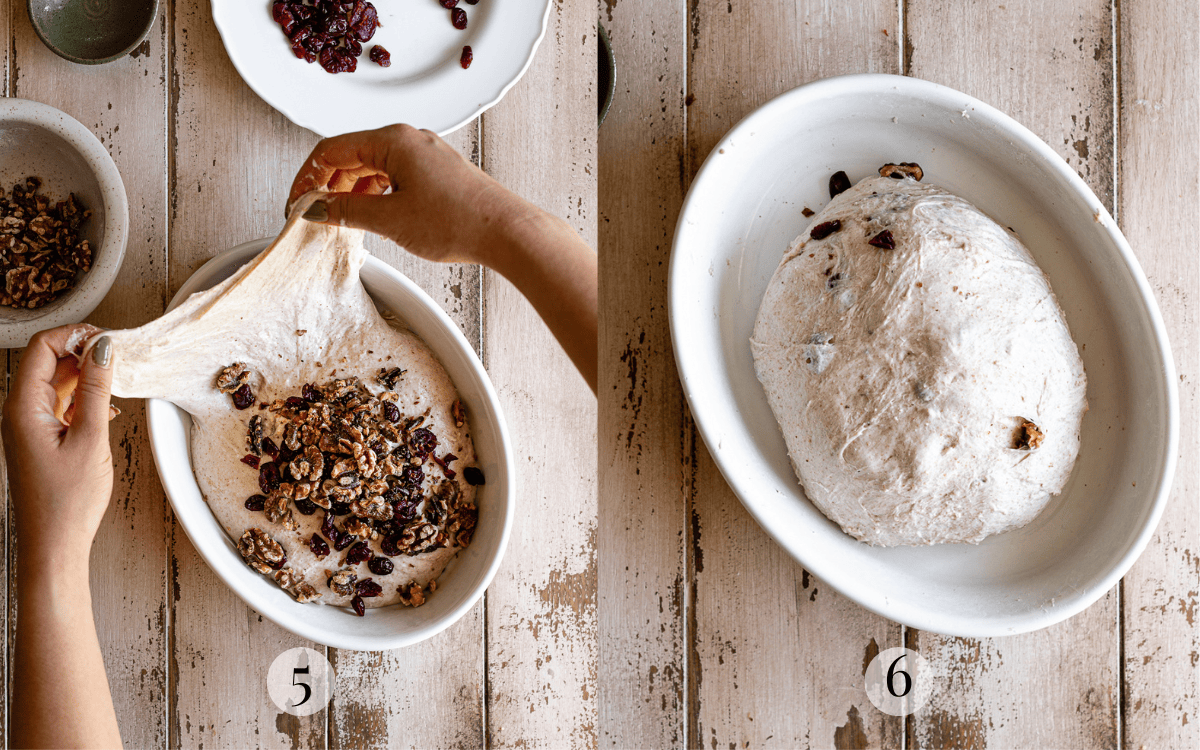 STEP 3 Add mix-ins: Add half of the mix-ins to the top of the dough. Pick up the edge farthest away from you and fold it over the mix-ins (image 5). Turn the container 90 degrees, add in the remaining mix-ins and fold the dough over once more. Gather the dough into a ball and let the dough rest for another 30 minutes (image 6).
TIP: Don't worry about dispersing the mix-ins throughout the dough. They will be more evenly distributed as you continue to perform folds.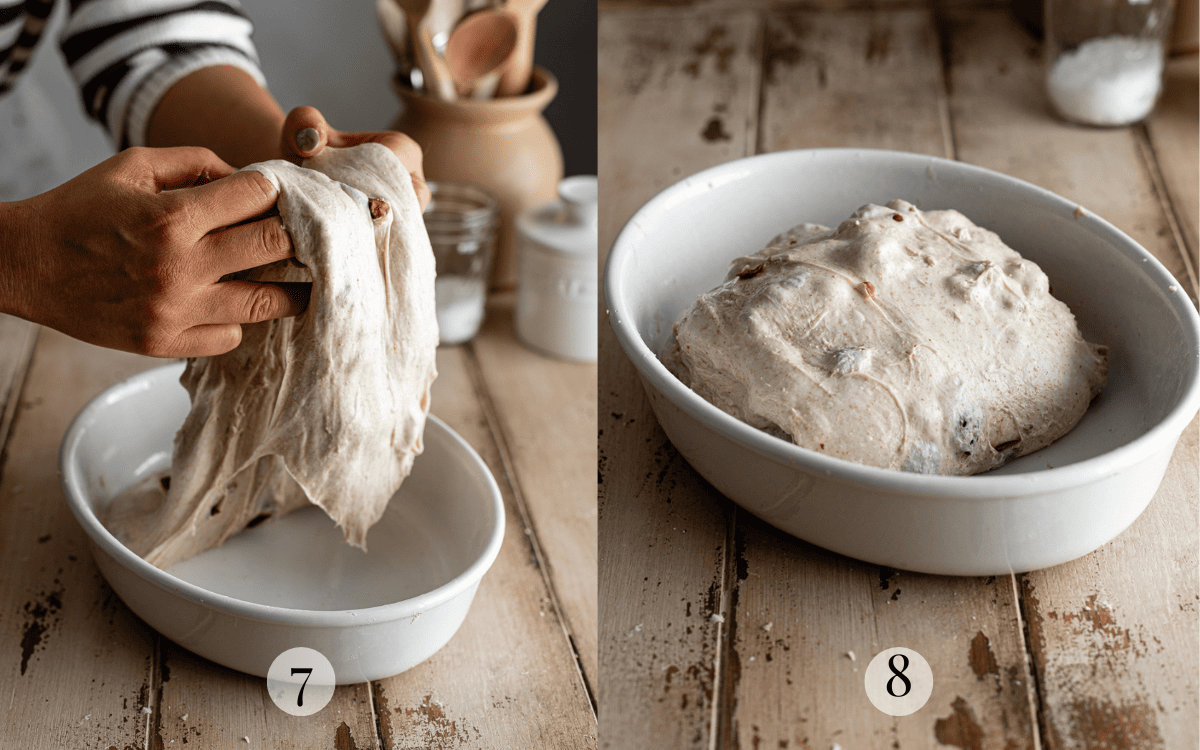 STEP 4 Coil fold: Lift the dough using your fingertips until the ends release from the container (image 7). Lightly set the dough back down into the bowl and tuck the ends under (image 8). Cover and let the dough rest for 30 mins.
TIP: Coil folds are a gentler way to enhance gluten development and prevent the dough from tearing while evenly distributing the filling throughout the dough.
You'll perform these folds during bulk fermentation.To strengthen the dough, you'll perform 3 sets of folds in 30-minute intervals.
Here's an example of how you might complete your folds:
(9:00 a.m.) Coil fold 1
30-minute rest
(9:30 a.m.) Coil fold 2
30-minute rest
(10:00 a.m.) Coil fold 3
STEP 5 Bench rest: Let the dough rest in a warm place, untouched for 1 ½ to 2 hours until the dough looks puffy and feels bubbly.
TIP: Although I'll be giving time cues, fermentation time may differ based on your starter's health and the unique conditions in your kitchen. Wait until your dough is visibly bubbly and well-risen before shaping your dough.
STEP 6 Shape: Preshape your dough by rounding it into a ball and let the dough rest covered with a clean tea towel for 30 minutes (image 9). Shape the dough into a round boule (image 10).
TIP: Dust your banneton with an even coating of rice flour to prevent your dough from sticking.
STEP 7 Final rise: Wrap the banneton or proofing basket in a plastic bag. Transfer the shaped dough to proof in the refrigerator overnight (8 to 24 hours).
TIP: Cold proofing slows down fermentation, breaking up the lengthy baking process and fostering flavor development as bacterial activity persists while yeast activity slows down.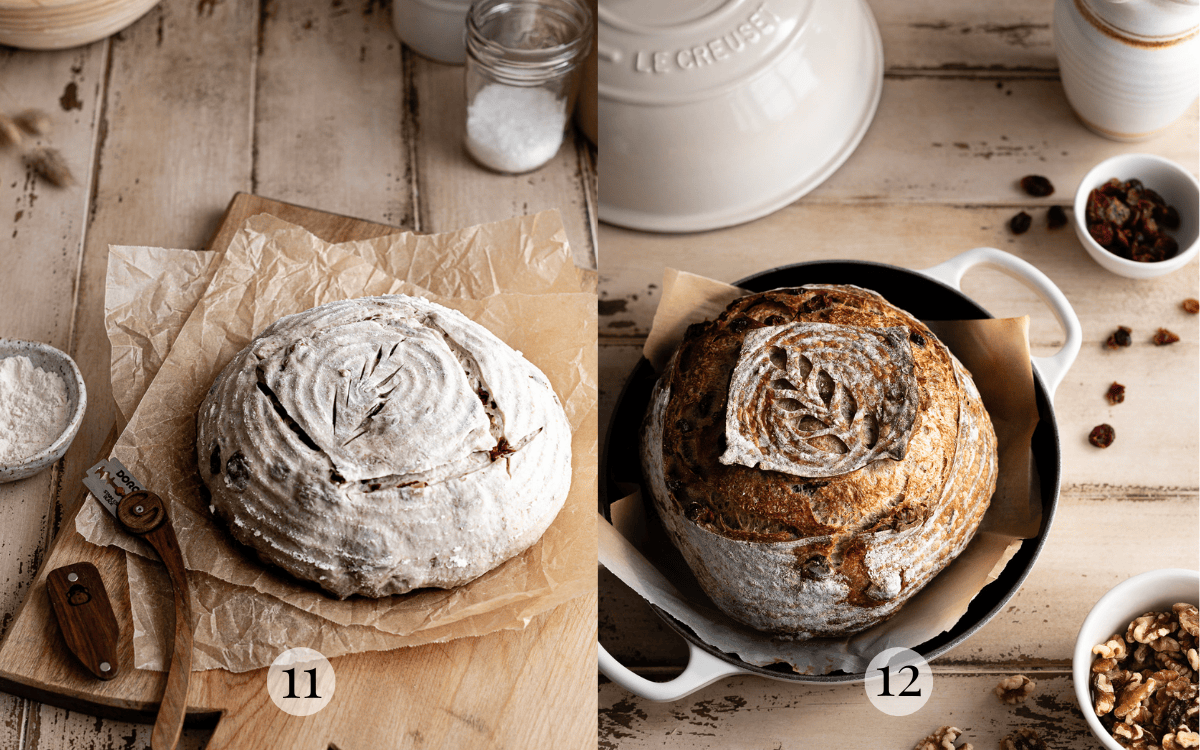 STEP 8 Bake: Score the dough (image 11). Bake the dough at 450 F in a Dutch oven covered for 25 to 30 minutes and uncovered for 5 to 10 minutes (image 12).
TIP: Steam is vital to bread baking, as it keeps the surface of the dough moist and elastic. Without it, the crust will harden too quickly and prevent your bread from rising fully. Baking in a Dutch oven or a bread baker is the easiest way to create steam.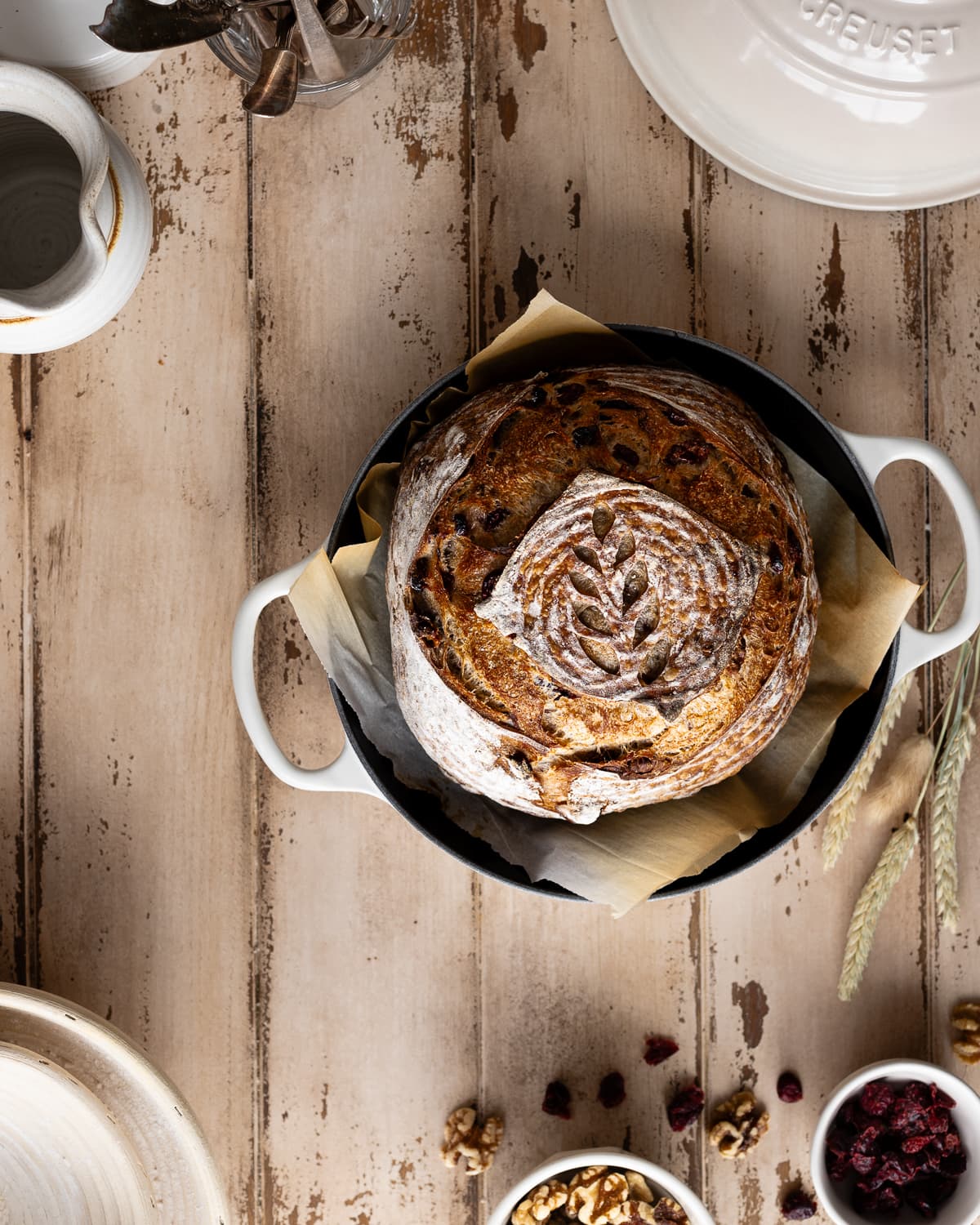 Baker's Tips
Make sure your starter is active before starting this recipe. An inactive or immature starter can hinder your dough from rising, resulting in a dense, gummy loaf.
Pat the cranberries dry using a paper towel or clean tea towel. Moisture from the soaker will add too much water to your dough which may make it too wet and difficult to handle.
If your dough feels too sticky, work with lightly damp hands.
Pre shaping your dough allows it to build more tension and prepares the dough to take its final form, which is especially important for wetter dough like this one. It's an optional step, but highly recommended.
Don't forget to score your loaf. Inadequate scoring can prevent steam from escaping, causing your bread to burst. To learn more, check out my post on sourdough scoring.
If you don't have a banneton or a Dutch oven, you can bake this sourdough bread in a loaf pan.
Let the bread cool for at least 2 hours before slicing! Cutting it too soon can cause moisture to escape, hindering the crumb from setting properly and resulting in a gummy loaf that goes stale faster.
Recipe FAQs
Why is my cranberry walnut bread turning purple?
A reaction between gallic acid naturally found in walnuts and iron in flour results in purple discoloration. This transformation occurs in an acidic environment, which is facilitated by the acids released during the fermentation process in bread dough.

If you'd like to prevent the crumb from changing color, America's Test Kitchen recommends blanching your walnuts in boiling water for 1 minute. Since I don't mind the purple hue, I've never tried this and can't guarantee its effectiveness. 

Why is my bread so dense and gummy?
Your bread might be dense and gummy due to a weak starter, underfermented dough, or overproofing.
Can I use fresh cranberries?
It's best not to use fresh cranberries for this recipe since they tend to be too sour. Stick with sweetened dry cranberries for the best results.
More sourdough bread recipes you may like
Did this recipe rise to the occasion?
⭐⭐⭐⭐⭐
We knead your feedback! Did our recipe impress your taste buds? Leave a star rating and write a review to help us create even better recipes.
I read all the comments and love hearing your feedback.
THANK YOU!
Cranberry Walnut Sourdough Recipe
Indulge in the irresistible flavors of our Cranberry Walnut Sourdough Bread, the perfect fusion of tart cranberries and earthy walnuts.
This section may contain affiliate links
Ingredients
Soaker
75

grams

water

70

grams

dried cranberries
Dough
180

grams

all-purpose flour

120

grams

bread flour

60

grams

whole wheat flour

282

grams

water

113

grams

active sourdough starter

7

grams

salt
Mix-ins
75

grams

walnuts

toasted, see note
Instructions
The night before
Soak the cranberries: Combine cranberries with water in a small container. Cover and leave the cranberries to soak overnight (see note).

75 grams water,

70 grams dried cranberries
Day 1
Make the dough: Mix the flours and water together in a large mixing bowl using a stiff spatula or wooden spoon until a shaggy dough forms and no traces of dry flour remain. Cover the bowl with plastic wrap and let the dough rest for 30 minutes to 1 hour.

180 grams all-purpose flour,

120 grams bread flour,

60 grams whole wheat flour,

282 grams water

Fold the active sourdough starter and salt into the dough. Knead the ingredients in until you no longer feel any grains of salt. Transfer the dough to a clean, lightly greased container and cover with plastic wrap. Let the dough rest in a warm spot for 30 minutes.

113 grams active sourdough starter,

7 grams salt

Add the mix-ins: Add half of the cranberries and nuts on top of the dough. Pick up one side of the dough and fold it over the mix-ins. Repeat with the remaining filling, cover the dough with plastic wrap, and let the dough rest for 30 minutes.

Coil Fold: Perform 3 sets of coil foils in 30 minute intervals. Cover the bowl with plastic wrap and set in a warm place in between sets.

To perform a coil fold, working with the dough inside the bowl, lift the center of the dough up with your fingertips until the ends release from the container. Lightly set the dough back down into the bowl and tuck the ends under.

First proof: After the last coil fold, let the dough rise untouched until the dough looks well risen and bubbly, about 1 ½ to 2 hours.

Pre shape the dough: Place the proofed dough onto a lightly-floured clean counter. Using a bench scraper, turn the dough over and lightly round it into a tight ball. Cover with a clean tea towel and let the dough rest for 30 minutes.

Shape the dough: Turn the dough over once more, flatten it out into a rectangle. Fold the side closest to you towards the center and the top of the dough over the bottom flap. Fold the sides over each other. Flip the dough and round it into a boule. Place the dough into a prepared banneton with the seam side up.

Cold proof: Cover the banneton with plastic wrap. Transfer the dough to the refrigerator to proof overnight (about 8 to 16 hours).
Day 2
Prep: Preheat the oven to 500 F with a Dutch oven inside.

Score the dough: Turn the proofed dough out on a piece of parchment paper. Score the top of the loaf with the pattern or design of your choice, and make sure the cut is at least a ¼-inch deep.

Bake: Transfer the dough into the Dutch oven with the parchment paper.

Turn the oven temperature down to 450 F, bake for 25-30 minutes covered and 10-15 minutes uncovered.

The loaf is baked when it registers at least 190 F when probed with an instant-read thermometer and reaches your desired level of browning.

Enjoy: Transfer the baked loaf to a cooling rack and cut the strings off. Let the bread cool for at least 2 hours before slicing.

Store: Store any leftover bread for up to 3 days in an airtight container at room temperature.
Tips
These recipes were developed and tested using grams for precise measurements. To increase your chances of success, I recommend investing in a kitchen scale. I've included rough volume estimates (in tablespoons and cups), but they might not be totally accurate.
Remember all ovens are unique, these recipes were tested in my oven which runs cooler than others. You might need to lower the temperature if your bake appears to be browning too quickly. Monitor your bake closely and make adjustments if needed.
Notes
If you forget to soak your cranberries overnight, use boiling water and let them rehydrate for 20 minutes. Make sure your cranberries have cooled before adding them to your dough or it may harm the yeast.
Toast walnuts on a baking sheet at 350 F for 5 to 8 minutes, or until the nuts are fragrant.
Use a mixing bowl lined with a tea towel dusted with flour if you don't have a banneton. Or bake your bread in a loaf pan.
If you have trouble with burning the bottom of your bread, transfer it to a baking sheet for the second part of baking. 
Nutrition
Calories:
175
kcal
|
Carbohydrates:
30
g
|
Protein:
5
g
|
Fat:
5
g
|
Saturated Fat:
0.5
g
|
Polyunsaturated Fat:
3
g
|
Monounsaturated Fat:
1
g
|
Sodium:
229
mg
|
Potassium:
75
mg
|
Fiber:
2
g
|
Sugar:
4
g
|
Vitamin A:
2
IU
|
Vitamin C:
0.1
mg
|
Calcium:
13
mg
|
Iron:
1
mg