Sourdough scoring is an essential part of making bread. It guides the way your bread rises in the oven, which affects not just the way it looks but its texture and structure as well. In this guide, I'll share all the tools you need and my tips so you can maximize oven spring and bake your loaves into works of art!
Sponsored by Wire Monkey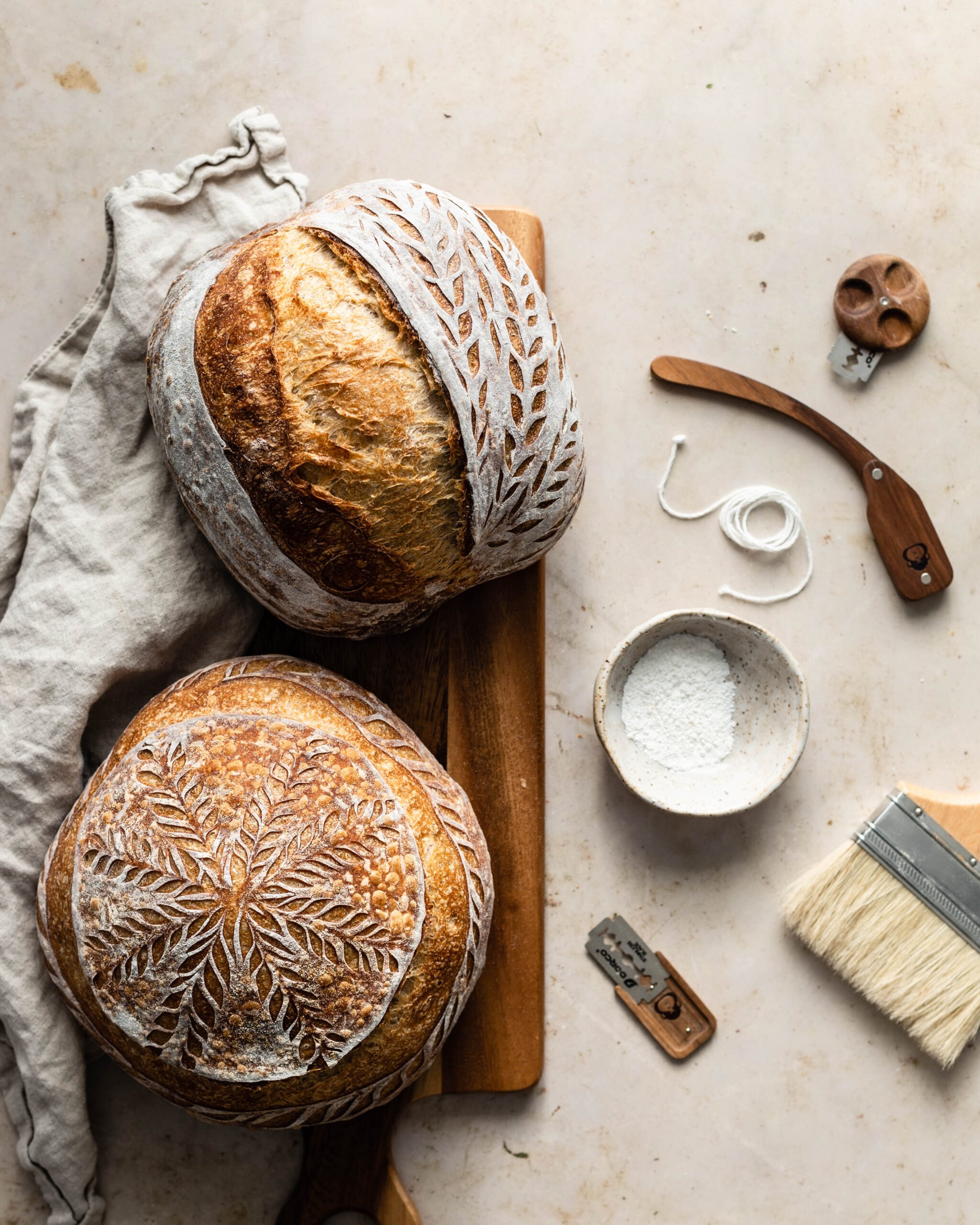 What is the purpose of scoring sourdough bread?
Scoring is the act of making a large shallow cut or multiple cuts on bread dough right before it's baked.
During the bread making process, fermentation naturally produces carbon dioxide that builds up in the dough. As the dough bakes, the exterior of the dough rapidly hardens and begins to form a crust. Meanwhile, the water in the dough rapidly evaporates. Scoring creates a weak point in the dough where water, in the form of steam, can escape. Without scoring, the steam will find its own weak point and burst through the crust as it hardens, this creates unwanted bulges and blowouts in your bread.
The goal of scoring is to guide the way dough rises in the oven in a way that helps it maintain its shape and allows it to take full advantage of oven spring. The design or pattern you choose should work towards this goal.
When Should You Score Bread?
Scoring is the last step of the bread making process, right before dough is baked. It's done after the final proof and right before putting your loaf in the oven to be baked.
Tools for scoring bread
Must have tools
Lame - a specialized tool specifically designed for scoring dough. It allows you to safely hold the thin sharp blades required for cutting clean lines on dough. It's best to purchase a reusable lame that can be fitted with fresh sharp blades.
Double-edged blade - the thin, razor-edge of a blade will allow you to create a clean cut. They are inexpensive and can be purchased in large quantities, it's good to have a large supply since these blades become dull quite easily.
Nice to have
Rice flour - dusting a little bit of rice flour on your dough before scoring, creates contrast that will highlight your design. Because it doesn't scorch in the high temperatures of the oven, it stay lighter in color and won't make your loaf taste burnt.
Parchment paper - makes transferring your dough to your Dutch oven or baking vessel much easier
Butcher's twine or thread - marks guidelines on your dough that will help with creating decorative scoring patterns
Scissors - snips dough for smaller, deeper cuts
Brush - for brushing away any excess flour that's caked on proofed dough
Why you need a bread lame
You need a blade with an extremely thin and sharp edge to cut through wet dough. Even the sharpest paring knife is too thick, will likely drag on your dough and cause jagged cuts. A lame allows you to safely hold a blade without cutting your fingers.
Why I love Wire Monkey lames
This post is sponsored by my friends at Wire Monkey. I'm so excited to work with them because I've used their lames since I first started making bread in 2018.
I personally love holding my blades as close as I can since it gives me the best control and allows me to score intricate and delicate designs. Expertly designed Wire Monkey lames allow me to do this safely. Plus their lames are made in the USA from either high-quality wood or recycled materials.
Reasons I love it
Allows for precision and intricate scoring
Reusable, avoids unnecessary plastic waste
Cleverly designed to store sharp blades
Blades can be easily and safely changed
Artisanal product made by a small business!
How to Score Bread
While it may seem simple and straight-forward enough, scoring requires a bit of strategy. Mainly, you'll need to score a large and deep enough cut that will allow your bread to expand fully. Insufficiently scoring your dough will result in blowouts or a compacted loaf. However, scoring too large or too deep of a cut, or scoring too many cuts may destroy the structural integrity of your dough, prevent it from rising and cause it to flatten out.
Essential Cut
Your primary consideration in scoring your loaf will be to create an adequate enough cut to let the gasses in your dough escape. An essential cut can be simple or decorative, but it will need to be the largest cut you make that will allow your dough to rise and fully open while helping it keep its shape.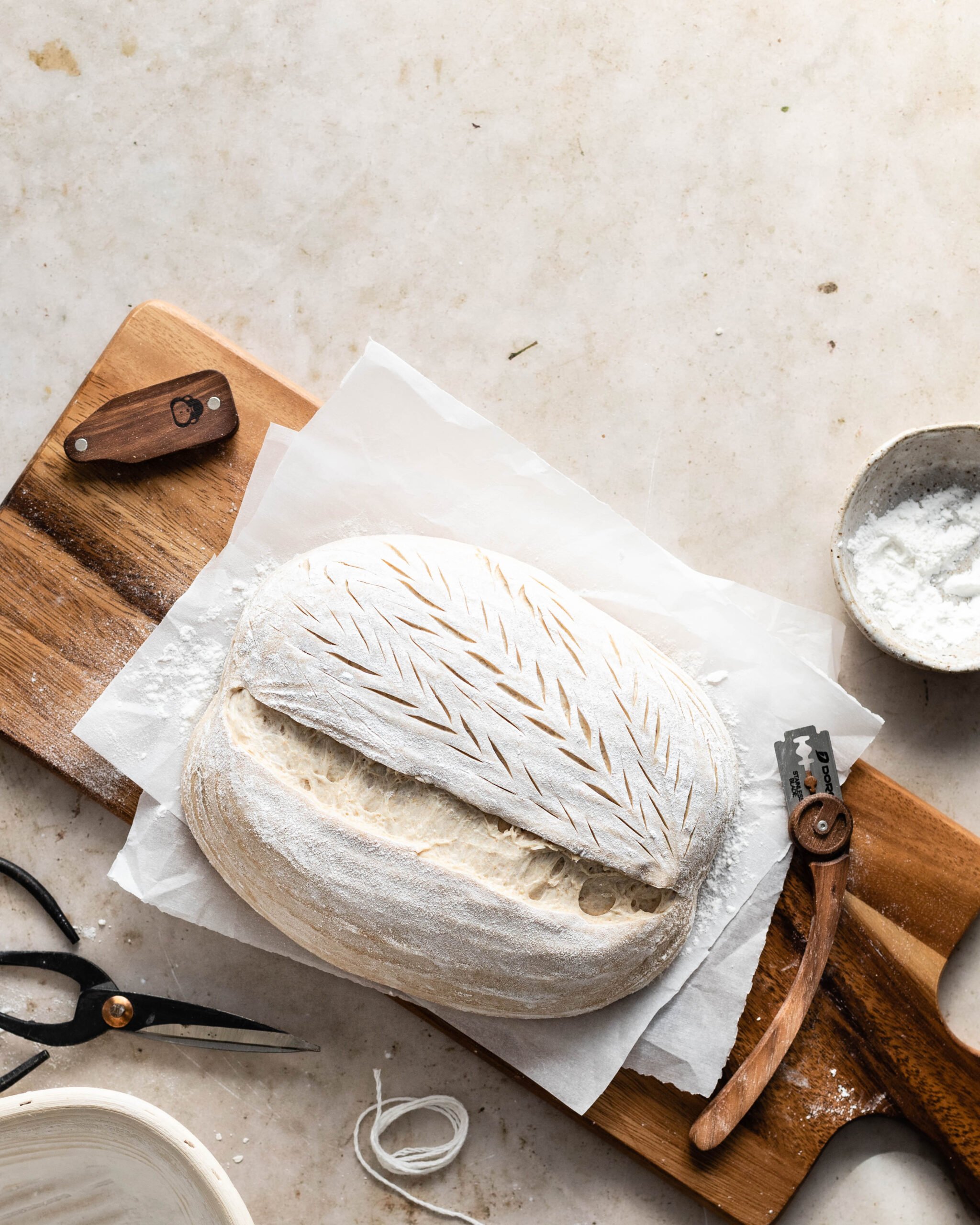 Decorative Scoring
Scoring also allows you to show off your creative flair. Traditionally, it was known as the baker's signature: a design unique to the baker who created it. While decorative scoring can serve as an essential cut, they are usually smaller, shallower, and are not involved in directing the shape of your baked loaf.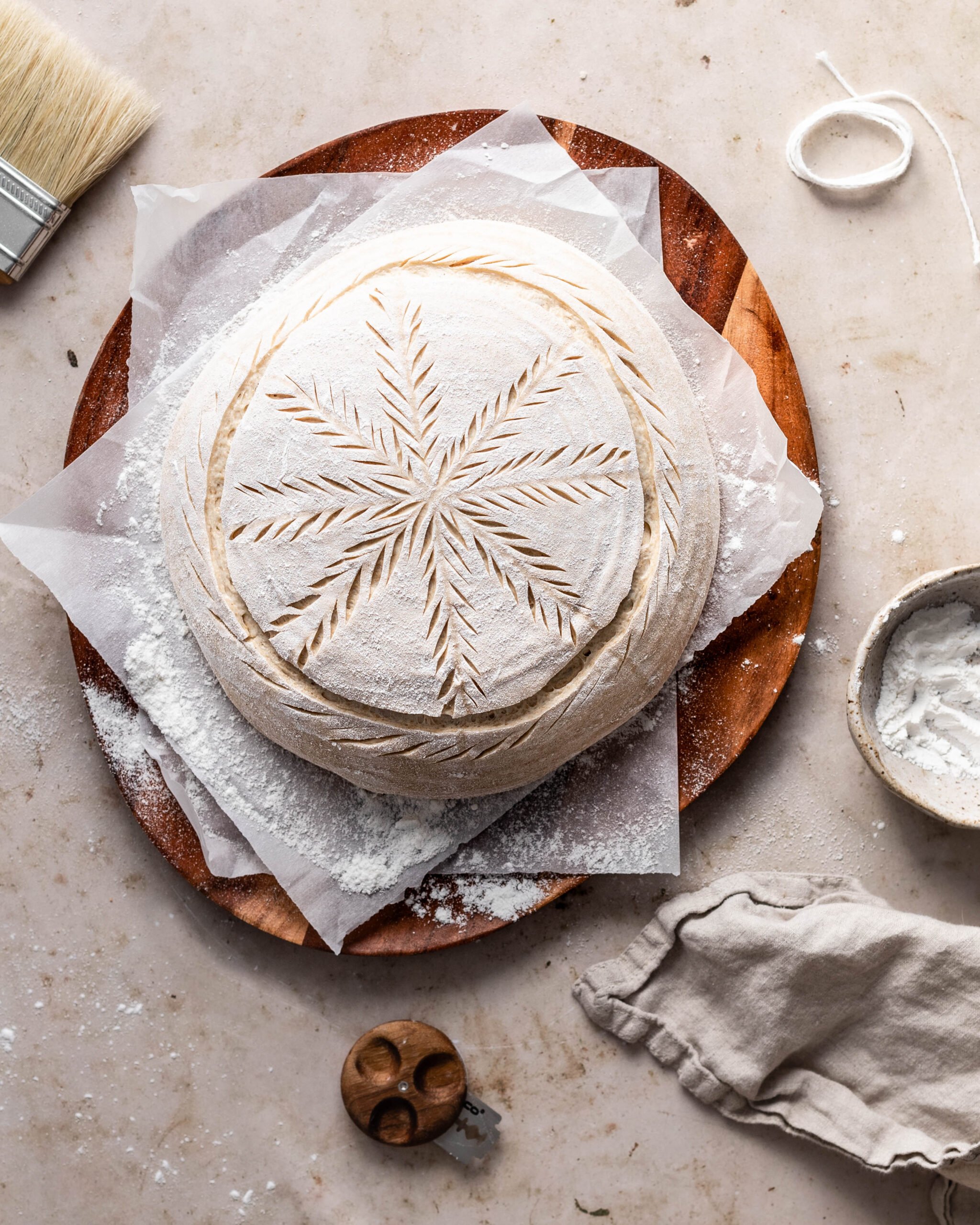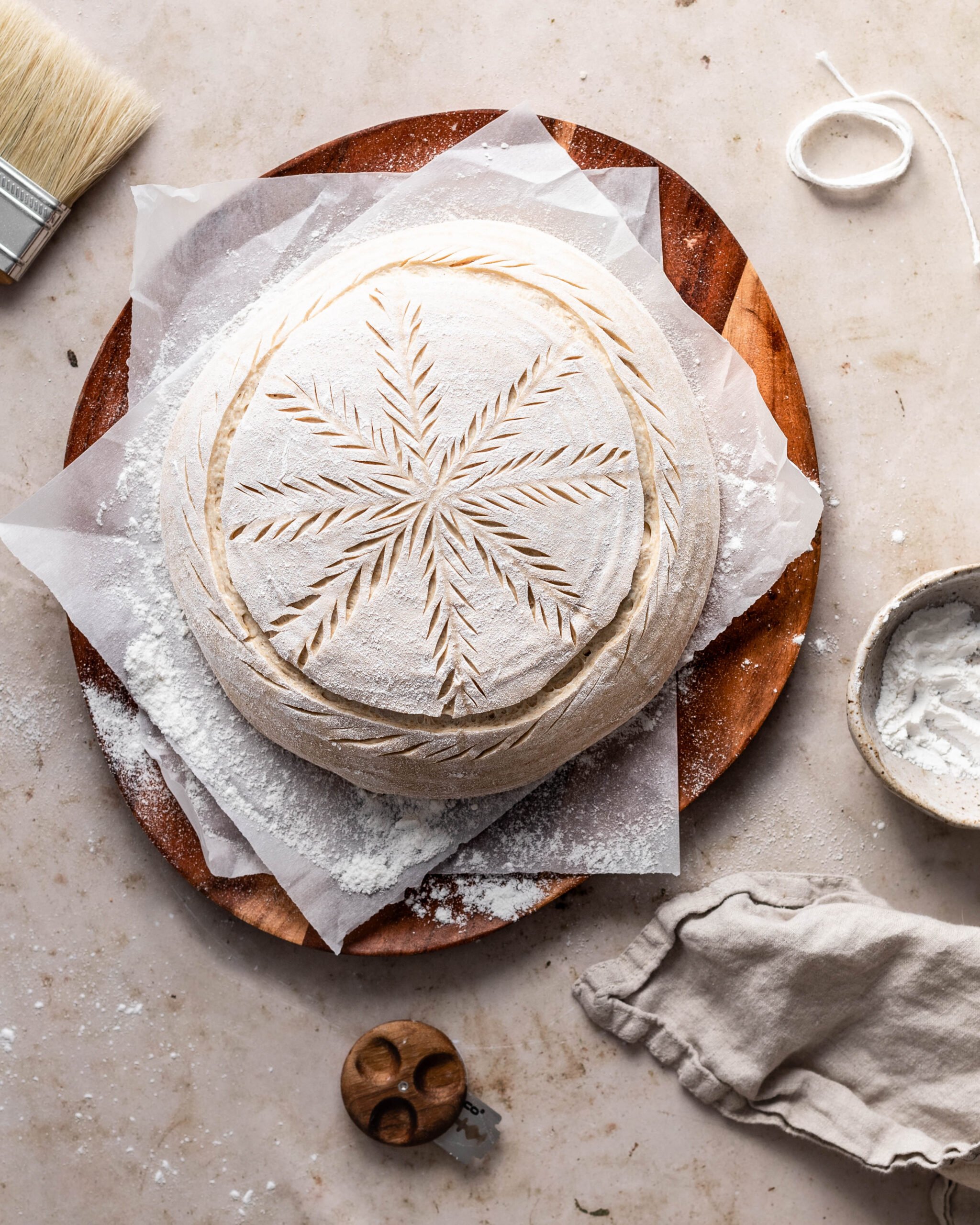 How to Create Decorative Scoring Patterns
Step-by-step guide to scoring decorative patterns on your sourdough bread.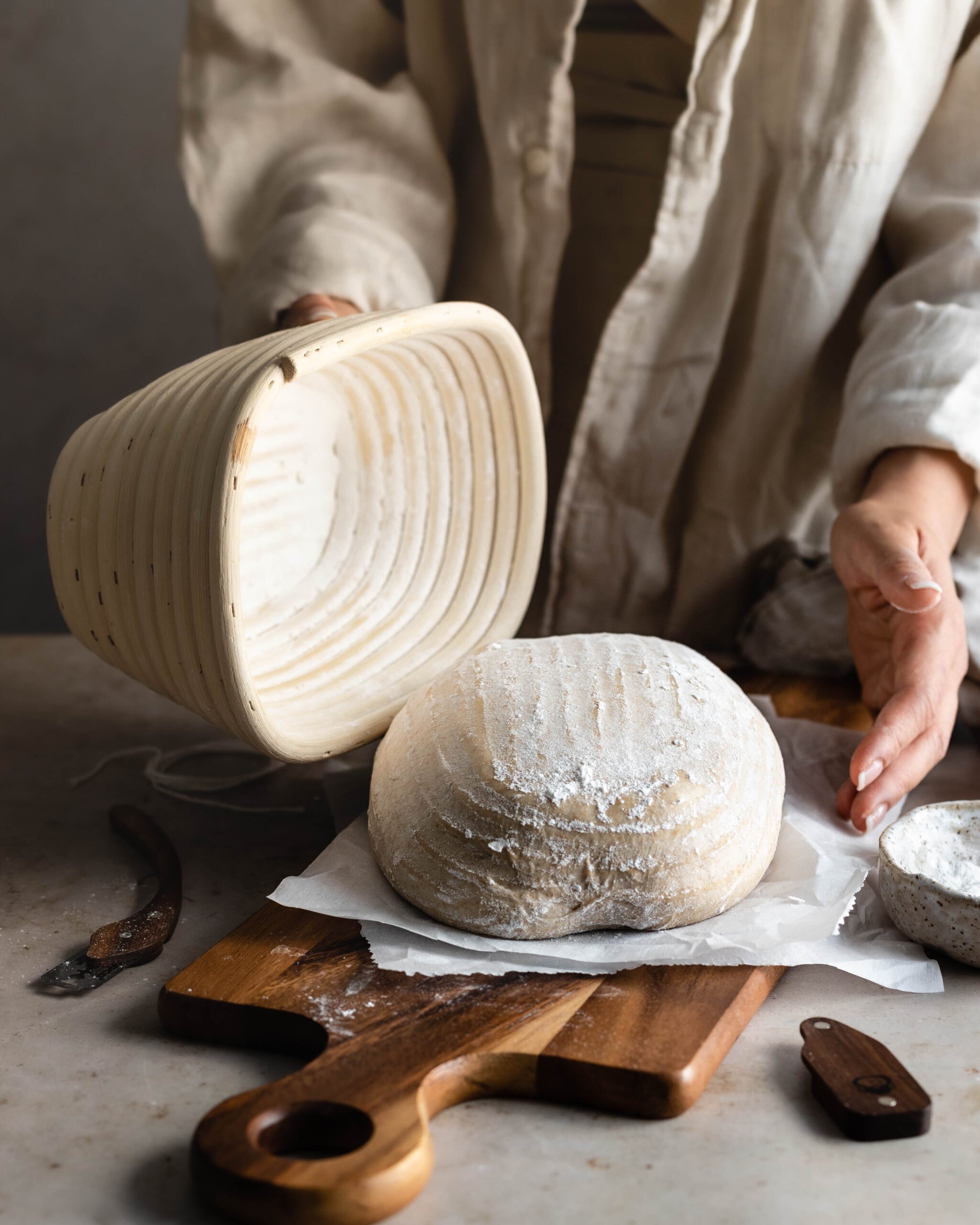 1. Turn your dough out of its banneton over a piece of parchment paper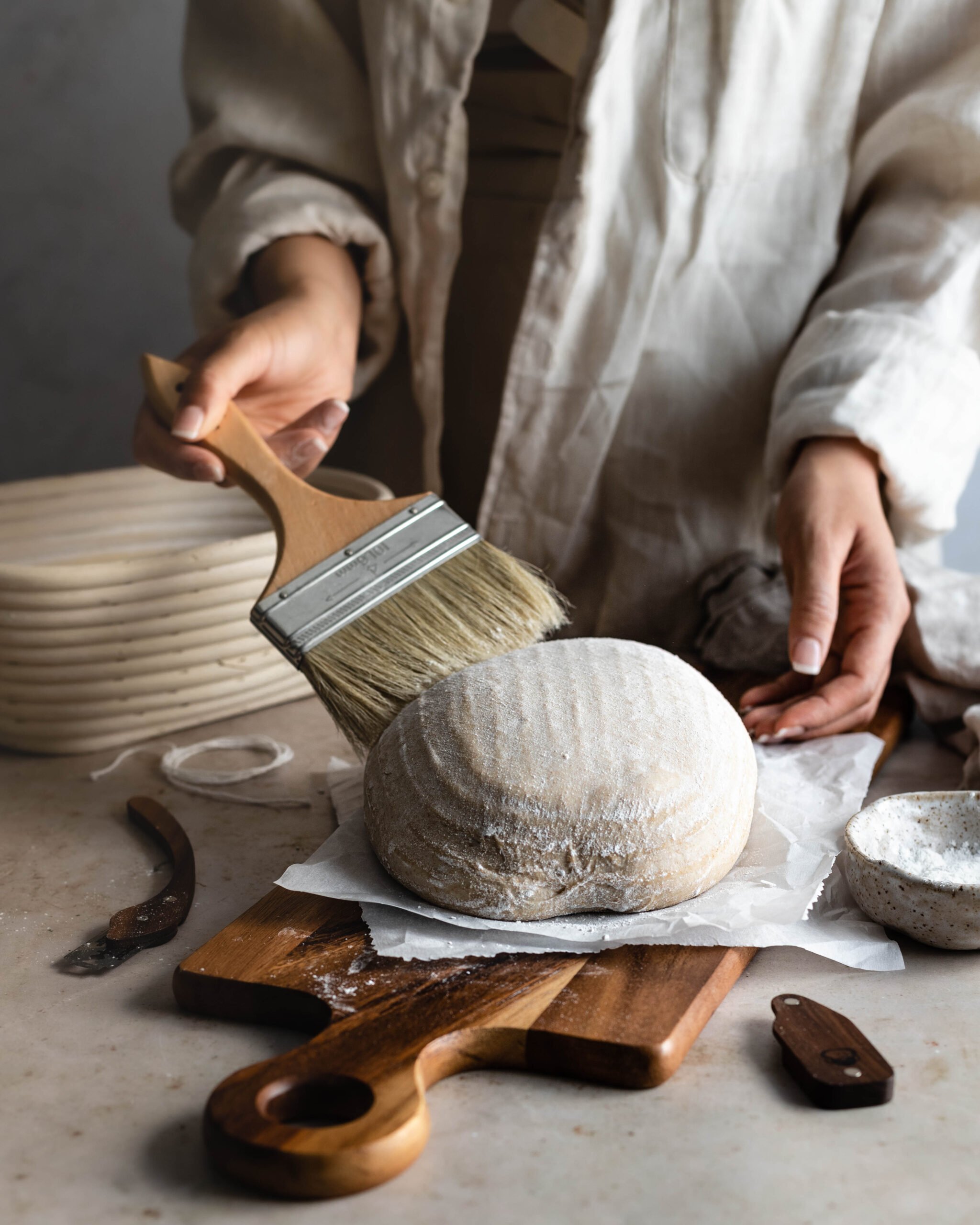 2. Brush away any flour that may have hardened or caked on your dough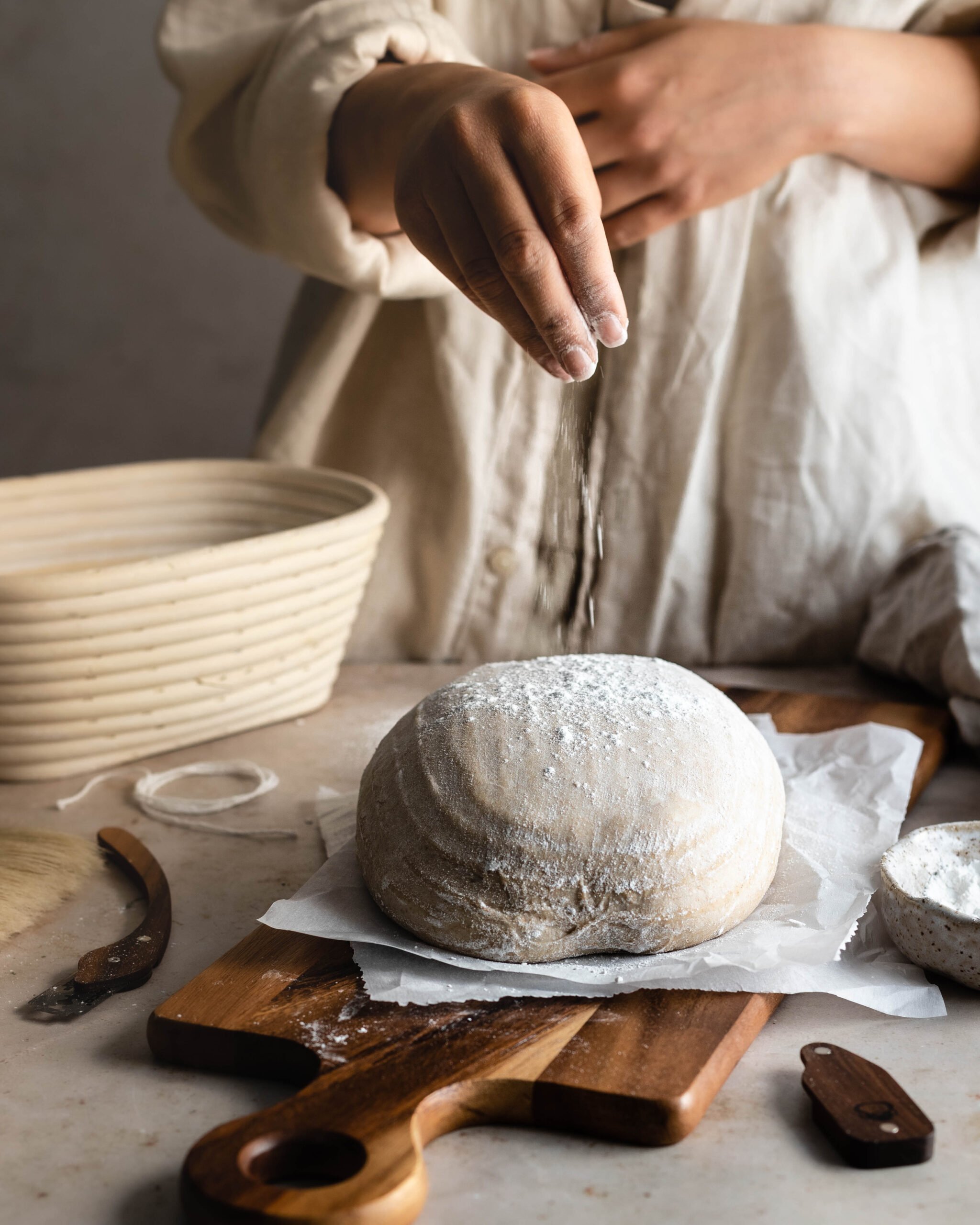 3. Dust your dough with rice flour and smooth it on top with the palm of your hand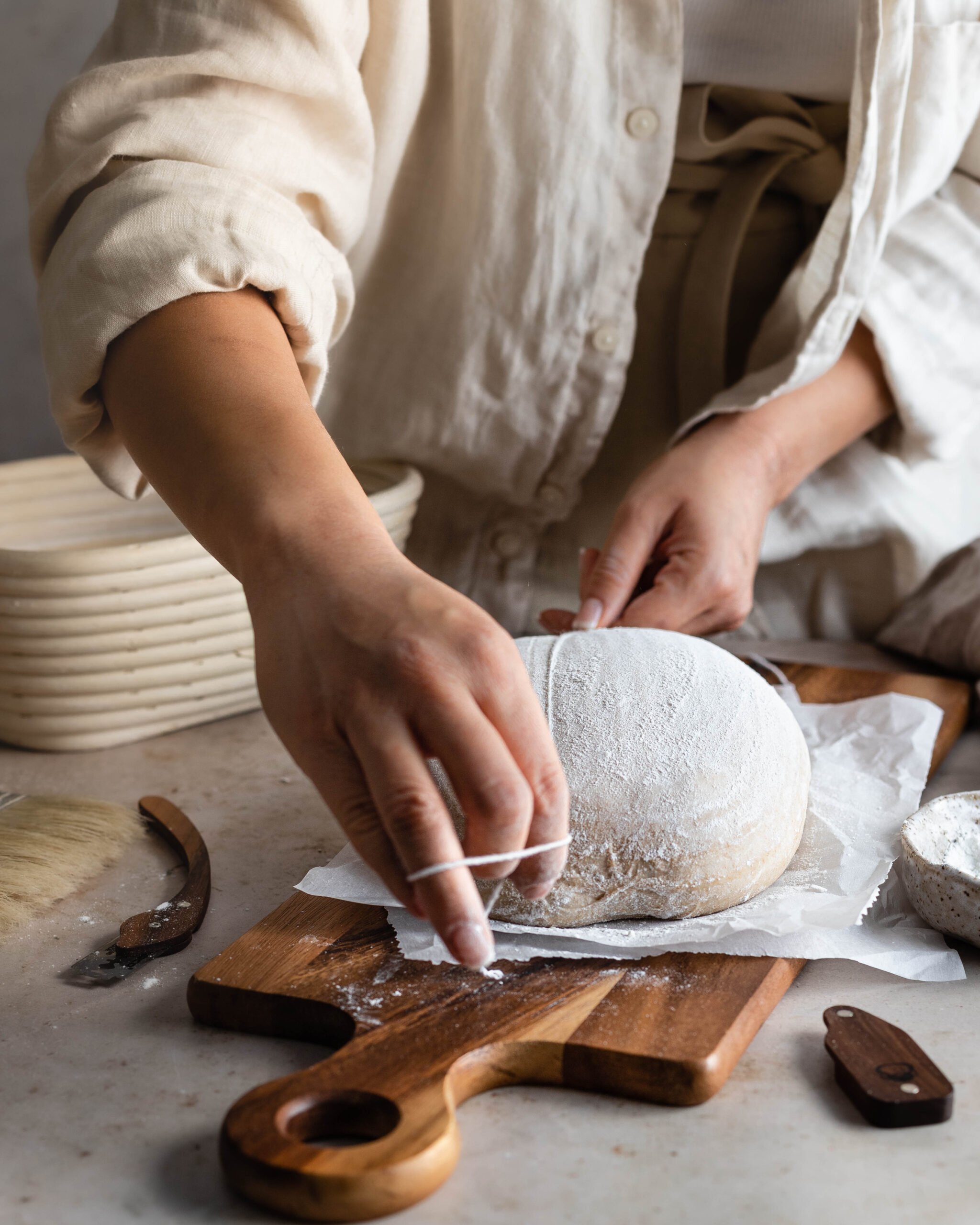 4. Using a piece of string held tight leave an imprint on your dough to create a guide for your design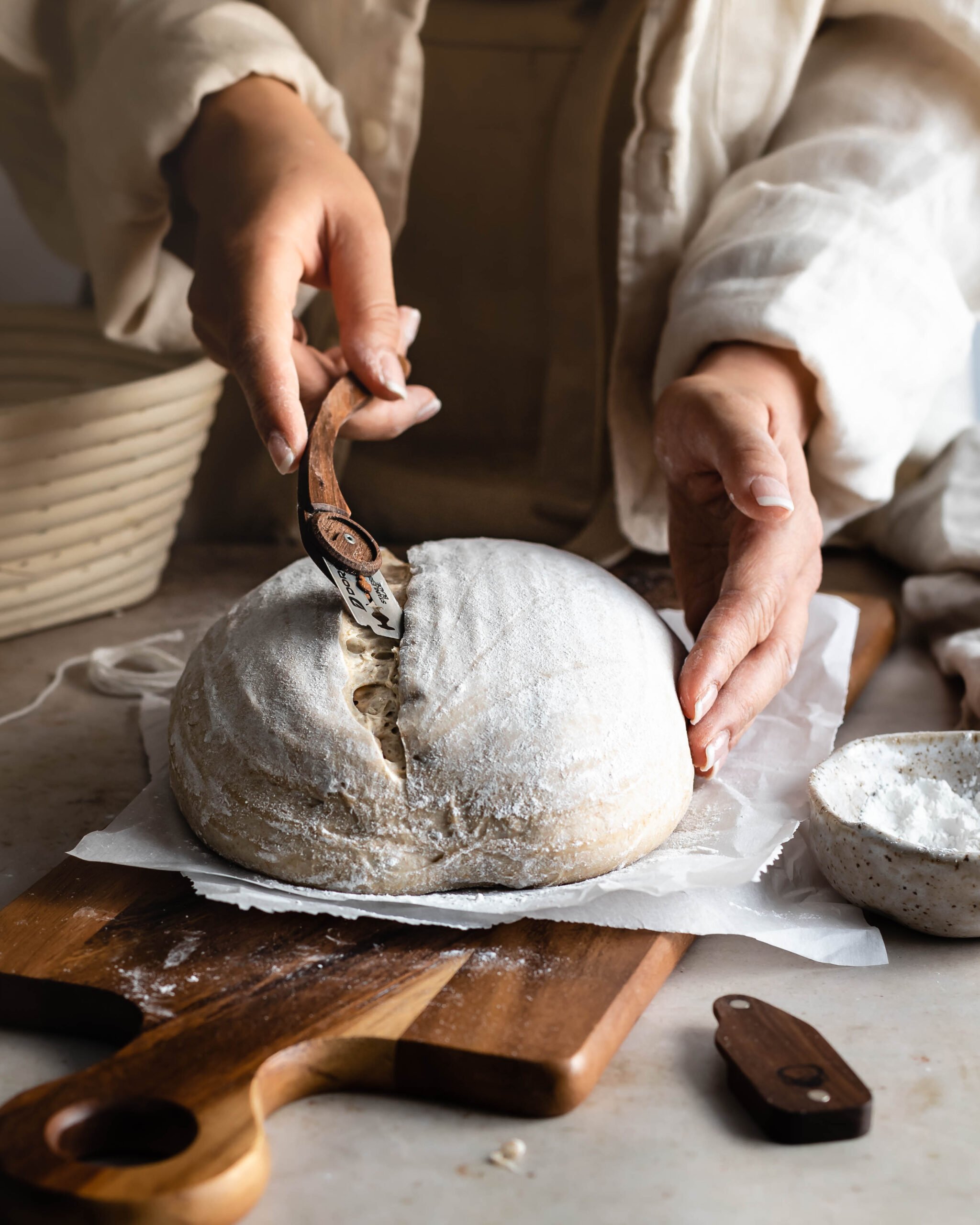 5. Using a lame fitted with a sharp blade, score a large gash about ¼ to ½ inch in depth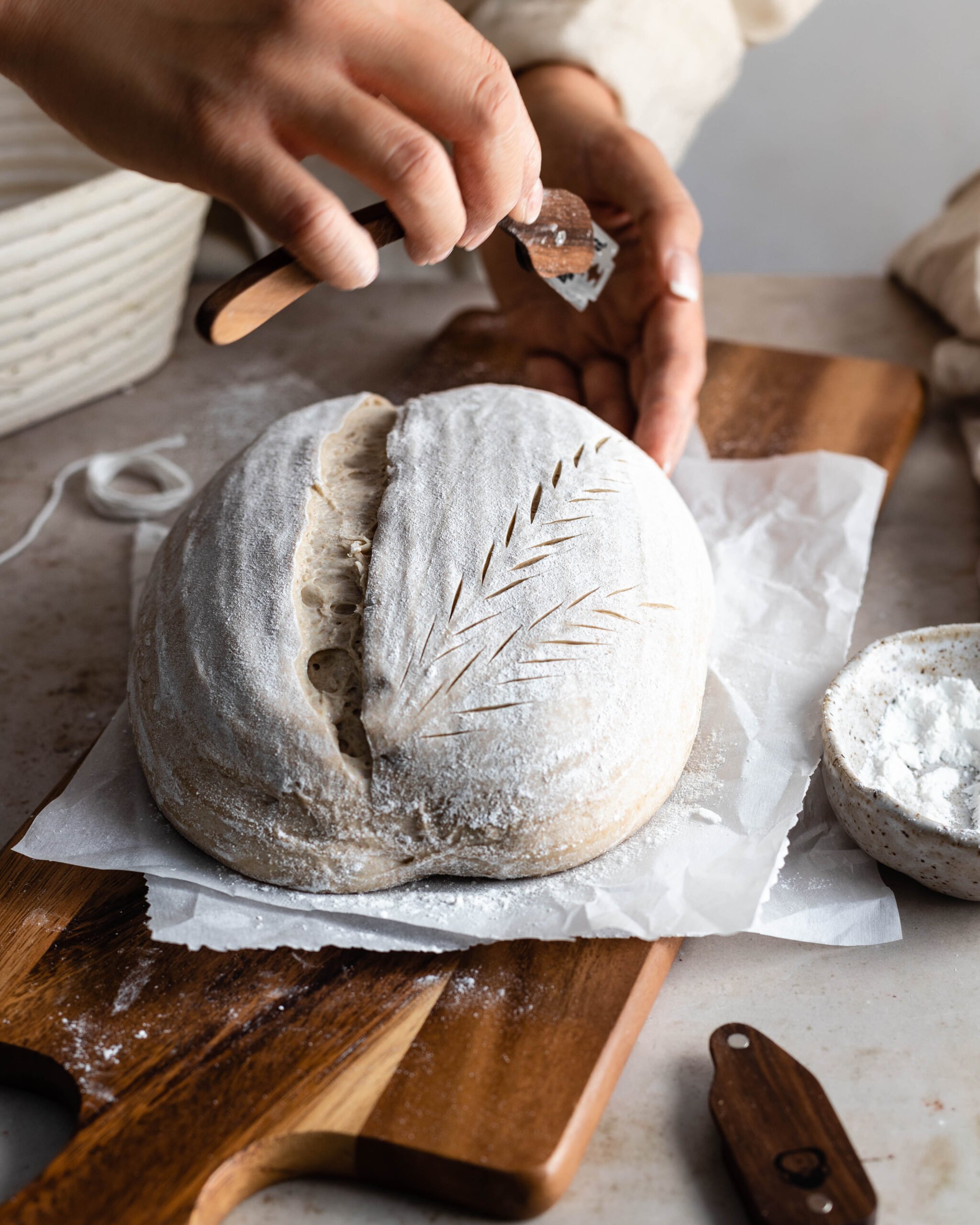 6. Create your design using quick, confident, shallow cuts
How to Score an Ear
The elusive and highly coveted ear is a testament to the skill of the bread maker. It's the result of good oven spring. There's not 1 simple trick to getting an ear, you'll have to get every step of the bread baking process right and then you'll need to purposefully score your dough so you can take advantage of its rise.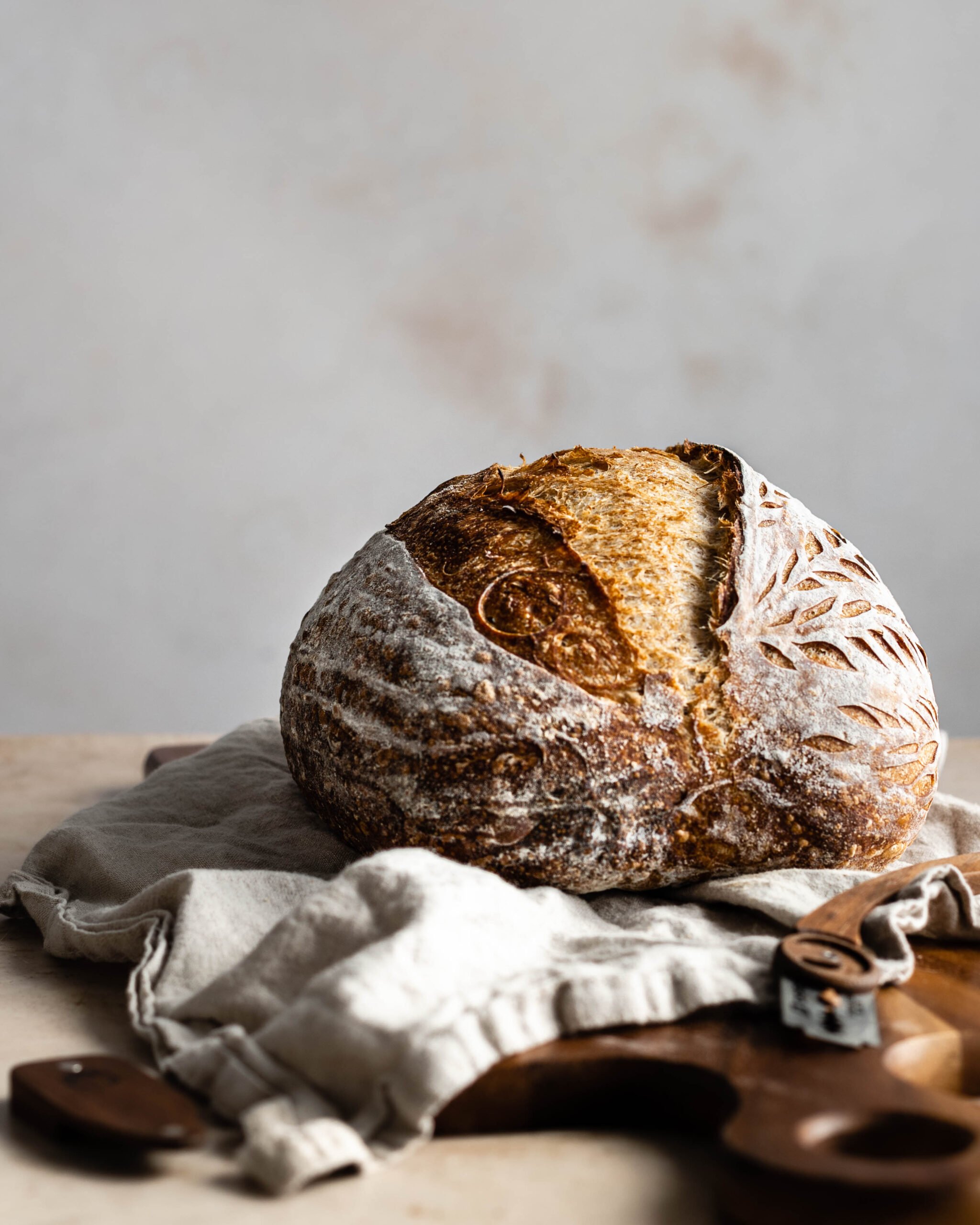 What is an ear in bread baking?
An ear is a portion of dough that forms and hardens into a defined ridge as the dough bakes.
Tips for getting an ear
Nail fermentation - an ear is first and foremost, a result of properly fermented dough, you'll need to time fermentation perfectly so you don't underproof or over proof your dough
Create strength and tension in your dough - to rise up and hold its shape, you'll need to create strength through folding and create surface tension through intentional shaping
Bake at the perfect moment - once you place your dough in the oven, the yeast respond by dramatically speeding up fermentation, this causes a large production of CO2 before they eventually die off. Bread baking is a bit of a balancing act and you'll need to bake your bread at exactly the right moment, when the yeast has produced enough gas to tenderize the dough without exhausting their food source so they can manage this last final burst of gasses.
Hold your lame at a 45 degree angle - if you manage to nail fermentation and create a strong dough, holding your blade at a 45 degree angle will allow the cut to open up to form an ear, instead of sinking down
Bake with steam - steam is essential for your loaf to achieve oven spring, without steam the crust would harden too quickly and your dough won't have the chance to rise fully
Tips for Success
Score directly from the refrigerator - cold dough is much easier to score, and the contrast in temperature will help with the dough rise even higher.
Use a specialized tool - even the sharpest bread paring knife won't have an edge that can neatly cut through wet dough. The sharp, thin edge of a double-edged blade will prevent your dough from dragging and a bread lame will allow you to safely hold the sharp blade.
Create a score that's wide enough and deep enough to allow your bread to rise - your essential cut should be at least ¼ to ½-inch deep and should be large enough to allow your bread to rise fully. If you fail to score your dough enough, your bread may burst.
Don't score your dough too aggressively - if you cut too deep into your dough you may destroy the structure you've worked so hard to create during the bread making process.
Coat your blade in a thin layer of oil - if you find that your blade drags while you're scoring, rub a little bit of oil on your blade to help it glide smoothly through your dough
Make quick, confident cuts: scoring too slow will cause even the sharpest blade to drag and leave ragged marks on your dough
Bake your dough right away - letting your dough sit for too long before putting it in the oven may cause it to deflate and lose its strength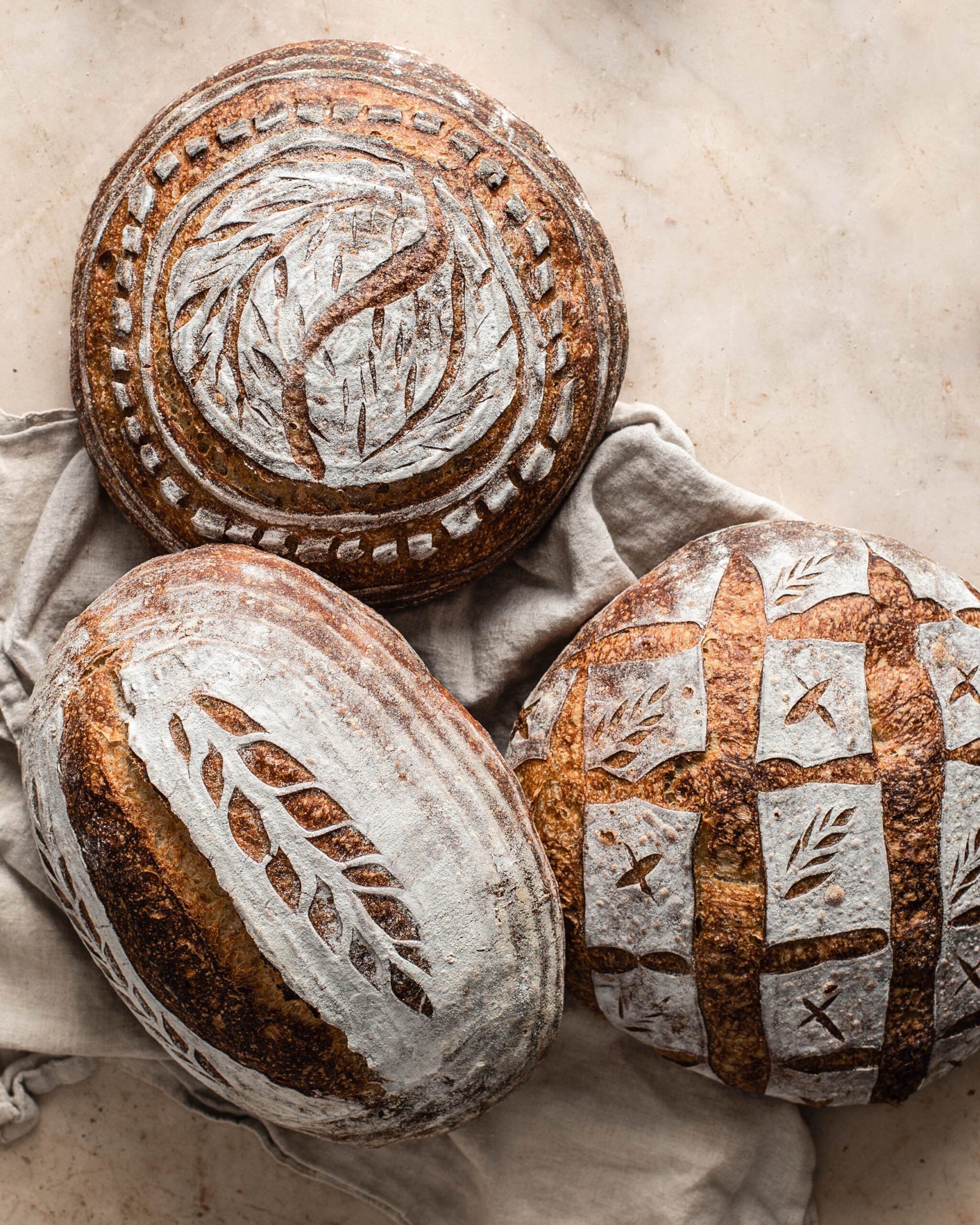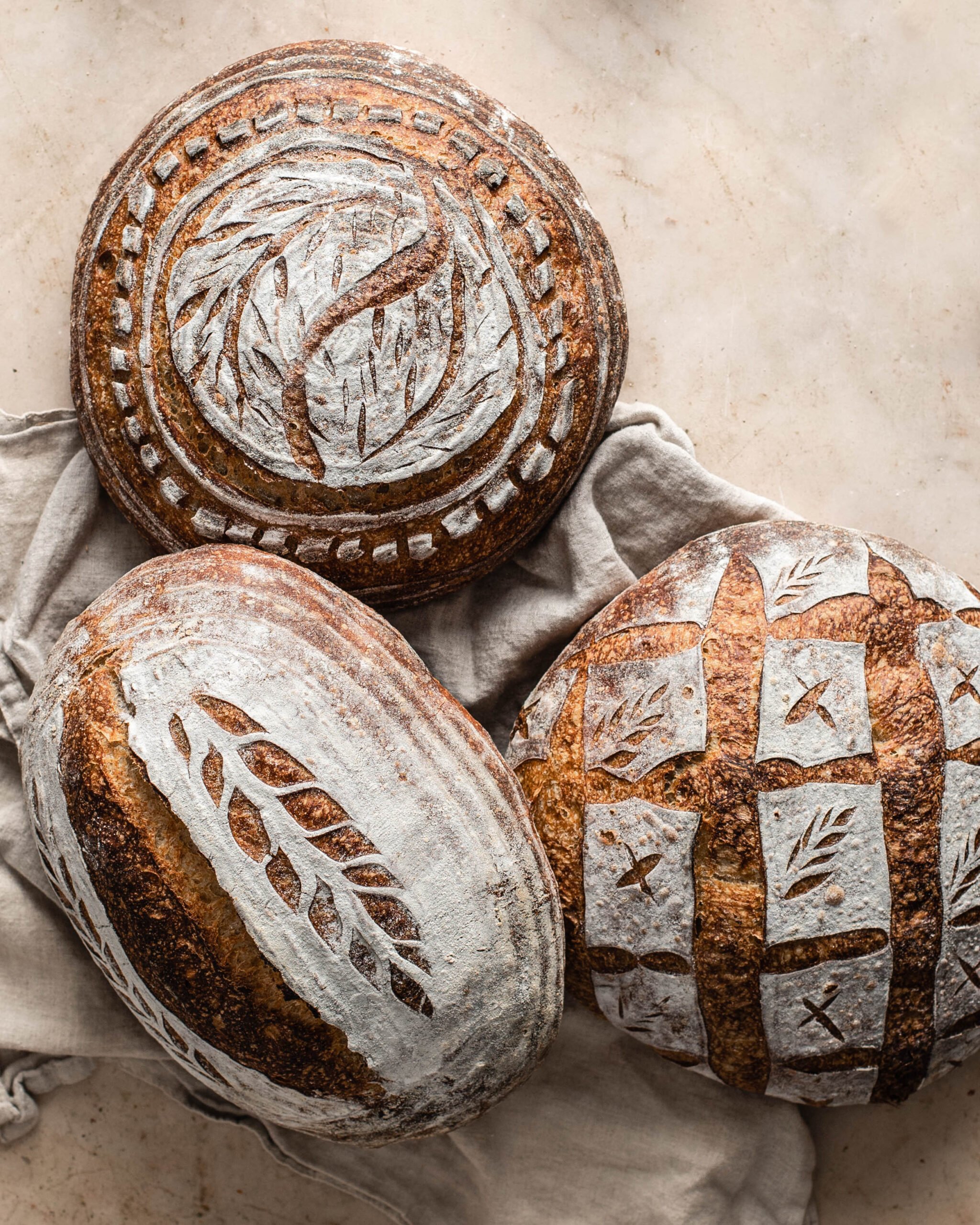 Try your scoring skills on my Basic Sourdough Bread or Spelt Sourdough Bread recipe!
Bread Scoring Patterns
Now that you know the basics of scoring, your bread can serve as a blank canvas where your creativity can run wild. Remember that the main goal of scoring is to take full advantage of oven spring in a way that helps bread maintain its shape.
To help you get started, here are a few examples of essential cuts that are suitable for boules or batards.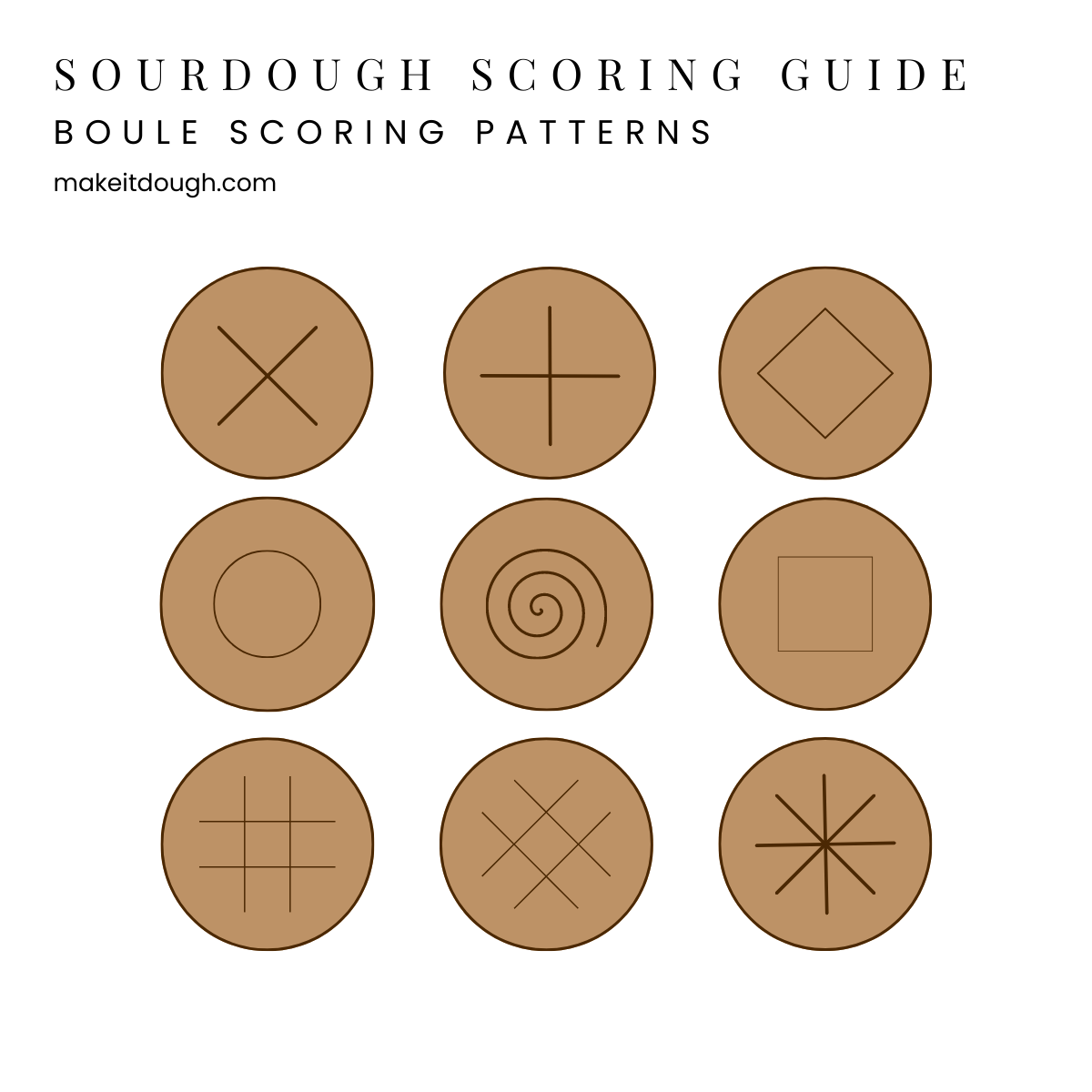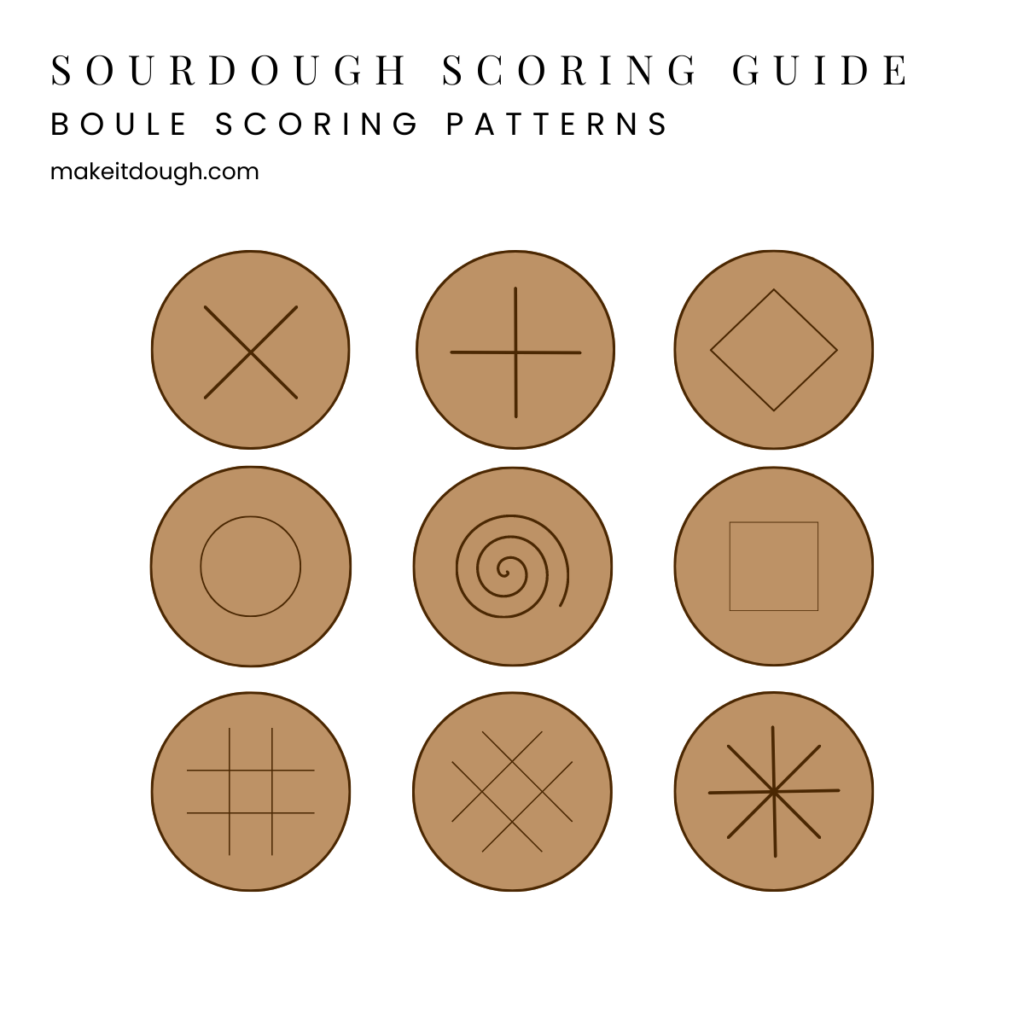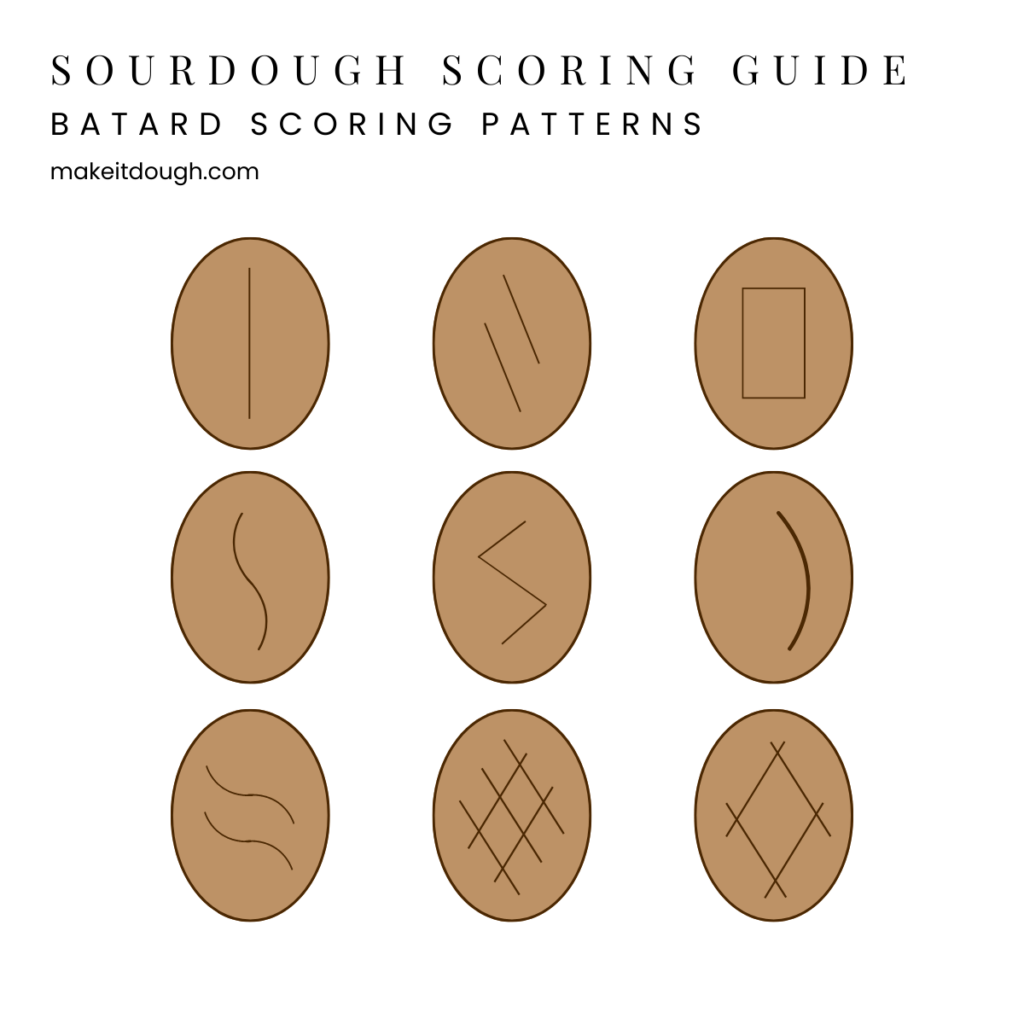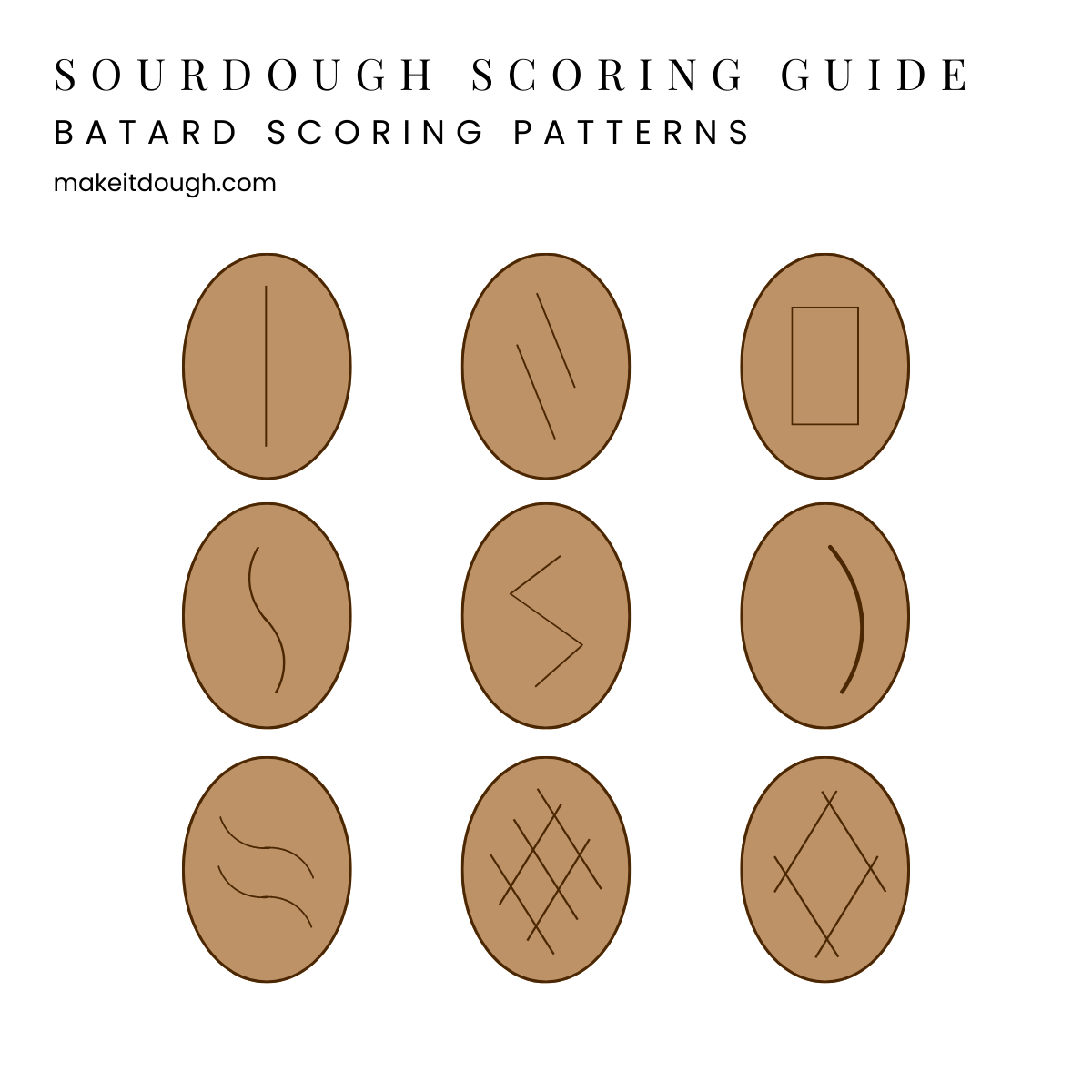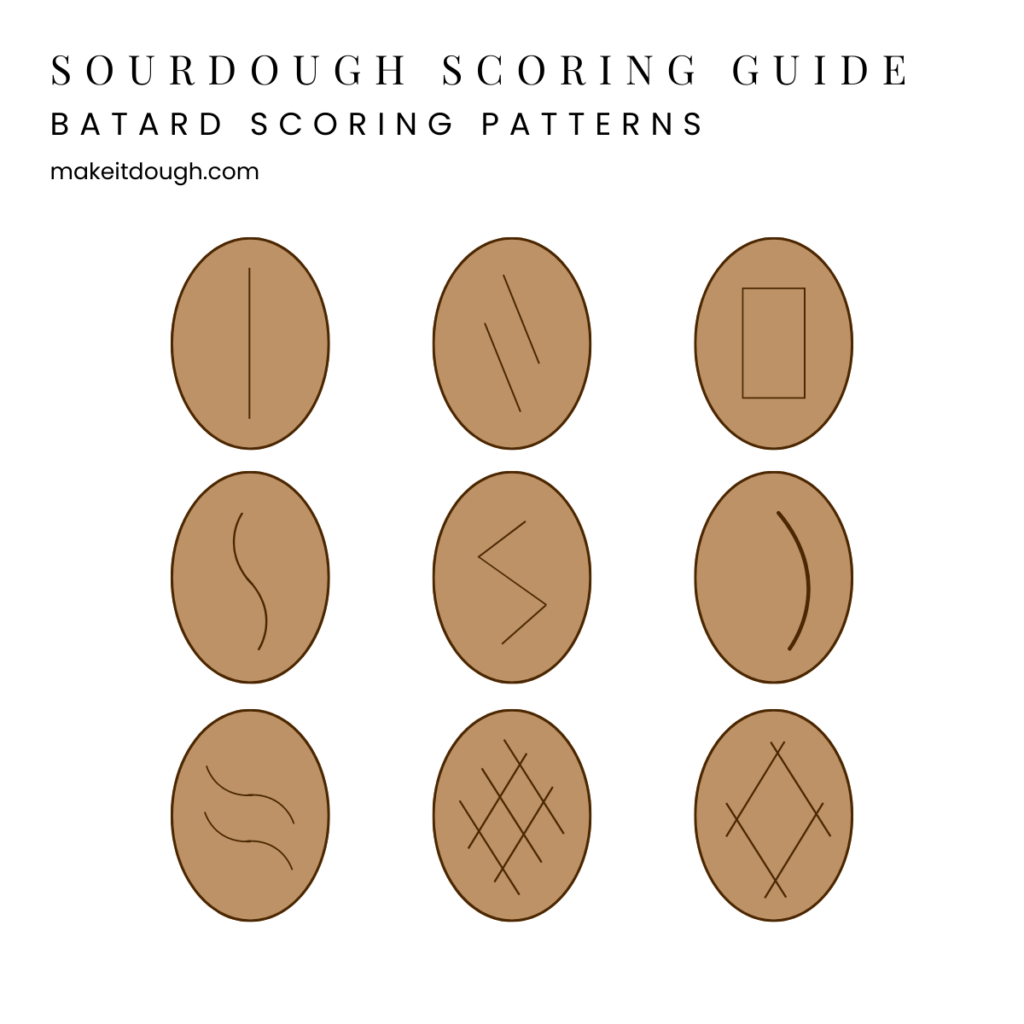 Frequently Asked Questions
How deep should you score sourdough?
You should score a cut that's at least ¼ to ½ inch deep. 
Why does my blade drag when I try to score my dough?
Blades dragging on dough is usually a result of improperly proofed dough (under proofed or over proofed) and a weak gluten structure.

When you turn your dough out of your banneton, it should not spread and flatten out, it should have a tight and smooth skin that feel slightly dry and the surface should not be sticky.

What happens if you don't score sourdough?
Failing to score your dough will prevent it from rising fully while it bakes. It will also burst in the oven and have unwanted bulges.
What causes oven spring?
Oven spring is the last burst of fermentation that occurs during the first 10 minutes of baking. Yeast responds to the extremely high temperatures of the oven by speeding up fermentation and producing a large amount of CO2 before they eventually die off. This results in a dramatic rise called oven spring.

To achieve oven spring you'll need to bake your bread at the exact right moment. When it has built up enough CO2 yet has not exhausted all of its food source so that it can still support the last burst of activity needed to rise.
Questions?
Was there something I missed? Do you have any additional questions about bread scoring that I didn't cover here? Comment below or get in touch with me on Instagram.
.