Sourdough Oatmeal Sandwich Bread reminiscent of the hearty multigrain sandwich breads that I ate when I was a kid. With a soft and spongy texture this bread is perfect for peanut butter jelly, but is sturdy enough for a tall BLT.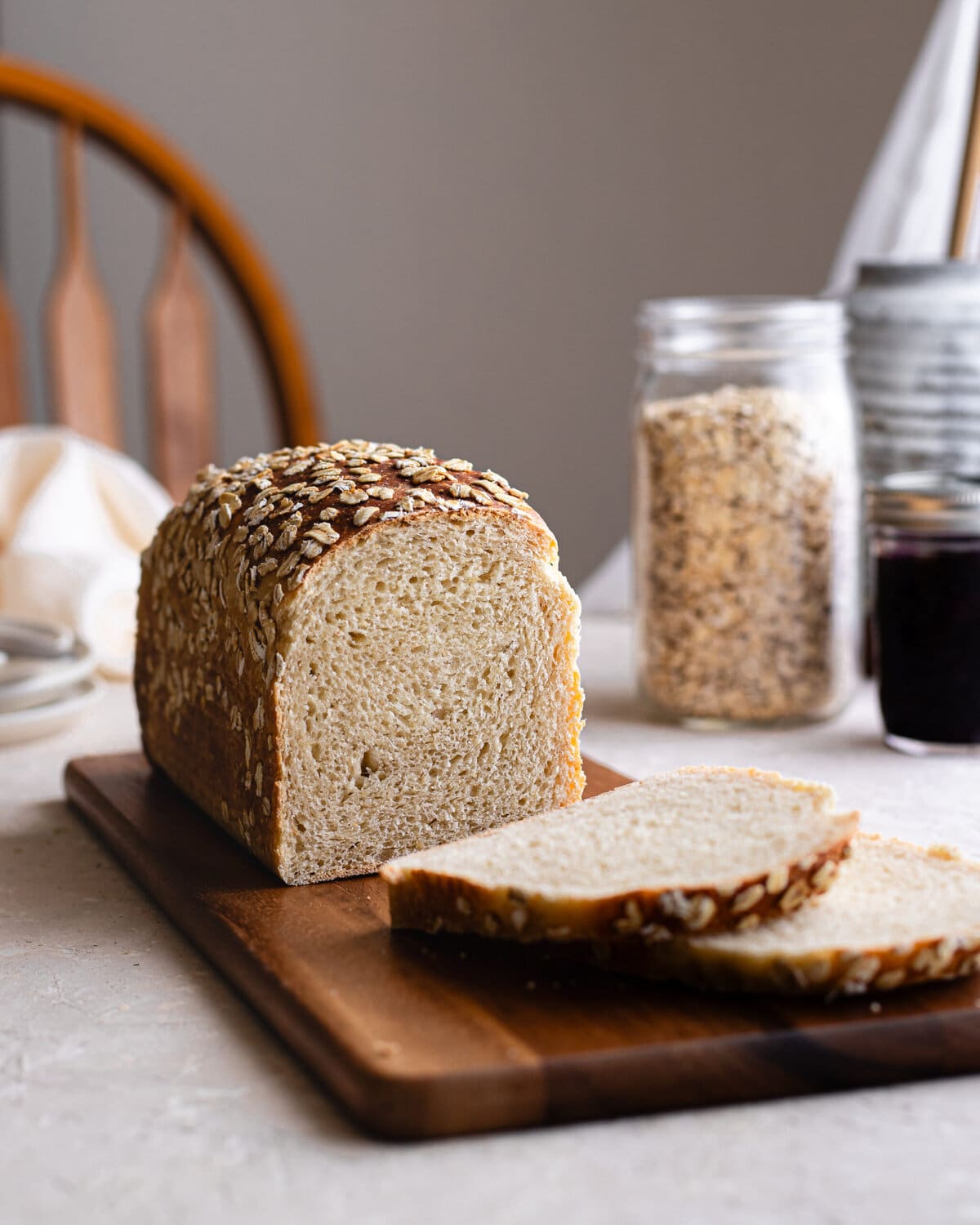 Jump to:
Benefits of adding oatmeal to bread
Adding oatmeal, or any other porridge increases the moisture in dough without making it stickier and more difficult to handle. That's because the added liquid is gelatinized and trapped into a starchy mixture. So you'll get added hydration and this results in bread that's moist, with a plush texture and a longer shelf life. Similar to the Tangzhong method used in my Sourdough Japanese Milk Bread Recipe.
What you need
Active sourdough starter: You'll need a mature, active starter to make this recipe
Old-fashioned oats: This recipe was tested using old-fashioned oats. Quick oats will work just fine if that's all you have on hand. The volume measurement may be different, but the gram measure should be the same.
All-purpose flour: Low protein flour imparts softness and keeps the crumb tender. You can substitute bread flour but your bread will be chewier.
Bread flour: Adds structure to the loaf and allows it to rise taller even with the addition of oat porridge.
Whole wheat flour: Adds an earthiness and a nutty flavor. You can leave it out, or sub other flours such as spelt, einkorn, kamut, or even oat.
Milk: This recipe was developed using whole milk. Sub your favorite plant-based alternative.
Honey: Naturally complements the flavor of oats, sub maple syrup, molasses, brown sugar or white sugar for sweetness.
Salt: Use kosher salt or sea salt for the best results.
Butter: Adds softness to the crumb, sub your favorite plant-based alternative, olive oil will work for this recipe as well.

What to bake this recipe in
This recipe makes one 9 by 4 inch loaf. Using a pullman pan with high sides ensures a taller loaf. You can, however, use a regular loaf pan if that's all you have, just know that your loaf may not appear as tall as mine when it bakes (don't worry it will be just as delicious).
Step-by-step instructions
Make the oat porridge
Make the dough
Let the dough rest for 1 hour
Knead the dough
Let the dough rise until doubled in volume
Cold proof overnight
Shape the dough and transfer to a loaf pan
Proof dough until puffy and fills the tin
Bake at 350 F for 35 to 40 minutes
Let the loaf cool for at least 2 hours before slicing
You may also like
---
Did you make this recipe?
⭐⭐⭐⭐⭐
Please leave a star rating and review this recipe if you enjoyed it! I read all the comments and love hearing your feedback.
THANK YOU!
---
Soft Sourdough Oatmeal Sandwich Bread Recipe
Soft and hearty Sourdough Oatmeal Sandwich Bread perfect for peanut butter and jelly or turkey sandwiches. Oatmeal porridge keeps bread moist for days.
Ingredients
Oat Porridge
25

grams

old-fashioned oats

50

grams

whole milk

125

grams

water
Dough
250

grams

all-purpose flour

100

grams

bread flour

50

grams

whole wheat flour

100

grams

active sourdough starter

150

grams

whole milk

56

grams

unsalted butter

softened

40

grams

honey

6

grams

salt
Egg Wash
1

egg

20

grams

old-fashioned oats
Instructions
Combine oat porridge ingredients into a small saucepan and cook on medium high heat until the mixture comes to a boil. Lower the heat and continue to simmer until the oats have cooked and porridge has thickened noticeably, around 3 to 5 minutes. Your porridge will continue to thicken as it cools so you don't want it to dry out completely as you are cooking it, set aside and allow to cool completely. 

25 grams old-fashioned oats,

50 grams whole milk,

125 grams water

Once your porridge has cooled to room temperature, combine dough ingredients with porridge into a large mixing bowl. Mix with a wooden spoon or your hands, the dough will be a bit sticky at this point, once the mixture is fully combined, cover it with plastic wrap and set aside for an hour. This will allow the flour to hydrate fully, making your dough less sticky and easier to work with. 

250 grams all-purpose flour,

100 grams bread flour,

50 grams whole wheat flour,

100 grams active sourdough starter,

150 grams whole milk,

56 grams unsalted butter,

40 grams honey,

6 grams salt

After your dough rests, turn it out onto a lightly floured work surface and knead for 10 minutes. Round the dough into a tight ball and place it into a clean, lightly oiled container. Cover and allow the dough to rest for an additional 30 minutes. Repeat the kneading and resting periods one or two more times depending on how your dough feels. Your dough is ready once it feels strong, only slightly sticky and passes the windowpane test

Place the dough back into the oiled container, cover and allow the dough to ferment in a warm spot (78 F/25 C) until the dough has doubled, this can take anywhere from 4 to 6 hours.

Once bulk fermentation has completed, knock the air out of your dough, round it tightly into a ball, return it to your container and place it in the refrigerator overnight. 

The next day, line your loaf pan with parchment paper. Take your dough out of the refrigerator, turn it out onto a lightly floured surface and flatten it into a 7 by 5 inch rectangle, the top and the bottom of the rectangle should be shorter than its sides. Fold down the top corners of the dough towards the middle (your dough should look like a house). Then, gently roll the top towards the center pressing down to seal. Repeat this two more times until your dough has formed a log, seal the seam. 

Place oats on a plate, brush the top of your dough with egg wash. Gently pick up your dough and roll the top of it onto the oats. Place your dough seam side down into your loaf pan, wrap the loaf pan with a plastic bag (clean grocery bags work great). Allow your dough to rise at room temperature for 2 to 4 hours, the dough should fill your tin, it is ready to bake once it has grown noticeably (almost reaching the top of your pullman pan, if you are using one). 

1 egg,

20 grams old-fashioned oats

Once your dough is close to being ready, preheat your oven to 350 F/176 C and bake for 35 to 40 minutes or until it is golden brown and the center registers at 190 F/87 C when measured with an instant read thermometer. 

Remove the baked loaf from the oven and turn it out of the pan onto a wire rack to cool. Allow the loaf to cool completely, about 2 hours before slicing.  
Notes
When in doubt, use gram over volume measures. 
Nutrition
Calories:
147
kcal
|
Carbohydrates:
24
g
|
Protein:
4
g
|
Fat:
4
g
|
Saturated Fat:
2
g
|
Polyunsaturated Fat:
0.3
g
|
Monounsaturated Fat:
1
g
|
Trans Fat:
0.1
g
|
Cholesterol:
9
mg
|
Sodium:
152
mg
|
Potassium:
65
mg
|
Fiber:
1
g
|
Sugar:
3
g
|
Vitamin A:
108
IU
|
Vitamin C:
0.01
mg
|
Calcium:
22
mg
|
Iron:
1
mg
Did you make this recipe?
I'd love to know! Leave a star rating and comment below. Don't forget to pin this recipe on Pinterest and share a photo and tag @makeitdough on Instagram