These Sourdough Dinner Rolls are soft and fluffy with a golden-brown crust brushed with melted butter. Sourdough and a long fermentation impart a deep and delicious flavor to these buttery rolls. They might steal the show at your next get-together.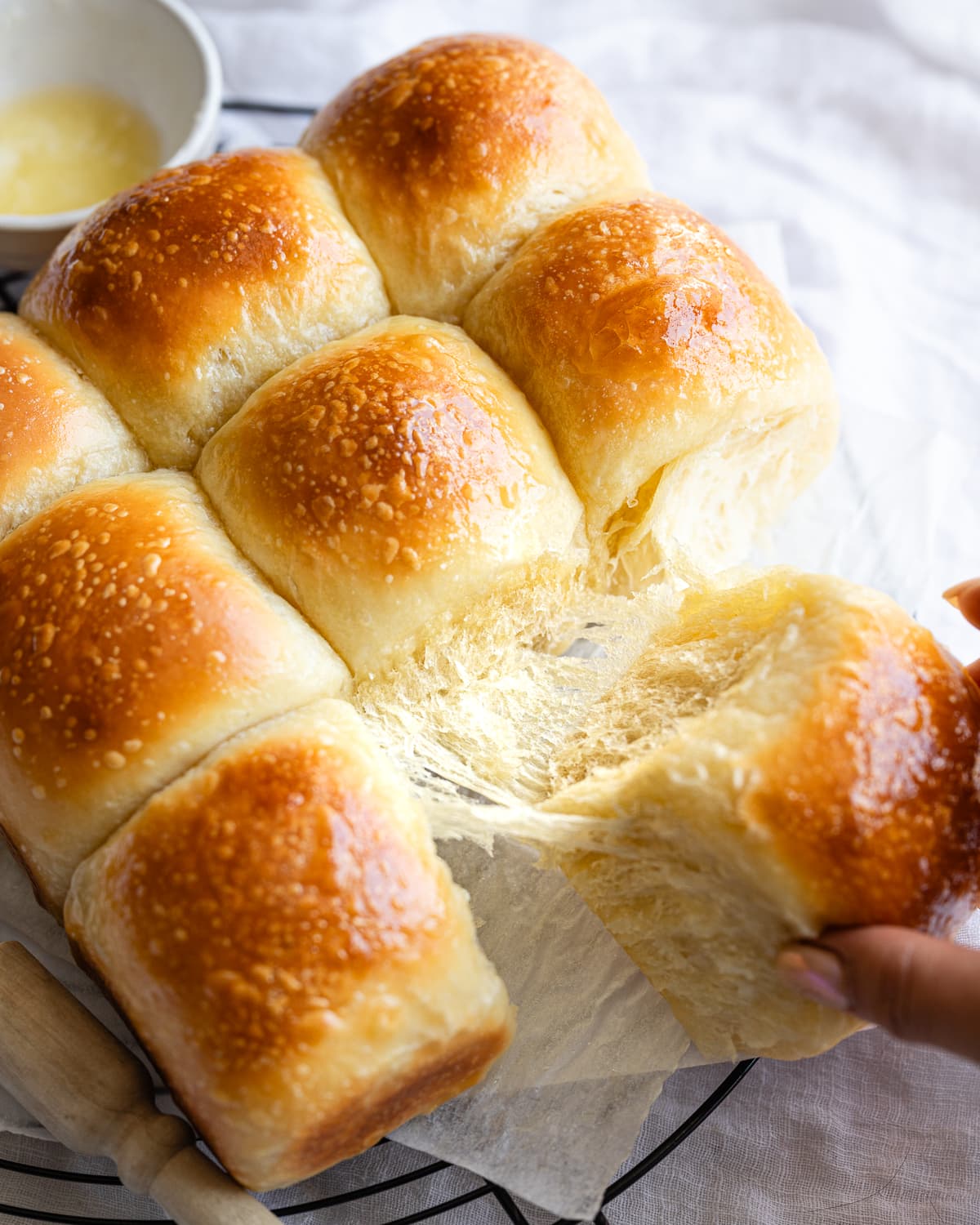 Few things can match the feeling of eating a homemade dinner roll and taking the time to make them from scratch takes every meal up a notch. That's why I put in the effort to perfect this sourdough dinner roll recipe before sharing it with you. I wanted these rolls to be worthy of a spot on your dinner table, whether it's a summer BBQ, Thanksgiving feast, birthday celebration, or Christmas dinner. The aroma of these buttery sourdough rolls is simply irresistible, and I promise, they'll have everyone clamoring for every last bite.
Jump to:
What makes these rolls so special
These rolls are extra special because they are made with sourdough instead of commercial yeast. Aside from the delicious and distinctive flavor that it imparts, sourdough also makes bread healthier and easier to digest. That's because sourdough ferments dough much slower than commercial yeast, so while this means that the process to make these rolls is a bit longer (about 2 ½ days), the results are totally worth it.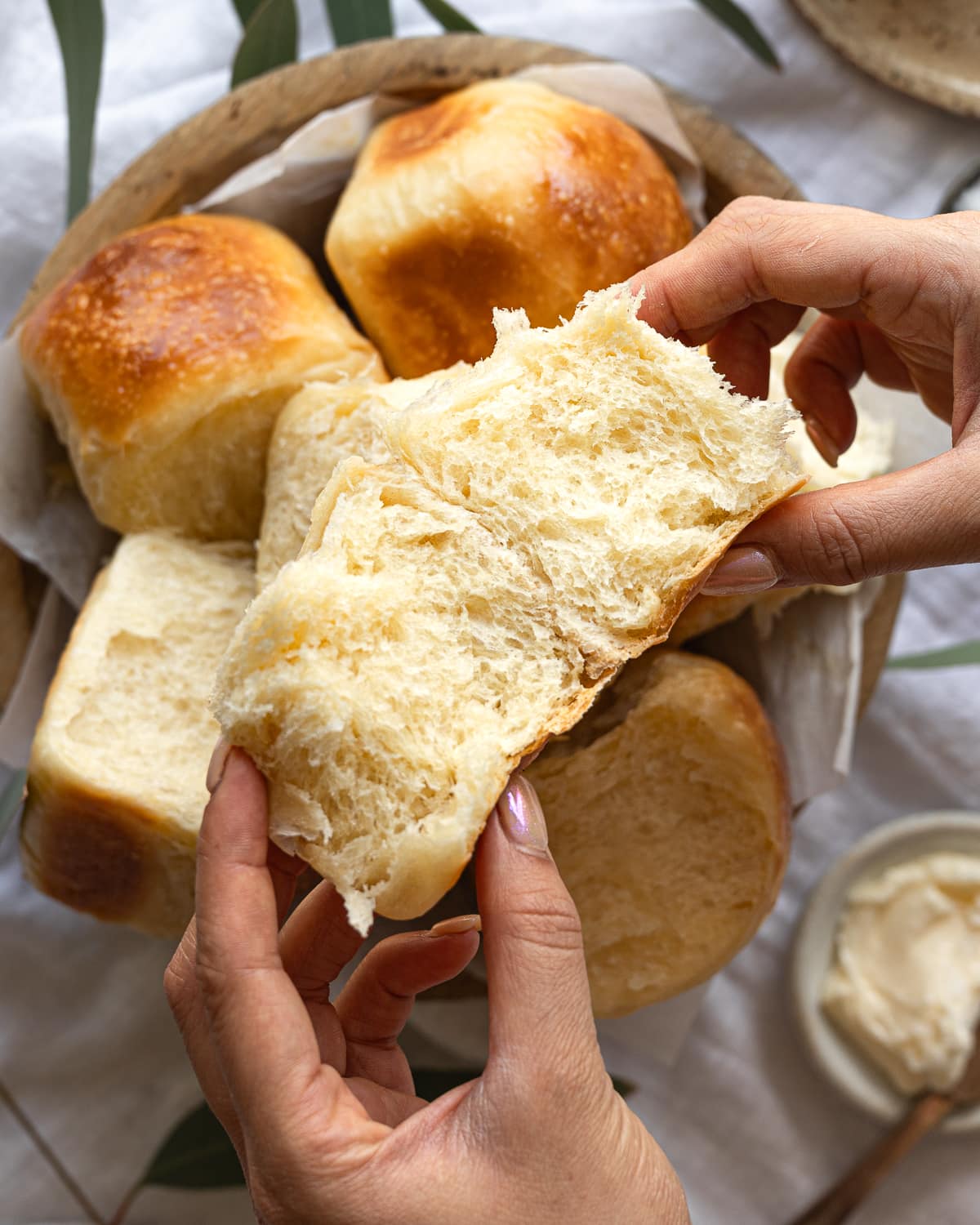 Benefits of sourdough and long fermentation 
During fermentation, wild yeast consumes the sugar in flour, producing carbon dioxide that leavens the dough and ethanol, which imparts the distinctive flavors and aromas in freshly-baked bread that we know and love.
During the long fermentation process, bread gains a depth of flavor that can't be achieved with rolls made only with commercial yeast. In addition, wild yeast effectively pre-digests flour, reducing the impact of phytic acid found in grains. Essentially, yeast acts as a second stomach, unlocking nutrients in wheat—like magnesium, iron, and zinc—that humans typically struggle to absorb. It's a boost for both taste and nutrition.
Short on time but still want fresh bread? Try out my Sourdough Discard Rolls, Sourdough Discard Hot Dog Buns and Sourdough Discard Sandwich Bread.
Why I love this recipe
The dough is mixed by hand - no special equipment required!
Rolls have a soft and pillowy texture.
Naturally-leavened with sourdough starter (no commercial yeast).
Versatile dough that can be made into Sourdough Hamburger Buns or rolled into a Sourdough Babka!
What you need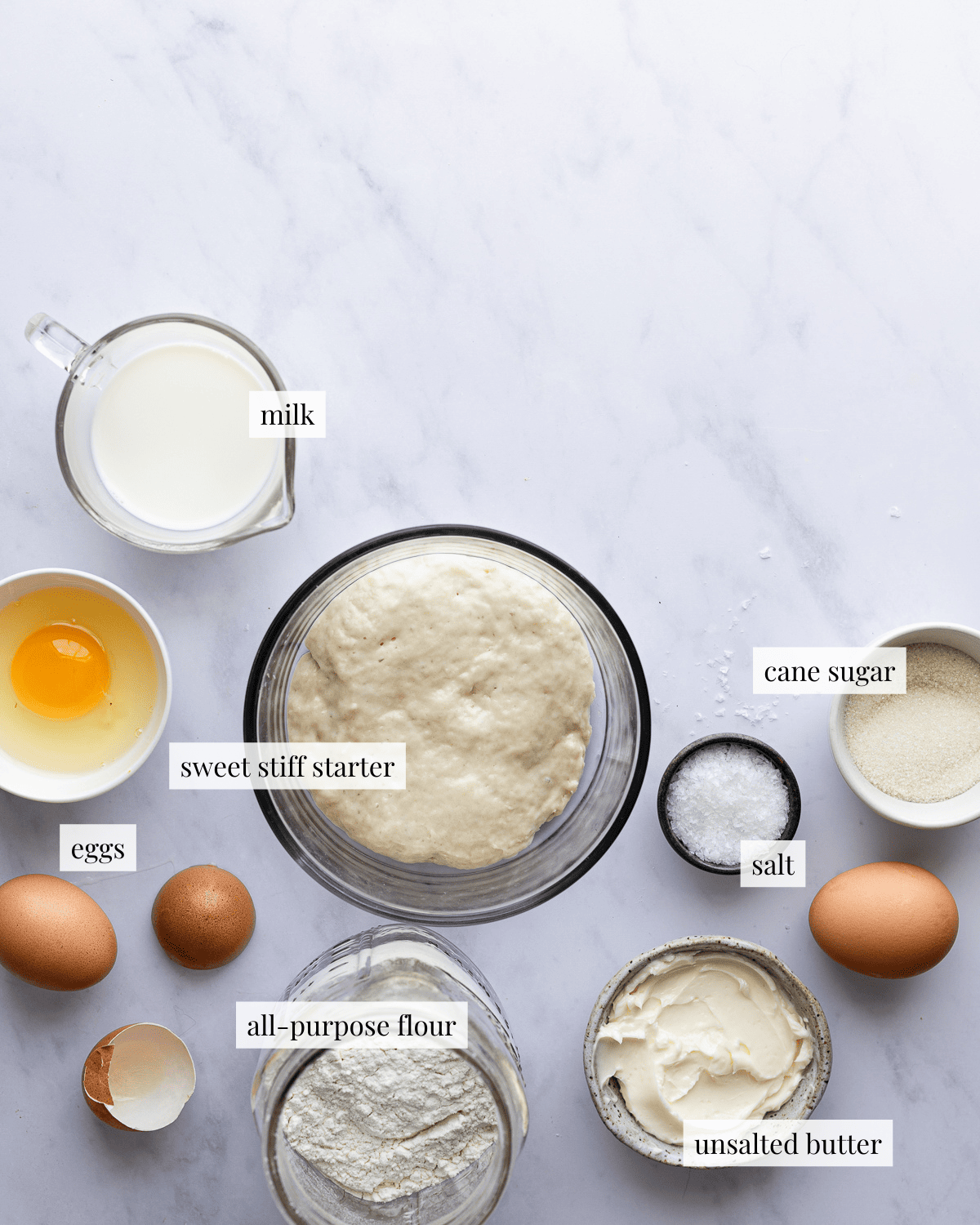 All-purpose: You can substitute bread flour but your rolls will be a bit chewier, don't use whole wheat flour or your rolls may become dense and dry.  
Milk: This recipe was developed using whole milk it adds richness and tenderizes the bread, substitute your favorite plant-based milk. 
Cane sugar: I've been using organic cane sugar over granulated sugar because it's produced using more sustainable methods. I use it in almost all of my recipes, from my Sourdough Discard Chocolate Shortbread Cookies to my Sourdough Discard Soft Pretzels.
See recipe card for detailed ingredient list.
What is a sweet stiff starter?
Unlike a 100% hydration or liquid starter, a stiff starter has a higher flour content. Since most of the liquid in these rolls comes from eggs and milk, a low-hydration starter lets me manage the extra liquid I introduce into the recipe. It also allows for a larger proportion of starter in the dough, speeding up the rising process. The inclusion of sugar in the starter curbs bacterial activity and acid buildup, reducing sourness and resulting in sweet, fluffy, buttery rolls.
TIP: Using a mature, active sourdough starter is crucial when making enriched bread. A weak starter, would make fermentation occur too slowly potentially leading to acidification that breaks down the dough's gluten. This causes the dough to tear as it rises and prevents it from capturing and retaining the carbon dioxide produced during fermentation. The end result: dense, heavy, and gummy rolls.
Looking for more soft, fluffy bread recipes made with sourdough? Try my Sourdough Brioche Bread, Sourdough Japanese Milk Bread, Sourdough Babka, Sourdough Sticky Buns and Sourdough Monkey Bread.
Step-by-step process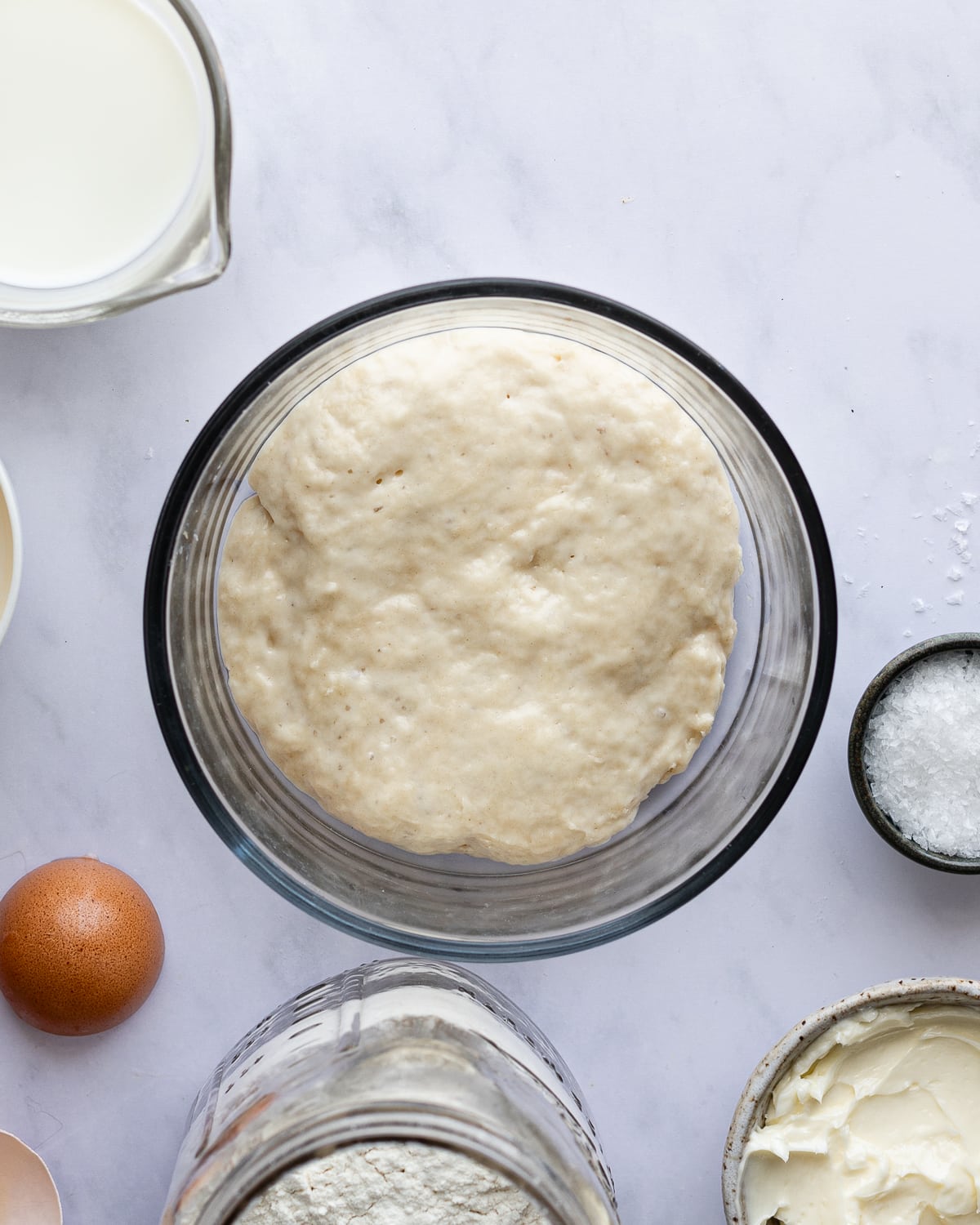 STEP 1: Make the sweet stiff starter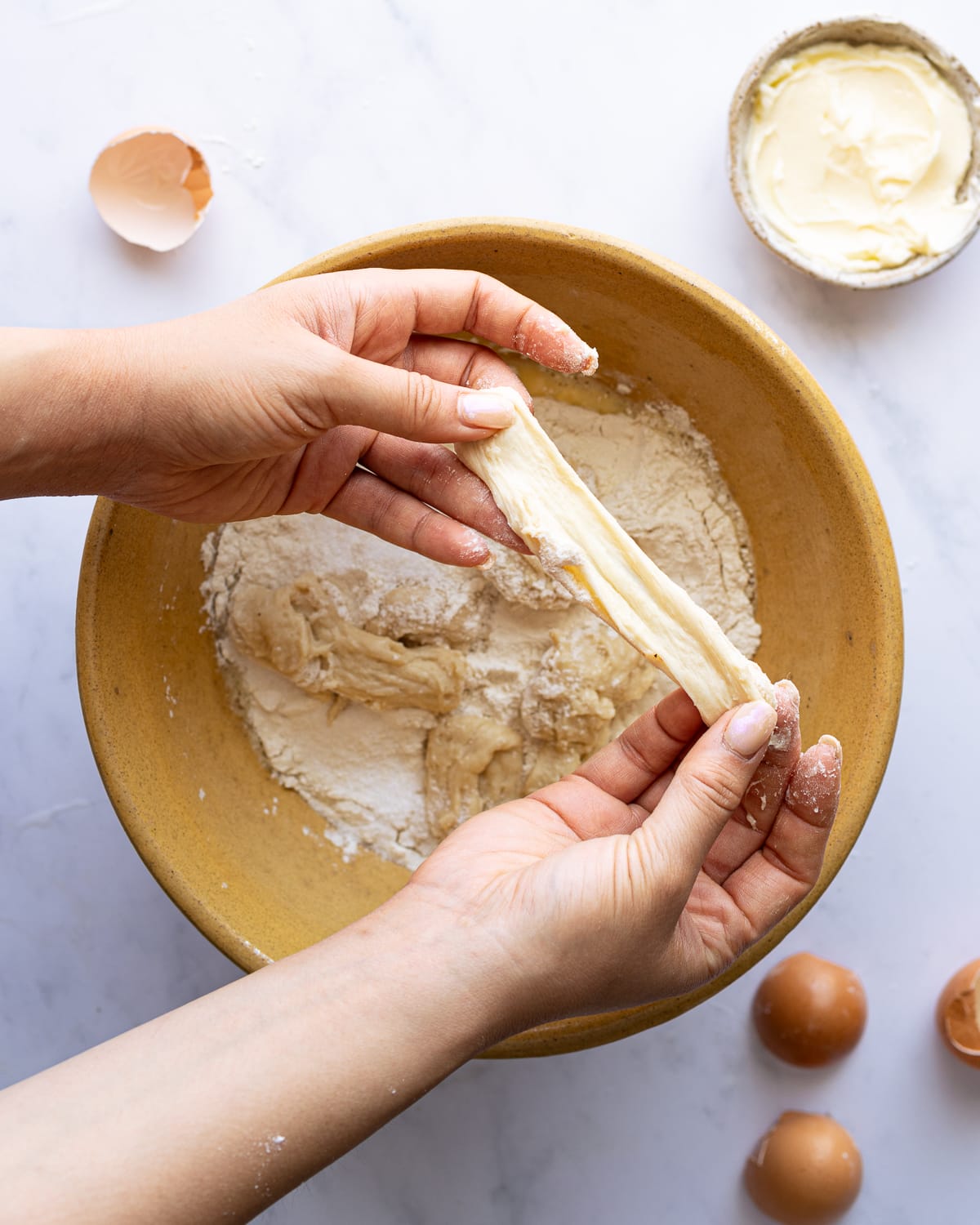 STEP 2: Mix all the dough ingredients together with the sweet stiff starter.
TIP: Make sure your starter is mature and active before trying this recipe or your dough may not proof properly, resulting in dense and gummy rolls.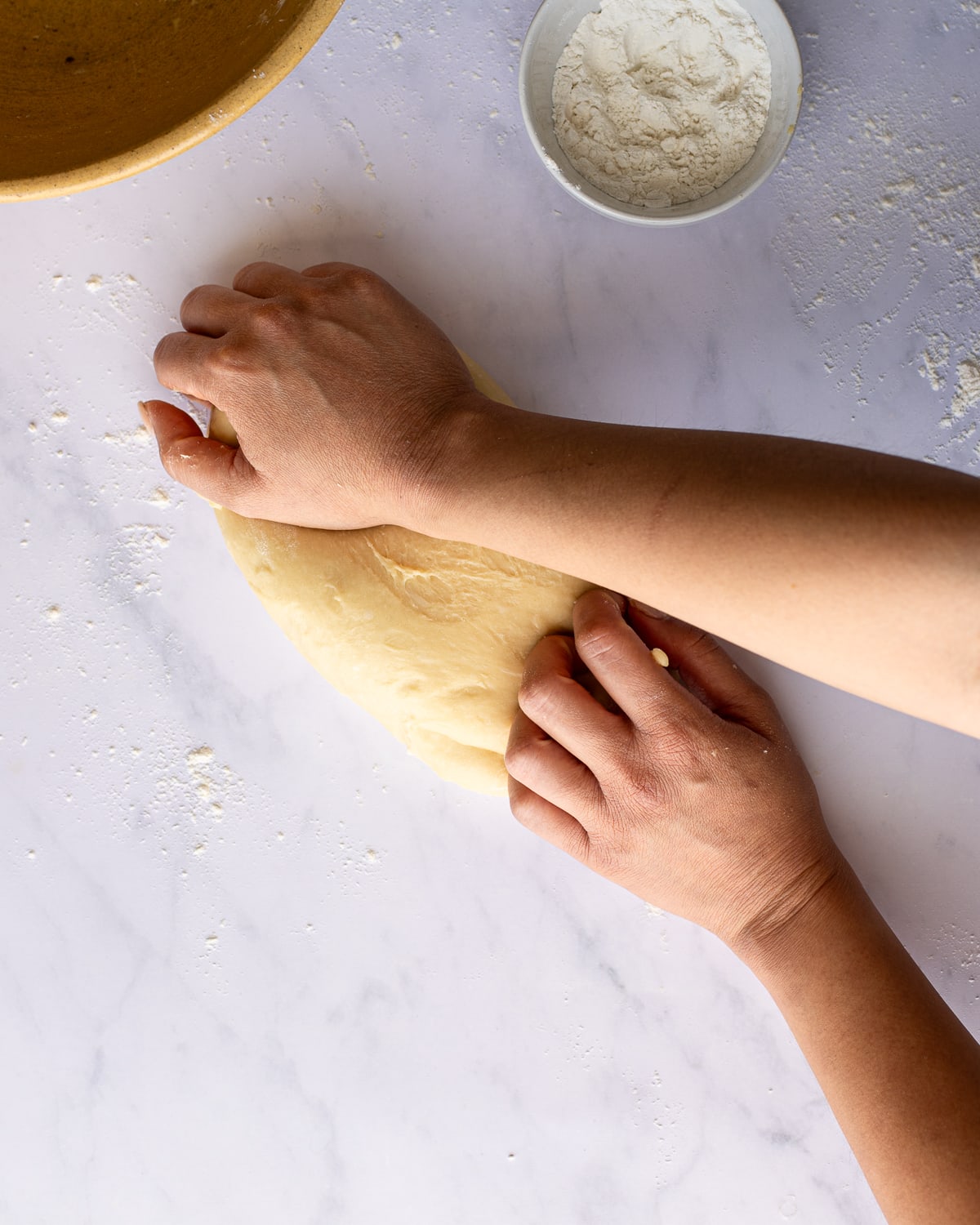 STEP 3: Knead the dough until it looks smooth and cohesive.
STEP 4: Allow the dough to rise in a warm place (>72 F) until doubled in volume.
TIP: Enrichments like eggs, milk and butter impart tenderness to bread but they the effect of slowing down fermentation. It's important to be patient. Wait until your dough has doubled in volume before shaping, this could take 4 to 6 hours.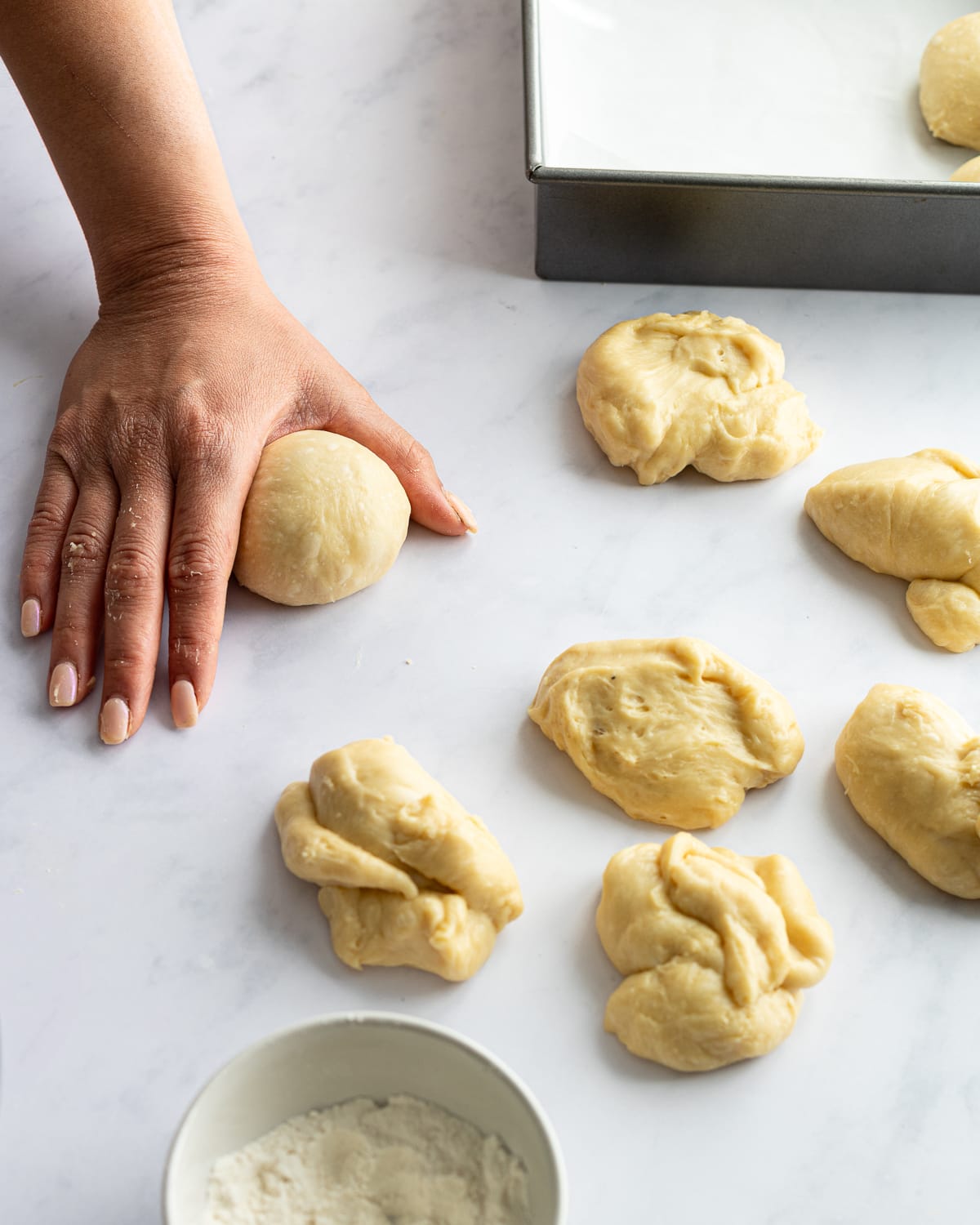 STEP 5: Divide the dough into 9 portions and shape them into tight balls.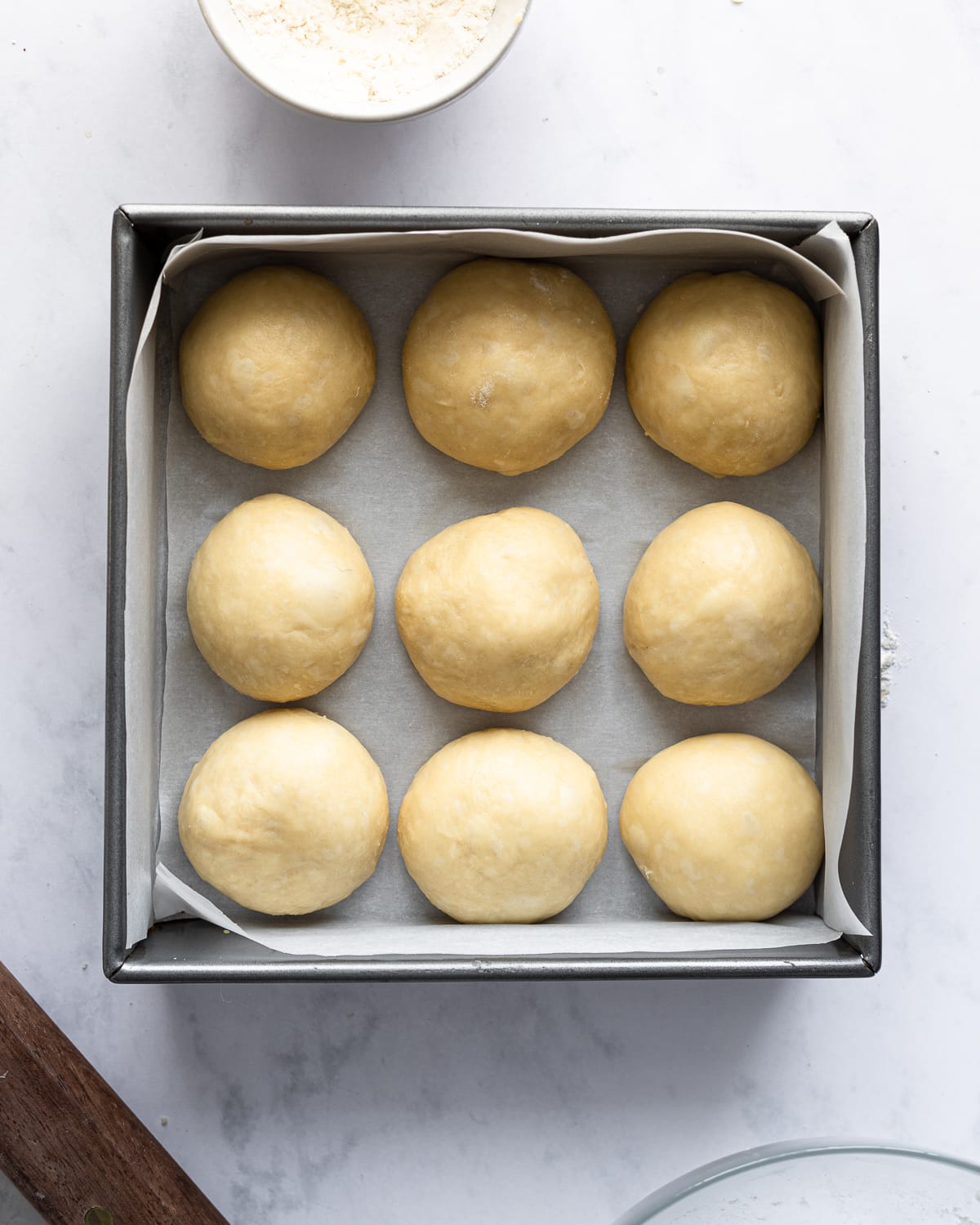 STEP 6: Cover the baking pan with plastic wrap and cold proof overnight.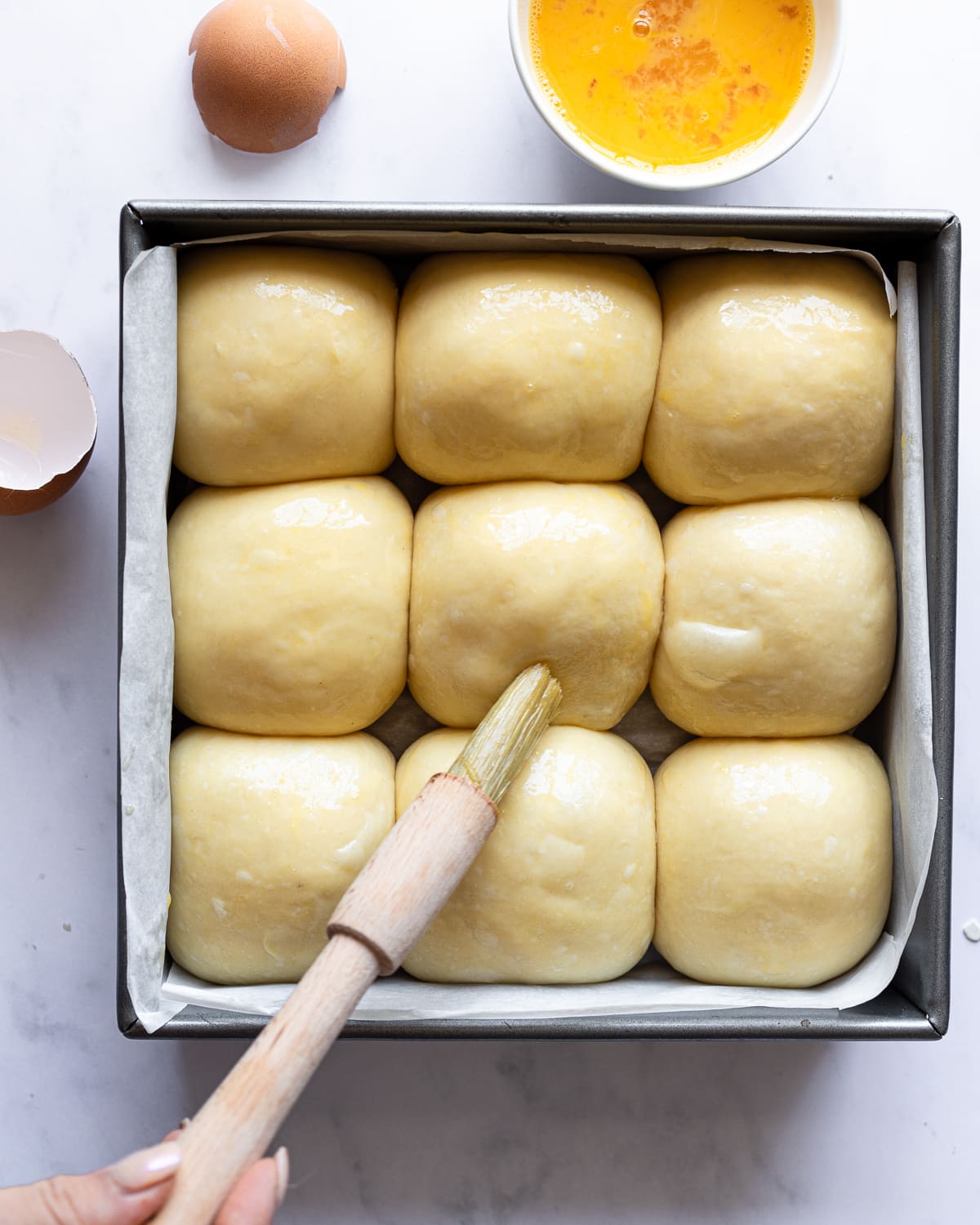 STEP 7: Let the dough rise until it fills the pan. Brush the dough with egg wash.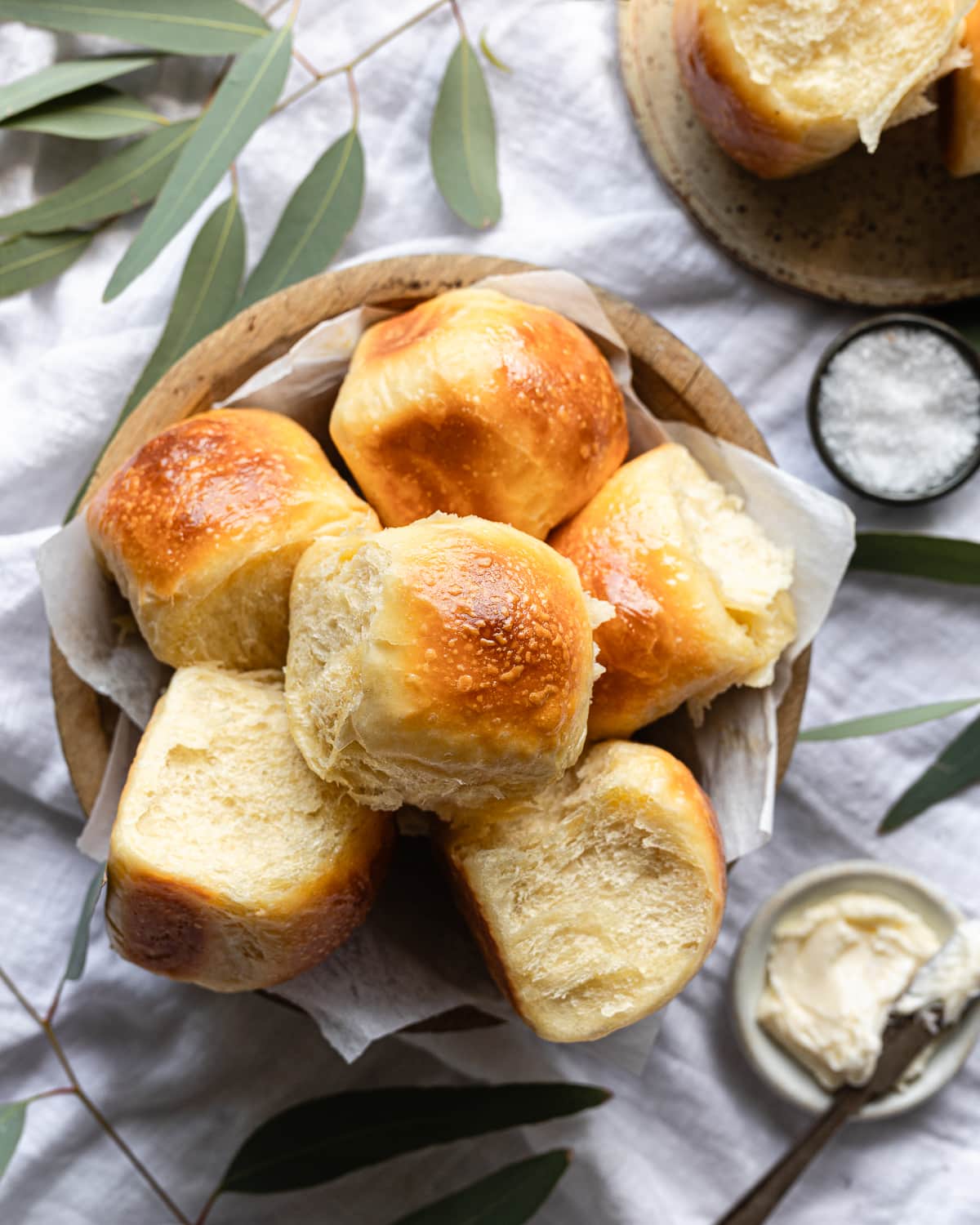 STEP 8: Bake at 350 for 20 to 25 minutes or until golden brown
Baker's Tips
Knead the dough until smooth: Gluten development is essential for these rolls. A strong gluten network will allow the dough to capture and retain carbon dioxide during the fermentation process. This results in tender, pillowy rolls. 
Let the dough rest before kneading: A short rest period allows flour to fully hydrate and makes dough easier to work with. If your dough feels too sticky at any point, stop kneading it let it rest for 15 minutes.
Bake the dough side-by-side: Baking the dough nestled together instead of as individual rolls prevent them from becoming too crusty and let them retain their pillowy texture on all sides.
Let the dough rise fully before baking: If your dough didn't rise in the refrigerator, take the pan out and let the dough rise in a warm place. They should fill the pan before you bake them.
Brush the baked rolls with melted butter: Brushing the top of the rolls with melted butter softens the crust and imparts a rich buttery flavor to this bread.
Don't refrigerate leftover rolls: The refrigerator has a tendency to dry out bread, it's best to store any leftover rolls in an airtight container at room temperature.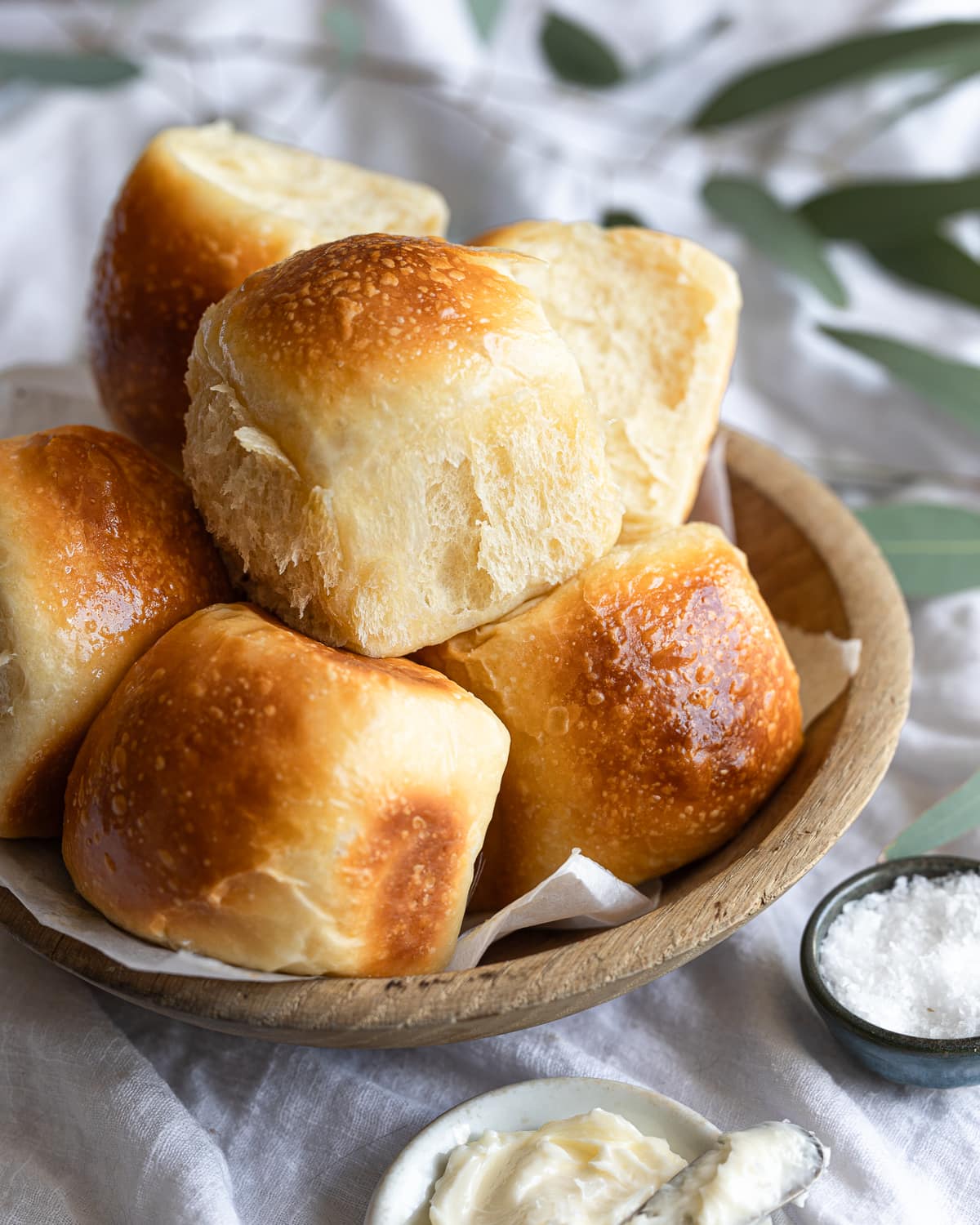 Recipe FAQs
Why didn't my rolls rise? 
Your starter may not have been active. Make sure you use a mature starter before you make this recipe. The sweet stiff starter should look bubbly before you make your dough. If you're baking in a cold kitchen, your dough may take much longer to rise. Try mixing your dough using warm water (less than 115 F) and allowing your dough to bulk ferment in a warmer spot, like inside the microwave or inside an oven that's turned off but with the light turned on. 
Can I use a mixer to make this bread? 
Yes! To use a mixer, combine the ingredients in the bowl of a stand mixer, use a paddle attachment to stir the ingredients together. Once the dough appears cohesive, switch to a dough hook and mix until the dough clings to the hook and away from pulls away from the sides. Round the dough into a ball and proof. Then proceed with the recipe as instructed.
What can I eat these sourdough rolls with?
These rolls are a great side for Thanksgiving or Christmas. You can also serve them with bbq, grilled meats, or as the base for breakfast sandwiches or sliders. 
Will these sourdough dinner rolls taste too sour?
No, these rolls will taste buttery and slightly sweet. Using a sweet stiff starter helps prevent these rolls from becoming too acidic. A higher percentage of flour provides more nutrients to your starter and prevents it from producing too much acid. Furthermore adding sugar to sourdough creates osmotic stress and limits bacteria cell generation, which prevents further reduces sourness. 
More sourdough bread recipes you'll love
---
Did you make this recipe?
⭐⭐⭐⭐⭐
Please leave a star rating and review this recipe if you enjoyed it! I read all the comments and love hearing your feedback.
THANK YOU!
---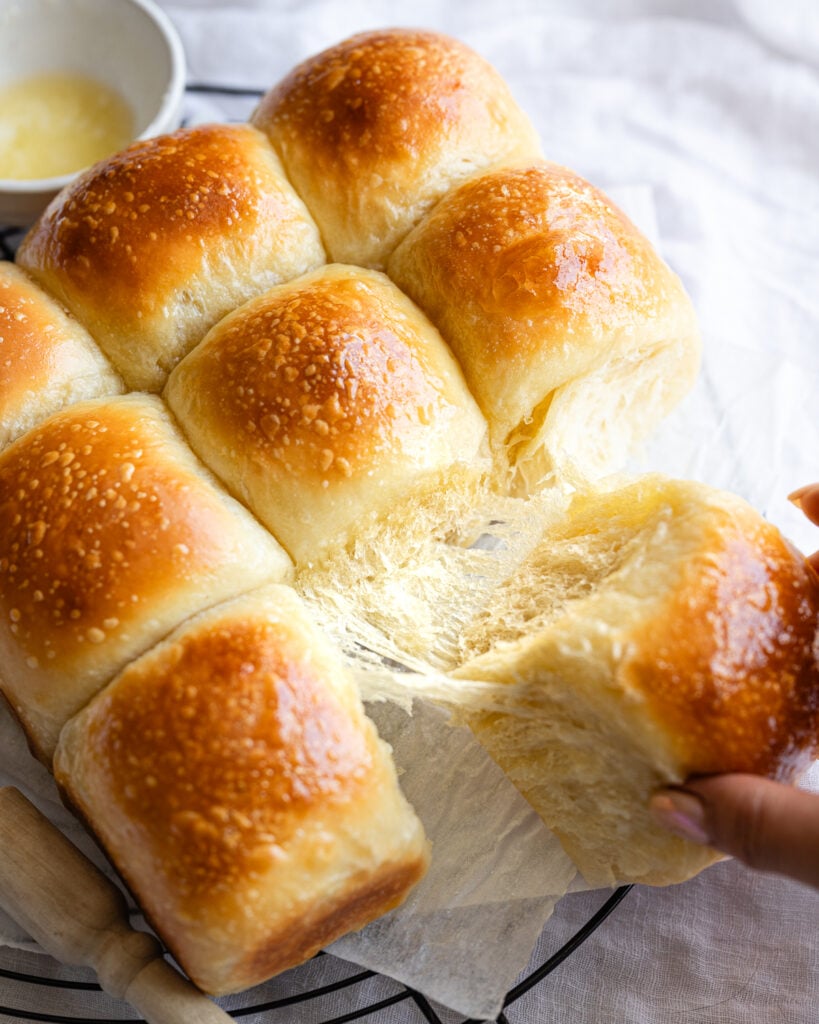 Sourdough Dinner Rolls Recipe
These Sourdough Pull-apart Dinner Rolls are soft and fluffy with a golden-brown crust brushed with melted butter. Sourdough and a long fermentation impart a deep and delicious flavor to these buttery rolls they might steal the show at your next get-together.
Ingredients
Sweet stiff starter
60

grams

all-purpose flour

28

grams

water

14

grams

cane sugar

14

grams

sourdough starter

mature
Dough
2

eggs

large

113

grams

whole milk

36

grams

cane sugar

270

grams

all-purpose flour

6

grams

salt

56

grams

unsalted butter

softened
Toppings
1

egg

28

grams

unsalted butter

melted
Instructions
Make the sweet stiff starter: Combine the sweet stiff starter ingredients together, stir until all the flour is hydrated, the mixture may appear a little dry. Continue mixing until it comes together into a shaggy dough. Transfer the starter to an airtight container, set it in a warm place, and let the starter activate overnight.

60 grams all-purpose flour,

28 grams water,

14 grams cane sugar,

14 grams sourdough starter

Make the dough: Whisk the eggs, milk, and sugar together in a large mixing bowl until no traces of egg whites remain.

2 eggs,

113 grams whole milk,

36 grams cane sugar

Tear the sweet stiff starter into small pieces and add it into the large mixing bowl with the flour and salt. Stir all the ingredients together until the mixture looks like a cohesive dough.

270 grams all-purpose flour,

6 grams salt

Knead the butter into the dough one tablespoon at a time, wait until each portion is incorporated before adding more. Cover the bowl with plastic wrap and let it rest for 1 hour.

Strengthen the dough: Turn the dough out on a lightly floured work surface and knead until it appears smooth and elastic. Round the dough into a tight ball and place it into a clean, lightly-greased bowl.

First rise: Cover the bowl with plastic wrap and let it rise in a warm spot until doubled in volume, about 4 to 6 hours.

Shape the dough: Line an 8-inch square baking pan and line it with parchment paper. Divide the dough into 9 portions. Round each piece of dough into a tight ball and arrange them in your prepared pan.

Second rise: Cover the baking pan with plastic wrap and transfer the dough to the refrigerator and proof overnight (8 to 16 hours).

Prep: Remove the rolls from the refrigerator and set them on the counter. Preheat the oven to 350 F.

Egg wash: Once the rolls look ready (they should look well risen, fluffy and fill the pan), beat the egg to make your egg wash. Using a pastry brush, brush the tops of the dough with egg wash.

Bake: Bake the rolls for 20 to 25 minutes or until the rolls are golden brown and register at least 190 F when probed with an instant-read thermometer.

Brush with butter: Remove the baked rolls from the oven and brush them with melted butter.

Enjoy and store: These rolls are best enjoyed on the day they are baked. Store leftover rolls in an airtight container at room temperature for up to 3 days.
Notes
When in doubt use weight over volume measures, they are more accurate. 
Every oven is different, begin checking your rolls at 15 minutes to make sure they are not browning or baking too quickly, don't hesitate to pull your rolls out earlier than specified in the recipe. 
Feel free to bake these rolls in another baking vessel of your choice, a cast iron skillet, ceramic, or glass baking dish would work well.
Nutrition
Calories:
252
kcal
|
Carbohydrates:
35
g
|
Protein:
6
g
|
Fat:
10
g
|
Saturated Fat:
6
g
|
Polyunsaturated Fat:
1
g
|
Monounsaturated Fat:
3
g
|
Trans Fat:
0.3
g
|
Cholesterol:
76
mg
|
Sodium:
286
mg
|
Potassium:
81
mg
|
Fiber:
1
g
|
Sugar:
6
g
|
Vitamin A:
333
IU
|
Calcium:
32
mg
|
Iron:
2
mg
Did you make this recipe?
I'd love to know! Leave a star rating and comment below. Don't forget to pin this recipe on Pinterest and share a photo and tag @makeitdough on Instagram