A friend of mine was visiting from San Francisco, and she told me one of her favorite breads is brioche. I've made other enriched breads before, like my Sourdough Hazelnut Chocolate Babka, but never this French classic.

I honestly cannot believe how well this bread turned out, it was rich, soft, buttery, and shred-able, basically everything you hope a brioche would be. The best thing was this bread maintained it's delicious taste and texture until days later.

The formula I use in this recipe was adapted from the America's Test Kitchen book Bread Illustrated. I trust ATK because they are so scientific in their approach to testing and creating recipes. I definitely recommend purchasing this book, it has really useful information about bread making, and recipes explained in great detail, it even includes notes on how to avoid common pitfalls.
The section on sourdough is very small, so a knowledge of baker's math is required to fully appreciate this book if you prefer baking with wild yeast. The only thing I dislike about this book is that the measurements are in cups and ounces, I prefer to measure in grams because I find that it's more precise, which is important for converting commercial yeast recipes into sourdough.

I personally converted their No-Knead Brioche recipe (pg. 98) into sourdough. I find that using a sweet stiff starter works best for me when I make any enriched breads, so that's how this recipe starts.

I've used both Bob's Red Mill Artisan Bread Flour and Azure Market EX-85™ High Extraction Bread Flour, which is a whole grain bread flour, and have gotten great results using both. The bread featured in this blog post was made with Azure flour, hence the slight brown tinge. There were no detectable differences in the taste and texture of the brioche made with either flour. I wouldn't substitute normal whole wheat flour here as it doesn't have the same properties of Azure EX-85™. I'll be doing a more detailed test and review of this flour in a separate blog post soon.

Now onto the recipe!
Ingredients

Sweet Stiff Levain

| | | |
| --- | --- | --- |
| Quantity | Ingredient | Bakers % |
| 60 grams | Flour | 100% |
| 30 grams | Water | 50% |
| 10 grams | Brown sugar | 16% |
| 30 grams | Starter (100% hydration) | 50% |
Brioche Dough
| | | |
| --- | --- | --- |
| Quantity | Ingredient | Bakers % |
| 200 grams | Bread flour | 100% |
| 20 grams | Water | 10% |
| 113 grams (1 stick) | Butter (melted) | 56% |
| 3 | Large eggs | -- |
| 30 grams | White sugar | 15% |
| 6 grams | Salt | 3% |
| 120 grams | Stiff starter | 40% |
Egg Wash

| | |
| --- | --- |
| Quantity | Ingredient |
| 1 | Egg |
| 2 tablespoons | Butter (melted) |
Instructions
Create Levain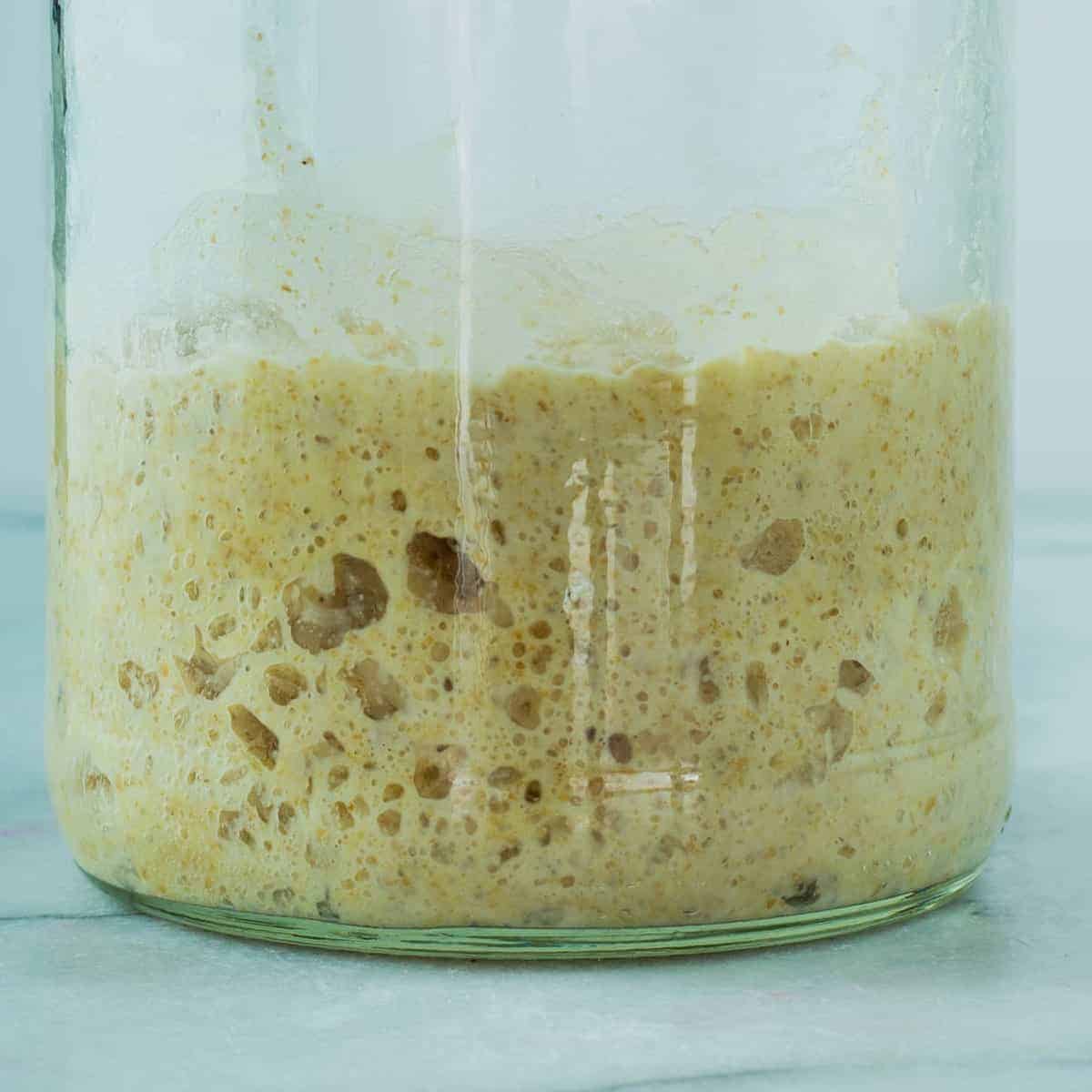 The night before you're ready to bake combine all the ingredients to make your sweet stiff levain. The mix will be very dry and sticky, a little bit like a thick cookie dough.
Mix Dough

In a large-sized bowl, mix together flour and salt then set aside.

In a separate bowl, whisk together eggs, melted butter, water and sugar until sugar is dissolved.

Using a rubber spatula fold egg mixture into flour mixture. Keep stirring until fully combined.
Combine levain and dough mixture, fold until cohesive dough forms.
Cover bowl with a plate and let dough rest for 1 hour.

Fold dough

After rest period, create strength in the dough by performing a series of folds using a rubber spatula or dough scraper.

Do this by gently lifting the edge of the dough toward the middle, turn bowl 90 degrees and repeat until you complete a full revolution.

Perform 4 folds in 30 minute intervals. Cover bowl with a plate so the dough doesn't dry out during rest periods.

Cold Bulk

After 4th fold, transfer dough into a airtight container, or cover bowl with cling film (I prefer the former for an environmental-friendly option)

Refrigerate dough for 16 hours (I've pushed this to 48 hours without any adverse effects)

Shape

I shaped this dough into a 2-plait braid. Divide dough into 2 equal parts, and roll out each in to 12 inch or 30.5 cm rope.

Watch this video by Jamie Geller for instructions on how to braid your bread.

Place loaf into a 8 x 4 inch (20 x 10 cm) baking dish lined with parchment.
Wrap in plastic to prevent the dough from drying out and set aside.

Final Proof

Let dough rest proof for 4 to 6 hours. As always watch the dough not your clock, your dough could be ready before or after this time period, start checking on it as early as 2.5 hours after shaping.

Test your dough by poking it gently with your knuckle, if the it holds the indentation and springs back minimally it is ready to bake.

Bake

When your dough is close to being ready, preheat your oven to 350 F / 176 C

Create an egg wash by beating an egg with 1 tablespoon of water. Brush egg wash over dough.

Bake for 15 minutes, then take out dough and brush with melted butter (this will result in a soft buttery crust)

Return loaf to oven and bake for another 20 to 25 minutes or until internal temperature is between 190 to 195 F (87 to 90 C).

Cool

Allow loaf to cool in pan for 15 minutes. Remove loaf from pan and allow to cool on wire rack for 3 hours before serving (although I tore right into this loaf after it came out of the oven the first time I baked it)

Et Voila!

This bread is so darn delicious and exceeded all of my expectations. If you like sweet breads, you will definitely love this one, so soft, buttery, and delectable, it doesn't need any toppings at all.
Please share this recipe if you enjoyed it! Follow me on Instagram @MakeItDough or like Make It Dough on Facebook for more sourdough and baking ideas. Remember to post a photo and tag me or use #makeitdough when you make this delicious recipe, so I can check out your bake!

Check out my other sourdough recipes: