Tender, spongy and full of flavor this Sourdough Discard Focaccia is easy to make and is perfect for beginners and pro sourdough bakers. Get all the sourdough flavor with the convenience of instant yeast and bake homemade sourdough bread in less than 2 hours.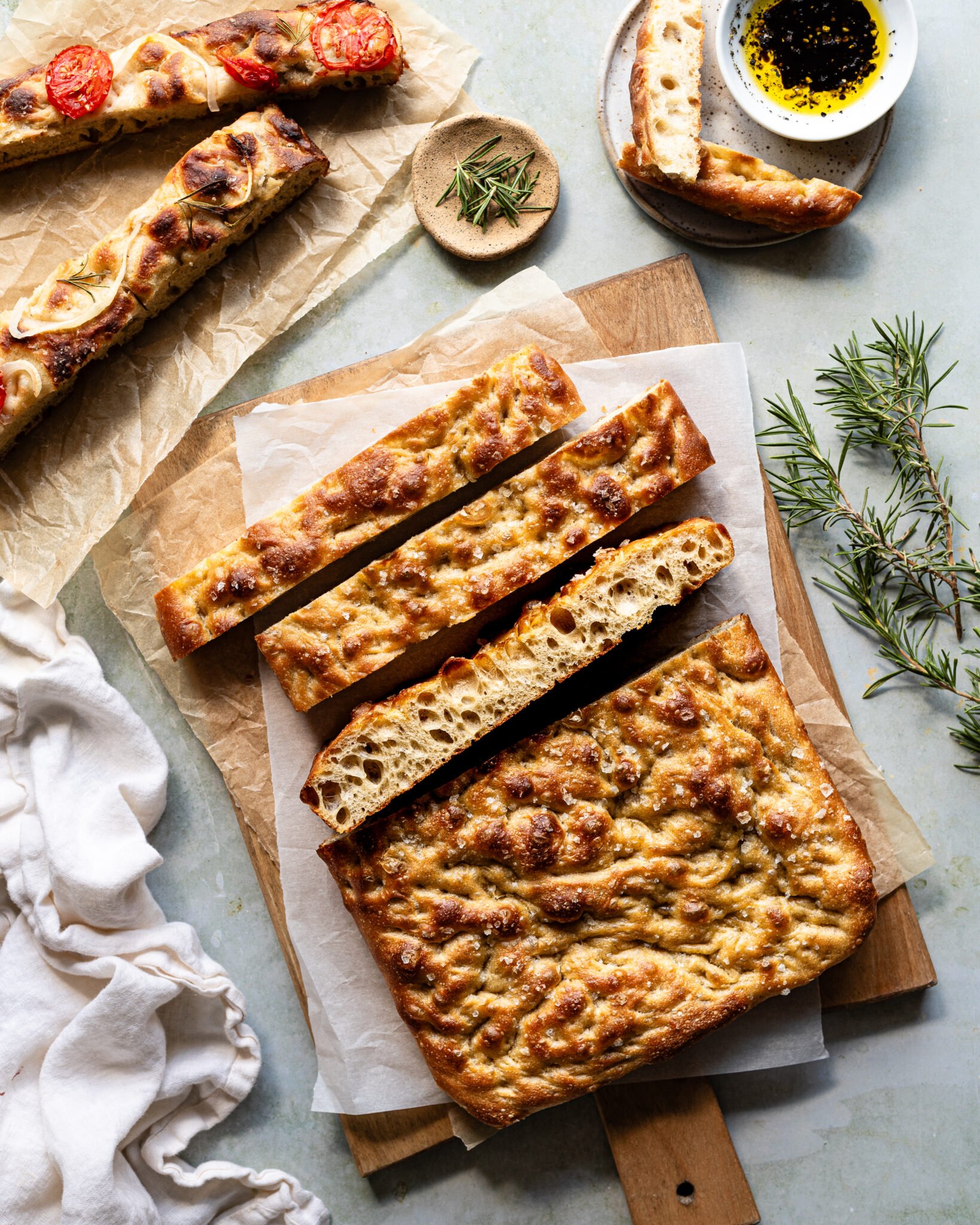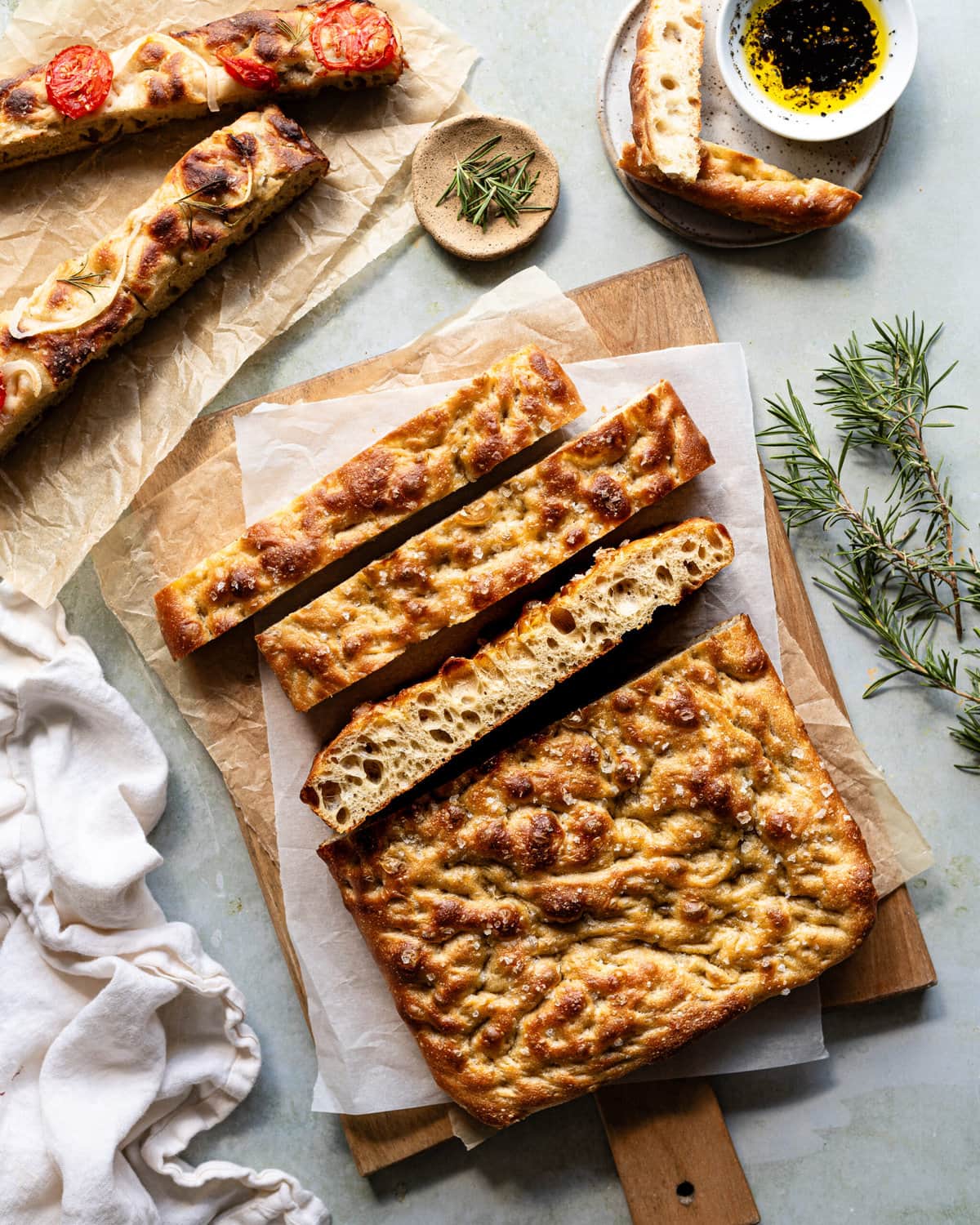 Jump to:
Why I love this recipe
Quick and easy bake that's great for beginners
No knead recipe!
All mixed by hand, no special equipment needed
No complicated shaping or scoring
Pillowy and spongy bread with a delicious crispy exterior
Personalize with your favorite toppings
What is focaccia?
Focaccia is a type of Italian flatbread. It's made of luscious olive oil-rich dough that bakes into a spongy, tender bread with a crispy lightly fried crust. Before it's baked, the dough is drizzled with even more olive oil and then, dimpled and flattened out using your fingertips, then finished with a sprinkling of sea salt. 
Aside from its unique texture, my favorite thing about focaccia is how you can personalize it with a variety of toppings, such as olives, garlic, tomatoes, onions, and even grapes. Focaccia can be enjoyed on its own, dipped into olive oil and balsamic vinegar, or used for sandwiches.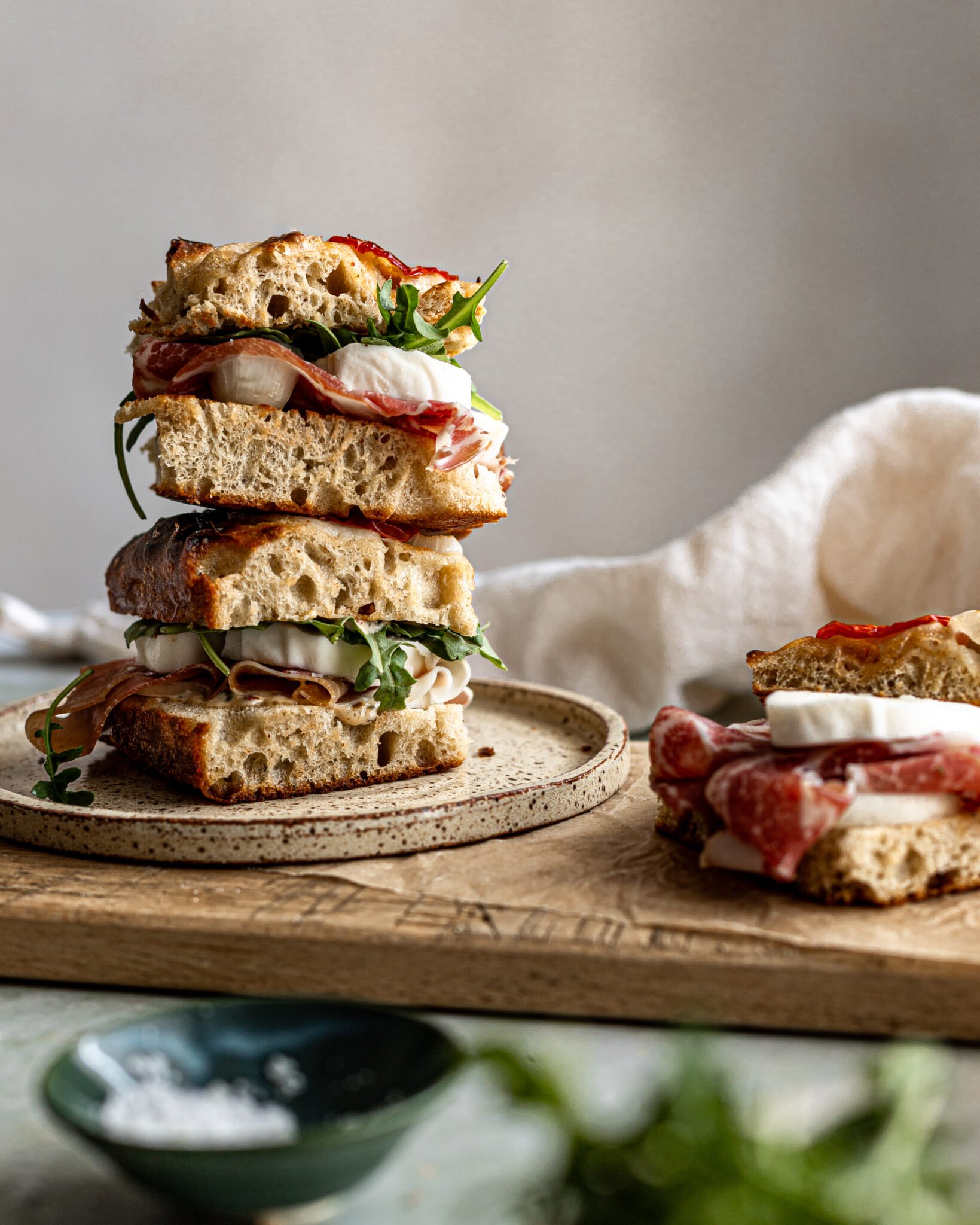 Baking with sourdough discard
This focaccia is quick to make because it uses instant yeast as the main leavener instead of an active sourdough starter. Sourdough discard adds a deep, nuanced flavor to the bread. Since it's used solely as a flavor enhancer and not for leavening, there's no need to activate it; you can use it directly from the refrigerator.
If you're using sourdough starter discard that's been in the fridge for weeks it will add more flavor, which you won't get when using a freshly fed starter. Both will work for this recipe but you'll get different results.
Looking for more delicious ways to use sourdough discard? Check out my Top 15 Sourdough Discard Recipes.
Why use commercial yeast with sourdough discard?
Incorporating both instant yeast and sourdough discard into a recipe offers a balance of convenience and flavor. Commercial yeast is highly efficient at converting starches into sugars and carbon dioxide, significantly reducing dough rise time. For instance, while traditional sourdough focaccia may require up to 5 hours of bulk fermentation, this sourdough discard focaccia only needs a little over 1 hour to rise.
While it may not achieve the depth of flavor development seen in a two-day fermentation, the addition of sourdough discard to your focaccia imparts a more nuanced and intensified flavor compared to using instant yeast alone.
Love quick and easy sourdough recipes that use commercial yeast? Check out my recipes for Sourdough Discard Sandwich Bread, Sourdough Discard Hot Dog Buns, Sourdough Discard Pretzels, Crusty Sourdough Discard Bread and Sourdough Discard Dinner Rolls. 
What makes this a "no-knead" recipe?
This bread is made up of a higher-hydration (wet) dough. This makes a dough that's stickier, and almost impossible to knead. To create strength in the dough, you'll need to conduct a series of folds instead. These folds are completed in the bowl and are a much gentler way to develop gluten.
What you need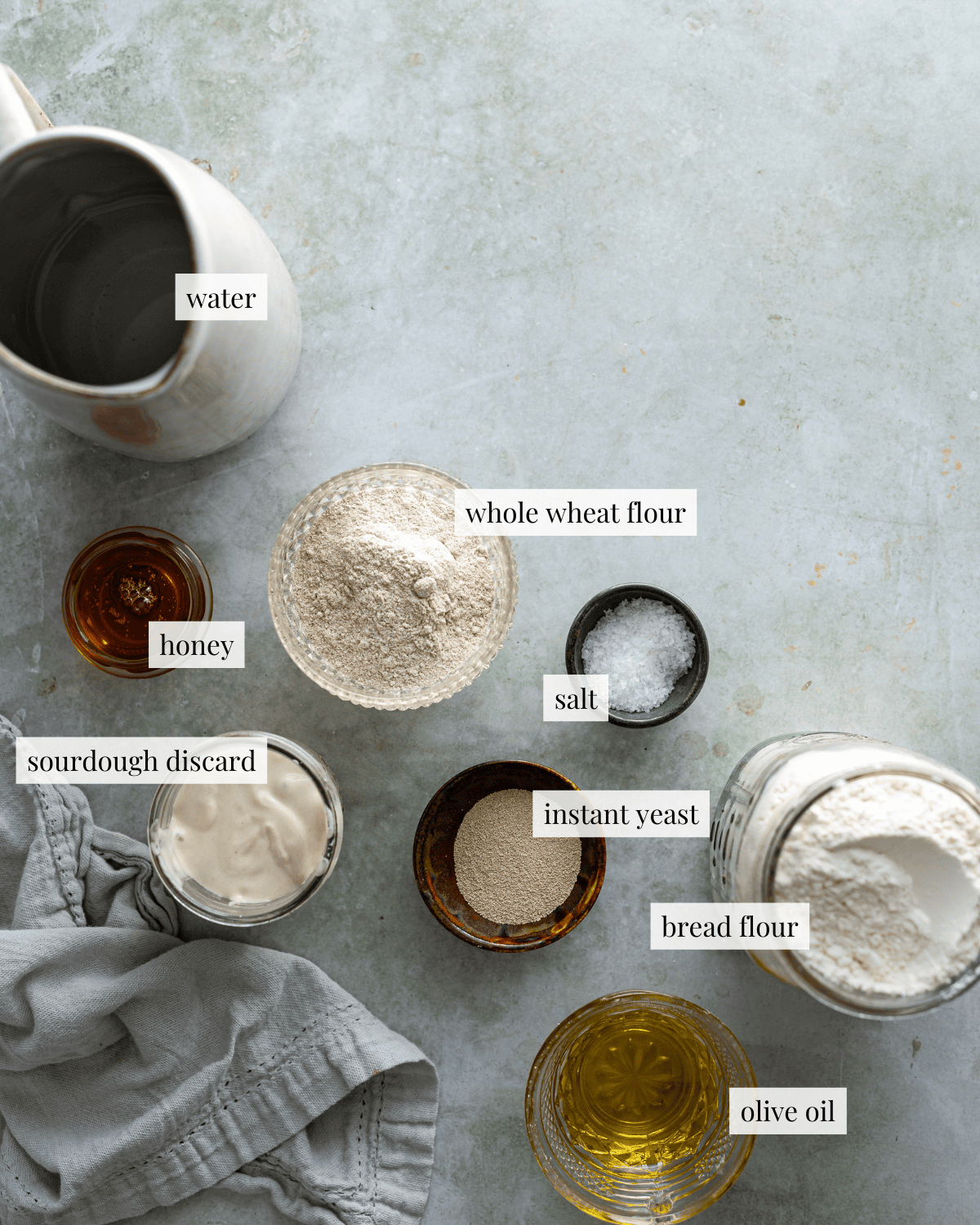 Flour choice: You can substitute all-purpose flour if you don't have bread flour or whole wheat. Don't attempt to use 100% whole wheat flour for this recipe or your focaccia may turn out dry and gummy.
Sourdough discard: You can use your starter directly from the fridge for this recipe. Use active sourdough starter or add 113 grams of flour and 113 grams of water to your dough if you don't have any sourdough discard. 
Olive oil: Splurge on a high-quality olive oil. Unfortunately, there is no substitute for this ingredient.
Instant yeast: You can use active-dry yeast for this recipe, you'll just need to bloom the yeast before mixing it into your dough. 
Salt: Use kosher salt or sea salt for the best results. Different types of salts have varying grain sizes so the amount of salt added to the recipe may differ if you use volume measurements.
Topping variations
Focaccia is wonderfully adaptable! I like making smaller-sized focaccia so I can personalize each one with different ingredients.
Here are a few delicious combinations of my favorite toppings:
Olive oil and sea salt (my favorite)
Tomatoes, garlic and fresh rosemary
Kalamata olives and green olives
Lemon, pecorino romano, onions and pink peppercorn
Step-by-step instructions
STEP 1: Combine water, honey and instant yeast
STEP 2: Mix in bread flour, whole wheat flour and salt 
TIP: Commercial yeast has a shelf life. Make sure your active-dry yeast or instant yeast is still viable before attempting this recipe or your dough will not rise. 
STEP 3: Knead the olive oil into the dough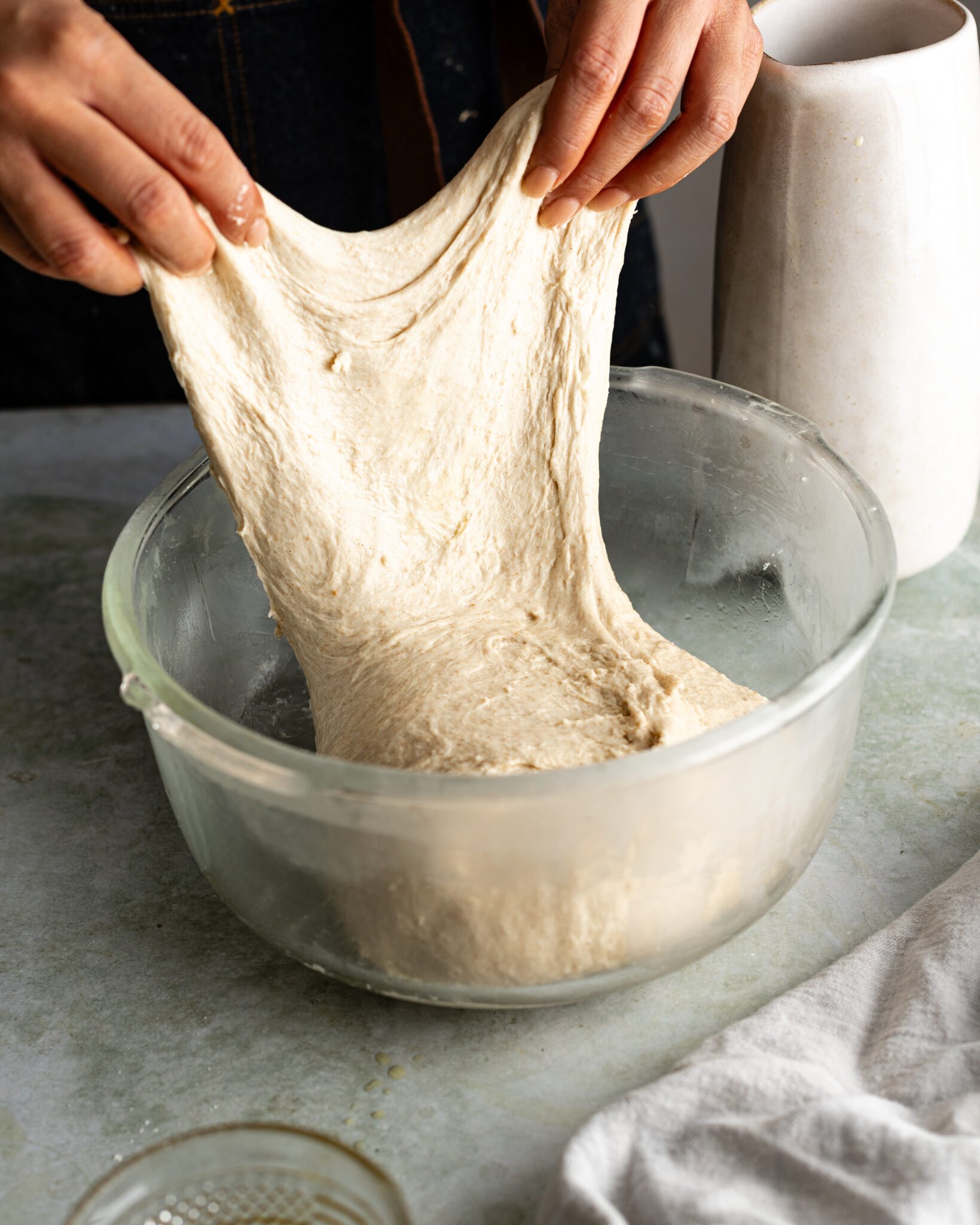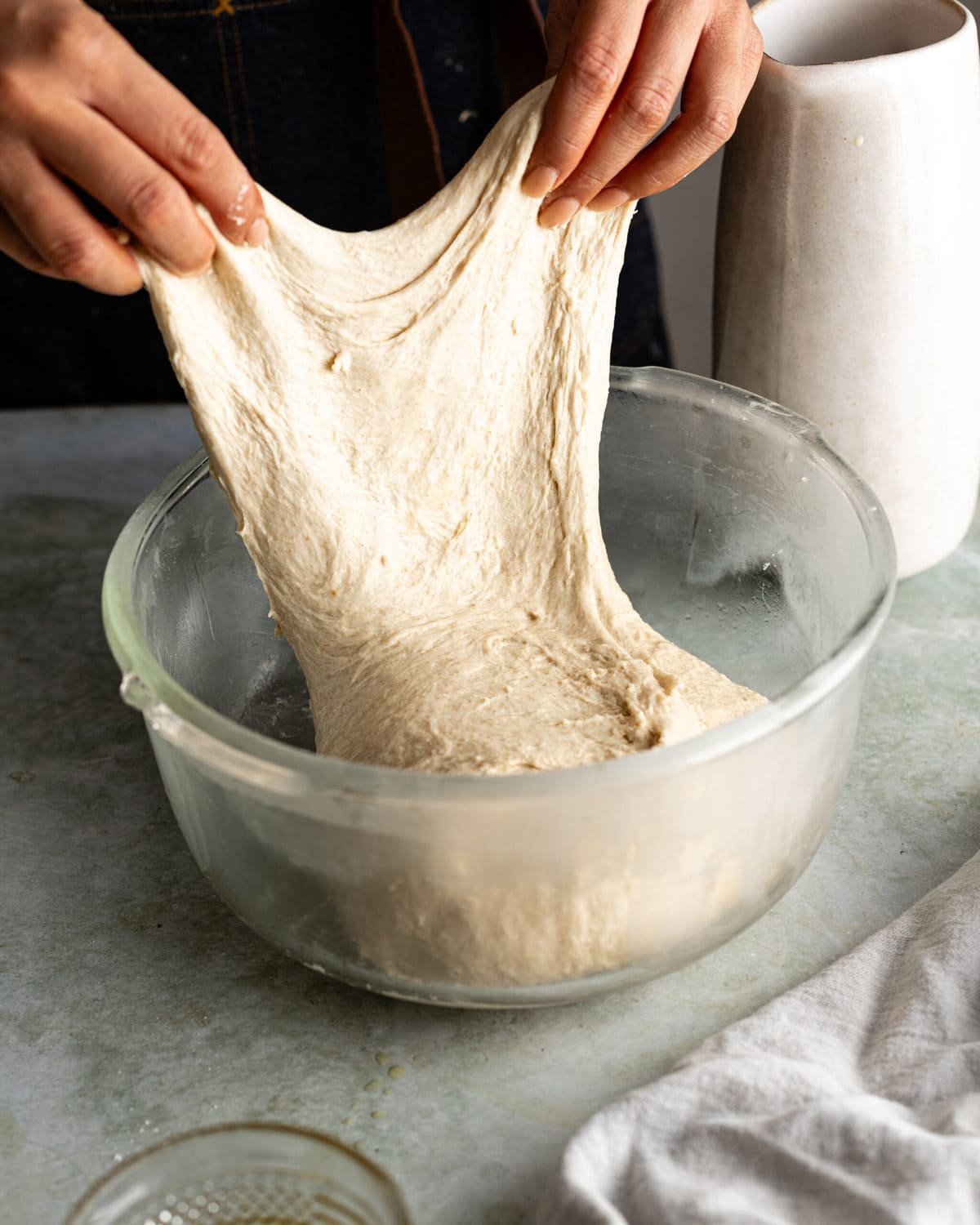 STEP 4: Perform 2 sets of stretch and folds in 15-minute increments during bulk rise
TIP: This dough can initially feel quite wet and sticky. Don't try to knead it, if it feels too difficult to handle, work with wet hands and use your fingertips to pick up and fold the dough.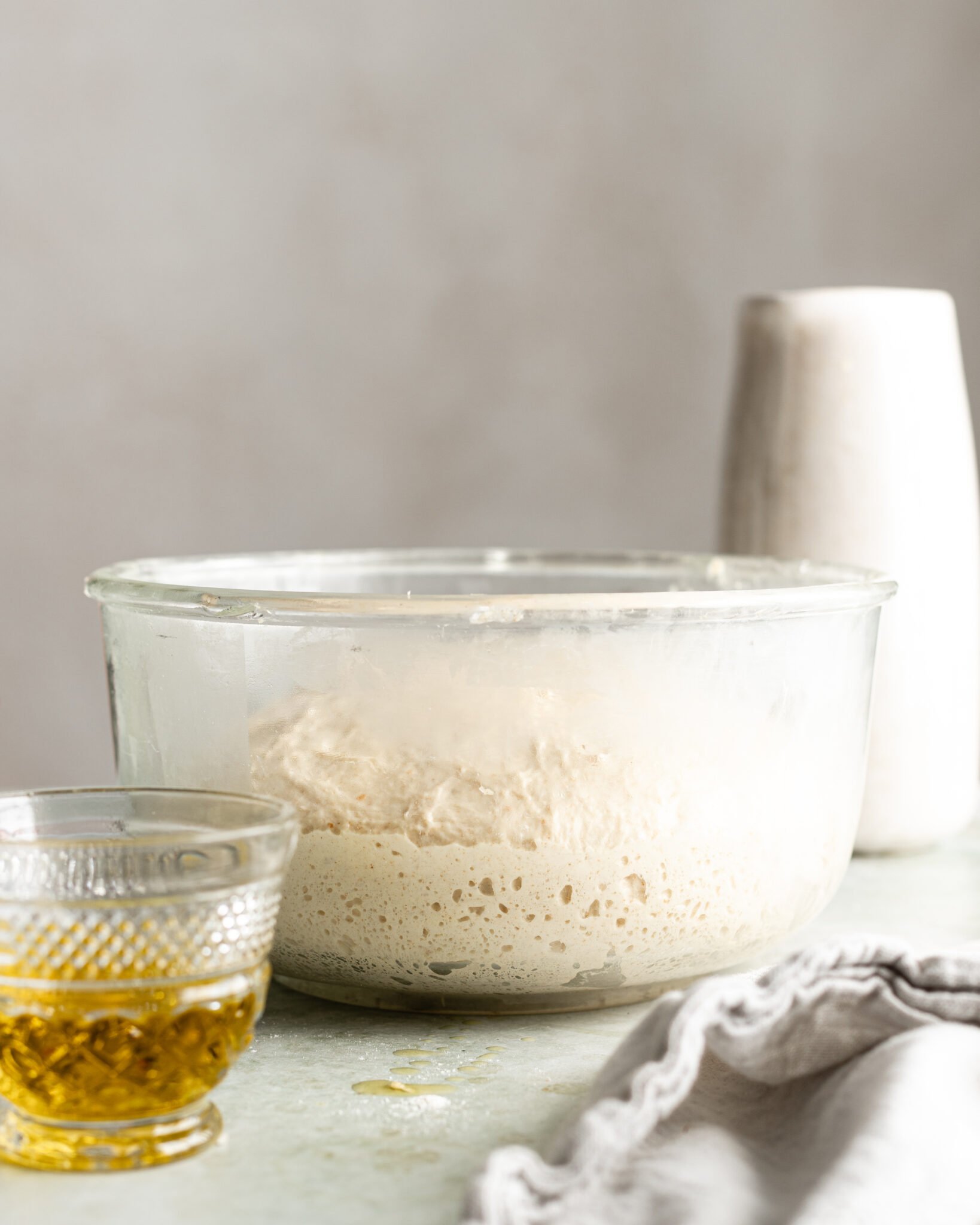 STEP 5: Let the dough rise until doubled in volume, about 1 hour
STEP 6: Divide the dough and transfer to a greased baking sheet
TIP: Be patient! Let your dough rise until it has noticeably increased in volume and looks very bubbly before baking. The bubblier your dough is, the softer and spongier your focaccia will be. 
STEP 7: Using your fingertips, flatten the dough and stretch it towards the edges of the baking sheet
STEP 8: Sprinkle sea salt on top of the dough (add other toppings, if using) and bake at 425 for 25 to 30 minutes
TIP: Don't overload your dough with too many toppings or your focaccia may become soggy.
How to stretch and fold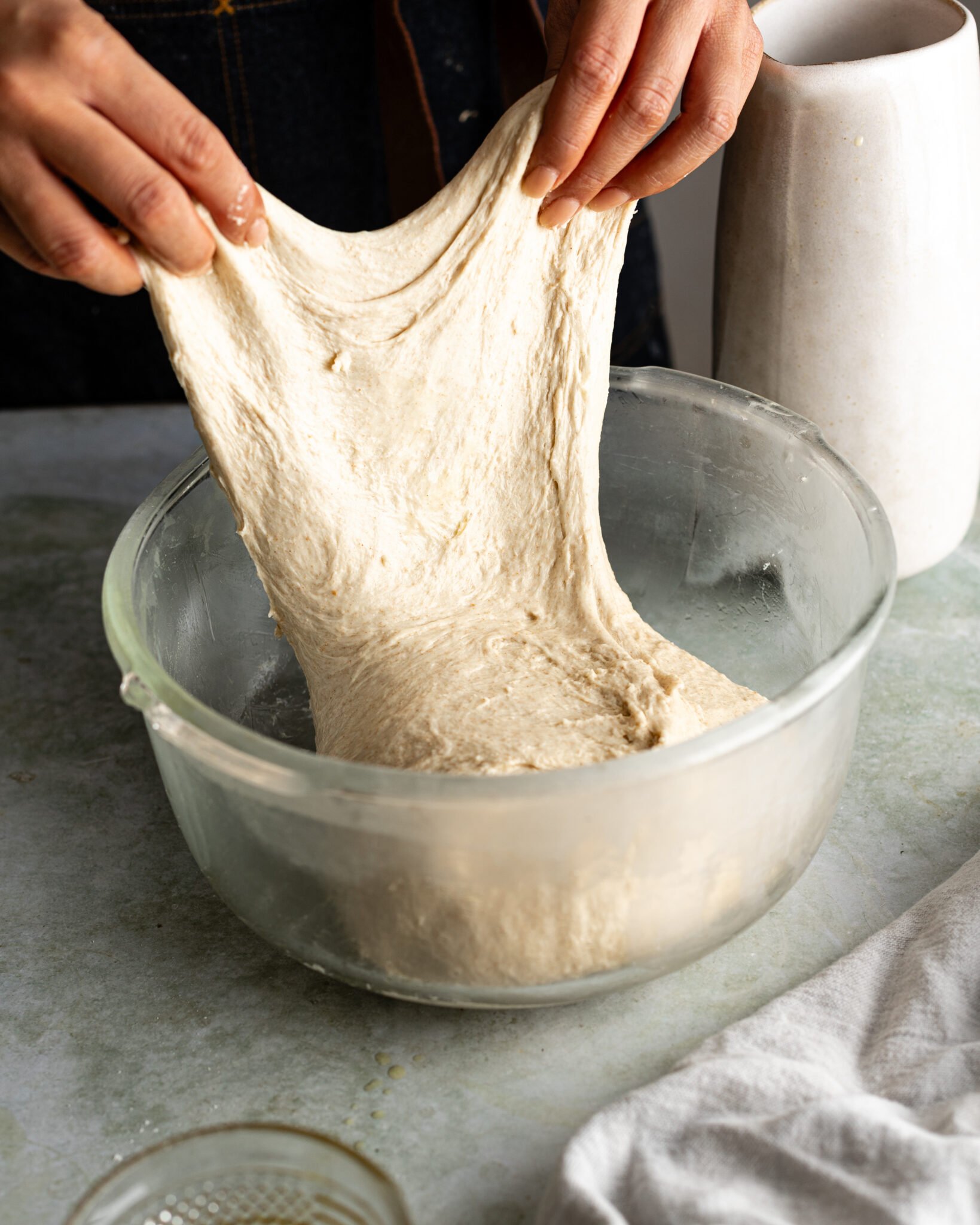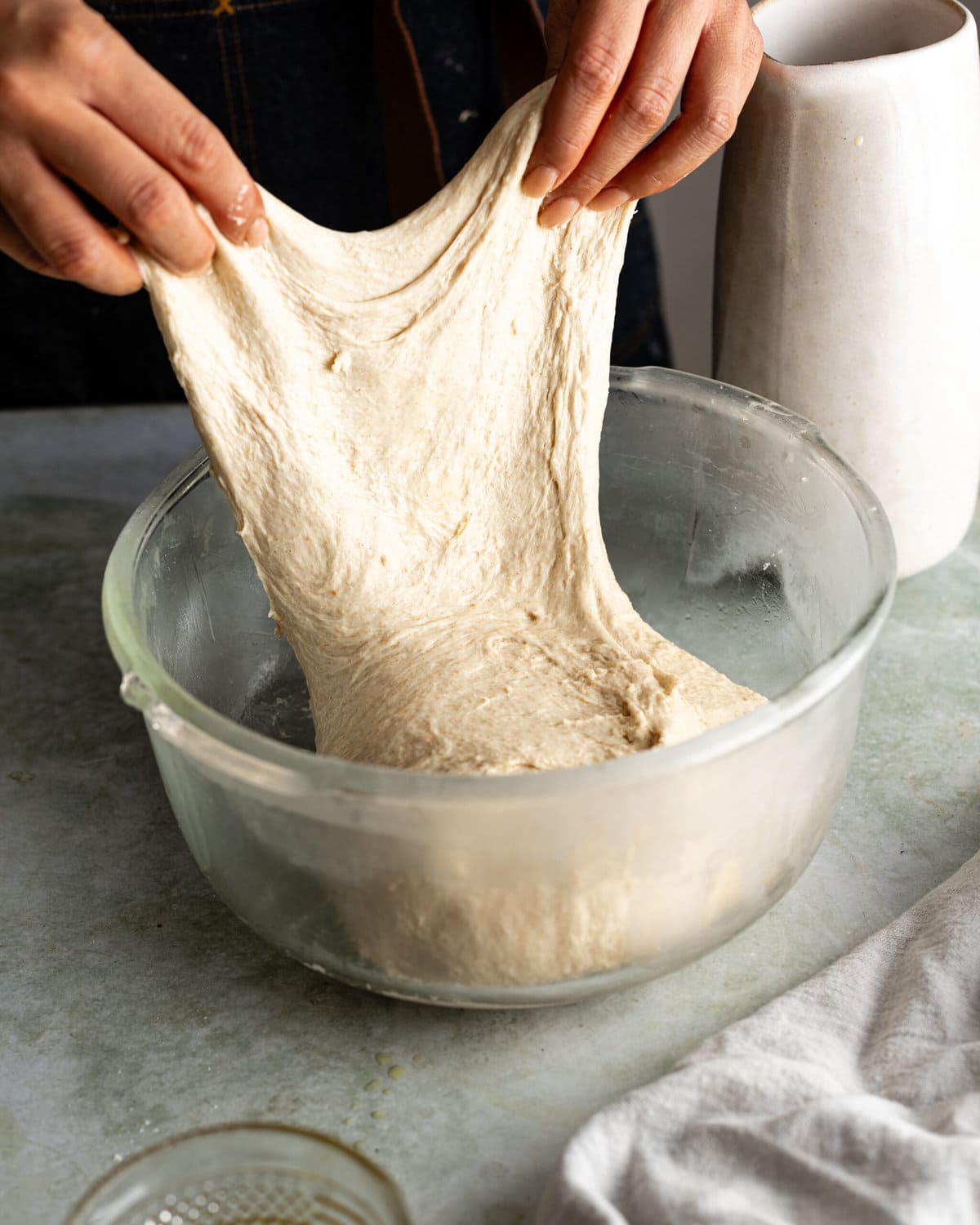 STEP 1: Using your fingertips pick up one side of the dough and stretch it as far as you can without tearing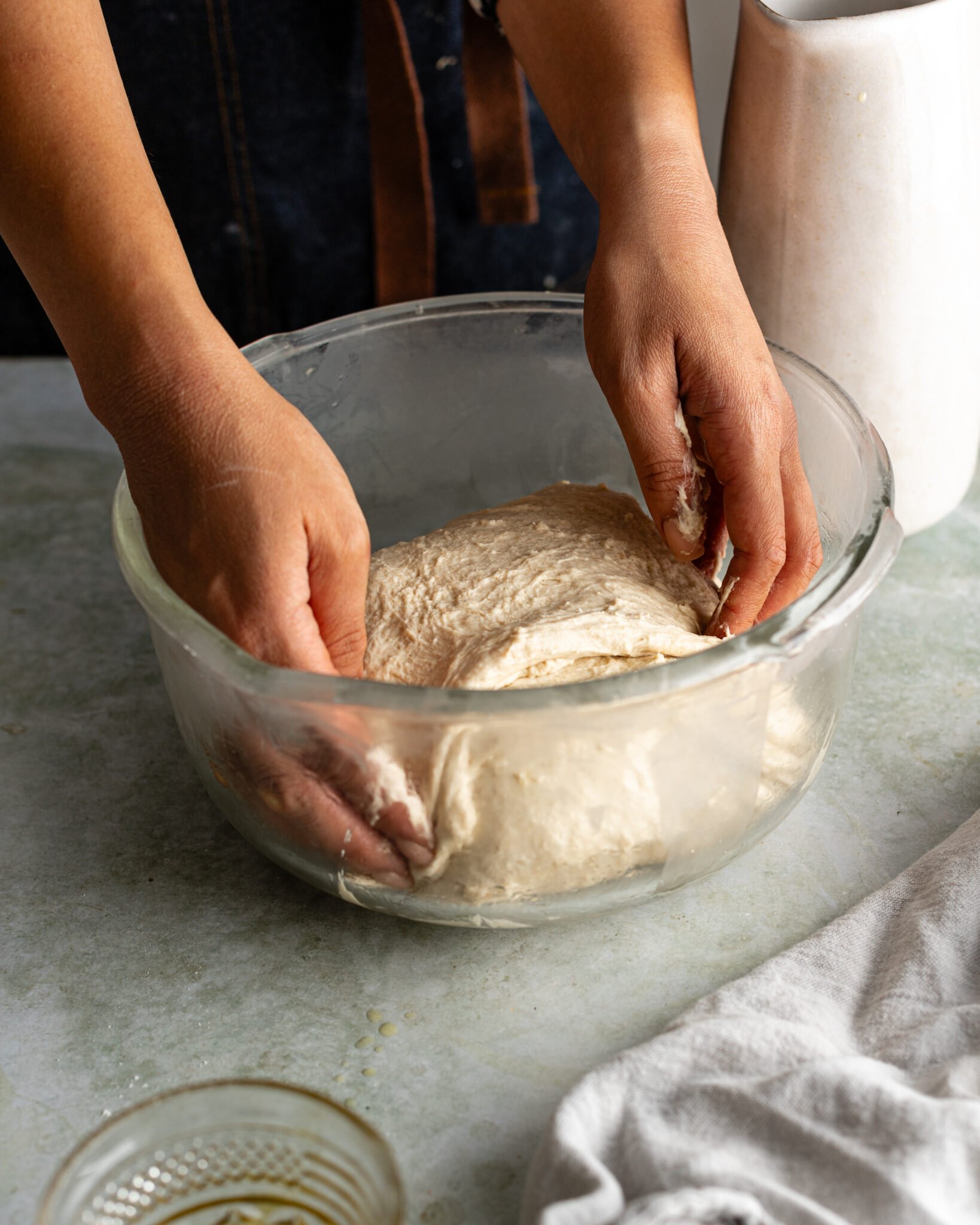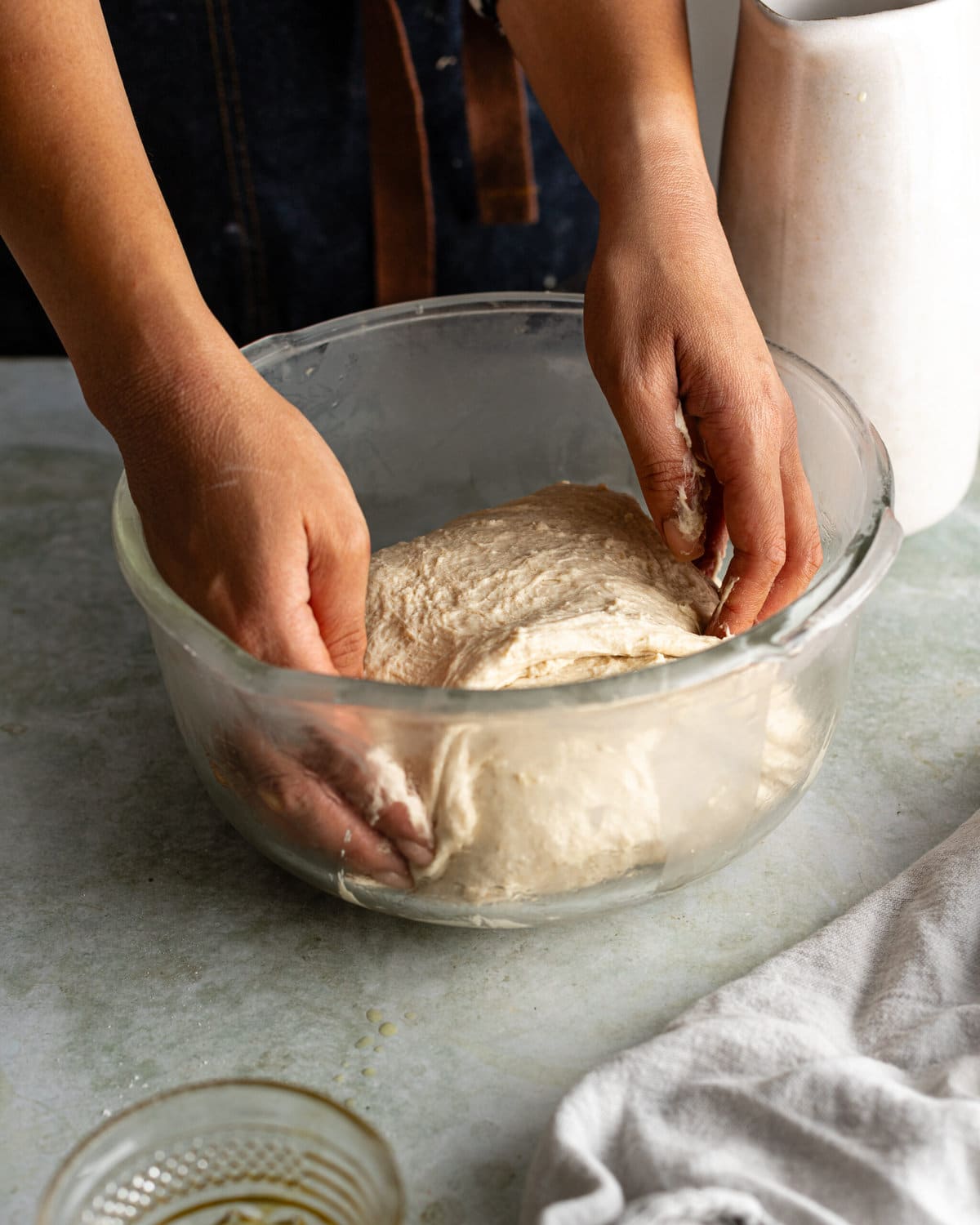 STEP 2. Fold the dough over itself, turn the bowl 90 degrees, and repeat 3 more times
Bread Baking Tips
Don't use hot water: Use cold or warm water for this recipe, water over 115 F will kill yeast.
Use cold water: Flavor develops during fermentation, I prefer using cold water because it slows down fermentation, allowing the dough to develop a deeper flavor.
Coat the bottom of the pan with lots of olive oil: Oil lightly fries the dough as it bakes resulting in a delicious crispy crust. It also prevents your dough from sticking to the bottom of the pan as it bakes.
Recipe FAQs
My dough is too wet and sticky, what can I do?
This dough contains a lot of water about 75 percent. It's completely normal for your dough to feel very sticky and difficult to handle right after it's mixed. Allowing your dough to rest for 15 minutes after mixing will let the flour hydrate completely and the gluten to develop. The short rest periods between folds will make the dough less tacky and much easier to handle. 

When folding, use wet or oiled hands and only use your fingertips to pick up your dough. This will prevent it from sticking to your hands.
Why isn't my dough rising?
There are a few reasons why your dough isn't rising:

Your yeast is expired and can no longer make dough rise. If your yeast has been in your pantry for quite some time, activate it by mixing it with water and sugar first before mixing it in your dough. The mixture will look bubbly and smell yeasty if it's still viable. 
Your kitchen is too cold, cool temperatures will drastically slow down fermentation or the rate at which your dough rises. If your kitchen is too cold your dough will eventually rise, it may just take longer than the times cued in this recipe. 
You used hot water and you may have killed your yeast. Water hotter than 115 F will kill yeast, if you accidentally add hot water to your yeast, start over. 
Why did my focaccia get stuck to the pan? 
You may not have added enough olive oil to the bottom of your pan. Add more oil than you think you need to make sure your dough doesn't stick. For extra precaution, line your sheet pan with parchment paper or aluminum foil before adding olive oil. 

Will my sourdough discard focaccia taste too sour?
Sourdough discard will add a slight tang that will add to the flavor of your bread. The degree of sourness will depend largely on the acidity of your sourdough discard. This recipe was formulated so that the sourdough discard flavor will complement and not overpower the bake. 
Can I use active-dry yeast instead of instant yeast?
Absolutely! You'll need to bloom your yeast before making your dough. To activate your yeast, simply mix it with water and honey then wait 15 minutes until the yeast is bubbly.
You may also like
---
Did you make this recipe?
⭐⭐⭐⭐⭐
Please leave a star rating and review this recipe if you enjoyed it! I read all the comments and love hearing your feedback.
THANK YOU!
---
Easy Sourdough Discard Focaccia Recipe
Tender, spongy and full of flavor this Sourdough Discard Focaccia is easy to make and is perfect for beginners and pro sourdough bakers.
Ingredients
Dough
452

grams

water

7

grams

instant yeast

1 packet

42

grams

honey

170

grams

sourdough discard

540

grams

bread flour

90

grams

whole wheat flour

12

grams

salt

56

grams

olive oil
Toppings
56

grams

olive oil

7

grams

flaky sea salt
Suggested Toppings
tomatoes

sliced

fresh rosemary

onions

sliced

ground pistachios

lemons

sliced

olives

ground pepper

garlic

grapes
Instructions
Make the dough: Mix the water, instant yeast, honey and sourdough discard in a large bowl until no traces of discard remains.

452 grams water,

7 grams instant yeast,

42 grams honey,

170 grams sourdough discard

Fold in the bread flour, whole wheat flour and salt. Mix with a wooden spoon or your hands until all of the flour is hydrated.

540 grams bread flour,

90 grams whole wheat flour,

12 grams salt

Knead the olive oil into the dough until it is absorbed. It will gradually feel less greasy as it absorbs the oil.

Cover the bowl with plastic wrap and let the dough rest in a warm place for 15 minutes.

Stretch and fold: After the 15 minute rest period, complete 1 set of stretch and folds.

To complete a stretch and fold, with the dough inside your bowl, pick up the side of the dough closest to you using your fingertips. Stretch the dough out as much as you can without it tearing and fold it over itself. Turn the bowl 90 degrees and repeat 3 more times.

Cover the bowl with plastic wrap. Set it in a warm place and let the dough rest for 15 minutes.

Complete 1 more set of stretch and folds. Cover the bowl with plastic wrap.

First rise: Let the dough rise at room temperature until doubled in volume. The dough should double in volume and appear bubbly, about 30 to 45 minutes.

Prep: Line two 9 by 13 baking sheets aluminum foil or parchment paper. Coat the bottom of the sheet pans with a lot of olive oil. Preheat the oven to 425 F.

Second rise: Divide the dough into two portions. Transfer each portion of dough on the prepared pans. Cover the pans with plastic wrap and let the dough rest for 15 minutes.

After the rest period, stretch the dough out to the edges of the pan. Cover the dough once more and let it rise for another 20 minutes or until it looks bubbly.

Bake: Working with one portion of dough at a time, pour a tablespoon of olive oil over the dough. Spread the oil on the dough using the palm of your hand. Using your fingertips, dimple the dough all over until it looks completely flat. Sprinkle sea salt and arrange toppings on the dough (if using). Repeat with the remaining portion of dough.

56 grams olive oil,

7 grams flaky sea salt

Transfer the baking sheets to the oven and bake for 25 to 30 minutes or until the focaccia looks golden brown.

Enjoy: Transfer the focaccias to a cooling rack. Let the bread cool for 10 minutes before slicing, more if you're using it for a sandwich.

Store: This bread tastes the best the day it is baked, but will store well for up to 3 days in an airtight container at room temperature. Refrigerate leftover slices in an airtight container if you used toppings.
Notes
When in doubt, use gram over volume measurements. 
You can bake this recipe in:
two 9 by 13 baking pans

one 18 by 13 inch baking sheet

three 8-inch square baking pans

three 9-inch cake pans

two 12-inch skillets
Nutrition
Calories:
296
kcal
|
Carbohydrates:
44
g
|
Protein:
7
g
|
Fat:
10
g
|
Saturated Fat:
1
g
|
Polyunsaturated Fat:
1
g
|
Monounsaturated Fat:
7
g
|
Sodium:
391
mg
|
Potassium:
80
mg
|
Fiber:
2
g
|
Sugar:
3
g
|
Vitamin A:
2
IU
|
Vitamin C:
0.02
mg
|
Calcium:
11
mg
|
Iron:
1
mg
Did you make this recipe?
I'd love to know! Leave a star rating and comment below. Don't forget to pin this recipe on Pinterest and share a photo and tag @makeitdough on Instagram