A round loaf of crunchy bread has a rustic and comforting feel that's perfect for tearing. Learn how to shape dough into a simple sourdough boule with this easy step-by-step shaping guide.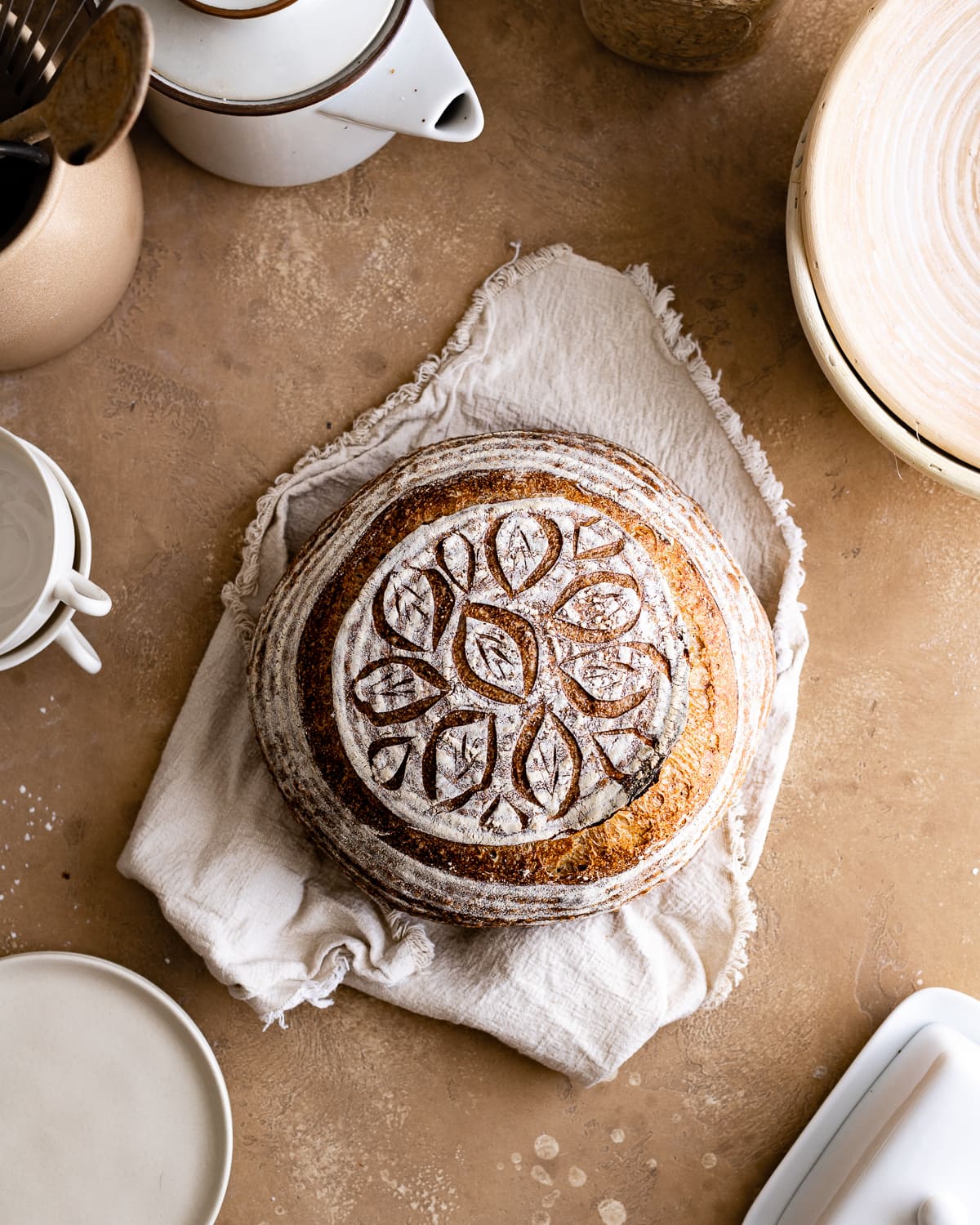 What is a Boule?
Boule is French for ball and is commonly used to describe a round-shaped bread. A boule is one of many ways to shape dough. It gives a more rustic feel to crusty bread than a sourdough batard (oval shape) or a sandwich loaf. It's a simple shaping style that's perfect for beginners.
The Purpose of Shaping
Shaping coaxes your dough into its final form. It creates tension and structure, which helps the dough rise up instead of spreading out. Shaping produces a skin on the surface of the dough which helps create an even exterior that results in a thin, crispy crust after baking. It also directs oven spring so bread expands evenly as it bakes in the oven. Needless to say, shaping is pretty important!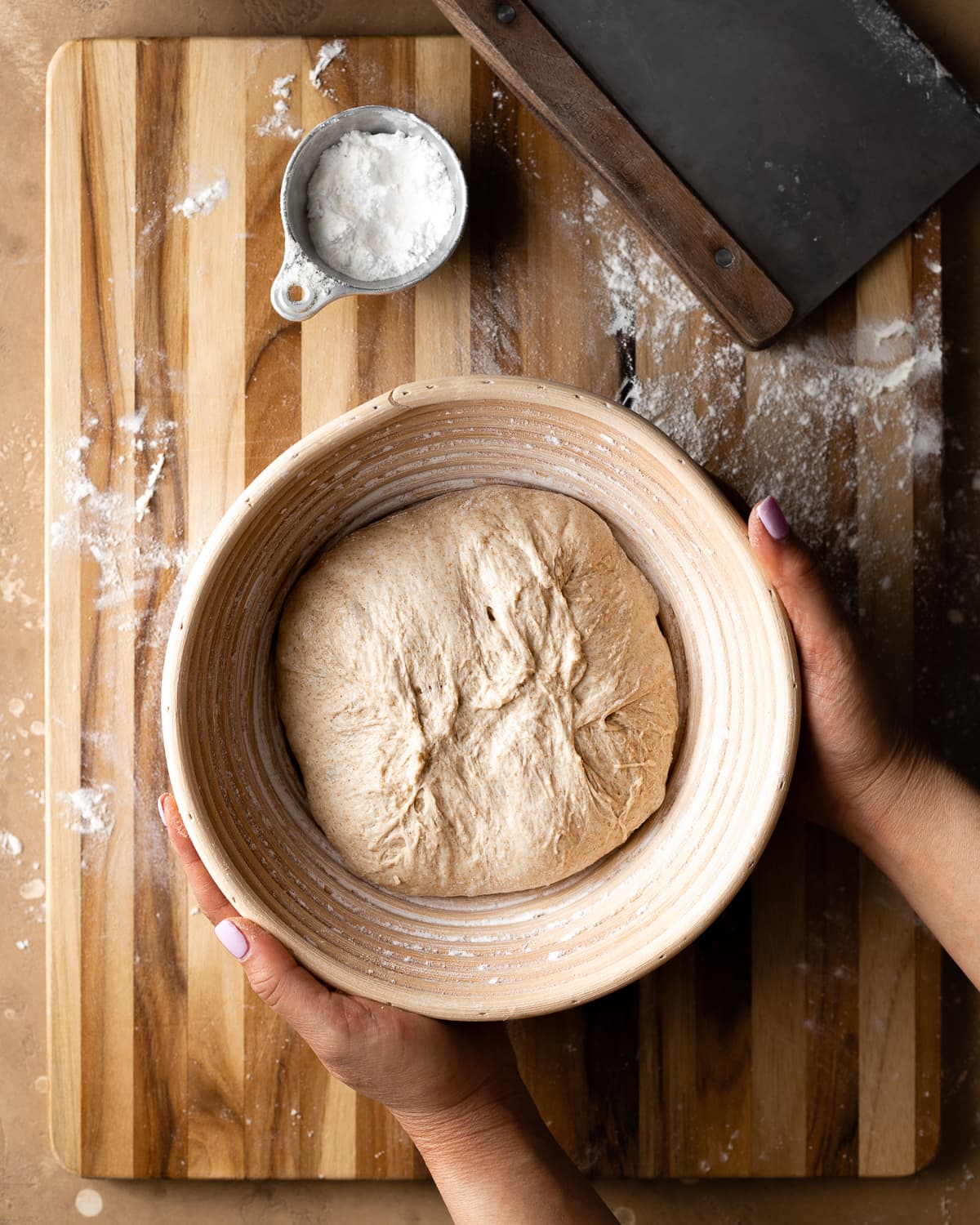 What is Surface Tension?
Surface tension is the elastic "skin" that forms on the outer layer of liquids. Shaping helps create a tighter skin which allows the dough to keep its shape during the proofing process and as it expands in the oven.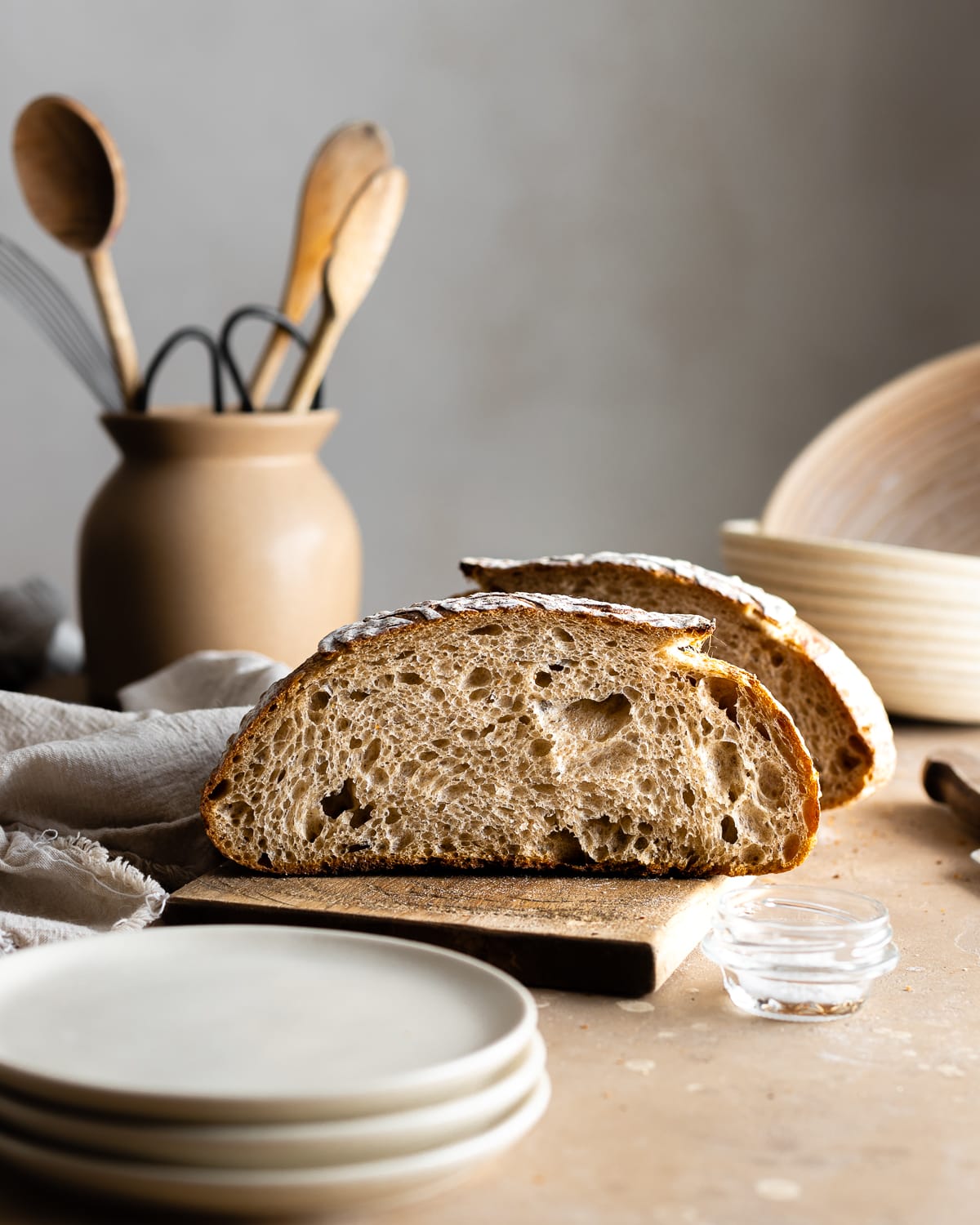 Tips for Success
Don't skip pre-shape: pre-shaping is an extra step before shaping, which preps your dough to take its final shape. Additionally, it creates more strength and structure, and the short bench rest even makes handling sticky dough much easier.
Use damp hands: sourdough is usually quite sticky, if you have trouble handling wet dough, wet your hands a little before shaping.
Don't be afraid of bench flour: most people are afraid of using too much bench flour during shaping, however, dough becoming stuck can break the lovely taut skin you're hoping to create while shaping. Use as much flour as you need so that your bread doesn't stick and use a brush to brush away any excess so not too much gets incorporated into your dough.
Be gentle: while you need to create surface tension on the dough, it's very important not to tear the skin of the dough or the structure will collapse and could break apart and flatten out in the oven.
Prevent dough from drying out: wrap the dough up with plastic wrap for final proofing, this will prevent a thick skin dry skin from forming on your dough which could cause your crust to crack while it bakes.
What You Need
The first thing you need is dough that's gone through the first rise. Use your favorite homemade sourdough bread recipe.
Proofing basket: this is the container you'll place your dough in after the final shape and before final proof, it helps your dough rise up instead of spreading out. My favorite thing about shaping a basic sourdough boule is the round shape allows you yo use equipment that you probably already have in your kitchen!

Round banneton: rattan, wood or cotton, the organic materials naturally wick excess moisture away from the dough during final proof.
Medium bowl (about 8 inches): I love this option as so many people already have one in their kitchen or can purchase one easily.

Bench knife: a useful tool for any bread baker, especially when handling wet and sticky doughs, this will allow you to easily divide, flip, round or drag your dough to create a taut skin.
Kitchen towel (optional): if you're using a mixing bowl, line it with a kitchen towel dusted with flour so your dough doesn't get stuck, you can also line a banneton with one if you don't want flour to build up in your proofing basket.
Rice flour (optional): rice flour doesn't have any gluten so it creates a nonstick surface against your proofing basket or kitchen towel and dough. Feel free to use whole wheat flour, bread flour or all-purpose if you don't like the flavor of rice flour.
Brush (optional): will help brush away any excess bench flour so not too much gets incorporated into your dough
Step-by-step Instructions
Pre-shape
1. At the end of bulk fermentation, turn bread dough out on a well-floured surface. Flip the dough over (divide if needed).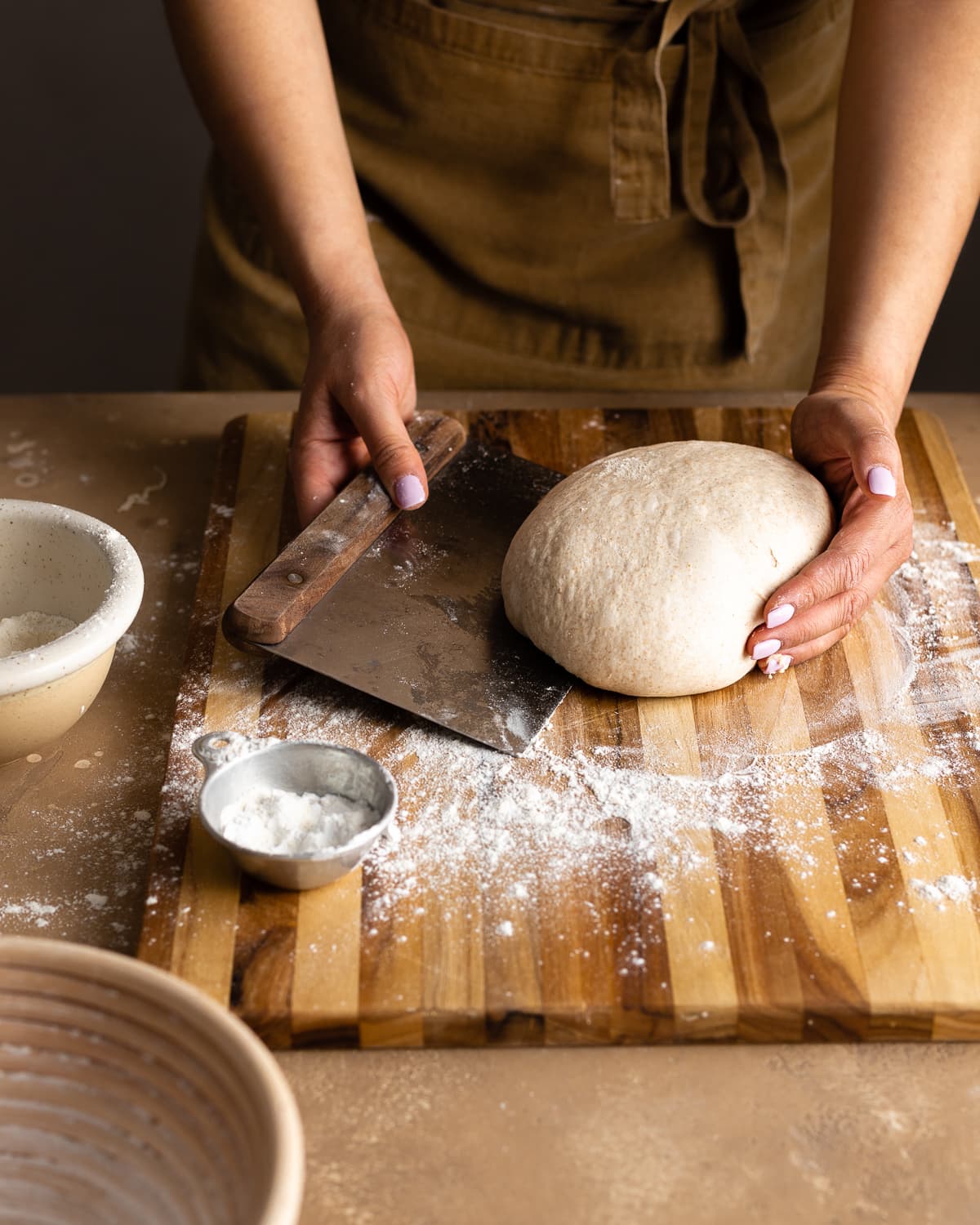 2. Tuck a bench knife or the blade of your palms on the bottom of the dough and round it into a taut ball. Let dough rest covered with a tea towel on your bench for 15 minutes
Final Shape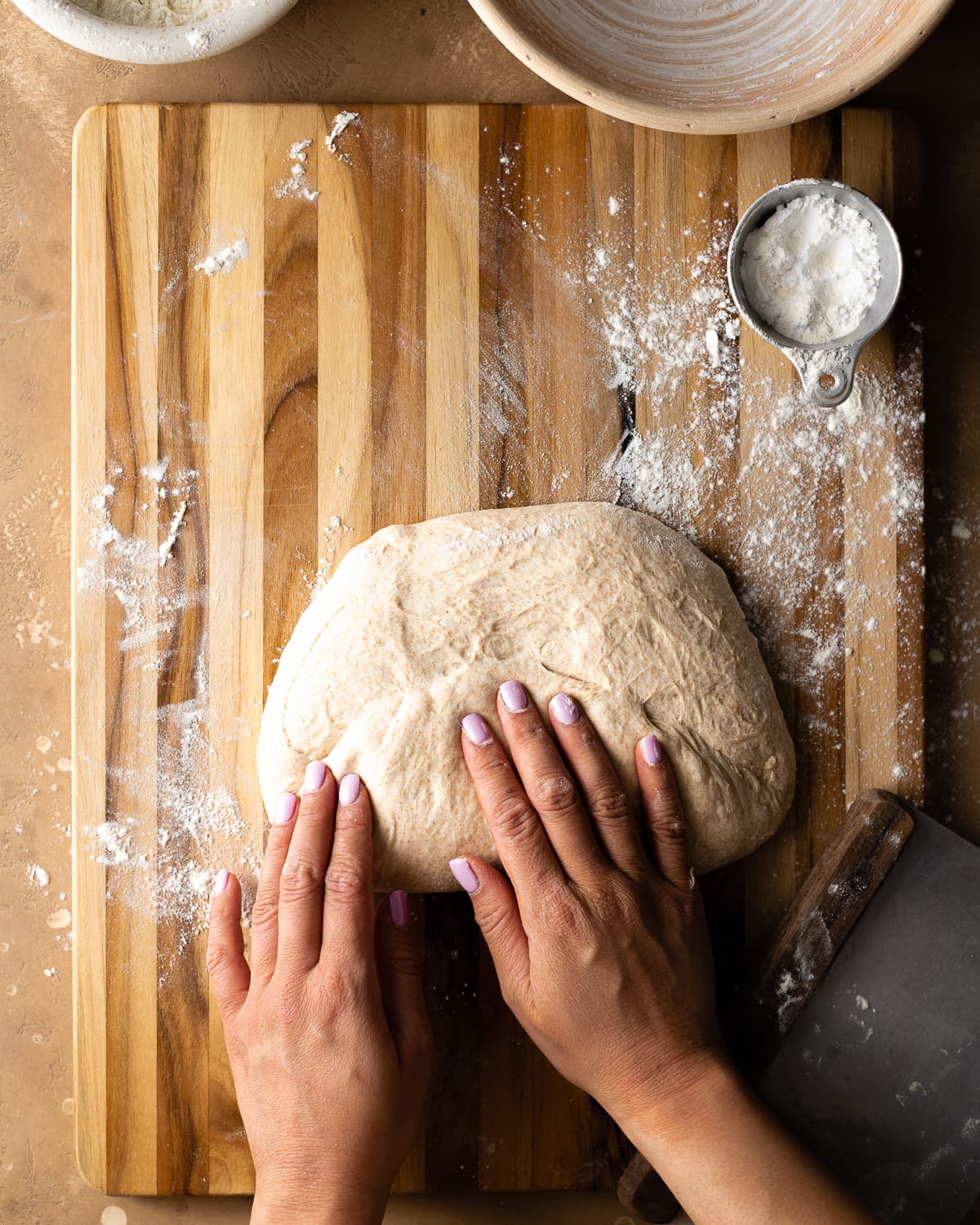 1. Using your bench knife turn the dough over so the top of the dough is now on the bottom, fold the side closest to you (bottom) towards the middle.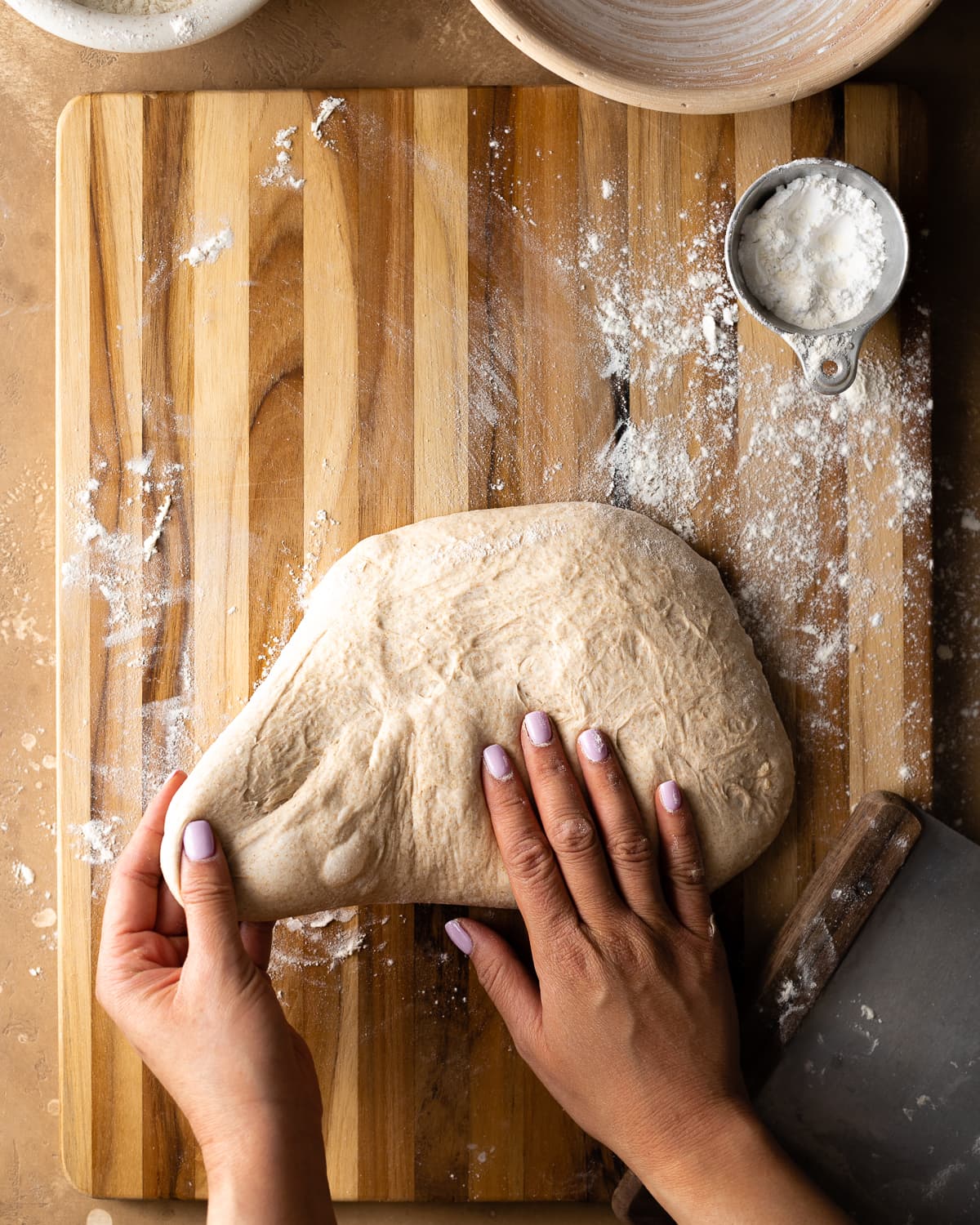 2. Starting on the left side, stretch the dough as far as it will go without tearing and fold it towards the center.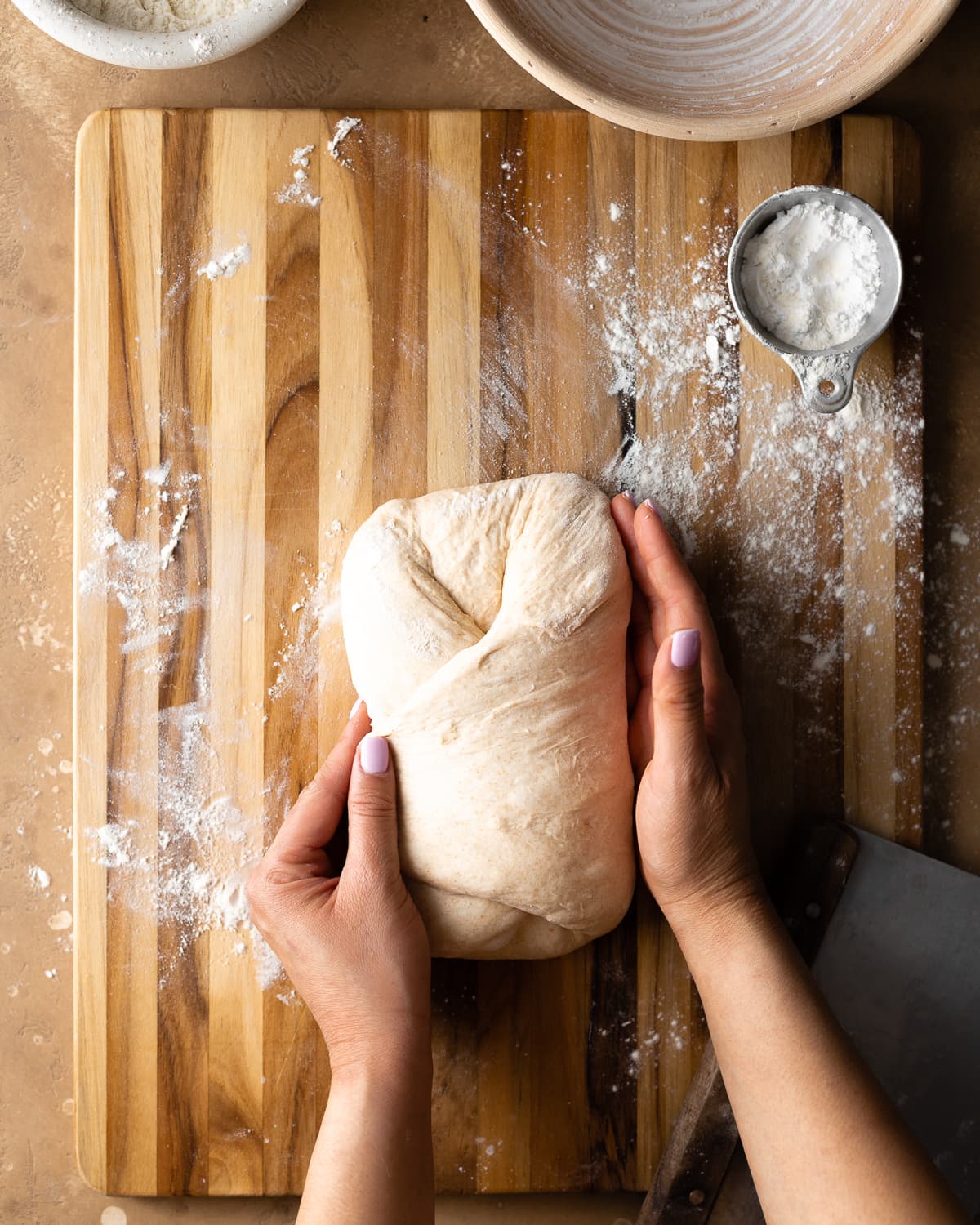 3. Repeat with the right side of the dough, folding it over the left flap.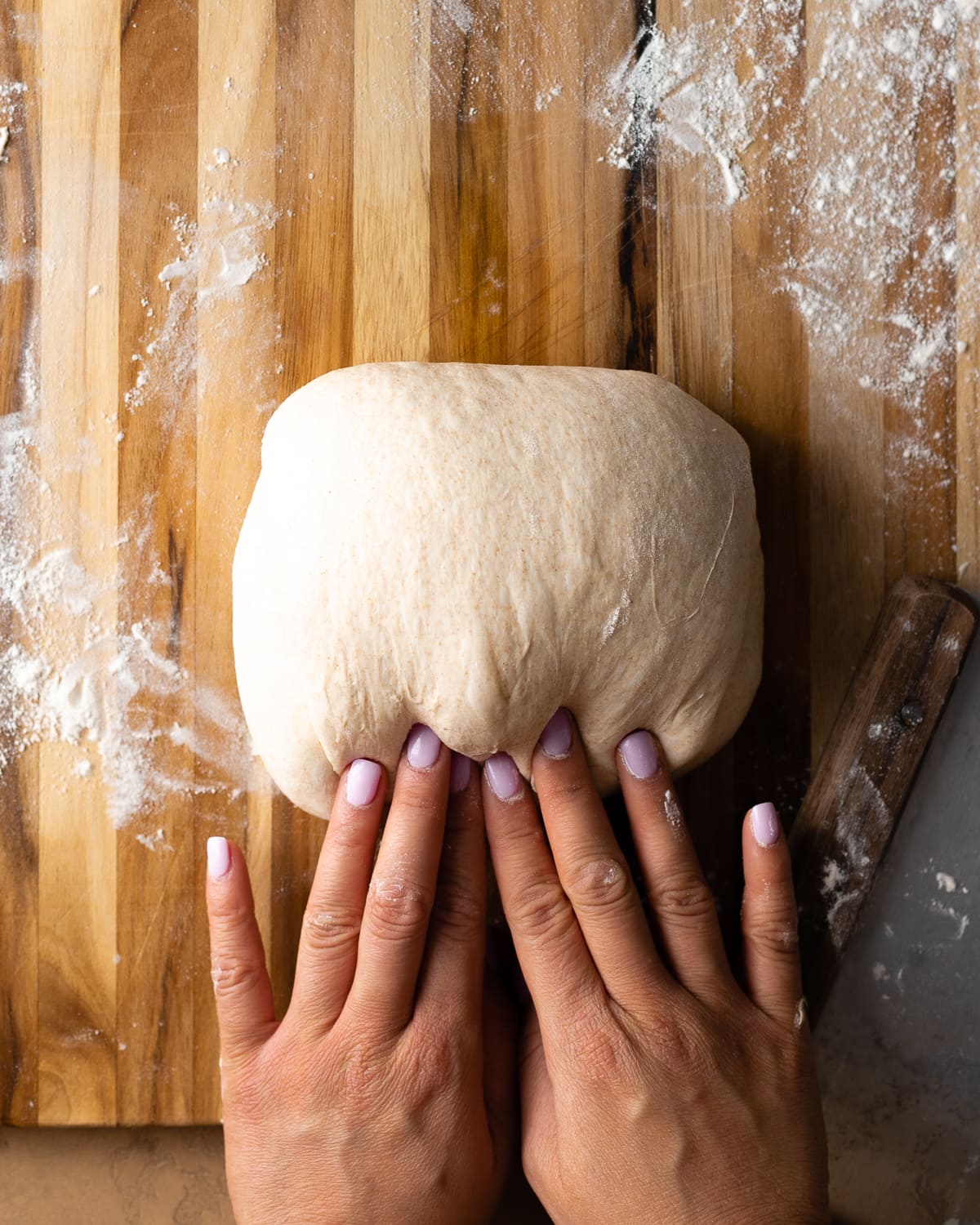 4. Stretch the top and fold it over the dough, use your fingertips to gently push the dough until it completely flips over.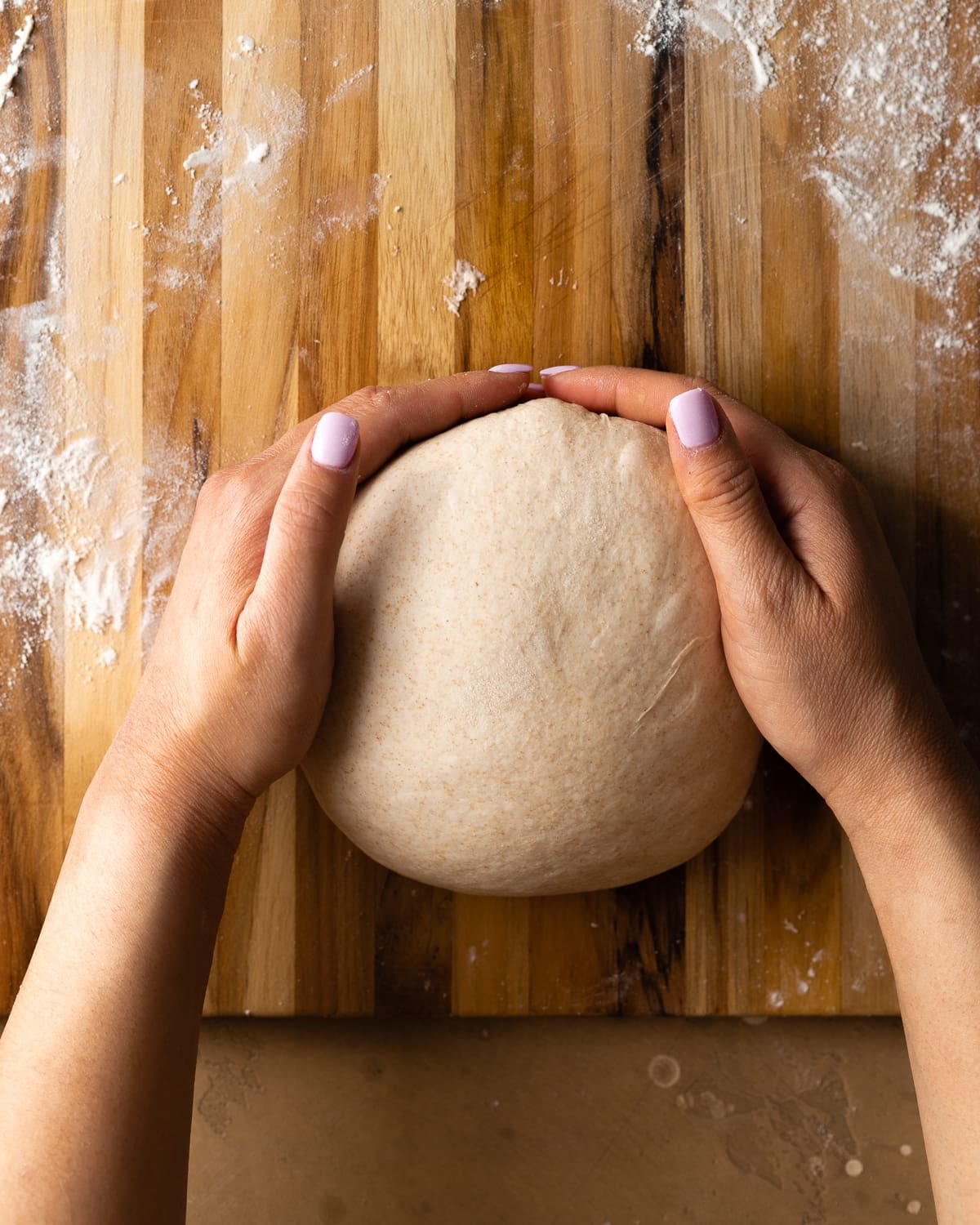 5. Use the blades of your palm to tuck the bottom of the dough, lightly drag the dough in a circular motion 2 to 3 times the work surface until the dough feels tight and smooth (be careful not to tear the dough).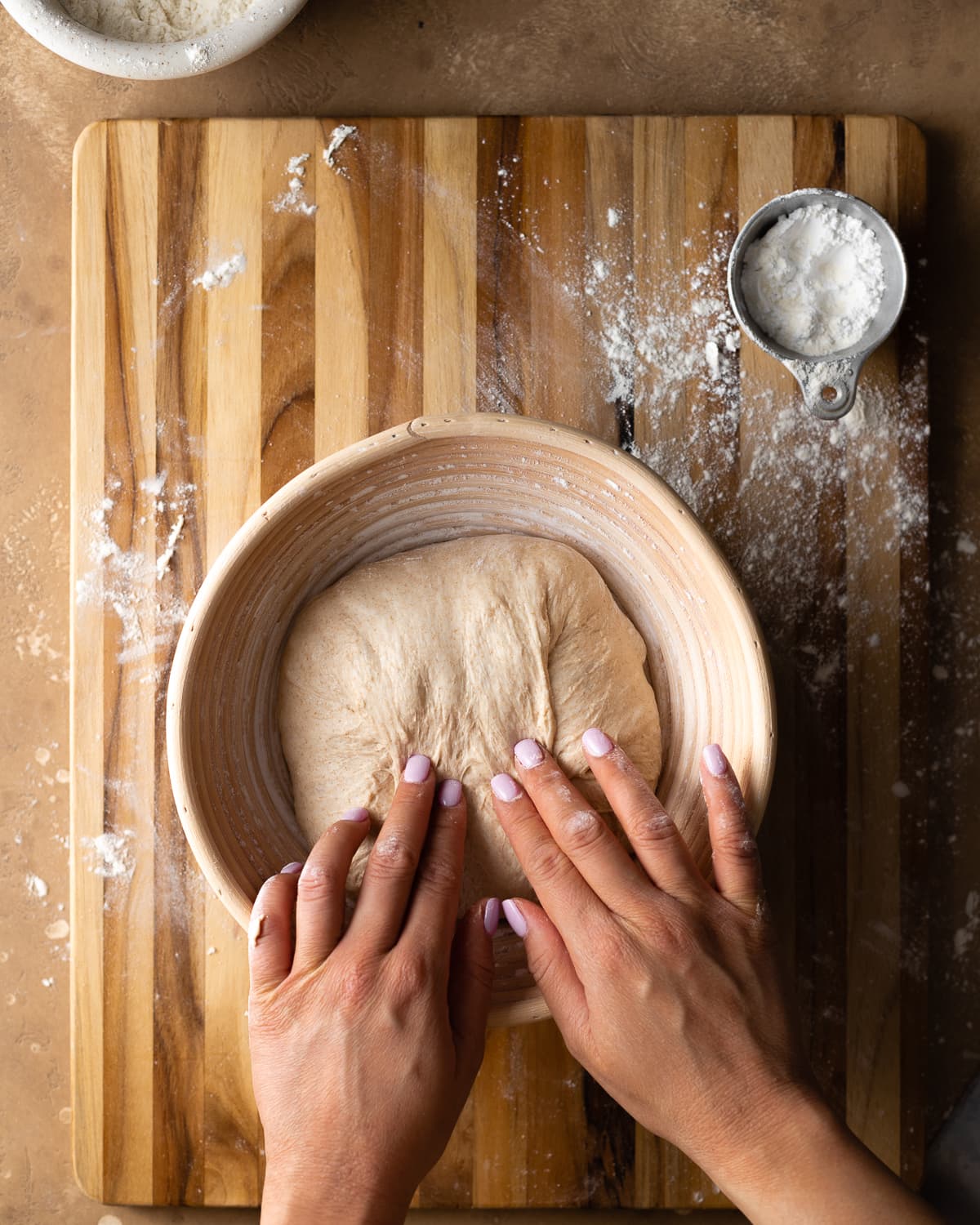 6. Using your bench knife, pick up the dough and nestle it into a proofing basket dusted with rice flour with the seam side up, pinch the seam shut to create more structure in the dough, wrap in plastic wrap for the final rise
You May Also Like
Questions?
How do you know when dough is ready to be shaped?
Dough is ready to be shaped once it's fully fermented. Some signs to look for are, a noticeable increase in volume, a few bubbles of varying sizes on the surface of the dough, it should feel like air has built up inside and it should easily slide out of the container when you turn it out onto your work surface. 

Knowing when to end bulk fermentation or first rise, is the most important skill in bread baking. As you continue to bake you'll get a better feel of dough and develop an instinct that will help you better determine when your dough is ready to shape. 
Why pre-shape sourdough?
Pre-shaping gets the dough ready to take its final form and makes it a little bit easier to handle during shaping. If you're dealing with a high hydration sourdough it is also a great way to create added strength and structure.
What happens if you don't shape sourdough?
If you don't shape your dough, your bread will be flat like a ciabatta or focaccia bread.
What can I use if I don't have a banneton?
The great thing about shaping your loaf into a boule is that you can use some household items as a proofing vessel! Simply use an 8-inch mixing bowl lined with a kitchen towel that's been dusted with rice flour or semolina. If you're using all-purpose, dust your kitchen towel more heavily.
Is there anything I missed? Let me know in the comments!