Sourdough Discard Banana Bread is a great way to use up overripe bananas and excess sourdough discard. With a plush crumb and intensely caramelized banana flavor, you'll never need another banana bread recipe again. This easy quickbread comes together in one bowl with no special equipment required!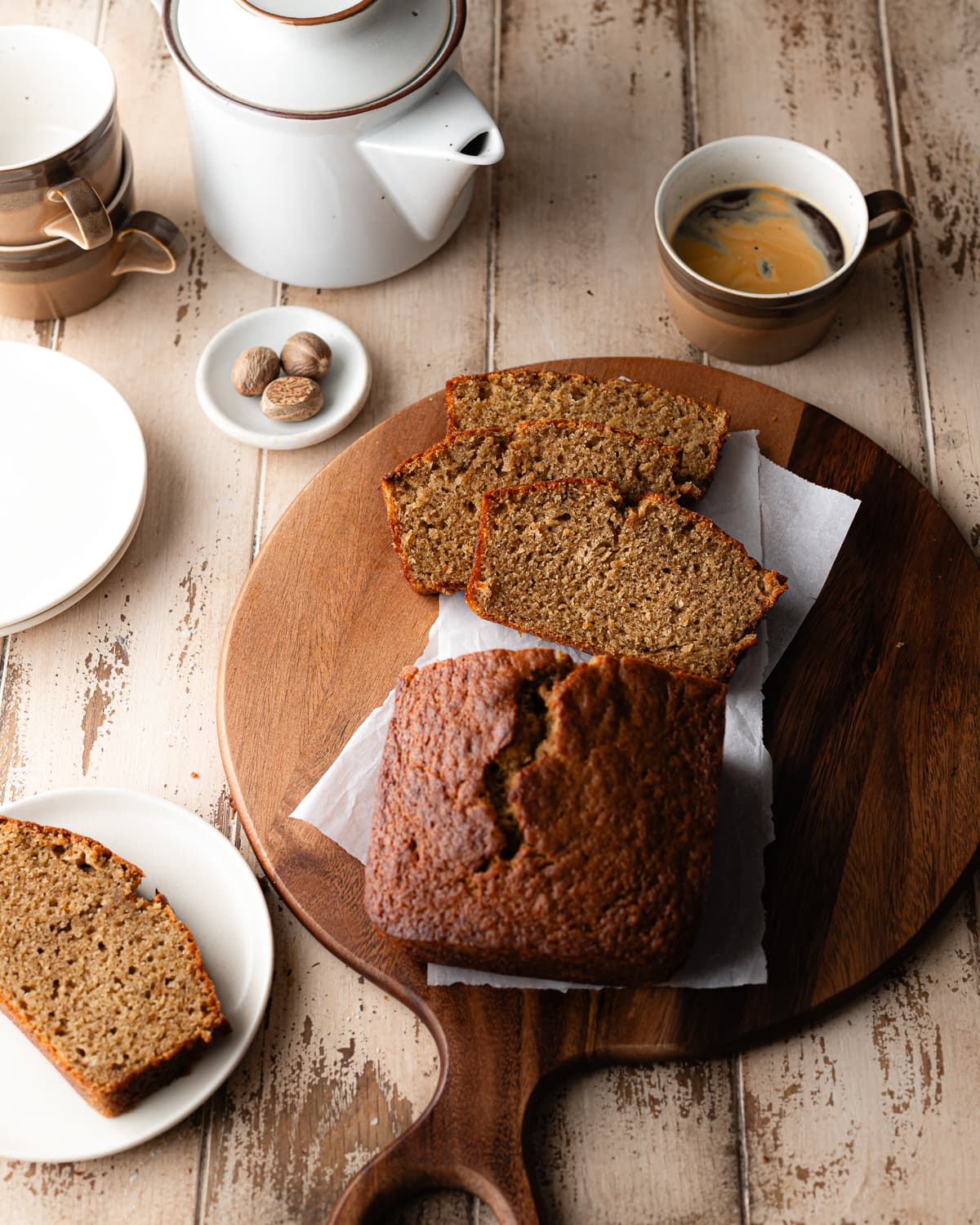 We've all had those three spotted bananas sitting on our counter just waiting to be made into something delicious. I've published different recipes for homemade banana bread in the past and this one has to be my favorite. It's so easy to make but still results in an incredibly pillowy, plush texture and a really pronounced banana flavor.
Jump to:
Why I love this recipe
Made up of simple ingredients you already have in your pantry
No-waste bake that uses up a lot of sourdough discard and overripe bananas
Simple recipe all mixed by hand with no special equipment required
Bananas are the star of the show, a mix of brown sugar and nutmeg enhances the banana flavor and lets it really shine
Pillowy, plush crumb that stays moist for days thanks to sourdough discard and brown sugar
Delicious no-waste recipe
If you've been following Make It Dough for some time, you'll know that I love creating sourdough discard recipes. I've always hated the thought of throwing my sourdough in the trash so I'm always on the lookout for delicious ways to add it to bakes and dishes. Banana bread is one of my favorite bakes because it uses two ingredients that would otherwise go in the bin – overripe bananas and sourdough discard.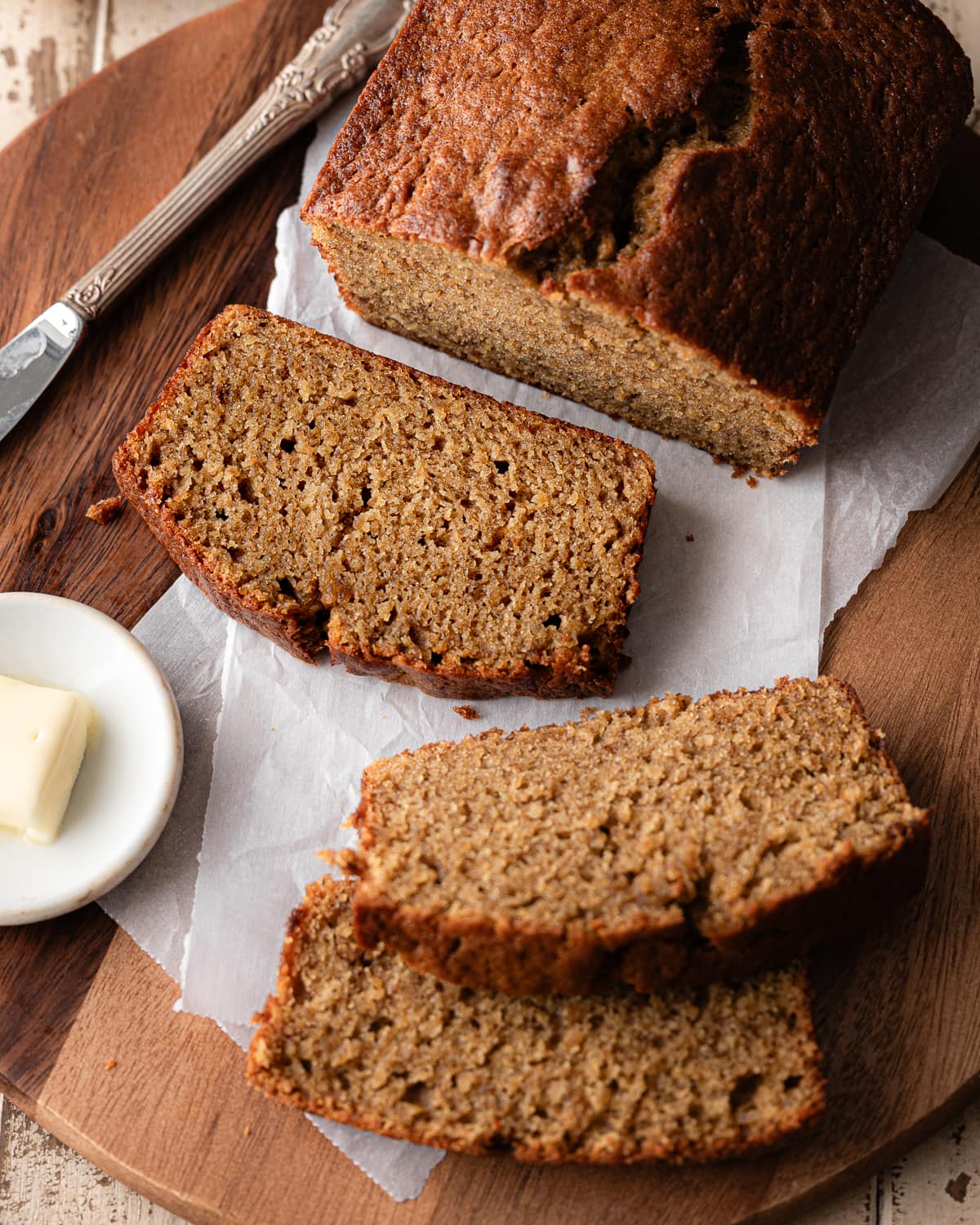 In fact, I like to wait until my bananas are completely black before baking banana bread. As they ripen starches are converted into sugars and at this point, the sugars in the fruit are at their highest concentration. This results in bread with an intensely caramelized banana flavor. So don't toss those black bananas!
Looking for more delicious ways to use bananas? Try my Sourdough Banana Cake, Sourdough Banana Muffins, Sourdough Banana Nut Bread and Sourdough Banana Cookies.
Baking with sourdough discard
Discard adds a great tangy sourdough flavor to this classic banana bread. Since you're not using it as a leavener, your sourdough starter does not need to be activated or fed for it to work. That means you can use it straight from the refrigerator. Older discard will have a tangier, more acidic flavor than fresh sourdough starter. Both will work for this recipe, you'll get a slightly different taste but your sourdough banana bread will still be delicious!
Want more sourdough quick bread ideas? Try my Sourdough Zucchini Bread, Sourdough Banana Nut Bread and Sourdough Pumpkin Bread!
Sourdough Banana Bread Ingredients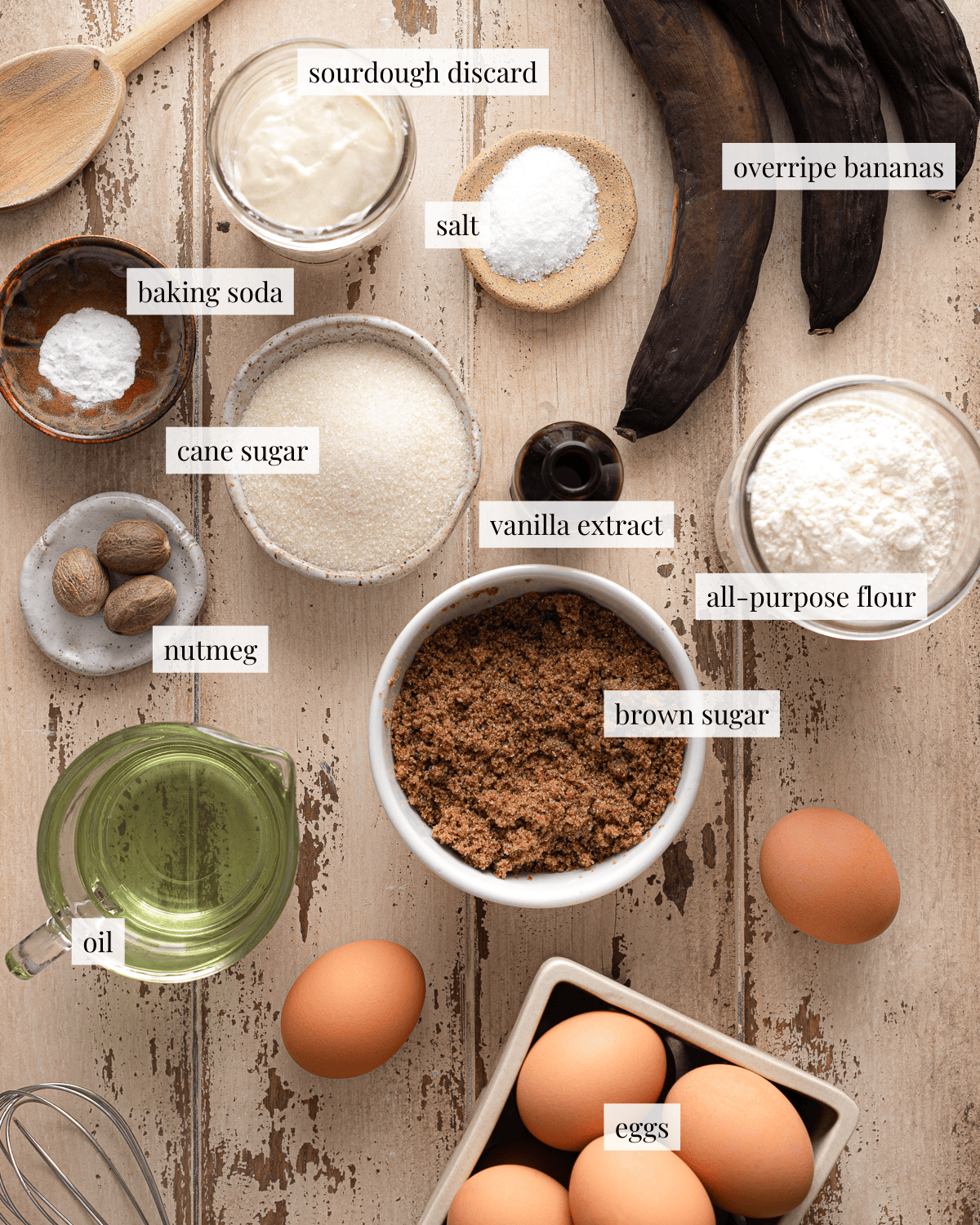 All-purpose flour: Low protein content of all-purpose flour imparts a soft and tender texture to this banana bread. Do not substitute whole wheat flour or your bread will turn out dense.
Baking soda: Reacts with brown sugar and sourdough discard to make banana bread rise. It also enhances browning - do not substitute baking powder.
Salt: Use sea salt or kosher salt. The size of flakes can vary between different brands, for the best results its best to weigh your salt.
Nutmeg: Enhances the flavor of bananas, freshly-grated is best but you can use ground if that's all you have or omit it altogether.
Oil: Tenderizes the crumb, adds moisture, and prevents the cake from drying out. Use a neutral-flavored oil like grapeseed, vegetable, canola or avocado oil. You can substitute olive oil in a pinch, but it will add a distinct flavor to your loaf.
Brown sugar: Adds a rich molasses flavor and reacts with the baking soda to make your banana bread rise, do not substitute this ingredient out.
Cane sugar: Creates structure and adds lightness so your banana bread won't feel too dense. I prefer using organic cane sugar since it's produced using more sustainable methods (I've also discovered that white sugar makes me break out), substitute granulated sugar if that's all you have.
Eggs: Use large eggs for this recipe, they should weigh about 50 grams.
Sourdough discard: Adds a delicious tangy flavor and moisture that keeps this loaf tasting fresher for longer. Add 56 grams of flour and 56 grams of water to your recipe if you don't have any discard.
Step-by-step instructions
1. Mash bananas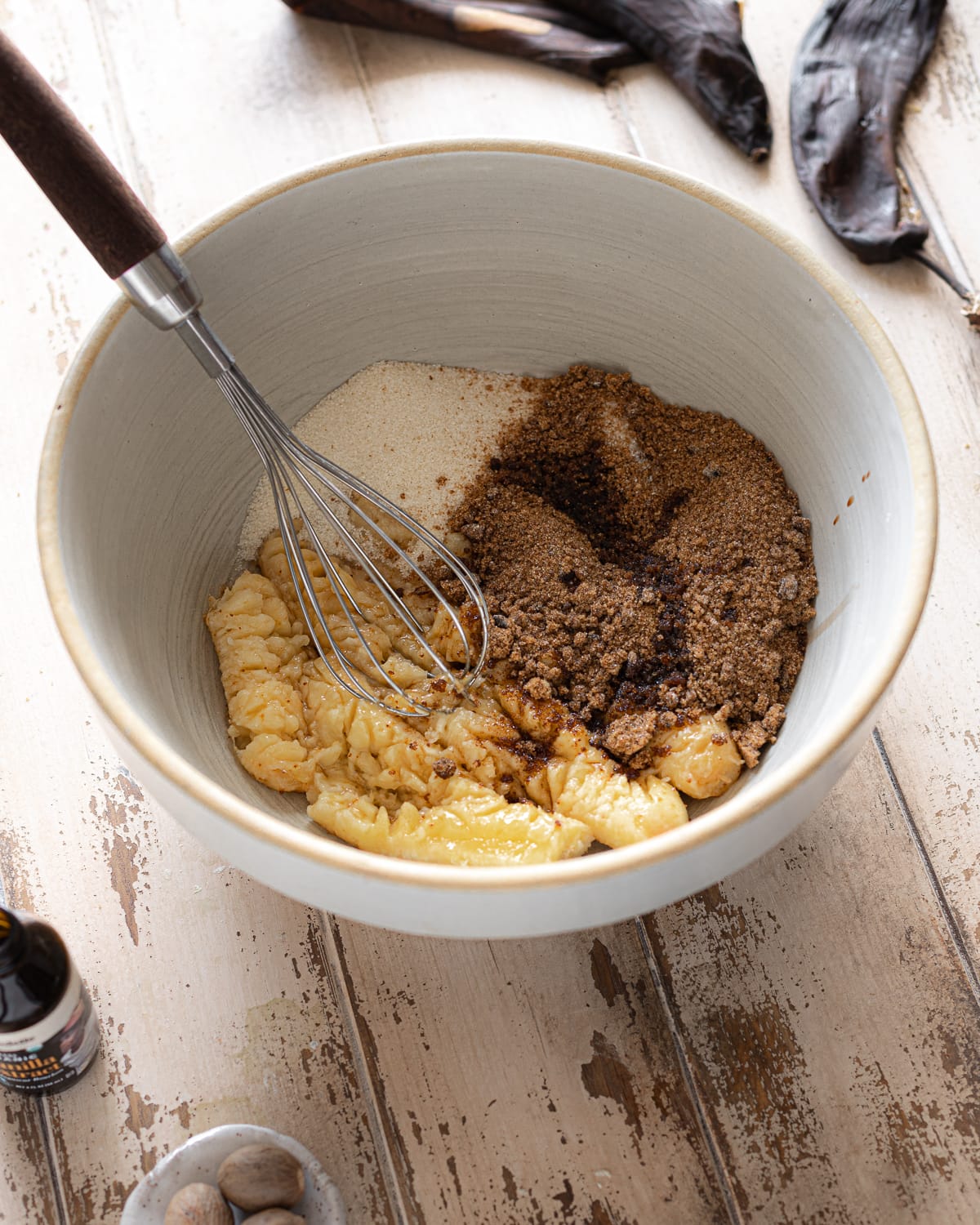 2. Whisk together bananas, sugars and vanilla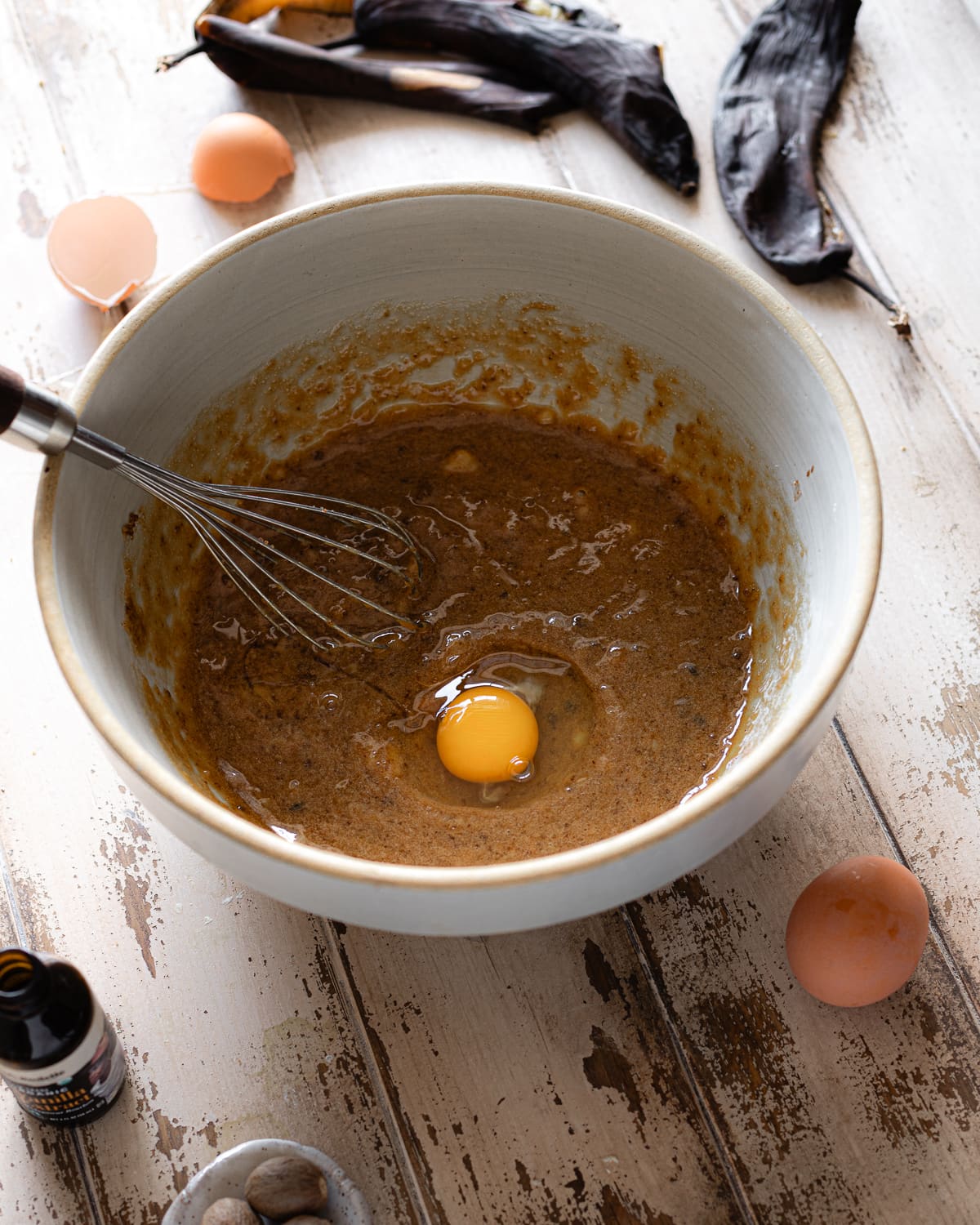 3. Add in eggs one at a time then fold in sourdough discard, salt, baking soda and nutmeg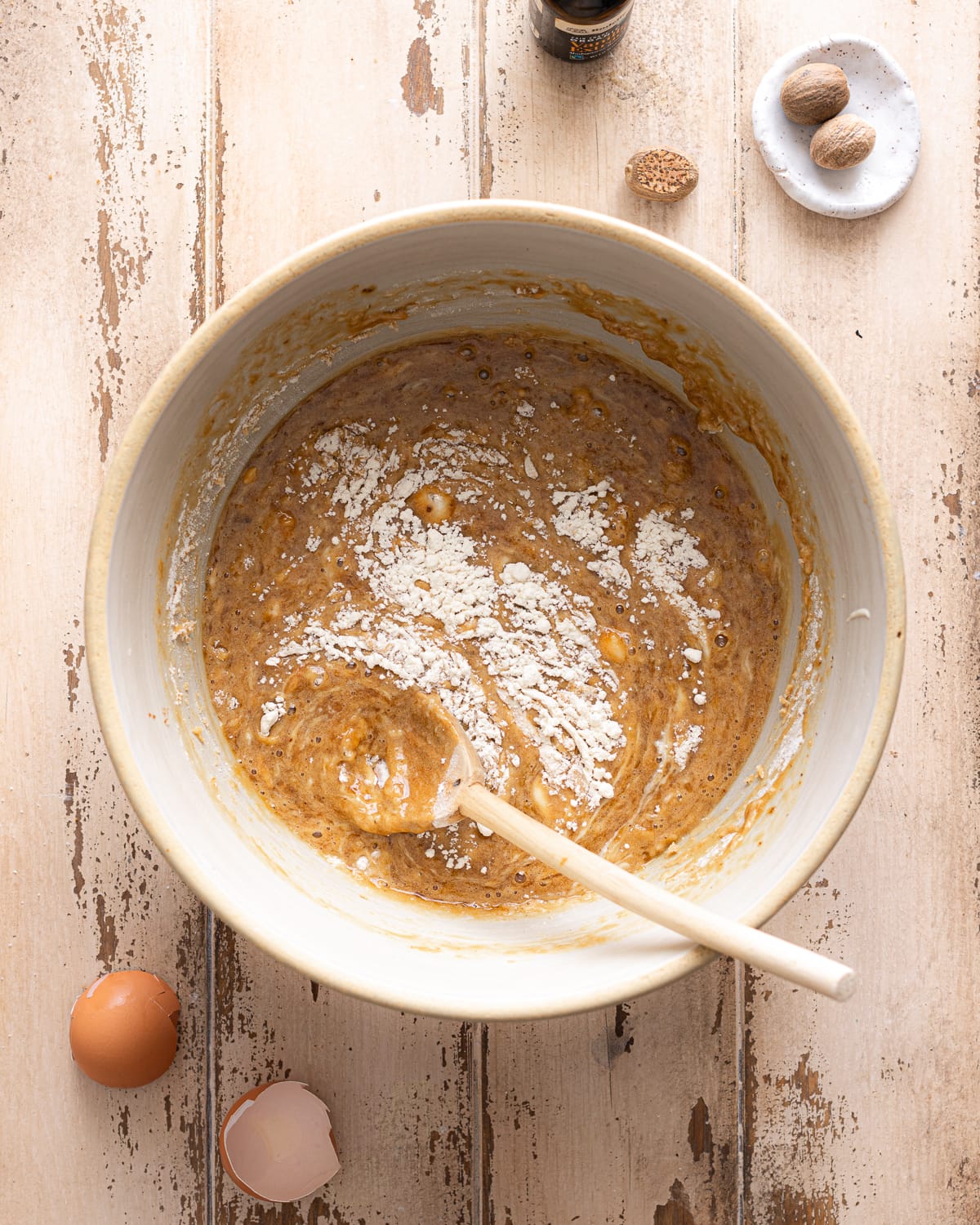 4. Gently fold the flour into the batter a third at a time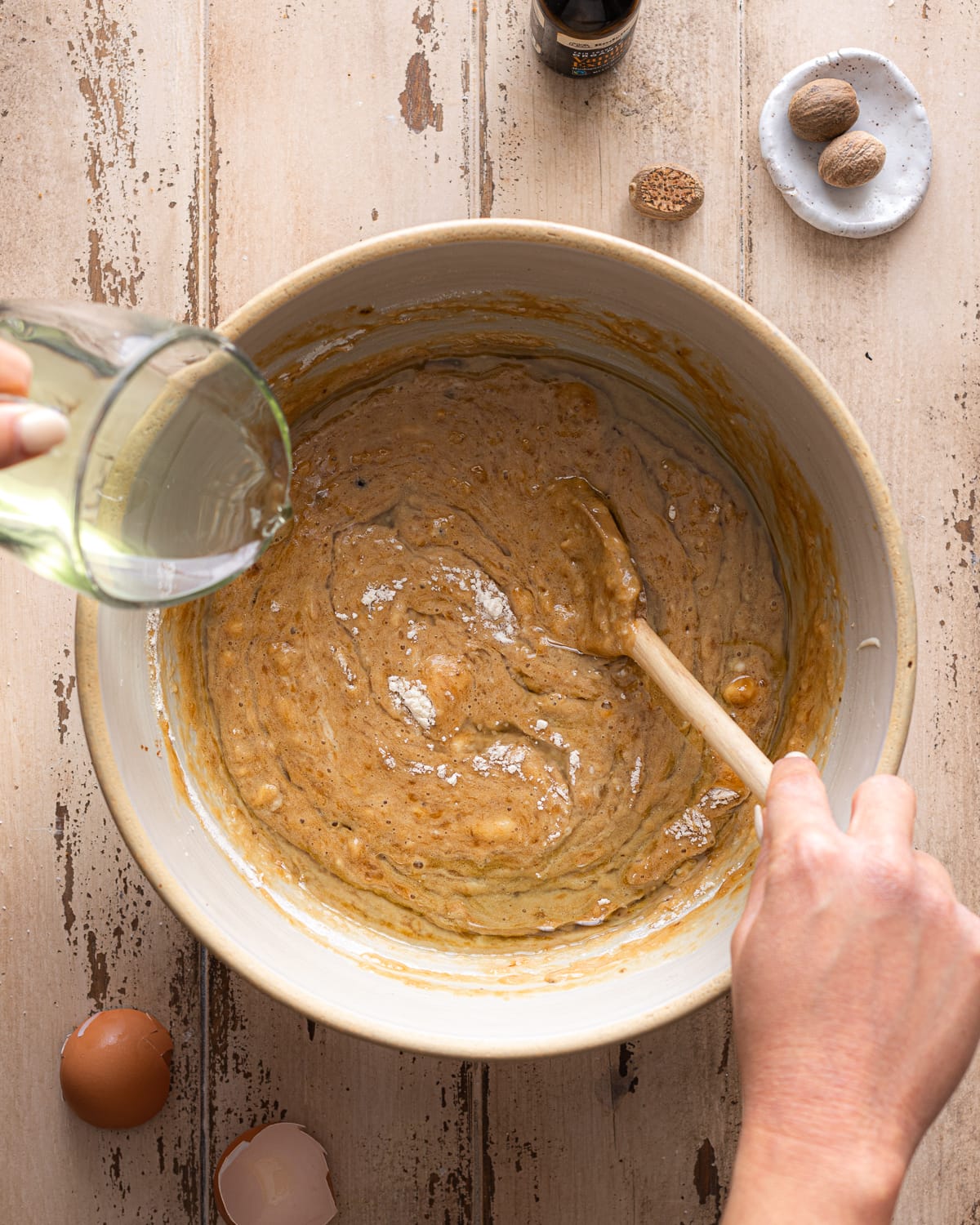 5. Slowly drizzle the oil into the batter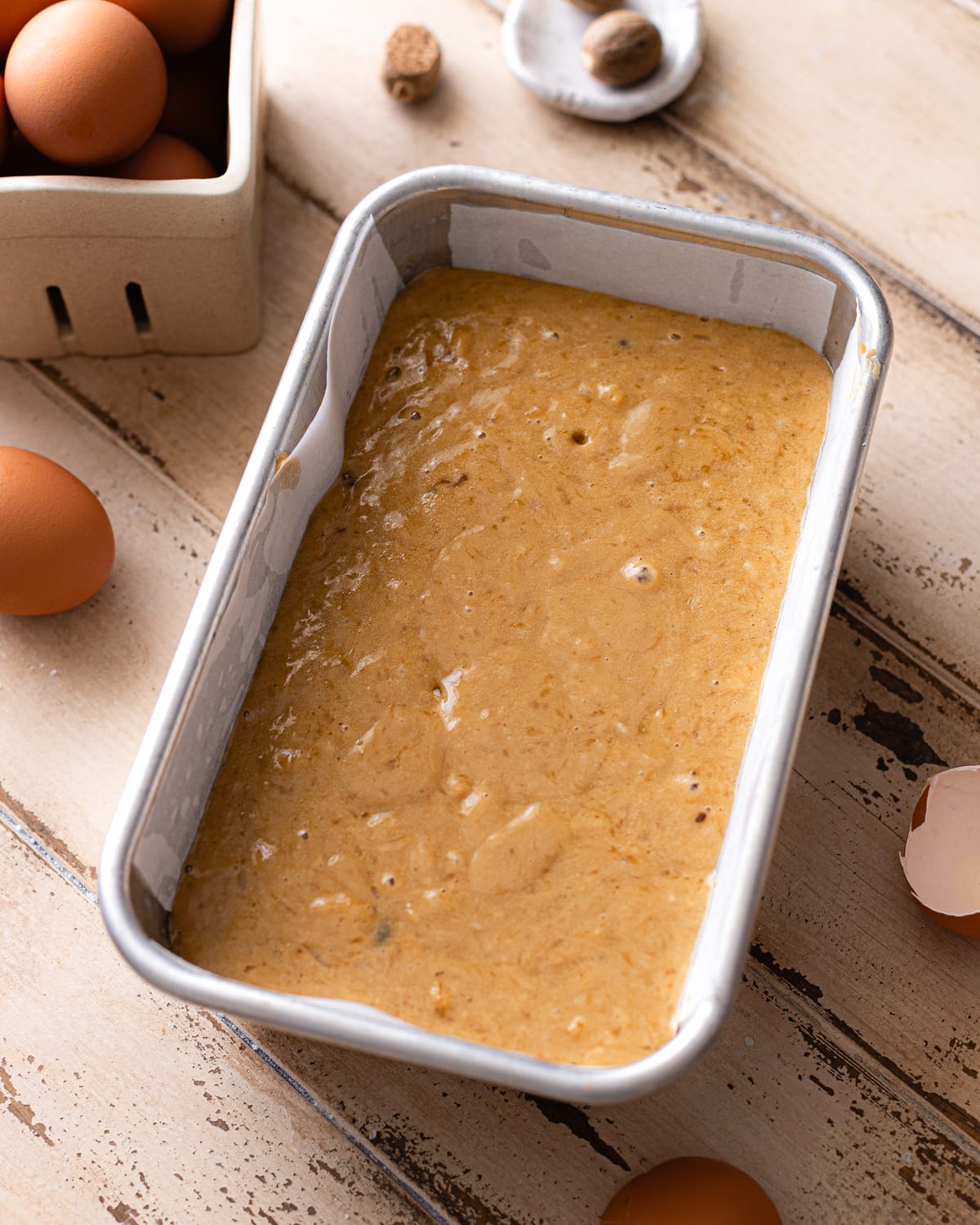 6. Pour batter into prepared loaf pan and bake at 375 F for 50-60 minutes
Tips for success
Use heavily spotted or blackened bananas. The riper your bananas are the better. Black bananas aren't the best snack on their own but they make for great ingredients in baked goods. This is when they have developed the highest concentration of sugar, so you'll end up with a banana bread with a more concentrated and sweeter banana flavor.
Make sure your baking soda is fresh, most people don't know that baking soda has a shelf-life, if yours has been sitting in the pantry some time, test it by combining ¼ teaspoon with a drop of vinegar, if the mixture fizzes then it should work for this recipe.
Use baking soda, not baking powder. Baking powder is not as potent as baking soda so you can't substitute it in a 1:1 ratio. Baking soda also encourages the Maillard reaction which is responsible for browning and the caramelized flavor of baked goods, so your banana bread may turn out pale and gummy if you leave it out of your recipe.
Don't skip the brown sugar. If you don't have any brown sugar, go out and get some. Brown sugar reacts with baking soda which helps your loaf rise and neutralizes its soapy flavor.
Don't over mix your batter. Too much gluten development is great for bread, not so much for quick bread! Mixing your batter too much will make your banana bread dense and gummy, adding your flour in a third at a time and mixing the oil in just until combined will help ensure your banana bread is light and tender.
Don't open the oven door while your banana bread is baking. Opening the oven door releases a lot of heat, and these fluctuations have a marked effect on the baking time of your loaf. Additionally, the force from closing your oven door could cause your banana bread to collapse if it's not fully baked, unfortunately, your loaf will not be able to recover from this and it will bake up with a dense center. If you do end up opening your oven before your loaf is fully baked, try your best to close it as gently as possible.
Test your loaf for doneness in multiple spots. Your banana bread could bake at different rates depending on the heat distribution in your oven. When you're ready to test your banana bread for doneness, make sure you poke a skewer or cake tester in a few spots to test whether its fully baked. There shouldn't be any uncooked batter on your stick when you pull it out of your loaf.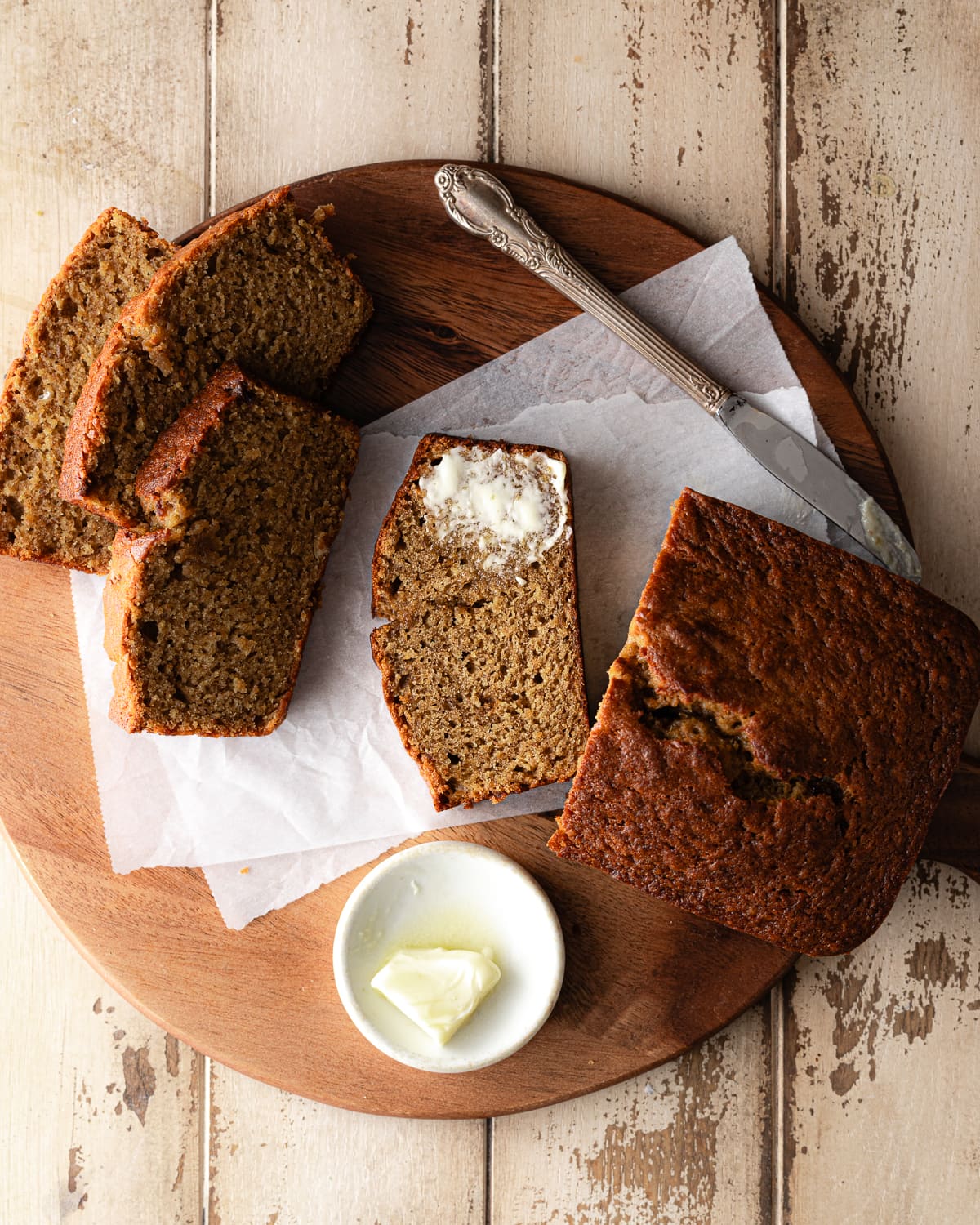 Recipe FAQs
How can I ripen my bananas faster?
If you don't have overripe bananas, bake unpeeled bananas in an oven preheated to 400 F for 5 to 10 minutes or until they are completely browned. This caramelizes the sugars and intensifies the flavor of the bananas, similar to overripe bananas. 
Can I use discard directly from the refrigerator?
Yes! Since you're not using it to make your banana bread rise, you can use your sourdough discard unfed directly from the fridge.
Can I make this banana bread recipe without sourdough discard?
Absolutely! You can use your active starter in this recipe. Your starter won't add a strong tangy flavor to your banana bread, but it will still work.

If you don't have a starter, but still want to try out this recipe, simply add 56 grams of all-purpose flour and 56 grams of water to your dough.

Why did my banana bread sink?
There are a few reasons:
- Your baking soda may be past its prime and may have lost its leavening abilities, check that your baking soda is still fresh by combining a little bit with a drop of vinegar, if it fizzes then it should work for this recipe. 
- You may have opened the oven door before the center is fully baked, unfortunately, this would cause your bread to sink and the center of your loaf to be dense.
- You may have measured your ingredients incorrectly, weigh your ingredients to make sure your baking proportions are correct.
Why is my banana bread gummy?
You may have developed too much gluten in your batter. It helps to fold your flour into the batter ⅓ at a time to ensure all of the flour is incorporated without over mixing. Opening the oven door before your loaf is fully baked could also cause your bread to be too gummy. In this case, your bread will sink and the interior will be gummy. 
Why does my banana bread taste bitter?
You may have measured your baking soda incorrectly. Acidic ingredients like sourdough discard and brown sugar neutralize the flavor of baking soda. If you end up adding too much to your batter its soapy, bitter flavor will come through. For the best results, weigh your ingredients instead of using volume measurements. 
Can I add mix-ins to this recipe?
Yes! Add in 1 cup (115 grams)  of walnuts or (170 grams) chocolate chips in your batter with the last addition of flour and before your drizzle in the oil.
Other sourdough quick bread recipes you may like
---
Did you make this recipe?
⭐⭐⭐⭐⭐
Please leave a star rating and review this recipe if you enjoyed it! I read all the comments and love hearing your feedback.
THANK YOU!
---
Sourdough Banana Bread Recipe
Use your unfed starter and overripe bananas to make this moist banana bread recipe. This quick bread recipe comes together in one bowl and in less than 2 hours.
Ingredients
340

grams

overripe bananas

about 3 to 4

100

grams

cane sugar

150

grams

brown sugar

8

grams

vanilla extract

2

eggs

113

grams

sourdough discard

2

grams

baking soda

7

grams

salt

¼

teaspoon

nutmeg

grated

180

grams

all-purpose flour

113

grams

oil

neutral-flavored, plus more for greasing tin
Instructions
Prep: Preheat the oven to 375 F. Grease an 8 by 4 inch loaf pan and line with parchment paper. Set aside.

Mash bananas: Add bananas in a large mixing bowl. Mash bananas using a whisk.

340 grams overripe bananas

Make the batter: Whisk mashed banana, sugars and vanilla extract together until sugars are fully dissolved, a few lumps of bananas are fine.

100 grams cane sugar,

150 grams brown sugar,

8 grams vanilla extract

Add the eggs in one at a time, waiting until each one is incorporated before adding the next.

Whisk in the sourdough discard, baking soda, salt and nutmeg until the discard has fully dissolved into the batter, otherwise you may end up with gummy spots in your banana bread.

113 grams sourdough discard,

2 grams baking soda,

7 grams salt,

¼ teaspoon nutmeg

Fold a third of the flour into the wet ingredients. Add in another third of the flour and stir until only a few dry bits of flour remain.

180 grams all-purpose flour

Add the last third of the flour in, and continue stirring while you slowly drizzle in the oil. Gently fold the batter until the oil is incorporated. Don't over mix or your banana bread may turn out gummy.

Bake the loaf: Pour the batter into the prepared loaf pan. Bake for 50-60 minutes or until the loaf is golden brown and toothpick inserted in the center comes out clean. Let the loaf cool in the pan for 15 minutes before turning it out gently on a wire rack.

Enjoy and store: Serve once it has cooled slightly. Store any leftovers in an airtight container at room temperature for up to 5 days.
Notes
When in doubt, use weight over volume measures
Nutrition
Calories:
317
kcal
|
Carbohydrates:
49
g
|
Protein:
4
g
|
Fat:
13
g
|
Saturated Fat:
1
g
|
Polyunsaturated Fat:
3
g
|
Monounsaturated Fat:
8
g
|
Trans Fat:
0.05
g
|
Cholesterol:
33
mg
|
Sodium:
344
mg
|
Potassium:
175
mg
|
Fiber:
1
g
|
Sugar:
29
g
|
Vitamin A:
69
IU
|
Vitamin C:
3
mg
|
Calcium:
22
mg
|
Iron:
1
mg
Did you make this recipe?
I'd love to know! Leave a star rating and comment below. Don't forget to pin this recipe on Pinterest and share a photo and tag @makeitdough on Instagram