Homemade Sourdough Cranberry Scones are soft, cakey with a bright orange flavor and a sweet and deliciously tangy cranberry filling. Top these beautiful rolled scones with an orange glaze for a delicious breakfast or afternoon snack.  
I've been seeing so many recipes for quick no yeast cinnamon rolls on social media so I thought I'd create my own take on the trend! These recipes are all basically a version of a quick bread (bread that's leavened with baking powder or baking soda) that includes an egg. Which basically makes them scones.
Although I've added sourdough discard (which does contain yeast), I'm referring to these as "yeast-free" because I'm not using yeast as the leavener and the rolls don't require a long rise time. The purpose of sourdough here is to add flavor and additional moisture. 
Jump to:
What is a scone? 
Scones are a type of quick bread that's leavened with chemical leaveners like baking soda or baking powder instead of a biological leavener such as commercial yeast or sourdough starter. What differentiates scones from biscuits is the inclusion of an egg. This gives scones a cakier texture, as opposed to the flaky, layered crumb of a biscuit. 
Baking with sourdough discard
Sourdough discard adds moisture and imparts a delicious tangy flavor to these scones. Since these are leavened with chemical leaveners, and you won't be using your starter to make these sourdough scones rise, you can use your discard in this recipe straight from the fridge without activating or feeding it first.
Add-ins
When I first developed this recipe, I used fresh cranberries folded into my scone dough. While the scone was delicious, the cranberries were way too sour. On my second attempt, I decided to add sweetness by creating a homemade cranberry filling. The result was absolutely delicious, with the added bonus of being pretty!
I've included a recipe for cranberry preserves here, but feel free to use leftover cranberry sauce, homemade fruit preserves or even store-bought jam.
Prefer plain scones? Try my Sourdough Discard Scone recipe instead!
What You Need
Sourdough discard - Imparts a delicious, tangy flavor and moisture to these scones
Milk - Adds moisture, softness and richness
Egg - Binds the ingredients and imparts richness
Unsalted butter - Tenderizes the crumb
All-purpose flour - Low protein content of all-purpose flour helps these bake up into tall scones with a tender crumb.
Baking powder - Serves as the main leavener, increases the volume and lightens the texture of these scones
Salt - Strengthens the gluten and brings out the flavor of the rest of the ingredients
Sugar - Sweetens the dough and cranberry filling
Cranberries - Makes for a delicious tart filling, substitute berries if cranberries are not in season
Orange - Zest adds a refreshing citrus flavor to the scones, while a little bit of orange juice reacts with the baking powder to further tenderize these scones. Substitute lemon, lime or another citrus of your choice.
Cinnamon - Optional but highly recommended, adds a note of warmth to the filling
Step-by-step instructions
These sourdough cranberry scones are straight forward, 2-bowl wet into dry ingredient process. You'll have delicious cranberry scones in less than 1 hour!
1. Make the filling
2. Combine the wet ingredients
3. Work the butter into the dry ingredients
4. Make the dough and knead
5. Roll out the dough, fill and shape
6. Bake at 425 F for 10 minutes and 350 F for 10 minutes
Recipe FAQs
What is the trick in making good scones?

Gentle kneading is the key to delicious, tender scones. Too much gluten development as a result of overworking your dough will make your scones tough and dry. Knead your dough just until the dough looks cohesive and all the flour is hydrated. 
Why are my scones gummy? 

Scones are a balancing act, gummy scones are usually the result of undermixed dough.  Pockets of unmixed flour will have a detrimental effect on your scones, causing them to be crumbly, dense and gummy. 
Why didn't my scones rise? 

Your baking powder may have expired. A lot of bakers don't know that chemical leaveners have a shelf life. Make sure yours is fresh before using it by mixing a little bit with a drop of vinegar. If it bubbles then it's still good to use, if it stays flat then it's no longer viable. 
Why do I need to use baking powder? Can I just use sourdough to make my scones rise? 

The short answer is no. The production of carbon dioxide is essential for light and tender baked goods. Baking powder produces CO2 by reacting with the liquids in the recipe to create a chemical reaction, while sourdough produces it through fermentation. For your dough to capture the gas produced through fermentation, you'll need to strengthen the gluten in your dough. Gluten development is detrimental to tender baked goods like scones and biscuits. Our goal is a soft, short (not stretchy like bread) texture, so we use chemical leaveners like baking powder and baking soda for quick breads and cakes.
Can I make these in advance?

Baking powder is sensitive to moisture and humidity, once it's been mixed with the rest of your ingredients it will eventually lose its power. So, it's best to make this dough right before baking.

You can however make the filling up to 5 days in advance, store the cranberry filling in an airtight container in the refrigerator until ready to use. Or you can even use leftover cranberry sauce from Thanksgiving dinner, you'll need about 226 grams or 1 cup. 
How long do these scones last?

I prefer to make small batches of scones since they are best enjoyed the day they are baked, but will keep well in an airtight container for up to 2 days.
I don't have fresh cranberries, what can I use instead? 

You can substitute frozen cranberries or any other berry to make your filling. You can even use leftover cranberry sauce if you have some!
---
Did you make this recipe?
⭐⭐⭐⭐⭐
Please leave a star rating and review this recipe if you enjoyed it! I read all the comments and love hearing your feedback.
THANK YOU!
---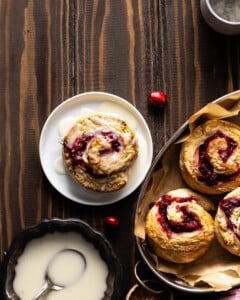 Sourdough Cranberry Scones Recipe
Homemade Sourdough Cranberry Scones are soft, cakey with a bright orange flavor and a sweet and deliciously tangy cranberry filling. Top these beautiful rolled scones with an orange glaze for a delicious breakfast or afternoon snack.
Ingredients
Filling
150

grams

cranberries

50

grams

granulated sugar

1

teaspoon

ground cinnamon

optional

28

grams

orange juice
Dough
75

grams

milk

1

egg

113

grams

sourdough discard

300

grams

all-purpose flour

plus more for dusting

12

grams

baking powder

6

grams

kosher salt

50

grams

granulated sugar

84

grams

unsalted butter

cubed, preferably frozen

Zest of one orange

14

grams

fresh orange juice
Glaze
84

grams

powdered sugar

14 to 28

grams

orange juice

14

grams

unsalted butter

melted and cooled
Instructions
Make the filling: Combine the cranberries, sugar, cinnamon and orange juice in a small saucepan, cook over medium heat until the cranberries have completely broken down and the mixture has thickened, about 10 minutes. Transfer the mixture to a heatproof bowl and let it cool completely before using.

Prep: Preheat the oven to 425 F. Line a baking sheet with parchment paper.

Mix the wet ingredients: Dissolve the sourdough discard and stir the egg into the milk until completely dissolved and no traces of discard or egg remain. Set aside.

Mix the dry ingredients: Whisk together the flour, baking powder, salt and sugar in a large bowl.

Cut the butter into the flour: Toss the cubes of butter in the flour. Use your fingertips to squeeze the cubes and your palms to rub the butter into the flour until you end up with coarse crumbs of varying sizes.

Make the dough: Make a well in the center of the flour, pour half of the liquid into the center of the well. Use a fork or wooden spoon to gently mix the ingredients together. Bring the dough together and drizzle the remaining liquid on any portions of flour that are not hydrated.

Knead: Turn the dough out on a clean, lightly floured work surface and knead the dough lightly just until the dough feels cohesive and no patches of dry flour remain.

Shape: Dust more flour on the work surface. Using a rolling pin, flatten the dough out to a 10 by 12 inch rectangle. Spread an even layer of the filling over the dough, leaving a ½-inch border. Working with the longer side, roll the dough into a tight cylinder. Using a sharp knife, divide the cylinder into 8 even portions. Position the dough on the prepared baking sheet about 2 inches apart to allow them to rise and spread.

Bake: Bake scones for 10 minutes at 425 F (220 C) and then reduce oven temperature to 350 F (160 C) for another 10 minutes. Don't over bake or your scones will turn out too tough and crusty.

Make the glaze: Combine the 1 tablespoon orange juice, butter and powdered sugar in a small bowl. Whisk together until no lumps remain, add the remaining orange juice little by little until you achieve your desired consistency.

Enjoy: Take scones out of the oven and place on a wire rack to cool. Drizzle glaze over the scones and enjoy!

Store: These are best eaten on the day they are baked, but will keep well stored in an airtight container for 2 days at room temperature.
Notes
When in doubt, use weight over volume measures.
Make sure you use a light hand when making these scones and avoid overworking the gluten or your end result will be tough and dry.
Nutrition
Calories:
353
kcal
|
Carbohydrates:
58
g
|
Protein:
6
g
|
Fat:
11
g
|
Saturated Fat:
7
g
|
Polyunsaturated Fat:
1
g
|
Monounsaturated Fat:
3
g
|
Trans Fat:
0.4
g
|
Cholesterol:
51
mg
|
Sodium:
465
mg
|
Potassium:
93
mg
|
Fiber:
2
g
|
Sugar:
25
g
|
Vitamin A:
378
IU
|
Vitamin C:
5
mg
|
Calcium:
117
mg
|
Iron:
2
mg
Did you make this recipe?
I'd love to know! Leave a star rating and comment below. Don't forget to pin this recipe on Pinterest and share a photo and tag @makeitdough on Instagram
You may also like