Make Homemade Cranberry Jam with frozen or fresh cranberries in less than 30 minutes with only 6 ingredients. This is the easiest jam recipe with no pectin or additional thickeners needed. It's sweet, tart, and flavorful. The perfect festive spread for crusty sourdough bread or a delicious addition to a charcuterie board.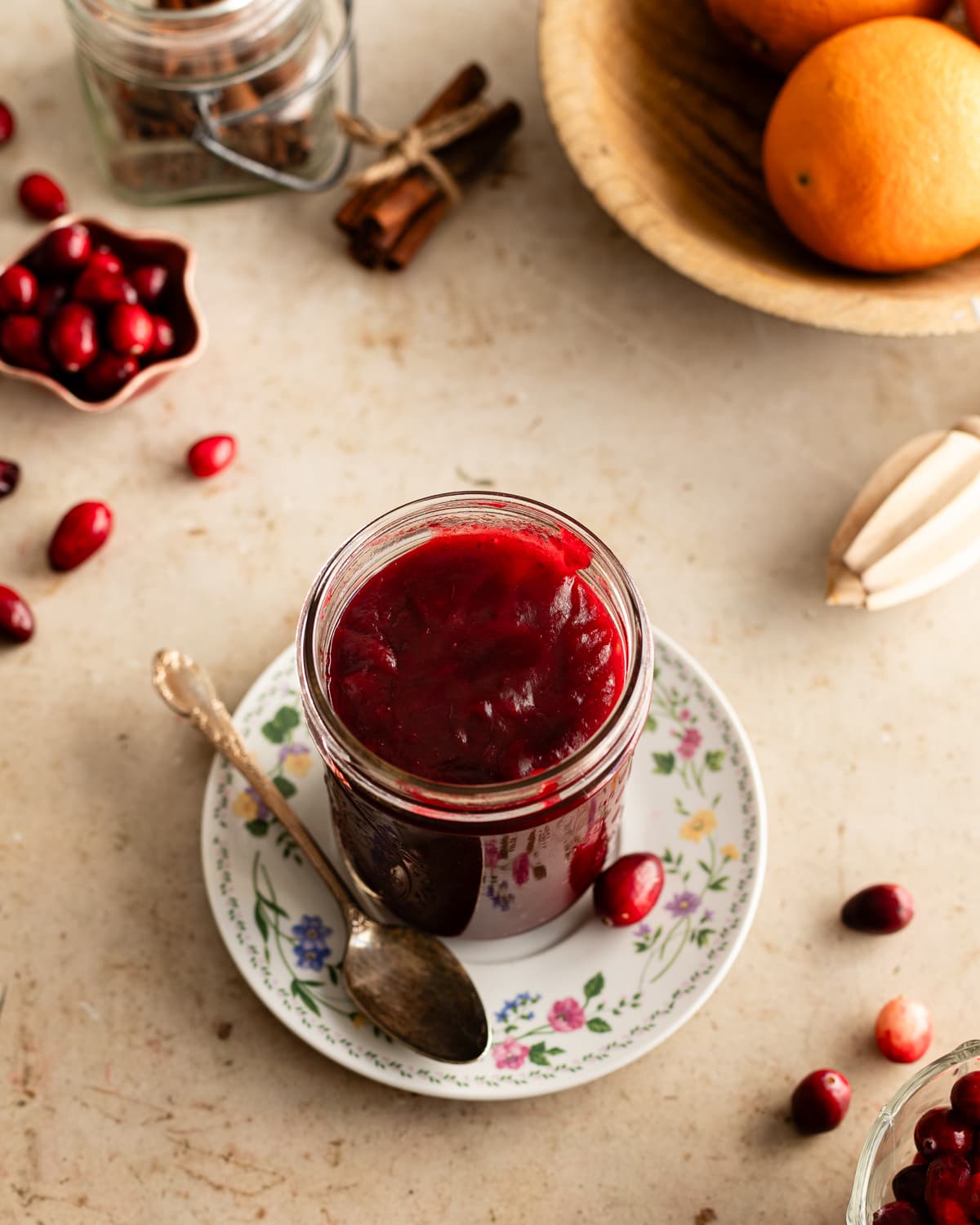 Jump to:
Why I love this recipe
No added pectin required, cranberry thickens naturally.
No special equipment is needed! Cranberries break down easily so you don't need an immersion blender or food processor.
Comes together in 1 pot in less than 30 minutes.
Great way to preserve fresh cranberries so you can enjoy them all year.
Makes a great homemade gift!
What is cranberry jam?
Cranberry Jam is a mixture of fresh or frozen cranberries, sugar, and fresh-squeezed orange juice simmered until the berries are mushy and the sugar is completely dissolved. The ingredients are carefully cooked until the cranberries break down, resulting in a luscious, sweet, and tart spread. Some variations may include optional ingredients like spices such as cinnamon or orange zest for added depth of flavor.
Since the only preservative in this recipe is sugar, it's best to store the cranberry jam in a jar in the refrigerator for 2 weeks. Or you can store it in a plastic container in the freezer for up to 6 months.
If you love the flavor of cranberries, you'll love these Cranberry Rolled Sourdough Scones.
Why make jam at home?
I love making homemade fruit jams and preserves, with only a handful of simple ingredients, I can have a delicious spread without having to go to the supermarket to buy a jar.
Creating fruit spreads at home has the added benefit of allowing you to control exactly what goes into the food you eat and serve to your family. This process also provides the flexibility to tailor the flavor and sweetness of your cranberry jam to your liking.
Love homemade spreads for your sourdough bread? Try my recipes for Blueberry Preserves, Raspberry Preserves and Honey Butter.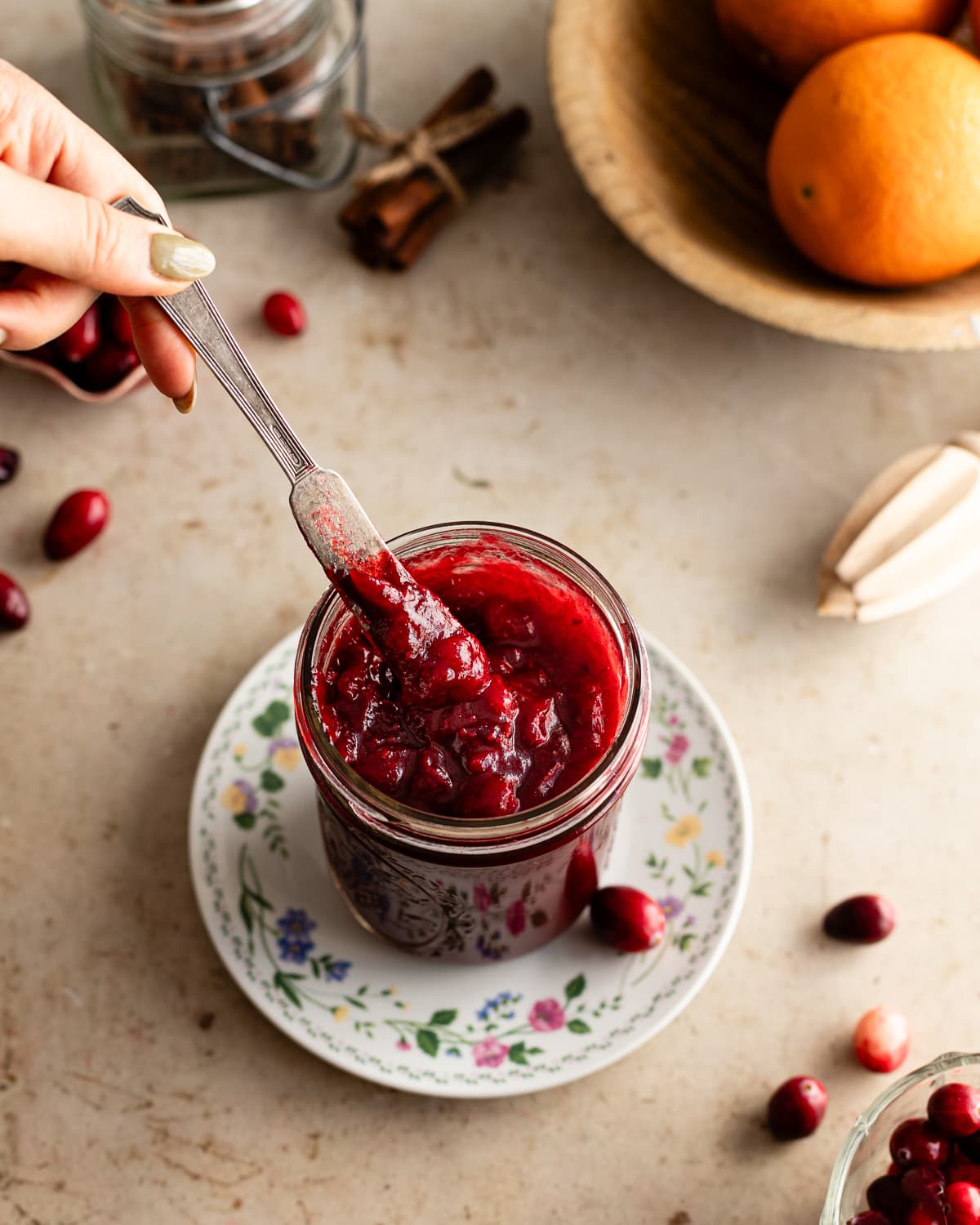 No pectin needed!
I don't normally stock pectin at home, but that's never stopped me from making homemade jam. Fruits such as cranberries are naturally high in pectin, eliminating the need for additional thickening agents. The cooking process releases the inherent pectin content in these fruits, creating a beautifully textured spread.
Pectin is a natural carbohydrate found in the cell wall of fruits and acts as a gelling agent that thickens jams, jellies, and fruit preserves. When fruits are heated during the cooking process, pectin is released from the cell walls. As the pectin molecules interact with water and sugar, they form a network that traps liquid and creates the gel that thickens the spread.
Small batch recipe
This cranberry jam recipe is the perfect way to use up that extra bag of cranberries.
Since this makes a small batch, about 16 oz, I don't usually bother going through the effort of canning or doing a hot water bath. No need to sterilize your jars, just make sure you wash them in hot soapy water. This is enough to have for breakfast with a little bit leftover to enjoy for up to two weeks. You will have to refrigerate any leftovers.
This recipe doubles easily if you'd like to make a larger quantity. To extend the shelf life, store the cranberry jam in a plastic container in the freezer, allowing you to enjoy the yummy flavor of cranberry all year long.
What you need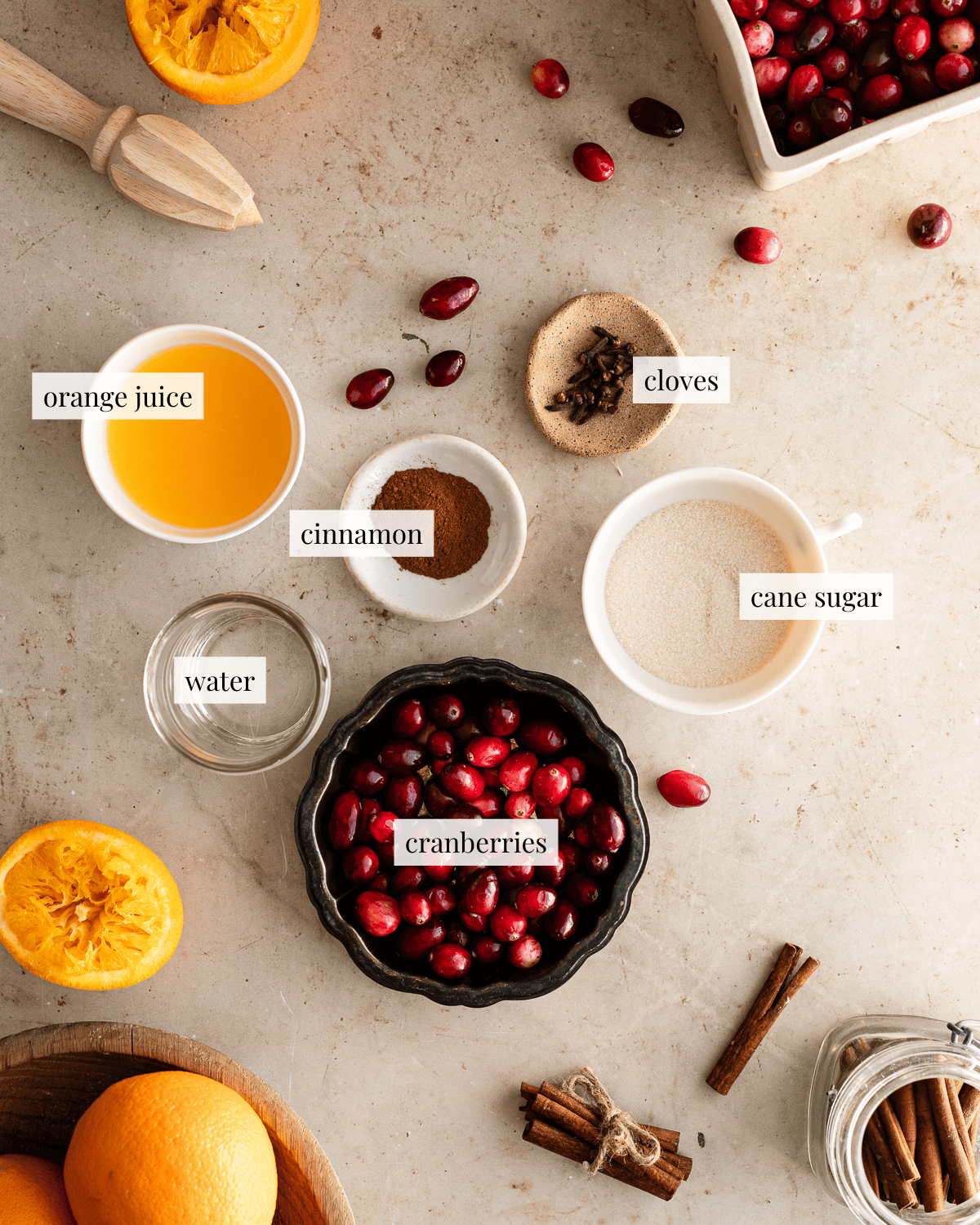 Cranberries: Both fresh and frozen work great for this recipe.
Sugar: It's best to use cane sugar or white sugar.
Orange: This recipe use 1 large Navel orange for fresh-squeezed juice and zest. Feel free to substitute another type of orange or store-bought orange juice.
Warm Spices: The combination of cloves and cinnamon imparts a rich and aromatic warmth to this jam.
Variations
Add diced jalapenos
Add cooked bacon bits
Add grated ginger
Use apple juice instead of orange juice
Add a little bit of maple syrup
Step-by-step instructions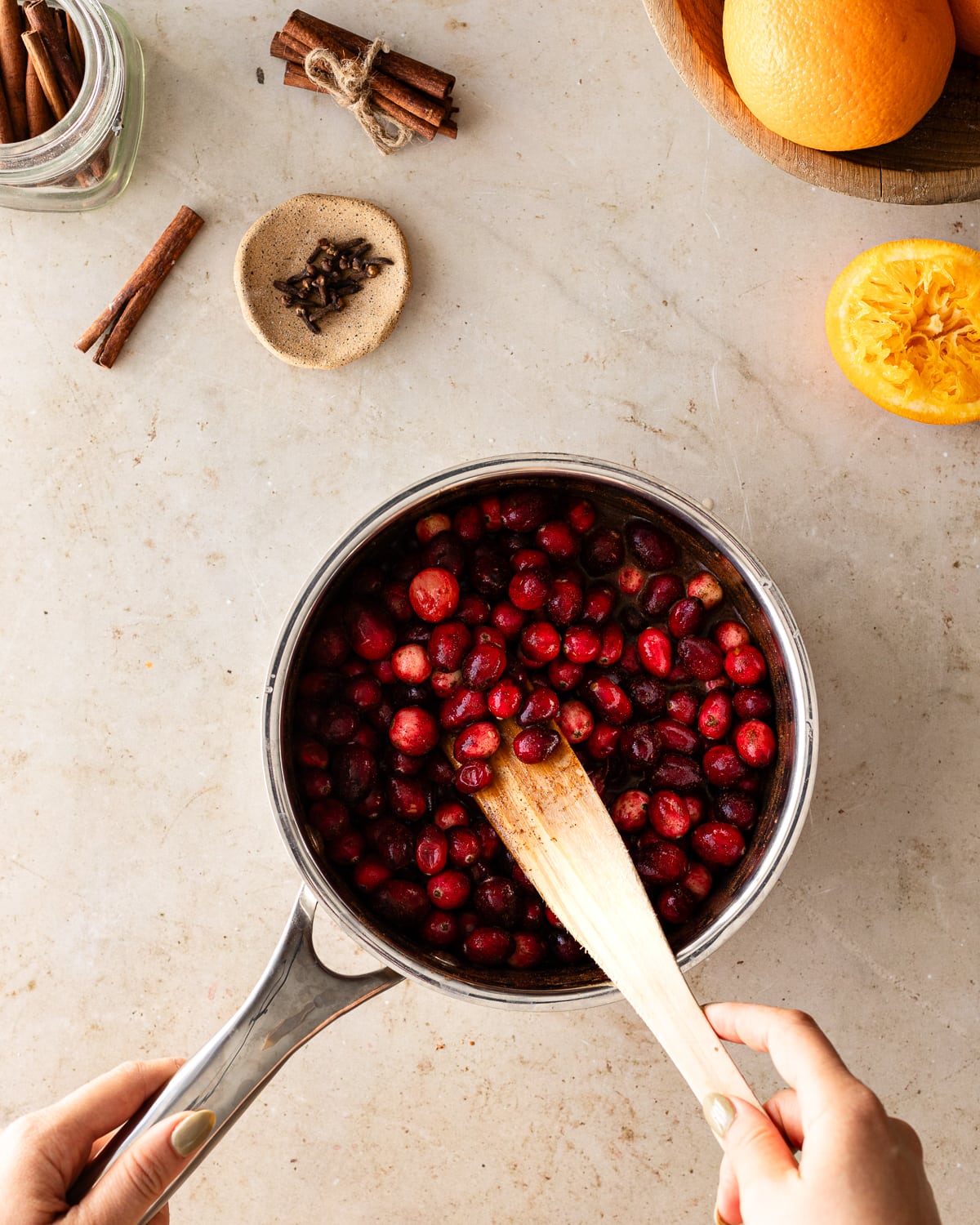 STEP 1: Combine cranberries and remaining ingredients in a small saucepan. Stir until the sugar looks dissolved.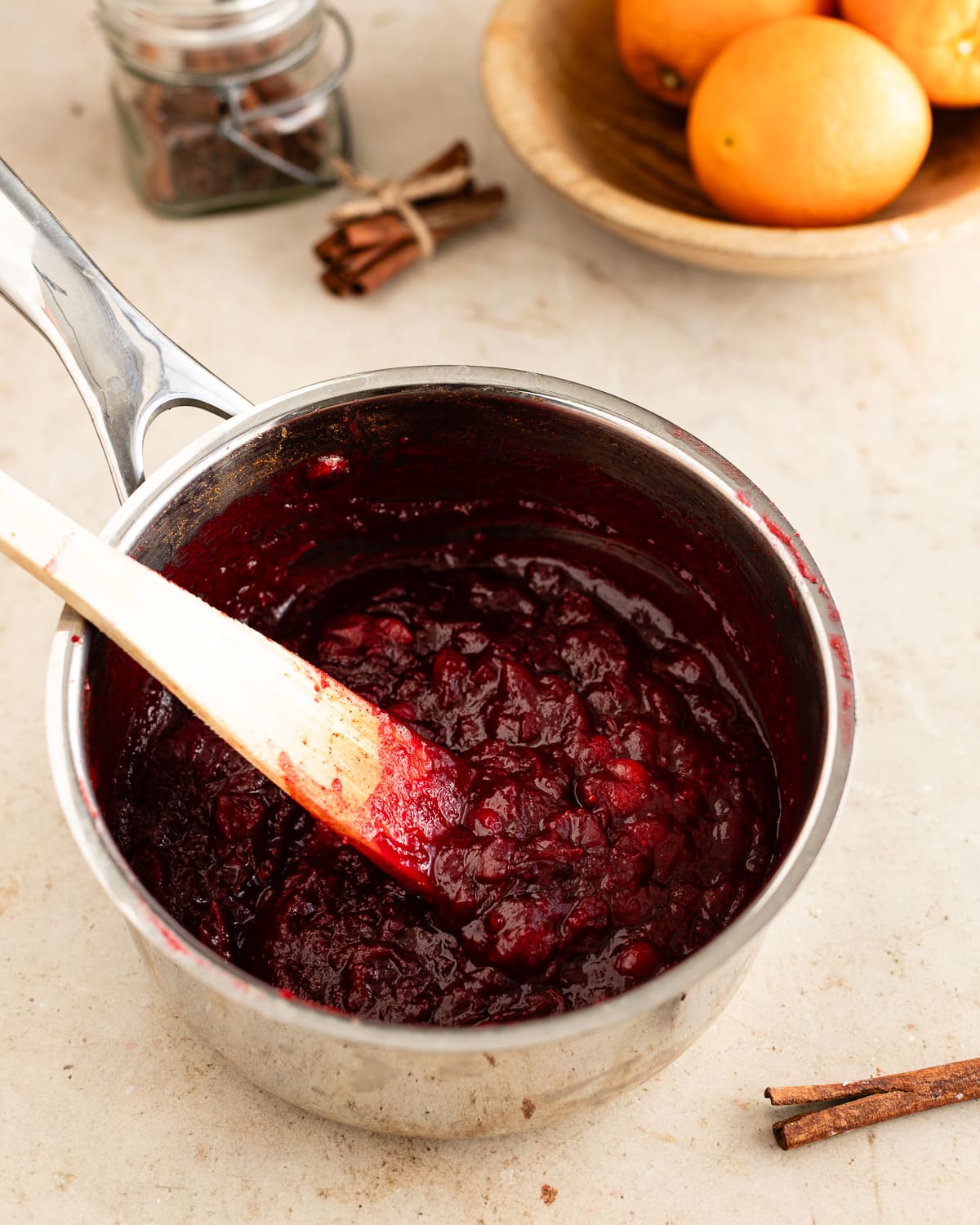 STEP 2: Cook the mixture over medium heat until the cranberries have broken down and the mixture has thickened.
Storage Instructions
Since this recipe doesn't call for canning, this cranberry jam is prone to becoming moldy and should be refrigerated or frozen.
Short-term storage: Store the cooled cranberry jam in a covered jar in the refrigerator for up to two weeks.
Long-term storage: Transfer to a plastic container and freeze for up to 6 months. Thaw the cranberry jam in the refrigerator before using.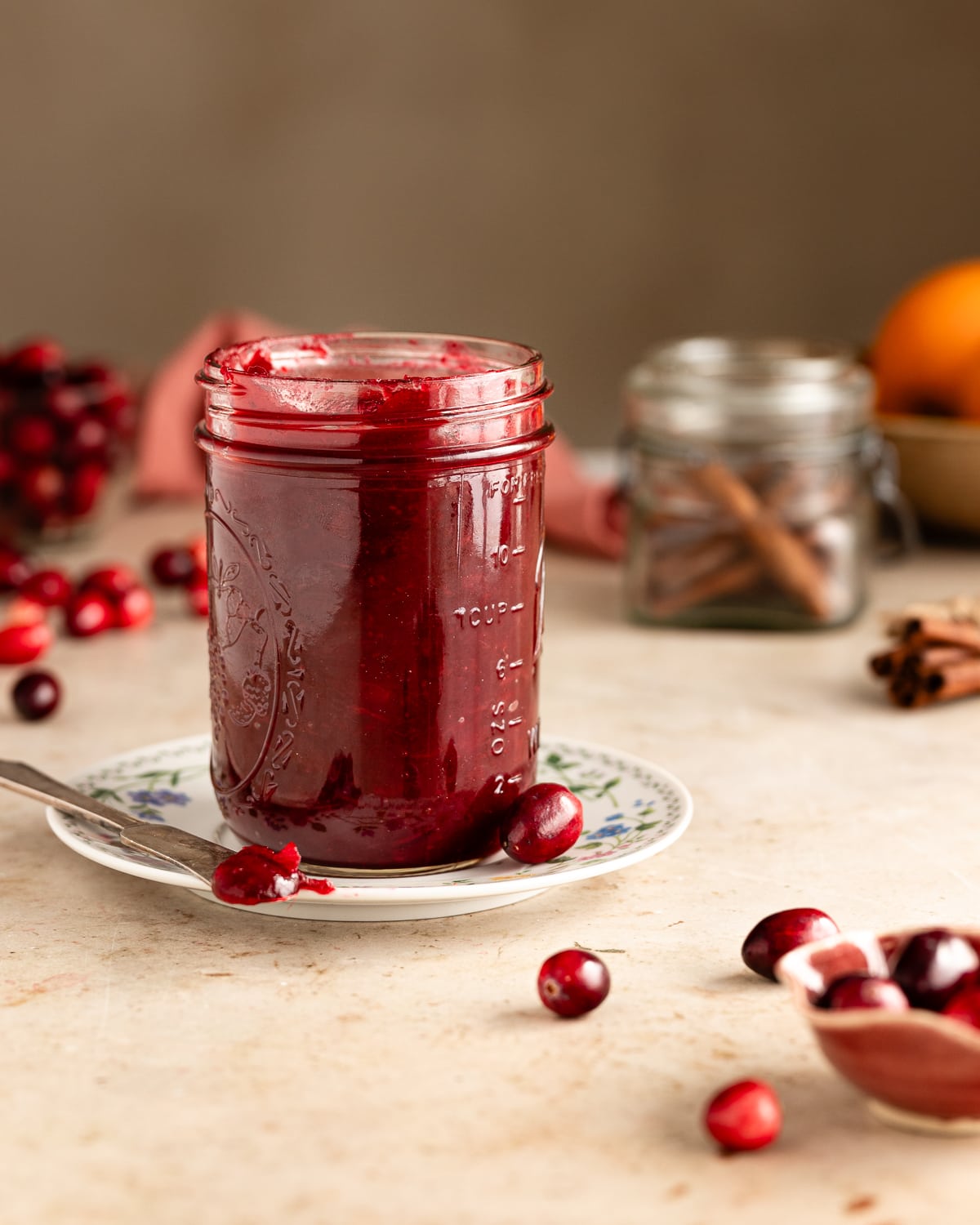 Recipe FAQs
Is cranberry jam the same as cranberry sauce?
No, although they contain the same main ingredient, cranberry sauce and cranberry jam are different. Cranberry sauce is usually not as thick and does not contain as much sugar as cranberry jam. Jam usually has a more spreadable consistency and is eaten with bread or used to fill cookies or tarts. While cranberry sauce is usually served with meat such as turkey or pork.
Is cranberry jam good for you?
Cranberry jam is a source of vitamin C and fiber, but similar to many jams, it comes with a high sugar level. Opting for homemade jam offers a healthier alternative to store-bought varieties, allowing you to regulate the ingredients in order to create a spread that aligns with your dietary preferences.
Do cranberries have natural pectin? 
Absolutely! Cranberries are indeed high in pectin, making them an excellent choice for crafting jam. The natural pectin content in cranberries contributes to the gel-like consistency desired in jams and simplifies the jam-making process, often reducing the need for additional thickeners. 
What to serve with cranberry jam
Did this recipe rise to the occasion?
⭐⭐⭐⭐⭐
We knead your feedback! Did our recipe impress your taste buds? Leave a star rating and write a review to help us create even better recipes.
I read all the comments and love hearing your feedback.
THANK YOU!
Homemade Cranberry Jam Recipe
Make Cranberry Jam at home with frozen or fresh cranberries in less than 30 minutes with only 6 ingredients. The perfect festive spread for sourdough bread or a delicious addition to a charcuterie board.
This section may contain affiliate links
Ingredients
340

grams

cranberries

fresh or frozen

100

grams

cane sugar

42

grams

orange juice

zest of 1 orange

28

grams

water

1

teaspoon

ground cinnamon

3

whole cloves

ground
Instructions
Combine the ingredients: With the heat turned off, combine the ingredients in a small saucepan. Stir the mixture thoroughly until the sugar is dissolved.

340 grams cranberries,

100 grams cane sugar,

42 grams orange juice,

zest of 1 orange,

28 grams water,

1 teaspoon ground cinnamon,

3 whole cloves

Cook the mixture: Over medium heat bring the mixture to a full rolling boil. Turn the heat down and continue cooking at a low boil for 15 to 25 minutes or until thickened or has reduced to about a little over two cups.

Use a heat-proof spatula to scrape the bottom of the pot to prevent the mixture from sticking and scorching.

Enjoy: Take the mixture off the heat, transfer to a jar and allow it to cool for 10 minutes before serving. Enjoy the preserves with sourdough toast, biscuits or scones.

Store: Store the jam in the refrigerator for up to two weeks. Or freeze for up to a year (make sure you leave room in your jar for expansion if you want to go this route).
Tips
These recipes were developed and tested using grams for precise measurements. To increase your chances of success, I recommend investing in a kitchen scale. I've included rough volume estimates (in tablespoons and cups), but they might not be totally accurate.
Remember all ovens are unique, these recipes were tested in my oven which runs cooler than others. You might need to lower the temperature if your bake appears to be browning too quickly. Monitor your bake closely and make adjustments if needed.
Nutrition
Calories:
18
kcal
|
Carbohydrates:
5
g
|
Protein:
0.1
g
|
Fat:
0.03
g
|
Saturated Fat:
0.002
g
|
Polyunsaturated Fat:
0.01
g
|
Monounsaturated Fat:
0.003
g
|
Sodium:
0.4
mg
|
Potassium:
12
mg
|
Fiber:
0.4
g
|
Sugar:
4
g
|
Vitamin A:
9
IU
|
Vitamin C:
2
mg
|
Calcium:
2
mg
|
Iron:
0.04
mg