With its soft, fluffy texture and delicate sweetness, this Sourdough Discard Cornbread will secure a permanent place on your menu for any gathering. A quick and convenient one-bowl recipe, this dish takes less than 40 minutes to prepare, serving as the perfect side dish that can be easily made ahead of time or whipped up at the last minute with a few pantry staples.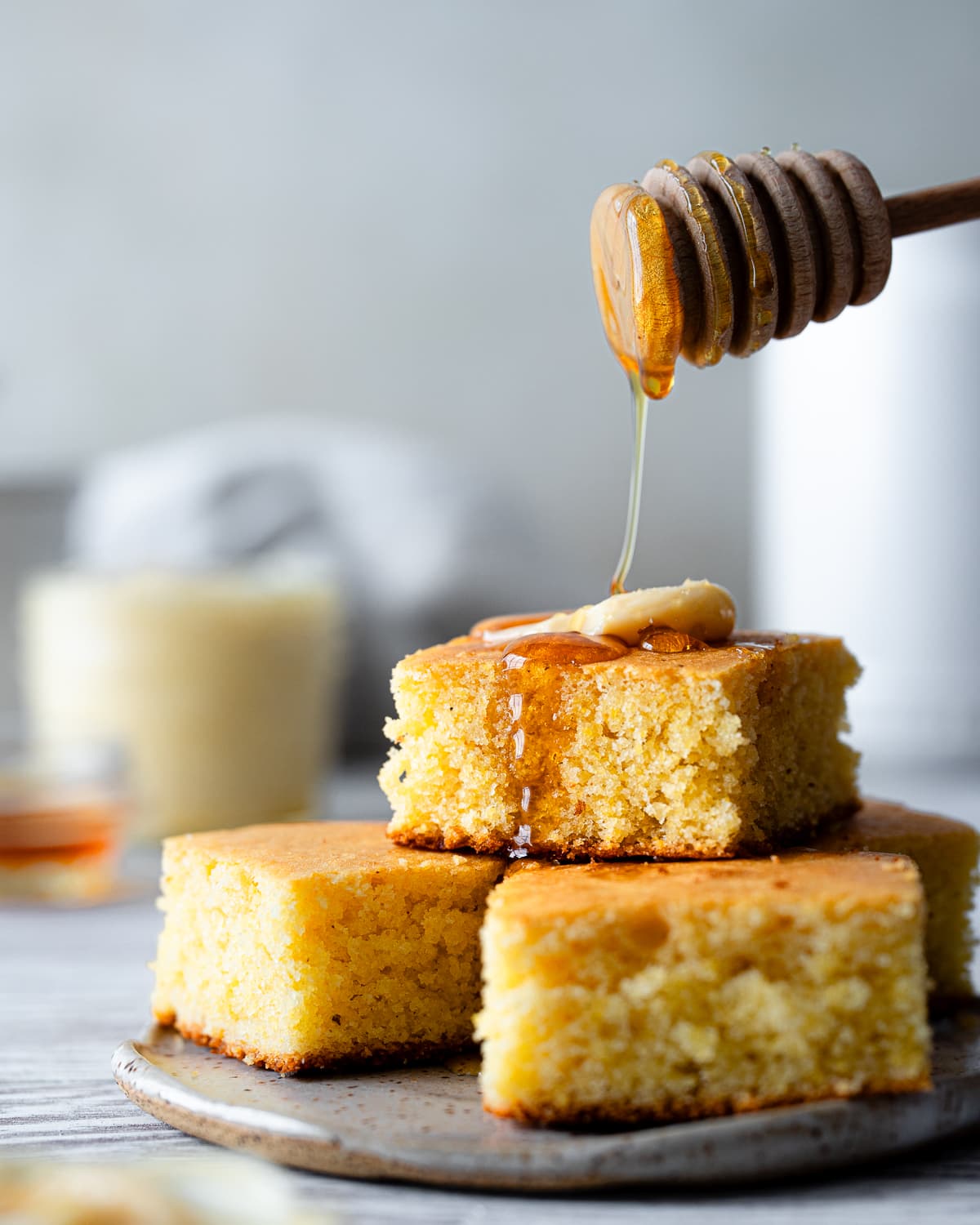 Jump to:
Satisfying my cornbread cravings
There are few things more comforting than fresh hot cornbread. The aroma alone is enough to evoke nostalgia and warmth. It's one of my favorite quick breads, I love the sweet flavor of corn and its unique, fluffy yet slightly gritty texture. The best cornbread I've ever had was from a restaurant called South in my hometown Philadelphia. It's so good, that my friends and I don't dare order it anywhere else, knowing nothing will compare.
Living thousands of miles away from my beloved city (and favorite source of cornbread), nailing this recipe became a bit of a personal challenge. I wanted to capture the combination of moist, buttery goodness, with a hint of sweetness and the satisfying crumbly texture unique to an excellent cornbread. After multiple tests, I finally managed to create a recipe that comes close and I'm thrilled to share it here on the blog.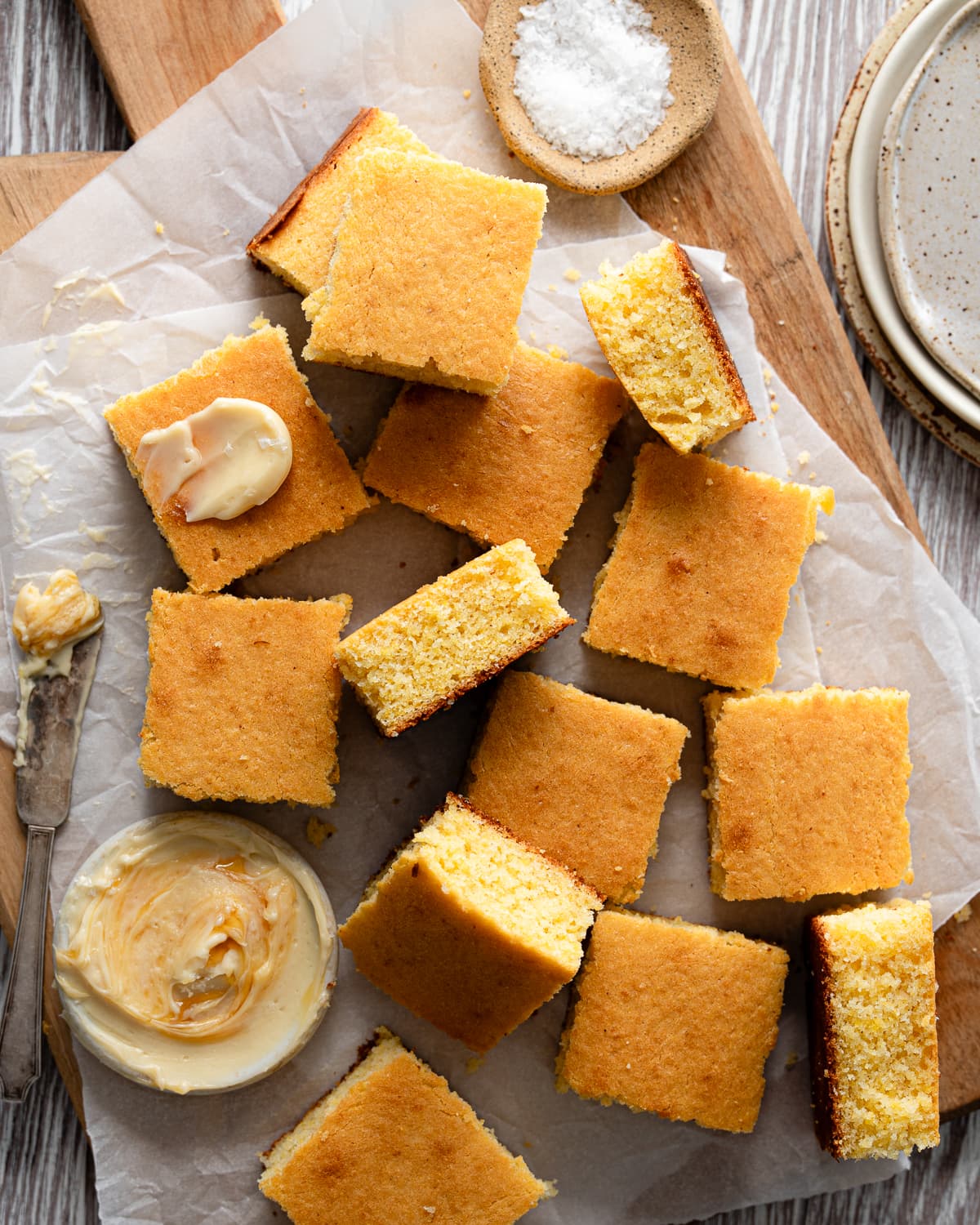 Looking for more sourdough quick bread recipes? Try my Sourdough Scones, Sourdough Discard Biscuits, Sourdough Zucchini Bread and Sourdough Pumpkin Bread.
Why I love this recipe
Simple, one-bowl recipe!
Easy reverse creaming method keeps this cornbread light and fluffy
Sourdough discard adds a delicious tang and keeps cornbread moist for days.
Quick recipe that's ready in less than 40 minutes!
Light and fluffy cornbread that's not excessively crumbly!
What you need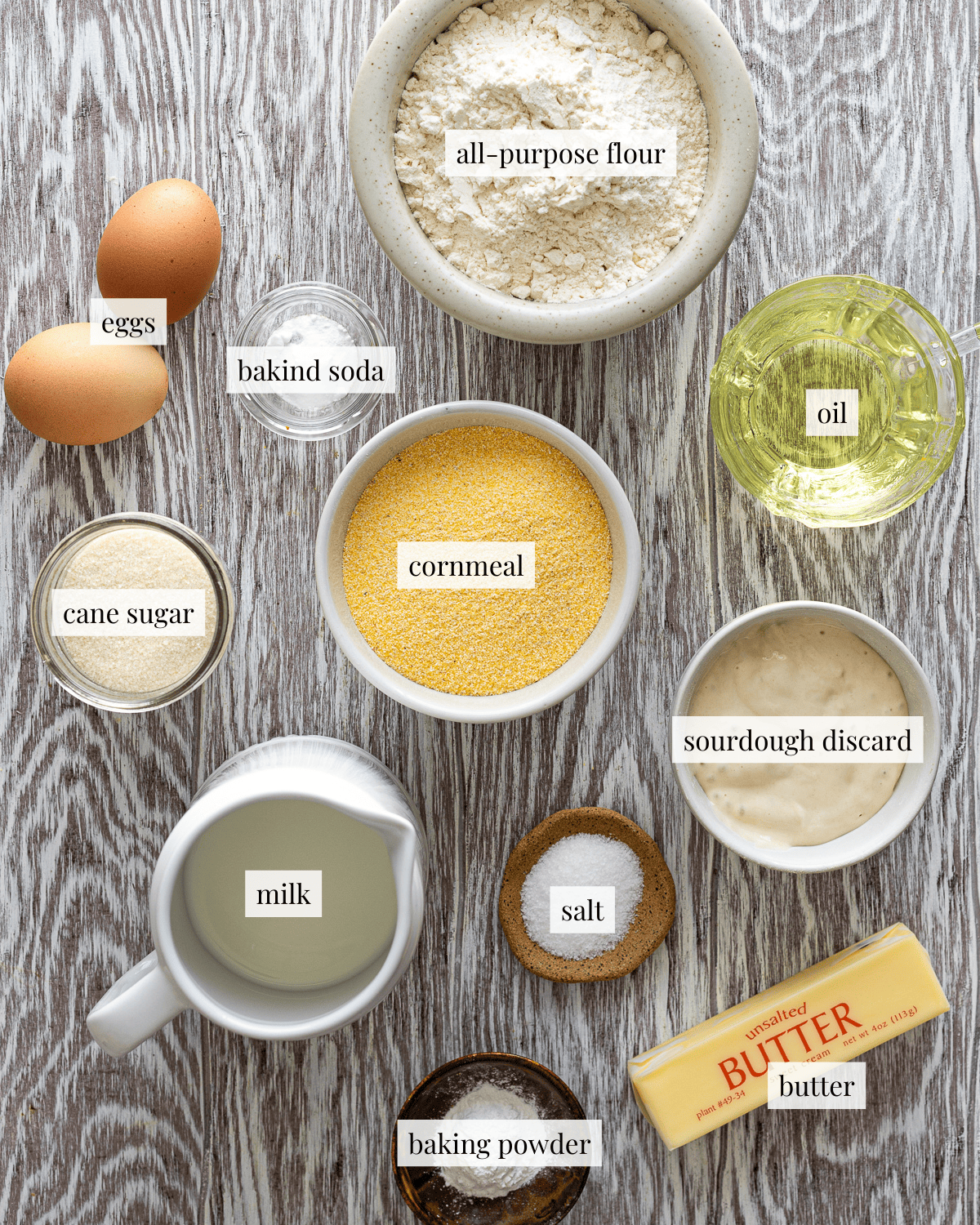 Cornmeal: I used Quaker Yellow Cornmeal to test this recipe since it's widely available. It's classified as a medium-grain cornmeal, you can use any brand as long as it's not too coarse. Do not use coarse cornmeal as it will make your cornbread too crumbly and prone to breaking apart.
Sourdough discard: Use active starter or add 56 grams of water and 56 grams flour if you don't have any sourdough discard.
All-purpose flour: This recipe includes a large amount of all-purpose flour, which keeps this cornbread light and fluffy. Don't try to substitute whole wheat flour (or rye or spelt etc) or your cornbread will become too dry and dense.
Butter and oil: Butter adds flavor while oil keeps the cornbread moist and light. Don't skip either or it will adversely affect the texture and flavor of your sourdough discard cornbread.
Salt: Use kosher salt or sea salt for the best results. Salt grain sizes differ among brands, you may have to adjust measurements if you're using volume measures teaspoons.
See recipe card for complete ingredient information.
Baking with Sourdough Discard
Sourdough discard adds moisture and a great tangy flavor to this cornbread. Since you're not using it as a leavener, your sourdough starter does not need to be activated or fed for it to work in this recipe and you can use it straight from the refrigerator.
Older discard will impart stronger sour flavors than freshly-fed sourdough starter. Both will work for this recipe, you'll get a slightly different flavor profile but your bake will still be delicious!
Looking for more creative ways to use your starter in recipes other than crusty sourdough bread? Check out my list of sourdough recipes that aren't bread.
Variations
My absolutely favorite way to enjoy this cornbread is slathered with homemade honey butter! It feels like you're eating a slice of cake.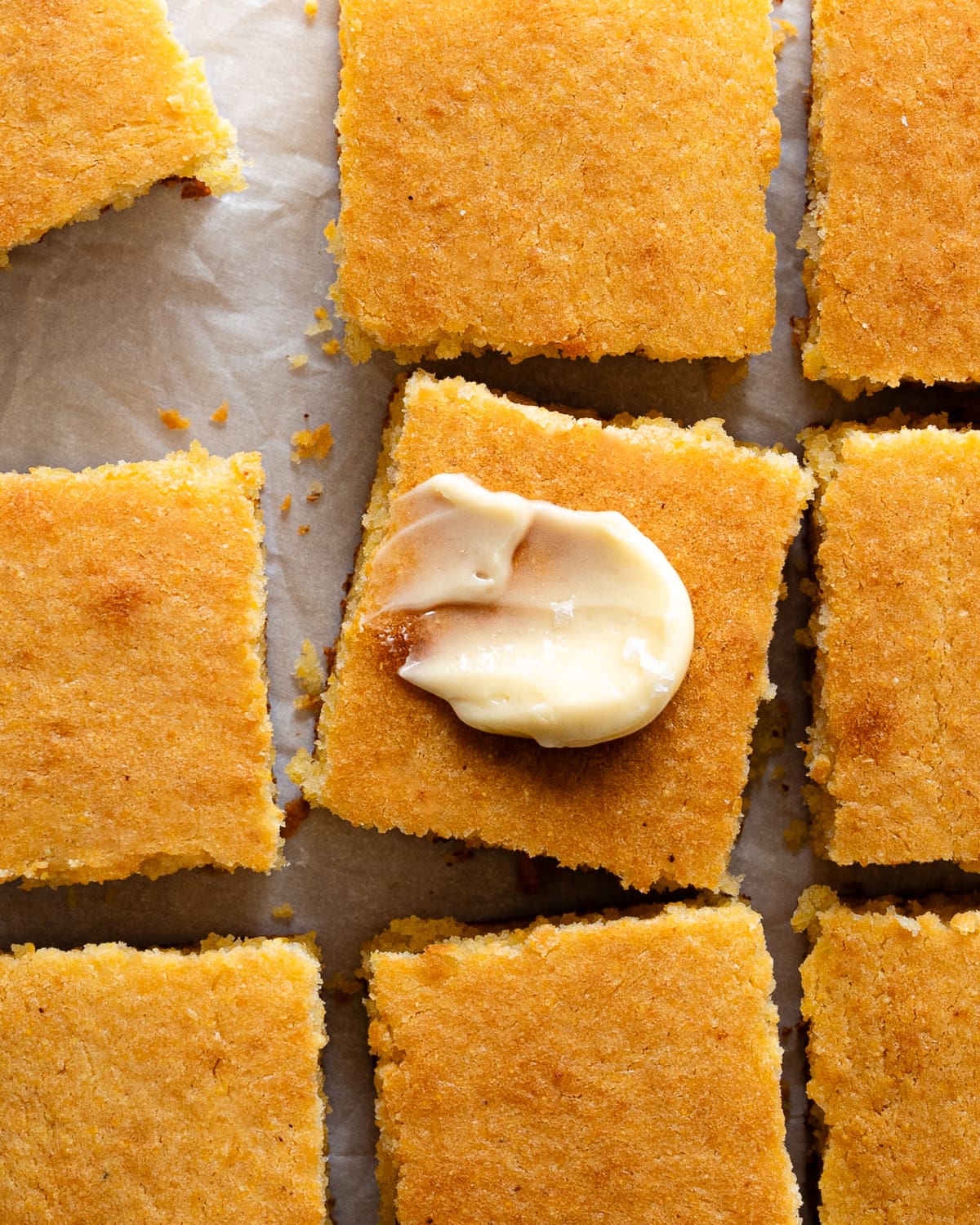 Here are more ways you can spice up your sourdough cornbread recipe:
Add 1 cup of corn kernels
Add 1 chopped jalapeno and ½ cup of shredded cheddar cheese
Add ½ cup of blueberries
Add 2 tablespoons of cooked bacon bits and 1 tablespoon maple syrup
Add 2 finely chopped scallions and ½ cup shredded Colby jack cheese
Add zest from 1 orange and ¼ cup of dried cranberries
Add 2 tablespoons chopped fresh rosemary and ¼ cup of grated parmesan cheese
Step-by-step instructions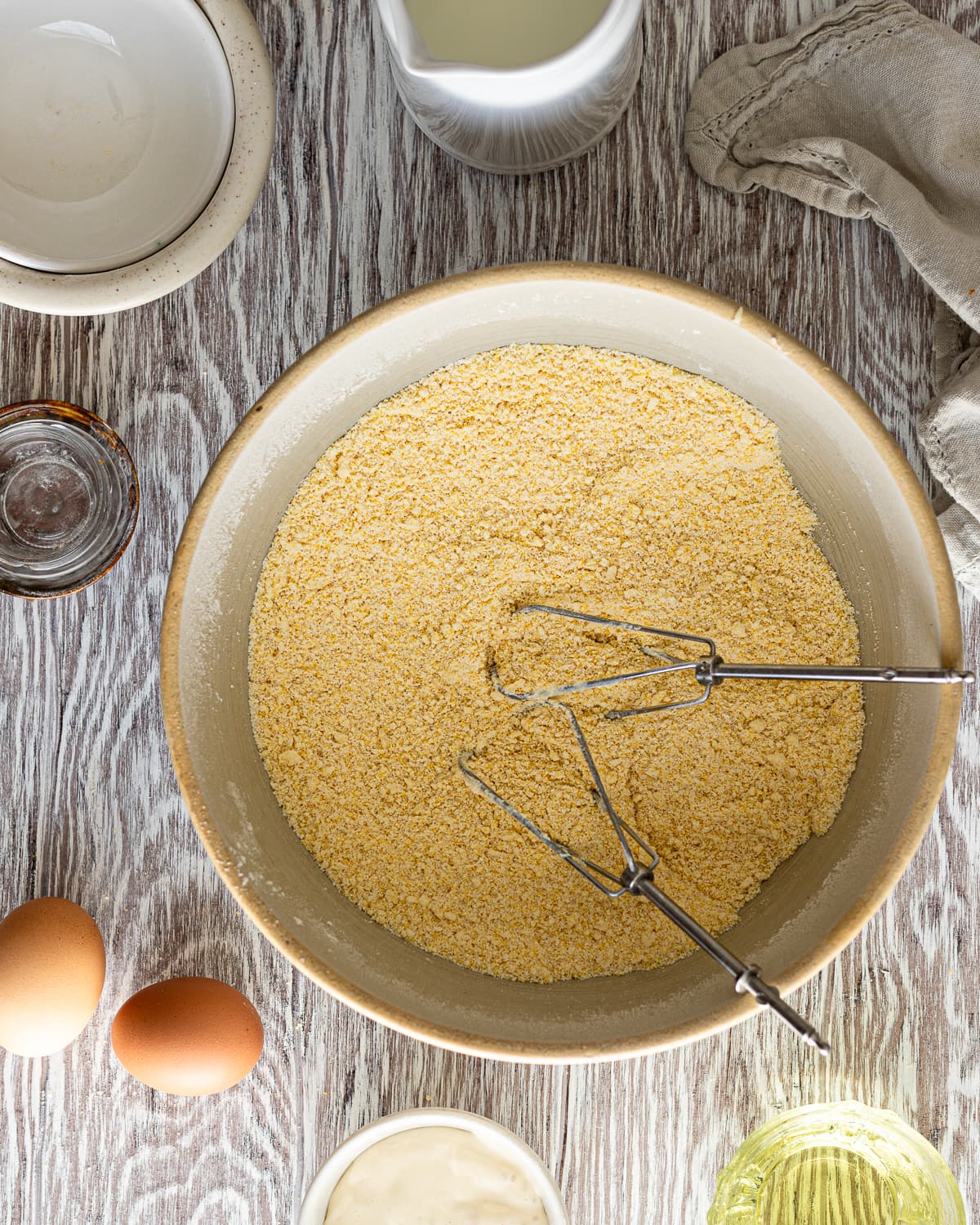 STEP 1: Cream the sugar, flour, cornmeal, baking powder, salt, and butter until the mixture resembles a coarse sand.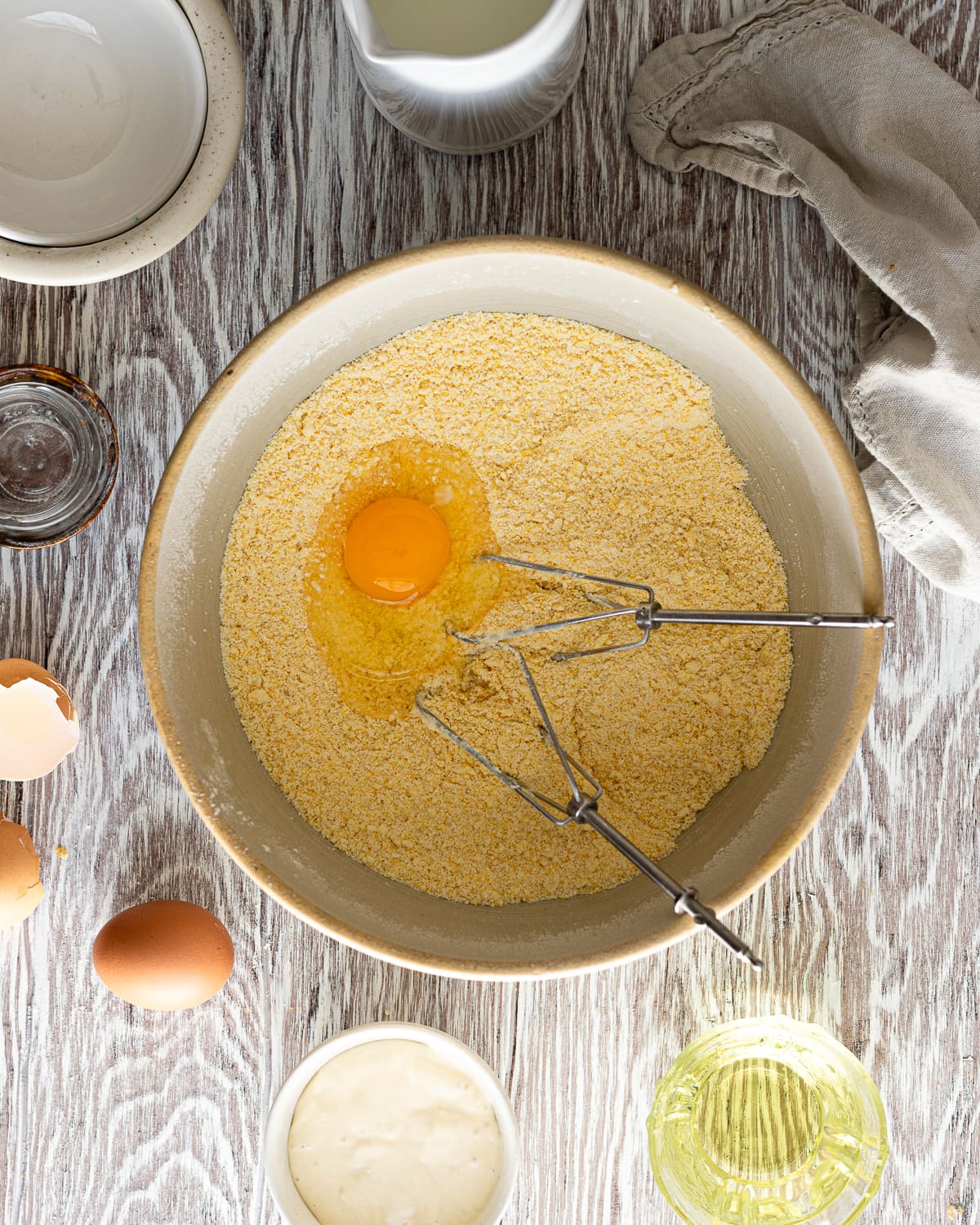 STEP 2: Add the eggs in one at a time
TIP: Make sure your leavening agents (baking soda and baking powder) are fresh before starting this recipe. If you're not sure, simply combine a little bit with drop of vinegar, if the mixture fizzes you're good to go!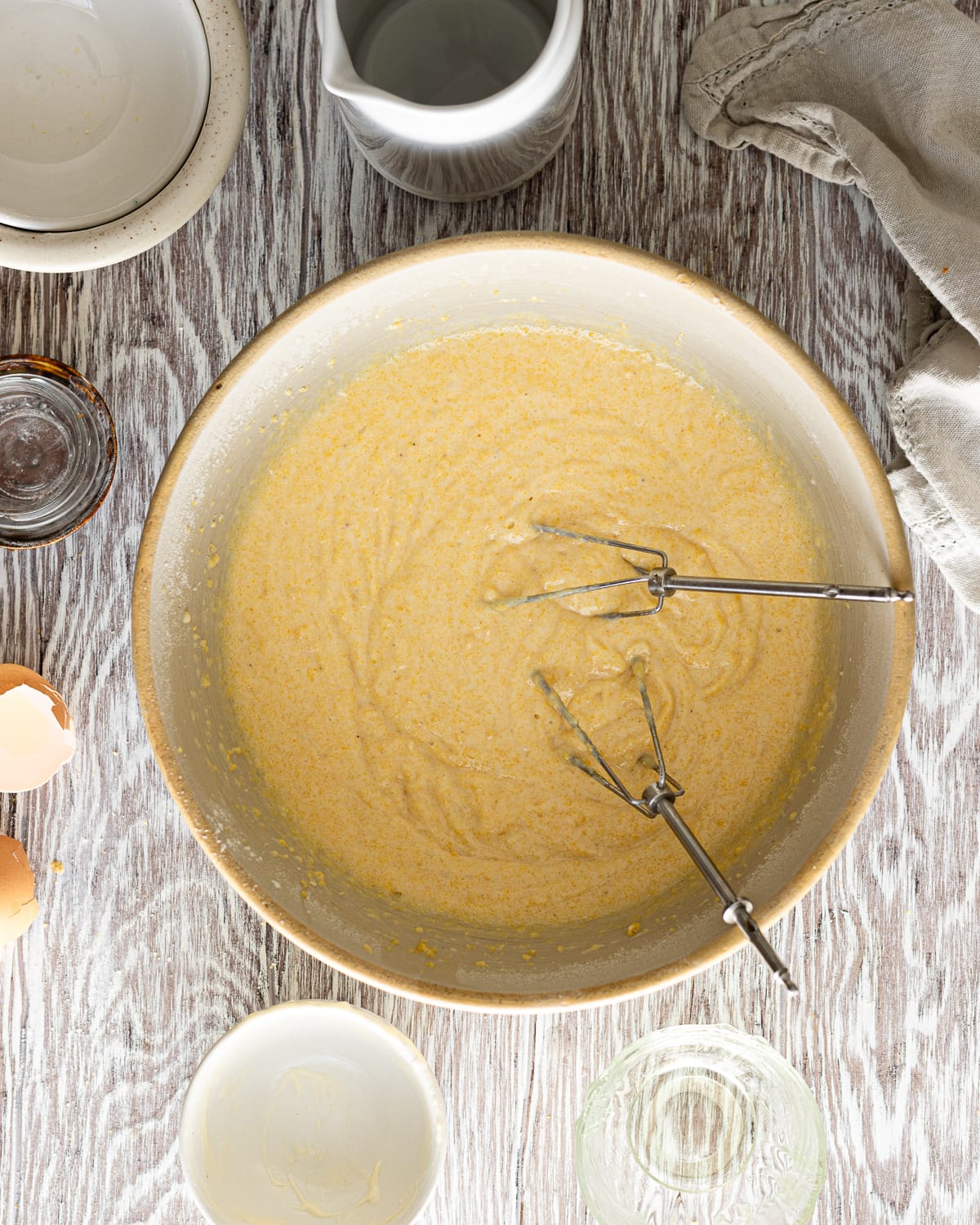 STEP 3: Stir in sourdough discard, oil and milk until fully incorporated.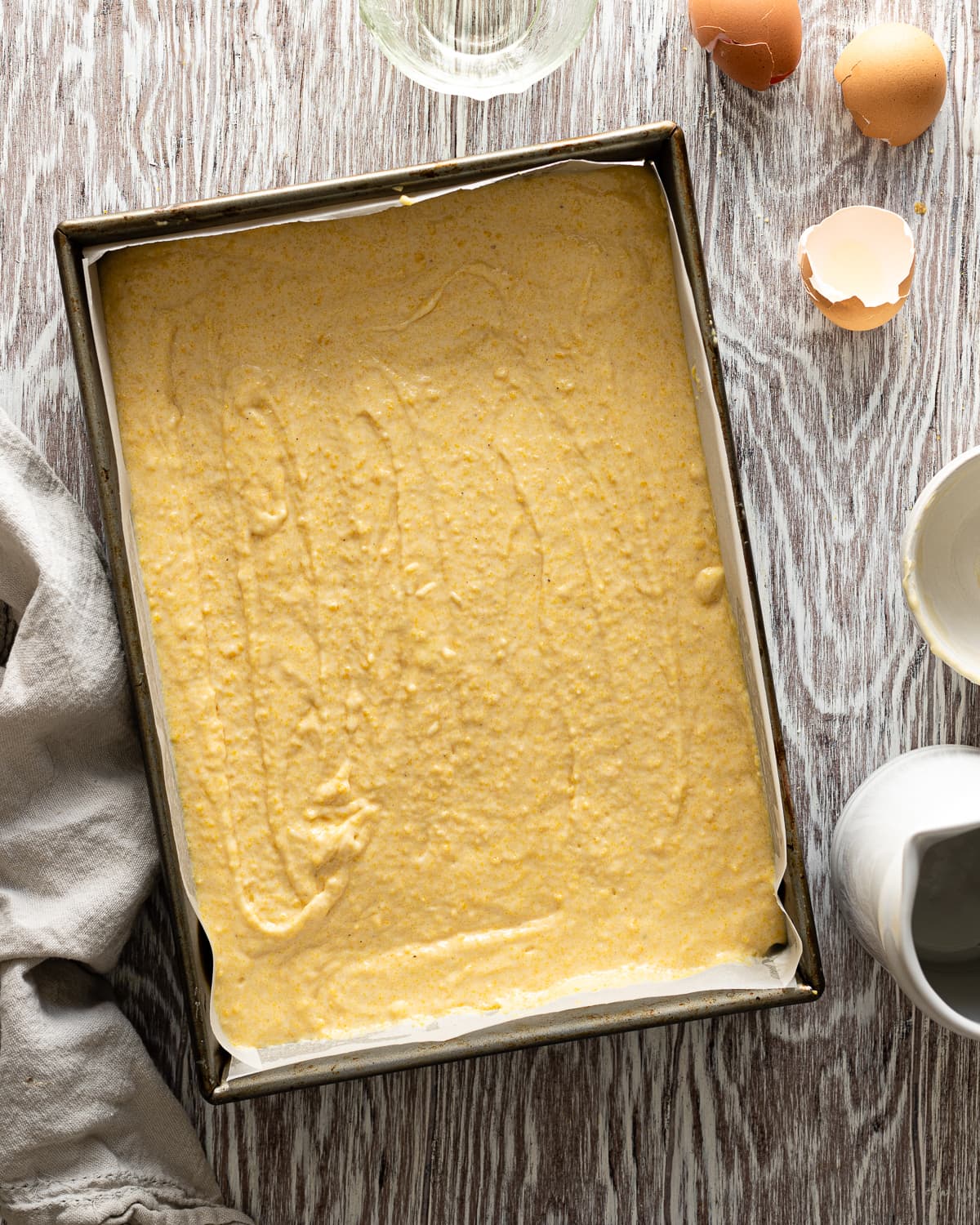 STEP 4: Bake in a baking pan lined with parchment paper at 400 F for 20 to 25 minutes
TIP: You can bake this sourdough cornbread recipe in a 9-by-13-inch glass baking dish or a 12-inch cast-iron skillet, just pay attention to your bake as you may need to adjust your baking time.
If you love corn recipes, try my Sourdough Butter Swim Cornbread or Sourdough Corn Muffins.
Recipe FAQs
What is reverse creaming?
Reverse creaming is a baking technique that involves creaming butter directly into sugar and dry ingredients before adding the wet ingredients. This process prevents excessive gluten development for a delicate, light cornbread texture
Can I use white cornmeal for this recipe?
White cornmeal will work for this recipe, however since it has a more subtle corn flavor than yellow cornmeal, your cornbread may not turn out as flavorful.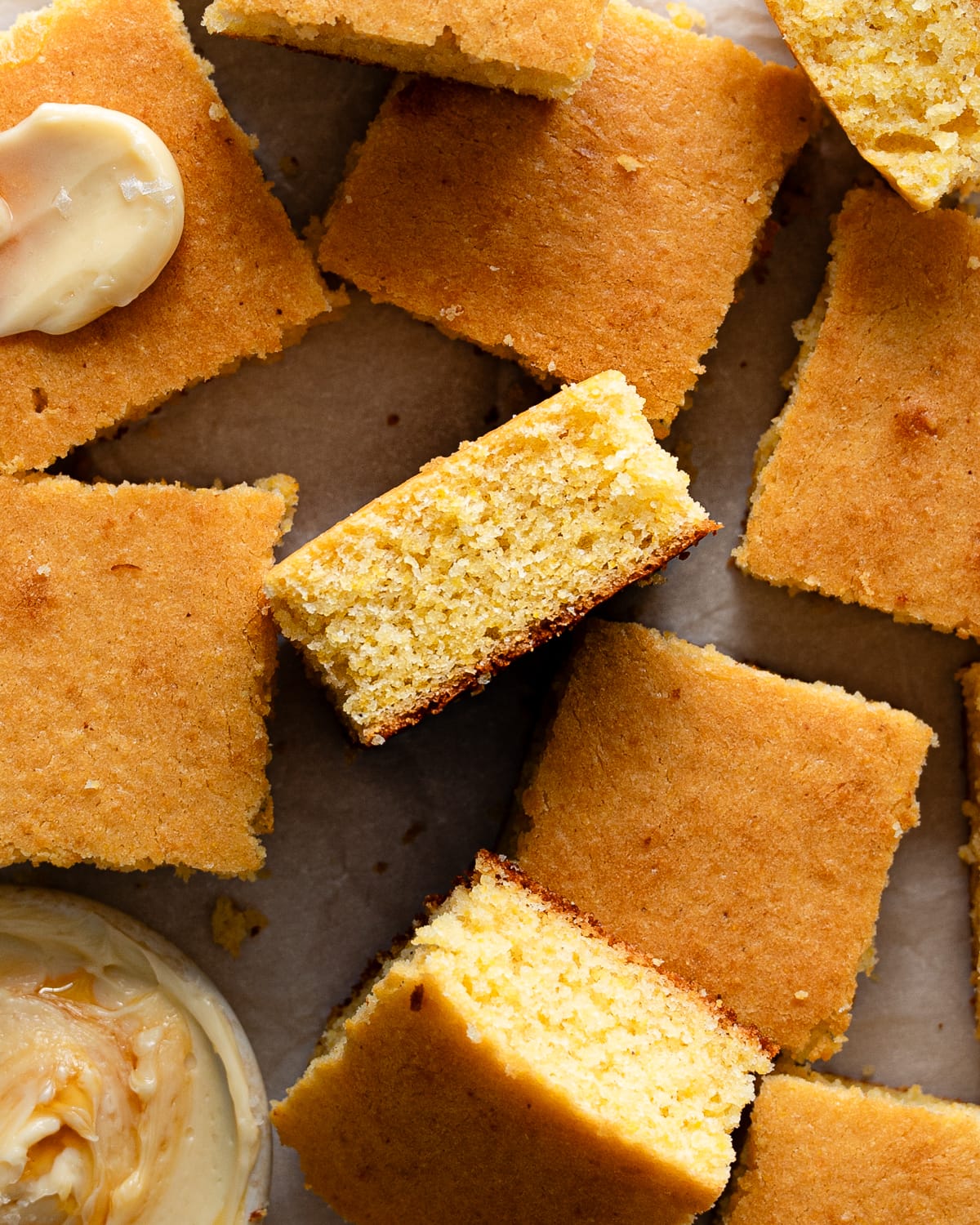 You may also like
Did this recipe rise to the occasion?
⭐⭐⭐⭐⭐
We knead your feedback! Did our recipe impress your taste buds? Leave a star rating and write a review to help us create even better recipes.
I read all the comments and love hearing your feedback.
THANK YOU!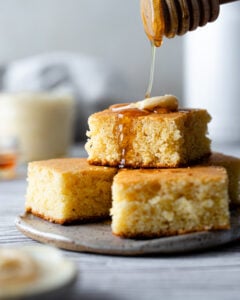 Sourdough Discard Cornbread Recipe
With its soft, fluffy texture and delicate sweetness this moist sourdough cornbread recipe will be the star of your next get-together.
This section may contain affiliate links
Ingredients
240

grams

all-purpose flour

160

grams

yellow cornmeal

¼

teaspoon

baking soda

10

grams

baking powder

6

grams

salt

150

grams

cane sugar

113

grams

unsalted butter

softened

2

eggs

large

113

grams

sourdough discard

282

grams

whole milk

113

grams

cooking oil

neutral-flavored
Instructions
Prep: Preheat the oven to 400 F with the rack in the middle. Line a 9 by 13 inch baking pan with parchment paper. Set aside.

Make the batter: In a large bowl, cream the dry ingredients with the sugar and butter until the mixture resembles wet sand.

240 grams all-purpose flour,

160 grams yellow cornmeal,

¼ teaspoon baking soda,

10 grams baking powder,

6 grams salt,

150 grams cane sugar,

113 grams unsalted butter

Add the eggs into the mixture on at a time waiting until each one is incorporated before adding the next.

Stir in the sourdough discard, milk and oil until the mixture looks smooth.

113 grams cooking oil,

113 grams sourdough discard,

282 grams whole milk

Bake: Pour the batter into the prepared pan. Bake for 20 to 25 minutes or until a toothpick inserted in the center comes out clean and the top is a light golden brown.

Set the pan on a wire rack to cool for 5 minutes before slicing.

Enjoy and store: Slice and serve the cornbread warm with a pat of butter and drizzle of honey. Store leftover cornbread slices in an airtight container at room temperature for up to 3 days.
Tips
These recipes were developed and tested using grams for precise measurements. To increase your chances of success, I recommend investing in a kitchen scale. I've included rough volume estimates (in tablespoons and cups), but they might not be totally accurate.
Remember all ovens are unique, these recipes were tested in my oven which runs cooler than others. You might need to lower the temperature if your bake appears to be browning too quickly. Monitor your bake closely and make adjustments if needed.
Notes
Use any brand of fine or medium-grain cornmeal for this recipe.
Substitute your favorite non-dairy milk of choice.
If you don't have your own sourdough starter, simply add 56 grams of water and 56 grams of flour to the recipe.
You can bake this cornbread in a glass baking dish or 12-inch cast-iron pan.
Both sourdough discard and active sourdough starter will work in this recipe.
Nutrition
Calories:
214
kcal
|
Carbohydrates:
24
g
|
Protein:
3
g
|
Fat:
12
g
|
Saturated Fat:
4
g
|
Polyunsaturated Fat:
2
g
|
Monounsaturated Fat:
5
g
|
Trans Fat:
0.2
g
|
Cholesterol:
30
mg
|
Sodium:
196
mg
|
Potassium:
67
mg
|
Fiber:
1
g
|
Sugar:
8
g
|
Vitamin A:
188
IU
|
Calcium:
53
mg
|
Iron:
1
mg