If you want an intensely rich, fudgy and tender Chocolate Cake made completely from scratch using sourdough discard, then look no further. This Sourdough Discard Chocolate Cake is so decadent, you won't believe how simple it is to make. Topped with a whipped chocolate ganache frosting, this will be your new go-to birthday cake!
Sponsored by Imperial Sugar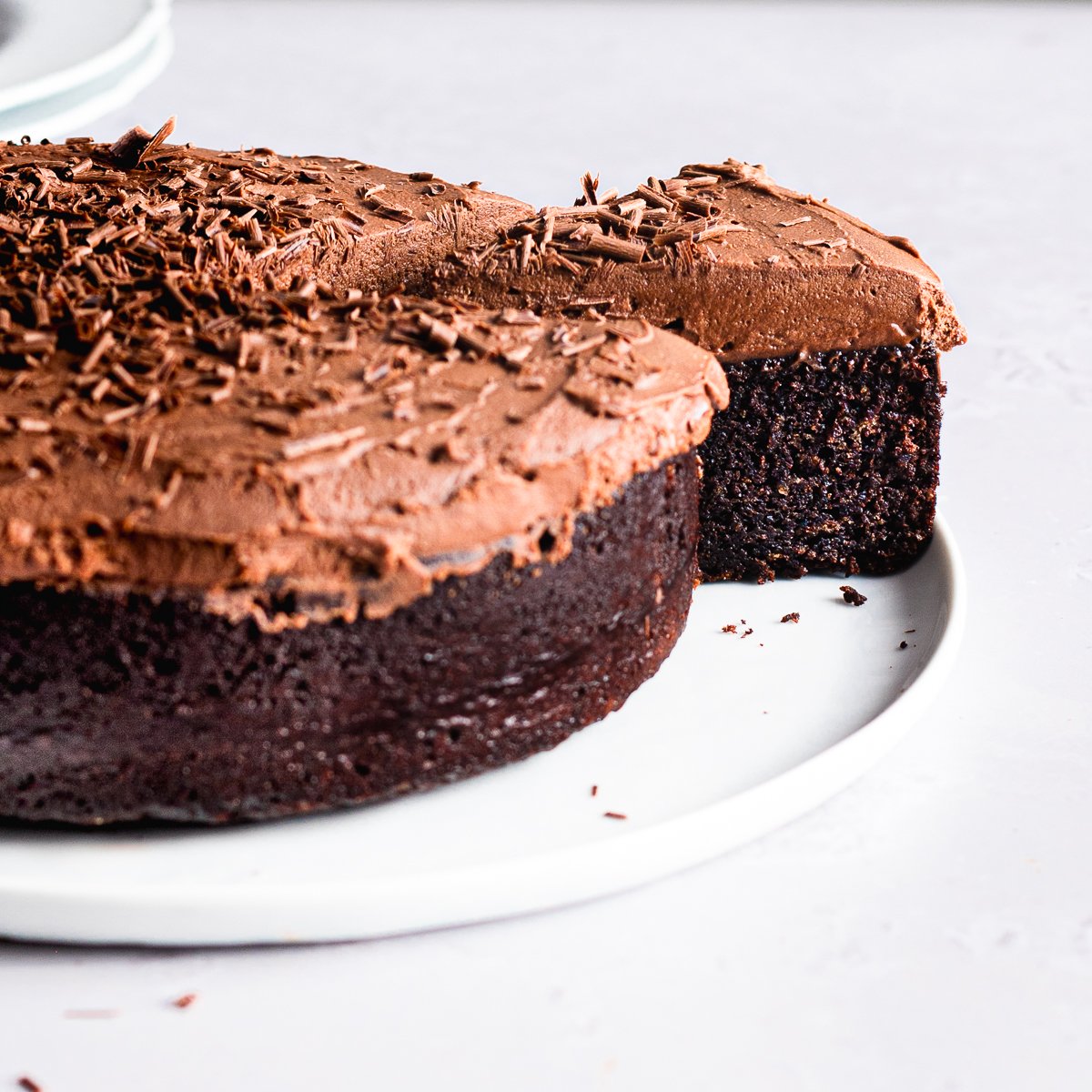 My perfect chocolate cake
This is truly the best cake I've ever made. I had a few requirements for my ideal Chocolate Cake, it had to be rich and decadent with a tender crumb that could hold its structure so I could display it on a cake stand without it breaking apart. While I absolutely love my original Sourdough Chocolate Cake recipe from my book Sourdough Every Day, the crumb is so tender it has to be sliced and served inside a baking pan.
This recipe went through a few iterations because I couldn't decide if I wanted something dense and fudgy or something that was a little more spongy, I was making a cake after all not a brownie. So I knew that people still expected something with a looser crumb. After a few trials, I finally landed on this recipe and I don't think I'll make another chocolate cake ever again.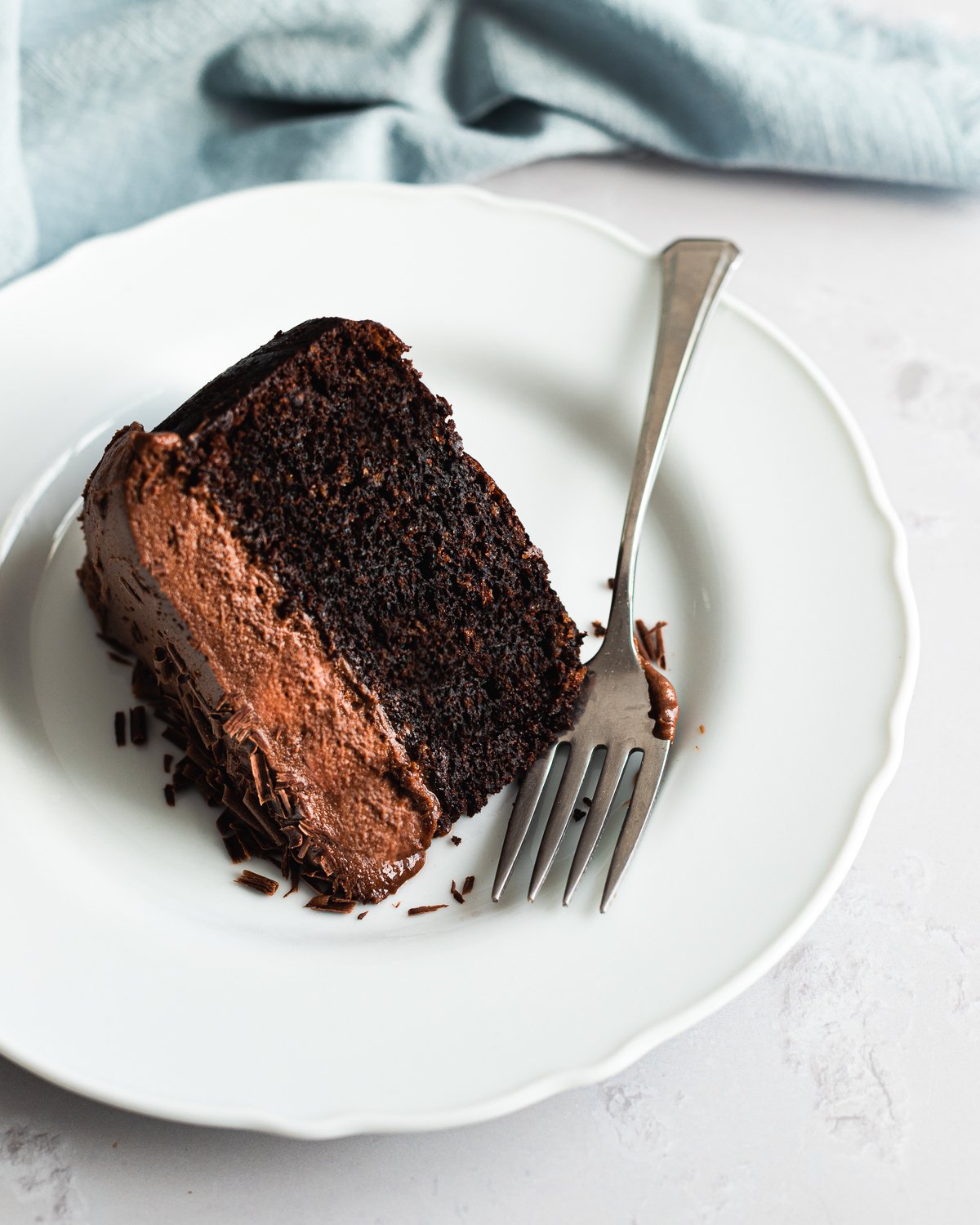 Recipe Box Series
This Sourdough Chocolate Cake recipe is the sixth in my Recipe Box Series with Imperial Sugar. Each month, I'll be releasing recipes for classic bakes made with a sourdough twist! You can look forward to comforting classics like Sourdough Fudge Brownies, Apple Pie with Sourdough Crust, Sourdough Pumpkin Bundt Cake and Sourdough Monkey Bread.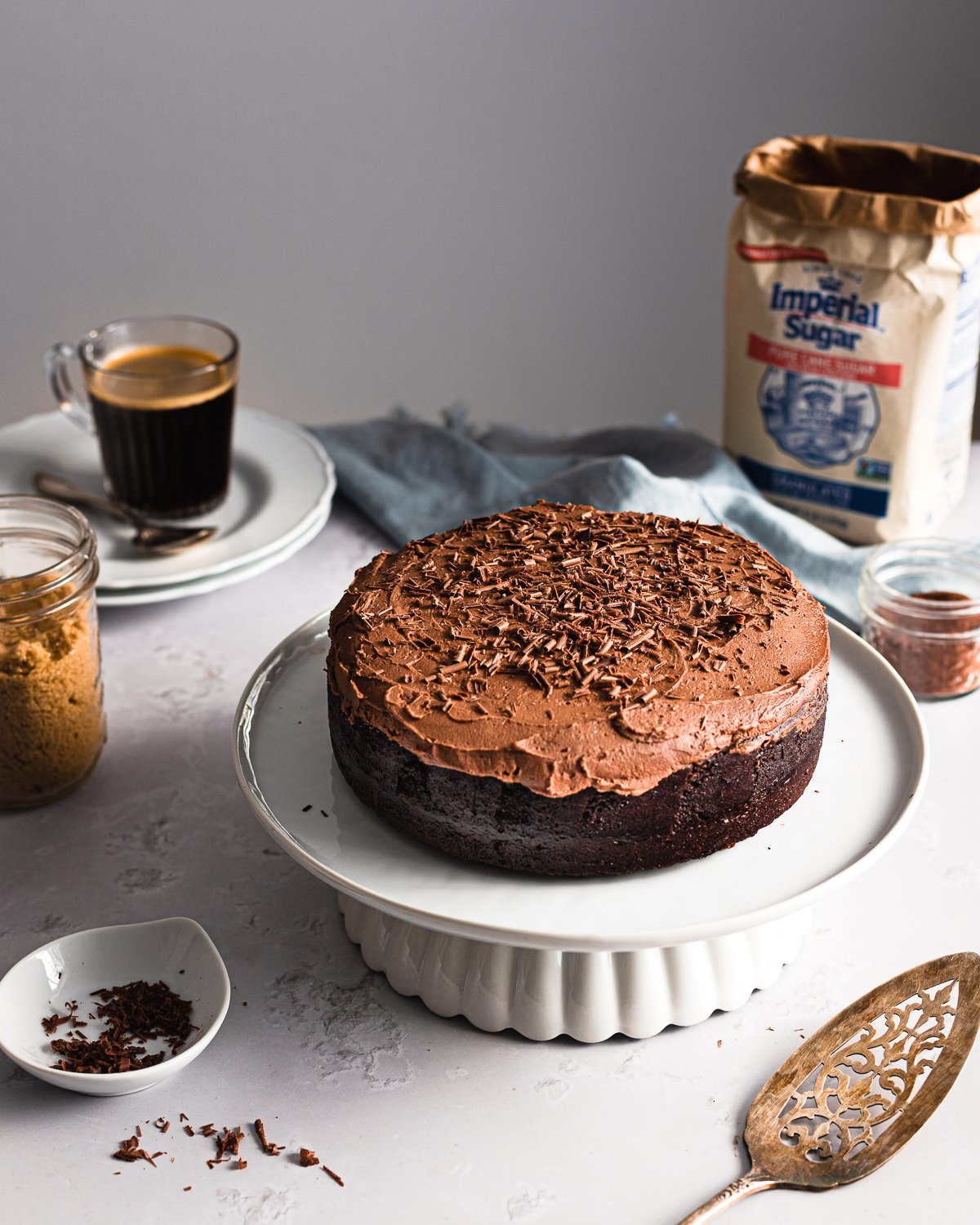 Sugar is such a vital part of every dessert, it imparts flavor, texture, moisture, and without it, it would be impossible to make our favorite bakes. I use a combination of Imperial Sugar Extra Fine Granulated Sugar and Imperial Sugar Light Brown Sugar in this cake. The granulated sugar gives the cake structure and lightness, while brown sugar adds moisture and rich molasses flavor. If you don't have brown sugar on hand, feel free to use all granulated sugar (but your cake will be missing some flavor and texture). I would not recommend skipping the granulated sugar for this bake or your cake may turn out too dense and gummy.
I'm so grateful to Imperial Sugar for making the Recipe Box Series possible and so proud to be partnering with a company with such a long tradition of producing such high-quality products. Imperial Sugar products are 100% pure cane sugar, non-GMO and provide consistently delicious results.
Baking with Sourdough Discard
Sourdough discard adds a great tangy flavor to this Sourdough Chocolate Cake. That little bit of acidity cuts through the rich decadence of this cake. You can bake with your discard directly from the fridge. Since you are not using it to make bread, your sourdough starter does not need to be activated or fed for it to work in this sourdough cake recipe. Your discard will affect the flavor of this cake. If you're using sourdough that's been in the fridge for weeks it will add more acidity to your cake, which you won't get when using a freshly fed starter. Both will work for this recipe but you'll get different results.
Quality Matters
To achieve the perfect texture I used a mixture of cocoa powder and melted chocolate in my batter. Cocoa powder bloomed in coffee imparts a really intense chocolate flavor, while using melted chocolate in the batter gave my cake the dense texture I was looking for. Chocolate can really weigh down a cake so you end up with something that's more like a brownie, but adding a good amount of liquid to my recipe ensured that I still ended up with the spongy crumb that I know people love in a chocolate cake.
Your chocolate cake will only be as good as the chocolate you use so always go for the highest quality you can find. I made my Sourdough Chocolate Cake batter using Dutch Processed Cocoa and dark baking chocolate (don't use chocolate chips as manufacturers use a chemical that makes it harder for them to melt). I've had great results with 60% Chocolate (Semisweet) or 70% Chocolate (Bittersweet). I've found that dark chocolate works better in the batter, while the frosting turns out better when using milk chocolate (45% Chocolate).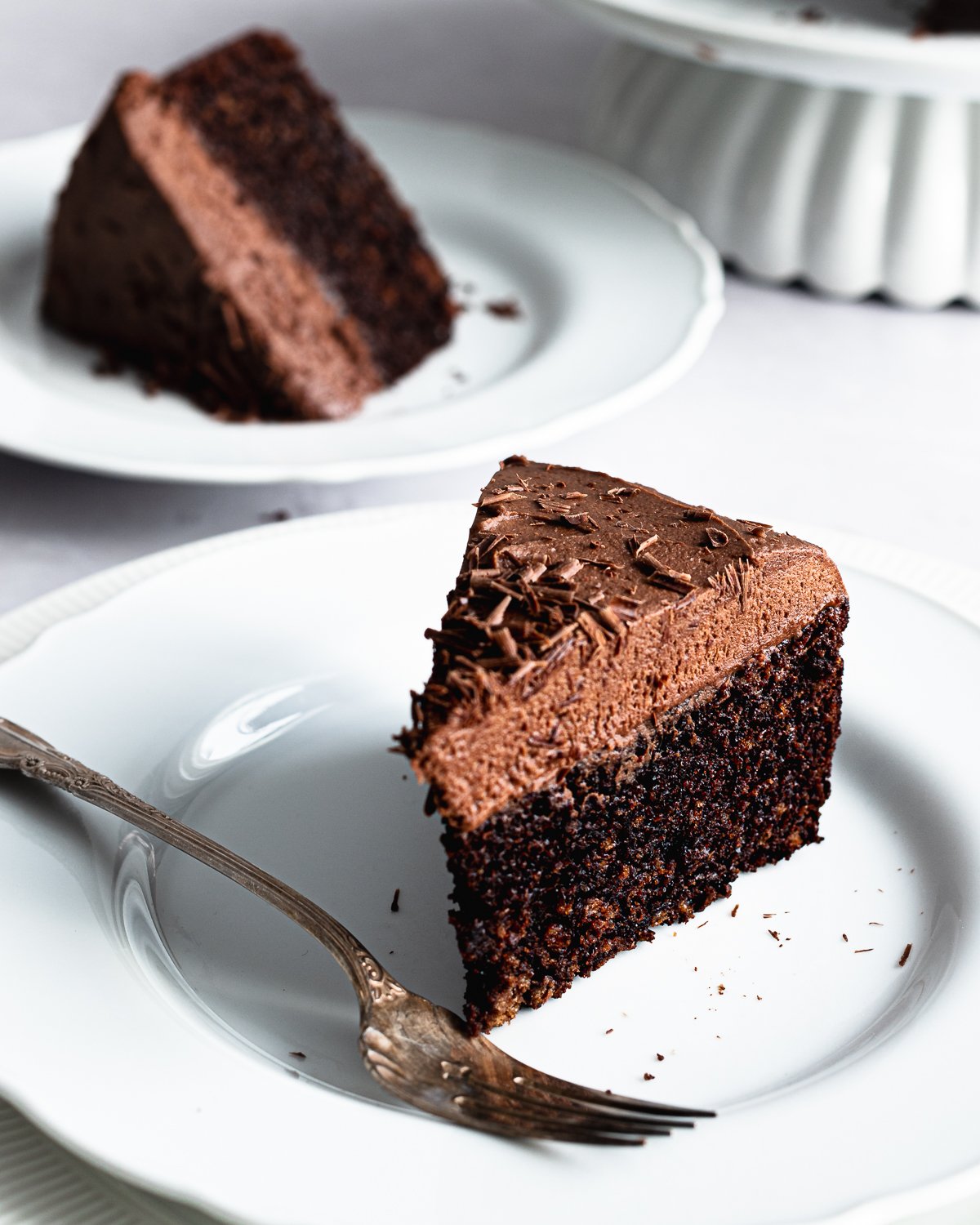 Coffee and Chocolate
Coffee intensifies the flavor of chocolate, if you don't like the taste of coffee, rest assured it will not overpower your cake but will compliment it. If you refuse to use it, you can try using black tea instead, or just opt for boiling water.
This recipe calls for blooming your cocoa powder in coffee to bring out its flavor. If your coffee mixture cools down too much before you add it to the rest of your batter, make sure you heat it up! Finishing this recipe off with the hot liquid of your choice helps emulsify the ingredients, leading to a silkier batter and a more velvety crumb.
What You Need
Cake Batter Ingredients
Cocoa powder and semi-sweet chocolate: Use high-quality chocolate for the best results. This recipe uses Dutch-processed cocoa powder, which is alkalized, don't use natural cocoa powder which is more acidic or it will change the texture of your cake.
Hot coffee and vanilla extract: Compliment and help bring out the flavor of chocolate
Butter, eggs and vegetable oil: These add fat to the cake which tenderizes the crumb, resulting in a tender, fluffy cake
Milk: I used whole milk for this recipe, but feel free to substitute your favorite plant-based milk
Sourdough discard: Adds a delicious tang and extra moisture to this chocolate cake, you can use your discard directly from the fridge for this recipe
Imperial Sugar Extra Fine Granulated Sugar and Imperial Sugar Dark Brown Sugar: White sugar adds structure and sweetness while brown sugar adds a nice molasses flavor and added moisture to the cake
All-purpose flour: Don't substitute another type of flour for this recipe
Baking powder and baking soda: Make sure your leaveners are fresh, this recipe was developed using a combination of these two leaveners, they contribute both to the taste and texture of this cake, do not leave either of these out
Salt: I used Morton's Kosher salt for this recipe, double the amount in volume if you're using Diamond Crystal Salt instead (gram measures should be the same)
Whipped Ganache Frosting Ingredients
I topped my cake with a whipped ganache but you can choose to top your cake with any topping you'd like! You can also skip whipping altogether and just top your cake with ganache.
Milk chocolate: Makes for a sweeter frosting that's not as bitter, feel free to substitute dark chocolate
Cream: Imparts creaminess to the frosting
Sour cream: Adds a little bit of tang to balance the richness of this frosting
Powdered sugar: Feel free to adjust the amount of powdered sugar depending on your desired level of sweetness
Salt: A little pinch brings out the flavor of the rest of the ingredients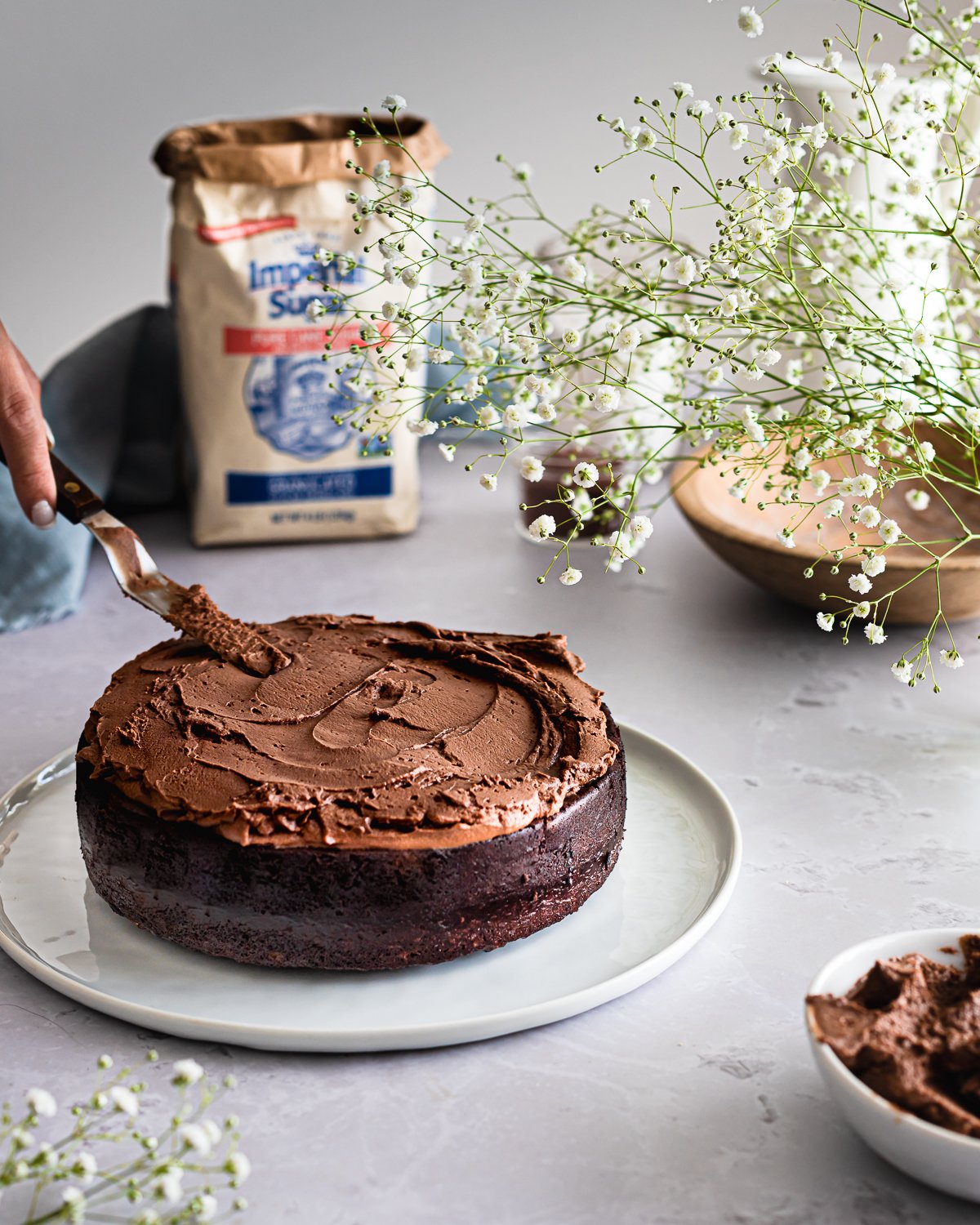 Step-by-step Instructions
Bloom cocoa powder in espresso
Melt the butter and chocolate together
Make the batter
Bake at 350 F for 40 to 45 minutes
Make the ganache
Let the cake cool completely and frost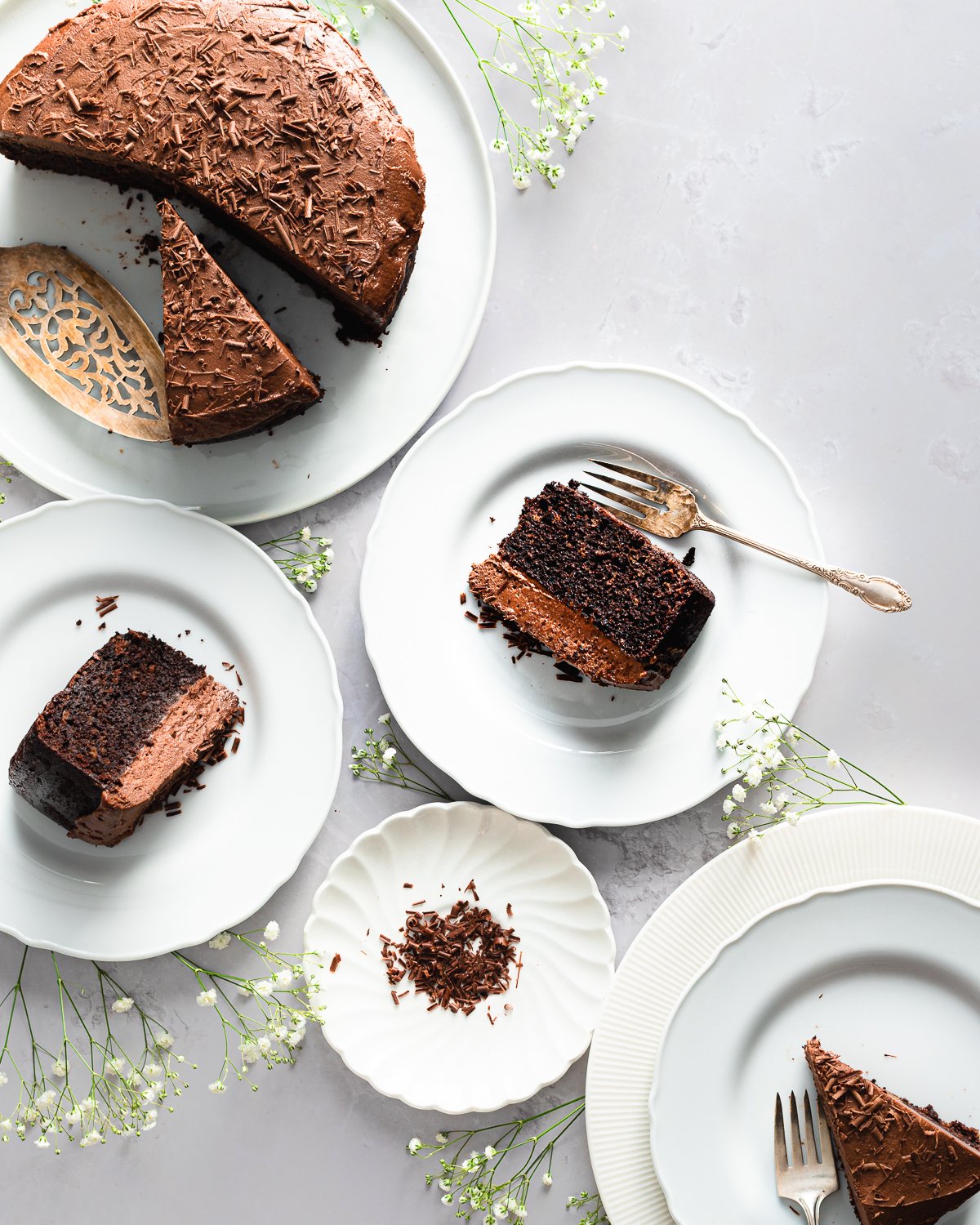 Make ahead instructions
This cake is so moist it freezes beautifully and can be made well ahead of time. To freeze, let the cake cool completely on a wire rack before wrapping it in plastic wrap. It can be frozen for up to a month. Once ready to use, leave the wrapped cake at room temperature until completely defrosted.
You may also like:
---
Sourdough Discard Chocolate Cake
If you want an intensely rich, fudgy and tender Chocolate Cake made completely from scratch using sourdough discard, then look no further. This Sourdough Chocolate Cake is so decadent, you won't believe how simple it is to make.
Ingredients
Cake batter
40

g

cocoa powder

113

g

brewed coffee

56

g

unsalted butter

113

g

semi-sweet chocolate

chopped

2

eggs

large

75

g

whole milk

8

g

vanilla extract

75

g

sourdough discard

200

g

Imperial Sugar Extra Fine Granulated Sugar

50

g

Imperial Sugar Light Brown Sugar

56

g

vegetable oil

90

g

all-purpose flour

4

g

baking powder

2

g

baking soda

4

g

salt
Frosting
226

g

milk chocolate

chopped

226

g

heavy cream

28

g

sour cream

30

g

Imperial Sugar Powdered Sugar
Instructions
Prep: Preheat oven to 350 F/177 C. Grease one 8-inch round cake pan with cooking spray or butter. Line the bottom of the pan with a piece of parchment paper, grease the parchment to prevent it from getting stuck to the cake and dust the pan with cocoa powder.

Bloom cocoa: Pour hot coffee over cocoa powder. Set aside.

Melt butter and chocolate: Melt butter in a small saucepan over low heat, add chopped chocolate and stir constantly until fully melted. Remove from heat and move to a large heat-proof mixing bowl.

Make batter: Stir in sourdough discard, milk, sugars, oil and vanilla into the butter mixture. Beat eggs in one at a time. Sift flour, baking powder, baking soda and salt into the rest of the ingredients. Fold in the flour mixture. Pour the hot coffee and cocoa powder mixture into the batter (reheat the mixture if it has cooled down). Stir until just combined, do not over mix or your cake may turn out tough and rubbery.

Bake: Pour the batter into the prepared cake pan. Tap the pan against your kitchen counter to pop air bubbles in the batter. Bake the cake for 40 to 45 minutes or until a toothpick inserted in the center of the cake comes out with only a few crumbs. Let the cake cool in the pan for 5 minutes, run an offset spatula around the edges of the cake before turning it out onto a cooling rack. Let the cake cool for at least 1 hour before frosting.

Make the ganache: While your cake bakes, set a large heat-proof bowl over a small saucepan with an inch of simmering water. Heat heavy cream and chopped milk chocolate in the mixing bowl stirring occasionally until the chocolate is melted. Remove from heat and cover the ganache with plastic wrap (the plastic wrap should make contact with the ganache to prevent it from forming a skin). Allow the ganache to cool completely before proceeding.

Make frosting: Fold the sour cream and powdered sugar into the cooled ganache. Using an electric mixer with a whisk attachment, whip the mixture until fluffy and appears lighter in color, about 2 to 3 minutes (don't over whip or your frosting will seize and become grainy).

Assemble the cake: Spread a generous layer of frosting on top of the cake, frost the sides or leave bare for a more rustic look. Sprinkle chocolate shavings or cocoa powder on top.

Enjoy and store: Serve the cake immediately after frosting. Store any leftover slices in an airtight container in the refrigerator. The cake will become deliciously dense and fudgy as it cools. If you want to restore the cake's spongy texture, let it come to room temperature before enjoying.
Notes
This cake can also be baked in a 9-inch round cake pan, it will be thinner and will require less baking time, begin checking the cake at 30 minutes
Fold the sourdough discard thoroughly into the batter until fully incorporated or you may end up with rubbery spots in your cake
Don't be tempted to open the oven door too soon or your cake will sink and may end up dense
When in doubt, always use the weight measures over volume measures
Nutrition
Calories:
440
kcal
|
Carbohydrates:
50
g
|
Protein:
5
g
|
Fat:
27
g
|
Saturated Fat:
14
g
|
Polyunsaturated Fat:
4
g
|
Monounsaturated Fat:
8
g
|
Trans Fat:
0.2
g
|
Cholesterol:
61
mg
|
Sodium:
236
mg
|
Potassium:
220
mg
|
Fiber:
3
g
|
Sugar:
37
g
|
Vitamin A:
462
IU
|
Vitamin C:
0.1
mg
|
Calcium:
67
mg
|
Iron:
2
mg
Did you make this recipe?
I'd love to know! Rate this recipe and leave a comment below. Share a photo and tag @makeitdough on Instagram