These Apple Sourdough Discard Muffins are a delicious addition to my collection of sourdough muffin recipes. With lots of tender cinnamon apples throughout the plush crumb and a crunchy brown sugar streusel crowning the tall muffin tops it's guaranteed to be a household favorite. The best part? These muffins are ready in less than 1 hour.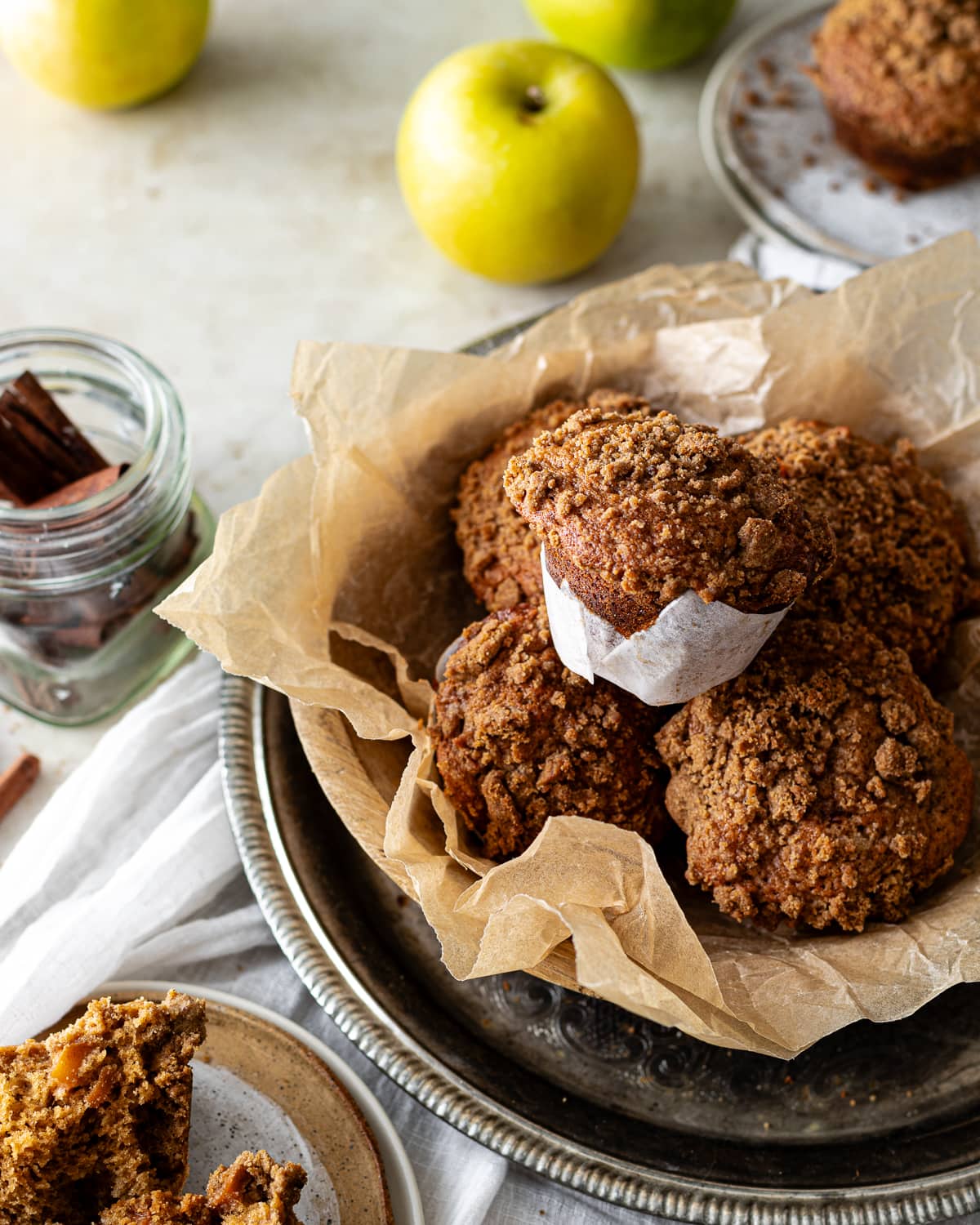 I've been obsessed with sourdough muffins ever since publishing my recipe for Sourdough Discard Blueberry Muffins. That was the first time I mastered the art of soft, tender muffins with tall bakery-style tops. If you've seen my recipes for Sourdough Chocolate Muffins, Soft Sourdough Corn Muffins, Sourdough Banana Muffins and Sourdough Pumpkin Muffins, you can probably tell that I've been hooked ever since. 
Apples and cinnamon are a match made in fall heaven. As temperatures begin to dip, I find myself craving this classic combination. Hence adding these Apple Sourdough Muffins to my catalog of sourdough discard recipes was a no-brainer. These apple muffins would make for the perfect centerpiece at a Thanksgiving or holiday brunch. However, thanks to the year-round availability of apples, you can indulge in these delightful treats any time you wish.
Jump to:
Baking with Sourdough Discard
Sourdough discard adds a delicious tang that balances the sweetness of muffins. It has a transformative effect, adding complexity and depth that enhances the flavor of this bake. Furthermore, sourdough's unique moisture-retaining qualities ensure that these muffins maintain their tenderness and freshness for days.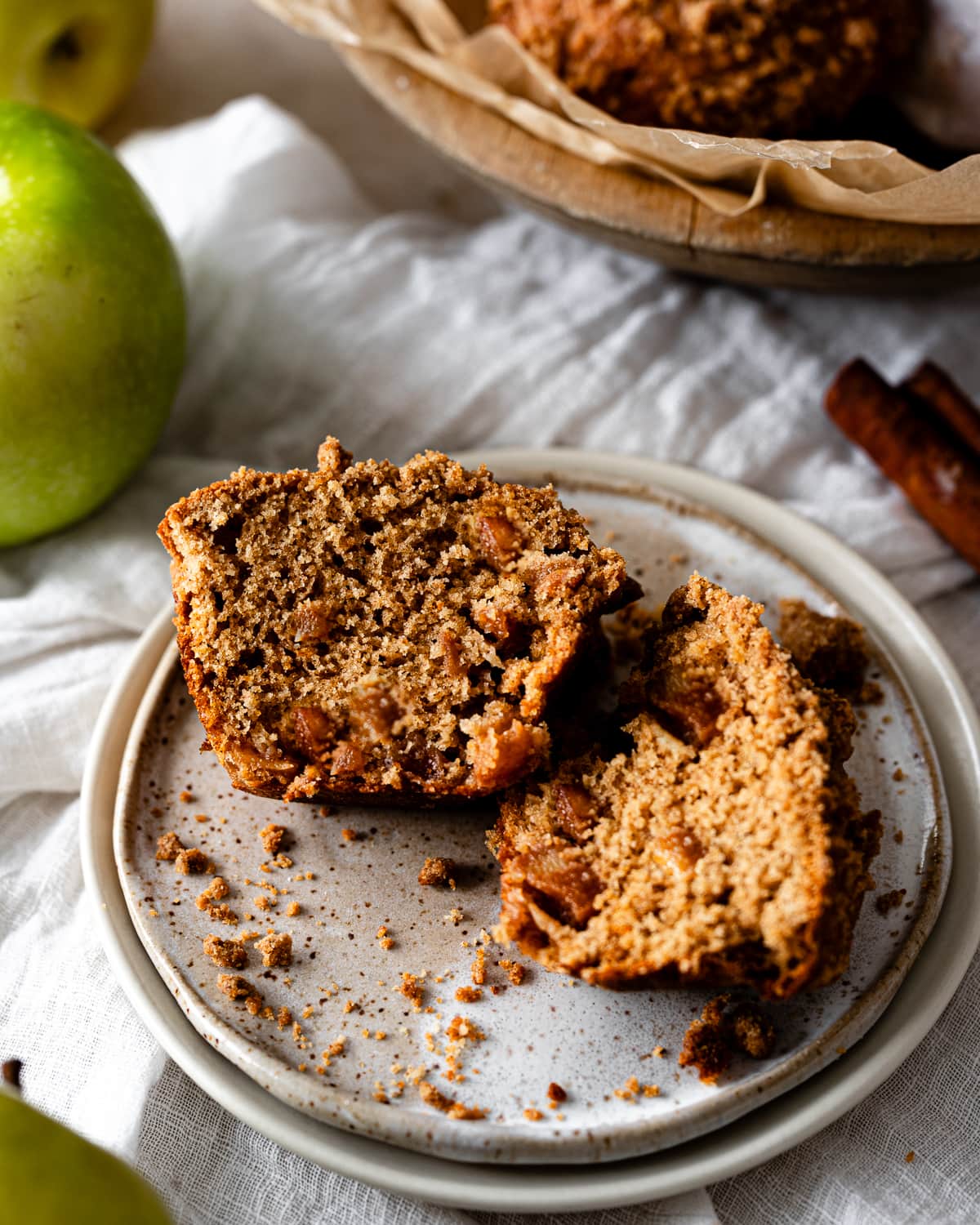 Since muffins use baking soda and baking powder as the leavener, you can use your discard directly from the refrigerator. It doesn't need to be fed or activated to work in this recipe.
Why I love this recipe
No special equipment is needed, you can mix the batter by hand.
Crunchy brown sugar streusel crowns tall muffin tops.
Tender and plush crumb with lots of juicy apples.
Sourdough adds a tangy flavor and moisture that keeps muffins tasting fresh.
Uses simple ingredients that you already have in your pantry!
What you need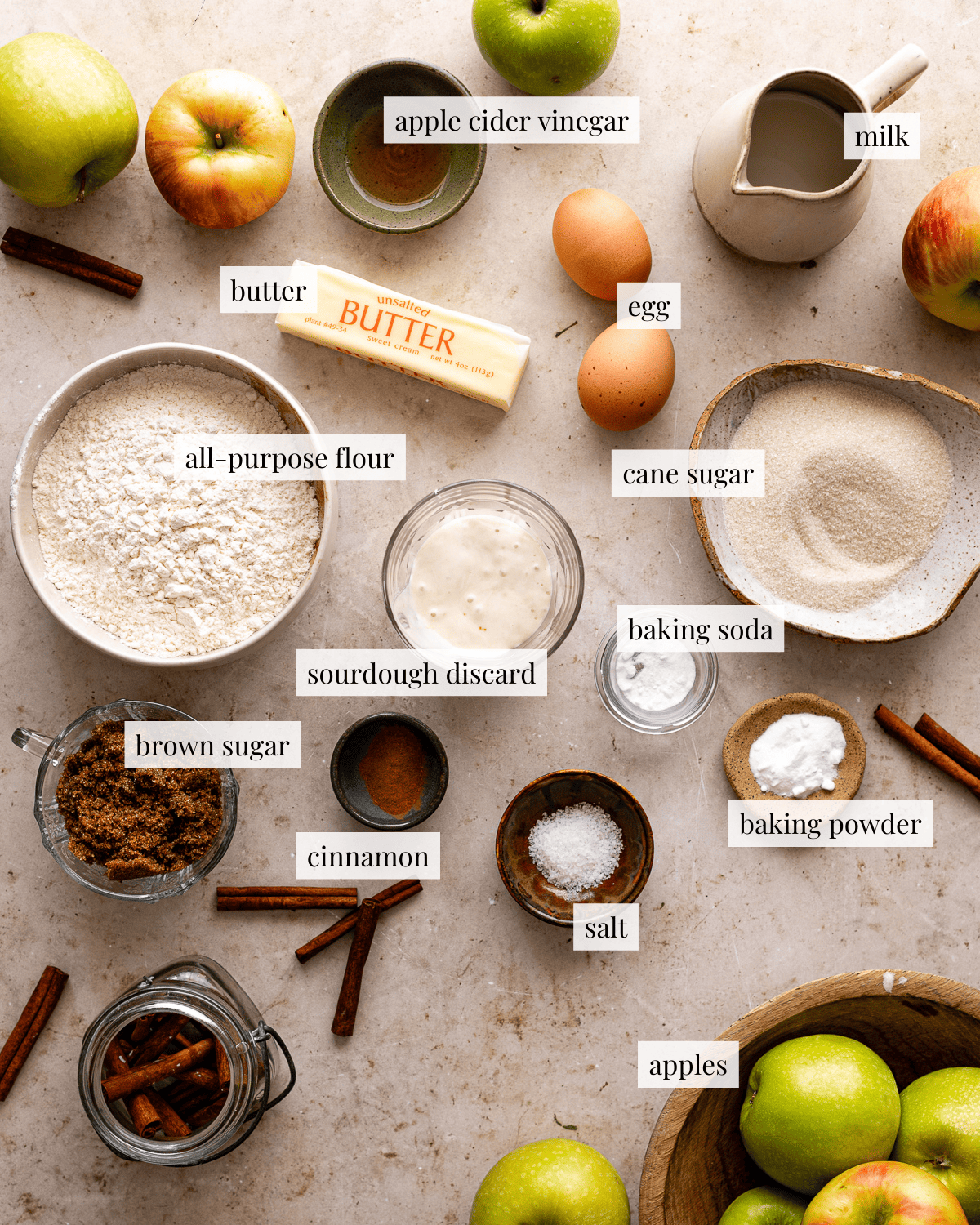 Apples: I used Granny Smith apples to develop this recipe. They make for a great baking apple that stay crisp and don't become mushy as they bake. I also use this variety in my Sourdough Apple Pie and Sourdough Sweet Potato Apple Coffee Cake. Honeycrisp or Golden Delicious apples are also great options!
Sourdough discard: You can use your sourdough discard directly from the fridge for this recipe. If you don't have any on hand, add 56 grams of flour and 56 grams of water to your batter.
All-purpose flour: The low protein content keeps the crumb light and velvety. Avoid bread flour or whole wheat flour for this recipe, as it may result in dense and gummy muffins.
Salt: For the best results, use kosher salt or sea salt. I recommend measuring by weight using a kitchen scale rather than relying on volume measurements like teaspoons or tablespoons due to variations in salt grain sizes among brands.
Apple cider vinegar: Reacts with baking soda to encourage these muffins to rise higher, resulting in a lighter, airier crumb. Substitute white vinegar or lemon juice.
See the recipe card for full ingredient list.
Step-by-step Instructions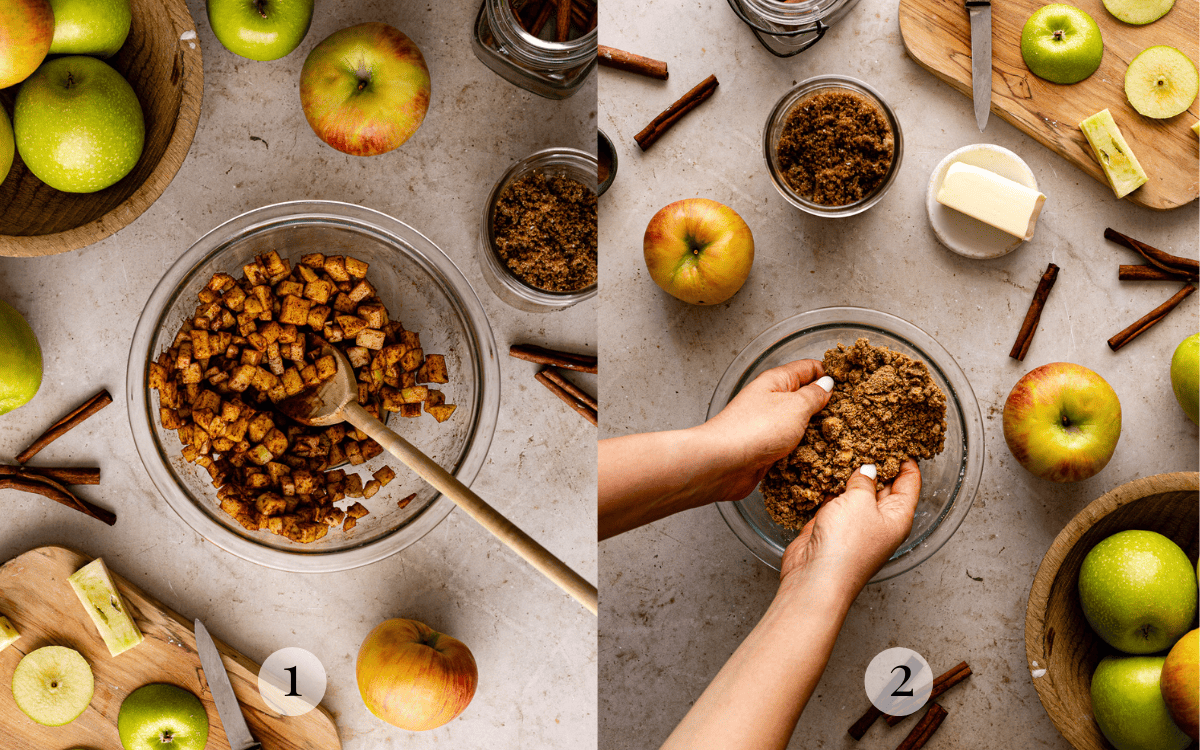 STEP 1 Prep the filling and topping: Toss the diced apples, brown sugar and cinnamon (image 1). Mix the streusel ingredients until the mixture clumps together (image 2)
TIP: Tossing the apples in sugar will draw out excess juice from the fruit. This means this moisture won't be released while your muffins bake which will prevent them from becoming gummy.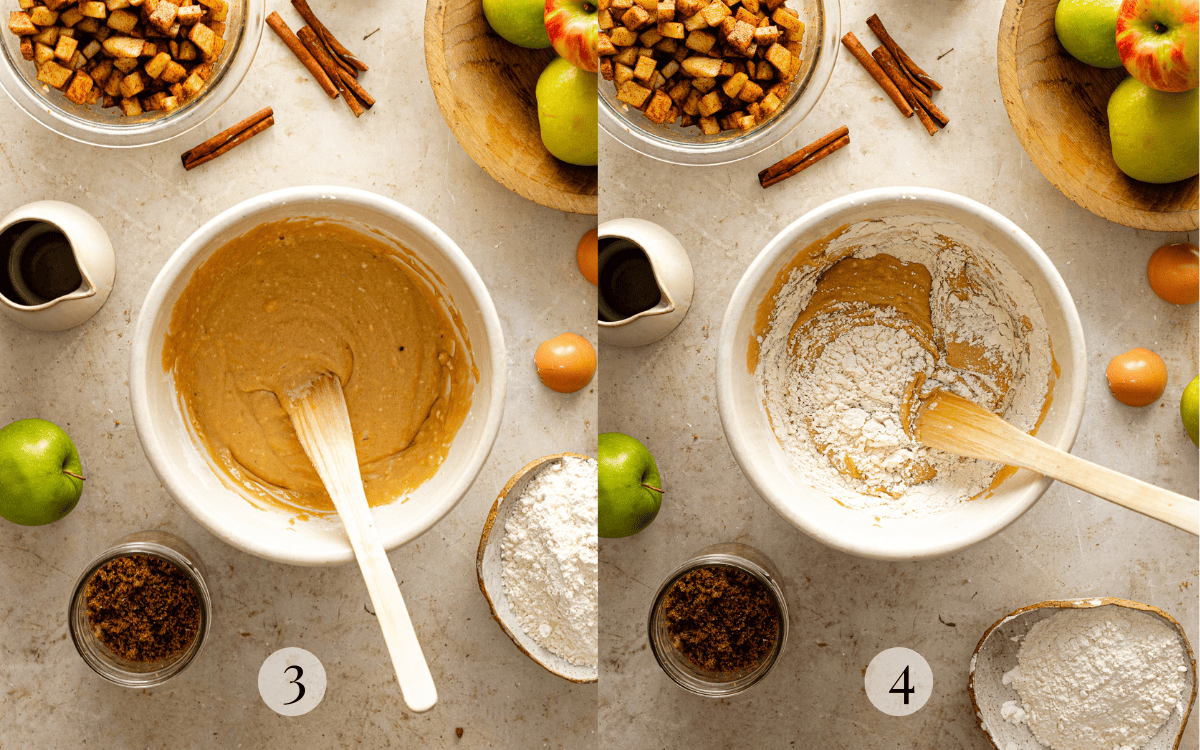 STEP 2 Make the batter: Combine the melted butter, sugars, eggs, sourdough discard and apple cider vinegar (image 3). Stir in the baking soda, baking powder, flour and salt, a third at a time (image 4).
TIP: Make sure your leaveners are fresh. Chemical leaveners like baking soda and baking powder have a shelf life and will lose their effectiveness. If yours are no longer fresh, they won't be able to help your muffins rise.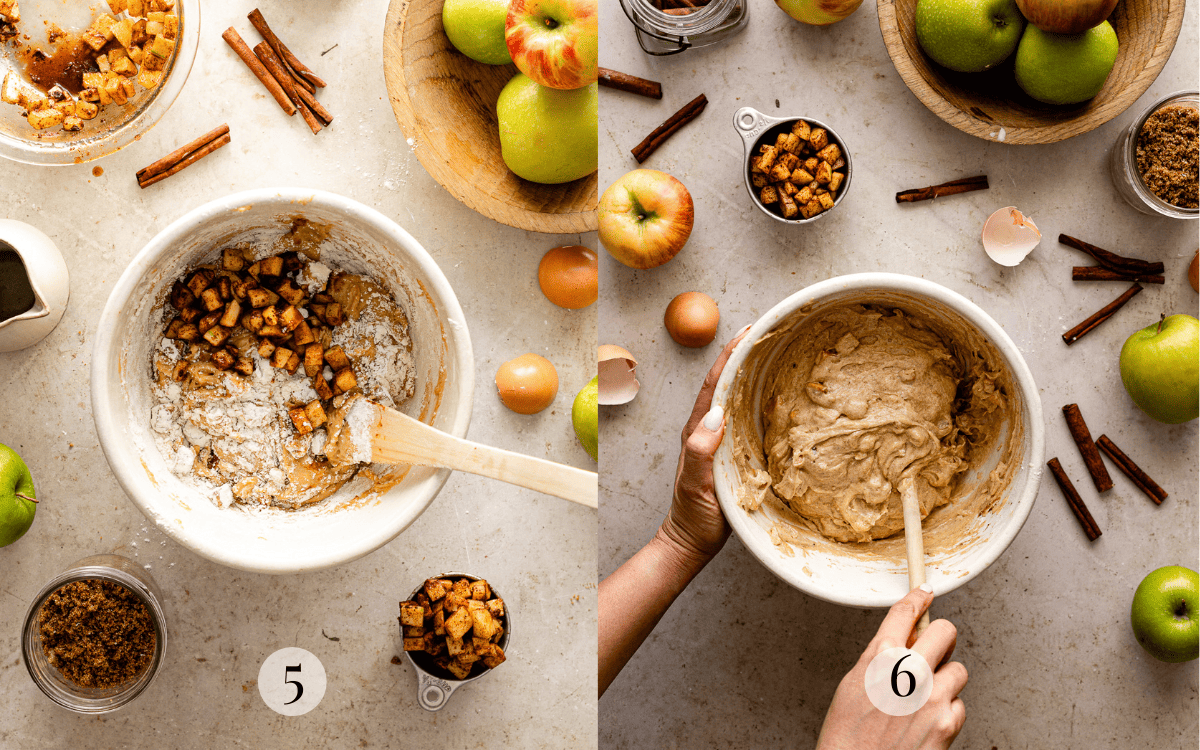 STEP 3 Fold the apples in: Gently fold in the apples with the last addition of flour (image 5). Stir until no traces of flour remain (image 6).
TIP: Fold your flour in a third at a time, this will prevent lumps in your batter and help you avoid building too much gluten development.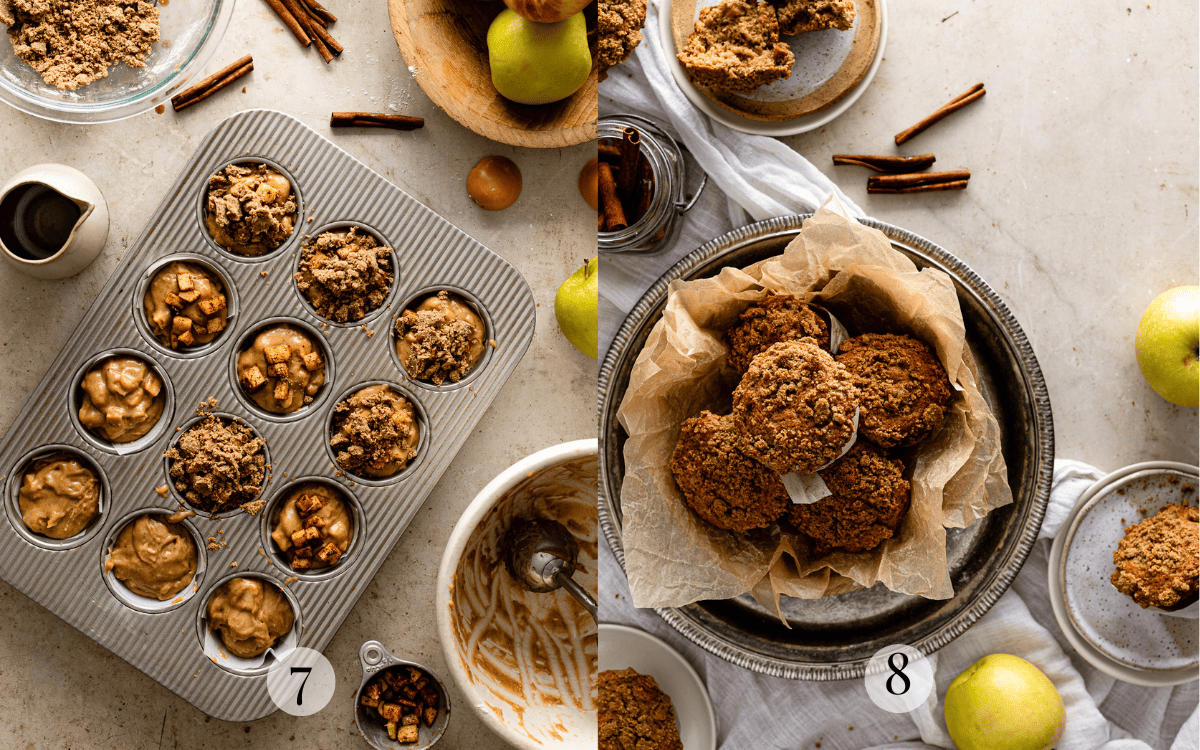 STEP 4 Assemble and bake: Evenly distribute the batter into a lined muffin tin. Top with reserved apples and streusel (image 7). Bake at 375 for 20 to 25 minutes (image 8).
TIP: Start out hot by preheating your oven to 450°F, but lower the temperature to 375°F as soon as you place your muffins inside. This initial high heat will promote a lofty rise, while the lower temperature will ensure a gentle bake, preventing your muffins from burning or becoming too dry.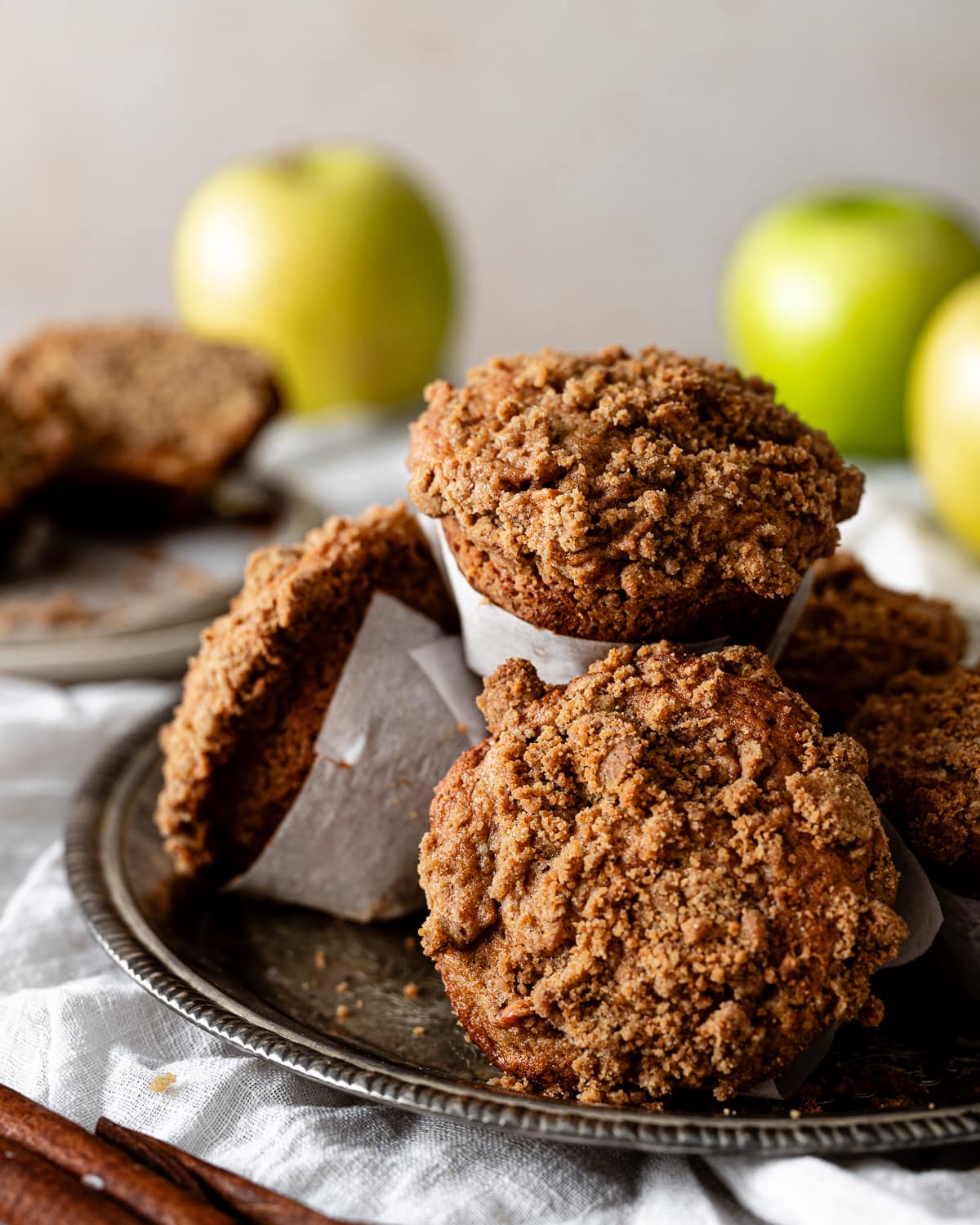 Baker's Tips
Test your leaveners for freshness: If your baking soda and baking powder have been in the pantry for some time. Ensure that they still work by combining 1 teaspoon with a drop of vinegar. If the mixture fizzes then your leaveners will still work.
Don't under mix or over mix your batter: Too much gluten development through over mixing will cause your muffins to become dense. However, under mixing will result in unbaked flour pockets in your muffins. Muffins also need a little bit of gluten to create structure which supports a tall muffin top.
Fill your muffins tins all the way: I like to use a large cookie scoop to measure out my batter evenly. Fill the spaces completely to encourage your muffin tops to rise.
No peeking!: Do not under any circumstances open the oven door. Heat escapes every time you open the oven door. If your muffins are not completely baked in the middle, this will cause your muffins to sink and become dense and gummy.
Recipe FAQs
I don't have any sourdough discard. Can I still make these muffins?
Yes! If you have a sourdough starter, you can simply use your active starter. If not, add 56 grams of flour and 56 grams of water to your batter. 
Why are my muffins so flat?
There's a few reasons:

- Your baking soda and baking powder may be past their prime and not able to leaven your muffins
- You may have opened the oven door before the center of your muffins are fully baked, unfortunately this would cause them to sink and the center to be dense and gummy
- You may have measured your ingredients incorrectly, weigh your ingredients to make sure your proportions are correct
- Your oven temperature may have been too low, high temperatures encourage the muffins to rise
Why are my muffins so gummy?
You may have developed too much gluten in your batter. It helps to fold your flour into the batter ⅓ at a time to ensure all of the flour is incorporated without over mixing. Opening the oven door before your muffins are fully baked could also cause them to be too gummy. In this case, your muffins will sink and the interior will be gummy.
More Recipes You'll Love
Did this recipe rise to the occasion?
⭐⭐⭐⭐⭐
We knead your feedback! Did our recipe impress your taste buds? Leave a star rating and write a review to help us create even better recipes.
I read all the comments and love hearing your feedback.
THANK YOU!
Sourdough Apple Muffin Recipe
With lots of tender cinnamon apples throughout the plush crumb and a crunchy brown sugar streusel crowning the tall tops these Sourdough Apple Muffins are guaranteed to be a household favorite.
This section may contain affiliate links
Ingredients
Cinnamon Apples
278

grams

Granny Smith Apples

about 2, diced into ½-inch cubes

5

grams

cinnamon

ground

28

grams

brown sugar
Brown Sugar Streusel
90

grams

all-purpose flour

50

grams

brown sugar

1

teaspoon

cinnamon

ground

42

grams

butter

cold, cubed
Muffin Batter
113

grams

unsalted butter

melted

150

grams

cane sugar

100

grams

brown sugar

1

egg

113

grams

sourdough discard

5

grams

apple cider vinegar

75

grams

milk

6

grams

baking powder

½

teaspoon

baking soda

6

grams

salt

240

grams

all-purpose flour
Instructions
Prep: Preheat the oven to 450 F with the rack in the middle. Line a muffin tin with paper liners. Set aside.

Make the cinnamon apples: Toss diced apples in cinnamon and sugar. Set aside.

278 grams Granny Smith Apples,

5 grams cinnamon,

28 grams brown sugar

Make the streusel: Combine the flour, brown sugar, cinnamon and butter in a separate bowl. Using a fork or your fingertips, work the butter into the ingredients until no dry traces of flour remain and the mixture clumps together. Cover the bowl with plastic wrap and refrigerate.

90 grams all-purpose flour,

50 grams brown sugar,

42 grams butter,

1 teaspoon cinnamon

Mix the wet ingredients: Add the melted butter and sugars into a large bowl. Stir using a wooden spoon or spatula until the sugar has dissolved.

113 grams unsalted butter,

150 grams cane sugar,

100 grams brown sugar

Stir in the egg until completely incorporated. Add in the discard, apple cider vinegar and milk until no traces of discard remain.

1 egg,

113 grams sourdough discard,

75 grams milk,

5 grams apple cider vinegar

Add dry ingredients: Fold the baking soda, baking powder, salt, and a third of the flour into the batter. Stir until all the flour has been hydrated.

6 grams baking powder,

½ teaspoon baking soda,

6 grams salt,

240 grams all-purpose flour

Add another third of the flour until there are no more traces of dry flour. Stir in the remaining flour and ⅔ of the cinnamon apples (do not stir in the juices). Reserve the remaining third of the apples for topping.

Assemble the muffins: Divide the muffin batter evenly into the lined muffin tin. Top the muffins with cinnamon apples and streusel. Add the streusel in clumps of varying sizes for the best texture.

Bake: Place the muffin tin on the middle rack of the oven, close the door, and immediately turn down the temperature to 375 F. Bake the muffins for 20 to 25 minutes, or until a toothpick inserted in the center comes out clean. Do not open the door too soon or your muffins will sink!

Let the muffins cool in the tin for 15 minutes before turning them out on a wire rack.

Enjoy and store: Serve the muffins fresh from the oven and enjoy! Store any leftovers in an airtight container at room temperature for up to 2 days or in the refrigerator for up to a week.
Tips
These recipes were developed and tested using grams for precise measurements. To increase your chances of success, I recommend investing in a kitchen scale. I've included rough volume estimates (in tablespoons and cups), but they might not be totally accurate.
Remember all ovens are unique, these recipes were tested in my oven which runs cooler than others. You might need to lower the temperature if your bake appears to be browning too quickly. Monitor your bake closely and make adjustments if needed.
Notes
When in doubt, use weight over volume measures.
These muffins are best stored in the refrigerator because of the apples in the crumb. 
Nutrition
Calories:
329
kcal
|
Carbohydrates:
54
g
|
Protein:
4
g
|
Fat:
11
g
|
Saturated Fat:
7
g
|
Polyunsaturated Fat:
1
g
|
Monounsaturated Fat:
3
g
|
Trans Fat:
0.4
g
|
Cholesterol:
42
mg
|
Sodium:
329
mg
|
Potassium:
95
mg
|
Fiber:
2
g
|
Sugar:
30
g
|
Vitamin A:
367
IU
|
Vitamin C:
1
mg
|
Calcium:
66
mg
|
Iron:
2
mg