This Sourdough Carrot Cake is moist and tender with the perfect amount of warm spices that allow the flavor of carrots to shine. Sourdough discard adds a delicious tang and depth of flavor that makes this fluffy cake even more delicious.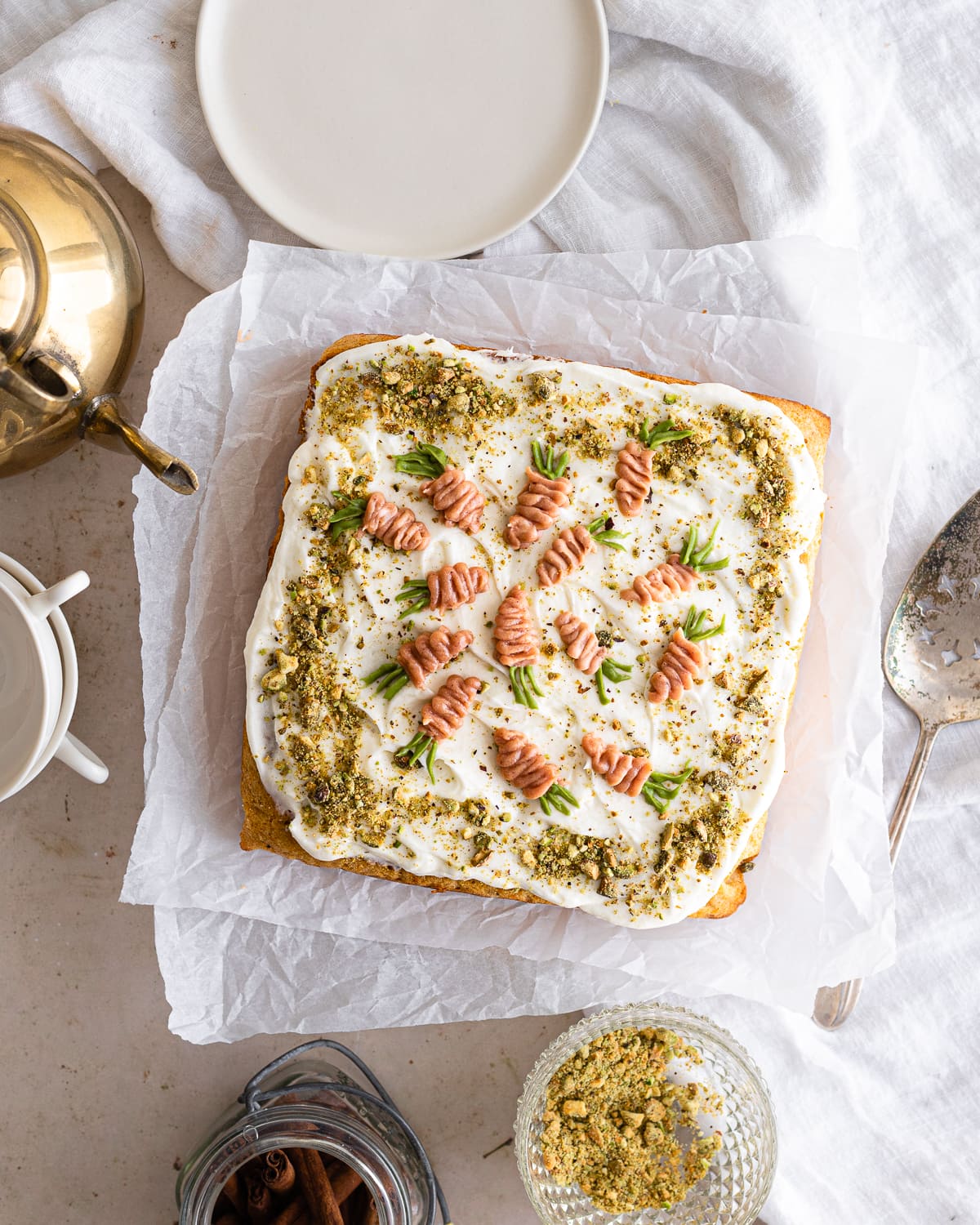 I always hated vegetables when I was younger, so I never thought I would like carrot cake. It wasn't until I tried a slice from Tiffany, a local diner in Northeast Philadelphia, that I realized how wrong I was! The carrot cake was fluffy, moist and with the most delicious tangy cream cheese frosting. I think I requested a carrot cake for every birthday for years after while I was still living in Philly.
Carrot Cake is one of my ultimate favorites, so I needed to get the recipe right. For that, I turned to my baking bestie, Mimi Council! If you've been following the blog for a while, you'll know that Mimi founded the first organic bakery in the country, and carrot cake is one of her specialties. The best part about our partnership is that these bakes are tested by both of us, so we iron out all the kinks, perfect the recipes so we can set you all up for success!
Looking for tried and tested recipes? Check the other recipes Mimi and I collaborated on, Sourdough Irish Soda Bread, Rosemary Sourdough Bread and Sourdough Wheat Crackers.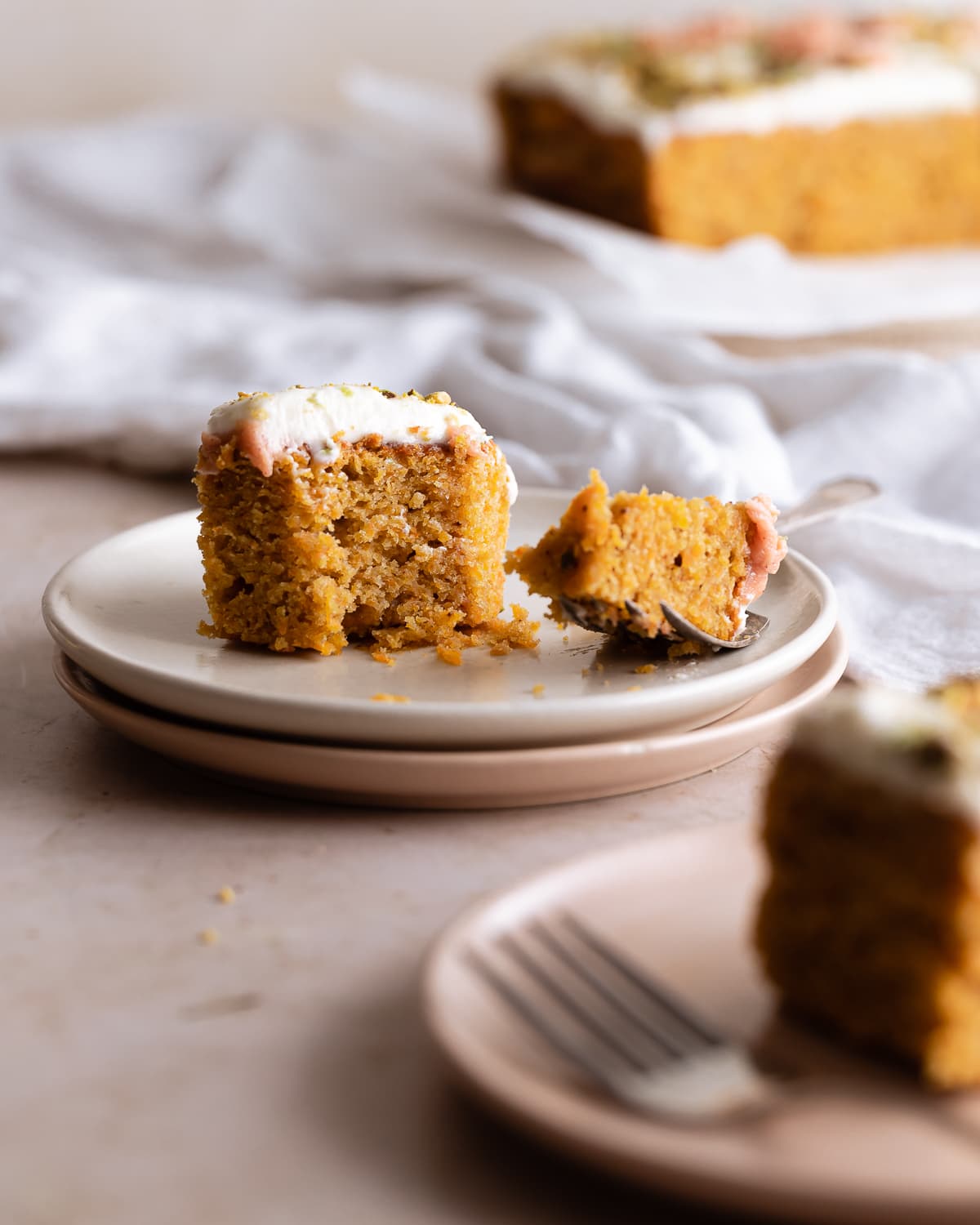 Jump to:
Baking with your sourdough discard
Baking powder helps this carrot cake rise, instead of biological leaveners (commercial yeast or sourdough). As the batter bakes, baking powder produces carbon dioxide which imparts a soft, and fluffy texture to your cake. Because you won't be using an active sourdough starter to make this cake rise you can bake with your sourdough discard straight from the refrigerator without activating or feeding it first.
Love sourdough cakes? Check out my recipes for Lemon Lavender Sourdough Bundt Cake, Sourdough Pumpkin Bundt Cake, Sourdough Pineapple Upside-Down Cake, Sourdough Orange Upside Down Cake and Sourdough Chocolate Cake.
What You Need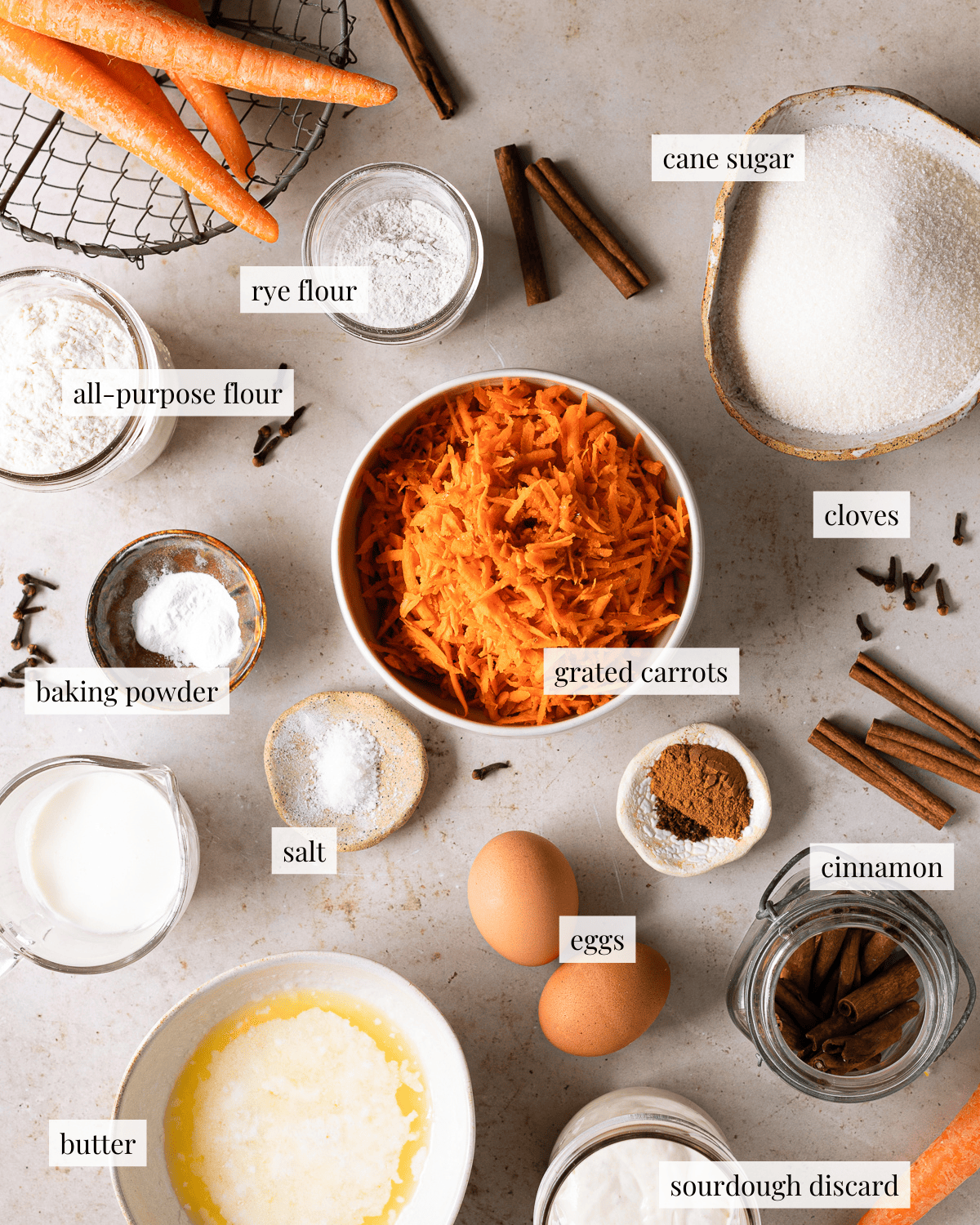 Carrots: Use a fine grater, and don't add large chunks of carrot in your batter or your cake will turn out mushy and gummy.
Sourdough discard: Add 56 grams flour and 56 grams water to your recipe if you don't have any sourdough discard.
Rye flour: Substitute spelt, whole wheat or just use all-purpose if you don't have any in your pantry.
Salt: Use kosher salt or sea salt. Different types of salts have varying grain sizes so the amount of salt added to the recipe may differ if you use volume measurements.
Natural food coloring: I used Matcha Powder from Harney's Tea and Orange Carrot Powder from Suncore Foods. Since these are all-natural, expect the color to be lighter and more pastel. Feel free to substitute artificial food colors if you prefer a more intense color.
See recipe card for full ingredient amounts.
How to Make Sourdough Carrot Cake
STEP 1: Combine the carrots, melted butter, sugar, sourdough discard, eggs and heavy cream.
STEP 2: Whisk the all-purpose flour, rye, baking powder, cinnamon, cloves and salt together.
STEP 3: Fold the dry ingredients into the wet ingredients.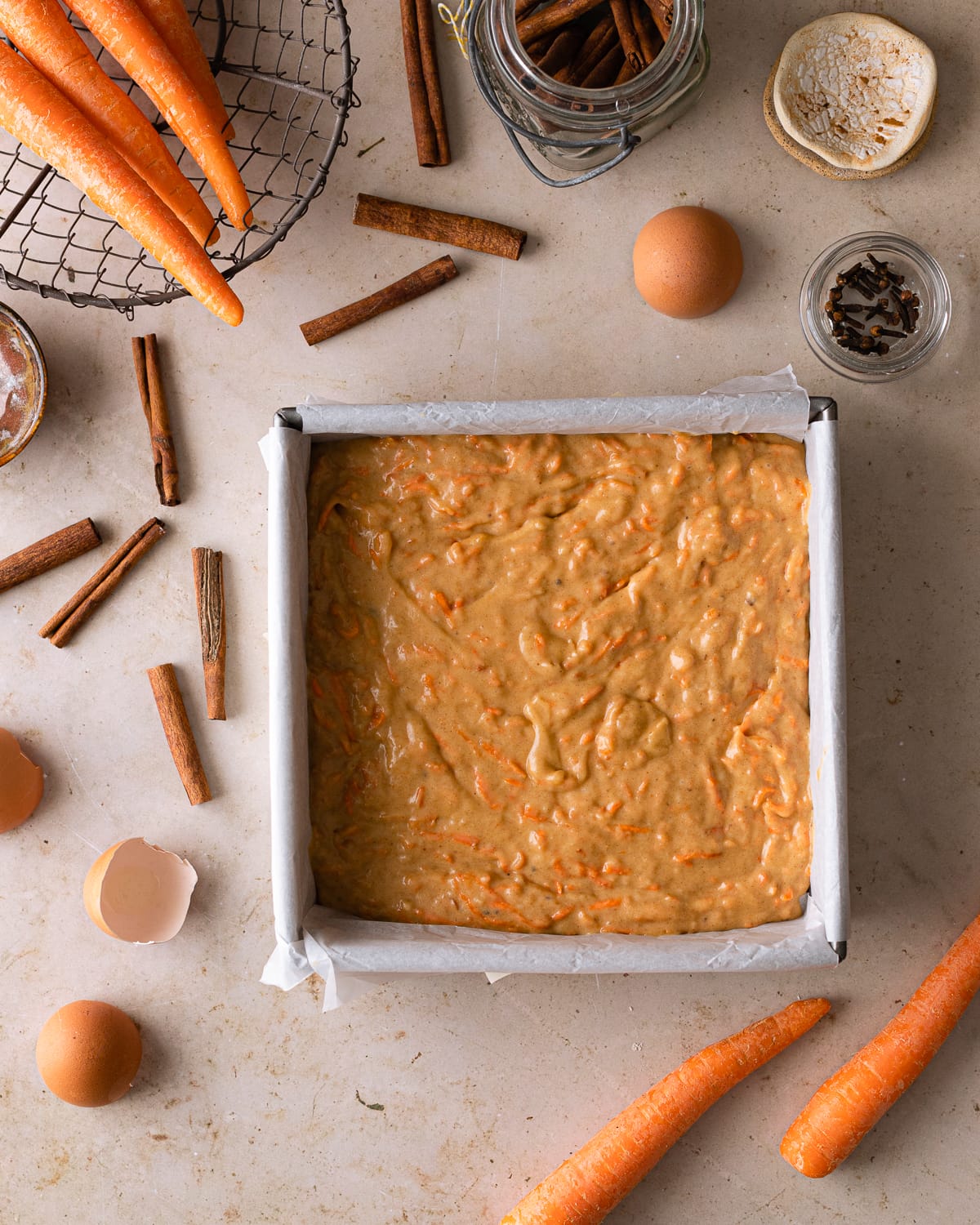 STEP 4: Pour batter into prepared pan. Bake the cake at 350 F for 40 to 45 minutes.
STEP 5: Make the frosting.
STEP 6: Frost and decorate cake.
How to Decorate Your Cake
I'm not an expert at cake decorating, especially fussy piping. That being said, these carrots couldn't be easier to create! I was able to create this design using piping bags with no tips. If you prefer not to pipe decorations, sprinkle nuts or candied ginger on your cake!
Baker's Tips!
Use a fine grater: large carrot chunks will make your cake gummy and sticky, instead of moist and fluffy
Add rye flour for flavor: a little bit of rye flour or whole wheat imparts a slightly nutty flavor which adds to the richness of this cake
Make sure your leaveners are fresh or your cake won't rise: if your baking powder has been in your pantry for over 6 months, test it to make sure its still active by combining a pinch with a drop of vinegar, if the mixture bubbles then it is still viable
Don't open the oven door before your cake is fully baked: opening the oven door will cause heat to escape and your cake to sink, unfortunately if your cake sinks the crumb will end up gummy and dense
Let the cake cool completely before frosting: the frosting will melt off the cake if is still warm, let the cake cool to room temperature, at least 1 hour
Recipe FAQs
I don't have any sourdough discard, can I still make this cake?
Absolutely, you can use your sourdough starter or simply add 56 grams of flour and 56 grams of water to the recipe. 
Can I make my cake in advance? 
You can make your cake a day ahead, once the cake is cool wrap it in a double layer of plastic wrap. Store it at room temperature if you plan to frost it the next day. Freeze the cake if you plan to store it for much longer (up to 1 week). Let the cake warm up to room temperature before frosting. 
Will this cake taste like sour?
No, this cake tastes sweet with a hint of warmth form cinnamon and cloves. Sourdough imparts a deep, nuanced flavor to cakes and adds a delicious tang that's not overpowering or too sour.
Do I need to refrigerate carrot cake?
Yes, since the frosting has cream cheese it needs to be refrigerated. 
---
You May Also Like
---
Did this recipe rise to the occasion?
⭐⭐⭐⭐⭐
We knead your feedback! Did our recipe impress your taste buds? Leave a star rating and write a review to help us create even better recipes.
I read all the comments and love hearing your feedback.
THANK YOU!
If you love creative sourdough discard recipes, check out my list of Delicious Sourdough Recipes That Aren't Bread.
---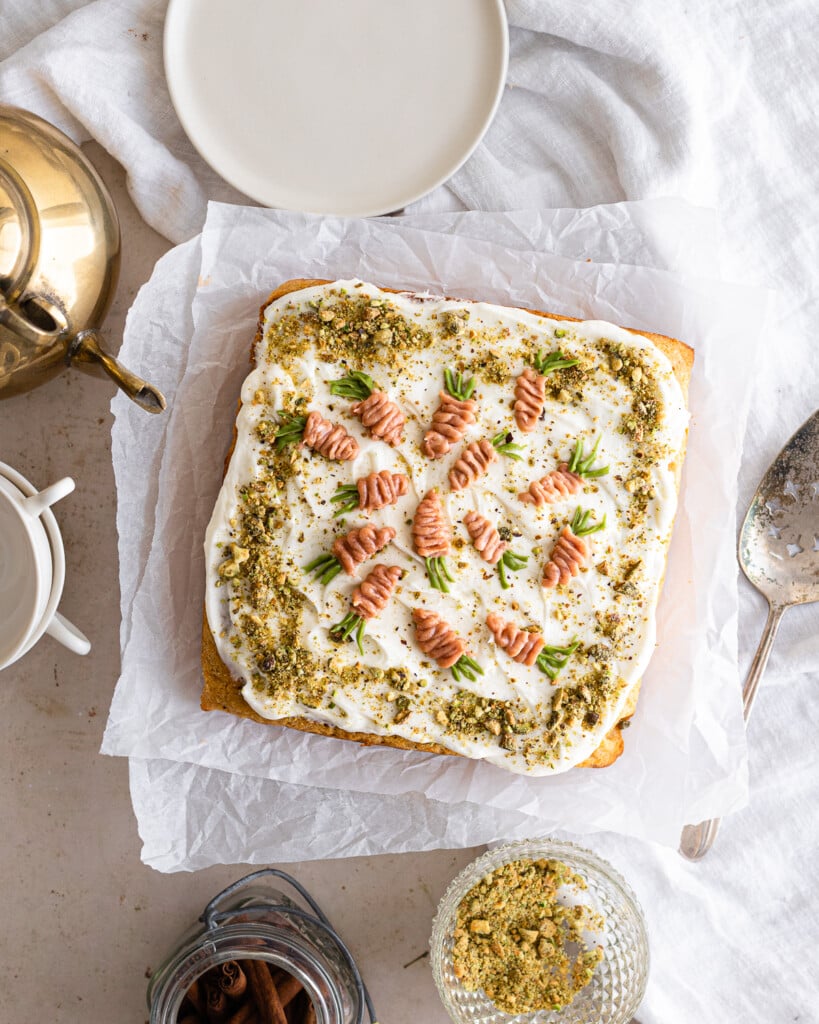 Sourdough Carrot Cake
This Sourdough Carrot Cake is moist and tender with the perfect amount of warm spices that allow the flavor of carrots to shine. Sourdough discard adds a delicious tang and depth of flavor that makes this fluffy cake even more delicious.
Equipment
8 by 8 inch baking pan

Parchment paper
This section may contain affiliate links
Ingredients
Batter
226

grams

carrots

finely grated

113

grams

unsalted butter

melted

226

grams

organic cane sugar

113

grams

sourdough discard

2

eggs

large

56

grams

heavy cream

155

grams

all-purpose flour

or whole white wheat flour

30

grams

rye flour

¾

teaspoon

baking powder

1

teaspoon

cinnamon

ground

¼

teaspoon

cloves

ground

1

teaspoon

salt
Frosting
113

grams

cream cheese

284

grams

powdered sugar

113

grams

unsalted butter

softened

¼

teaspoon

salt

1

teaspoon

vanilla extract

2

teaspoons

orange color

Organic Carrot Powder

¼

teaspoon

Matcha powder

42

grams

pistachios

ground
Instructions
Make the Cake
Prep: Preheat oven to 350 F. Line an 8 by 8-inch baking pan with parchment paper.

Make the batter: Combine the carrots and wet ingredients together in a large bowl. Stir until fully incorporated and no traces of egg or sourdough discard remain.

226 grams carrots,

113 grams unsalted butter,

226 grams organic cane sugar,

113 grams sourdough discard,

2 eggs,

56 grams heavy cream

Whisk the dry ingredients together.

155 grams all-purpose flour,

30 grams rye flour,

¾ teaspoon baking powder,

1 teaspoon cinnamon,

¼ teaspoon cloves,

1 teaspoon salt

Fold the flour mixture into the wet ingredients a third at a time, waiting until no traces of dry flour remain before waiting to add the next addition. This will prevent clumps and excess gluten from forming.

Pour the batter into the prepared pan.

Bake: Bake the cake for 40 to 45 minutes or until the top of the cake looks completely set and a toothpick inserted in the center comes out clean.

Transfer the cake to a wire rack and it cool completely.
Decorate
Make the frosting: Using a hand mixer with beaters, break up the cream cheese until no clumps remain. Add the powdered sugar, butter, vanilla extract and salt. Mix on low until combined and switch to high until the mixture is airy and fluffy, about 2 to 3 minutes.

113 grams cream cheese,

284 grams powdered sugar,

113 grams unsalted butter,

¼ teaspoon salt,

1 teaspoon vanilla extract

Make orange frosting: Scoop out 4 tablespoons of the frosting into a separate bowl. Add orange powder one teaspoon at a time (depending on how instense you want the color to be) and stir until completely combined.

Make green frosting: Scoop out 2 tablespoons of the frosting into a separate bowl. Add matcha powder and stir until completely combined.

Decorate the cake: Once your cake has cooled completely, spread a thick layer of cream cheese frosting on the cake using an off-set spatula. Sprinkle pistachios on cake and pipe carrots in a free-form way.
Enjoy
Refrigerate the cake for 15 minutes to let the frosting set.

Slice cake into 9 large or 16 small portions.
Store
Store cake slices in an airtight container in the refrigerator for up to 1 week.
Tips
These recipes were developed and tested using grams for precise measurements. To increase your chances of success, I recommend investing in a kitchen scale. I've included rough volume estimates (in tablespoons and cups), but they might not be totally accurate.
Remember all ovens are unique, these recipes were tested in my oven which runs cooler than others. You might need to lower the temperature if your bake appears to be browning too quickly. Monitor your bake closely and make adjustments if needed.
Notes
When in doubt, use weight over volume measures.
No sourdough discard? Add 56 grams of all-purpose flour and 56 grams of water to your batter. 
You can bake this cake in a 9 by 9 pan, but shorten your baking time to 30 to 35 minutes. 
Nutrition
Calories:
332
kcal
|
Carbohydrates:
45
g
|
Protein:
3
g
|
Fat:
17
g
|
Saturated Fat:
10
g
|
Polyunsaturated Fat:
1
g
|
Monounsaturated Fat:
5
g
|
Trans Fat:
0.5
g
|
Cholesterol:
62
mg
|
Sodium:
247
mg
|
Potassium:
119
mg
|
Fiber:
1
g
|
Sugar:
33
g
|
Vitamin A:
2903
IU
|
Vitamin C:
1
mg
|
Calcium:
38
mg
|
Iron:
1
mg