Light and tender cake loaded with fresh, tangy lemon and just a hint of aromatic lavender, this Lavender Lemon Sourdough Bundt Cake will make any day feel like a special occasion. Sourdough discard keeps the cake moist for days and a simple lemon glaze intensifies the sweetness.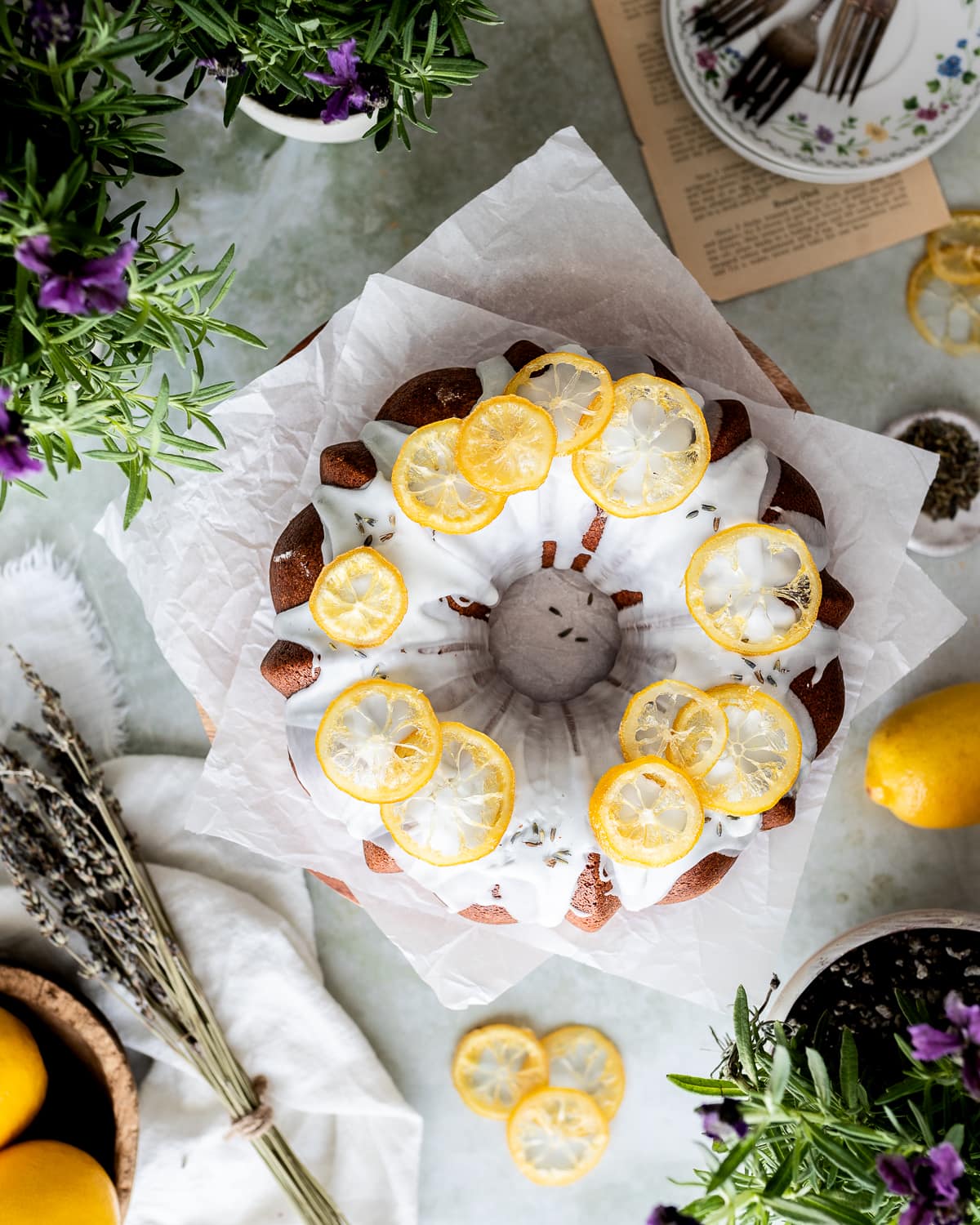 This bundt cake is the perfect centerpiece for a bridal or baby shower or a homemade gift for Mother's Day. It feels so sophisticated but is so easy to make, takes less than an hour and comes together all in one bowl.
What Makes Bundt Cakes So Special?
Bundt cakes are special because of their shape. They are baked in a special pan, called a bundt pan. This creates more crisp, caramelized surfaces and more flavor!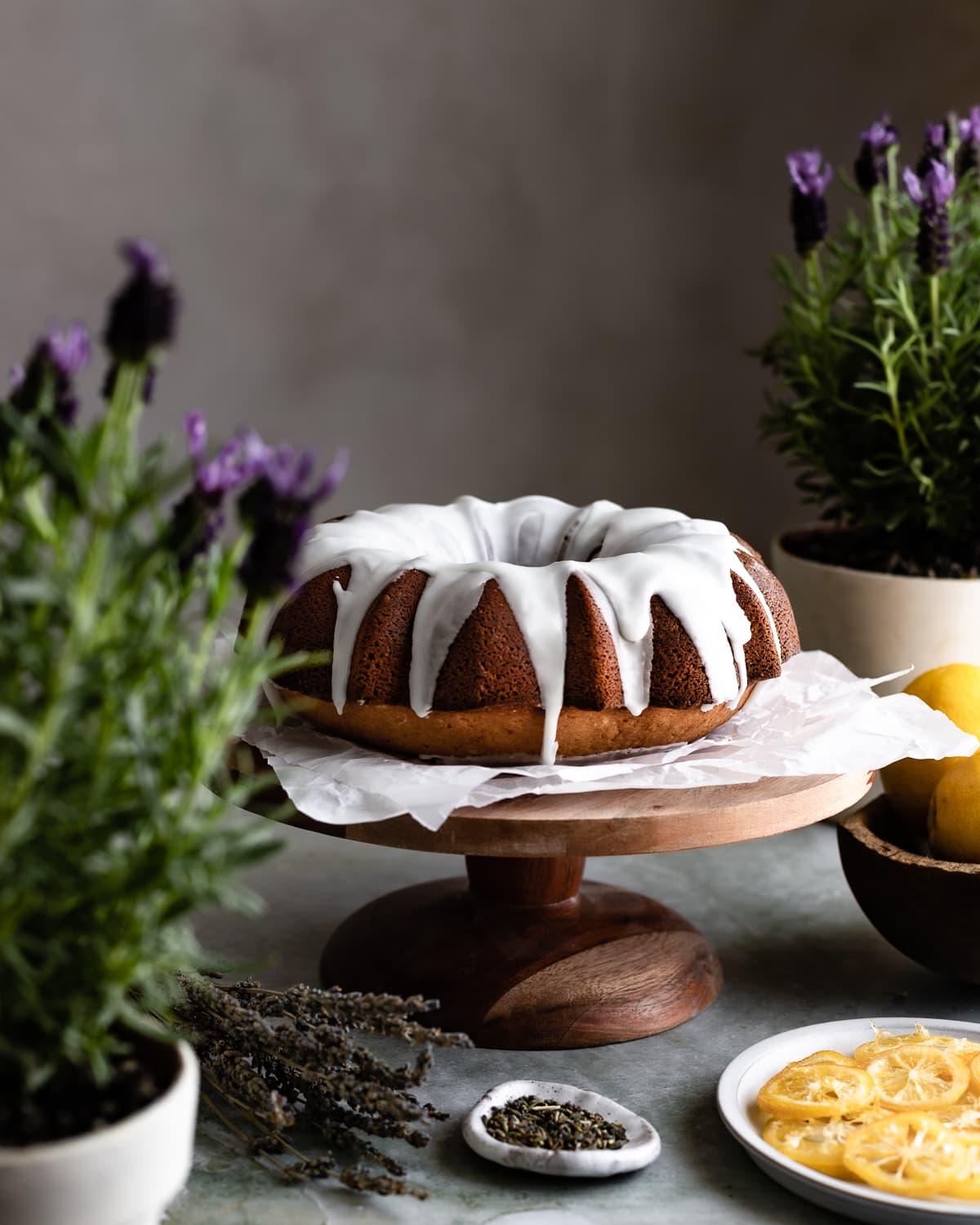 Baking with Sourdough Discard
Baking powder helps this carrot cake rise, instead of biological leaveners (commercial yeast or sourdough). As the batter bakes, baking powder produces carbon dioxide which imparts a soft, and fluffy texture to your cake. Because you won't be using an active sourdough starter to make this cake rise you can bake with your sourdough discard straight from the refrigerator without activating or feeding it first.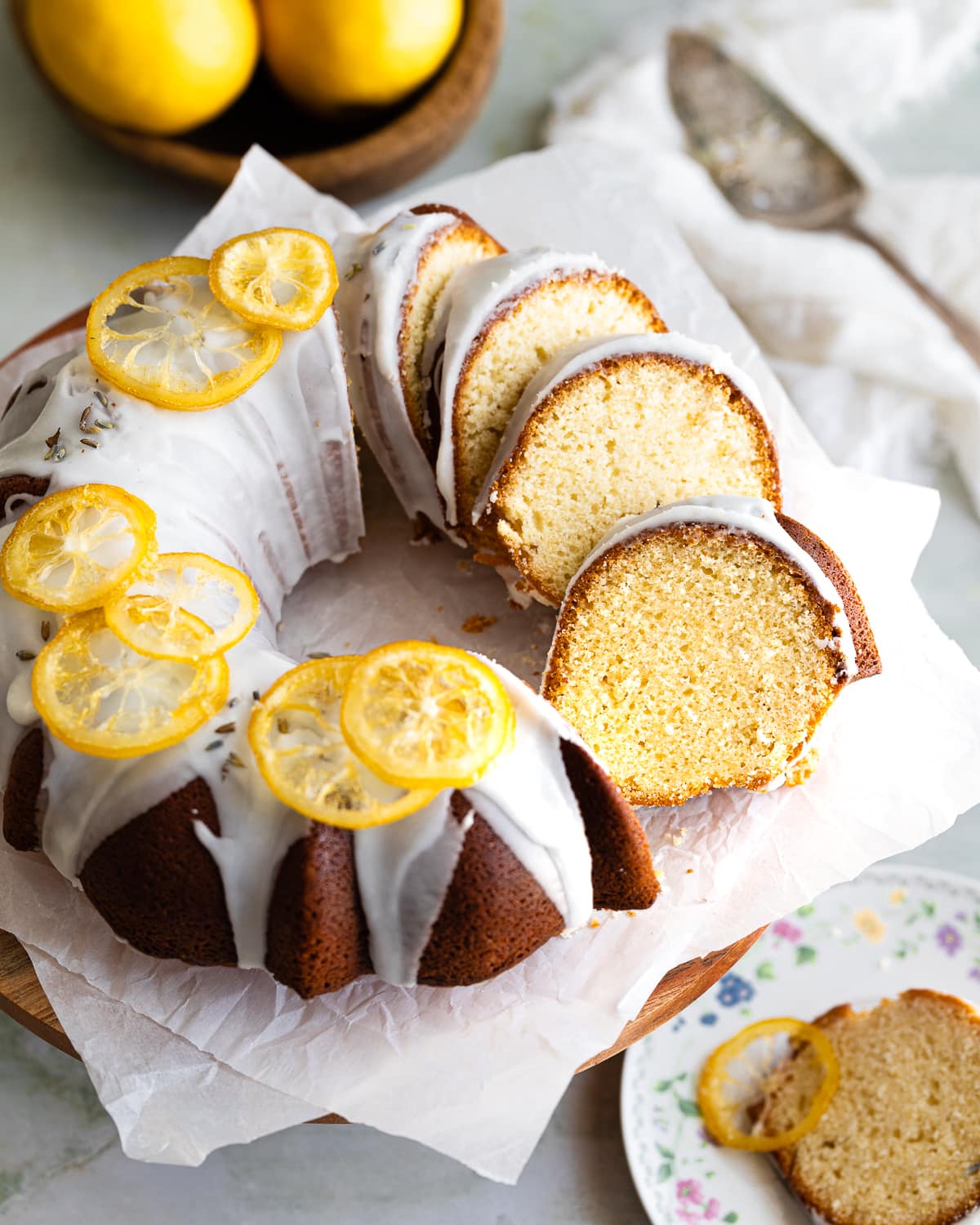 Tips for Success
Use room temperature ingredients: Cake batter is an emulsion, and room temperature ingredients, especially butter, milk, and eggs combine or emulsify better. This makes for a smoother batter and a more tender cake. Make sure your sourdough starter, eggs, butter and milk are at room temperature before mixing your batter. Using cold ingredients with soft butter can cause it to solidify and the batter to seize up.
Grease your bundt pan very well: For the best results, grease every nook and cranny of your pan. I like to do this with my fingertips so I can feel any spots that are not coated with oil.
Do not cream butter or aerate batter: This cake is formulated with the exact amount of leaveners. Try your best not to whip the batter or it will become too airy and sink as it bakes which results in a dense and gummy cake.
Bake your cake in advance: Freshly baked bundt cakes can be quite fragile, so turning them out of the pan before they are completely set will cause them to break apart. It's best to bake the cake the night before, this will allow the cake to cool and set completely which will make removing it from the pan as well as frosting it much easier.
Double sift the powdered sugar: Lumpy powdered sugar will result in grainy glaze. Set yourself up for success by sifting the powdered sugar at least once, ideally twice. This will ensure your icing is smooth and silky.
What You Need
Whole milk: Whole milk adds richness and tenderness to this cake, substitute your favorite plant-based alternative, but do not use skim milk as it tends to be too watery.
Lavender: Use dried lavender flowers for this recipe, you can purchase them from a specialty grocery store or online.
Cane sugar: I've been using organic cane sugar in my bakes since it is produced using more sustainable and environmentally friendly methods, if you don't have any on hand, use granulated or caster sugar.
Lemon: You'll need 1 lemon the zest for the cake and the juice for the glaze.
Unsalted butter: Mimi's original recipe uses salted butter, if you want to use salted butter, use 1 teaspoon salt instead of 1½ teaspoon salt.
Eggs: I used large eggs for this recipe, set the eggs out for a few hours to make sure they are at room temperature, this will make for a smoother batter.
Sourdough discard: You can use your discard straight from the fridge, no need to activate it! Add 28 grams of flour and 28 grams of water to the recipe if you don't have any sourdough discard.
Cake flour: Cake flour has a lower protein content than all-purpose, this prevents too much gluten development which makes for a softer cake, I definitely recommend investing in cake flour for the best results.
All-purpose flour: Adds structure to the cake which allows the cake to hold its shape without sinking, do not substitute another type of flour.
Baking powder: The main leavening agent, do not substitute baking soda or skip this ingredient.
Salt: Use sea salt or kosher salt for the best results.
Canola oil: Prevents your cake from sticking to the bundt pan.
Powdered sugar: Use organic if you have access to it!
Step-by-step Instructions
For instructions on how to make this cake using a stand mixer, check out Mimi's recipe.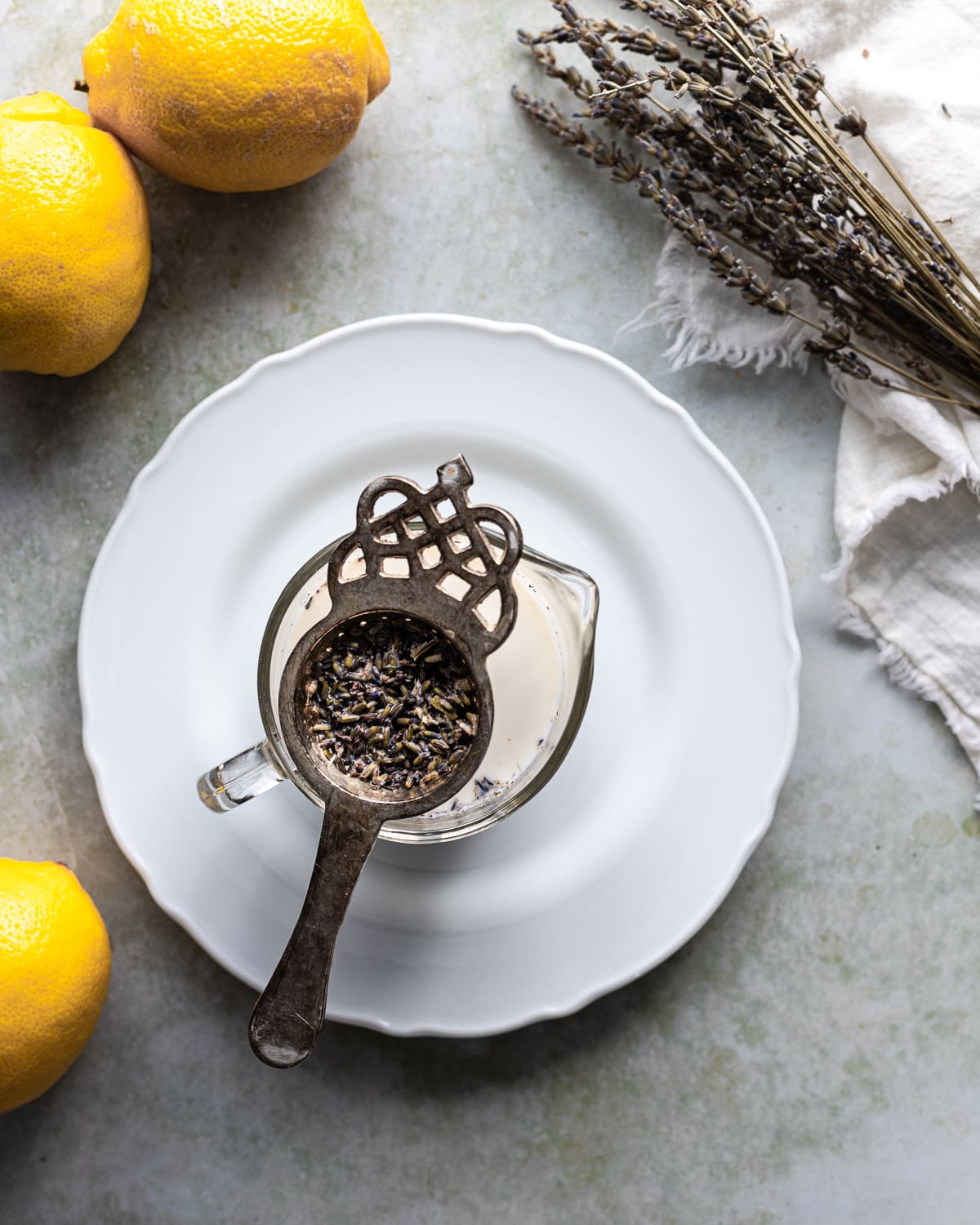 1. Steep the lavender in warm milk (140 F)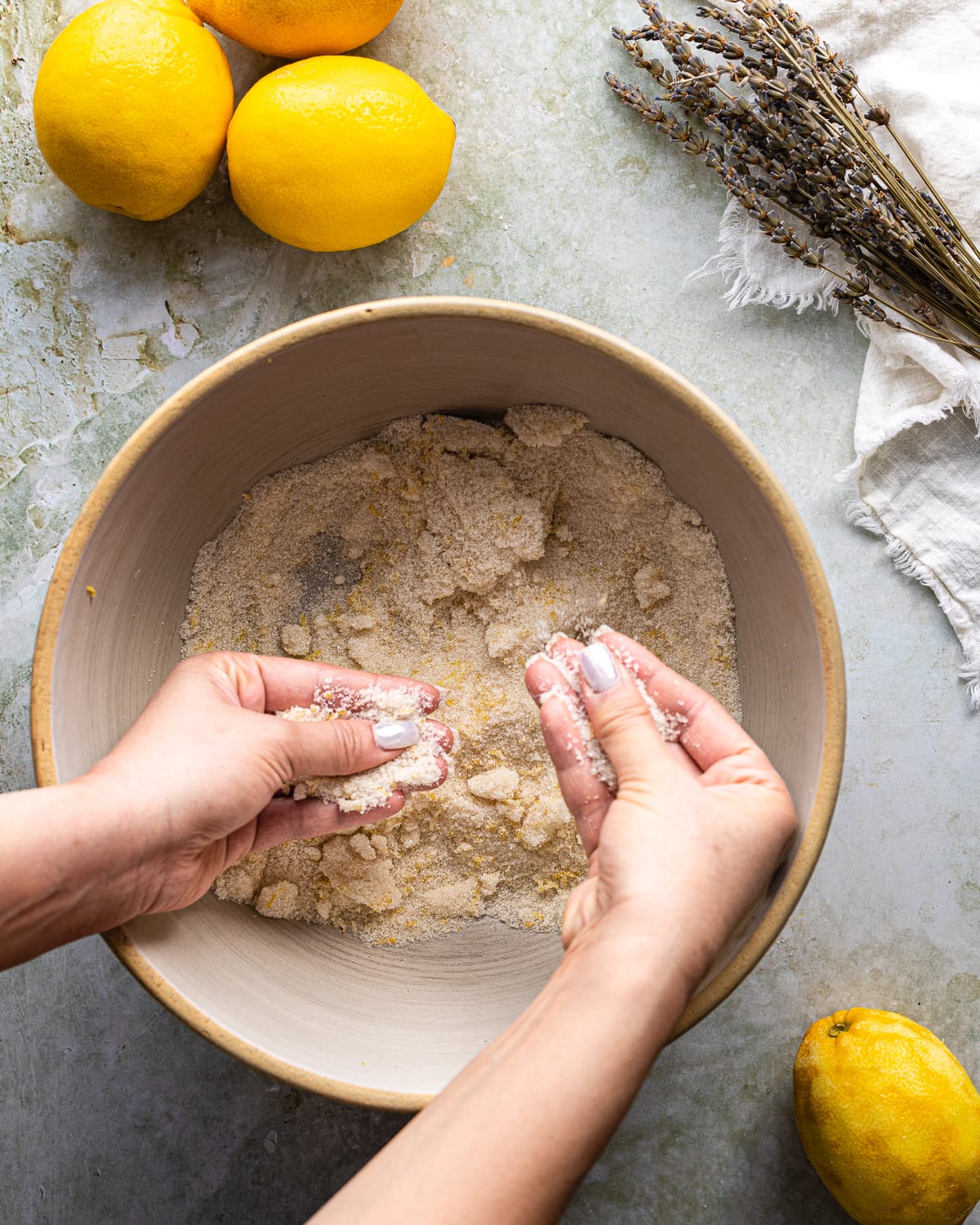 2. Rub lemon zest in sugar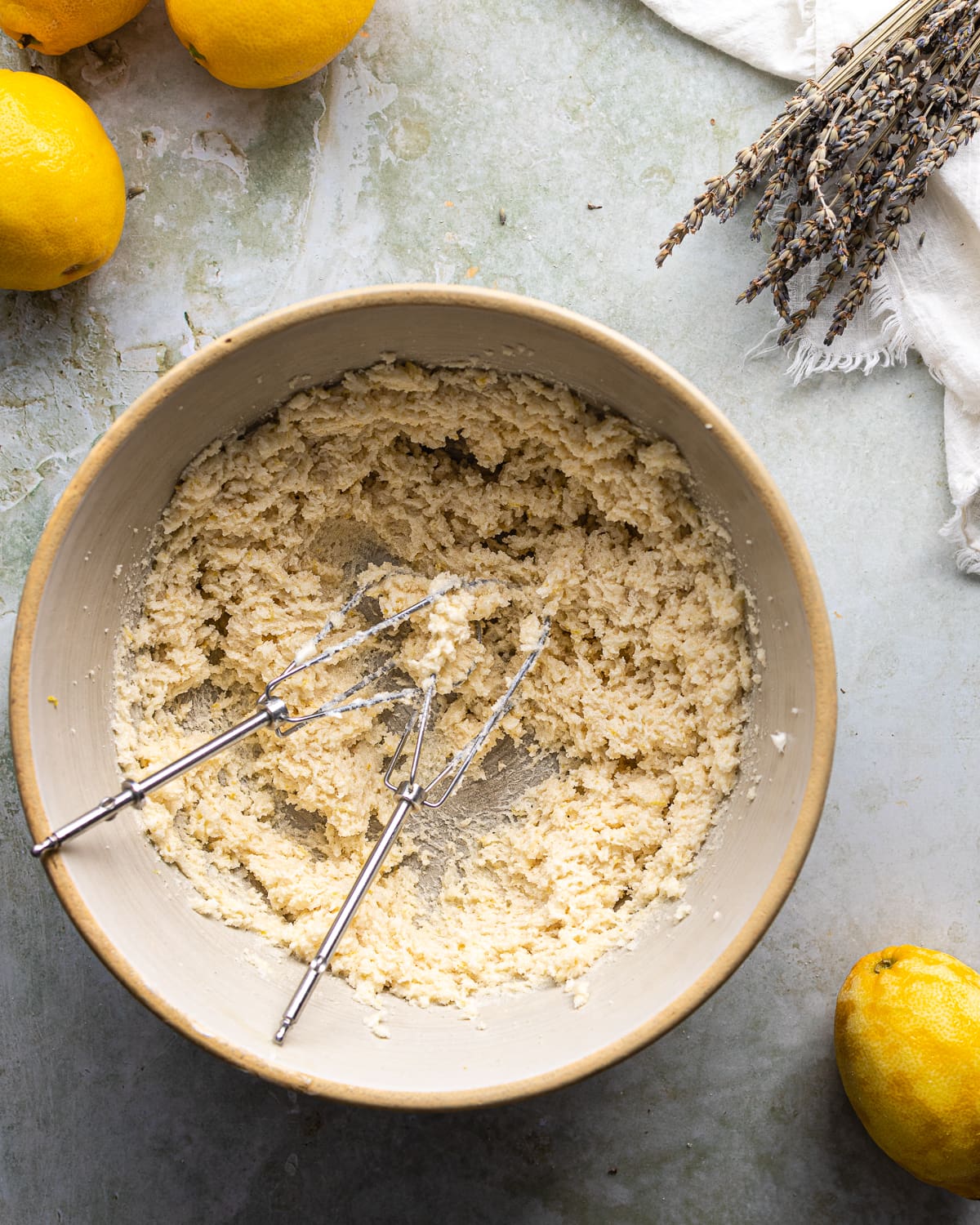 3. Beat butter and sugar together until no lumps remain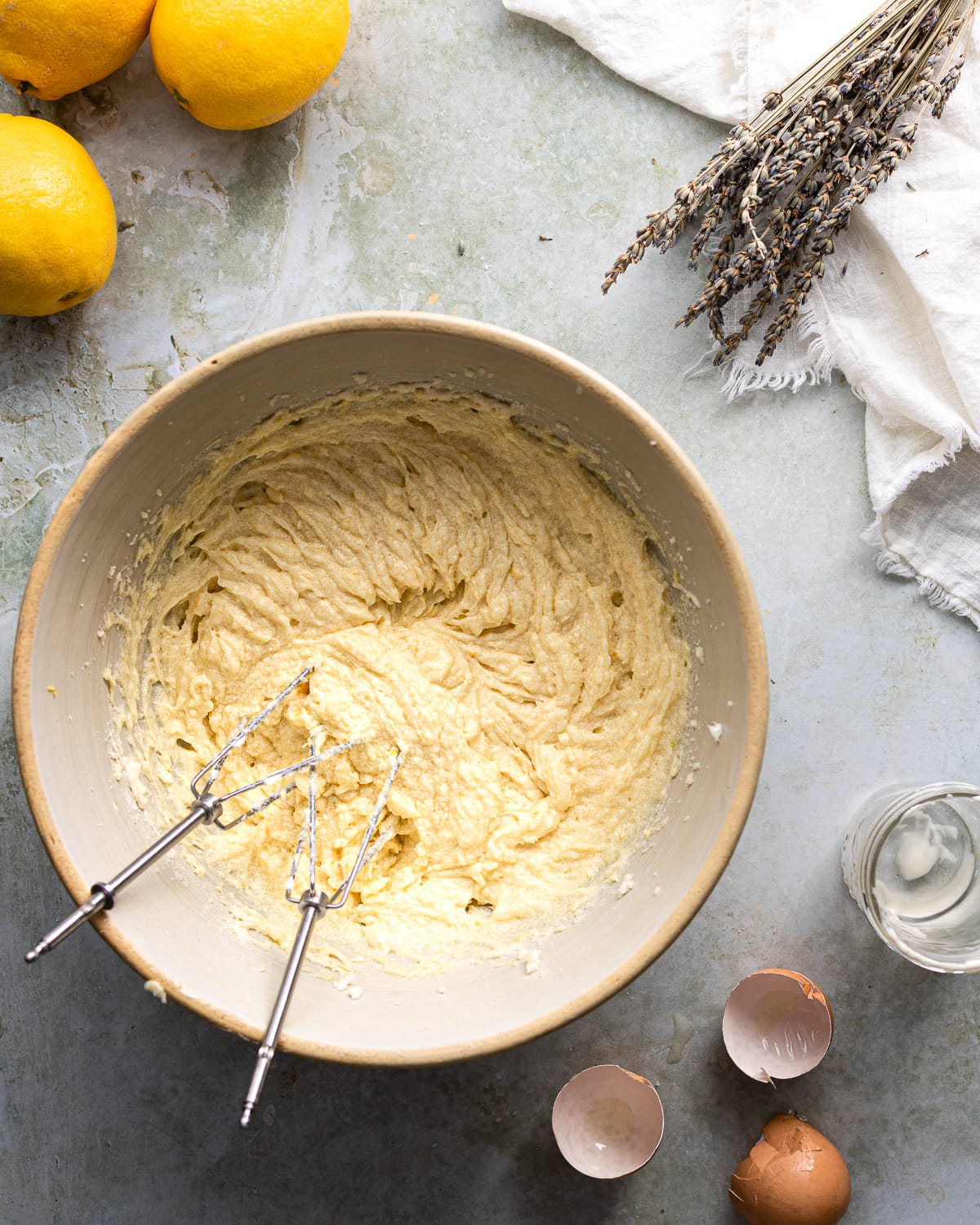 4. Add sourdough discard and eggs into sugar, butter mixture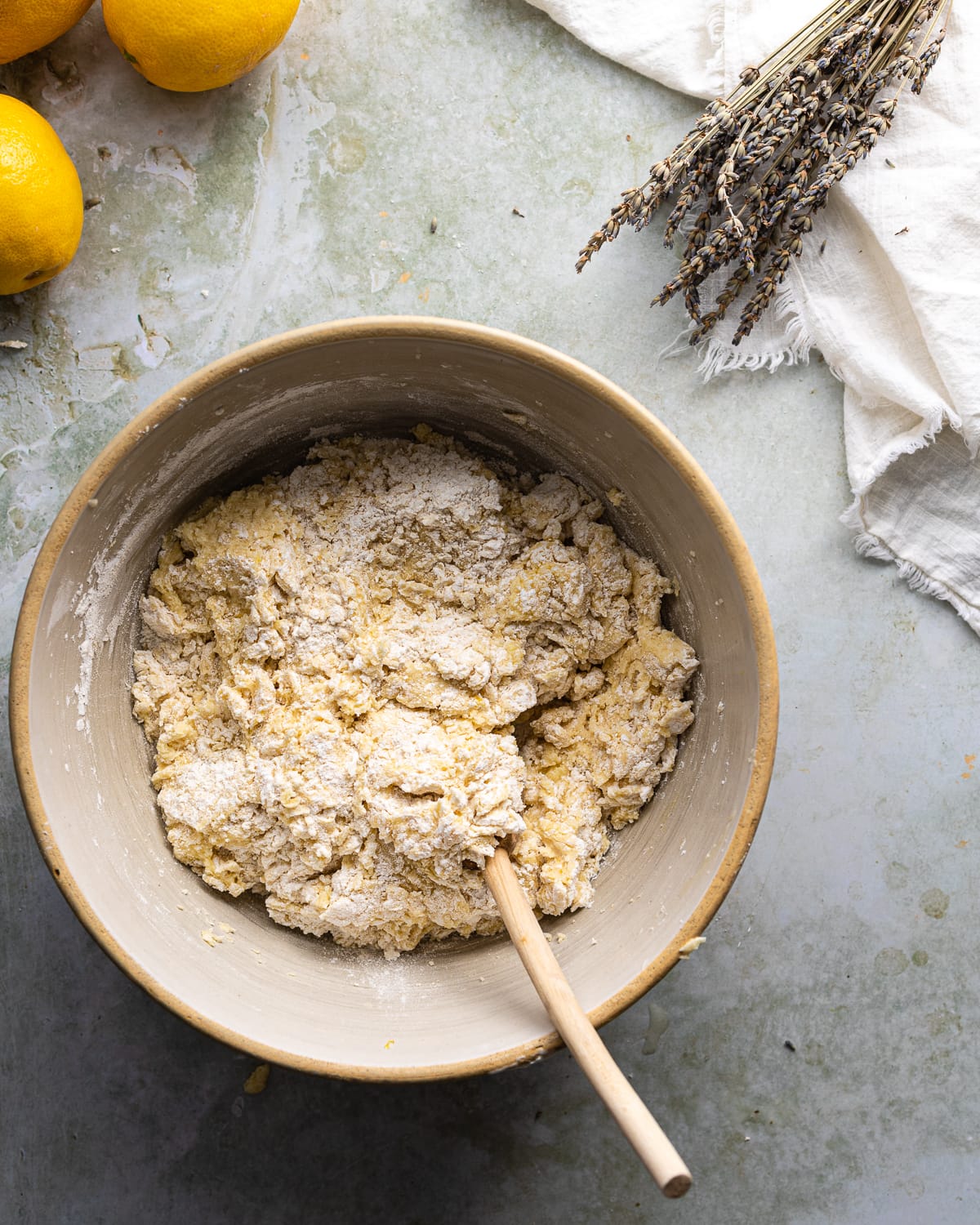 5. Fold in the all-purpose flour, cake flour, baking soda and salt until only a few traces of flour remain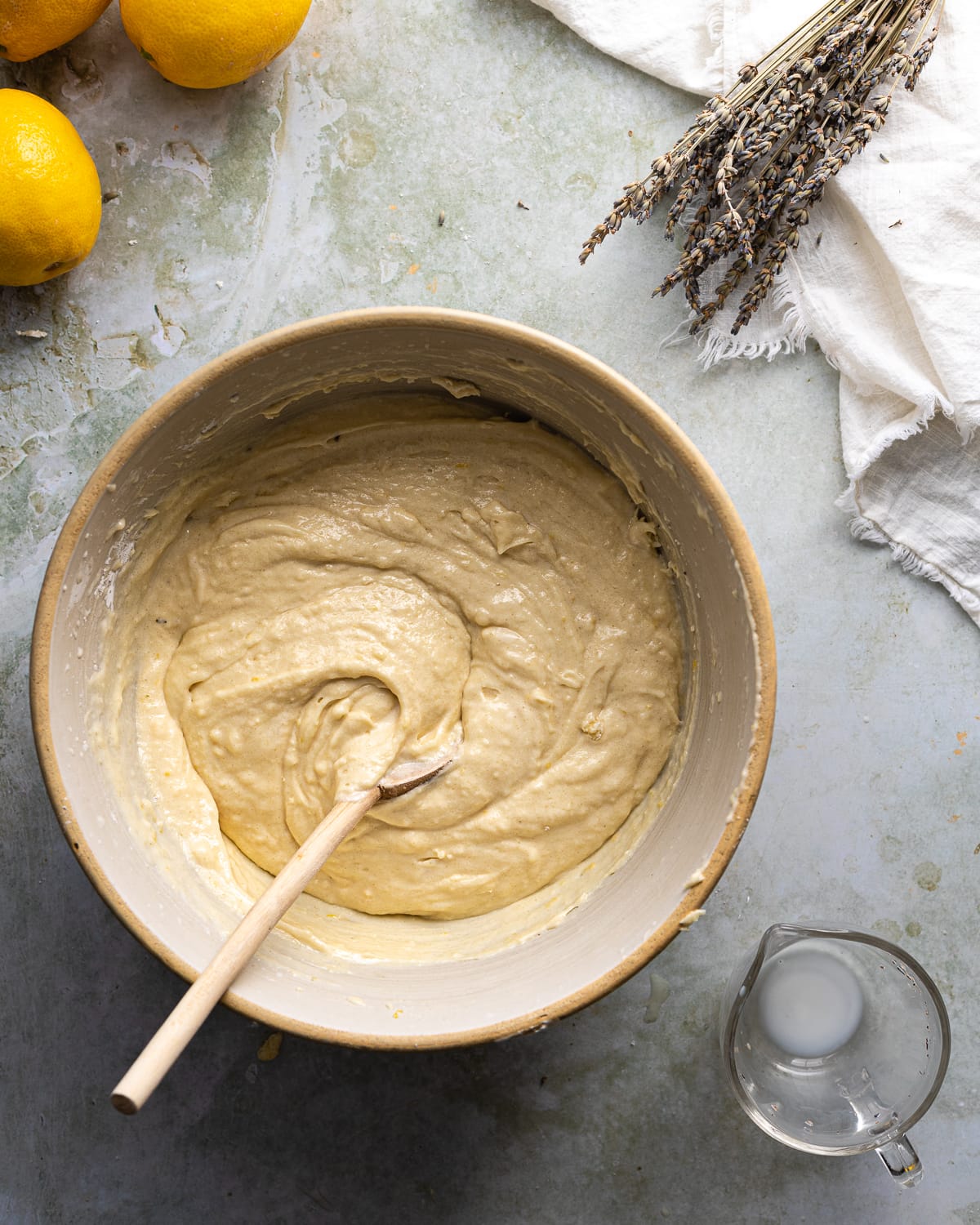 6. With the beaters on slowly drizzle the milk into the batter and switch to a spatula to completely incorporate the milk (this will prevent the batter from being aerated)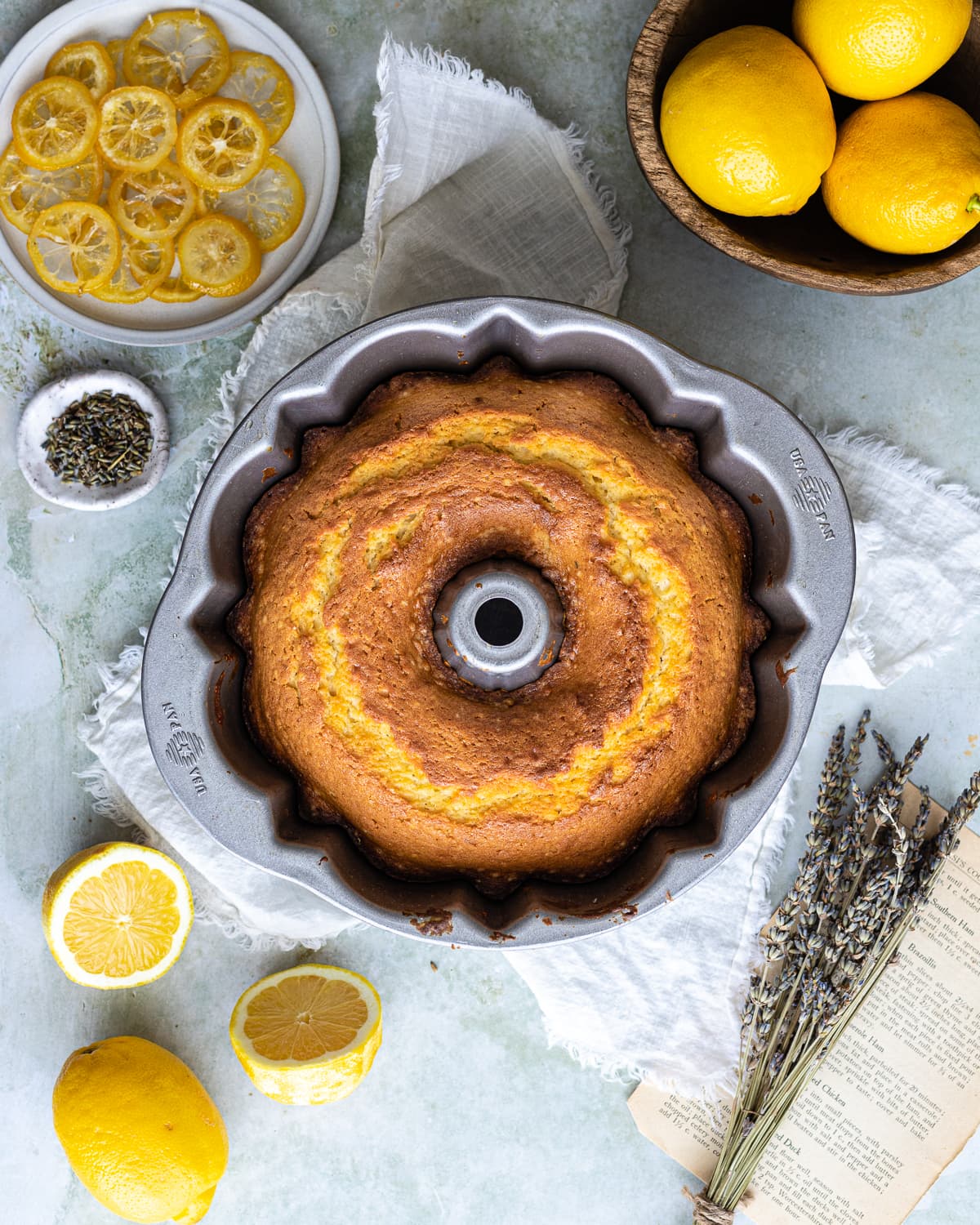 7. Bake at 350 for 1 hour and 15 minutes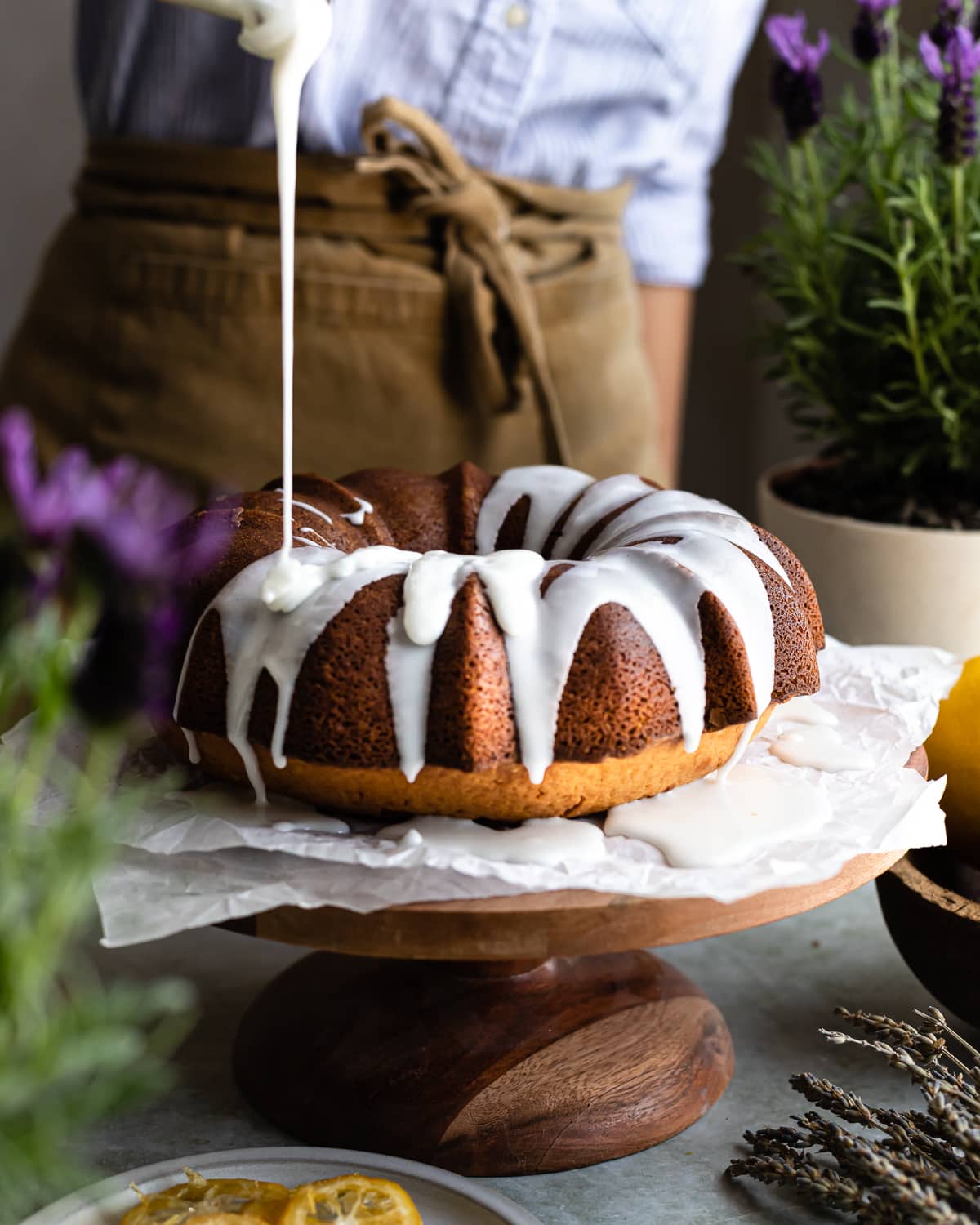 8. Glaze after the cake has cooled completely
How to Get a Bundt Cake Out of the Pan
Set yourself up for success by buying the right pan, I've owned a few bundt pans in the past and my USA Pan 10-inch Bundt Pan is the first one that has turned out a perfect cake.
Grease the bundt pan with canola oil using your fingers, ensure you feel the oil in every nook of the pan and drain or wipe away any excess to prevent it from pooling up in the bottom of the pan.
Let the cake cool in the pan, cakes are fragile while they are still warm. This is the reason most of my bundt cakes broke apart in the past because the crumb was not completely set (or as Mimi says, if the cake breaks apart, it's because it wasn't ready to come out).
Turn the cake out on your serving platter, and give the pan a tap, your cake should pop right out!
If you're still nervous about your cake sticking, use Mimi's fool-proof method for How to Remove Cakes Perfectly.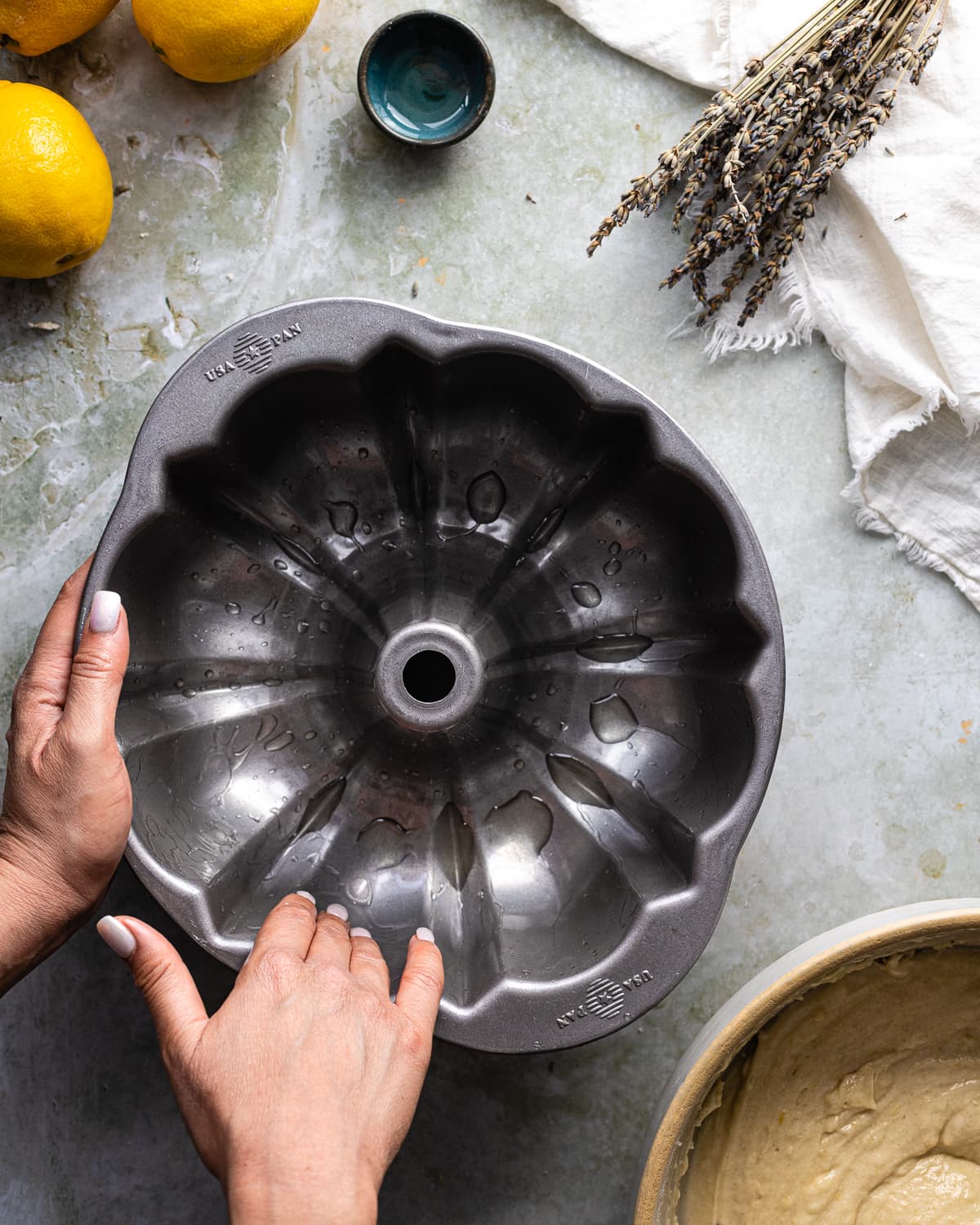 Questions?
What is the best way to keep a bundt cake from sticking?
Grease your bundt pan completely. I like to use my hands to make sure I've coated every corner, nook and cranny in my pan covered. It's also best to let your cake set before trying to remove it from the pan.
Is it better to take bundt cakes out of the pan hot or cold?
Warm cakes are quite fragile which can cause them to break up when you try to remove them from the pan. It's best to let the cake cool in the pan and wait for the crumb to set before turning it out.

Check out Mimi's method for seamlessly taking cakes out of the pan if you are still nervous.
I don't have any sourdough discard, can I still make this recipe?
Absolutely, you can add 28 grams of all-purpose flour and 28 grams of water.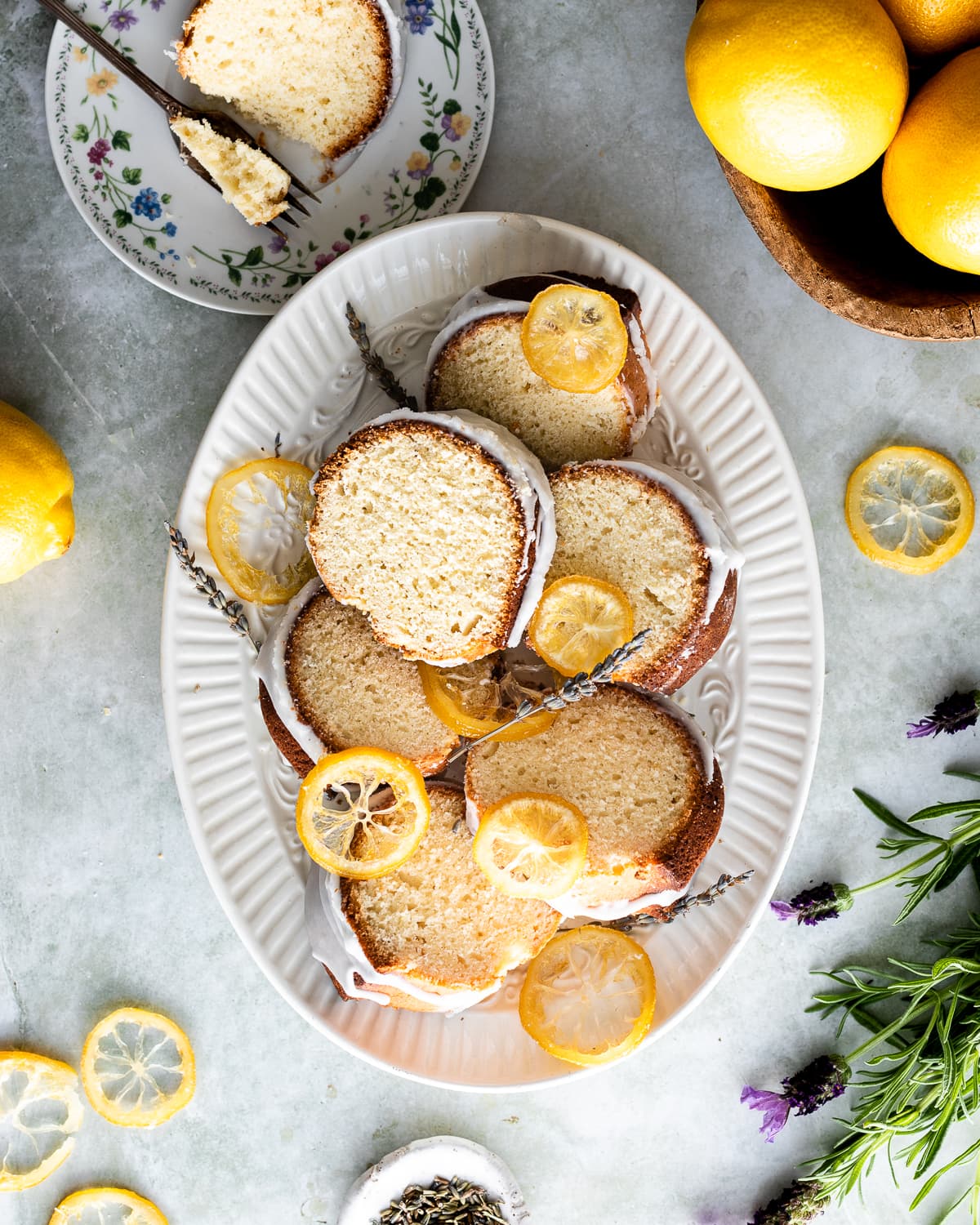 You May Also Like
---
Did you make this recipe?
Please leave a star rating and review this recipe if you enjoyed it! I read all the comments and love hearing your feedback.
THANK YOU!
---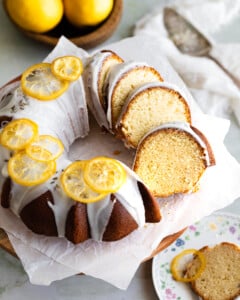 Lavender Lemon Sourdough Bundt Cake
Light and tender cake loaded with fresh, tangy lemon and just a hint of aromatic lavender, this Lavender Lemon Sourdough Bundt Cake will make any day feel like a special occasion.
Equipment
10-inch bundt pan

hand mixer
Ingredients
Batter
226

grams

whole milk

2

teaspoons

dried lavender

340

grams

cane sugar

1

lemon

zested

226

grams

unsalted butter

softened

3

eggs

large

57

grams

sourdough discard

189

grams

cake flour

160

grams

all-purpose flour

10

grams

baking powder

6

grams

salt
Glaze
284

grams

powdered sugar

sifted

14 to 21

grams

lemon juice
Instructions
Prep: Preheat the oven to 350°F.

Infuse milk: Combine milk and lavender in a small sauce pan. Heat until the mixture registers 140 F, remove from heat and allow to steep for 5 to 10 minutes or until fragrant. Staring the lavender out of the milk and discard. Set aside.

Make the batter: In a large mixing bowl, combine the sugar and lemon zest together. Use your fingertips to rub the zest into the sugar.

Beat butter into the sugar using a handmixer fitted with beaters until combined and there are no chunks of butter left (don't cream or aerate the butter).

Add the eggs and sourdough discard to the butter mixture and mix on low until combined.

Fold in the all-purpose flour, cake flour, baking powder, and sea salt in that order, just until combined and a few traces of flour remain.

With the hand mixer on, slowly stream the milk into the batter until a third of it is incorporated into the batter. Switch to a spatula or wooden spoon and fold the remaining milk until just combined, this will prevent too much air from being whipped into your batter.

Grease the pan: Pour canola oil into the bundt pan. Use your fingertips to coat all the nook and crannies of the pan with oil. Pour out any excess.

Bake: Pour the batter into the prepared pan. Bake for 1 hour 10 minutes to 1 hour 15 minutes or until a toothpick inserted in the center comes out clean and the top is golden brown. Allow to cool completely in the pan at least 3 hours or overnight.

Make the glaze: Combine the sifted powdered sugar and 2 tablespoons of lemon juice in a bowl. Whisk together until smooth, add in lemon juice a drop at a time to thin the glaze out into your desired consistency. It should be a little thick so it doesn't run off your cake.

Remove from pan: Once the cake has cooled and set completely, turn it out of the pan and plop it onto your serving platter (gravity will help dislodge the cake from the pan).

Glaze and decorate: Pour the glaze over the top of the cake. Sprinkle lavender on top (or just on one side) if you want extra lavender flavor! Top with candied lemons for a decorative twist. Allow the glaze to set for 30 minutes before slicing.

Store: Store cake slices in an airtight container for up to 3 days.
Notes
When in doubt, use gram over volume measures.
High Altitude: Bake at 350°F for 1 hour 15 minutes or until a toothpick inserted in the center comes out clean and the top is golden brown.
Nutrition
Calories:
373
kcal
|
Carbohydrates:
57
g
|
Protein:
4
g
|
Fat:
15
g
|
Saturated Fat:
8
g
|
Polyunsaturated Fat:
1
g
|
Monounsaturated Fat:
5
g
|
Trans Fat:
0.5
g
|
Cholesterol:
63
mg
|
Sodium:
231
mg
|
Potassium:
70
mg
|
Fiber:
1
g
|
Sugar:
40
g
|
Vitamin A:
422
IU
|
Vitamin C:
4
mg
|
Calcium:
68
mg
|
Iron:
1
mg
Did you make this recipe?
I'd love to know! Rate this recipe and leave a comment below. Share a photo and tag @makeitdough on Instagram