A true retro classic, this Sourdough Pineapple Upside-Down Cake is moist and soft with a brown sugar caramel pineapple and cherry topping that soaks into a buttery yellow cake. This cake will make you wonder why anyone bothers with frosting at all!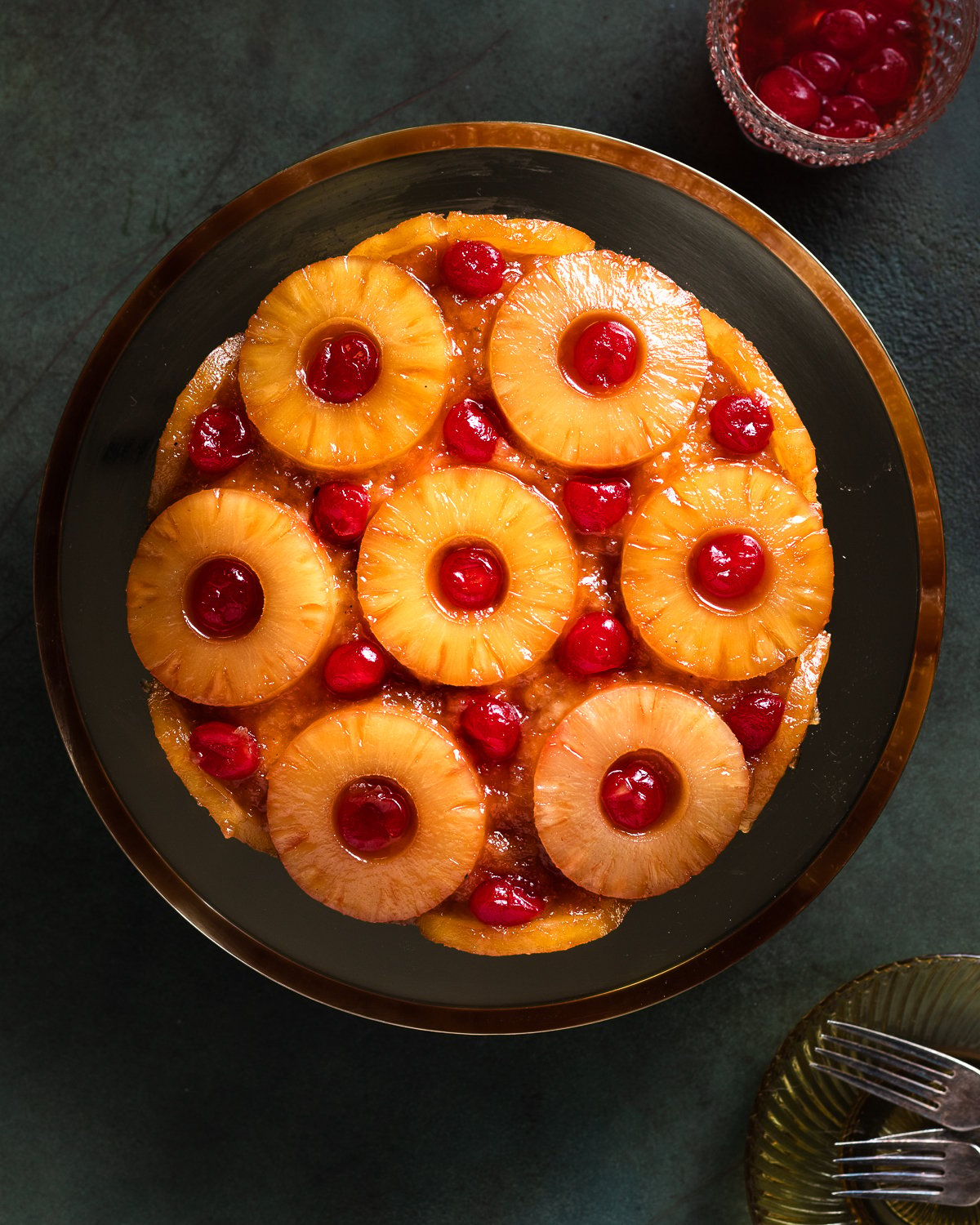 Pineapple Upside Down Cake is a household favorite, so when I started experimenting with sourdough discard, it was one of the first recipes I developed. I first published this recipe in 2019 and it's always a celebration each time I make it.
Jump to:
All about upside down cakes
I love upside down cakes because of their simplicity. A super easy cake batter is baked on top of a super easy brown sugar caramel and fruit arranged in a decorative pattern. After baking, the cake is flipped and this becomes a fruity, sugary topping that soaks the cake in even more flavor.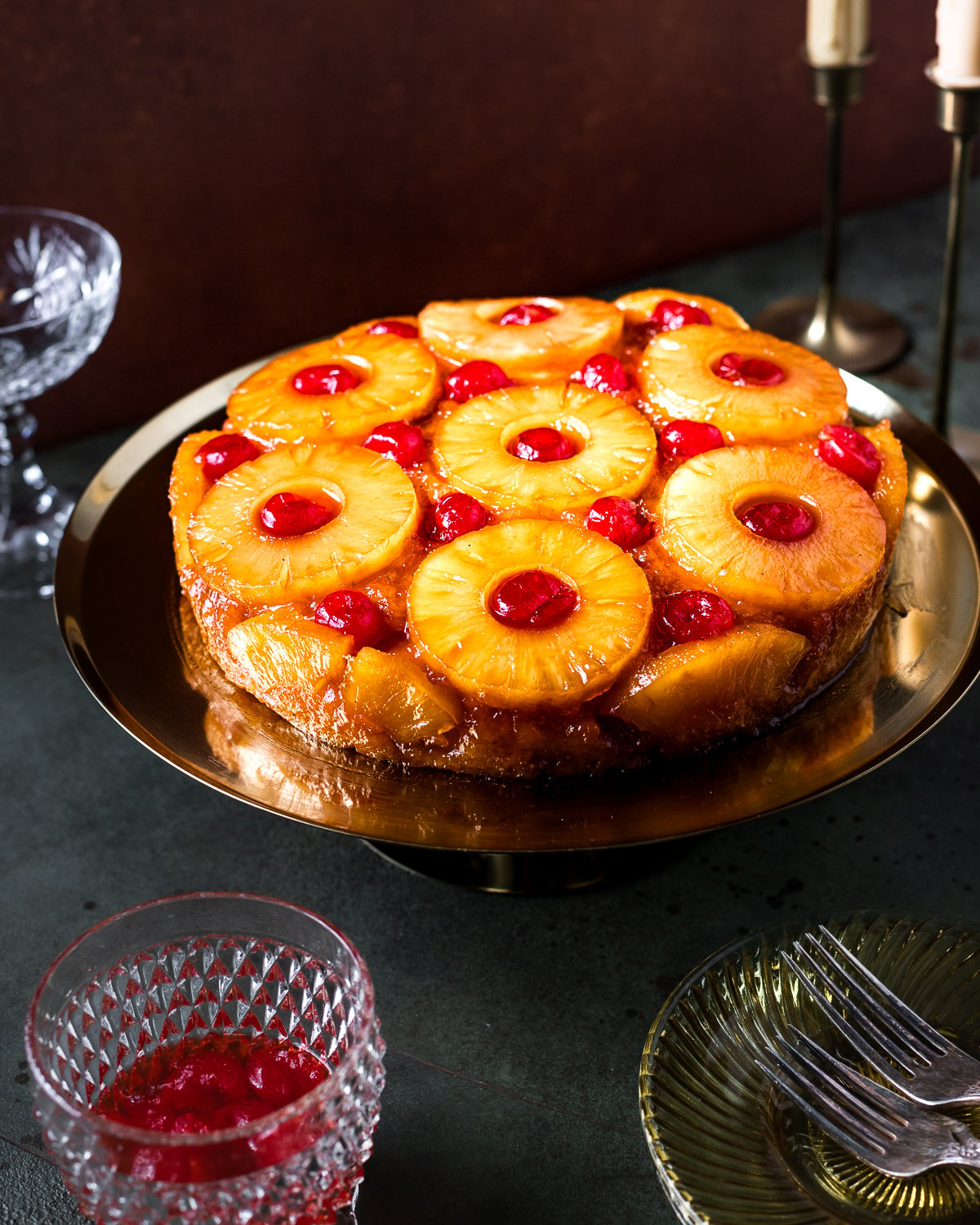 The topping is super important for upside down cakes, and I've improved mine since first creating this recipe. I use a lot of juice in the caramel which intensifies the pineapple flavor in this cake even more. The topping does need to cook down a little longer when compared with other recipes, but you'll see that the effort is totally worth it when you flip your cake and see the shiny, gooey caramel topping on your cake. Make sure you take the time to thicken your topping or your cake may overflow in the oven.
If you like this recipe, try my Sourdough Orange Upside Down Cake recipe or the Pina Colada Upside Down Cake variation with pineapples and coconut from my cookbook, Sourdough Every Day.
My secret ingredient
Aside from the addition of sourdough discard, this Sourdough Pineapple Upside Down Cake has a secret ingredient that imparts a unique flavor that you'll absolutely love: cardamom! Cardamom somehow makes this cake taste even more buttery and creamy. I like to use cardamom pods, but ground cardamom would work great as well. I highly recommend grabbing some before you make this cake, however, if you don't have any on hand you can still make this cake and it will still turn out delicious.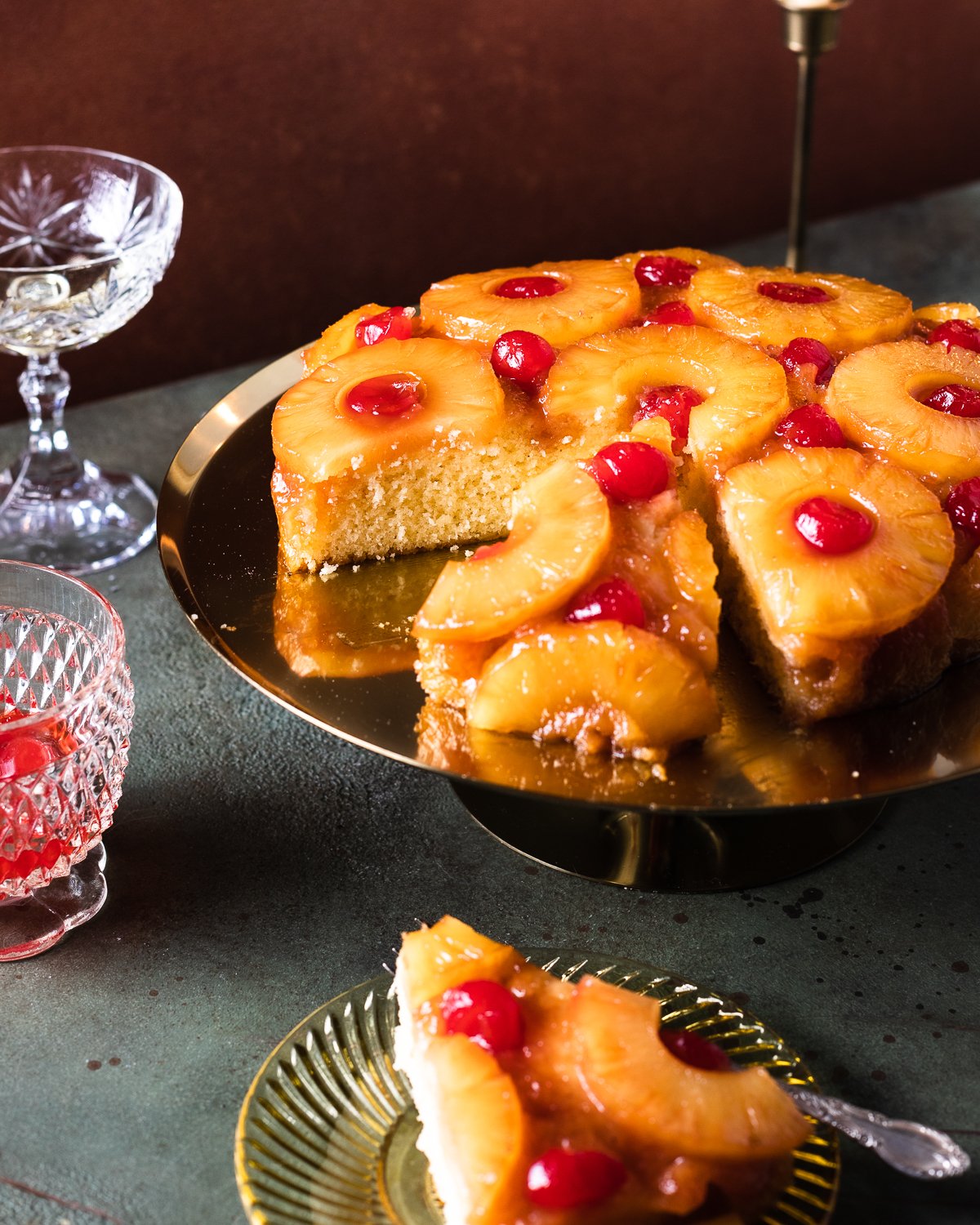 Baking with sourdough discard
Sourdough discard adds a great tangy flavor and additional moisture to this sourdough cake. That little bit of acidity cuts through the rich decadence of this cake. You can bake with your discard directly from the fridge without feeding it, since you are not using it to make bread. If you're using sourdough that's been in the fridge for weeks it will add more acidity to your cake, which you won't get when using a freshly fed starter. Both will work for this recipe but you'll get different results.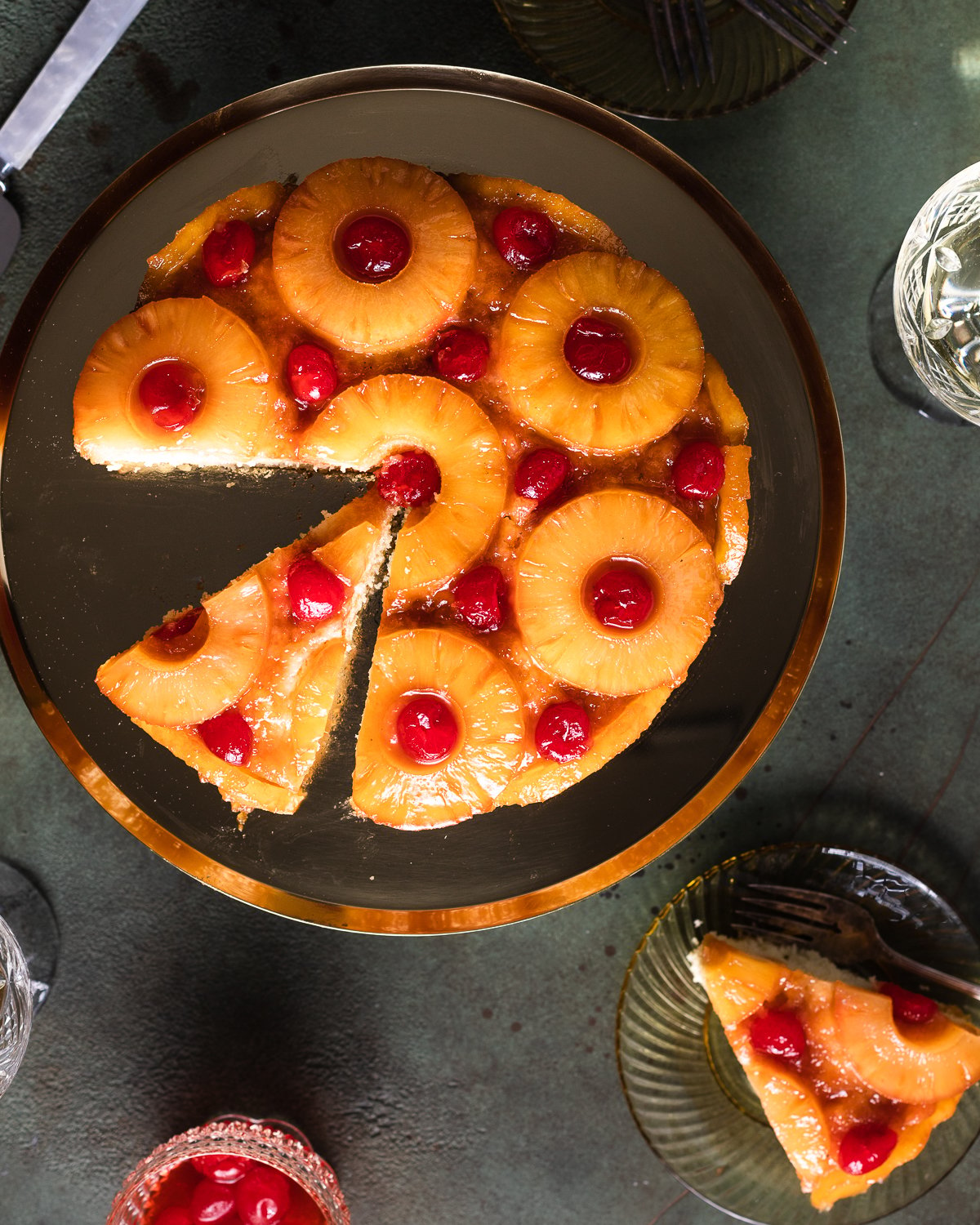 Topping ingredients
Unsalted butter - this recipe uses 1 stick of butter, which I love since you won't have any leftover
Brown sugar - adds a rich flavor to the caramel pineapple topping, feel free to substitute with granulated sugar if you don't have any on hand
Canned pineapple - use pineapples in juice not syrup, you'll be using the juice for the recipe. You can use fresh pineapple, but we prefer canned in our house.
Maraschino cherries - it's not pineapple upside down cake in our house without cherries, if you don't like cherries feel free to leave them out
Bourbon/Dark Rum - adds a lot of richness to the topping, if you don't want to use alcohol feel free to leave this out of the topping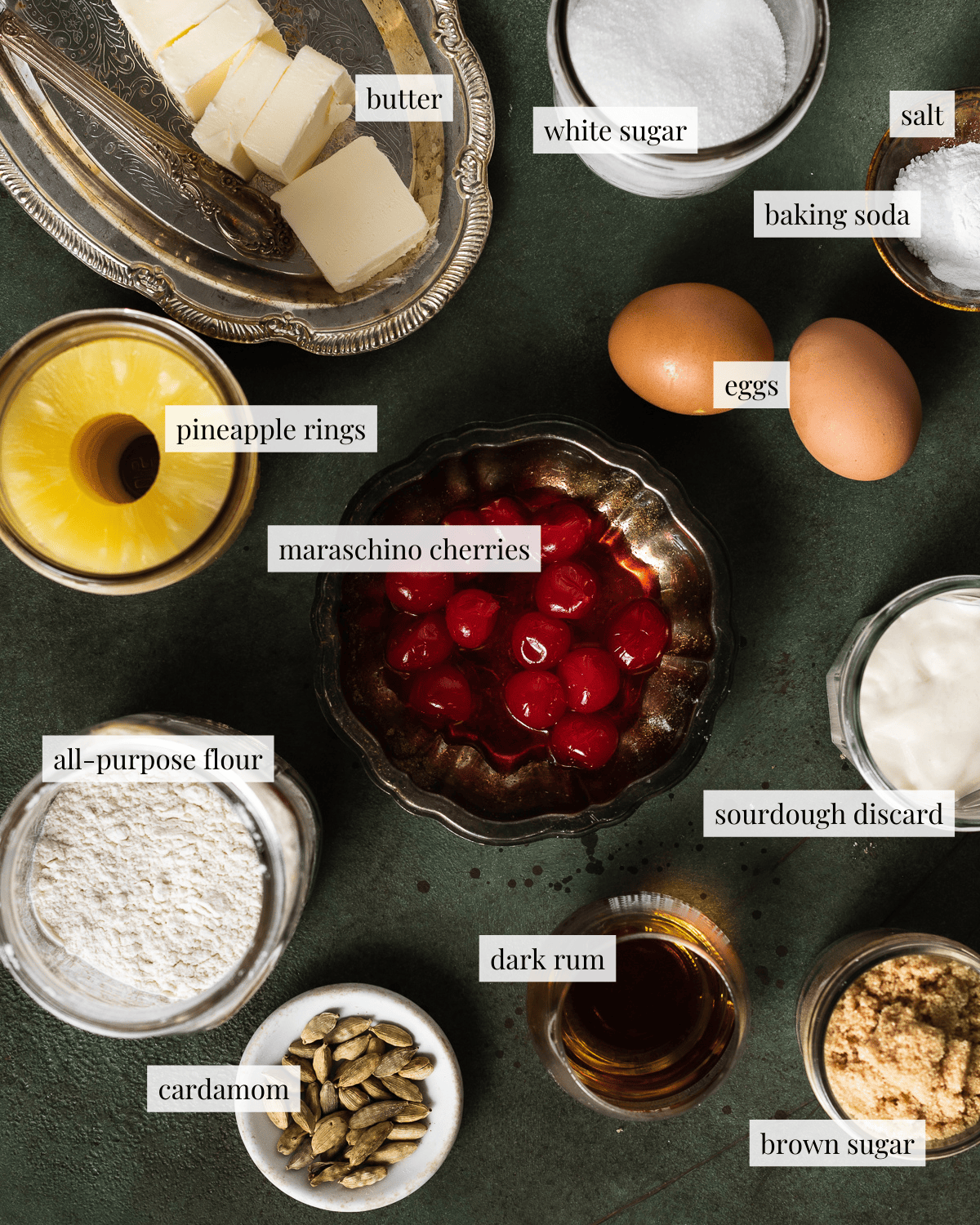 Batter ingredients
All-purpose flour - adds structure while keeping this cake soft and tender, don't substitute another type of flour
Baking powder - main raising agent for this cake, make sure yours is fresh and viable before using in your recipe
Cardamom pods - the secret ingredient in this bake, I highly recommend using pods, since they are more aromatic and impart a more intense flavor
Salt - I used Morton's Salt for this recipe, 1 teaspoon if you're using Diamond Chrystal (gram measure will be the same)
Sourdough discard - no need to feed your starter to make this recipe, feel free to use yours straight from the fridge (if you don't have any discard feel free to use your freshly fed starter or add 56 grams of water and 56 grams of all-purpose flour to the recipe)
Granulated sugar - imparts lightness in addition sweetness to your cake, don't substitute another type of sugar in your cake
Eggs - binds the ingredients together, I used large eggs for this recipe
Vanilla - use vanilla extract, not flavor
Step-by-step Instructions
1. Make the topping
2. Pour the topping into cake pan and arrange fruit on top
3. Whisk dry ingredients together
4. Cream the butter and sugar
5. Stir in remaining wet ingredients to the creamed butter
6. Fold in the dry ingredients a third at a time
7. Pour the batter gently over the topping
8. Bake the cake at 325 F for 50 to 60 minutes
Recipe FAQs
Why is my pineapple upside down cake so dense?
You may have overworked your batter, make sure you fold your flour in gently and stir just until all the flour is hydrated.

Your baking powder may be past its prime! Baking powder has a shelf-life and can lose its leavening abilities. If you're not sure, combine a little bit of baking powder and vinegar, if the mixture fizzes then it's still good to use in your recipe.
How long do you cool an upside down cake before inverting?
Let your cake cool for 10 minutes to let it set, however, do not let your cake cool in the pan or the topping will solidify and your cake will get stuck to your pan. To prevent your cake from sticking, use a good-quality, non-stick cake pan.
Can I use parchment paper for an upside-down cake?
If you're still nervous, line the bottom of your pan with a circle of parchment paper to ensure your topping or cake doesn't stick.
---
You may also like
---
Did this recipe rise to the occasion?
⭐⭐⭐⭐⭐
We knead your feedback! Did our recipe impress your taste buds? Leave a star rating and write a review to help us create even better recipes.
I read all the comments and love hearing your feedback.
THANK YOU!
---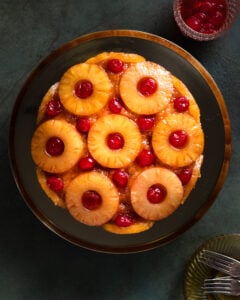 Sourdough Pineapple Upside Down Cake
A true retro classic, this Sourdough Pineapple Upside Down Cake is moist and soft with a brown sugar caramel pineapple and cherry topping that soaks into a buttery yellow cake.
Equipment
small saucepan

stand mixer or hand mixer

you'll need an electric mixer to cream the butter and sugars to aerate your batter
This section may contain affiliate links
Ingredients
Topping
150

grams

brown sugar

143

grams

pineapple juice

or whatever is left after measuring out 75 grams for your batter

28

grams

unsalted butter

56

grams

Bourbon

optional
Batter
150

grams

all-purpose flour

7

grams

baking powder

10

cardamom posts

about ½ teaspoon

84

grams

unsalted butter

softened

200

grams

granulated sugar

113

grams

sourdough discard

2

eggs

large

4

grams

vanilla extract

75

grams

pineapple juice
Instructions
Prep: Preheat oven to 325 F.

Make the topping: Combine the brown sugar and pineapple juice in a small saucepan. Stir and cook over medium heat. Turn the heat down and bring to a simmer until the mixture is thickened, about 15 minutes (make sure the mixture has thickened or your batter may overflow as it bakes). Remove the mixture from the heat, stir in the butter and Bourbon, until fully incorporated.

Assemble the topping: Pour the caramel into the cake pan and nestle the fruits in. Arrange 7 pineapple slices on the bottom of the pan, cut 3 of the slices in half and arrange them around the sides of the pan. Dot the cherries around the pan.

Make the batter: Whisk together the dry ingredients in a mixing bowl and set aside.

In a separate bowl, using a hand mixer with beater attachments (or a stand mixer with a paddle attachment), cream the butter and sugars together until light and fluffy, about 1 minute. Add the discard, eggs, pineapple juice and vanilla into the creamed butter.

Fold the dry ingredients into the wet ingredients a third at a time, waiting until all of the flour has been hydrated before folding the remainder in. Don't over mix or your cake may turn out dense and rubbery.

Bake: Pour the batter gently into the prepared cake pan, trying your best not to disturb your topping. Bake for 50 to 1 hour or until a skewer inserted into the center comes out clean or with only a few crumbs.

Serve: Set the baked cake on a wire rack and let the cake cool for 5 minutes. Place your serving platter over the baked cake and quickly turn the pan over. Carefully lift the cake pan off. Place fruit that's stuck on your pan back to your cake.

Enjoy and store: This cake is excellent warm or cold. Store any leftover slices in an airtight container for up to 3 days.
Tips
These recipes were developed and tested using grams for precise measurements. To increase your chances of success, I recommend investing in a kitchen scale. I've included rough volume estimates (in tablespoons and cups), but they might not be totally accurate.
Remember all ovens are unique, these recipes were tested in my oven which runs cooler than others. You might need to lower the temperature if your bake appears to be browning too quickly. Monitor your bake closely and make adjustments if needed.
Notes
When in doubt, use weight over volume measurements
Use canned pineapples in juice not syrup
Drain pineapple slices, but save pineapple juice, you'll be using all of it for this recipe
Use a 10-inch cake pan for this cake, do not use a smaller baking vessel or the sugary topping may overflow as your cake bakes
You'll need an electric mixer for this recipe to cream the butter and sugar together, this aerates the cake and makes it lighter and softer
To use cardamom pods, crush the outer shell, gather the seeds and grind them using a mortar and pestle or a spice grinder
Don't overmix your batter or your cake may turn out dense and rubbery
Don't be afraid to put any fruit that gets stuck on your pan back on your cake
Do not let your cake cool completely in the pan or it will get stuck
Nutrition
Calories:
397
kcal
|
Carbohydrates:
64
g
|
Protein:
4
g
|
Fat:
13
g
|
Saturated Fat:
8
g
|
Polyunsaturated Fat:
1
g
|
Monounsaturated Fat:
3
g
|
Trans Fat:
0.5
g
|
Cholesterol:
71
mg
|
Sodium:
117
mg
|
Potassium:
101
mg
|
Fiber:
1
g
|
Sugar:
46
g
|
Vitamin A:
411
IU
|
Vitamin C:
3
mg
|
Calcium:
83
mg
|
Iron:
1
mg