Moist and full of warm spices, this Sourdough Pumpkin Bundt Cake bakes with a crunchy sugar and a delicious tang thanks to the addition of sourdough discard.
Sponsored by Imperial Sugar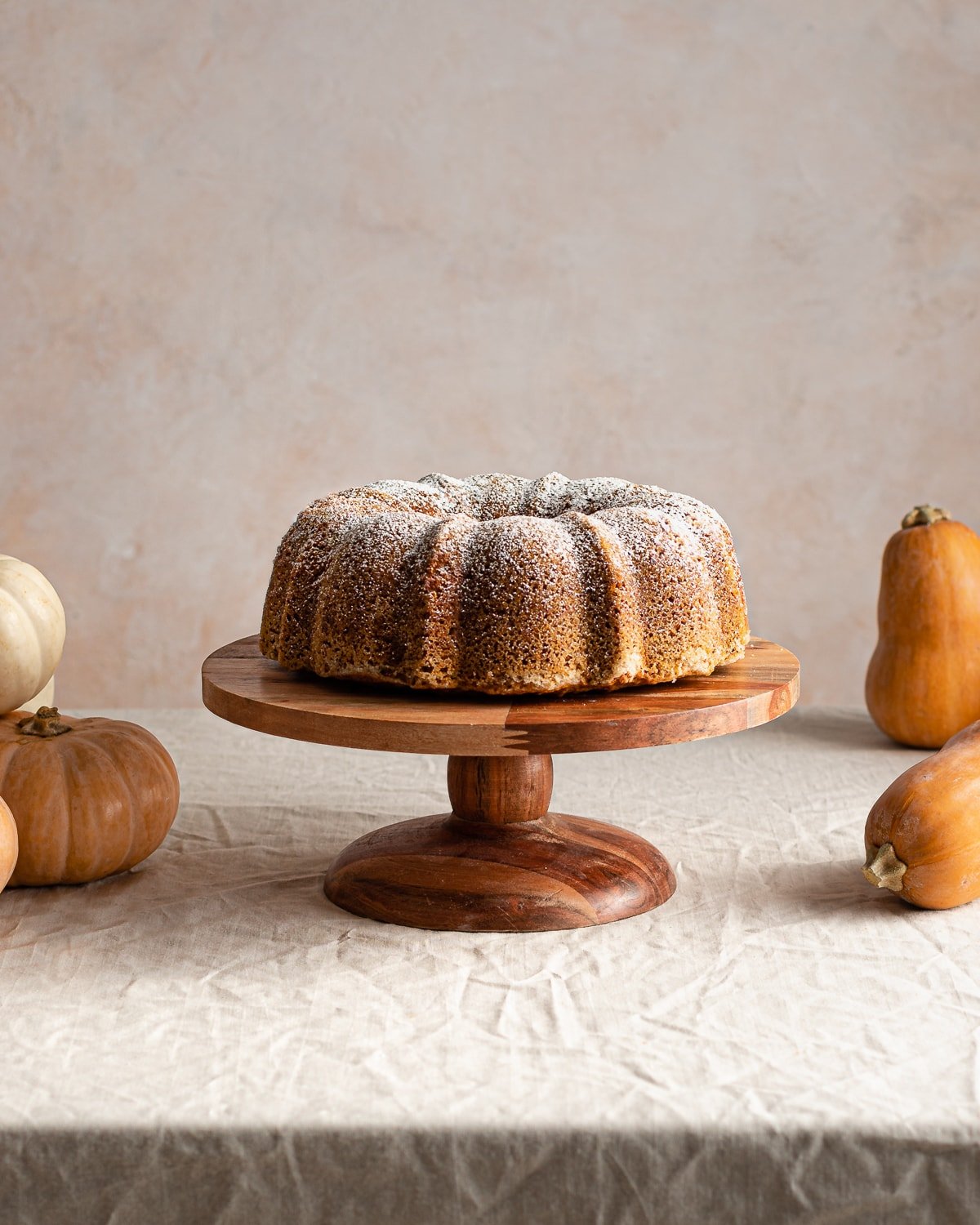 It's a shame that pumpkin gets relegated to only the fall months because it is such an amazing ingredient. Pumpkin imparts a deep earthy flavor to baked goods and is the perfect vehicle of fragrant warm spices. It also adds moisture and with the addition of sourdough discard, it keeps this Sourdough Pumpkin Bundt Cake tasting fresh for up to a week.
Love sourdough pumpkin recipes? Try my recipes for Sourdough Discard Pumpkin Bread, Sourdough Pumpkin Cookies, Decorative Pumpkin Sourdough Bread and Sourdough Pumpkin Muffins.
Jump to:
Recipe Box Series
This Sourdough Pumpkin Bundt Cake recipe is the second in my Recipe Box Series with Imperial Sugar. Each month, I'll be releasing recipes for classic bakes made with a sourdough twist! You can look forward to comforting classics like Sourdough Discard Chocolate Chip Cookies, Apple Pie with Sourdough Crust, Sourdough Oatmeal Cookies and many others.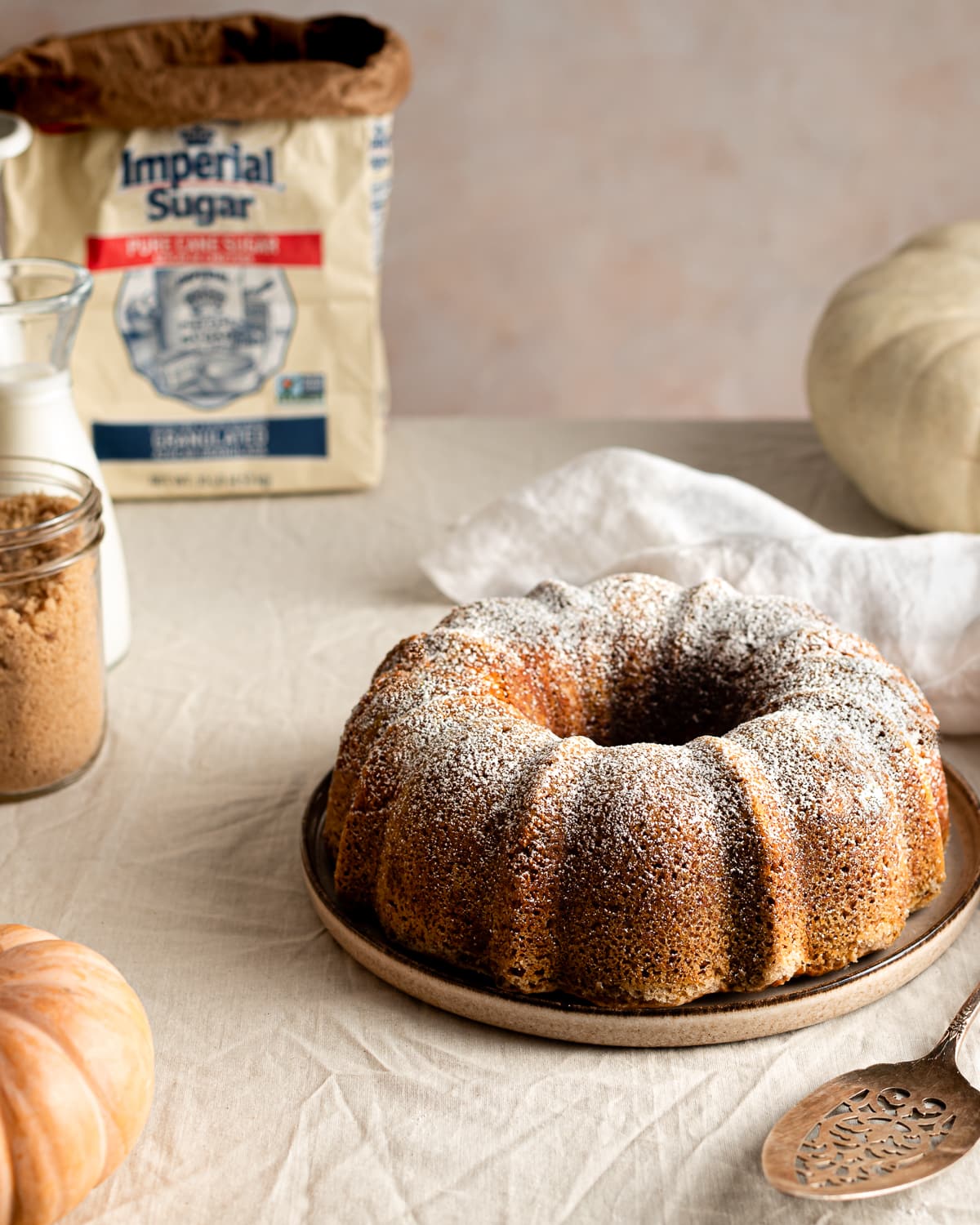 Sugar is such a vital part of every dessert, it imparts flavor, texture, moisture, and without it, it would be impossible to make our favorite bakes. I'm so grateful to Imperial Sugar for making the Recipe Box Series possible and so proud to be partnering with a company with such a long tradition of producing such high-quality products. Imperial Sugar products are 100% pure cane sugar, non-GMO and provide consistently delicious results.
Baking with sourdough discard
Baking powder and baking soda helps this cake rise, instead of biological leaveners (commercial yeast or sourdough). As the batter bakes, baking powder produces carbon dioxide which imparts a soft, and fluffy texture to your cake. Because you won't be using an active sourdough starter to make this cake rise you can bake with your sourdough discard straight from the refrigerator without activating or feeding it first.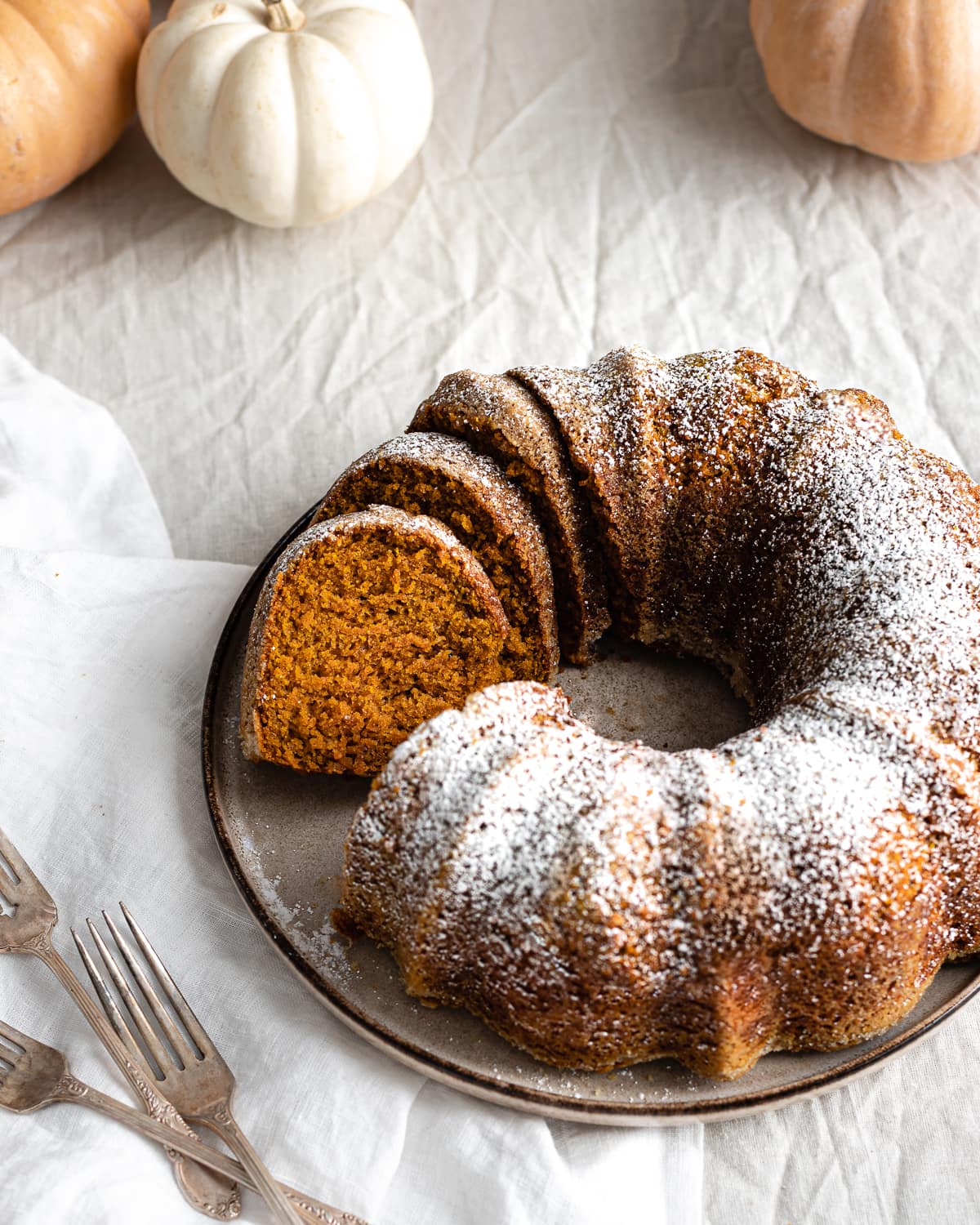 Ingredients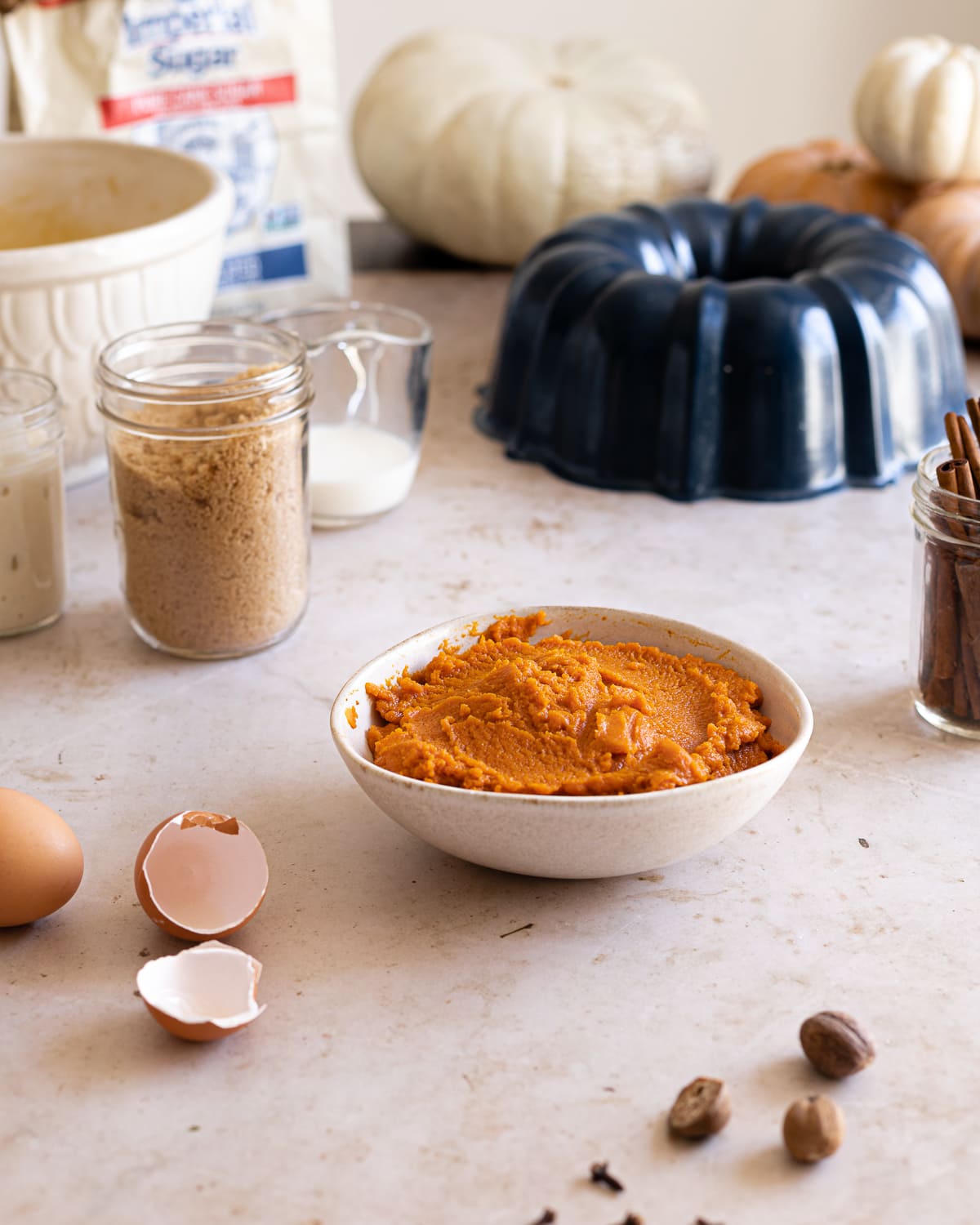 Pumpkin puree: For the best results, use canned pumpkin puree. Homemade pumpkin puree may add more moisture which could affect the texture of your cake. Do not use pumpkin filling because it contains sugar and spices.
Sourdough discard: If you don't have any discard, add 56 grams of flour and 56 grams of water to your recipe.
Step-by-step instructions
Preheat your oven to 375 F
Whisk together the all-purpose flour, salt, baking powder, baking soda and ground spices
In a separate bowl, combine melted butter and sugars until completely dissolved
Add oil in a steady steam
Whisk in the eggs one at a time
Stir in pumpkin puree and sourdough discard
Alternate folding in dry ingredients and milk
Brush bundt pan with cake release and coat in sugar
Pour batter into prepared bundt pan
Bake bundt cake for 50 to 50 minutes
Let the cake cool in pan for 1 hour to allow crumb to set
Turn the cake out on a wire rack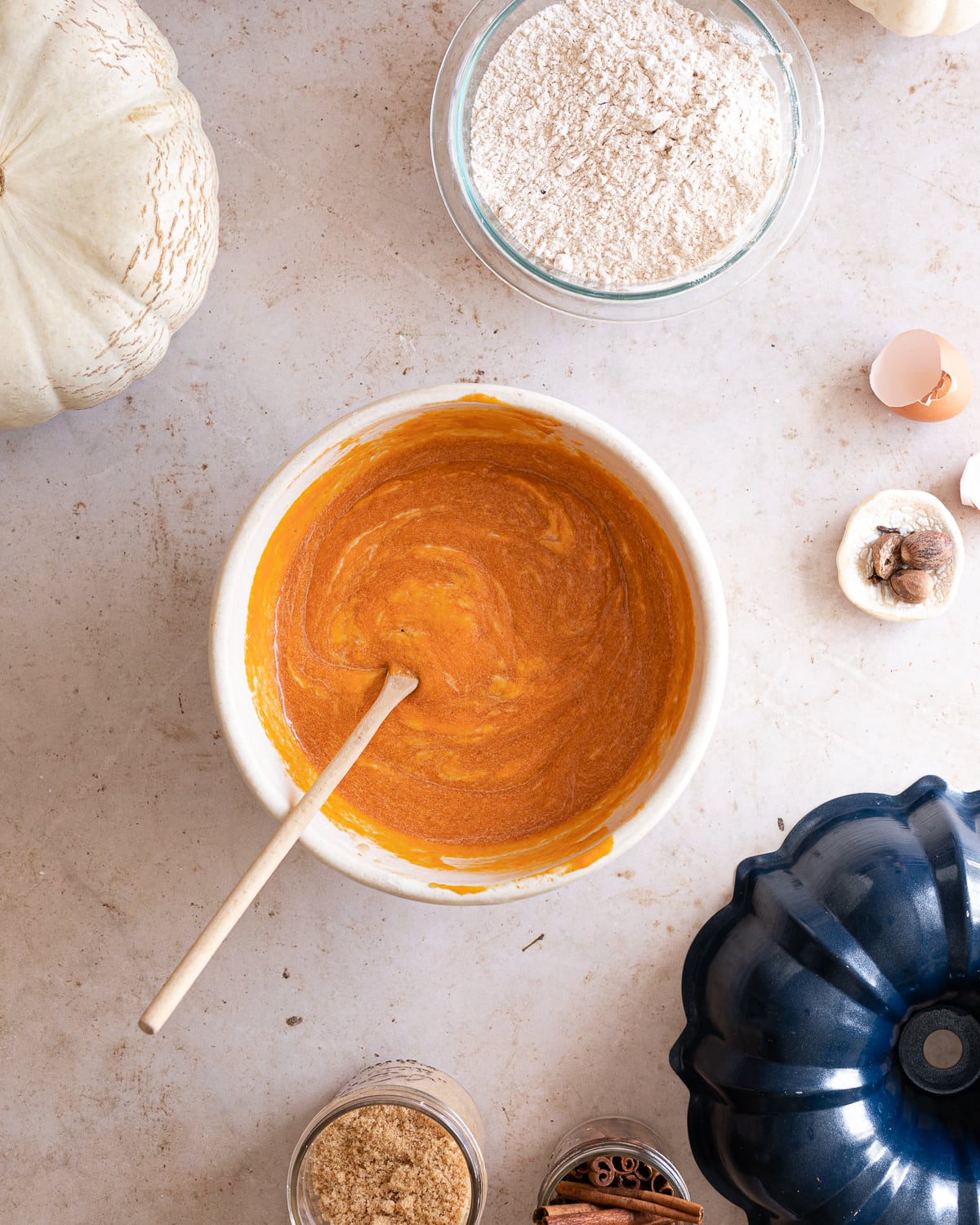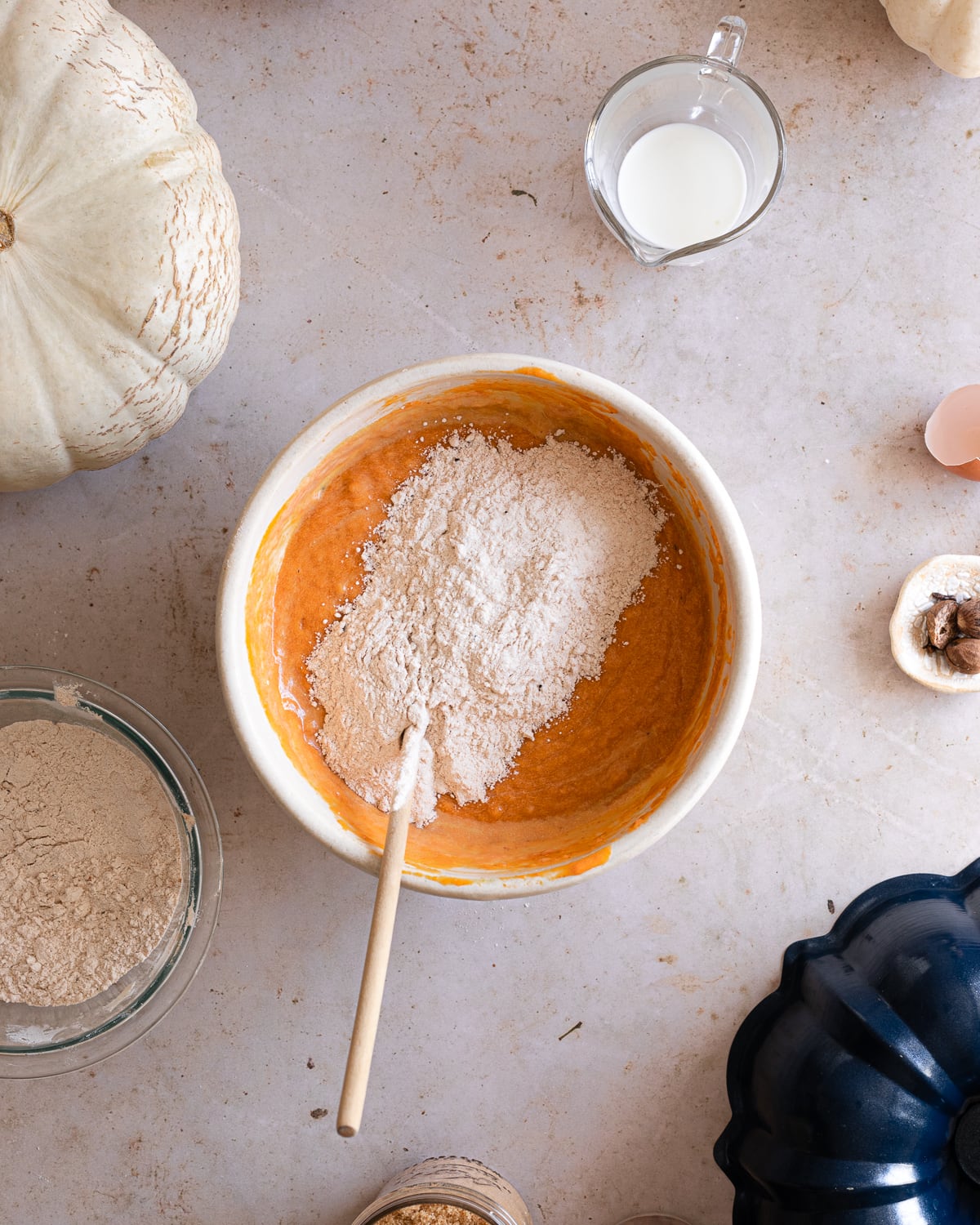 How to prevent your bundt cake from sticking to the pan
There's nothing more frustrating than spending hours on a cake, only to have it stick to your bundt pan when you try to turn it out. All the little nooks and crannies that give bundt cakes their elegant appearance are opportunities for your cake to stick to your pan.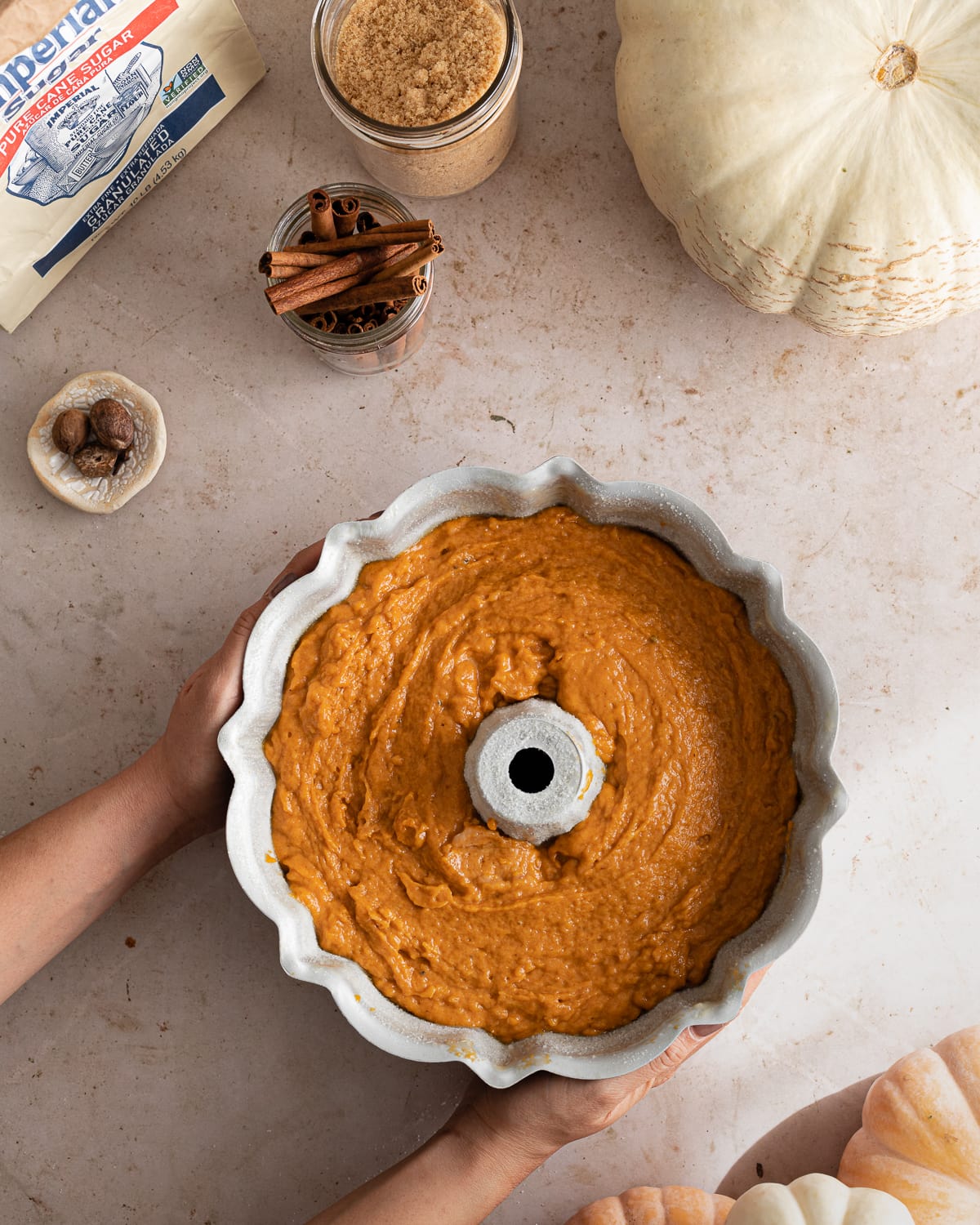 Baking Tips
Grease bundt pan completely: My secret to preventing my bundt cakes from sticking is using a cake release, a mixture of shortening, vegetable oil and all-purpose flour. Just make sure you coat every corner of your bundt pan thoroughly with cake release.
Dust with sugar: Dusting some Imperial Sugar Extra Fine Granulated Sugar before pouring your cake batter into the pan adds another layer of insurance against sticking and your cake will bake up with a nice crunchy crust.
Allow the crumb to set: Allow the cake to cool completely, your pan should be cool to the touch, this will prevent your cake from breaking apart when you turn it out.
Recipe FAQs
Can I use homemade pumpkin puree?
This recipe was developed using canned pumpkin puree. Homemade pumpkin puree may have a different moisture level than store-bought which could adversely affect the texture of your cake.
What is sourdough discard?
Sourdough discard is any portion of your starter that is removed during the feeding process or any part that is not used to make bread. You can use it in other bakes and dishes or store it in the refrigerator for future use. 
I don't have any sourdough discard, can I still make this recipe?
Absolutely! You can use active sourdough starter in this recipe as well. If you don't have a starter, simply add 56 grams of flour and 56 grams of water.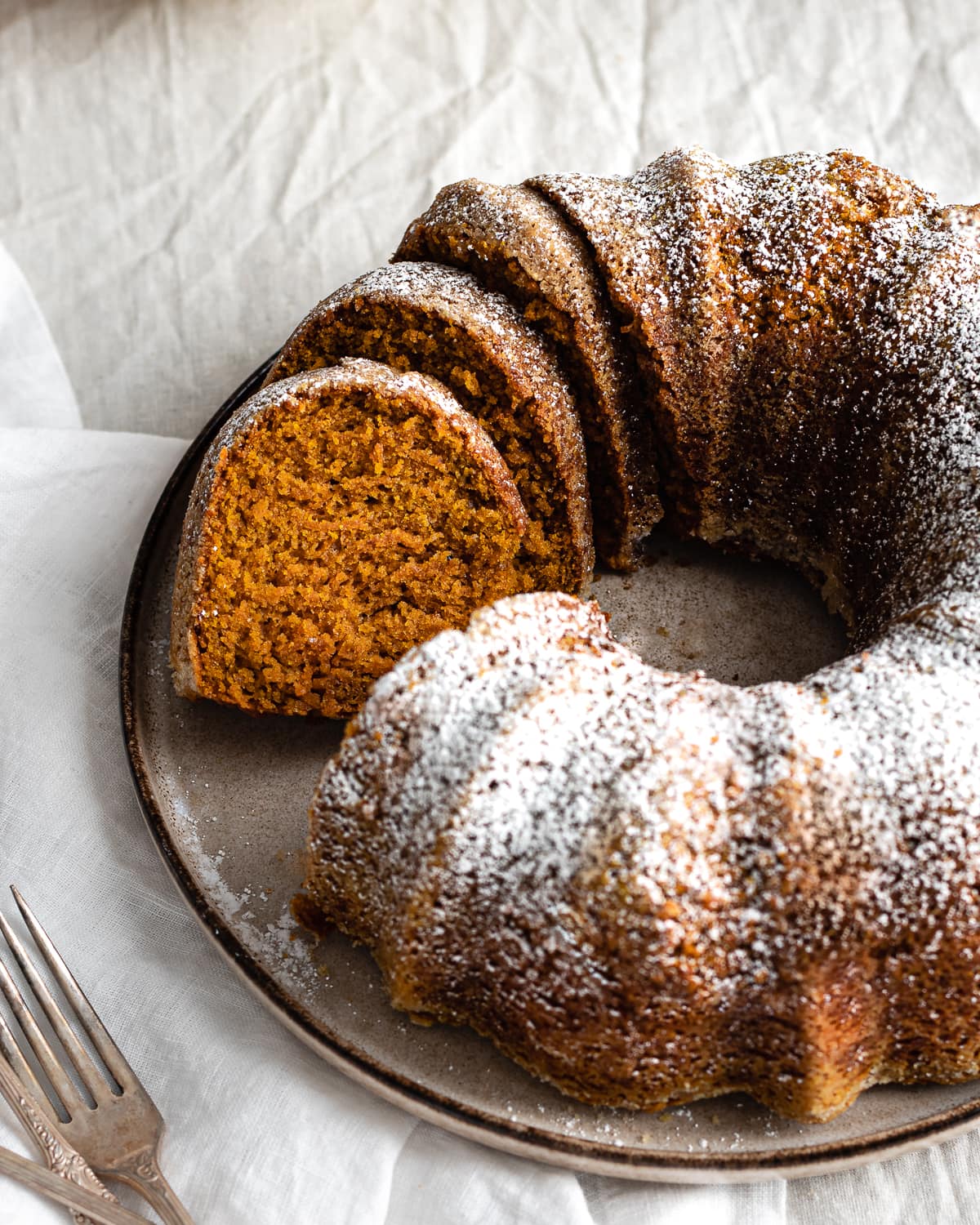 ---
You may also like
---
Did this recipe rise to the occasion?
⭐⭐⭐⭐⭐
We knead your feedback! Did our recipe impress your taste buds? Leave a star rating and write a review to help us create even better recipes.
I read all the comments and love hearing your feedback.
THANK YOU!
---
Sourdough Pumpkin Bundt Cake Recipe
Moist, dense and full of warm spices, this Sourdough Pumpkin Bundt Cake bakes up with a crunchy sugar crust thanks to a dusting of Imperial Sugar Extra Fine Granulated Sugar in the pan right before baking. 
This section may contain affiliate links
Ingredients
320

g

all-purpose flour

7

g

salt

9

g

baking powder

6

g

baking soda

2

teaspoon

cinnamon

ground

¼

teaspoon

cloves

ground

⅛

teaspoon

nutmeg

grated

113

g

unsalted butter

melted

133

g

vegetable oil

plus more for greasing

266

g

Imperial Sugar Extra Fine Granulated Sugar

plus more for dusting

2

eggs

large

56

g

whole milk

425

grams

pumpkin puree

canned

113

grams

sourdough discard
Instructions
Prepare for baking: Preheat your oven to 375 F with the rack positioned in the middle.

Make the batter: Whisk together the all-purpose flour, salt, baking powder, baking soda, cinnamon, cloves and nutmeg until no clumps remain. In a separate mixing bowl, combine the melted butter, Imperial Sugar Extra Fine Granulated Sugar and Imperial Sugar Light Brown Sugar. Stir until the sugars have dissolved. Add the oil in a steady stream while you continue stirring the mixture. Whisk the eggs in one at a time, waiting until each egg is fully incorporated before adding the next one. Stir in the pumpkin puree and sourdough discard. 

Fold in a third of the flour mixture until no traces of flour remain. Stir in half of the milk. Alternate between adding in the remaining flour mixture and milk, ending with the flour mixture and folding gently just until all of the flour is incorporated. Don't overmix your batter or your cake may turn out rubbery. 

Prepare your bundt pan: Using a pastry brush, coat your bundt pan with oil thoroughly, making sure you apply oil to every nook and cranny to prevent your cake from sticking to the pan. Dust an even layer of Imperial Sugar Extra Fine Granulated Sugar in your pan. 

Pour the cake batter into your bundt pan. Flatten the top of the batter using an offset spatula or butter knife. Pick up your pan and gently tap it on your counter a few times to knock out any air bubbles in your cake. 

Bake the bundt cake: Bake your cake for 50 to 60 minutes or until a skewer inserted into the center of your cake comes out clean. 

Turn out the cake: Move your bundt pan on a wire rack and let your cake cool inside the pan for 5 minutes. Place the wire rack on top of the pan. Flip your cake onto the wire rack and let your cake settle for another 5 minutes. Tap the pan to loosen your cake and remove the pan. 
Tips
These recipes were developed and tested using grams for precise measurements. To increase your chances of success, I recommend investing in a kitchen scale. I've included rough volume estimates (in tablespoons and cups), but they might not be totally accurate.
Remember all ovens are unique, these recipes were tested in my oven which runs cooler than others. You might need to lower the temperature if your bake appears to be browning too quickly. Monitor your bake closely and make adjustments if needed.
Notes
Enjoy and store: Dust with a sprinkling of Imperial Sugar Powdered Sugar. Let the cake cool for 15 minutes before slicing and serving. Store leftover slices at room temperature for up to a week. 
When in doubt use weight over volume measures
Nutrition
Calories:
322
kcal
|
Carbohydrates:
45
g
|
Protein:
3
g
|
Fat:
15
g
|
Saturated Fat:
5
g
|
Polyunsaturated Fat:
5
g
|
Monounsaturated Fat:
4
g
|
Trans Fat:
0.3
g
|
Cholesterol:
36
mg
|
Sodium:
346
mg
|
Potassium:
105
mg
|
Fiber:
2
g
|
Sugar:
27
g
|
Vitamin A:
4347
IU
|
Vitamin C:
1
mg
|
Calcium:
63
mg
|
Iron:
2
mg