Thin and crispy, these Sourdough Discard Whole Wheat Crackers have a delicious cheesy flavor that you only get with sourdough. This quick and easy recipe will be your new favorite way to use up your sourdough discard.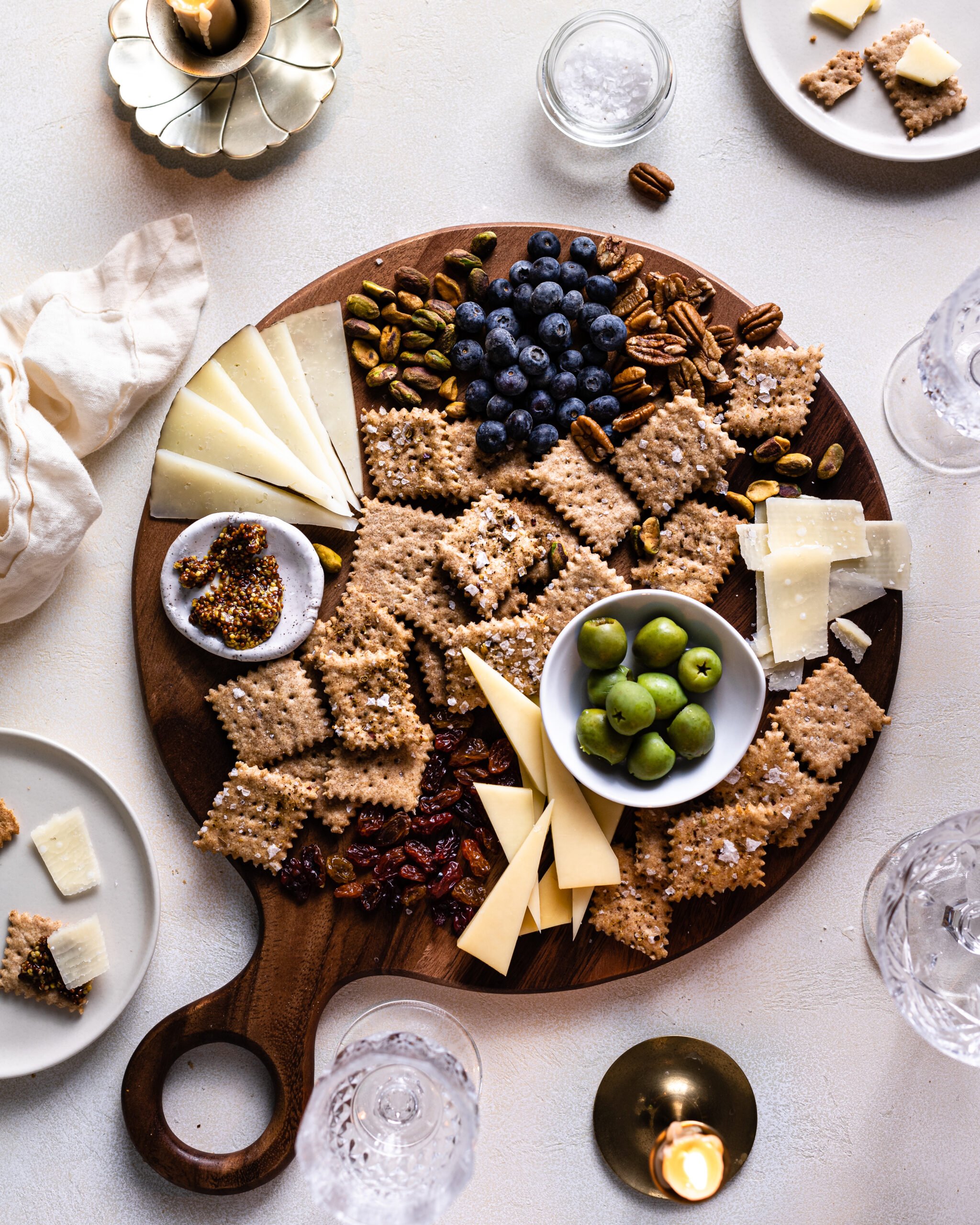 This recipe is another collaboration with my baking bestie, Mimi Council! If you've been following the blog for a while, you've probably seen the other recipes we've partnered up on, like our Sourdough Molasses Cookies and Rosemary Sourdough Bread. If you've tried and loved those recipes, we hope you'll enjoy these crackers as well! We're planning on collaborating on new sourdough recipes each month, so stay tuned!
Jump to: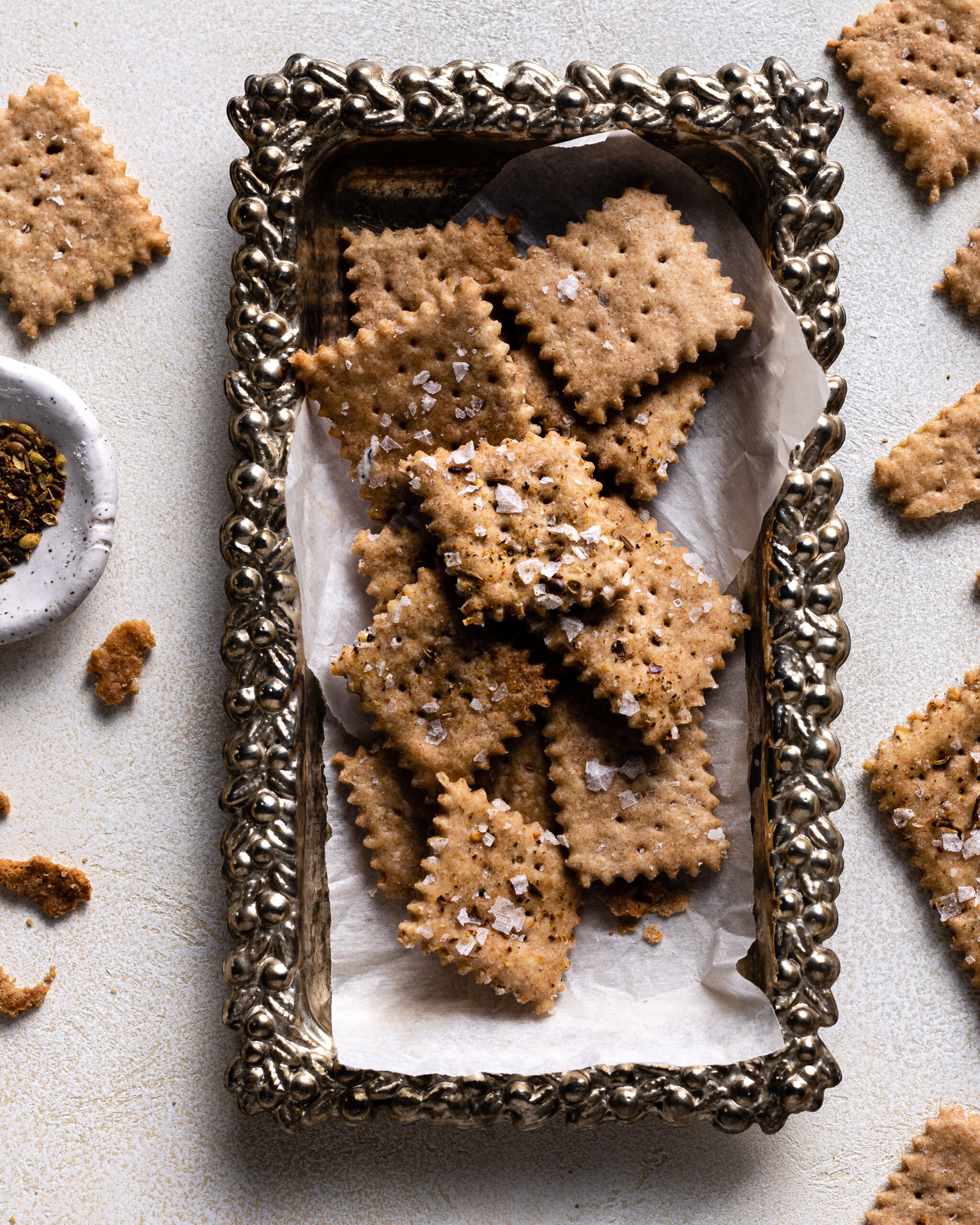 What makes sourdough crackers special
If you've recently gotten on the sourdough bandwagon, welcome! These crackers are a great introductory bake. It's the perfect way to use your excess sourdough starter discard instead of throwing it in the garbage. This dough is really easy to handle and the crackers are thin, crispy and seriously addictive.
These homemade sourdough crackers are so versatile you'll want to have a jar handy all the time for charcuterie boards or to serve with your favorite dips, like Mimi's Roasted Beet & Garlic Lemon Hummus.
Love sourdough crackers? You'll love the Buttery Charcoal Crackers, Manchego Spelt Crackers, Spelt and Einkorn Graham Crackers from my cookbook Sourdough Every Day.
Why I love this recipe:
Great recipe for newbie sourdough bakers
So much better than store-bought crackers
A great way to use up excess sourdough starter, uses 1 cup of discard.
Made with delicious and healthy whole-wheat flour.
Crispy crackers store for up to 1 month at room temperature.
These crackers are endlessly adaptable! Add sesame seeds and poppy seeds or even add parmesan cheese.
What is sourdough discard?
Sourdough discard is any portion of your sourdough starter that you do not use to make bread. It's usually past the point of being viable for bread making since the yeast have exhausted their food source and are considerably weak. There's more bacterial activity in a sourdough discard so it's also usually more acidic, this acidity prevents it from growing harmful pathogens like mold or any other microorganisms that may cause spoilage. This is why discard usually has an acidic aroma and flavor, and why it can be kept for long periods of time without being fed.
I usually store my sourdough discard in a food-safe container in the refrigerator until I'm ready to use it. It does not need to be fed at all.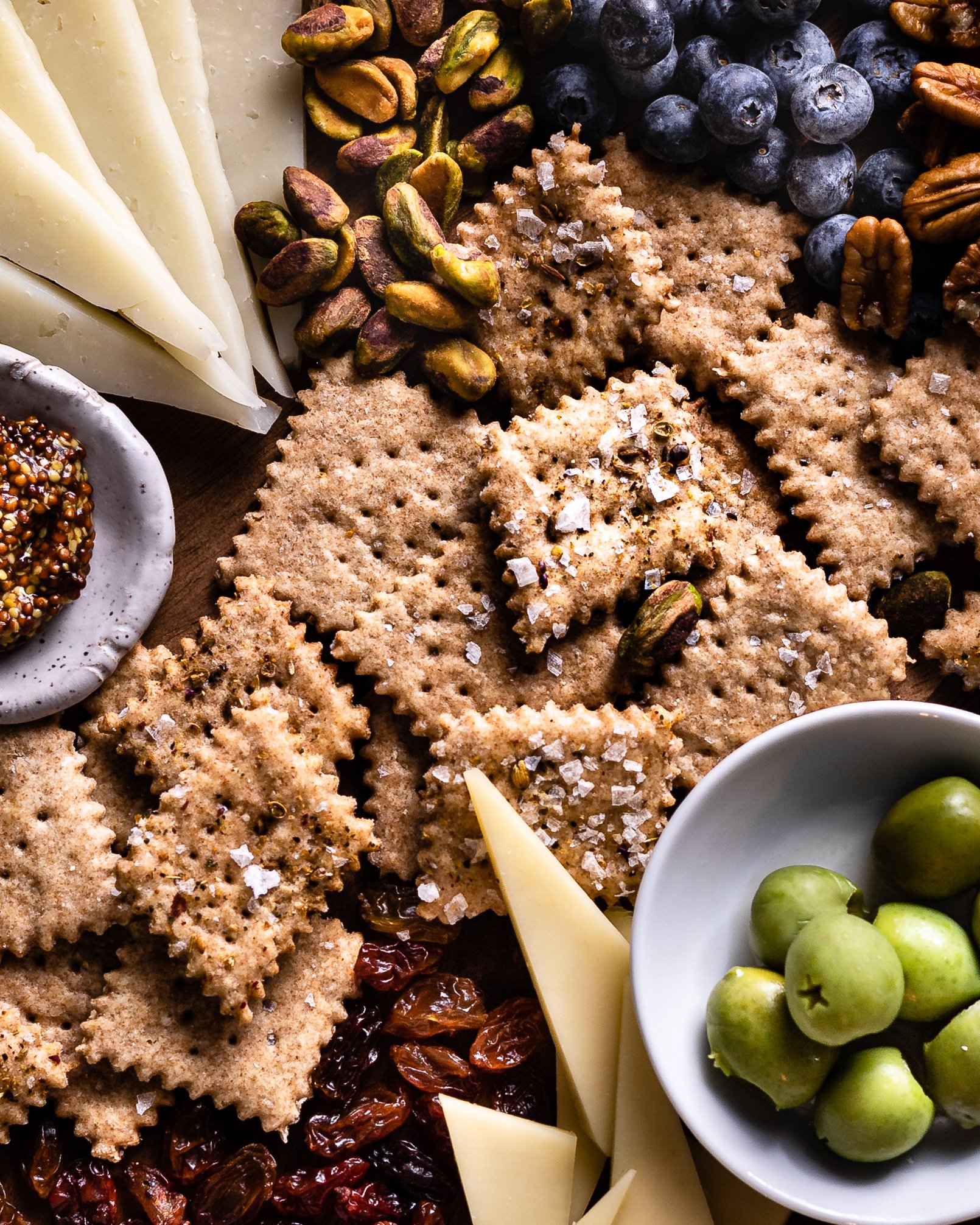 Baking with sourdough discard
When incorporated into buttery crackers, sourdough discard imparts a savory almost cheesy flavor that's not overly tangy. Since you won't use it to make bread rise, you can use unfed sourdough or sourdough discard straight from the refrigerator. Freshly fed sourdough will have a milder flavor than discard that's been kept in the fridge for weeks, both will work but you'll get a deeper flavor from older discard.
Overflowing discard jar? Check out my favorite sourdough discard recipes.
What You Need
Sourdough discard - Adds a delicious cheesy flavor to these crackers, since you aren't using it for leavening you can use your starter directly from the refrigerator.
Whole wheat flour - Imparts a nutty flavor and makes these crackers a bit healthier, feel free to substitute ancient grains like spelt and einkorn flour or all-purpose flour if that's all you have in your pantry.
Salt - Use kosher salt for the dough and flaky sea salt as a topping on top of the dough.
Baking powder - Tenderizes these crackers, giving them a light and crisp texture, don't leave it out or your crackers will be too tough.
Butter - Makes these crackers rich and buttery.
Spices and herbs - Get creative! Dried spices and herbs will add extra flavor to your crackers, optional but recommended. Try everything bagel seasoning, black pepper, dried or fresh rosemary, or garlic powder.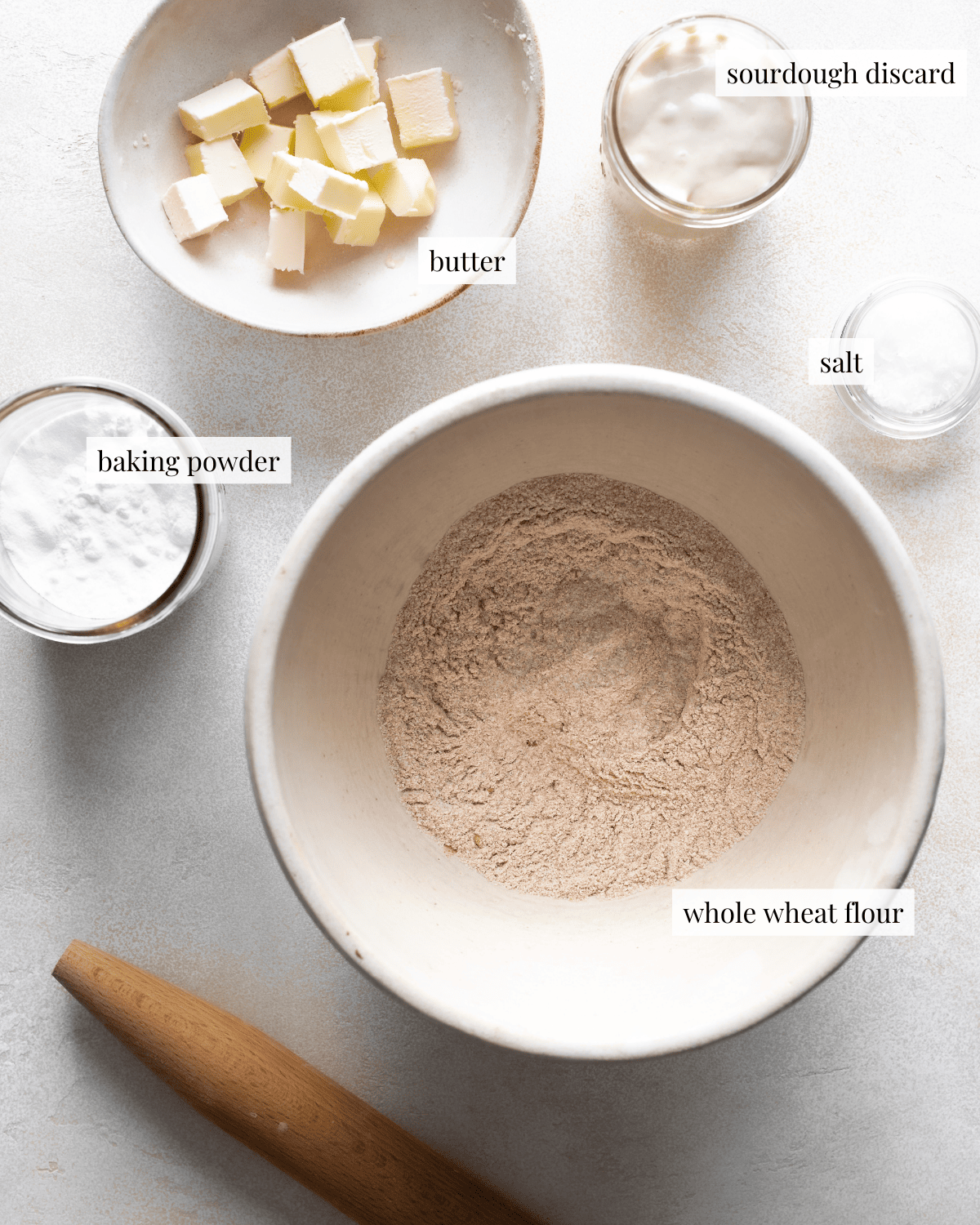 Step-by-step Instructions
I absolutely love making everything by hand and this recipe creates a dough that's fun to handle and easy to roll out. If you'd prefer to use a mixer, I've included instructions in the recipe card below.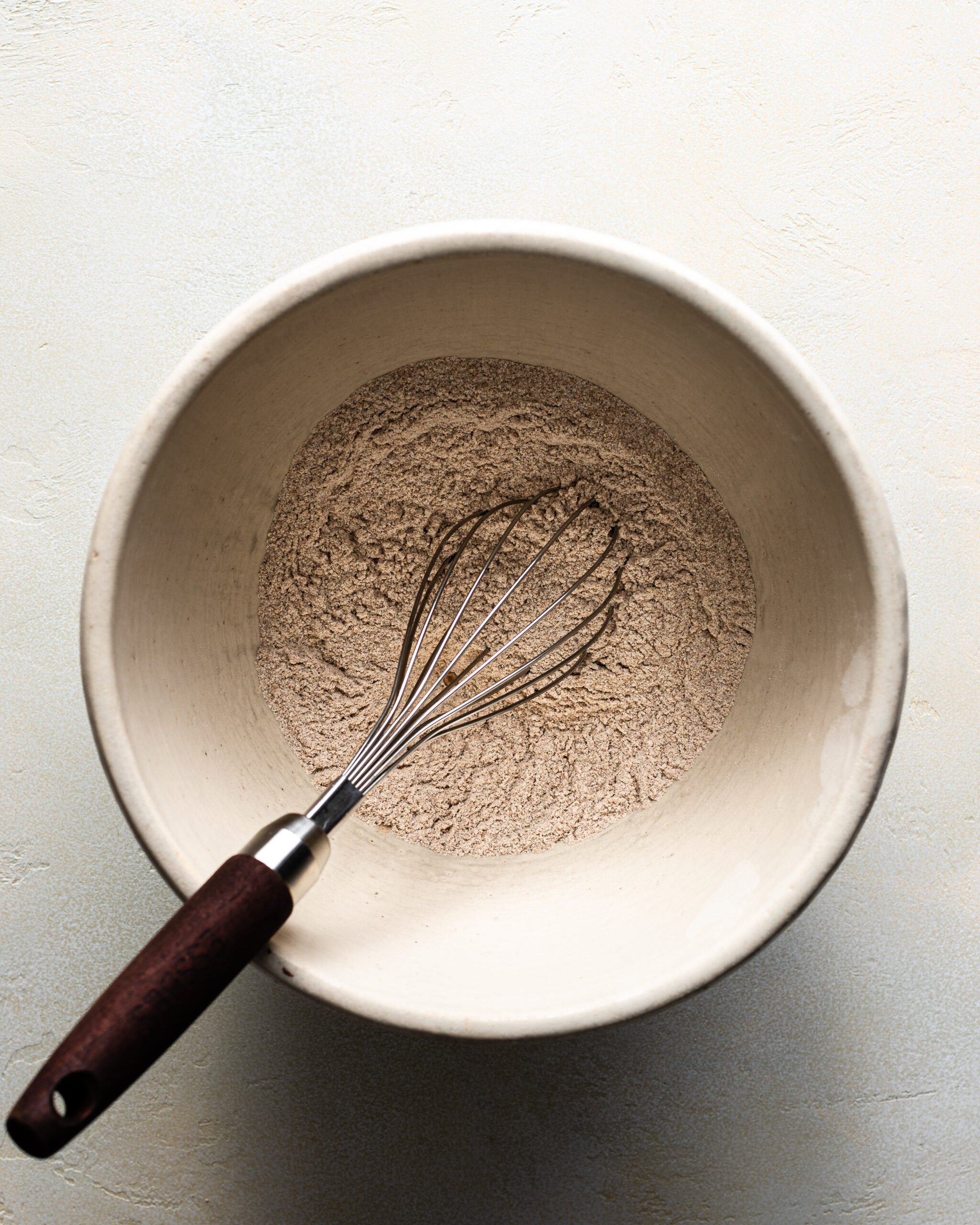 1. Whisk the whole wheat flour, baking powder and salt together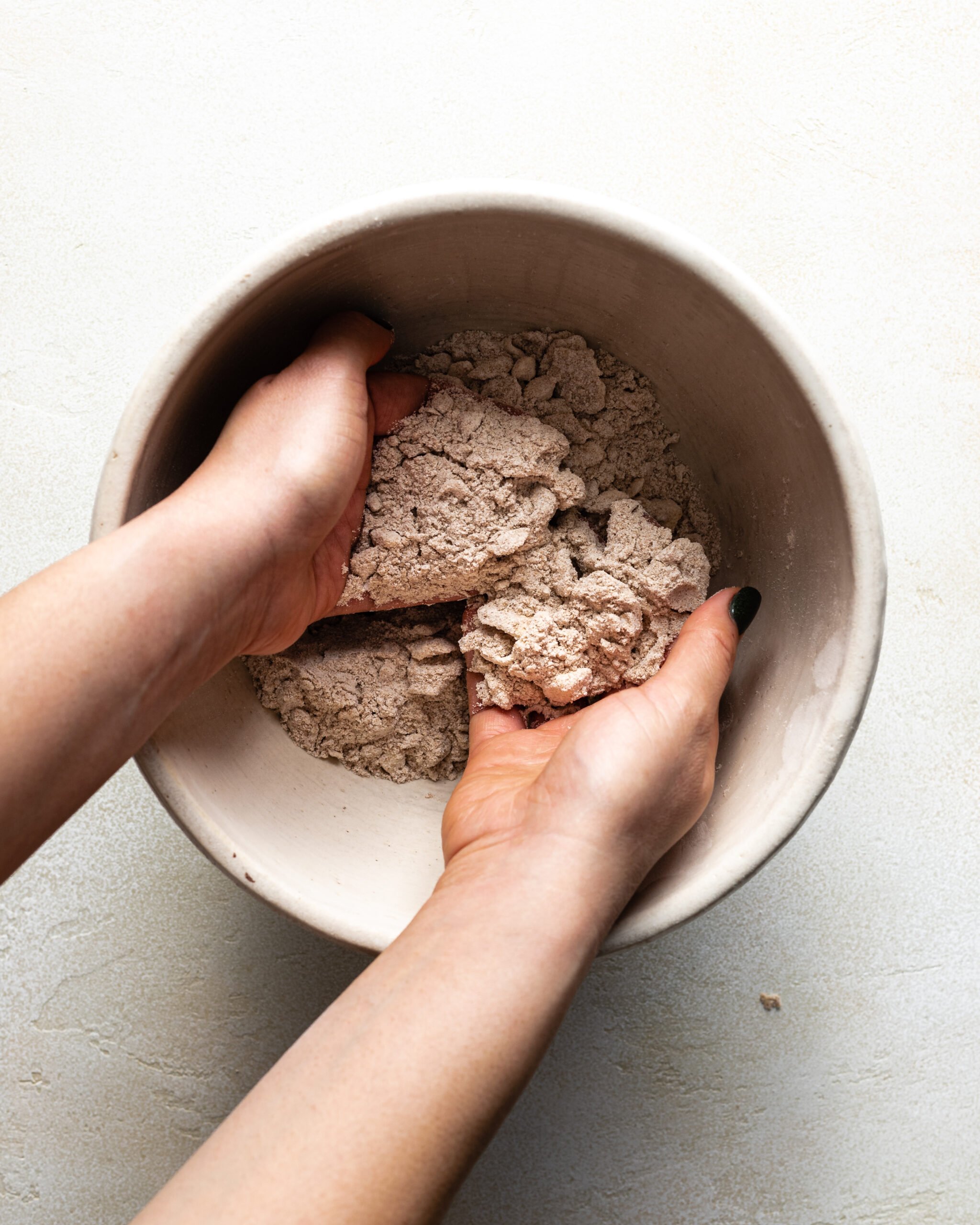 2. Rub the butter into the flour mixture
3. Stir in the sourdough discard until you form a cohesive ball of dough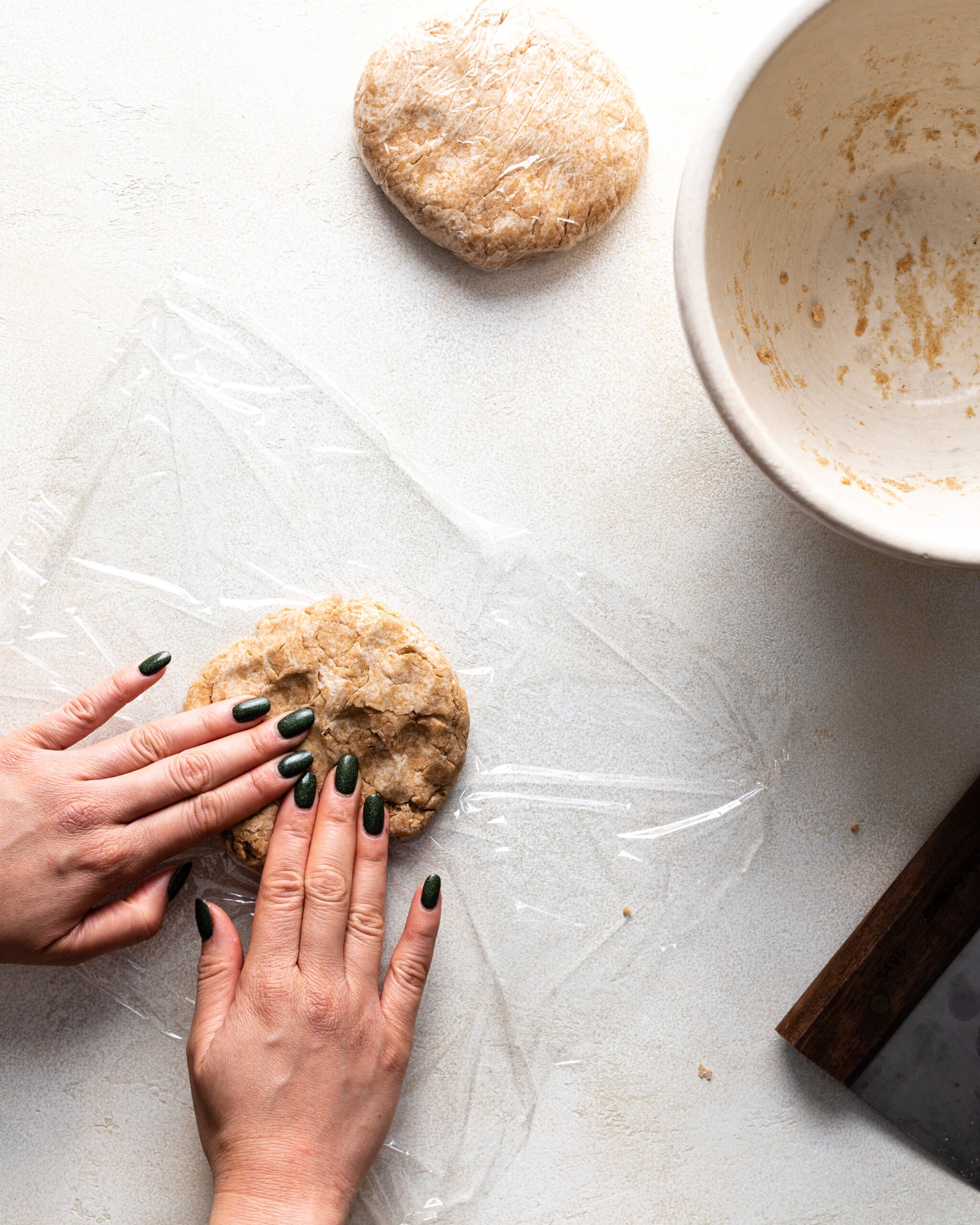 4. Divide the dough and wrap each portion in plastic wrap and refrigerate for at least 30 minutes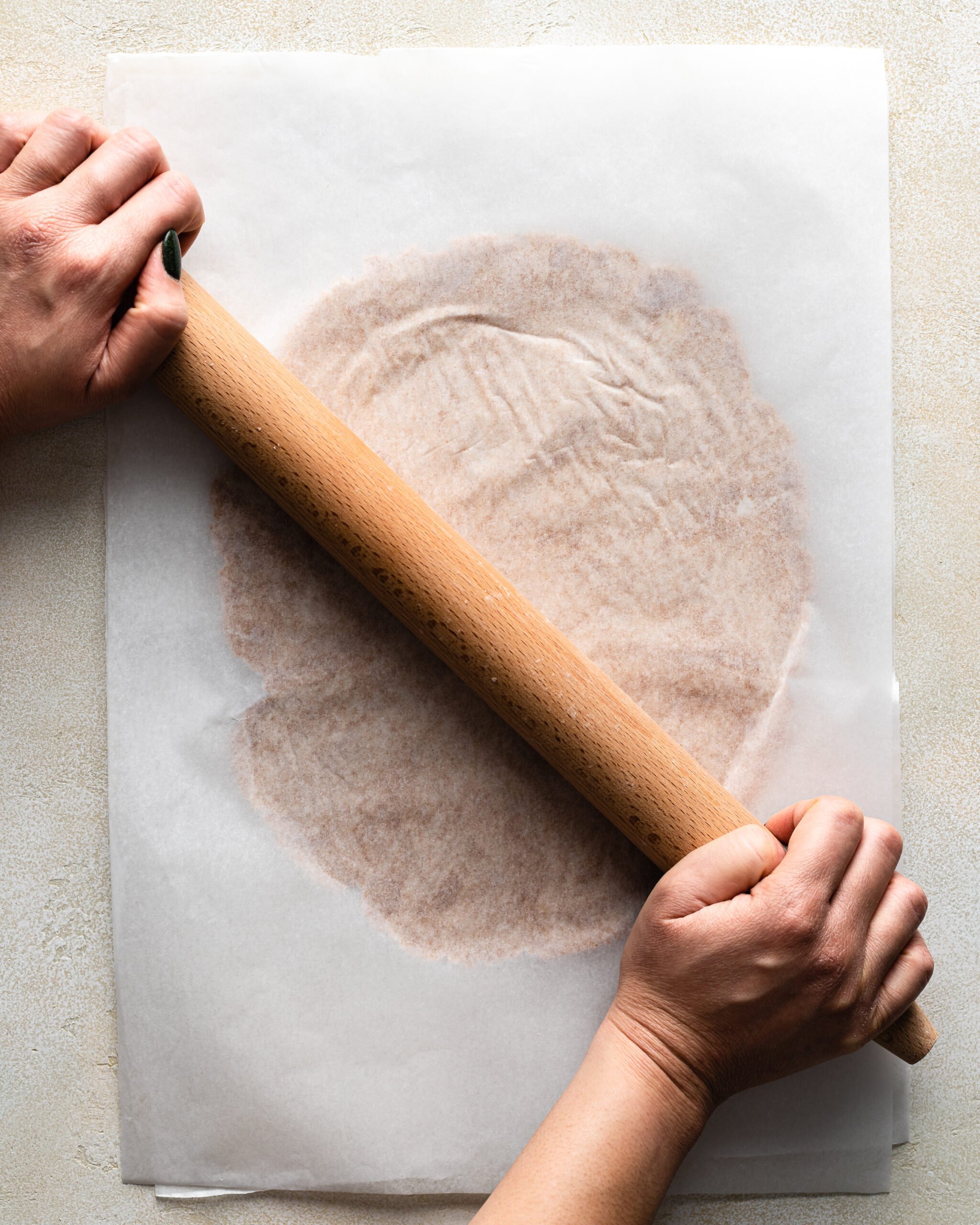 5. Roll the dough out in between two sheets of parchment paper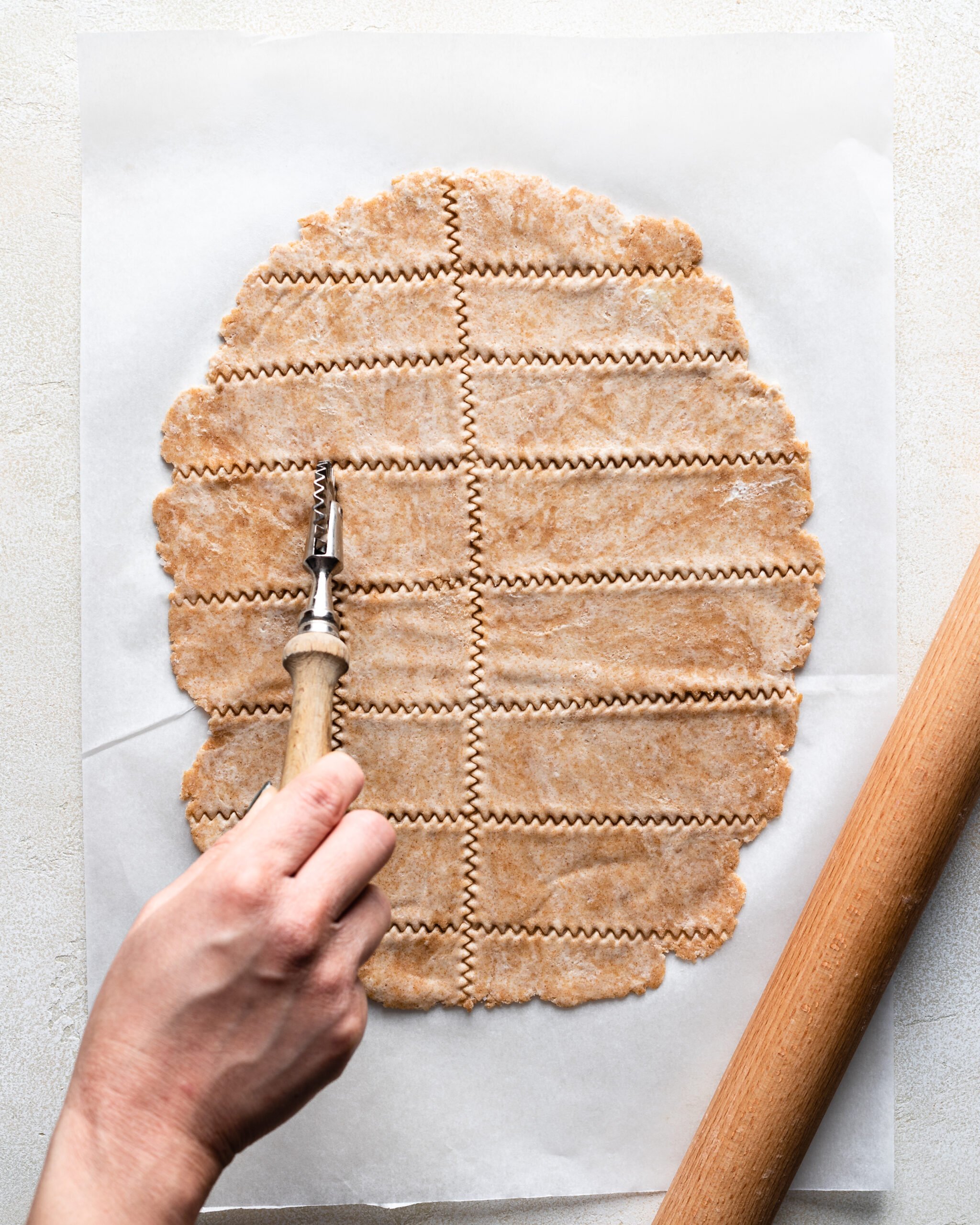 6. Cut the dough into 36 to 42 squares using a sharp knife or pizza cutter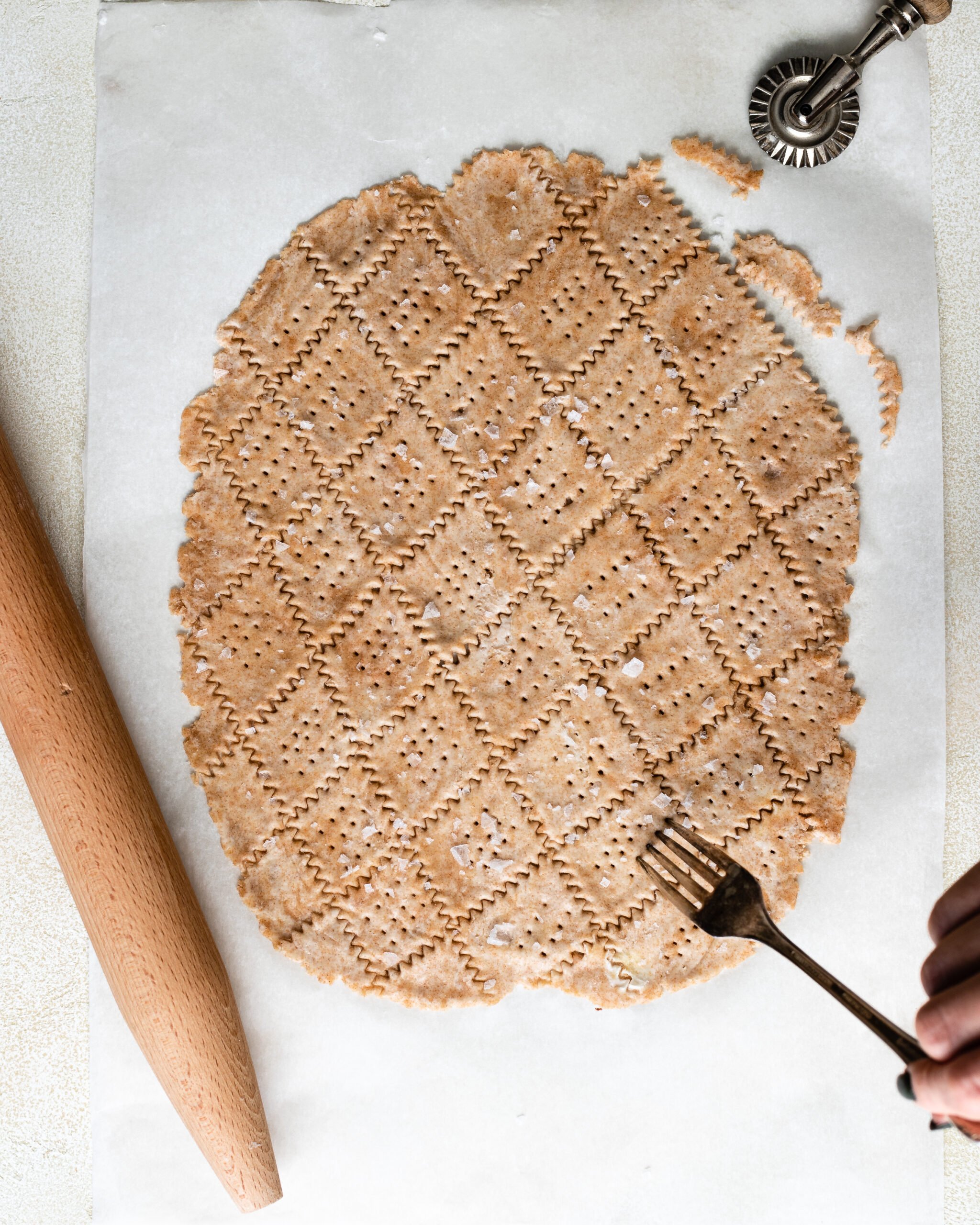 7. Top the dough with salt and prick each square with a fork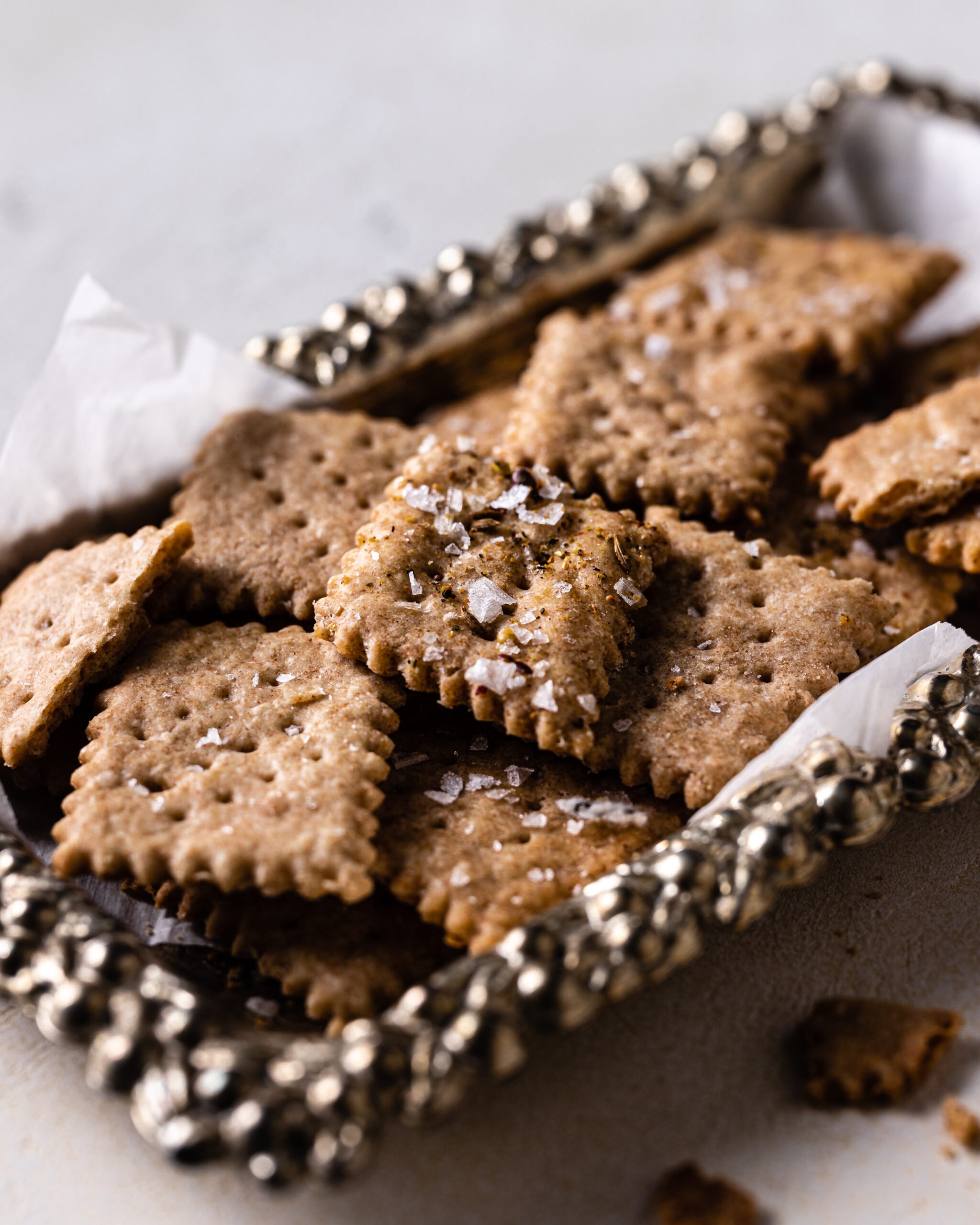 8. Bake the dough at 350 F for 20 to 25 minutes
Recipe FAQs
How much does this recipe make? 
This recipe makes about 72 to 84 crackers, depending on how cut and divide the dough. 
I don't have enough sourdough discard, can I still make this recipe?
Absolutely! Simply use the same proportion of freshly fed sourdough starter in the recipe. Your starter won't add a strong tangy flavor to your crackers, but it will still work. 

If you don't have a starter, but still want to try out this recipe, simply add 113 grams of all-purpose flour and 113 grams of water or milk to your batter. You won't get the tangy, cheesy flavor that sourdough imparts to these crackers, but the recipe will still turn out. 
My dough is too sticky! What can I do? 
If your dough is too sticky to roll out, try refrigerating it for a longer period of time. 
---
You may also like
---
Did this recipe rise to the occasion?
⭐⭐⭐⭐⭐
We knead your feedback! Did our recipe impress your taste buds? Leave a star rating and write a review to help us create even better recipes.
I read all the comments and love hearing your feedback.
THANK YOU!
---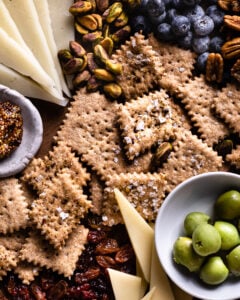 Sourdough Discard Whole Wheat Cracker Recipe
Thin and crispy, these Sourdough Discard Crackers have a delicious cheesy flavor that you only get with sourdough. This quick and easy recipe will be your new favorite way to use up your sourdough discard.
Equipment
pastry wheel

fork

Parchment paper
This section may contain affiliate links
Ingredients
Dough
120

grams

whole wheat flour

6

grams

salt

Morton's Kosher Salt

5

grams

baking powder

70

grams

unsalted butter

cold and cut into ½-inch cubes

226

grams

sourdough discard

cold and unfed
Toppings
flaky sea salt

herbs

optional

spices

optional
Instructions
To make the dough by hand: In a large mixing bowl, whisk together the whole wheat flour, salt and baking powder until no lumps remain. Using your fingertips, toss the butter into the flour, then squeeze the butter pieces and rub them into the flour mixture. Continue doing this until your mixture resembles coarse breadcrumbs, it's ok if you have some pea-sized portions of butter-coated flour.

Create a well in the center of your flour mixture, and pour the sourdough discard in the center. Using a wooden spoon or a spatula, stir the mixture together until fully incorporated. Lightly knead the dough until it clumps together into a ball.

*Stand mixer instructions: With a paddle attachment, add in the whole wheat flour, salt, and baking powder and mix for 2 to 3 rotations to combine dry ingredients. Add in the butter and mix until it looks like wet sand. Make a well in the middle of the flour mixture and add in the sourdough discard. Mix on low until almost combined, do not overmix. Finish by mixing with your hands to incorporate all dry ingredients.

Chill the dough: Divide the dough into two portions, weighing 210 grams each. Wrap each portion in plastic wrap and flatten it out into a disc (like you would a pie dough). Chill the dough for 30 minutes or up to 24 hours.

Prep: Preheat the oven to 350 F while your dough chills. Cut out three 18 by 13 inch pieces of parchment paper, set aside.

Roll out the dough: Lightly dust 1 piece of parchment paper with a little bit of flour. Place one portion of dough (keep the other portion in the refrigerator) in the center of the parchment paper and place another piece of parchment on top. Using your rolling pin, roll the dough out into a rough rectangle, about 12 by 10 inches in size (you don't have to be totally exact).

Cut and top: Peel off one piece of parchment paper (don't peel the dough off the second piece of parchment). Using your pastry wheel, cut the dough into a grid with about 36 to 42 squares. Sprinkle flaky sea salt and herbs (if using), over the dough. Lightly press the toppings into the dough. Prick each square a few times with a fork (this will prevent your dough from rising as it bakes).

Bake: Carefully transfer the parchment with the cracker dough onto a large baking sheet. Bake for 20 to 25 minutes, rotating halfway through. Your crackers are done when they feel completely dry and the edges begin to brown slightly. Don't over bake or your crackers will burn.

Enjoy and store: Let the crackers cool completely, then snap them off along the cut lines. Store crackers in an airtight container at room temperature for up to 1 month.
Tips
These recipes were developed and tested using grams for precise measurements. To increase your chances of success, I recommend investing in a kitchen scale. I've included rough volume estimates (in tablespoons and cups), but they might not be totally accurate.
Remember all ovens are unique, these recipes were tested in my oven which runs cooler than others. You might need to lower the temperature if your bake appears to be browning too quickly. Monitor your bake closely and make adjustments if needed.
Notes
When in doubt, use weight over volume measures
High Altitude: follow the recipe as noted
Nutrition
Serving:
7
crackers
|
Calories:
112
kcal
|
Carbohydrates:
13
g
|
Protein:
2
g
|
Fat:
6
g
|
Saturated Fat:
4
g
|
Polyunsaturated Fat:
0.4
g
|
Monounsaturated Fat:
2
g
|
Trans Fat:
0.2
g
|
Cholesterol:
15
mg
|
Sodium:
287
mg
|
Potassium:
45
mg
|
Fiber:
1
g
|
Sugar:
0.1
g
|
Vitamin A:
176
IU
|
Calcium:
35
mg
|
Iron:
0.5
mg