There are two key elements to baking great bread. The first is fermentation, the natural process that occurs when the yeast in a sourdough starter breaks down the sugars in flour into carbon dioxide and alcohol. To create delicious bread, our job as bread bakers is to create a dough with a strong structure that can capture all the gas produced during fermentation. Learn one of the most important factors of bread baking with this guide on how to stretch and fold sourdough bread.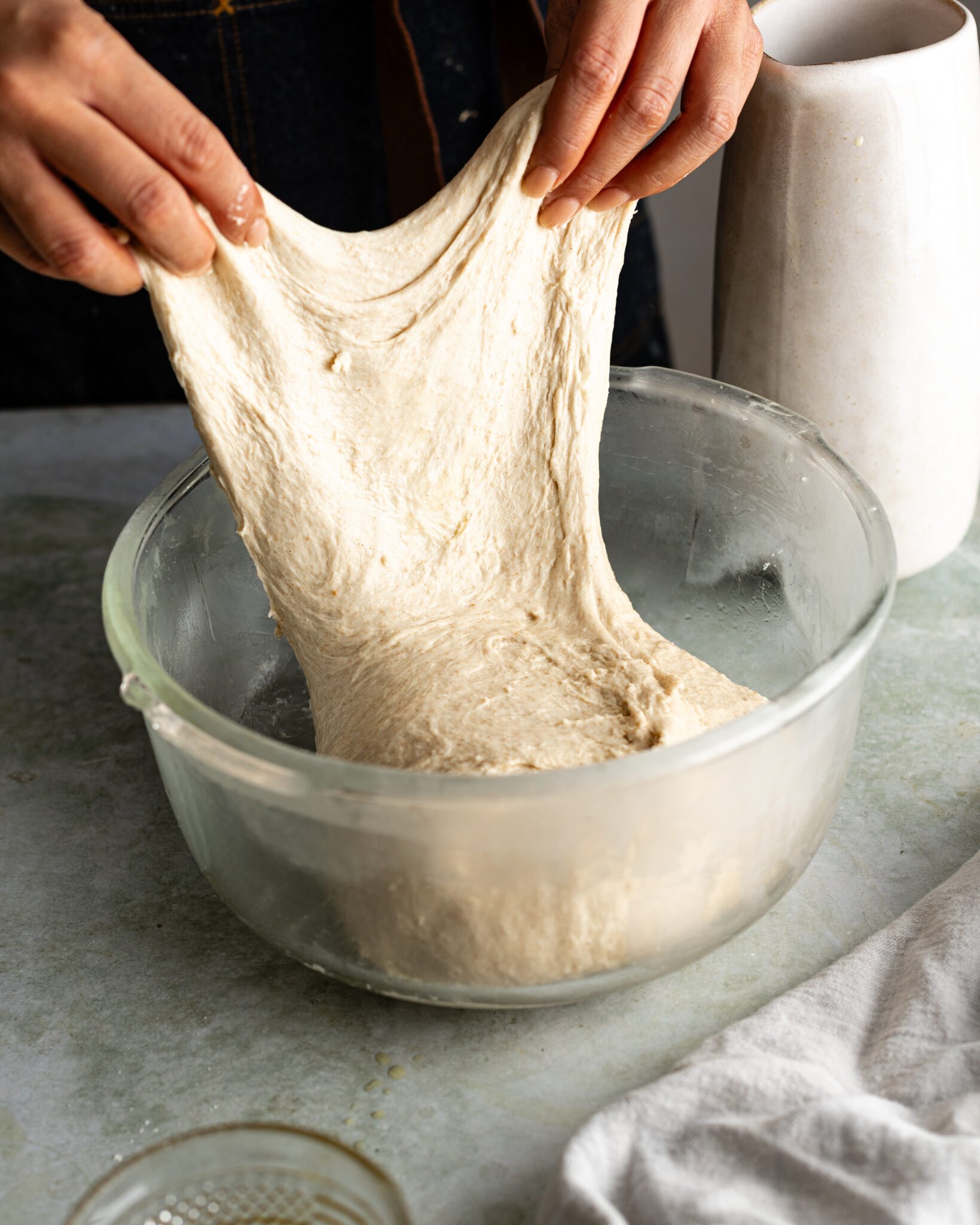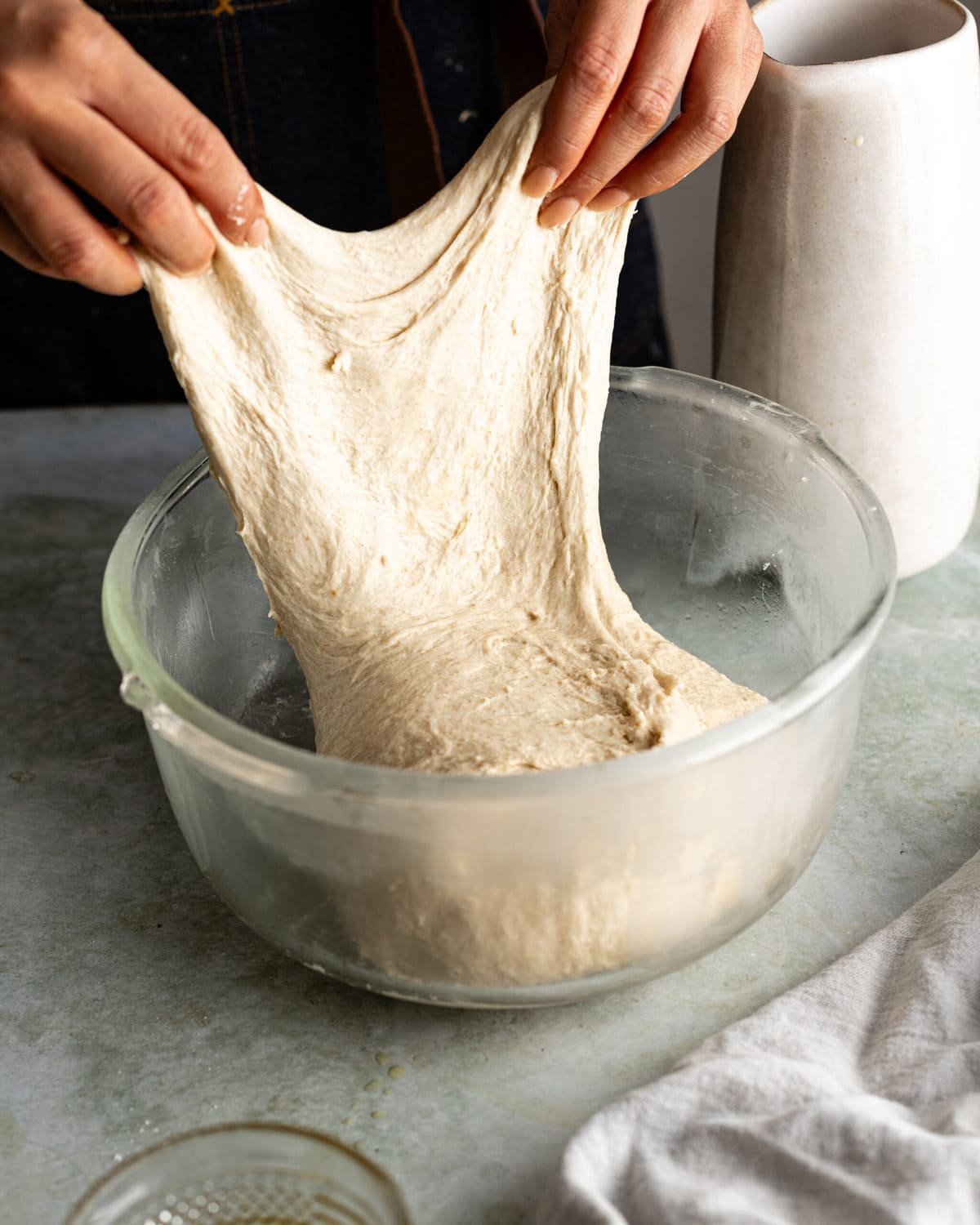 Jump to:
What does it mean to stretch and fold sourdough?
The stretch and fold is one of different techniques for working dough and is used in lieu of kneading. To do it you simply stretch the dough and fold it over itself. It's a gentler way of building structure and strength and is commonly used in high-hydration doughs.
Why stretch and fold?
You'll notice that most sourdough bread recipes use the stretch and fold method instead of kneading. That's because these doughs contain a lot of water, or are high-hydration formulas (commonly 60 to 80% hydration). Wet dough is usually too difficult to handle and almost impossible to knead. Folding dough is a more manageable way of developing gluten in wet sticky dough.
Most sourdough recipes contain a lot of water for a good reason: more moisture makes for softer, lighter bread. Since more water in the dough creates more steam, bread expands more as it bakes in the oven. Additionally, more moisture creates a looser gluten network making your dough stretchier. While your dough rises in the high heat of the oven it firms up creating a taller, airier, and bubblier bread. 
However, in the absence of a strong gluten network, dough can't stretch and hold on to the bubbles created during fermentation. While your dough starts to rise the bubbles in the dough burst instead of expanding, and the final product is a flat, dense, and gummy loaf.
What is gluten?
Gluten is a protein naturally found in wheat products. It's made up of gliadin and glutenin. Gliadin allows dough to spread without breaking, while glutenin helps it snack back and maintain its shape (source: NIH.gov). The moment water is mixed with flour, gliadin and glutenin instantly combine to form gluten strands. With time, these gluten strands are then gradually woven together into a larger network. This network is the reason why we can make freeform loaves and bread dough doesn't lose its form as it bakes. 
Why building a strong gluten network is important
Right after mixing, you usually start with a sticky messy dough that rips apart easily, that's because the gluten structure is still weak. These bonds will eventually become stronger with time, even without manipulation (see autolyse), however kneading or folding helps further strengthen the bond between gluten strands.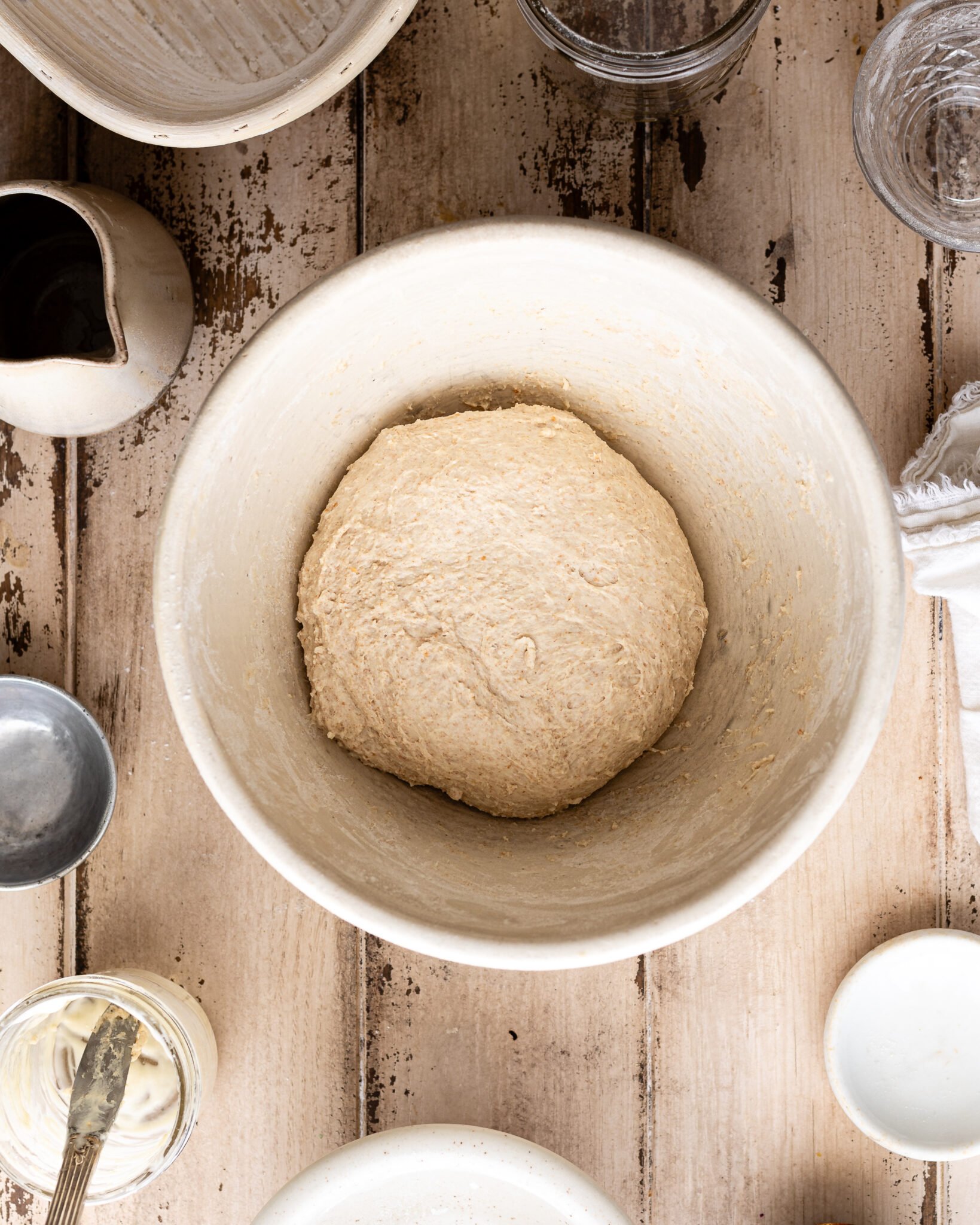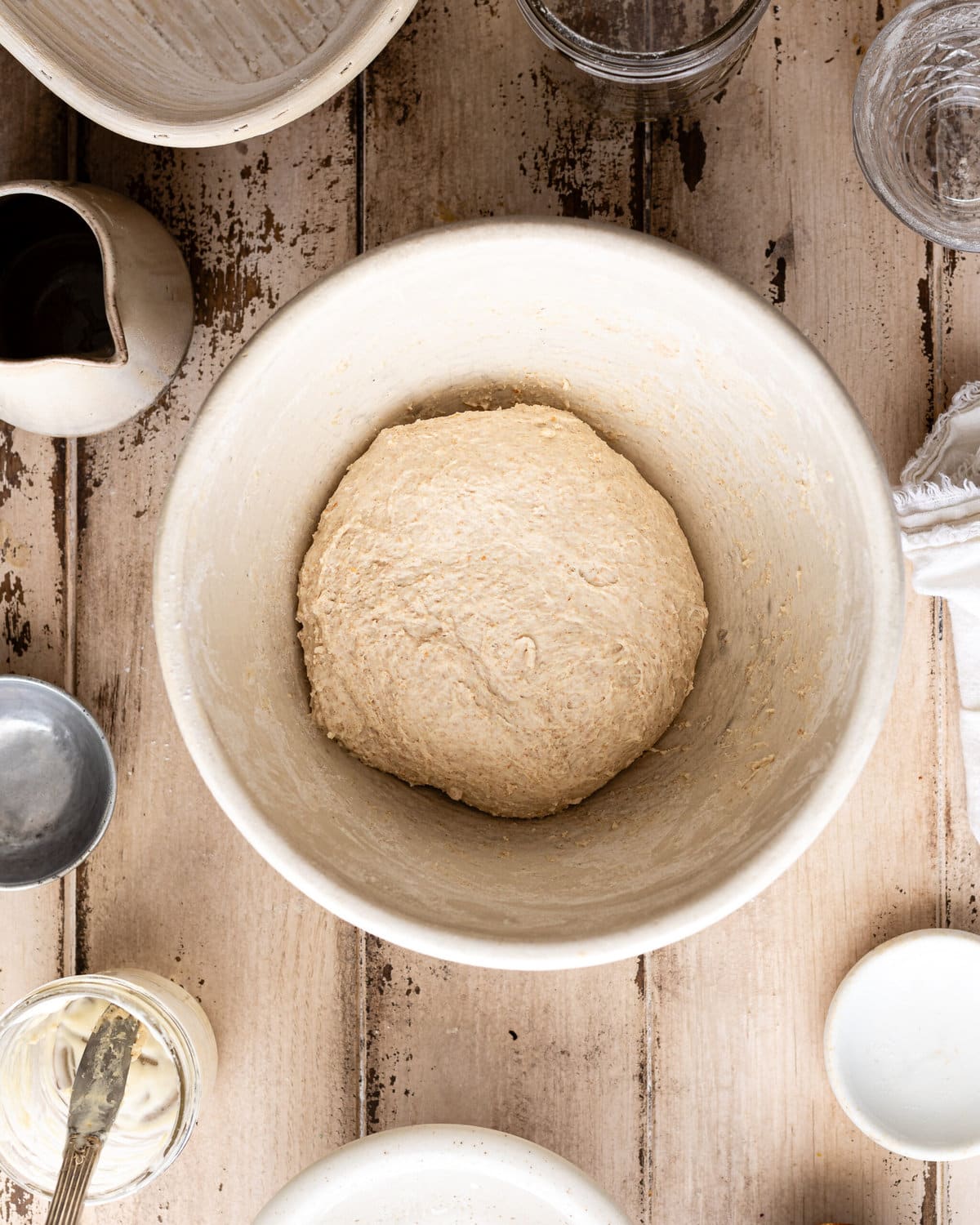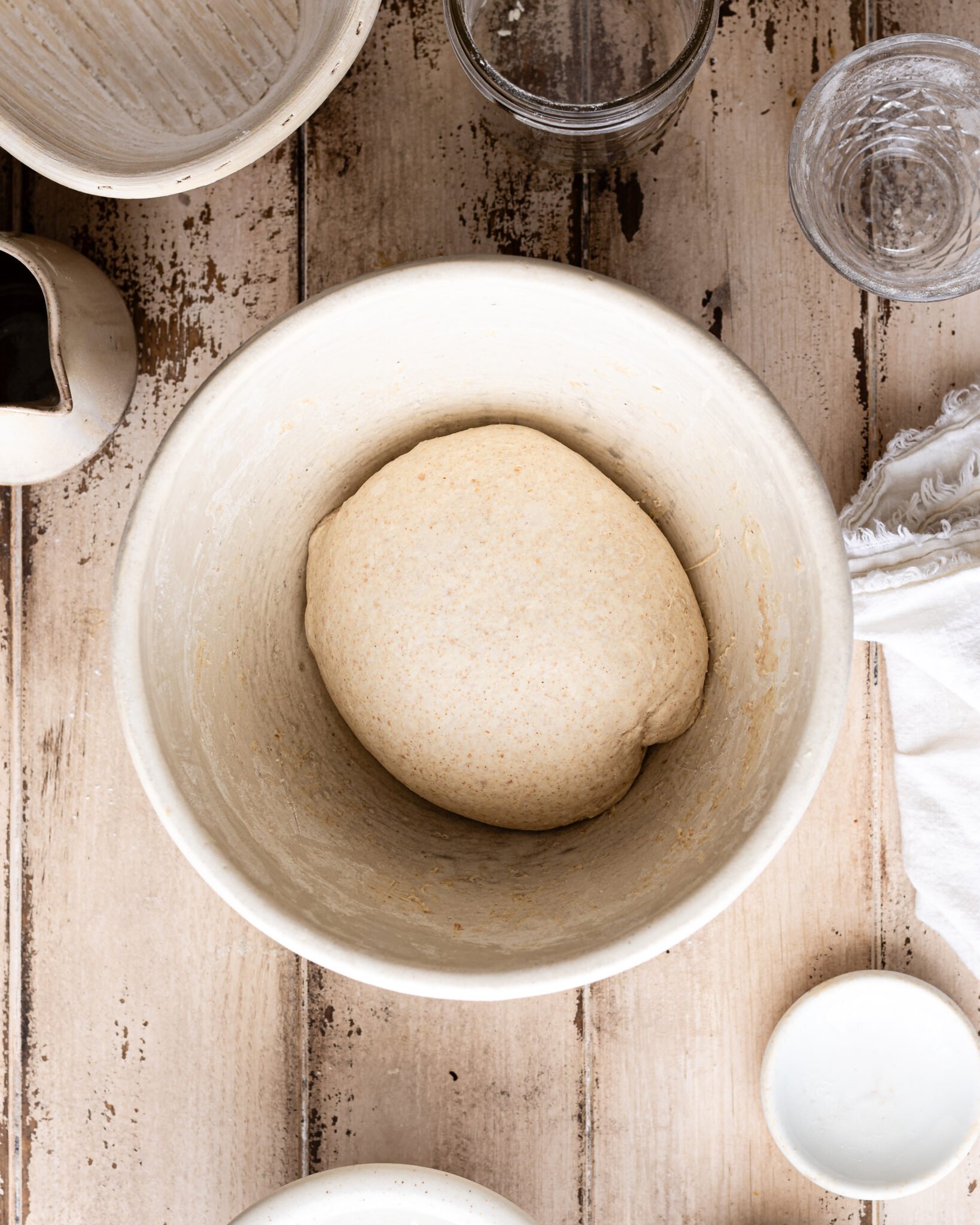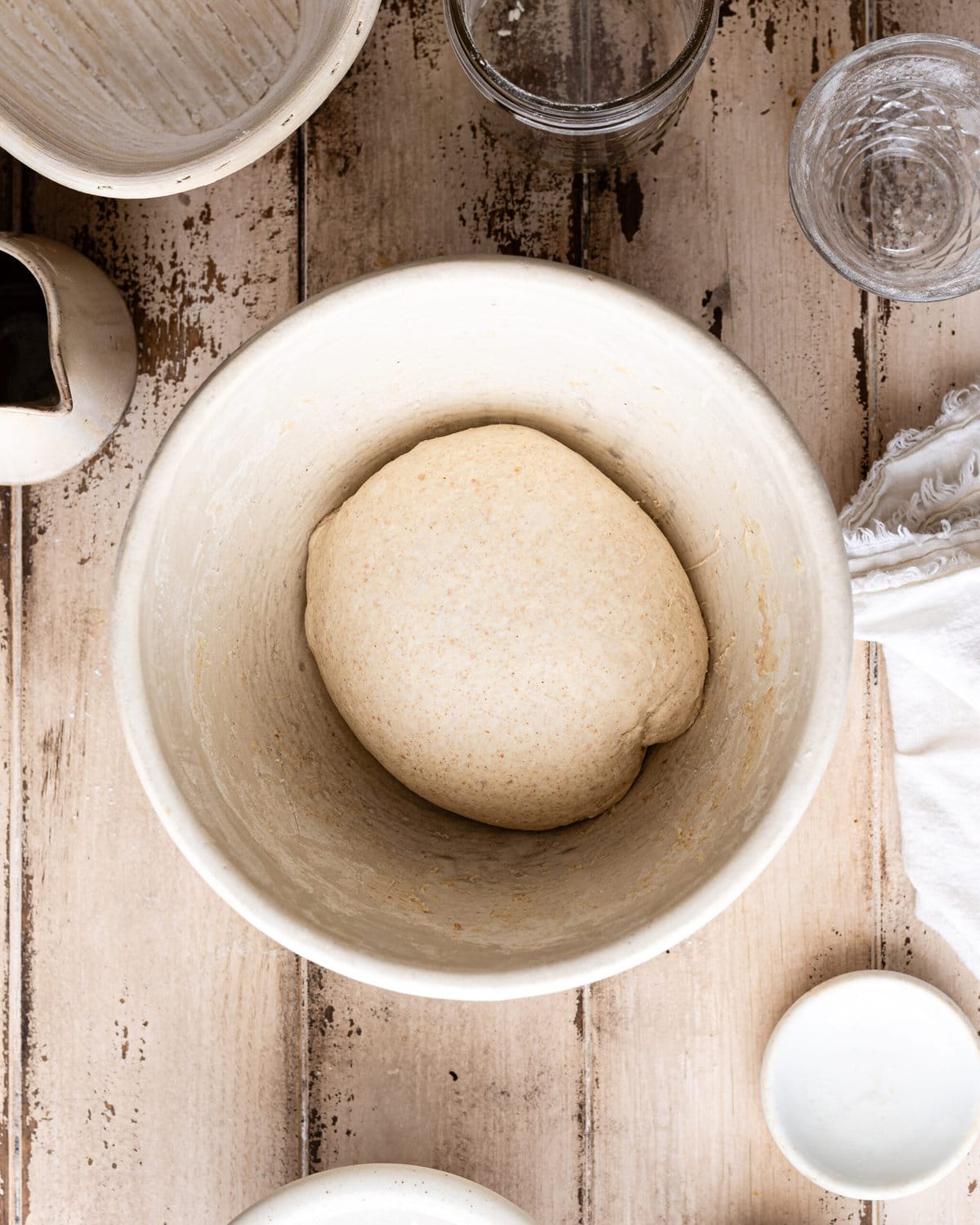 Working the dough creates stress that causes the bonds to break, but they eventually relax and coil back up to form bonds with nearby proteins. Then a stronger more organized gluten network is formed. You'll see this in action as you fold your dough and it gradually becomes smoother and stretchier. Eventually, your dough will feel strong enough that you'll be able to stretch it without tearing. 
A well-developed gluten network is extremely important because it allows the dough to hold on to all the gas (CO2) produced during the bulk fermentation stage. It also keeps bread intact during the first moments of baking when the fermentation process speeds up and yeast produces a final burst of gas causing the dough to expand dramatically (oven spring). Without strong gluten development, the dough would simply rip and flatten out instead of enjoying a lofty high rise.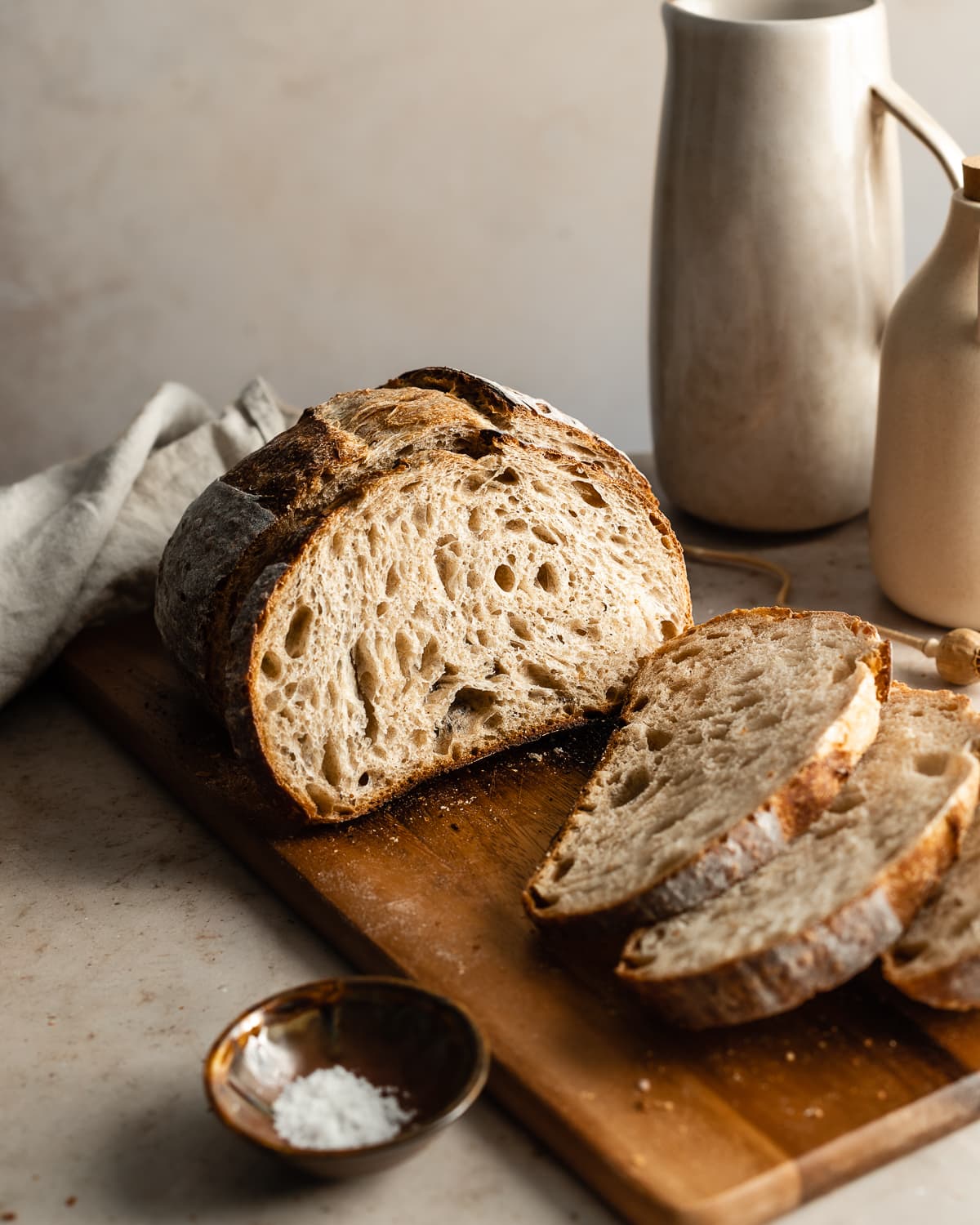 So, if you nail fermentation and create enough strength in your dough by performing the appropriate amount of stretch and folds, you should have a tall loaf with a more open crumb. 
How to stretch and fold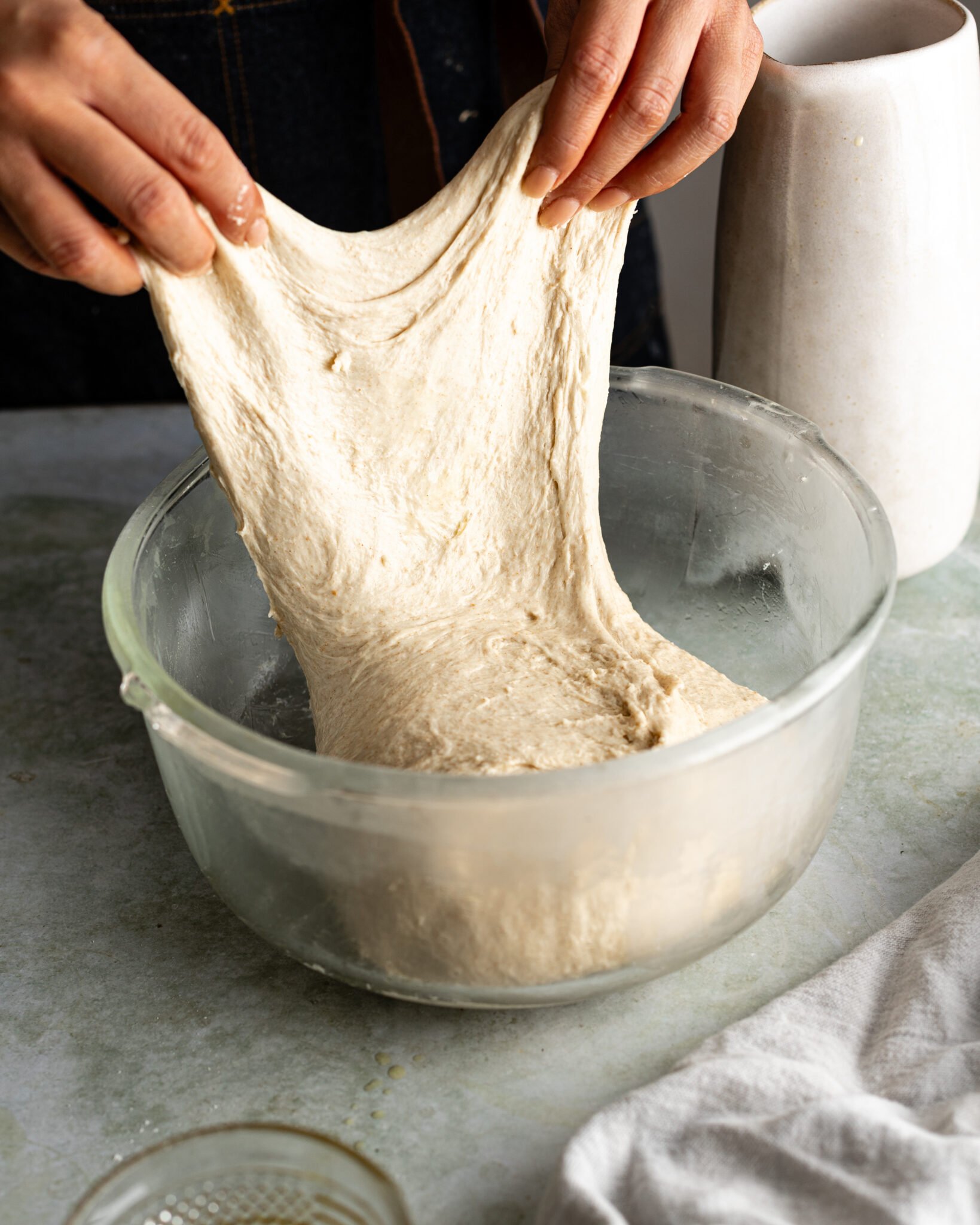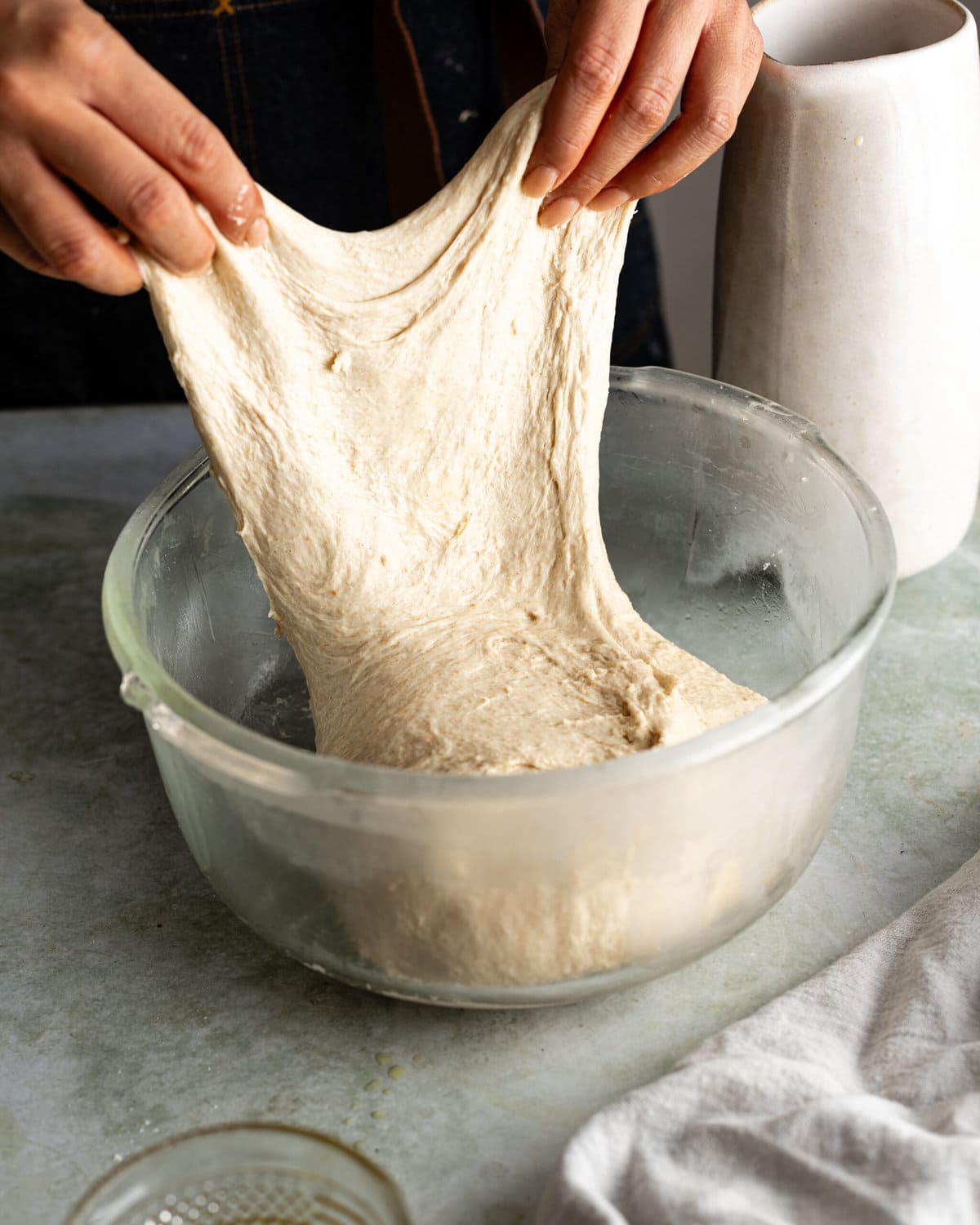 1. Using your fingertips pick up one side of the dough and stretch it as far as you can without tearing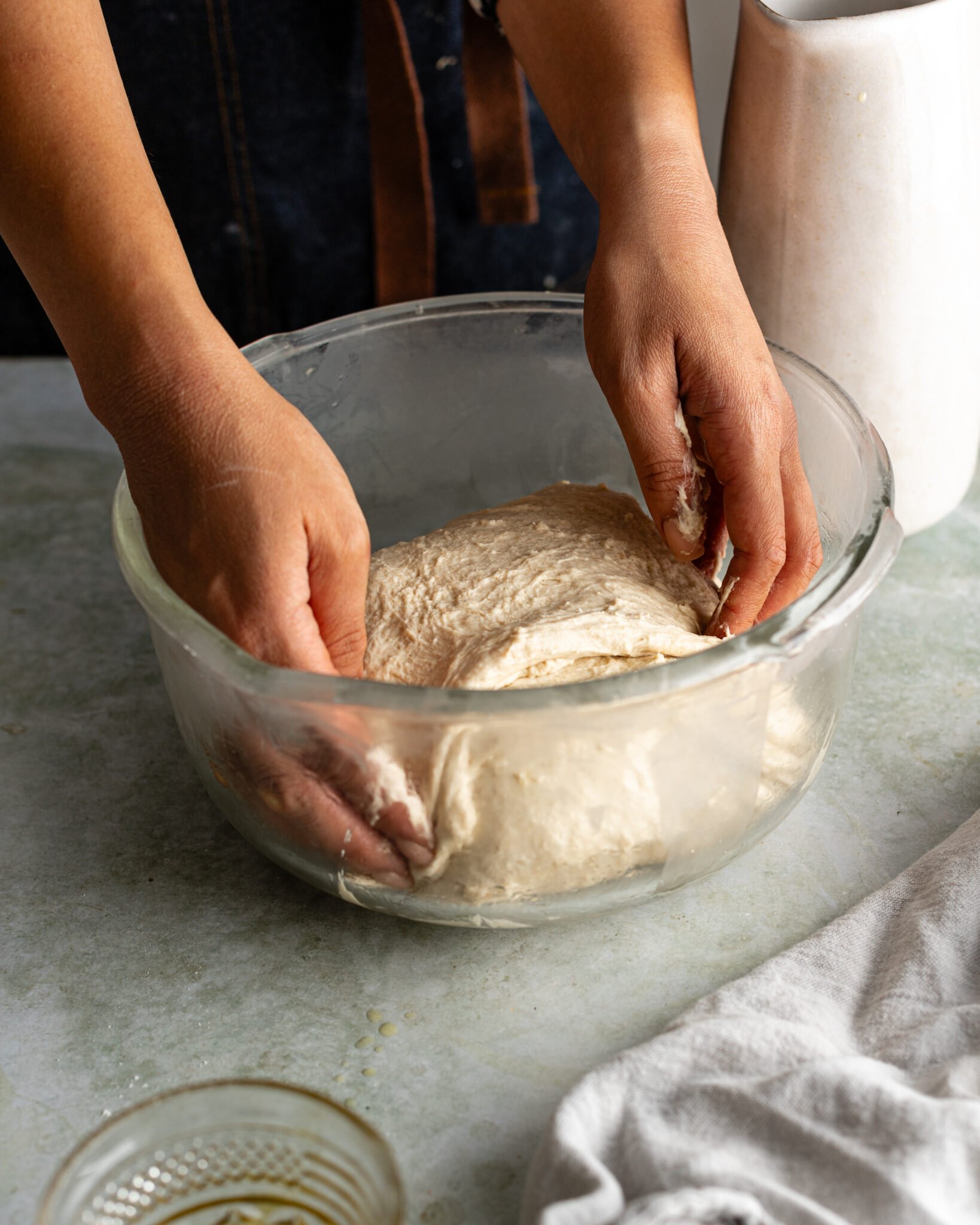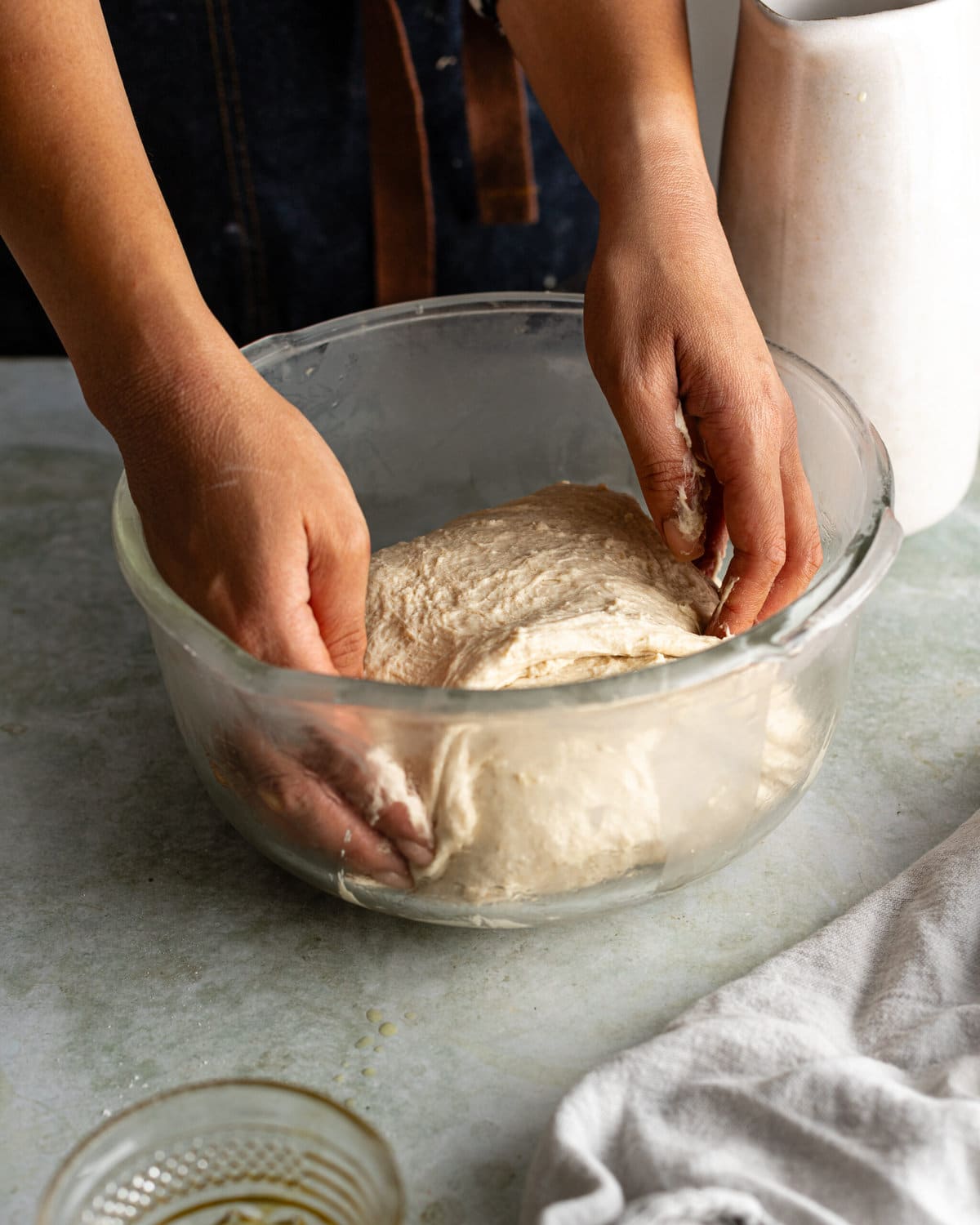 2. Fold the dough over itself, turn the bowl 90 degrees, and repeat 3 more times
You can complete the folding process in your mixing bowl or on your work surface.
If your dough feels too sticky, work with wet hands.
Each fold is completed four times, I usually refer to this as a set.
You'll notice that the dough will become tighter after each fold, after the fourth fold the dough will become difficult to stretch, a sign that you should let the gluten rest and relax.
In addition to strengthening the dough, folding also equalizes the temperature of the dough which helps regulate the rate of fermentation.
What is a coil fold?
Coil fold method is another common technique for building dough strength used in sourdough baking. It's an even gentler form of working sourdough dough that relies on gravity instead of pulling and stretching.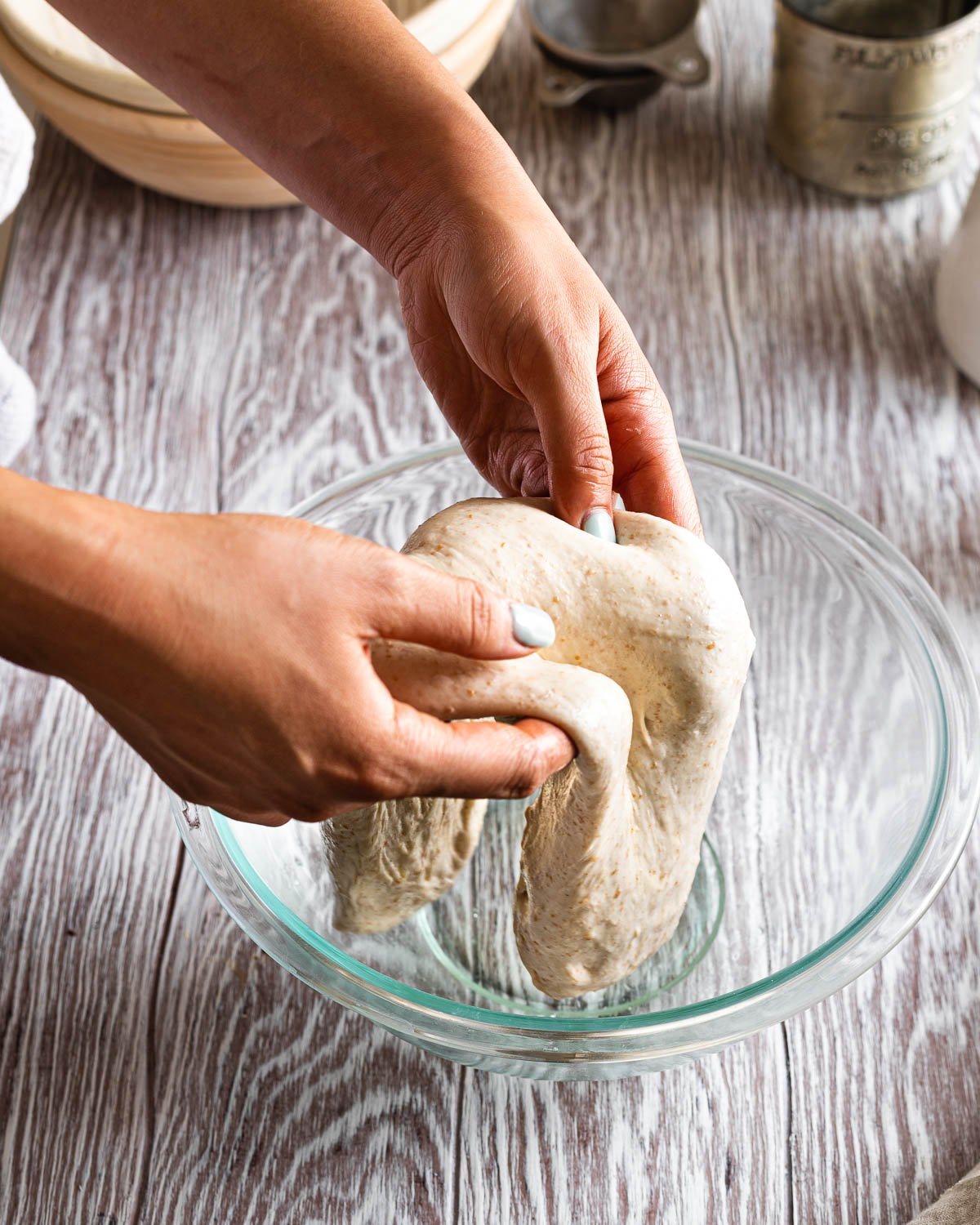 1. Pick up the middle of the dough and pull up until the ends release from the container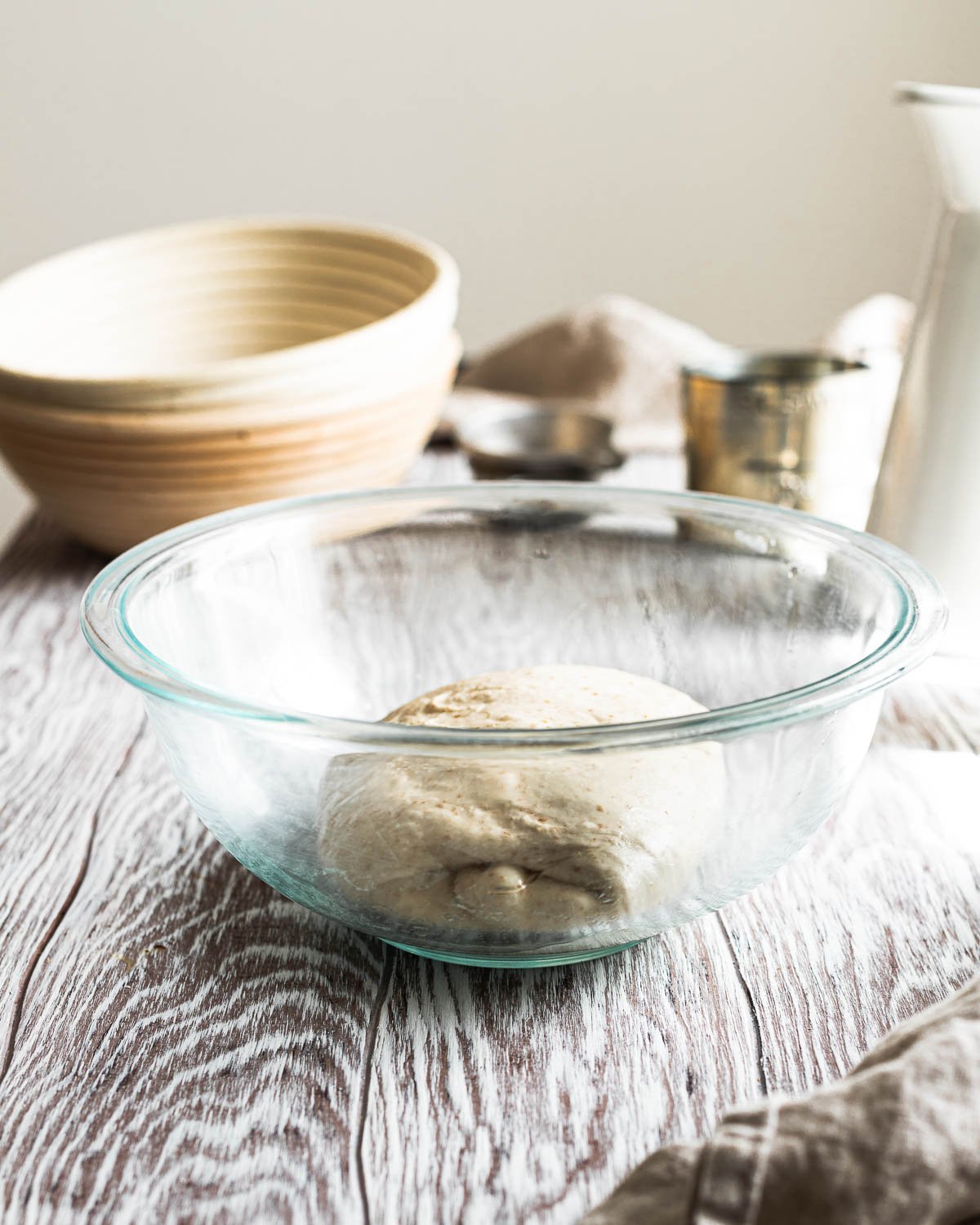 2. Lightly set the dough back down into the bowl with the ends tucked under
Since coil folding depends on gravity, you're much less likely to tear the dough by pulling
It keeps the dough symmetrical, which helps maintain an even crumb structure.
The top of the dough remains the same, this helps increase the surface tension of the dough, contributing to a good oven spring and a beautiful final shape.
Baker's Tip
I like to use a combination of stretch and folds and coil folds in most of my recipes! Stretch and folds during the beginning of the baking process help kickstart the formation of gluten bonds. As my dough gradually becomes smoother, stronger, and stretchier, I usually switch to coil folds.
How long should you wait between folds?
The amount of time between stretch and folds depends largely on the way your dough feels. You'll want to wait until the gluten has relaxed and begins to spread before completing another set. Relying on time cues can be quite precarious since attempting to fold stiffer dough can cause it to tear. This will significantly weaken the gluten structure you're trying so hard to build.
If you don't have the feel of dough down yet, and you don't know the difference between loose or tight dough, don't worry, 30 minutes is usually a good interval between folds.
How many times should you stretch and fold sourdough?
After performing a number of stretch and folds your dough will gradually become stronger. Your dough will will feel very different after the first set and after the last set of folds. It should look smoother, feel tighter and will be less tacky. Eventually, your dough will even resist stretching. These are a good indications that your dough has developed a strong gluten network and you can stop manipulating it. As a general rule of thumb, I usually perform my last stretch and fold once it reaches the windowpane stage.
In most cases, I will perform 3 sets of folds, but I may perform more or less. Each bread is unique, so the number of folds you perform will depend on the type of bread you're making and how your dough feels. Lower-hydration doughs are naturally stronger and will require less folds, while wetter, soggy dough will require more.
What is the windowpane test?
The windowpane test is a great way to take the guess work out of determining whether you've developed enough strength and structure in your dough. It demonstrates that you have created strong gluten bonds that can capture and hold on to the gas that's produced during fermentation.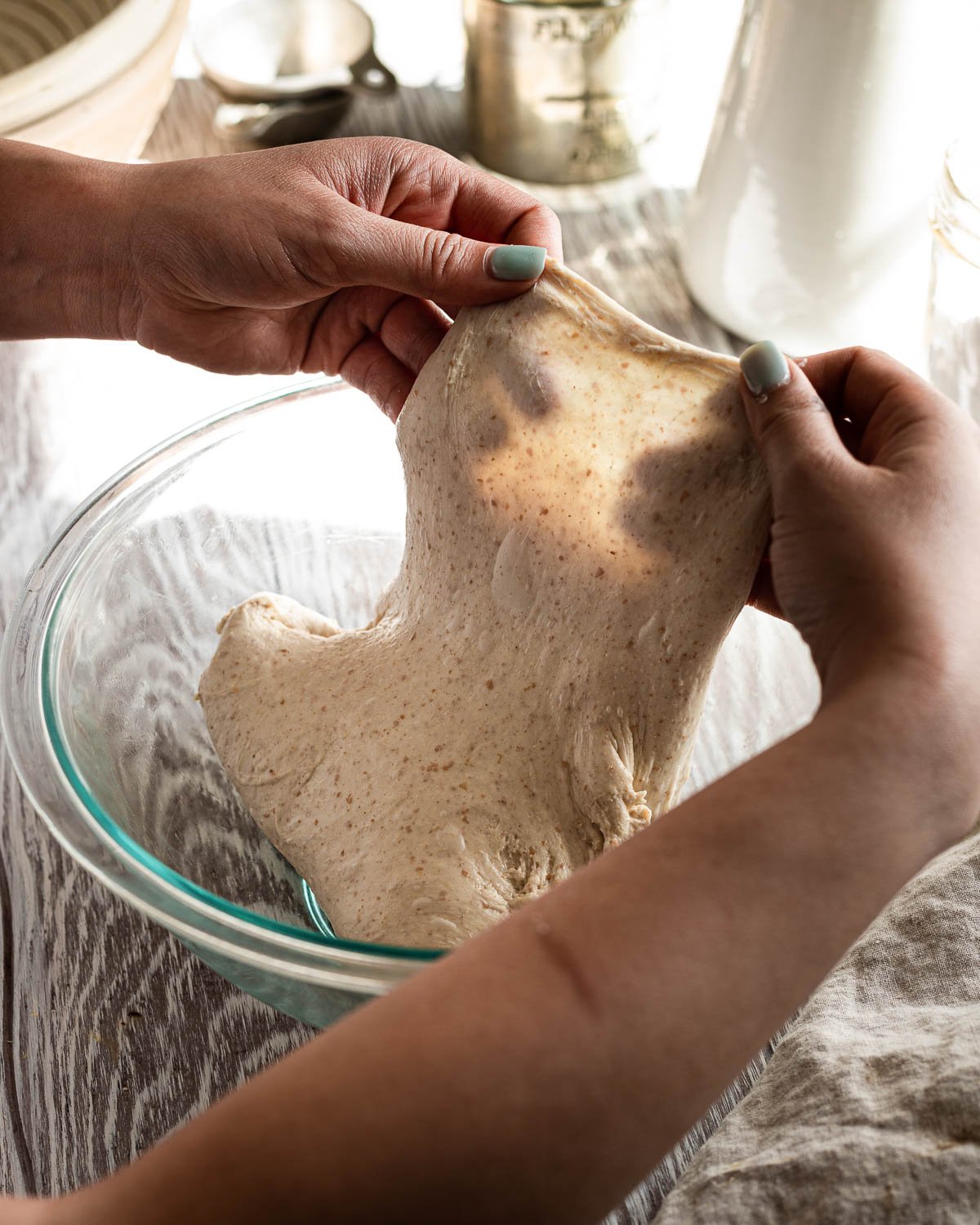 How to perform the windowpane test:
Gently pinch a portion of your dough with damp fingertips.
Stretch it as thin as possible without, until it appears translucent.
Position your fingers behind the translucent dough, if it's thin enough to see the silhouette of your fingers: you've passed!
If your dough rips easily your dough is not ready and you should continue with your coil folds.
FAQs
What is the difference between stretch and fold and kneading sourdough?
Stretch and folds and kneading are different methods of developing dough structure and strength. Both help evenly distribute ingredients and develop gluten. Traditional kneading involves massaging the dough on your work surface with the palm of your hands, while stretch and folds are done by stretching the dough and folding it over itself. 
Does sourdough rise during stretch and fold?
Absolutely, fermentation proceeds as soon as sourdough starter is added to the dough. Stretch and folds are usually conducted during bulk rise. So dough will continue to ferment or rise as in between your sets of stretch and folds. 
Can you fold sourdough too many times?
You're probably more likely to underwork dough with the stretch and fold technique since it's such a gentle way of manipulating dough. When this happens your dough may be too weak and flatten out as it bakes. 

However, it is possible to overfold dough. When this happens you could create too much tension and your bread will bake with a tighter crumb. The worst-case scenario is overworked dough may tear. 

You may also like