Baking these Sourdough Discard Soft Pretzels will make your kitchen smell like heaven. Sourdough discard adds a delicious flavor to these pretzels, while a plush, pillowy crumb and melted butter brushed on the still hot, golden brown crust takes them over the top. Since they are made with commercial yeast, you can bite into a freshly baked pretzel in just over an hour!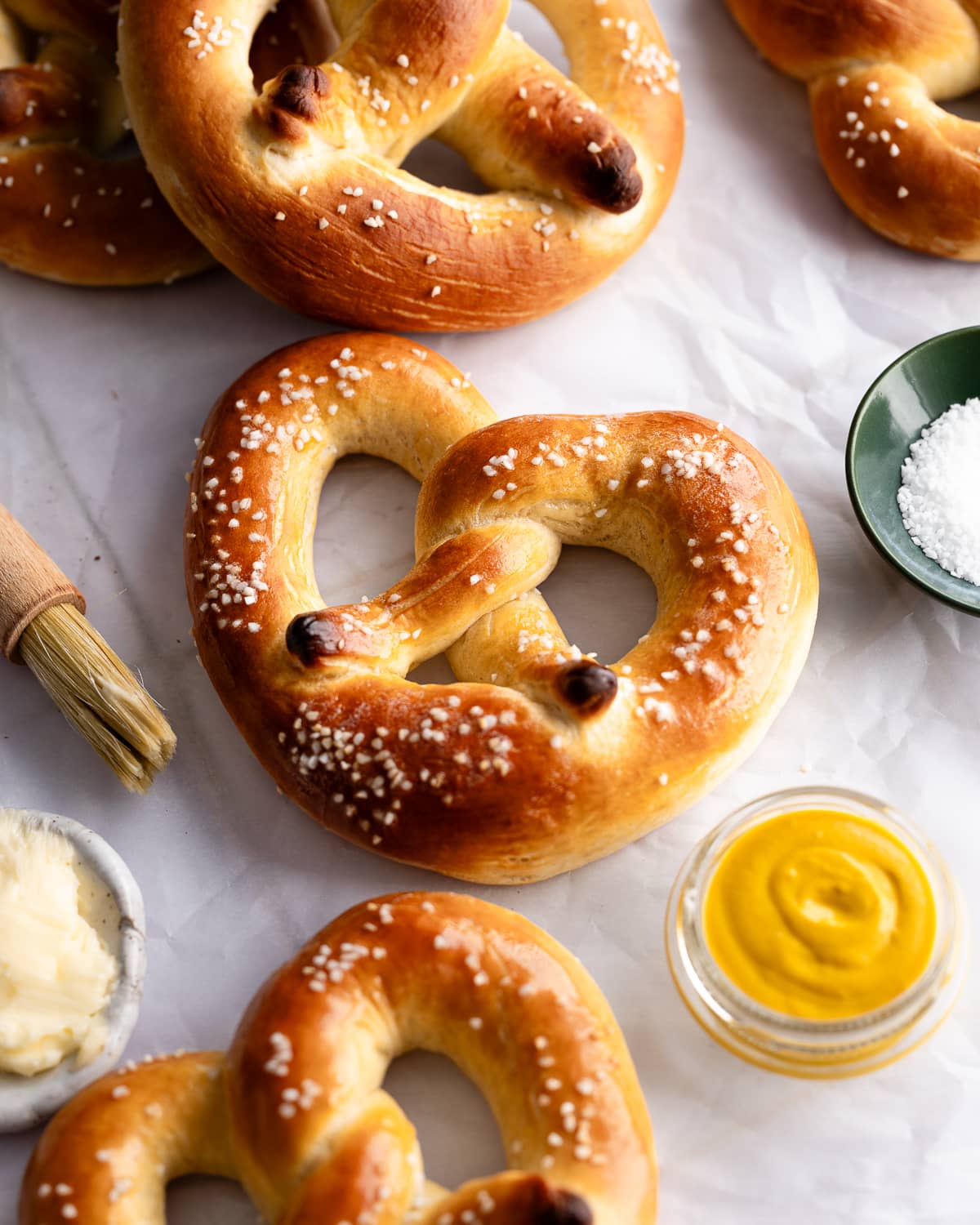 Jump to:
My inspiration for these soft pretzels
I was inspired to make this discard pretzel recipe after a recent trip to Philadelphia. We visited the Reading Terminal Market to visit Miller's Twist for their famous soft pretzels.
In a place where pretzels are a street food staple, theirs are some of the best in the city. They are unique because they are based on Amish pretzels, which are much softer, and less chewy than a traditional Philly soft pretzel. Philadelphia is my hometown but this was my first time trying Miller's Twist pretzels and unsurprisingly, I was immediately obsessed with them!
If you've ever had a pretzel at the mall, you probably already know the delicious pleasures of an Amish pretzel. That's because Anne Beiler who founded Auntie Anne's grew up in an Amish community. She took over a stall selling Amish pretzels at a farmer's market in Pennsylvania and grew it into an internationally-recognized brand with thousands of branches worldwide. In fact, the first time I had one was in the Philippines!
So if you've enjoyed an Auntie Anne's pretzel, you'll be familiar with the buttery taste and fluffy texture of these soft pretzels.
What makes these sourdough soft pretzels unique
Amish pretzels have a tender, fluffy interior with a soft crust drenched in melted butter, in contrast to German pretzels which are chewier, denser and crunchier. These pretzels also have a lighter, crisp crust compared to the crunchy, deep amber-colored crust of their European counterparts. Both are delicious, just different.
These soft pretzels take their inspiration from Amish pretzels and are made with dough that's enriched with butter and milk. This gives the pretzels a plush brioche-like texture and a much richer flavor that's even more intensified by sourdough discard.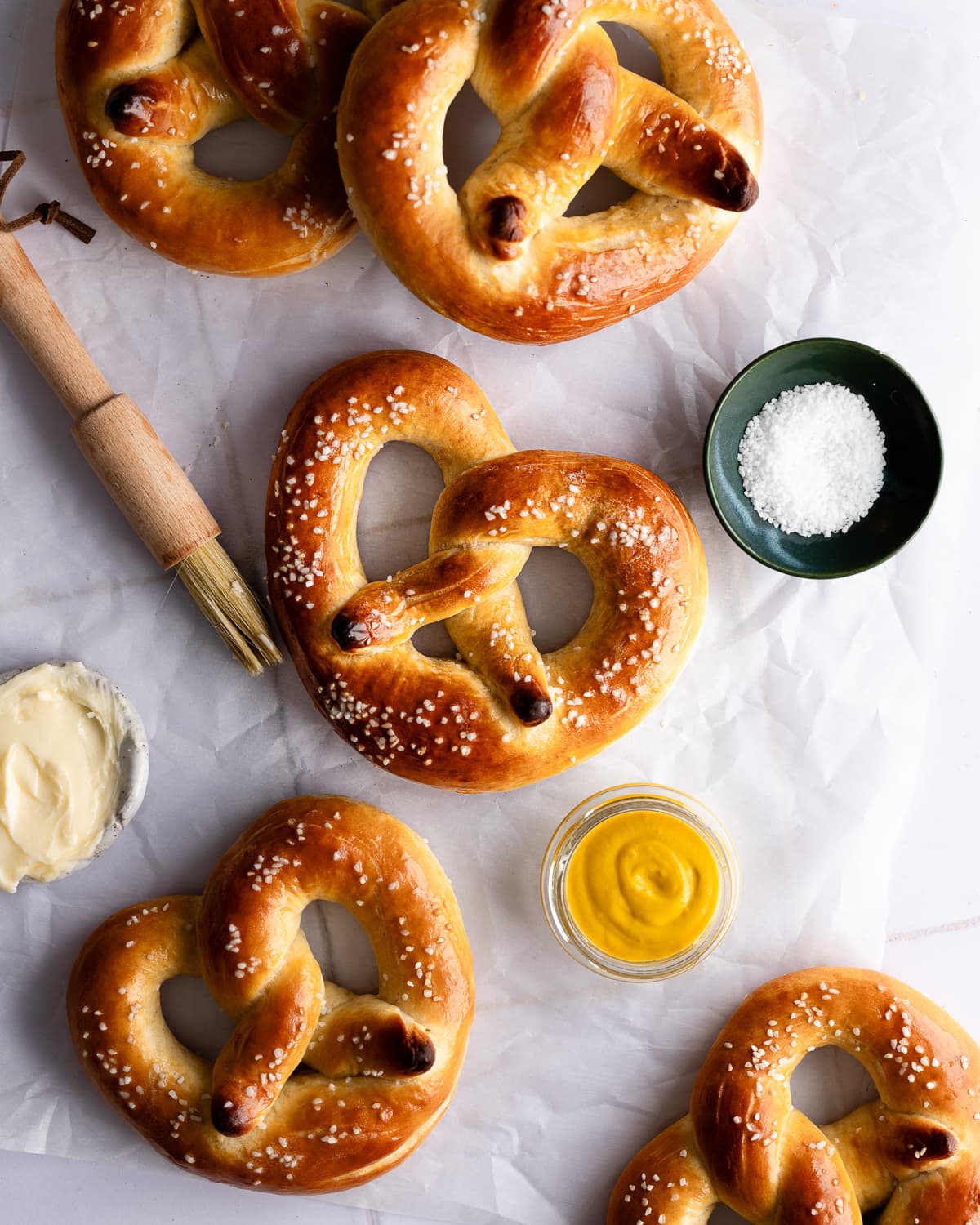 Want to make chewy, soft German-style pretzels instead? Check out my Sourdough Pretzels Recipe.
Tips for Success
Use high-protein bread flour: Bread flour has a higher protein content than all-purpose flour, which helps dough develop a stronger gluten structure. This helps the dough both stretch, which makes shaping easier, and hold its shape, which results in plumper pretzels.
Knead the dough until smooth: A strong gluten network is essential for stretching pretzel dough into long ropes. Your dough will start out as a sticky, shaggy mass. As you knead, it will gradually become smoother and less tacky, the makings of a strong, well-organized gluten network. For the best results, get your dough as smooth as possible.
Do not overproof your dough: This pretzel dough only needs one short proofing period. What may seem like a normal proofing period for other types of bread is too long for pretzel dough. Over-proofed pretzels will become puffy, dull, and at times excessively chewy.
Give the dough time to rest: If your dough snaps back as you shape it, let it rest for a few minutes before continuing. Do not force your dough to stretch by pulling, this will cause it to tear.
Freeze shaped dough for 15 minutes: Freezing your shaped pretzel dough will help them retain their form and make the baking soda bath much easier.
Brush the pretzels with butter after baking: This is what makes Amish pretzels extra special. Brushing butter on the freshly-baked pretzels will soften the crust and impart an irresistible buttery flavor.
Baking with sourdough discard
These pretzels are quick to make because they use instant yeast as the main leavener instead of an active sourdough starter. Sourdough discard imparts a deep, nuanced taste to these sourdough soft pretzels, since it's only being used to add flavor to the dough, it doesn't need to be activated and you can use it directly from the refrigerator.
If you're using sourdough that's been in the fridge for weeks it will add more flavor, which you won't get when using a freshly fed starter. Both will work for this recipe but you'll get different results.
Why use commercial yeast with sourdough discard?
Adding instant yeast and sourdough discard in a recipe combines convenience and flavor. Commercial yeast shortens the rise time of dough since it's much more efficient at converting starches into sugars and carbon dioxide, which allows fermentation to occur at a much faster rate. For example, the bulk fermentation for this recipe only takes about 20 minutes instead of 3 to 4 hours required for naturally-leavened pretzel dough.
While you won't get the intense flavor development of a two-day fermentation, adding sourdough discard to your homemade pretzels will add a more nuanced, intense flavor than just using instant yeast on its own.
Love quick and easy sourdough recipes that use commercial yeast? Check out my recipes for Sourdough Discard Sandwich Bread, Sourdough Discard Focaccia, Sourdough Discard Hot Dog Buns and Sourdough Discard Dinner Rolls.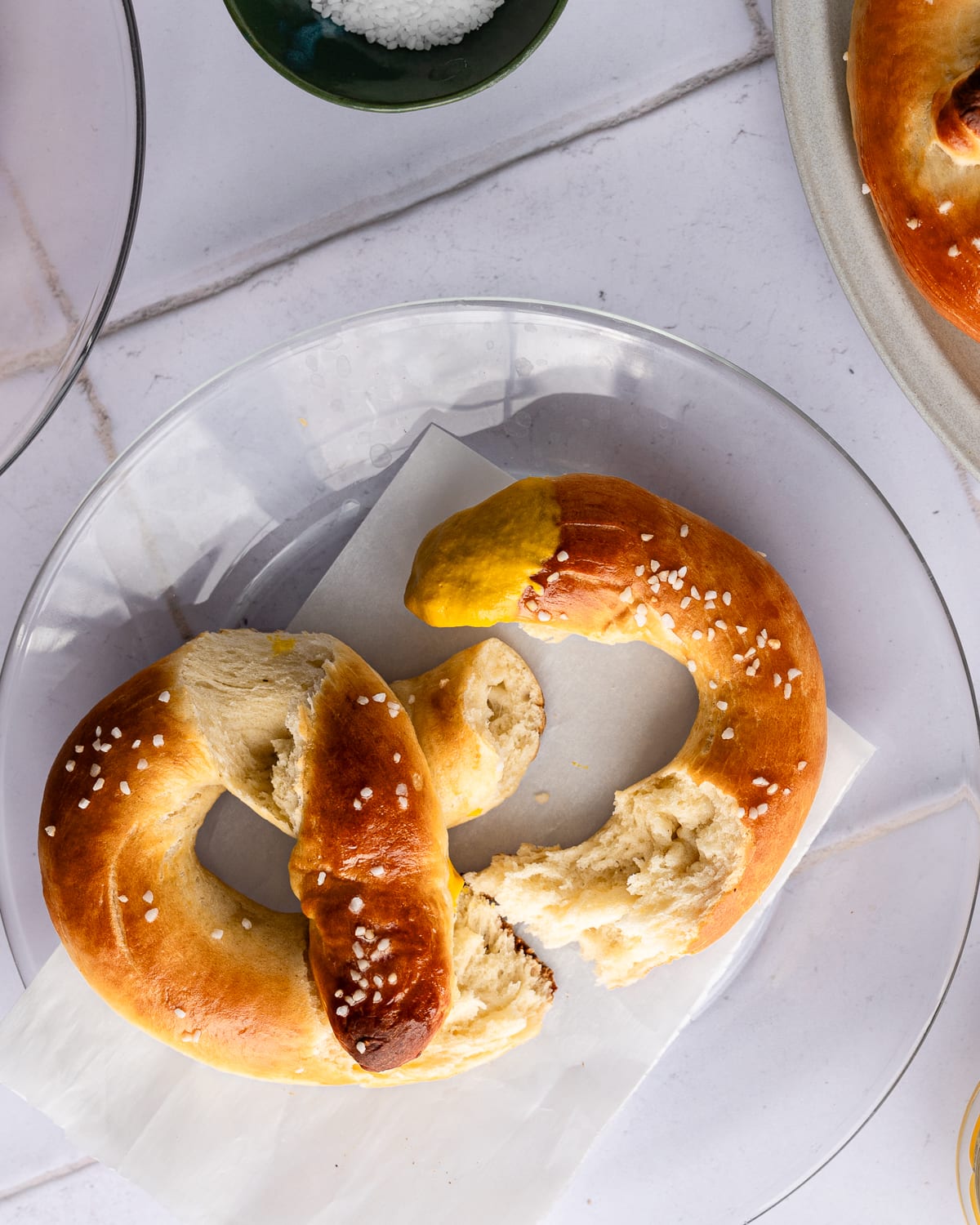 Why use a baking soda bath?
When mixed with water, baking soda creates an alkaline solution that gelatinizes the outside of the pretzel resulting in a crisp, shiny crust. It also helps constrict oven spring, which prevents the dough from puffing up and keeps the crumb tight. The alkaline bath also imparts a unique flavor that's signature to pretzels.
While traditional German pretzels are made using food-grade lye, according to my research Miller's Twist uses a much milder baking soda bath. This keeps the crust lighter in color and more delicate.
What you need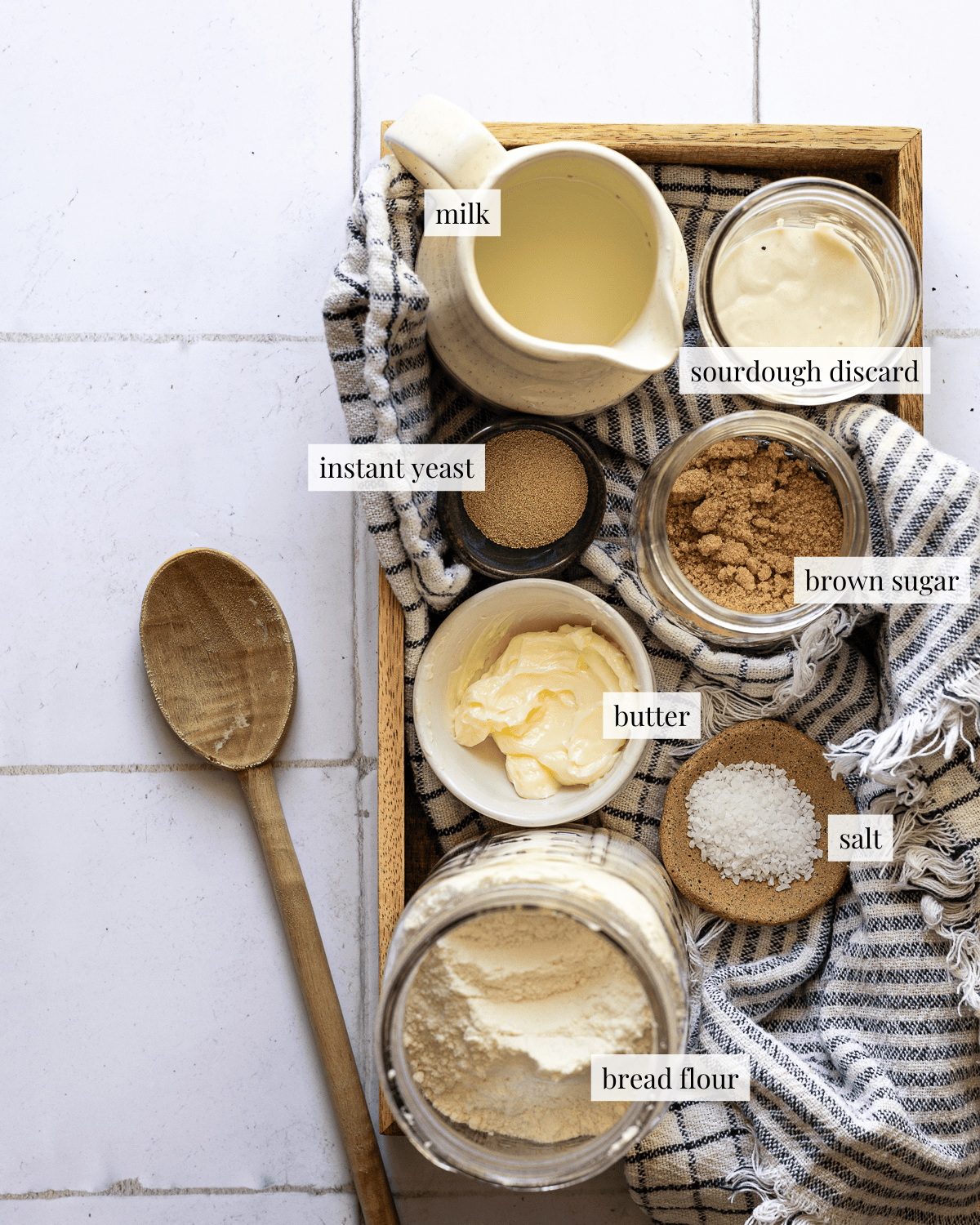 Bread flour: High protein flour is essential for plump and shiny pretzels, you can substitute all-purpose but yours won't be able to keep their shape as well. Do not substitute whole wheat.
Milk: Adds richness and tenderness to the crumb, I used whole milk to develop this recipe.
Sourdough discard: Imparts a delicious, tangy flavor to these pretzels. You can use your starter directly from the fridge for this recipe. Add 38 grams of water and 38 grams of flour to your dough if you don't have any sourdough discard on hand.
Butter: Butter is essential to achieve the pillowy texture and rich flavor of these pretzels. You can substitute your favorite plant-based butter, however, I can't guarantee your results.
Instant yeast: You can use active-dry yeast for this recipe, you'll just need to bloom the yeast before mixing it into your dough.
Brown sugar: Imparts sweetness, substitute cane sugar or honey if you don't have any on hand.
Salt: Use kosher salt or sea salt for the best results. Different types of salts have varying grain sizes so the amount of salt added to the recipe may differ if you use volume measurements.
Pretzel salt: Optional but highly recommended. Pretzel salt is a large-grain salt that does not melt during baking, there's no substitute for this as even flaky sea salt melts in the oven, feel free to leave this out if you don't have any on hand.
Baking soda: You'll need baking soda to create an alkaline bath. It helps develop a shiny, smooth crust and imparts a flavor that's signature to pretzels.
Step-by-step instructions
1. Scald milk and let it cool to less than 115 F before mixing it with your dough
2. Make the dough
3. Knead the dough until completely smooth
4. Let the dough rise for 20 minutes or until lightly puffy (not doubled)
5. Shape the dough and freeze for 15 minutes
6. Dip pretzel in baking soda and hot water bath
7. Sprinkle pretzel salt on dough and bake at 475F for 10 to 15 minutes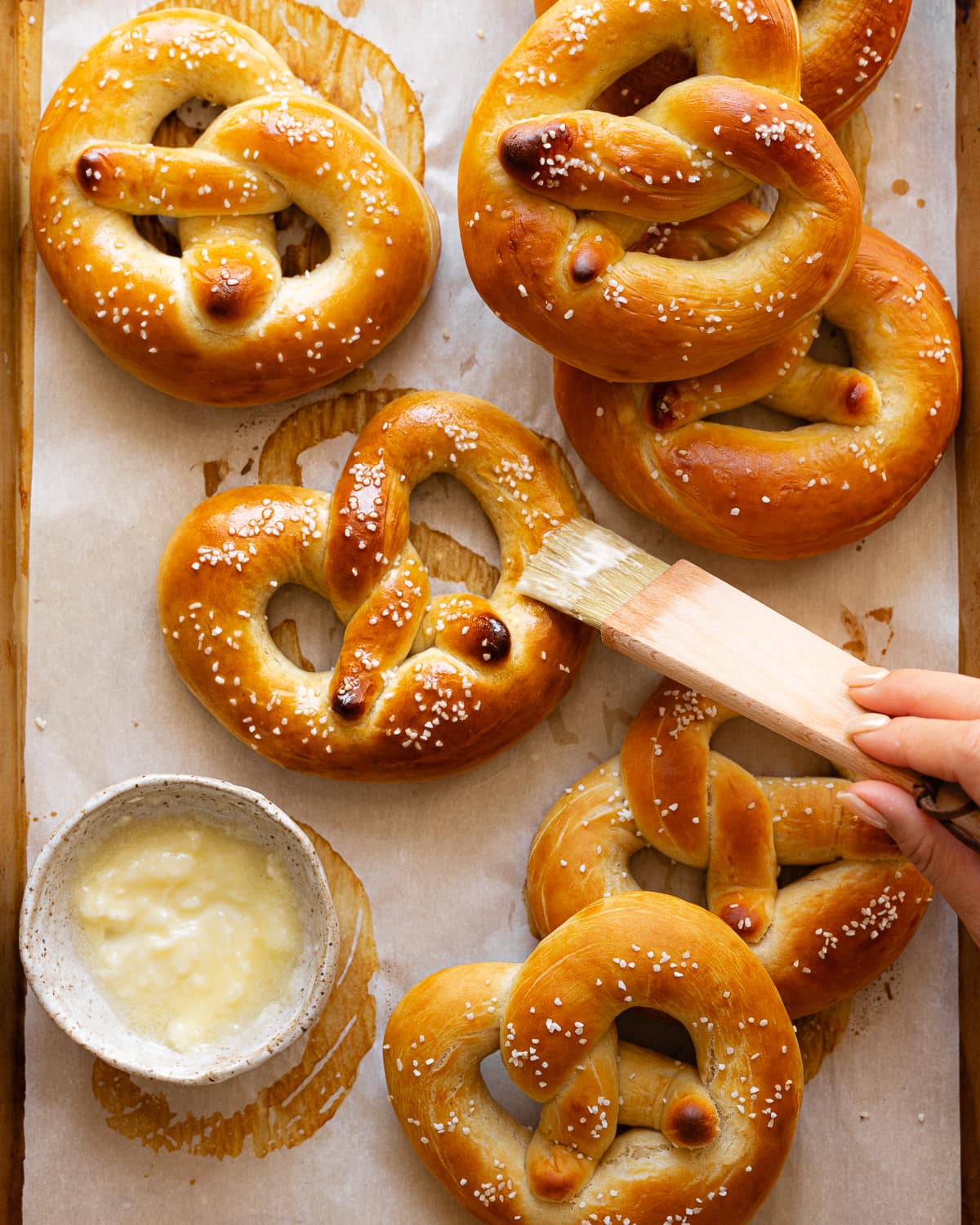 8. Brush freshly-baked pretzels with butter
How to shape pretzels
Pretzels are one of the most well-known breads because of their iconic shape. Each different part of a pretzel provides a delicious textural contrast from the chewy arms to the fluffy belly and the pillowy center.
1. Round each piece of dough into a tight ball
2. Preshape into 4-inch logs, cover with plastic, and let the dough rest for 15 minutes
3. Roll dough into a long rope, 24 to 30 inches (the longer the better)
4. Make a U shape
5. Twist the ends of the dough together
6. Fold the ends over and lightly press down to seal
Shaping Tips
Rolling dough into long ropes can be exceedingly difficult for both newbie and experienced bakers. Shaping is the toughest part of making pretzels, here are some tips for success:
Do not use an excessive amount of flour: Your dough needs to be a little tacky and stick to the work surface in order to stretch, lots of bench flour will cause your dough to slip and slide, which makes shaping exceedingly difficult.
Don't let the dough dry out: Make sure any unshaped pieces of dough are covered completely with plastic wrap. If your dough is exposed to air for long periods water evaporates from the surface and forms a skin. If the surface of your dough dries out, the strands will break apart as you try to roll them out.
Let the dough rest: Dough needs to be kneaded heavily to develop a strong gluten network. On the flip side, this also makes the dough tighter and more resistant to shaping. If you find that your dough is snapping back, let it rest for a short period of time (about 10 minutes) before continuing to shape. The short rest period will allow the gluten bonds to loosen and unwind, making it easier to roll out.
Apply downward not outward pressure: It may be tempting to try to roll outward, pulling your dough apart to stretch it out faster, but don't do this! This will cause your dough to tear and break apart. Instead, press down on the dough as you slide your hands gently toward the ends of the rope. This downward pressure will encourage the dough to stretch naturally and it also releases gasses that have built up in the dough, resulting in cleaner more uniform pretzels.
Work with dry hands: When I first tested this recipe, I resorted to spritzing my dough and hands with water in the hopes of making shaping easier. This produced disastrous results as the surface of my dough broke down and my pretzels became rough and bumpy when I baked them. If you follow my tips you shouldn't need to resort to this.
Recipe FAQs
Can I use all-purpose flour?
Yes, in a pinch you can use all-purpose flour. However, during my tests I found that using all-purpose flour made rolling the dough into long ropes much harder as my dough didn't have a sufficiently strong gluten network that's required for so much stretching. The result was still good, but I had to settle for pretzels that were smaller, puffier, and reminiscent of bread rolls. 
Why doesn't this recipe use lye?
Lye is a very important part of making pretzels. It's what gives German-style pretzels their crunchy, amber crust. However, these pretzels have a much fluffier texture and a lighter softer crust. I did some research on Miller's Twist pretzels and found that they eschew caustic lye for milder baking soda to keep the crust delicate.
Why are my pretzels so puffy?
To keep the crumb tight, these pretzels have a really short bulk fermentation period and completely forgo a second rise. The reason pretzels become too puffy is because the dough proves for too long. What may seem like a normal proofing period for other types of bread is too long for pretzel dough. Over-proofed pretzels will become puffy, dull, and at times excessively chewy.

Another reason is that you simply didn't roll your pretzel dough long enough. This results in thicker ropes which will puff up as they bake in the oven. In this case, your pretzels will still be delicious but they may resemble rolls in both their appearance and texture.
Help my dough keeps tearing! What am I doing wrong?
In testing, I've found that dough tearing was caused by dough with a weak gluten network or poor shaping technique. To avoid this, make sure you knead your dough until it is very smooth, and follow my shaping tips above. 
Why are my pretzels so rough and lumpy?
There are a few reasons why your pretzels turned out lumpy instead of smooth and shiny. The most common reasons are issues with shaping and proofing. Follow my shaping tips above and be gentle while shaping your pretzels. Forcing them into long ropes often causes the skin of the dough to break down. I've also found that over-proofed dough has a tendency to degrade in the baking soda bath, which causes little craters to develop on the surface resulting in rough and lumpy pretzels.
You may also like
---
Did you make this recipe?
⭐⭐⭐⭐⭐
Please leave a star rating and review this recipe if you enjoyed it! I read all the comments and love hearing your feedback.
THANK YOU!
---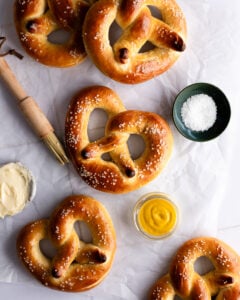 Sourdough Discard Soft Pretzel Recipe
Baking these Sourdough Discard Soft Pretzels will make your kitchen smell like heaven. Sourdough discard in the dough and a coating of melted butter after baking make these pillowy pretzels extra special.
Ingredients
Dough
226

grams

whole milk

75

grams

sourdough discard

50

grams

brown sugar

7

grams

instant yeast

390

grams

bread flour

28

grams

unsalted butter

softened
Baking Soda Bath
20

grams

baking soda

452

grams

water

hot
Toppings
20

grams

pretzel salt

42

grams

unsalted butter

softened
Instructions
Prep: Preheat the oven to 475 F. Line two 18-by-13 inch baking sheets with parchment paper.

Scald the milk: Heat milk in a small saucepan to about 180 F, or until tiny bubbles form on the edges. Transfer milk to a large bowl and let it cool completely before proceeding.

Make the dough: Whisk the sourdough discard, instant yeast and sugar into the cooled milk until completely dissolved.

75 grams sourdough discard,

50 grams brown sugar,

7 grams instant yeast

Fold the bread flour into the mixture until all of the flour is hydrated.

Knead the butter into the dough one tablespoon at a time. Your dough will gradually feel less oily as the butter is absorbed.

Strengthen the dough: Turn the dough out on a clean, lightly-floured work surface and knead for 5 to 10 minutes. Developing gluten is key for smooth and shiny pretzels so make sure your dough is completely smooth before you stop kneading.

Bulk fermentation: Round the dough into a tight ball and place it in a clean, lightly-oiled bowl. Cover the bowl with plastic wrap and let the dough rise in a warm place, untouched for 20 minutes. Your dough should be slightly puffy but not doubled in volume.

Preshape the dough: Turn the dough out on a clean work surface and divide it into 10 equal portions. Round each piece of dough into a tight ball. Cover the dough with a large piece of plastic wrap.

Working with 1 piece at a time, lightly coax the dough into a 4-inch baton. Cover the preshaped dough with plastic wrap, let them rest for 15 minutes.

Shape pretzels: Working with one portion of dough at a time, roll it into an 24 to 30-inch rope with tapered ends.

Grab the tips and form a U shape. Twist the ends twice, and flip them over.

Tack the ends to the sides and place the shaped dough on a baking sheet.

Place shaped dough on baking sheets. Freeze the shaped dough for 10 minutes.

Baking soda bath: In a large glass or stainless steel bowl, dissolve baking soda in hot water.

20 grams baking soda,

452 grams water

Working with one portion of dough at a time, carefully submerge frozen dough in the baking soda bath for 1 minute. Transfer to a wire rack to drain.

Return pretzel dough to baking sheets. Sprinkle pretzel salt on pretzels while the surface of the dough is still wet.

Bake: Bake for 10 to 15 minutes or until the pretzels are evenly browned. Transfer the pretzels to a wire rack.

Brush warm pretzels with butter.

Enjoy: These are best eaten fresh from the oven the day they are baked. Enjoy them on their own or with a side of mustard.

Store: Store any leftover pretzels in an airtight container for up to 3 days.
Notes
When in doubt, use gram over volume measures. 
If your dough is too sticky, let it rest for a few minutes before continuing. You can also oil your hands and your work surface to knead your dough. 
If the dough springs back when you try to roll it out, let it rest before continuing. Do not force your dough to stretch or it may rip. 
Enjoy: These are best eaten fresh from the oven the day they are baked. Enjoy them on their own or with a side of mustard.
Nutrition
Calories:
233
kcal
|
Carbohydrates:
36
g
|
Protein:
6
g
|
Fat:
7
g
|
Saturated Fat:
4
g
|
Polyunsaturated Fat:
1
g
|
Monounsaturated Fat:
2
g
|
Trans Fat:
0.2
g
|
Cholesterol:
18
mg
|
Sodium:
561
mg
|
Potassium:
88
mg
|
Fiber:
1
g
|
Sugar:
6
g
|
Vitamin A:
212
IU
|
Vitamin C:
0.002
mg
|
Calcium:
41
mg
|
Iron:
0.4
mg
Did you make this recipe?
I'd love to know! Leave a star rating and comment below. Don't forget to pin this recipe on Pinterest and share a photo and tag @makeitdough on Instagram