Tall muffin tops with a plush interior and an intense banana flavor, you'll love these Sourdough Banana Muffins. Don't toss your sourdough discard, use it to make these delicious muffins, in addition to imparting a delicious tangy flavor, it adds extra moisture that makes these muffins taste fresh for much longer.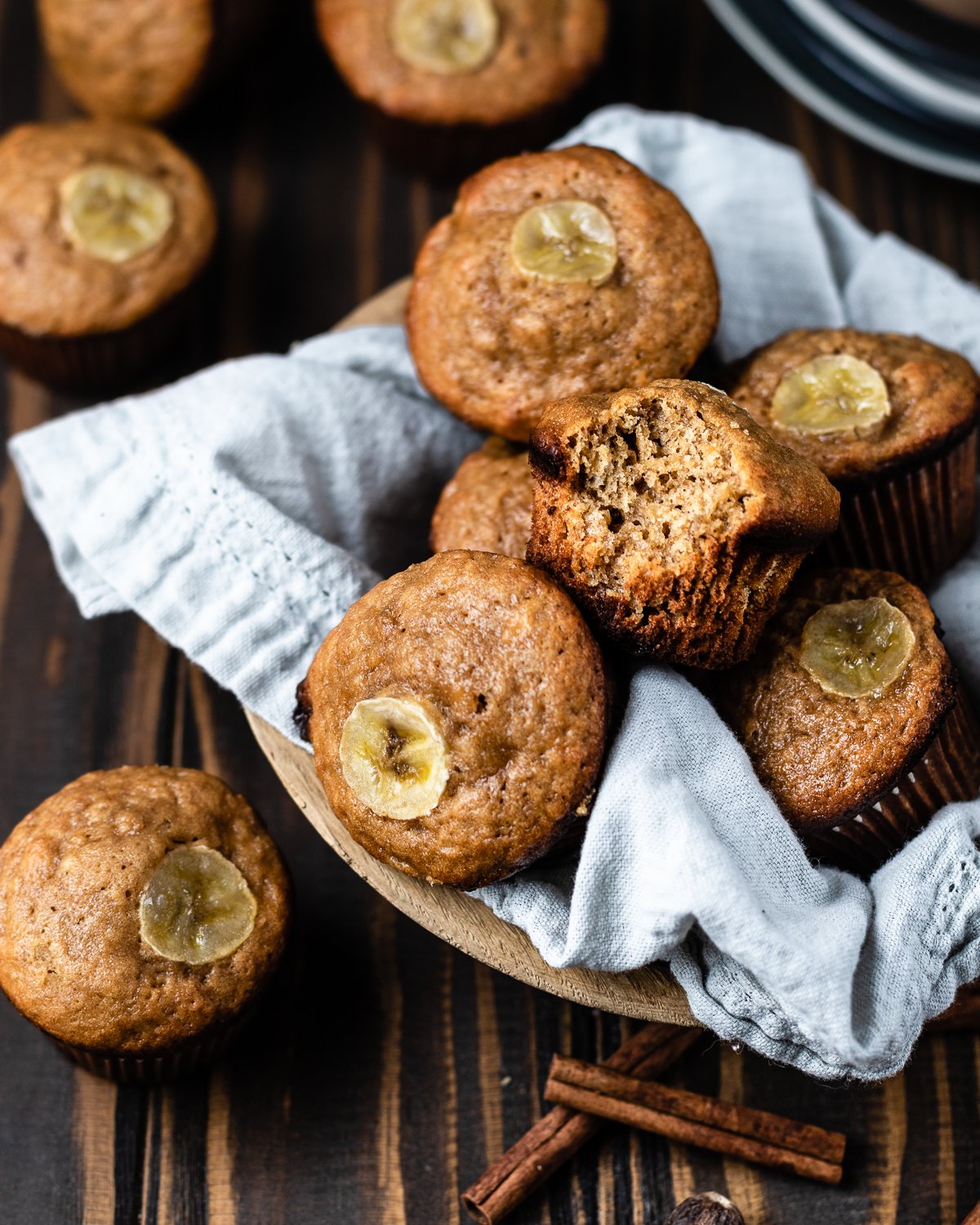 Jump to:
Growing to love bananas
I've had a very complicated relationship with bananas for my entire life. I refused to eat them when I was younger and even made up an allergy so people would stop trying to offer them to me. While I still can't eat a banana by itself, it has become one of my absolute favorite ingredients (growth, am I right?). So these Sourdough Discard Banana Muffins must be good for a banana hater like me to love them.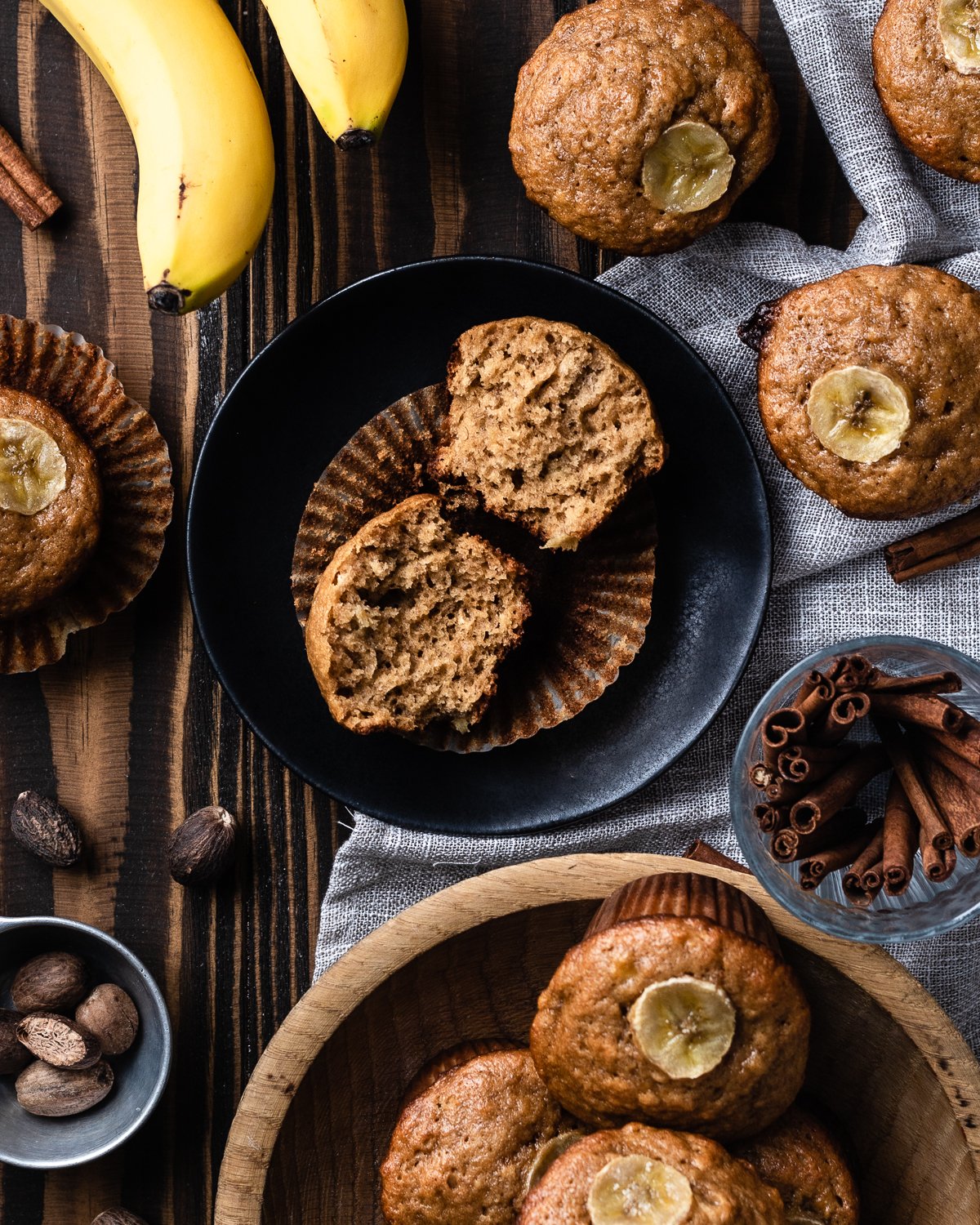 I love the taste and texture of baked goods made with bananas, especially the browned overripe ones! It always feels good to create something delicious out of food that would get thrown away otherwise. Overripe bananas are softer so they are easier to mash up and blend into batters. More importantly, the ripening process converts the fruit's starches into sugars, giving them a more caramelized and intense banana flavor.
Looking for more ways to use overripe bananas? Try my Sourdough Banana Cake Sourdough Discard Banana Bread, Sourdough Banana Nut Bread and Sourdough Discard Banana Cookies.
Why I love this recipe:
The batter is all mixed by hand, no special equipment required.
It contains the perfect mix of spices that complement and won't overpower the flavor of bananas.
It has the most tender, light, and plush crumb.
Sourdough adds a tangy flavor and moisture that keeps the muffins tasting fresh for up to a week.
Uses simple ingredients that you already have in your pantry!
Baking with sourdough discard
Sourdough discard adds a great tangy flavor to these muffins. Since you're not using it as a leavener, you can use your discard straight from the refrigerator. There's no need to feed it or activate it before mixing it into your batter. Older discard will have a tangier, more acidic flavor than a freshly-fed sourdough starter. Both will work for this recipe, you'll just get a slightly different flavor but your bake will still be delicious!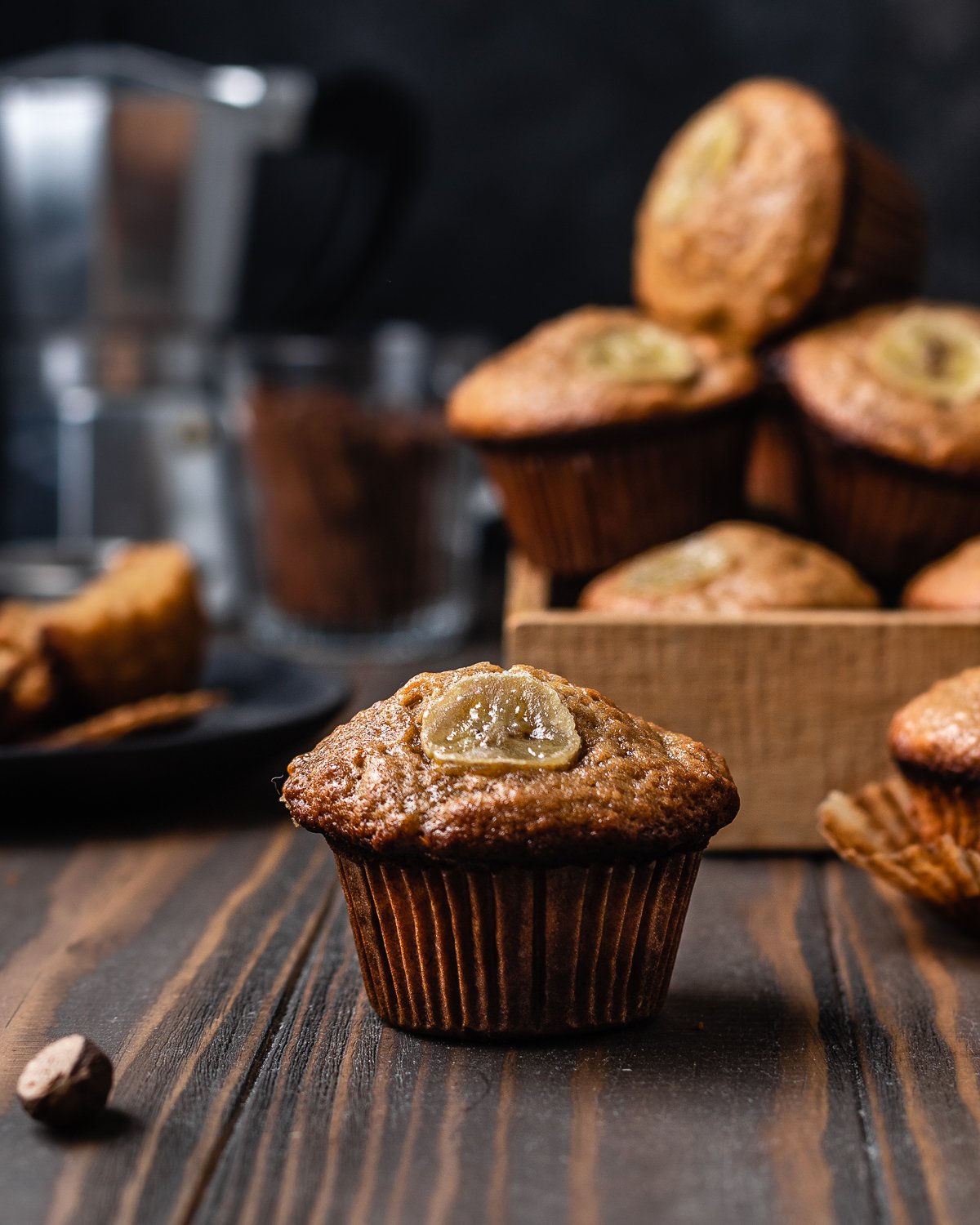 How to get tall bakery-style muffin tops
Make sure your chemical leaveners are fresh - Most bakers don't know that chemical leaveners like baking soda and baking powder have a shelf life and do eventually lose their leavening powers. If yours are no longer fresh, they won't be able to help your muffins rise.
Start hot and turn down the temperature of your oven - Preheat your oven to 450 F and then turn down the temperature to 375 F when you put your muffins in the oven. The initial high heat will encourage your muffins to rise high, while baking at a lower temperature will gently bake your batter without burning the muffins.
No peeking! - Do not under any circumstances open the oven door. Heat escapes every time you open the oven door, if your muffins are not completely baked in the middle, this will cause your muffins to sink and become dense and gummy.
Love sourdough muffins? Try my Sourdough Pumpkin Muffins, Sourdough Chocolate Muffins, and Sourdough Blueberry Muffins.
What you need
Bananas - Overripe bananas are the key to delicious banana muffins, you'll need 3 overripe bananas for your batter and one perfectly ripe (not browned) banana for the optional topping
Sourdough discard - You can use your discard straight from the refrigerator for this recipe
Whole milk - Substitute plant-based milk, if you don't keep dairy milk in your pantry
All-purpose flour - All-purpose flour has the perfect protein level to make tender, soft muffins with tall muffin tops, don't try to substitute another type of flour for this recipe
Baking powder and baking soda - This recipe was developed with a combination of these two leaveners, they have an effect on both the texture and flavor of these muffins, don't try to substitute or leave either out
Salt - I developed this recipe using Morton's Kosher Salt, use twice the amount in volume if you're using Diamond Crystal Salt (gram measures should be the same)
Cinnamon and nutmeg - Complements without overpowering the flavor of bananas
Brown sugar - Add moisture and rich molasses flavor to the muffins, substitute white sugar if you don't have any on hand
Butter, vegetable oil and egg - Used in combination, these fats add richness and tenderness to the batter without making the muffins too heavy
Step-by-step instructions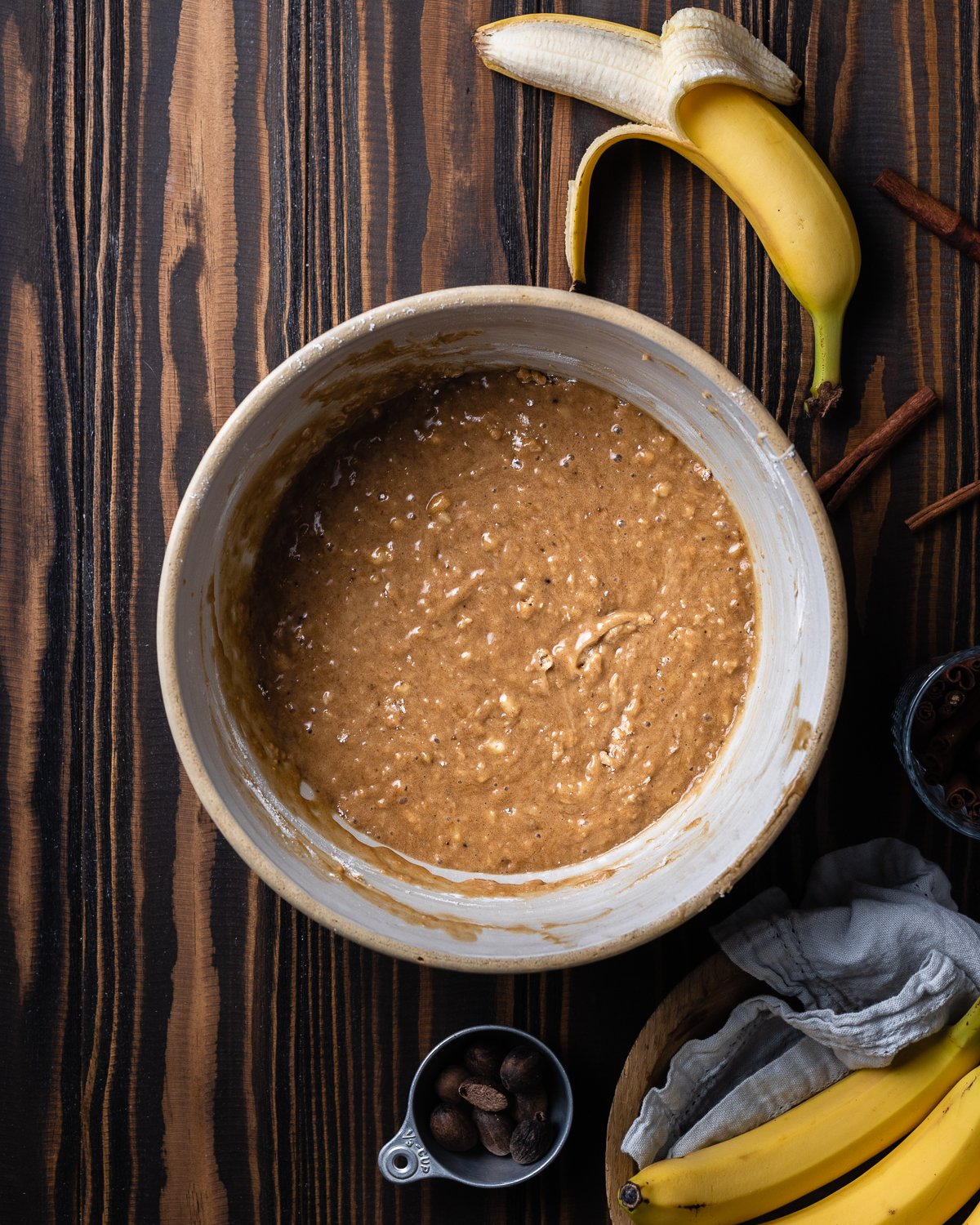 1. Make the batter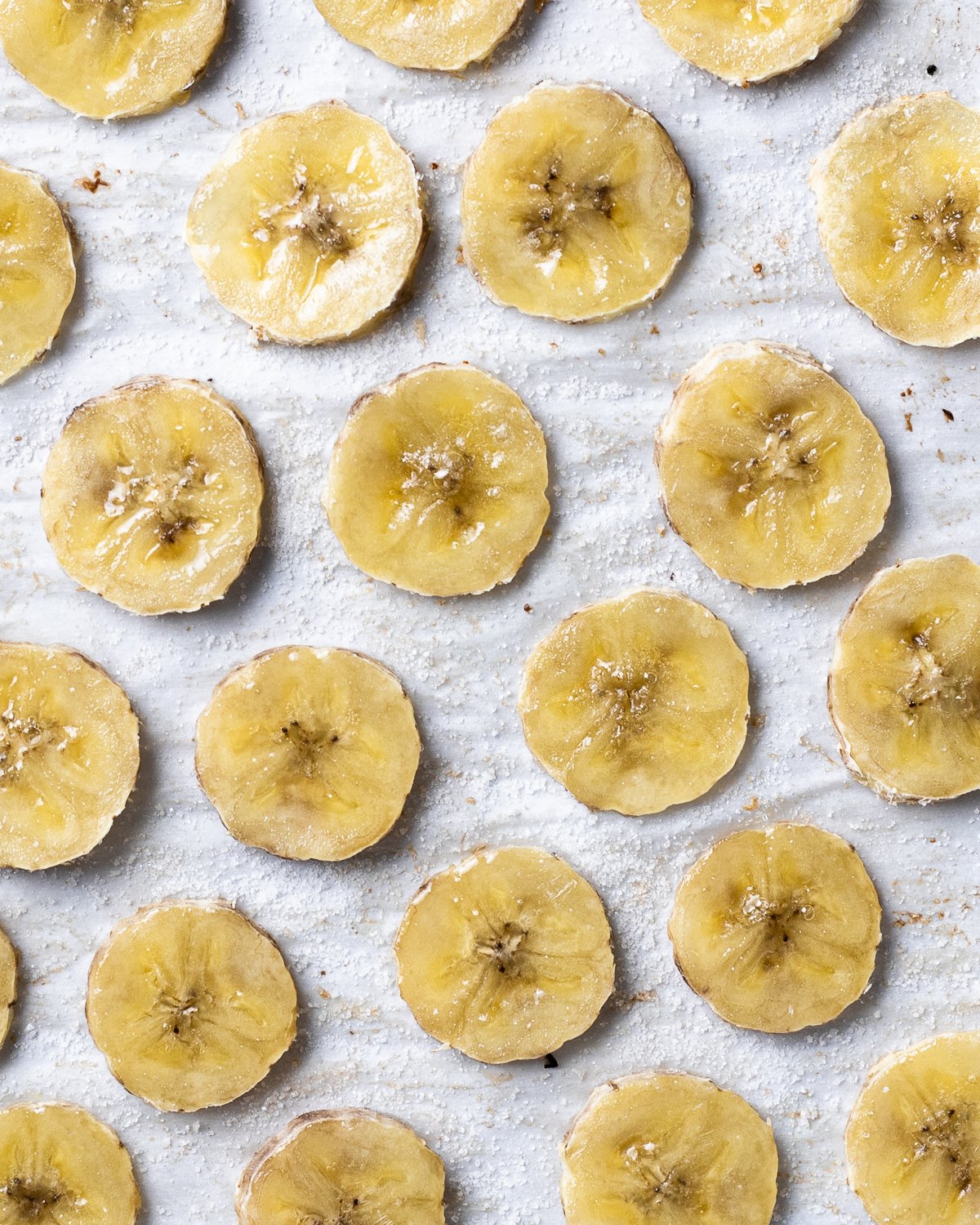 2. Slice ½ of a banana into medallions and dust with sugar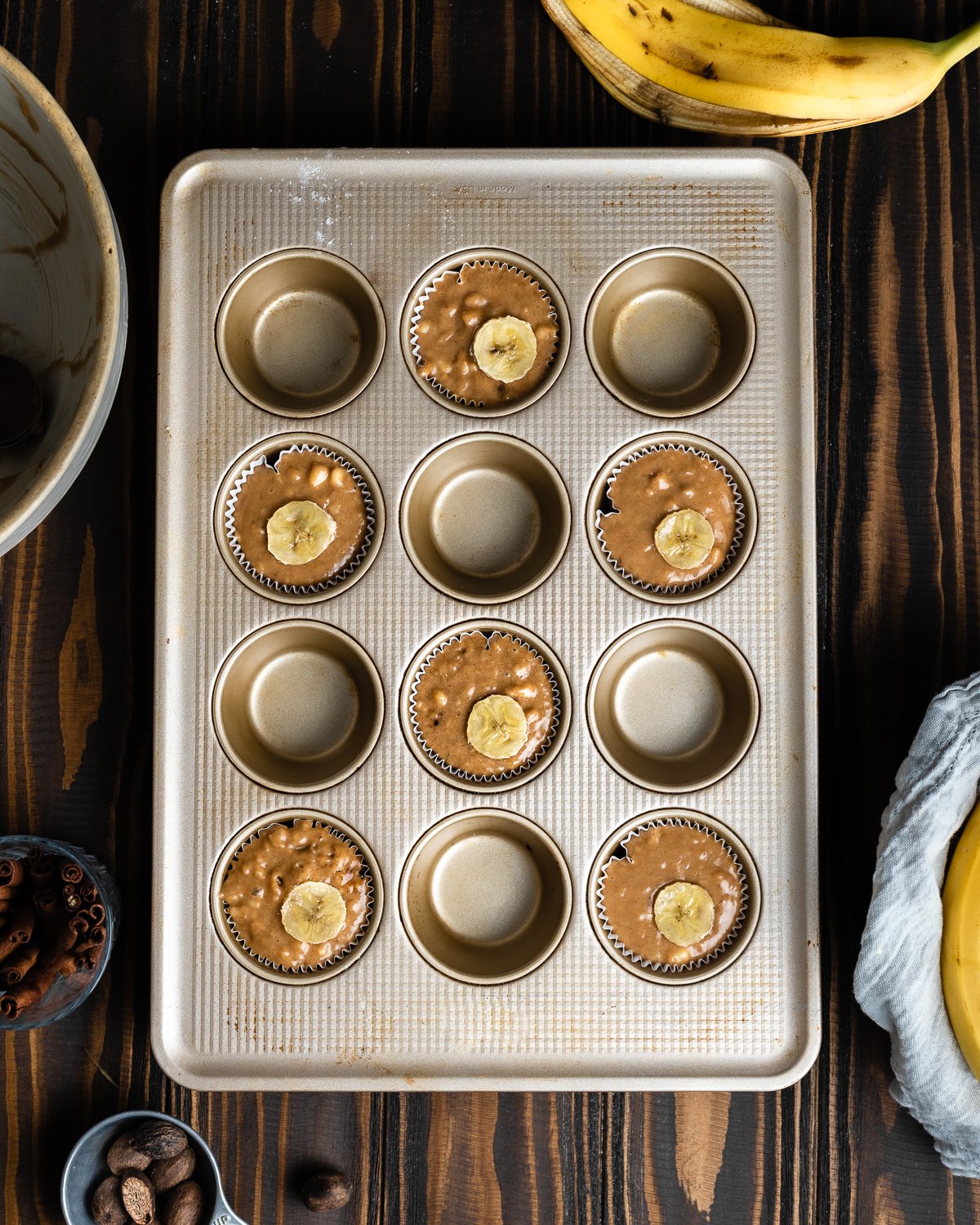 3. Fill every other cavity on your muffin tin with batter almost to the top and add a slice of banana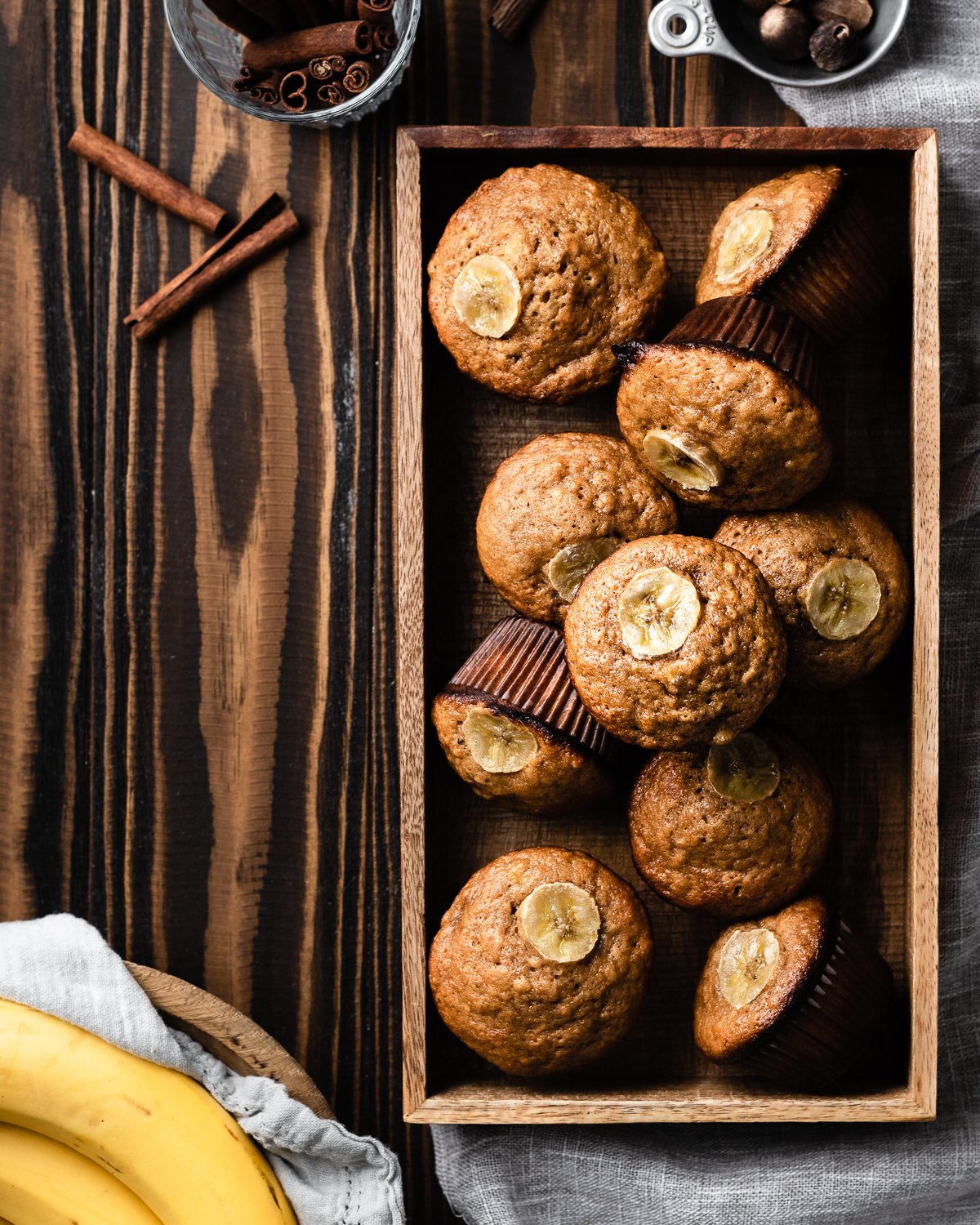 Bake at 375 F for 20 to 25 minutes
Recipe FAQs
Can I reheat these muffins?
You haven't lived until you've toasted a muffin in a pan with a little bit of butter! I find that this is the best way to reheat and refresh any type of muffin.

Simply melt a tablespoon of butter in a skillet, slice a muffin in half and fry it cut-side down for 3 to 5 minutes or until the muffin is warm and toasted. Enjoy with a dollop of crème fraîche if you're feeling extra decadent. 
I don't have enough sourdough discard, can I still make this recipe?
Absolutely! Simply use the same proportion of freshly fed sourdough starter in the recipe. Your starter won't add a strong tangy flavor to your muffins, but will still work. 

If you don't have a starter, but still want to try out this recipe, simply add 28 grams of all-purpose flour and 28 grams of water to your batter.   
What if I don't have overripe bananas? Can I still make these banana muffins?
If you don't have overripe bananas, bake unpeeled bananas in an oven preheated to 400 F for 5 to 10 minutes or until they are completely browned. This caramelizes the sugars and intensifies the flavor of the bananas, similar to overripe bananas. 
Why are my muffins so flat?
There are a few reasons your muffins could have turned out flat:

- Your baking soda and baking powder may be past their prime and not able to leaven your muffins
- You may have opened the oven door before the center of your muffins are fully baked, unfortunately, this would cause them to sink and the center to be dense and gummy
- You may have mismeasured your ingredients, weigh your ingredients to make sure your proportions are correct
- Your oven temperature may have been too low, high temperatures encourage the muffins to rise 
Why are my muffins so gummy?
You may have developed too much gluten in your batter. It helps to fold your flour into the batter a third at a time to ensure it is incorporated without overmixing. Opening the oven door before your muffins are fully baked could also cause them to be too gummy. In this case, your muffins will sink and the interior will be gummy. 
You may also like
---
Did you make this recipe?
⭐⭐⭐⭐⭐
Please leave a star rating and review this recipe if you enjoyed it! I read all the comments and love hearing your feedback.
THANK YOU!
---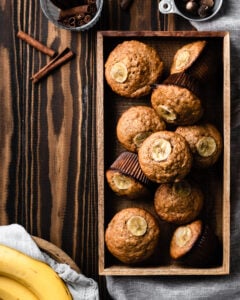 Sourdough Banana Muffins
Tall muffin tops with a plush interior and an intense banana flavor, you'll love these Sourdough Banana Muffins. Sourdough discard adds a delicious tang and added moisture that will keep these muffins tasting fresh for up to a week.
Ingredients
Topping (optional)
½

banana

yellow but not overripe

14

grams

granulated sugar
Batter 
210

grams

all-purpose flour

4

grams

baking powder

¼

teaspoon

baking soda

7

grams

Kosher salt

Morton's kosher salt

113

grams

unsalted butter

½

teaspoon

ground cinnamon

⅛

teaspoon

nutmeg

200

grams

brown sugar

1

egg

large

28

grams

vegetable oil

or any neutral-flavored oil

28

grams

whole milk

8

grams

vanilla extract

300

grams

bananas

3 overripe bananas, mashed

56

grams

sourdough discard
Instructions
Prep: Preheat the oven to 450 F with the rack in the middle. Line every other cavity in two muffin tins with paper liners (you should line 12 spots).

Make the topping: Thinly slice ½ of a banana into 12 portions. Place the slices on a parchment-lined baking sheet, and sprinkle sugar on the bananas. Set aside.

½ banana,

14 grams granulated sugar

Mix dry ingredients: Whisk together the all-purpose flour, baking powder, baking soda, and salt.

210 grams all-purpose flour,

4 grams baking powder,

¼ teaspoon baking soda,

7 grams Kosher salt

Melt butter: Melt the butter in a small saucepan over medium heat. Transfer the melted butter to a large mixing bowl, and add spices this will allow the aromas and flavors to bloom. Let the butter cool to room temperature (about 75 F) before continuing.

113 grams unsalted butter,

½ teaspoon ground cinnamon,

⅛ teaspoon nutmeg

Mix the wet ingredients: Whisk the brown sugar into the butter until fully dissolved. Stir the egg and vegetable oil into the mixture. Add in the milk, vanilla, mashed bananas and sourdough discard until fully incorporated and no traces of discard remain.

200 grams brown sugar,

1 egg,

28 grams vegetable oil,

28 grams whole milk,

8 grams vanilla extract,

300 grams bananas,

56 grams sourdough discard

Make the batter: Fold the flour mixture into the wet ingredients a third at a time. Gently stir to prevent your batter from forming too much gluten, or your muffins may become dense and rubbery.

Portion out batter: Divide the batter evenly among the crevices of your prepared muffin tins (about 80 to 90 grams or 6 tablespoons of batter in each). Place one slice of banana on each muffin, if using.

Bake: Place the muffin tin on the middle rack of the oven, close the door and immediately turn down the temperature to 375 F. Bake the muffins for 20 to 25 minutes, or until a toothpick inserted in the center comes out clean. Do not open the door too soon or your muffins will sink!

Let the muffins cool in the tin for 15 minutes before turning them out on a wire rack.

Enjoy and store: Serve the muffins fresh from the oven and enjoy! Store any leftovers in an airtight container for up to 7 days.
Notes
When in doubt, use weight over volume measures.
Don't use overripe bananas for the topping; use very ripe, browned bananas for the batter. 
Set your ingredients out on the counter for at least half an hour before starting. Room-temperature ingredients blend into a smoother batter and bake into muffins with a better texture.
Nutrition
Calories:
260
kcal
|
Carbohydrates:
39
g
|
Protein:
3
g
|
Fat:
11
g
|
Saturated Fat:
5
g
|
Polyunsaturated Fat:
2
g
|
Monounsaturated Fat:
3
g
|
Trans Fat:
0.3
g
|
Cholesterol:
34
mg
|
Sodium:
297
mg
|
Potassium:
160
mg
|
Fiber:
1
g
|
Sugar:
21
g
|
Vitamin A:
278
IU
|
Vitamin C:
3
mg
|
Calcium:
46
mg
|
Iron:
1
mg
Did you make this recipe?
I'd love to know! Leave a star rating and comment below. Don't forget to pin this recipe on Pinterest and share a photo and tag @makeitdough on Instagram