Don't throw away your sourdough discard! Use it to make delicious Sourdough Discard Cookie Recipes. There are so many ways to use sourdough starter than just baking bread. From chewy chocolate chip cookies to crispy biscotti you'll love the flavor and character it adds to cookie.
---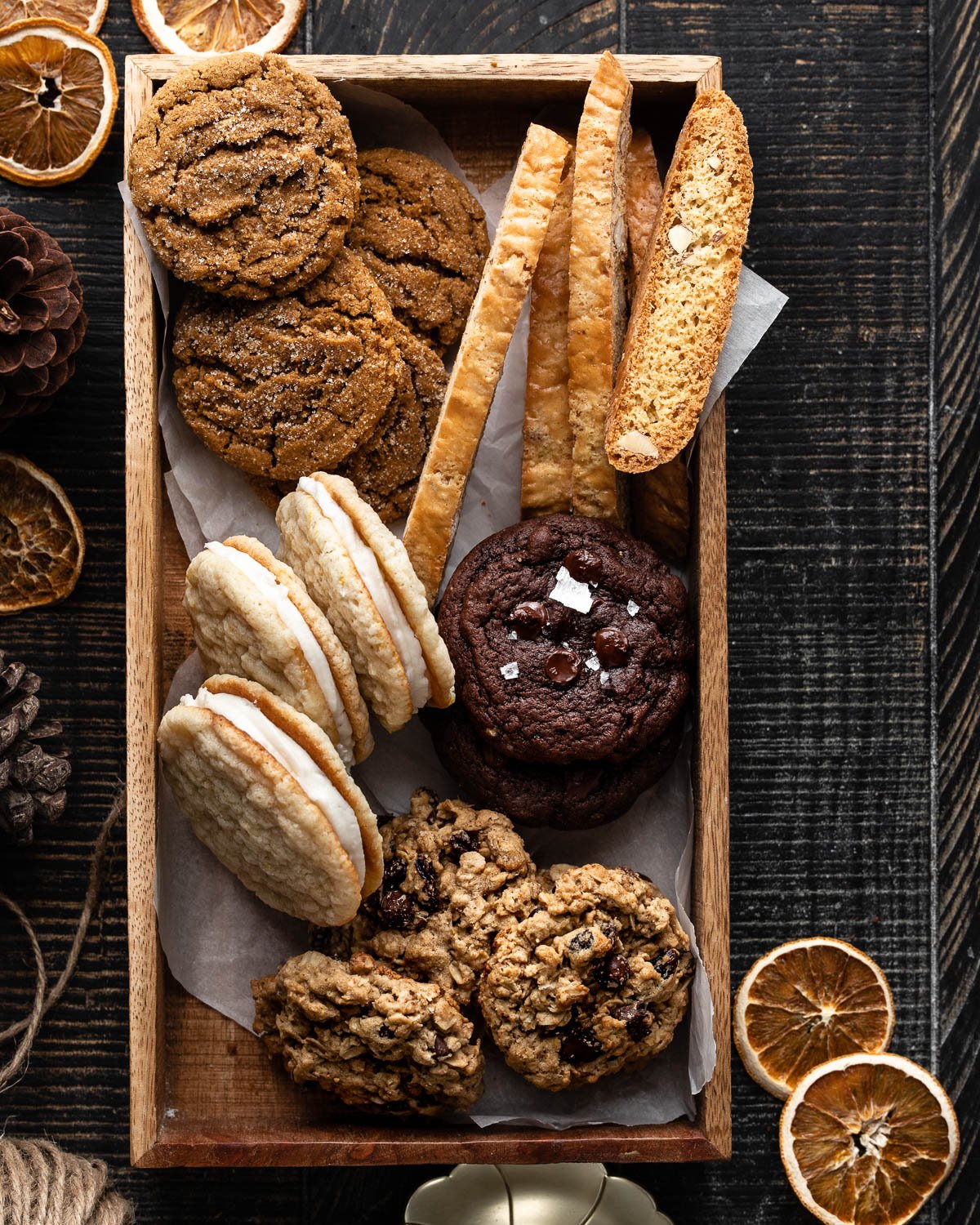 The first recipe I ever developed was my Sourdough Oatmeal Cookies, so sourdough cookie recipes will always have a special place in my heart. That recipe made me fall in love with recipe development and ignited my passion for creating and sharing recipes here on Make It Dough!
Why you'll love these recipes
You can use up a lot of sourdough starter: If you don't bake bread very often, cookies are a delicious way to use up excess sourdough starter.
Sourdough discard adds a delicious tang: The natural acidity of sourdough complement the rich buttery notes and the sugary sweetness of cookies. It also adds a nuanced flavor that you simply can't get otherwise.
Adds moisture to dough: Water that's locked in sourdough discard keeps cookies moist and tasting fresh for days longer.
Can I add sourdough discard to any cookie recipe?
Adding sourdough discard to cookie dough isn't as simple as simply chucking a cup of it into your favorite recipe. Sourdough contains a lot of water, and this added moisture can adversely affect the texture and flavor of cookies, causing them to either harden or spread.
Balancing the ratio of ingredients is especially important for cookies. It's best not to experiment and to use recipes that have been specifically formulated, tried and tested using sourdough discard.
---
My Top 10 Sourdough Cookie Recipes:
---
See all cookie recipes →
---
---
Sourdough Cookie FAQs
What is sourdough discard?
Sourdough discard is any portion of your starter that is removed during the feeding process or any part that is not used to make bread. You can use it in other bakes and dishes or store it in the refrigerator for future use. 
What are sourdough discard recipes?
Sourdough discard recipes can be savory dishes and desserts that do not use sourdough for its leavening abilities. These can be breads that combine commercial yeast and sourdough discard, or that use chemical leaveners like baking powder or baking soda. 
Why did my cookies spread?
Sourdough adds additional moisture to cookies which can cause them to spread. The sourdough cookie recipes on this blog are formulated to compensate for this. It's important to maintain the proportions of ingredients in any recipe and weighing your ingredients maximizes your chances of success.
Will my sourdough cookies taste sour?
Sourdough discard adds a delicious tang that balances the sugary sweetness of cookies. The intensity of this flavor depends on the unique acidity of your sourdough discard. If you've been keeping your discard in the fridge for a long time, then it will impart a more pronounced flavor in your bakes. 
Want the recipe for my Sourdough Peanut Butter Chocolate Chip Cookies?
Join my newsletter to get this email exclusive recipe sent straight to your inbox. Just fill out the form and CONFIRM your subscription.
It's free! I promise I'll never send you spam and you can always unsubscribe.
---
You may also like:
---