These Sourdough Oatmeal Cookies are crisp on the outside and chewy on the inside with a great nutty flavor thanks to the addition of browned butter. Sourdough discard adds a delicious tang to these oatmeal cookies.
Sponsored by Imperial Sugar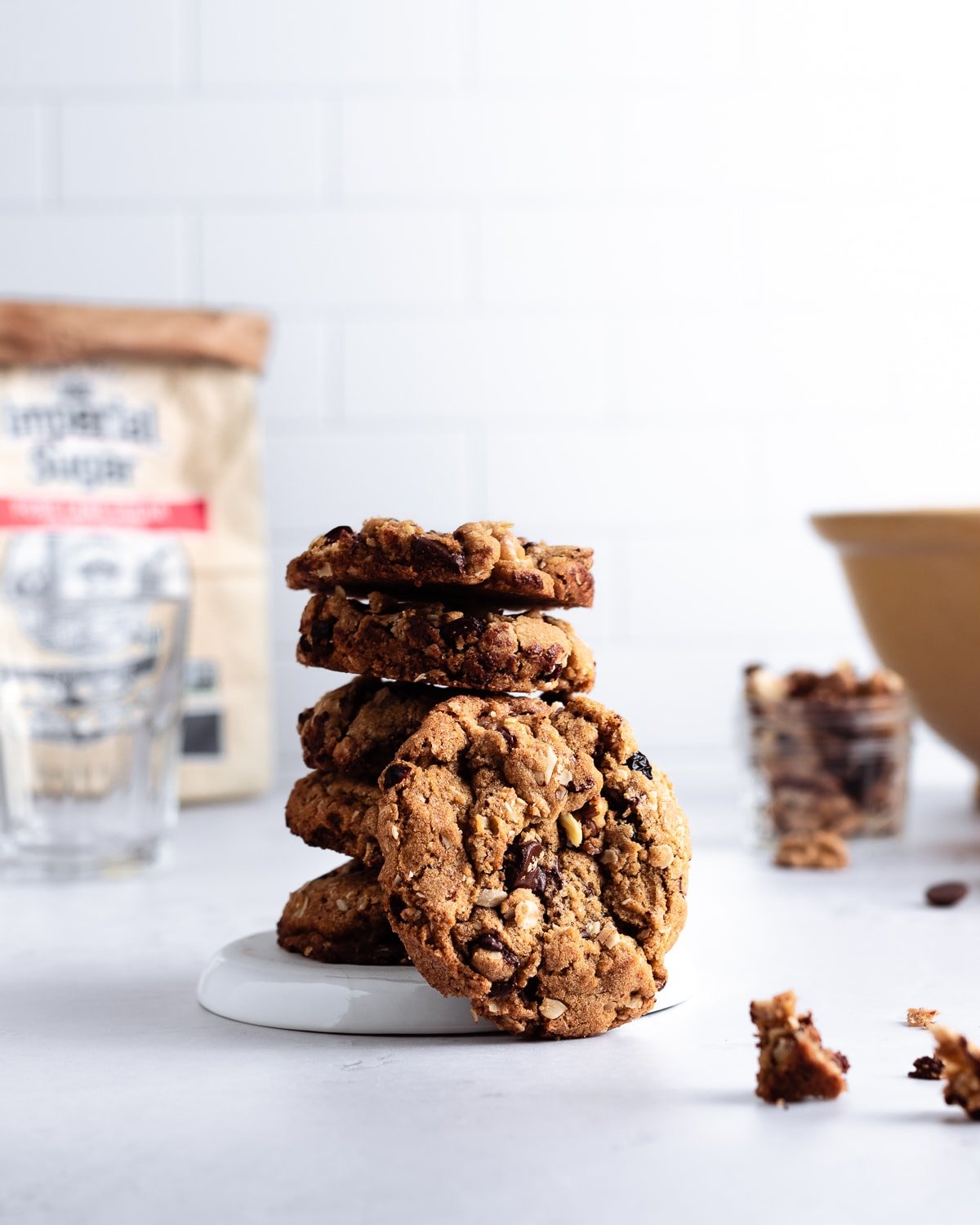 These Sourdough Discard Oatmeal Cookies are close to my heart because the very first thing that I ever baked in my life were oatmeal raisin cookies. I don't think I'd ever eaten anything made in my home oven before it was such a revelation to me that I could create something so delicious from scratch. I've been in love with baking ever since.
Jump to:
Recipe Box Series
This is the fifth in my Recipe Box Series with Imperial Sugar. Each month, I'll be releasing recipes for classic bakes made with a sourdough twist! You can look forward to comforting classics like Easy One Bowl Sourdough Discard Brownie Recipe ,  Apple Pie with Sourdough Crust, Sourdough Pumpkin Bundt Cake and Sourdough Monkey Bread. 
Sugar is a vital part of every dessert, it imparts flavor, texture, moisture, and without it, it would be impossible to make our favorite bakes. I'm grateful to Imperial Sugar for making the Recipe Box Series possible and so proud to be partnering with a company with such a long tradition of producing such high-quality products. Imperial Sugar products are 100% pure cane sugar, non-GMO and provide consistently delicious results.
What is sourdough discard?
Sourdough discard is any portion of your sourdough starter that's not used to make bread. You can use it to make cakes, biscuits, scones and cookies!
Love sourdough cookie recipes? Check out my Top Sourdough Cookie Recipes.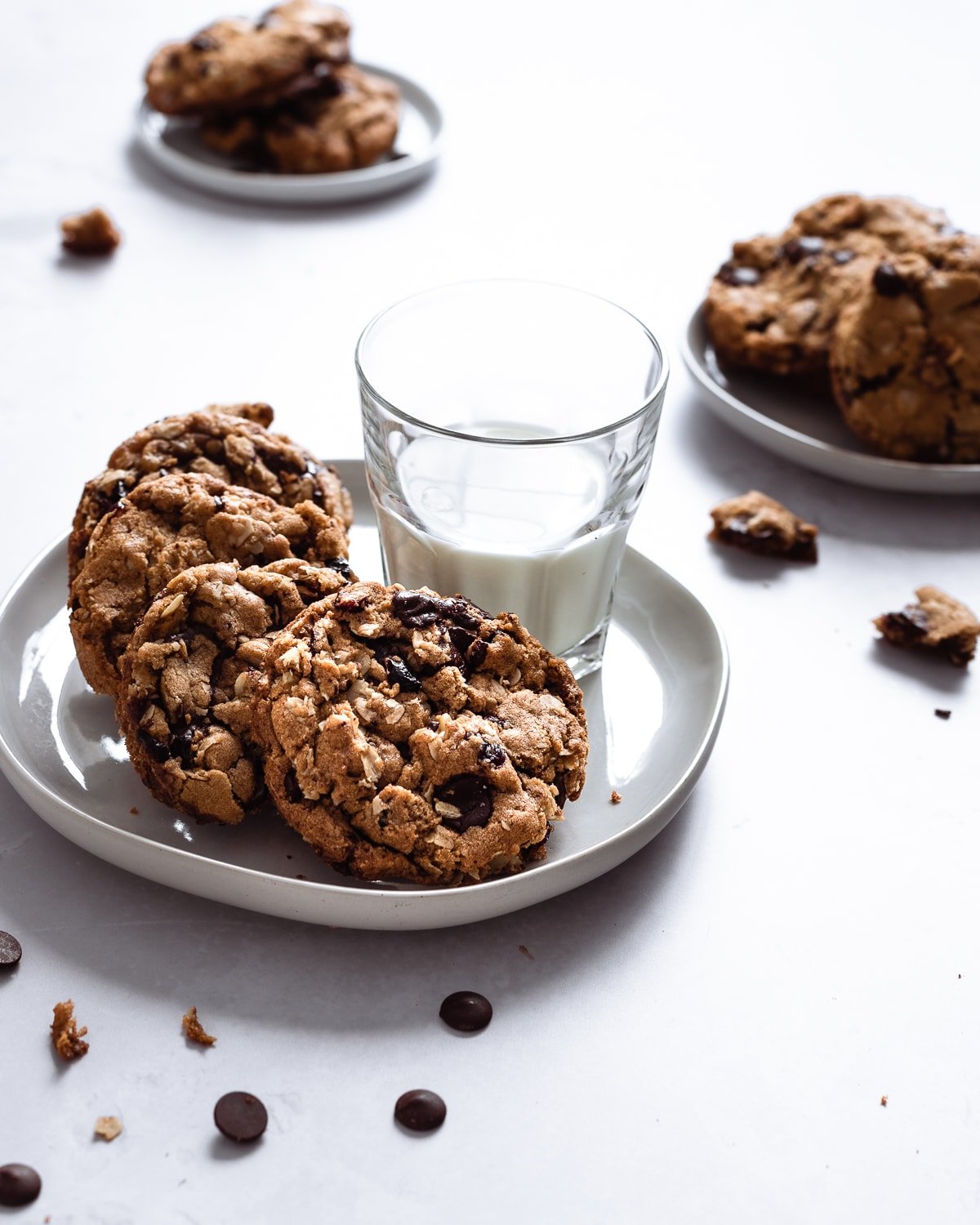 Will these cookies taste sour?
Sourdough discard adds a great tangy flavor to these cookies. That little bit of acidity cuts through the sugary sweetness of these oatmeal cookies. You can bake these Sourdough Oatmeal Chocolate Chip Cookies with discard directly from the fridge. Since you are not using it to make bread, your sourdough starter does not need to be activated or fed for it to work in this cookie recipe.
What You Need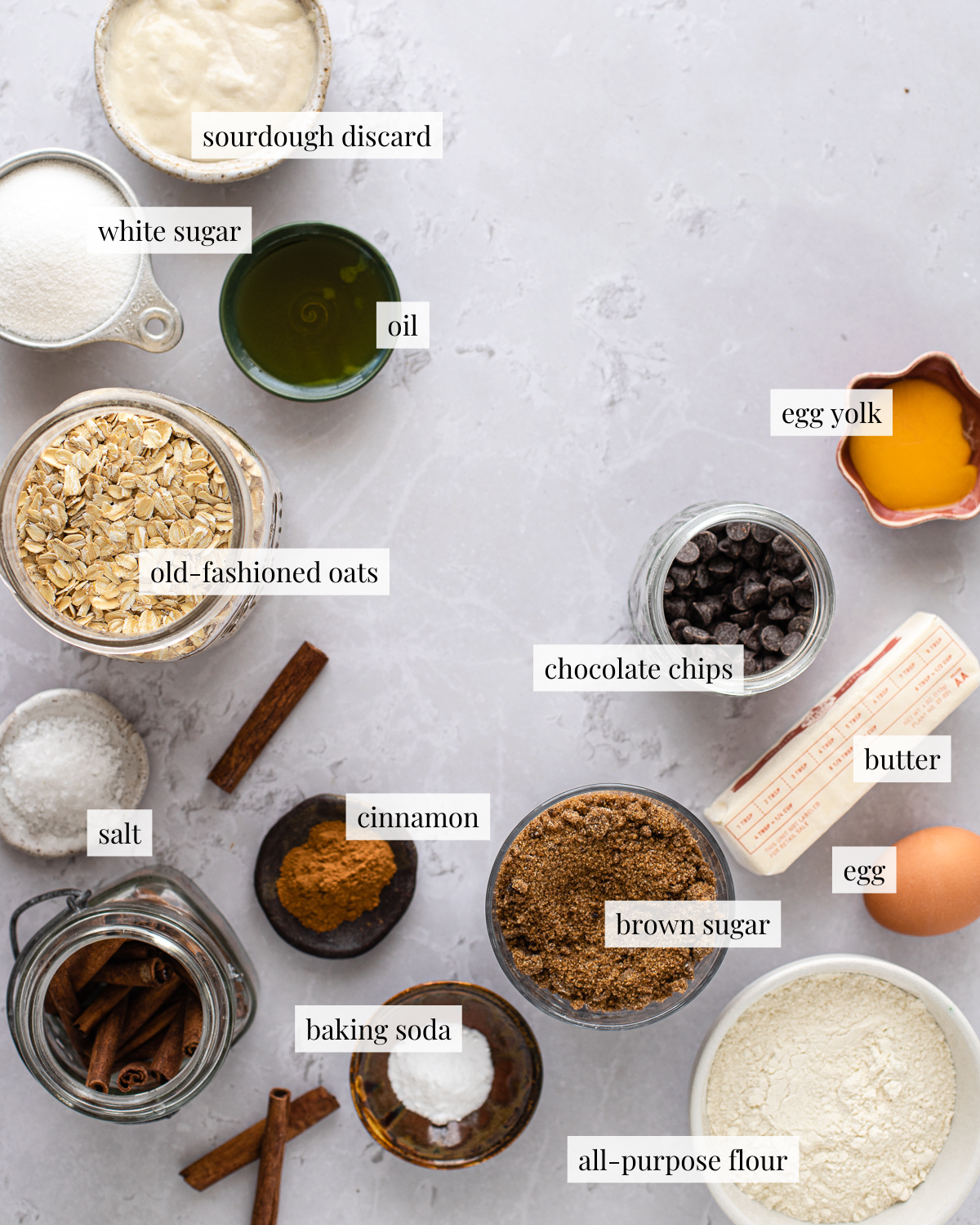 Unsalted butter - you'll be browning the butter so you don't need to soften it before using it to make these cookies
Imperial Sugar Extra Fine Granulated Sugar
Imperial Sugar Dark Brown Sugar
Egg yolk - adds richness to the recipe and binds the ingredients together
Sourdough discard - you can use your starter directly from the refrigerator for the recipe
Vanilla extract - do not substitute vanilla flavor
All-purpose flour - do not substitute another type of flour for this recipe or it will change the texture of the cookies
Baking powder and baking soda - a combination of leaveners helps these cookies get a chewy texture
Salt - I developed this recipe using Morton's Kosher Salt, you'll need to use double the amount in volume if you are using Diamond Crystal
Old-fashioned oatmeal - don't use instant oats or steel-cut oats for this recipe or it will change the texture of the cookies
Step-by-step instructions
Brown butter until it's fragrant and resembles the color of graham crackers
Make the cookie dough
Fold in your mix-ins of choice
Portion out cookie dough using a large cookie scoop
Bake cookies at 375 F for 10 to 12 minutes
Let the cookies cool on baking sheet for 5 minutes (very important or your cookies will break apart)
Move cookies to a wire rack and serve
Recipe FAQs
Why did my cookies spread?
Your butter was probably too warm which caused your sugars to melt. Try letting your butter cool completely before mixing it with the rest of your ingredients or chilling your cookie dough before portioning them out.
How to long ferment these sourdough oatmeal cookies
Long fermentation allows the yeast in sourdough discard predigest the starches and sugars in flour, unlocking nutrients that makes these cookies easier to digest. To long ferment these cookies, simply make the cookie dough, cover the bowl with plastic wrap and refrigerate it for up to a week.
How to make sourdough oatmeal cookies ahead of time
I love keeping an emergency freezer stash of these cookies.

To freeze your cookie dough:
1. Portion your dough out using a cookie scoop
2. Freeze your cookies in a single layer on a small baking sheet
3. Once fully frozen, transfer cookie dough balls into zip lock back
4. Cookies should last in your freezer for up to 1 month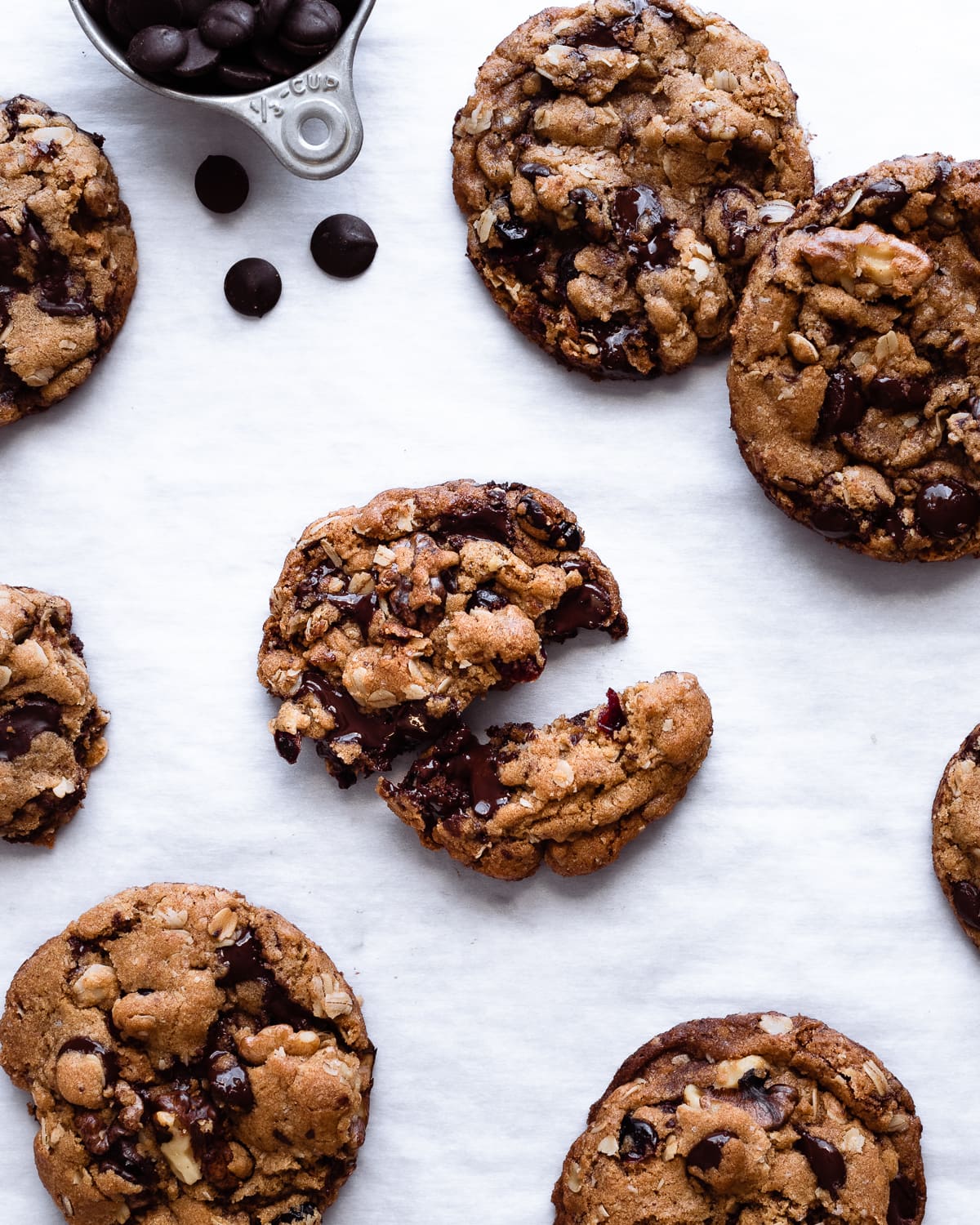 Other sourdough cookie recipes you may like
---
Did this recipe rise to the occasion?
⭐⭐⭐⭐⭐
We knead your feedback! Did our recipe impress your taste buds? Leave a star rating and write a review to help us create even better recipes.
I read all the comments and love hearing your feedback.
THANK YOU!
---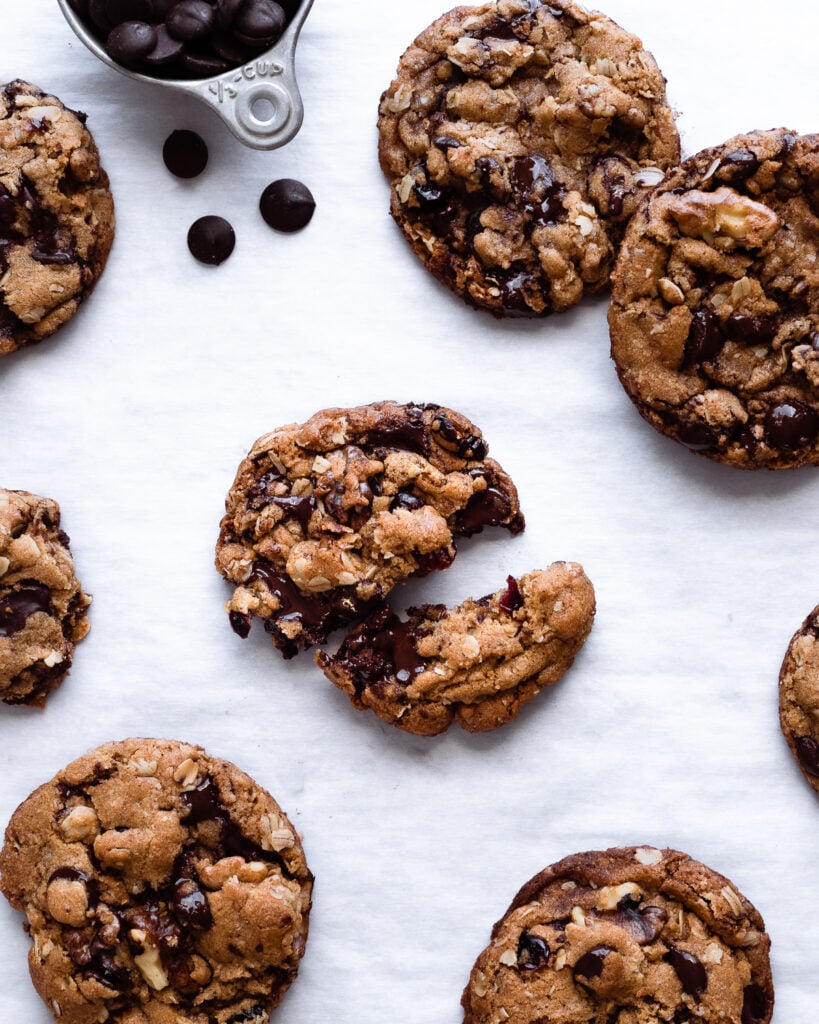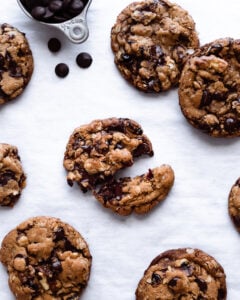 Sourdough Discard Oatmeal Cookie Recipe
These Sourdough Oatmeal Cookies are crispy on the outside and chewy on the inside with a great flavor thanks to browned butter and sourdough discard.
This section may contain affiliate links
Ingredients
Cookie Dough
56

g

unsalted butter

4

g

ground cinnamon

120

g

all-purpose flour

4

g

baking soda

7

g

salt

85

g

vegetable oil

70

g

sourdough discard

1

large egg

1

egg yolk

4

g

vanilla extract

283

g

old-fashioned rolled oats
Add-ins
100

g

walnuts, optional

100

g

semisweet chocolate chips
Instructions
Prep: Preheat oven to 375 F/190 C. Line 2 baking sheets with parchment paper. 

Brown butter: Melt butter in a small saucepan over medium-high heat, swirl pan occasionally to loosen the milk solids from the bottom of the pan. Remove from heat when the milk solids are golden brown and the butter has a nutty aroma, about 1 to 3 minutes. Bloom ground cinnamon in warm butter. 

Make the cookie dough: Whisk flour, salt, and baking soda together in a mixing bowl until no lumps remain. Add brown sugar, granulated sugar, and oil to browned butter and whisk until combined. Stir in sourdough discard, egg, egg yolk, vanilla until the mixture is smooth. Using a wooden spoon or spatula, stir in flour mixture until fully combined, about 1 minute.

Add mix-ins: Stir in oats, and mix-ins and stir until evenly distributed (your mixture will be thick and stiff).

Shape: Use a large cookie scoop (about 3 tablespoons) to portion out your cookie dough. Arrange cookie dough balls 2 inches apart on prepared sheets, 10 dough balls per sheet. Use your fingers to flatten each one slightly before baking. Bake, 1 sheet at a time, and refrigerate the other cookie sheet as the cookies bake. 

Bake: Bake until cookie edges are slightly browned and crisp with centers soft but not wet, 10 to 12 minutes. Let the cookies cool on the baking sheet for 5 minutes before moving to a cooling rack. 

Enjoy and store: These cookies are better after they have cooled slightly and the interior has set. Store any leftovers in an airtight container for up to 4 days. 
Tips
These recipes were developed and tested using grams for precise measurements. To increase your chances of success, I recommend investing in a kitchen scale. I've included rough volume estimates (in tablespoons and cups), but they might not be totally accurate.
Remember all ovens are unique, these recipes were tested in my oven which runs cooler than others. You might need to lower the temperature if your bake appears to be browning too quickly. Monitor your bake closely and make adjustments if needed.
Notes
To prevent your cookies from spreading, let melted butter cool to room temperature before folding in the sugars and chill cookie dough for at least 30 minutes before baking
It's best to err on the side of under-baking these cookies or they will turn out hard and crispy instead of soft and chewy
To make the cookie dough in advance, portion out the cookie dough and freeze in a single layer. Once completely frozen, store the cookie dough portions in a ziplock bag. 
Nutrition
Calories:
259
kcal
|
Carbohydrates:
32
g
|
Protein:
4
g
|
Fat:
13
g
|
Saturated Fat:
4
g
|
Polyunsaturated Fat:
5
g
|
Monounsaturated Fat:
3
g
|
Trans Fat:
0.1
g
|
Cholesterol:
24
mg
|
Sodium:
198
mg
|
Potassium:
126
mg
|
Fiber:
2
g
|
Sugar:
16
g
|
Vitamin A:
99
IU
|
Vitamin C:
0.1
mg
|
Calcium:
29
mg
|
Iron:
1
mg
---