Light, airy with a rich chocolate flavor, these Sourdough Crinkles are quick and easy to make. Sourdough discard adds a lot of moisture which lets these cookies stay fresh for days making them perfect for gift giving.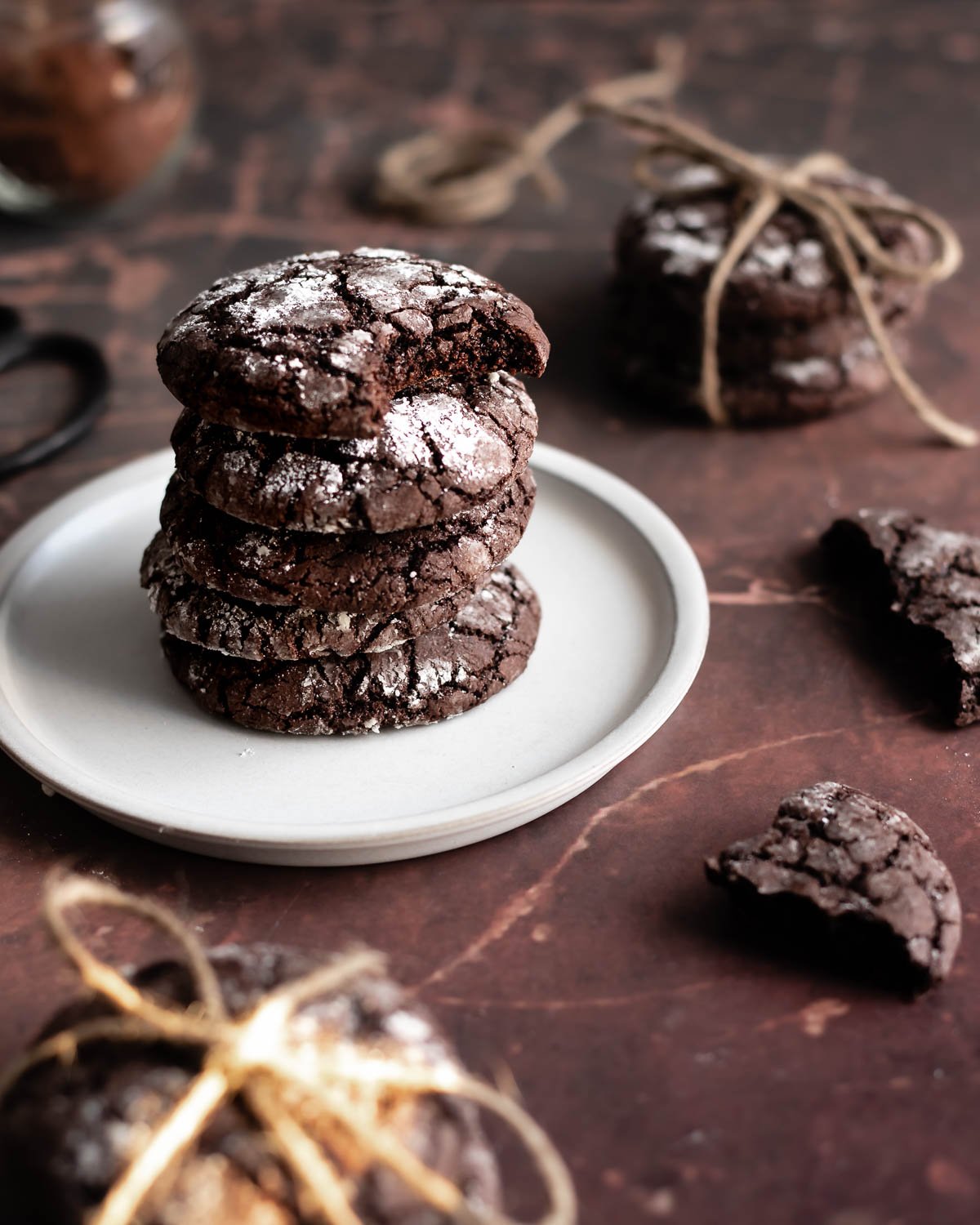 Crinkle cookies were my absolute favorite growing up. I've always been an absolute chocolate fiend, so I could never get enough of these rich and fudgy treats. They are such a nostalgic treat that when I recreated them I wanted my recipe to resemble the ones I ate as a kid, soft and chewy but full of fudgey chocolate flavor.
What is a crinkle cookie?
Crinkle Cookies are rolled in powdered sugar right before they go in the oven. As the crinkles bake they flatten out and develop their unique, signature crackly top. The powdered sugar adds a delicious sweetness which balances the rich dark chocolate flavor of the Dutch processed cocoa powder.
Love These Sourdough Discard Crinkle Cookies? Check out my My Top 5 Sourdough Cookie Recipes.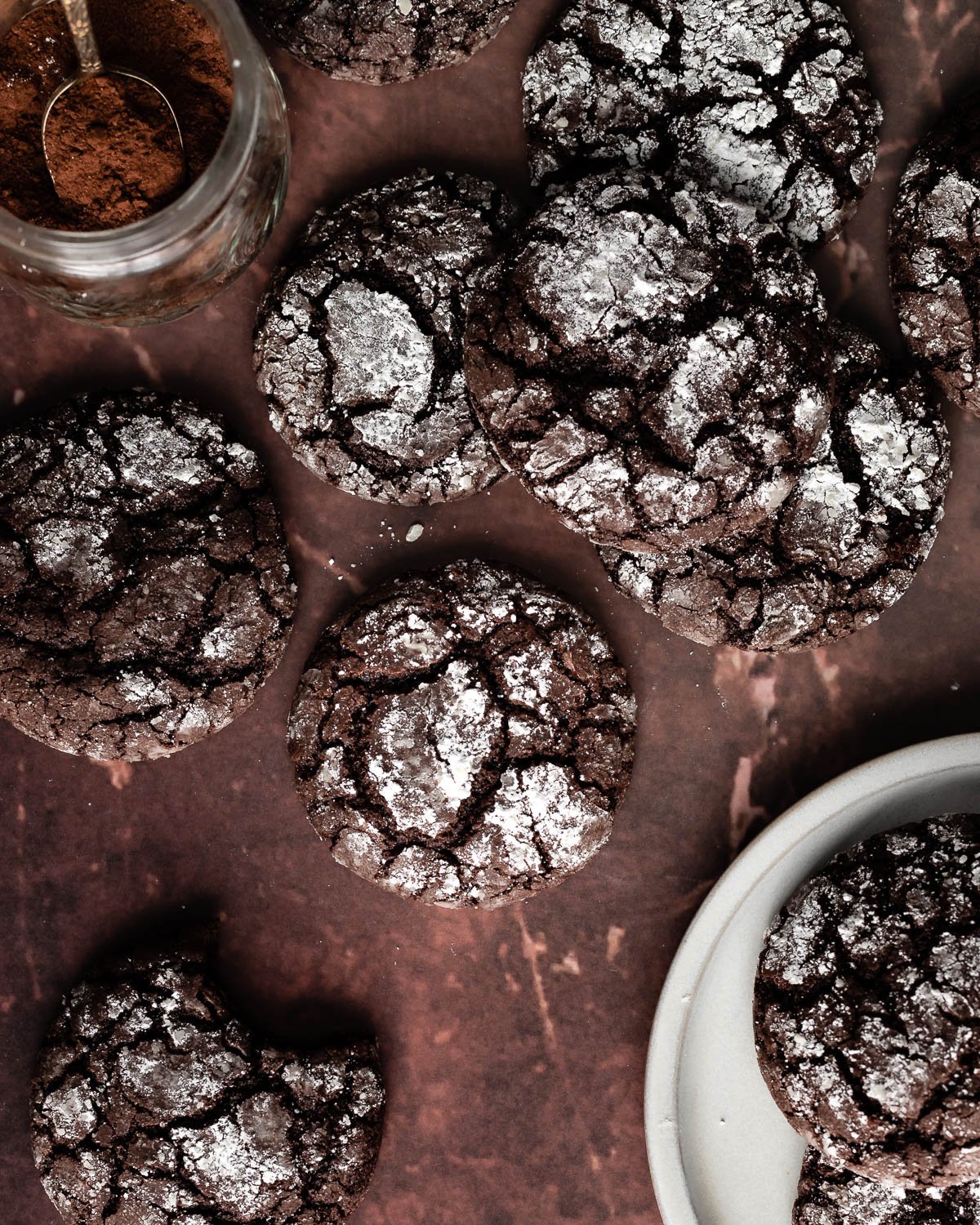 Baking with Sourdough Discard
Sourdough discard adds a great tangy flavor to these Sourdough Crinkle Cookies. You can use your discard directly from the fridge. Since you are not using it to make bread, your sourdough starter does not need to be activated or fed for it to work in this cookie recipe. Older discard will have a tangier, acidic flavor than freshly-fed sourdough starter. Both will work for this recipe, you'll get a slightly different result but your cookies will still be delicious!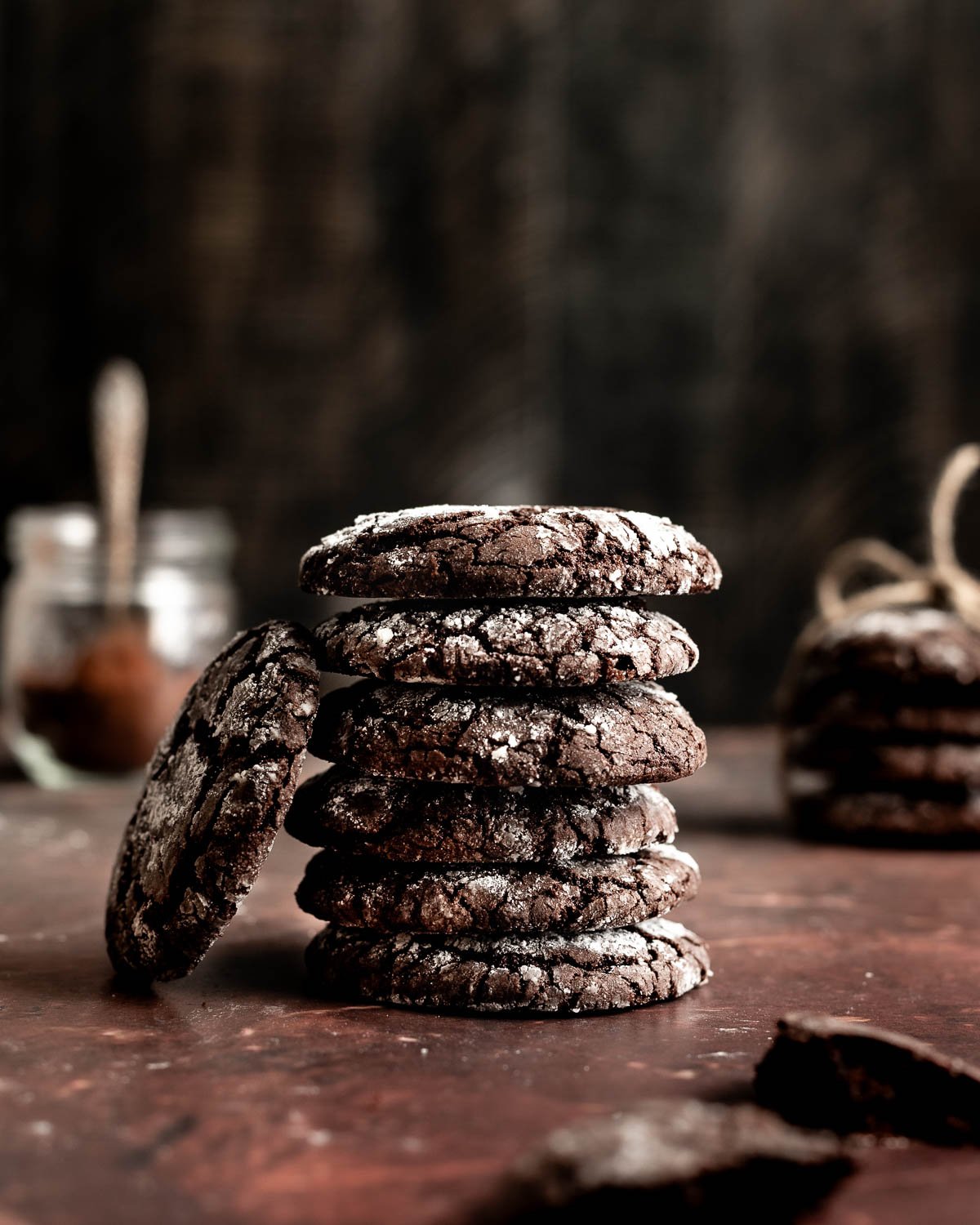 Cookie Ingredients
All-Purpose Flour - the low protein content of all-purpose imparts a light and tender texture to these cookies without compromising its structure
Cocoa Powder - I used Dutch processed cocoa powder to create this recipe, do not use natural cocoa powder which is more acidic and will impart a different texture to your cookies
Salt - Brings out the flavor and sweetness of these cookies
Baking Powder - Main raising agent, it imparts lightness and airiness to these cookies (do not substitute baking soda)
Granulated Sugar - Imparts sweetness and structure to these cookies
Canola Oil - Tenderizes the cookies and imparts a cakey, chewy texture (substitute any neutral-flavored oil)
Eggs - 2 whole eggs and 2 yolks, imparts richness without adding too much moisture
Sourdough Discard - Adds a delicious tang, contrasting the rich bitterness of cocoa powder
Vanilla Extract - Adds a floral flavor that compliments chocolate
Powdered Sugar - The last touch before these cookies are baked, responsible for the signature crackly top of these cookies
Equipment
Step-by-step Instructions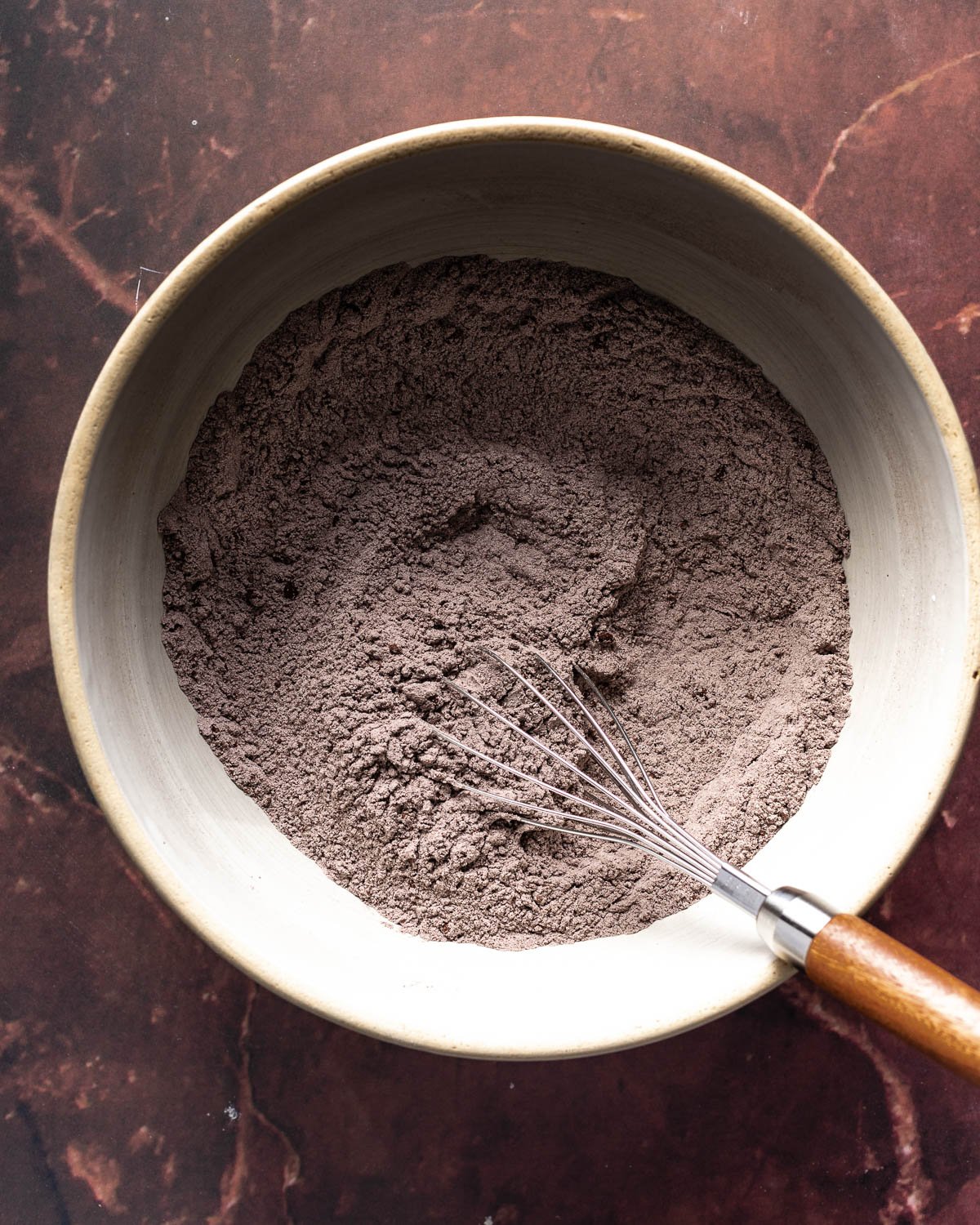 1. Whisk dry ingredients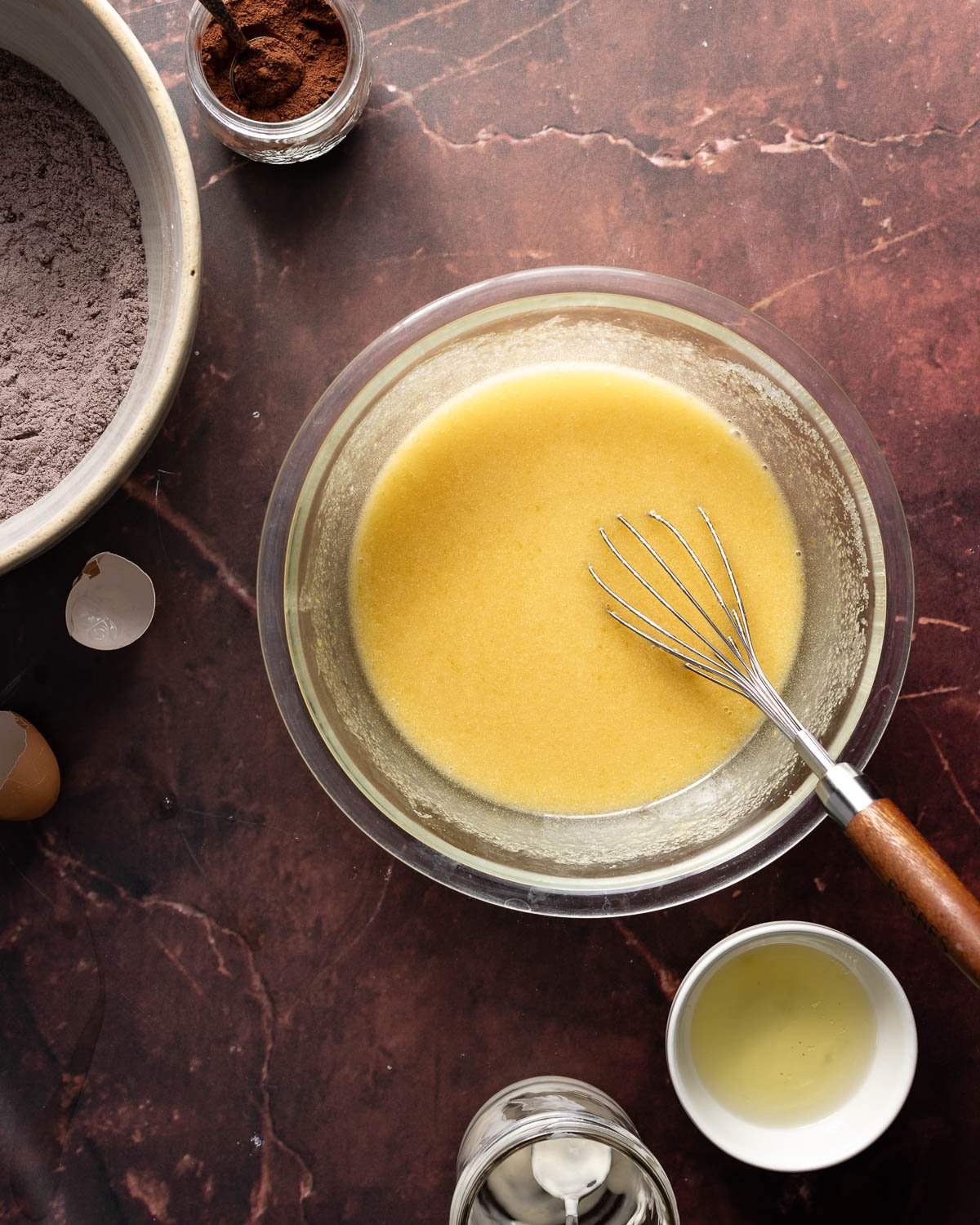 2. Combine wet ingredients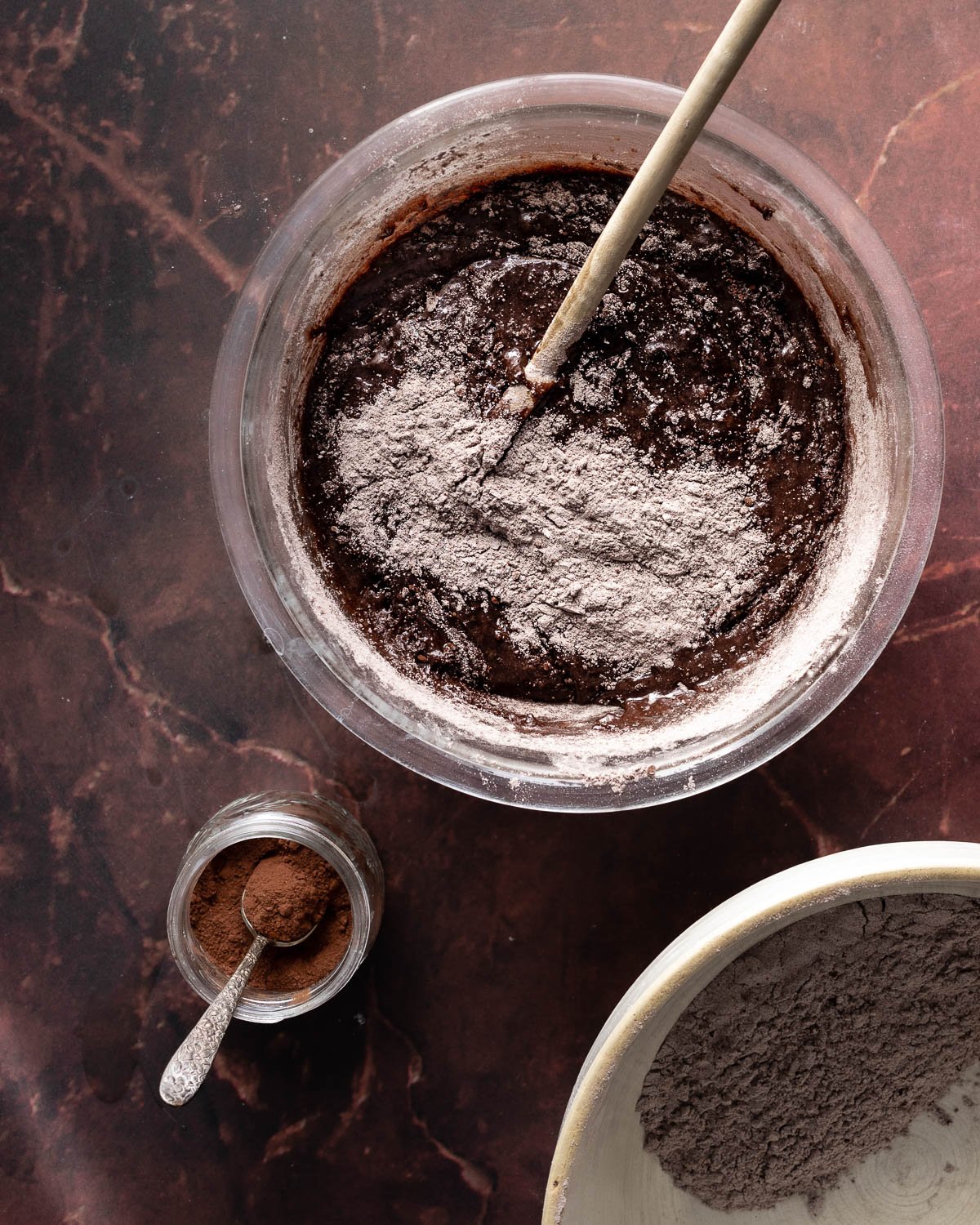 3. Fold dry ingredients into wet ingredients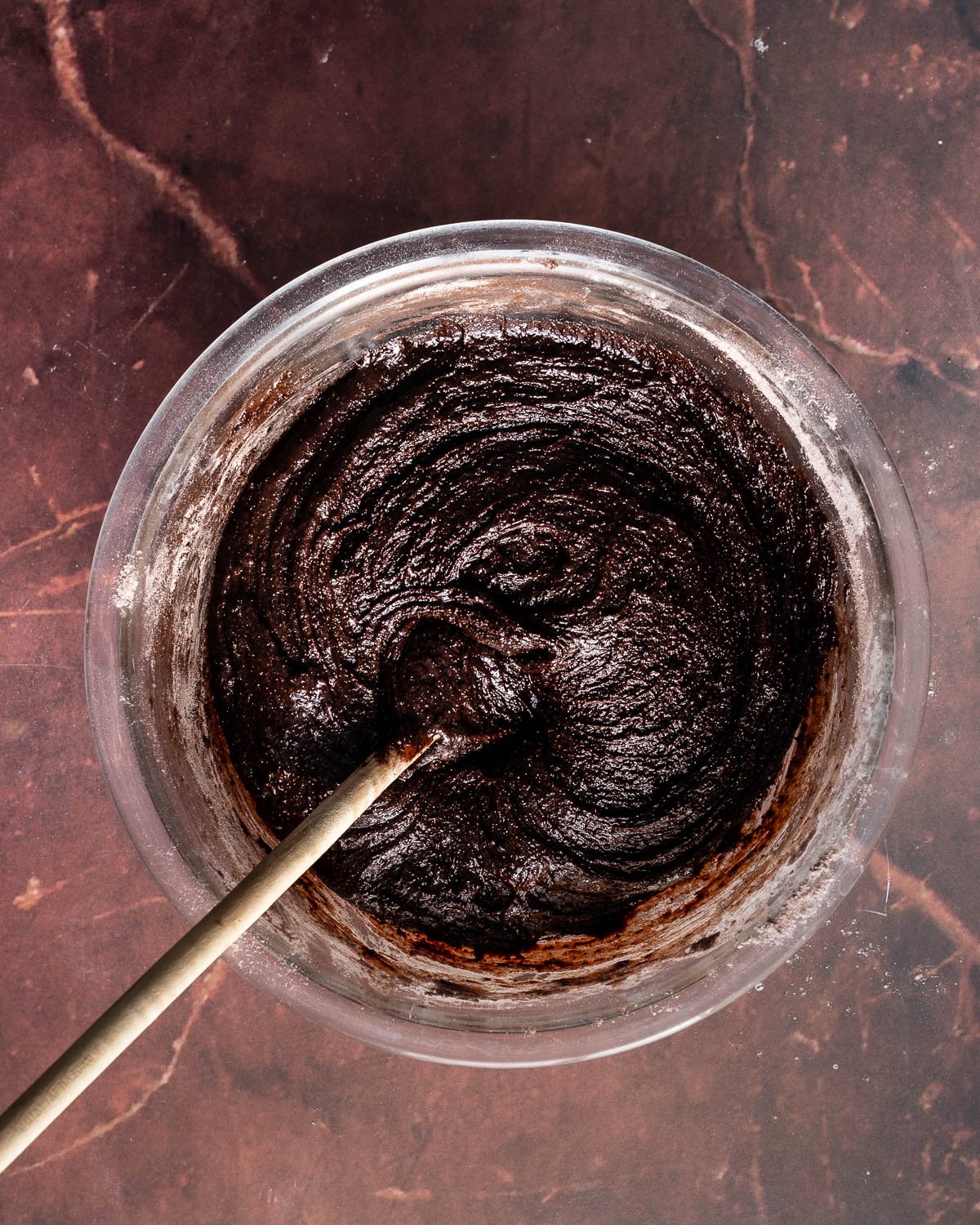 4. Stir until no traces of flour remain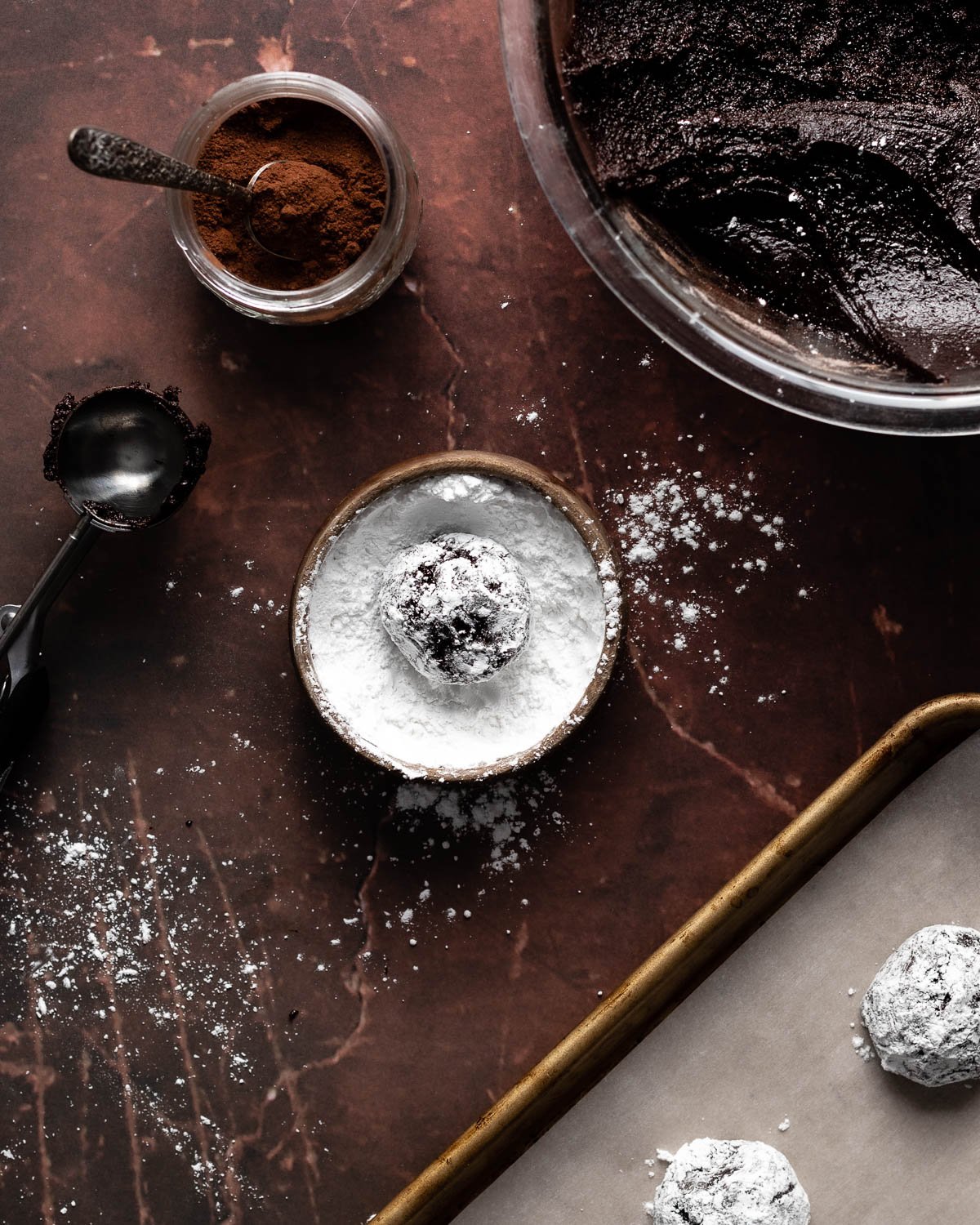 5. Portion out cookie dough and roll in powdered sugar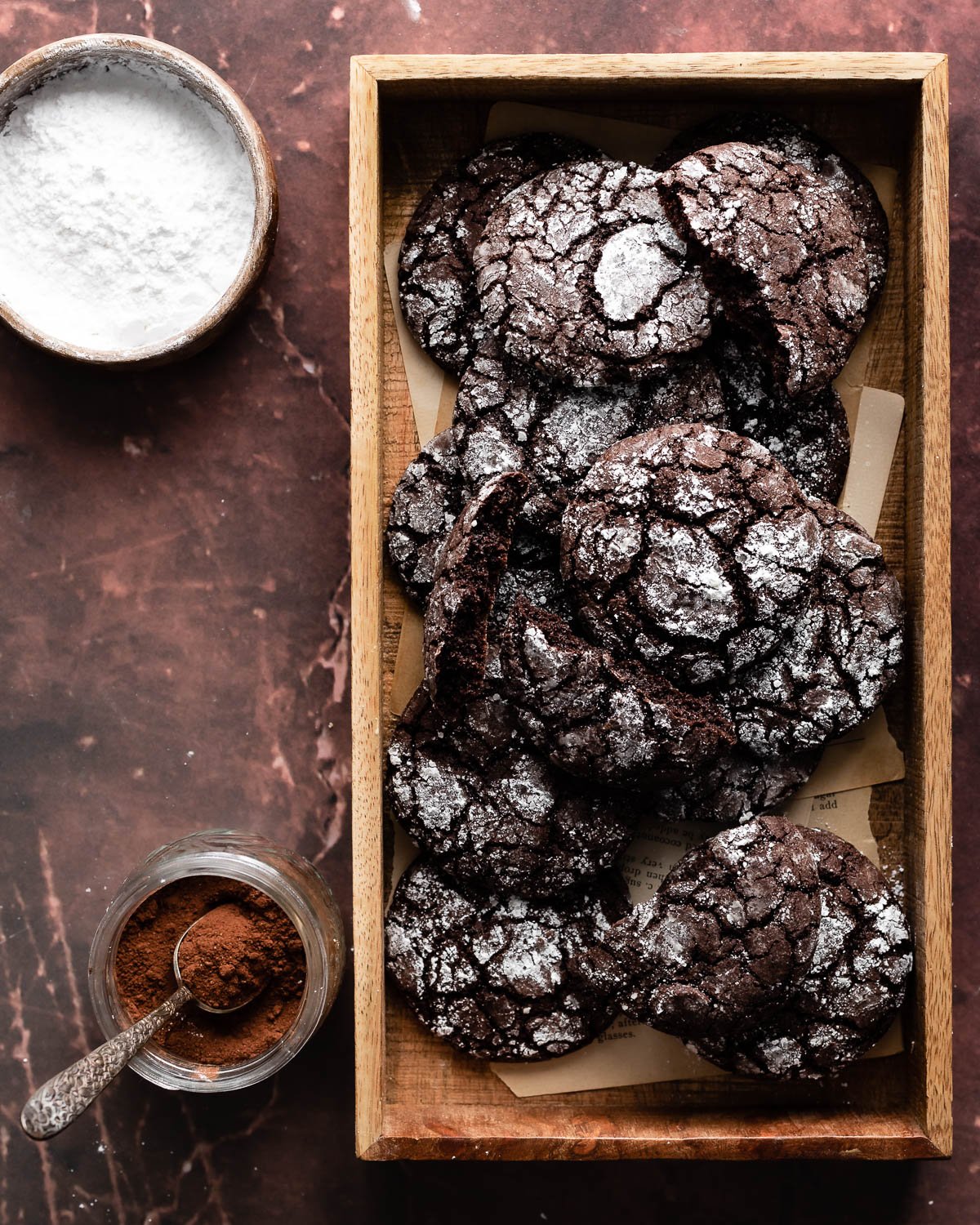 6. Bake cookies at 350 F for 10 to 12 minutes
Frequently Asked Questions
Do I have to chill these cookies?
No. These cookies are so quick, easy and require no chill time. I posted a previous version of this recipe which required a 2 hour chill time. Two hours is a long time to wait for cookies! With further testing, I found that even without time in the refrigerator these cookies turned out perfectly fine and did not spread too much. 

Unlike butter, oil does not contain any water and has the same consistency no matter the temperature. So while cookies made with butter have a tendency to spread, there is no such danger with cookies made with oil. Chilling them a little does give them a richer fudgy texture, but if you don't want to wait they turn out perfectly rich and chocolatey nonetheless. 
Can you make cookie dough ahead of time?
Absolutely! You can make the cookie dough up to 1 week in advance. Store the cookie dough in the fridge before portioning them out. 

Freezing Instructions: For even longer storage, portion out your cookie dough and place the balls on a small baking sheet (no need to space them out). Freeze the tray uncovered, for 1 hour, once completely frozen move the frozen cookie dough to a ziploc bag and store for up to 1 month. Bake frozen cookie dough at 350 F for 15 to 18 minutes.
How long do crinkle cookies last?
These cookies last about 7 days stored in an airtight container at room temperature.
I don't have enough sourdough discard, can I still make this recipe?
Absolutely! Simply use the same proportion of freshly fed sourdough starter in the recipe. Your starter won't add a strong tangy flavor to your cookies, but will still work. 

If you don't have a starter, but still want to try out this recipe, simply add 43 grams of all-purpose flour and use whole eggs instead.

How long do I need to bake these cookies?
These cookies need to be baked for 10 to 12 minutes. Baking for less time will result in fudgey, chewy cookies, while baking them for longer will result in a light and cakey cookie. Both are delicious, you really can't go wrong with these cookies!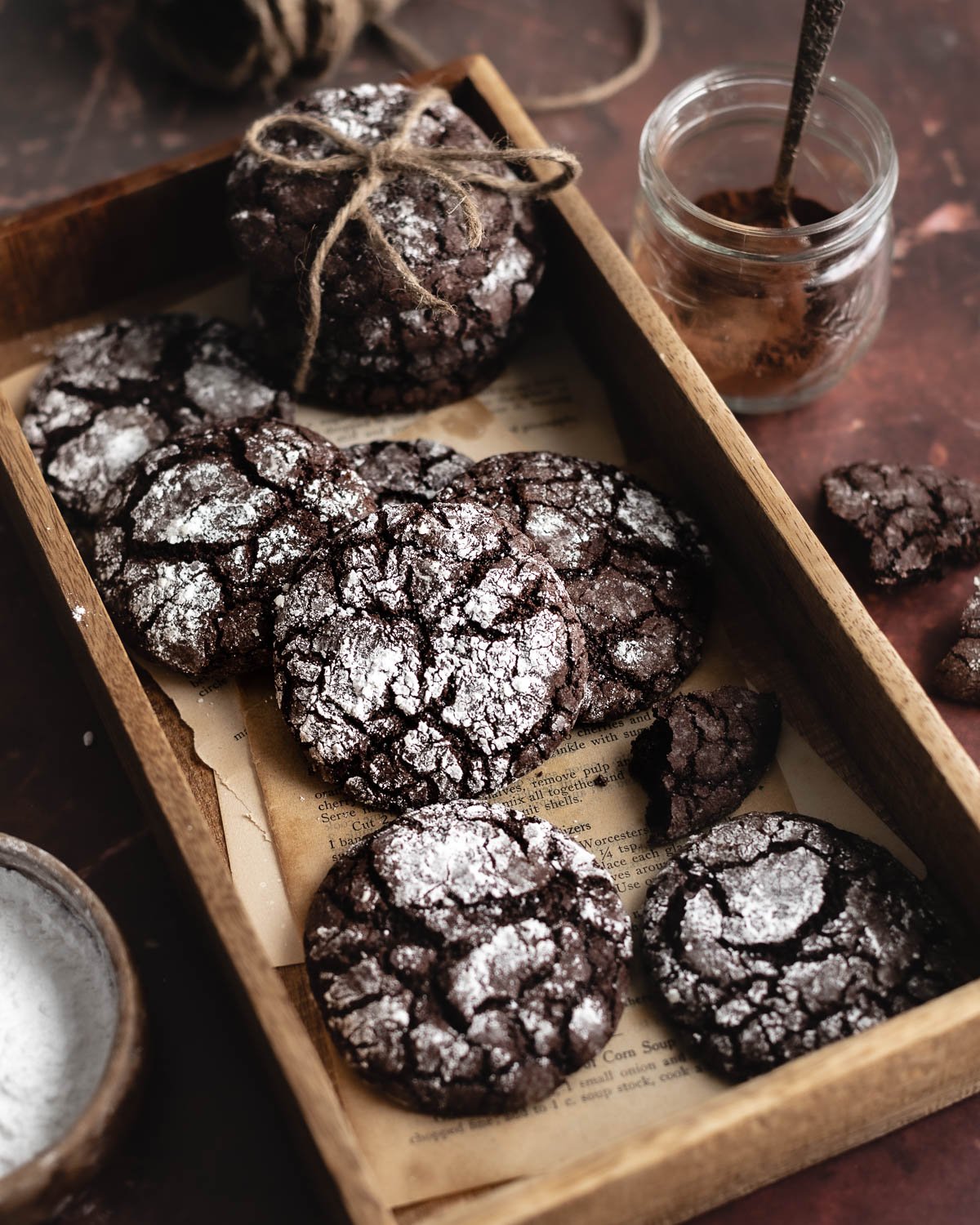 If you liked these Sourdough Crinkles, you'll love my Sourdough Discard Chewy Spice Cookies, Sourdough Chocolate Chip Cookies and Sourdough Oatmeal Cookies.
Sourdough Crinkle Cookies
Light, airy with a rich chocolate flavor, these Sourdough Crinkles are quick and easy to make. Rolled in powdered sugar with a crackly top, these cookies are perfect for gift giving. 
Ingredients
Cookie Dough
270

grams

all-purpose flour

80

grams

cocoa powder

8

grams

salt

10

grams

baking powder

350

grams

granulated sugar

175

grams

canola oil

2

large eggs

2

egg yolks

86

grams

sourdough discard

6

grams

vanilla extract
Instructions
Prep: Preheat the oven to 350 F. Line two 18 by 13 baking sheets with parchment paper, set aside. 

Combine dry ingredients:

Whisk together the all-purpose flour, cocoa powder, salt and baking powder in a medium bowl. Set aside.

270 grams all-purpose flour,

80 grams cocoa powder,

8 grams salt,

10 grams baking powder

Mix wet ingredients:

Combine granulated sugar, oil, egg yolks, eggs, sourdough discard and vanilla extract. Stir until no traces of eggs or sourdough remains. 

350 grams granulated sugar,

175 grams canola oil,

2 large eggs,

2 egg yolks,

86 grams sourdough discard,

6 grams vanilla extract

Make the dough:

Fold the dry ingredients into the wet ingredients until no traces of flour remains. 

Portion out cookie dough: Pour powdered sugar into a small, shallow bowl. Using a cookie scoop, portion out the dough and drop each ball into powdered sugar. Coat the cookie completely in powdered sugar. If you don't have a cookie scoop, use a measuring spoon to portion out 1 ½ tablespoons of dough, roll the dough into a ball in your palms. 

Bake:

Position the cookies 2 inches apart. Bake the cookies for 10 to 12 minutes or until the tops look dry. 

Enjoy and store:

These cookies are best enjoyed once they have completely cooled, they are even better the next day! Store any leftover cookies in an airtight container at room temperature for up to 7 days. 
Notes
When in doubt, use weight over volume measures
Don't over bake these cookies or they will turn out cakey and chalky
Nutrition
Calories:
306
kcal
|
Carbohydrates:
45
g
|
Protein:
4
g
|
Fat:
14
g
|
Saturated Fat:
2
g
|
Polyunsaturated Fat:
4
g
|
Monounsaturated Fat:
8
g
|
Trans Fat:
0.05
g
|
Cholesterol:
48
mg
|
Sodium:
289
mg
|
Potassium:
112
mg
|
Fiber:
2
g
|
Sugar:
27
g
|
Vitamin A:
66
IU
|
Calcium:
56
mg
|
Iron:
2
mg
Did you make this recipe?
I'd love to know! Rate this recipe and leave a comment below. Share a photo and tag @makeitdough on Instagram
You may also like