Sweet, plush and filled with rich chocolate chips, these Sourdough Chocolate Chip Muffins are perfect for breakfast or a sweet ending to your day. These goodies are not just soft and flavorful, thanks to sourdough discard they have a delicious tang and stay fresh for longer too.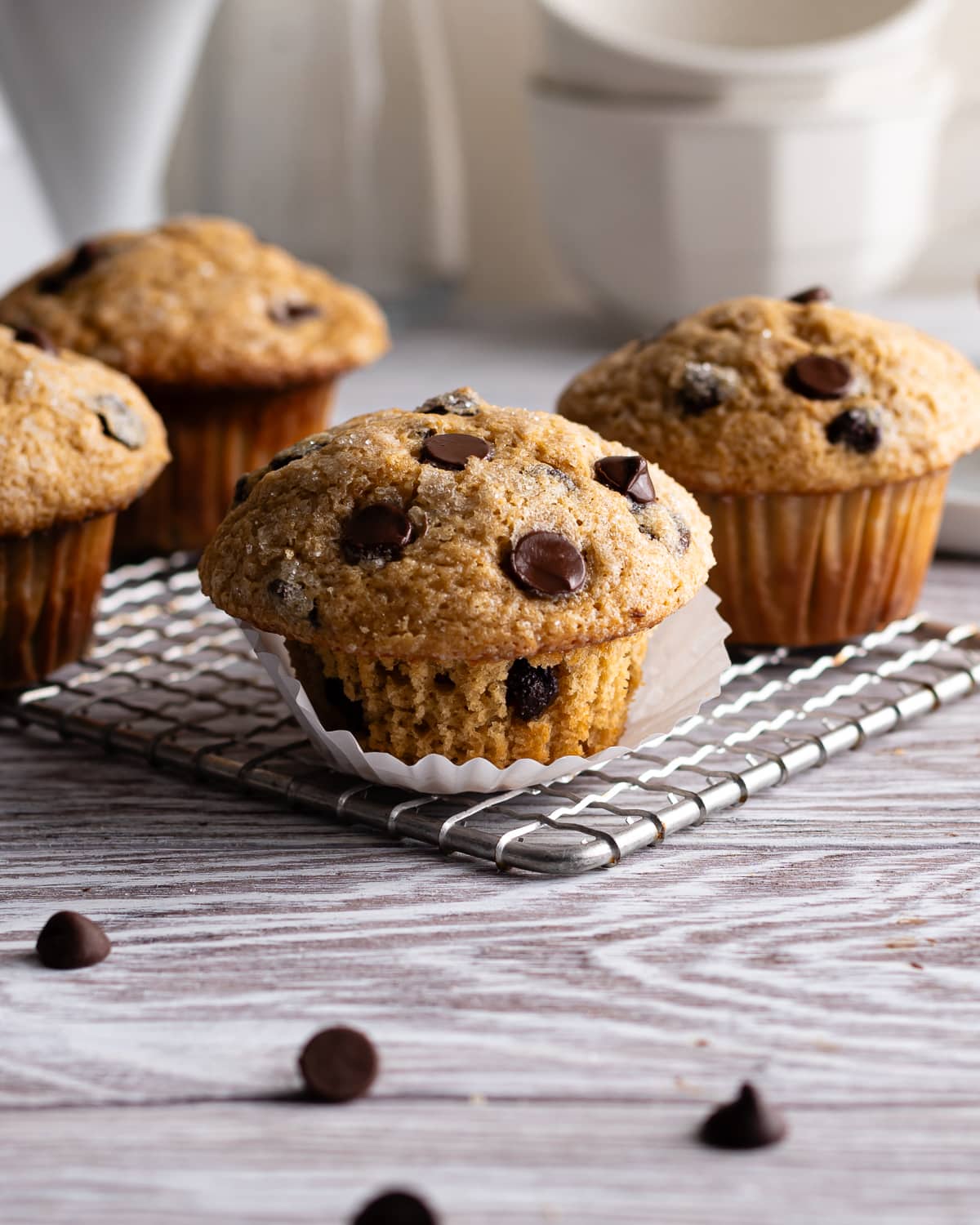 Jump to:
Why I love this recipe
Show-stopping tall bakery-style muffin tops!
A plush, tender crumb packed with chocolate chips.
Sourdough adds a delicious tangy flavor.
Discard adds moisture that keeps the muffins tasting fresh for days.
If you love the combination of chocolate and sourdough, try my recipes for Sourdough Chocolate Muffins, Sourdough Chocolate Cake and Chocolate Sourdough Bread.
Making the most flavorful Chocolate Chip Muffins
Developing this recipe was a lot more challenging than I expected! While many muffins include fruits and other inclusions for moisture and taste, chocolate chip muffins depend on chocolate chips alone for flavor. Consequently, my first few attempts turned out bland, pale, dry, and just overall unappetizing. But with a few thoughtful additions, I was able to create flavorful, pillowy muffins.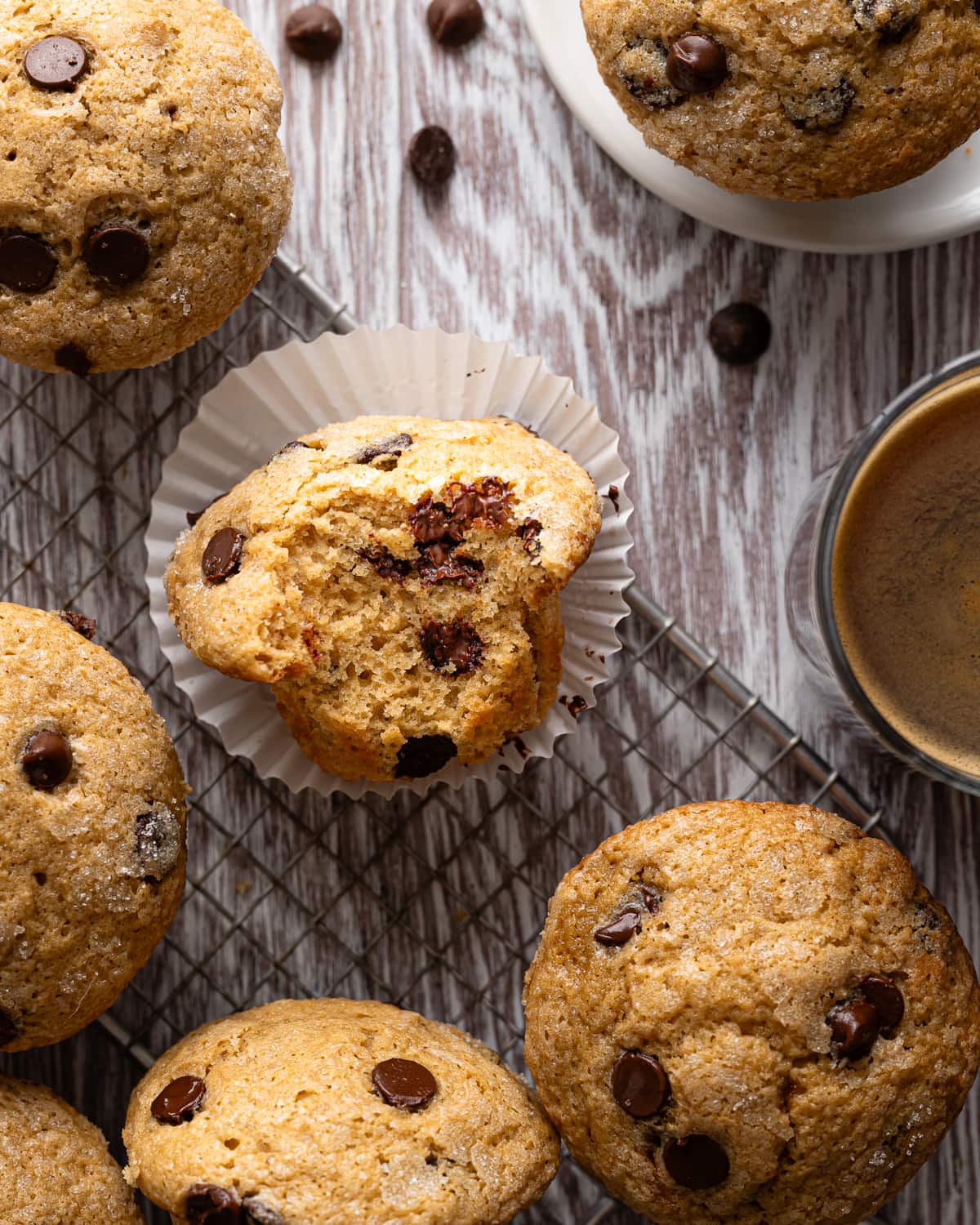 In contrast to Pumpkin Sourdough Muffins and Banana Sourdough Muffins, which can on rely pumpkin puree and mashed bananas for moisture and unique nuances of flavor, these muffins needed a boost. I had to add ingredients like brown sugar and nutmeg to these Sourdough Chocolate Chip Muffins to elevate their taste.
Introducing chocolate chips posed an additional challenge, unlike the blueberries in Sourdough Blueberry Muffins that contribute juices to the batter. Chocolate chips, with their starch content, have the tendency to absorb moisture from the muffins. To make up for this, I add a lot more moisture to this recipe in the form of buttermilk and sour cream to keep the muffins tender and delicious.
What you need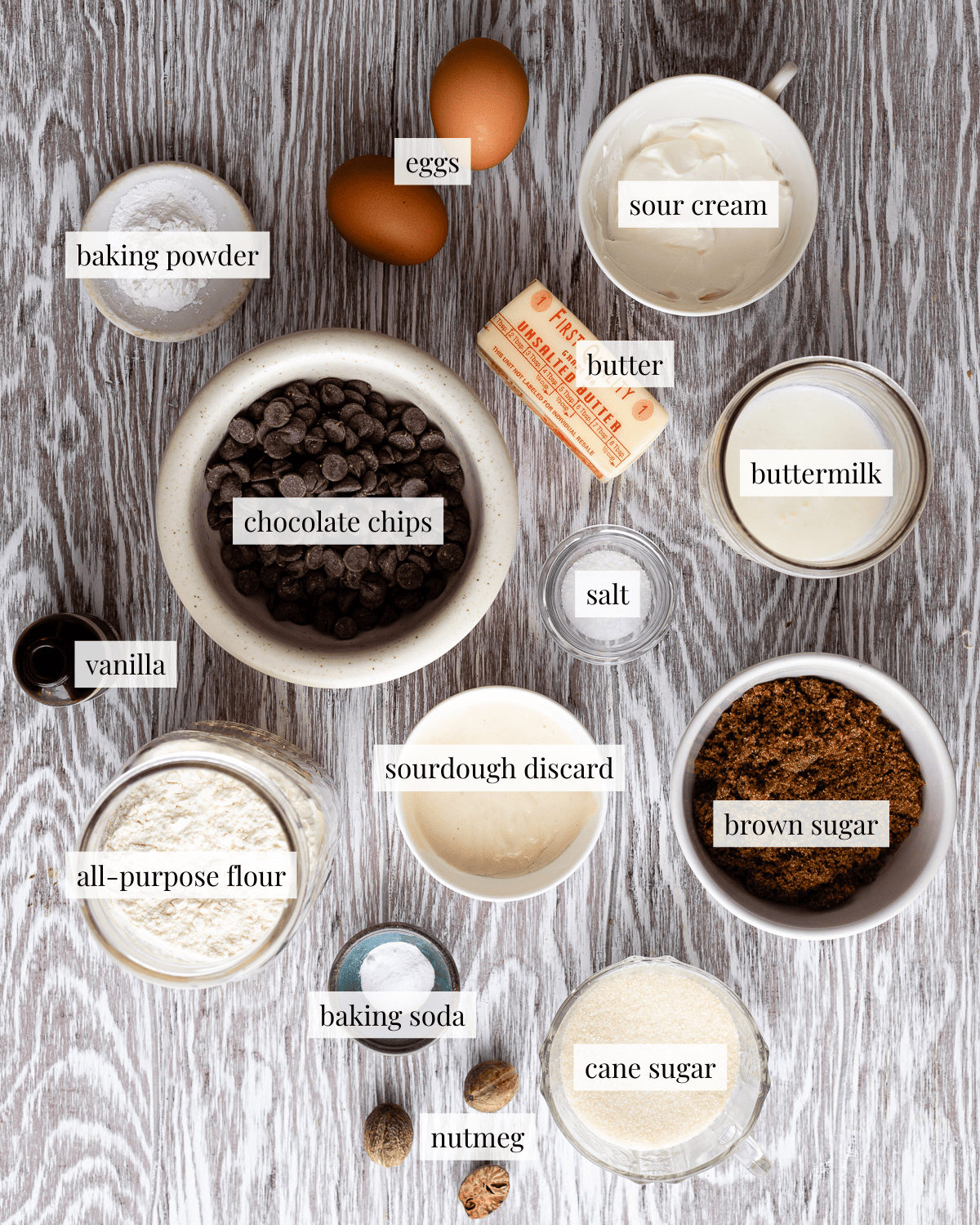 Buttermilk: Reacts with baking soda to help these muffins brown and rise higher. It also helps keep the crumb tender and delicate. A combination of 1 cup of milk and ¼ teaspoon apple cider vinegar makes an inferior substitute but will work in a pinch.
Sour cream: Adds richness and tenderness to the muffins, substitute Greek yogurt or strained plain yogurt.
All-purpose flour: Keeps these muffins plush and soft, do not substitute whole wheat flour which will make these muffins dry and dense or bread flour which will make them hard and chewy.
Nutmeg: Adds much-needed flavor to these muffins, feel free to substitute cinnamon if that's all you have.
Brown sugar: Brings a delightful molasses undertone and enhances moisture in the batter. It's crucial not to omit the brown sugar, as using 100% cane sugar can lead to pale, dry and bland muffins.
Sourdough discard: You can use active sourdough starter or simply add 28 grams of flour and 28 grams of water to your batter.
Chocolate chips: Invest in high-quality chocolate, rich flavor and smooth buttery texture makes a noticeable difference in your muffins. Substitute white chocolate chips or milk chocolate chips.
See the recipe card for the detailed ingredient list.
TIP: Since muffin batter is essentially an emulsion, it's best to start with room temperature ingredients. Warm ingredients are easier to mix, leading to a smoother batter. This, in turn, contributes to a lighter, plusher crumb.
Baking with Sourdough Discard
Sourdough discard adds a great tangy flavor to these muffins. Since you're not using it as a leavener, your sourdough starter does not need to be activated or fed for it to work in this recipe and you can use it straight from the refrigerator.
Older discard will have a bolder acidic flavor than freshly-fed sourdough starter. Both will work for this recipe, however, you'll get a slightly different flavor.
Step-by-step instructions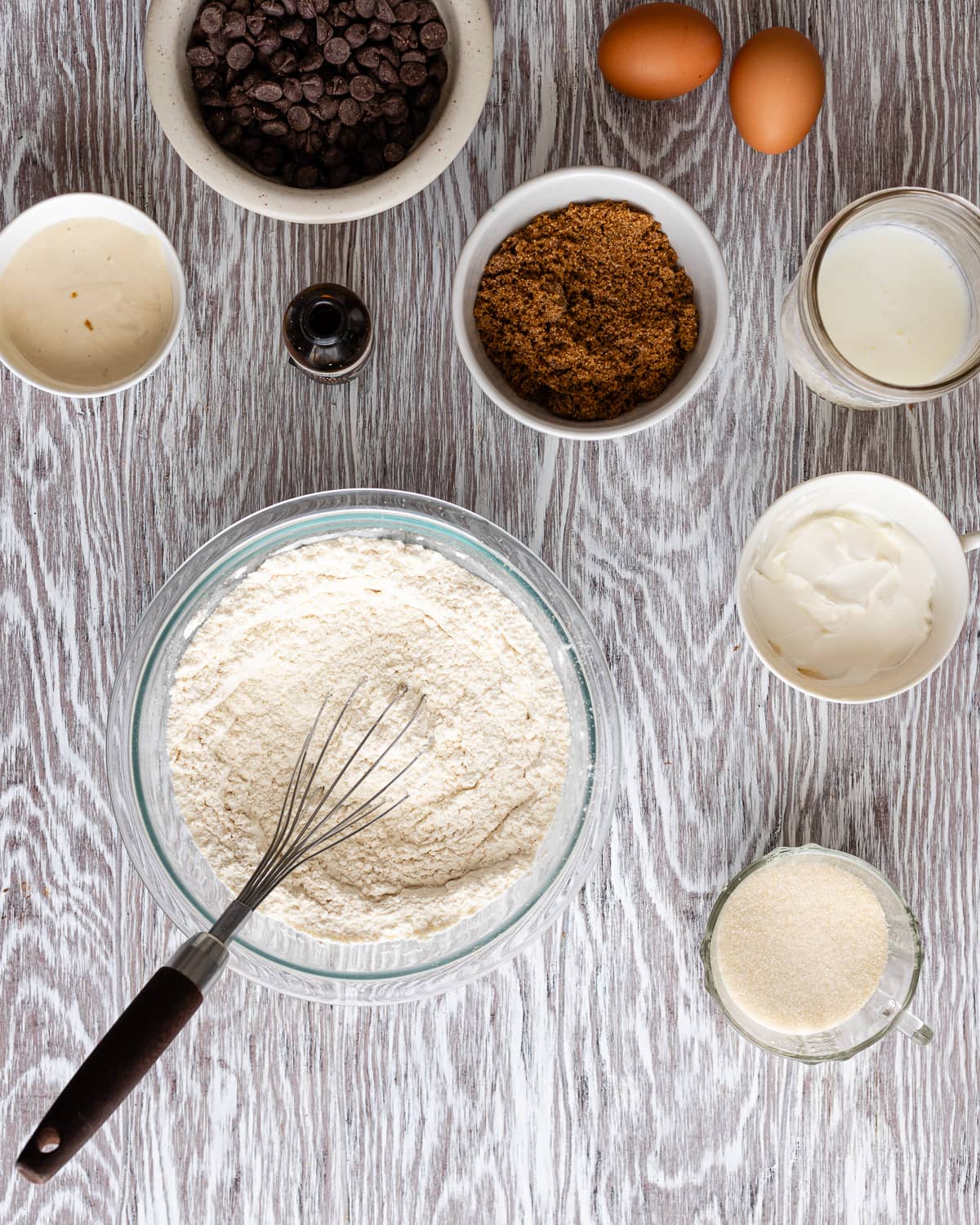 STEP 1: Whisk together the dry ingredients.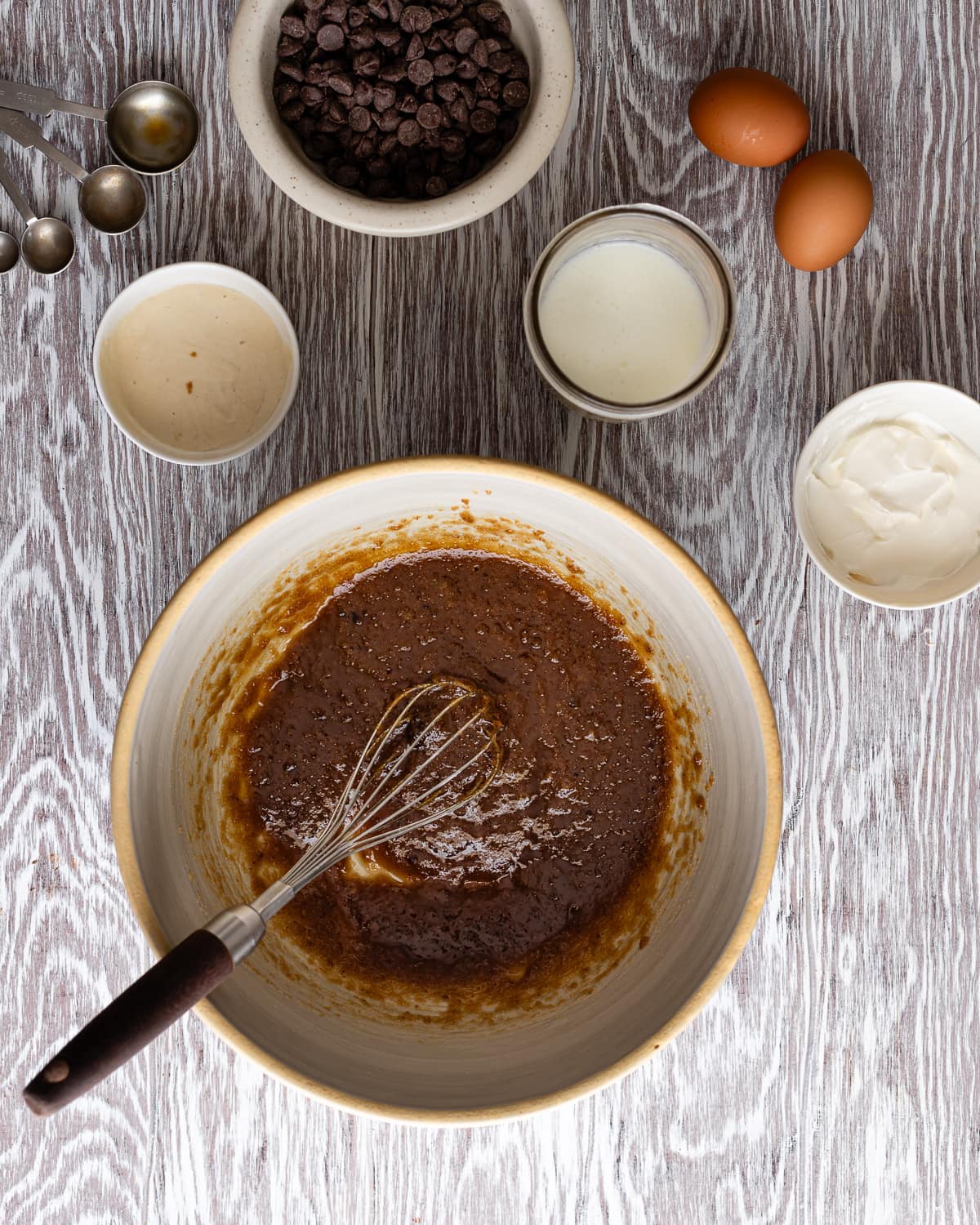 STEP 2: Whisk the melted butter and sugar together until dissolved.
TIP: Most bakers don't know that chemical leaveners like baking soda and baking powder have a shelf life and will eventually lost their effectiveness. If yours are no longer fresh, they won't be able to help your muffins rise.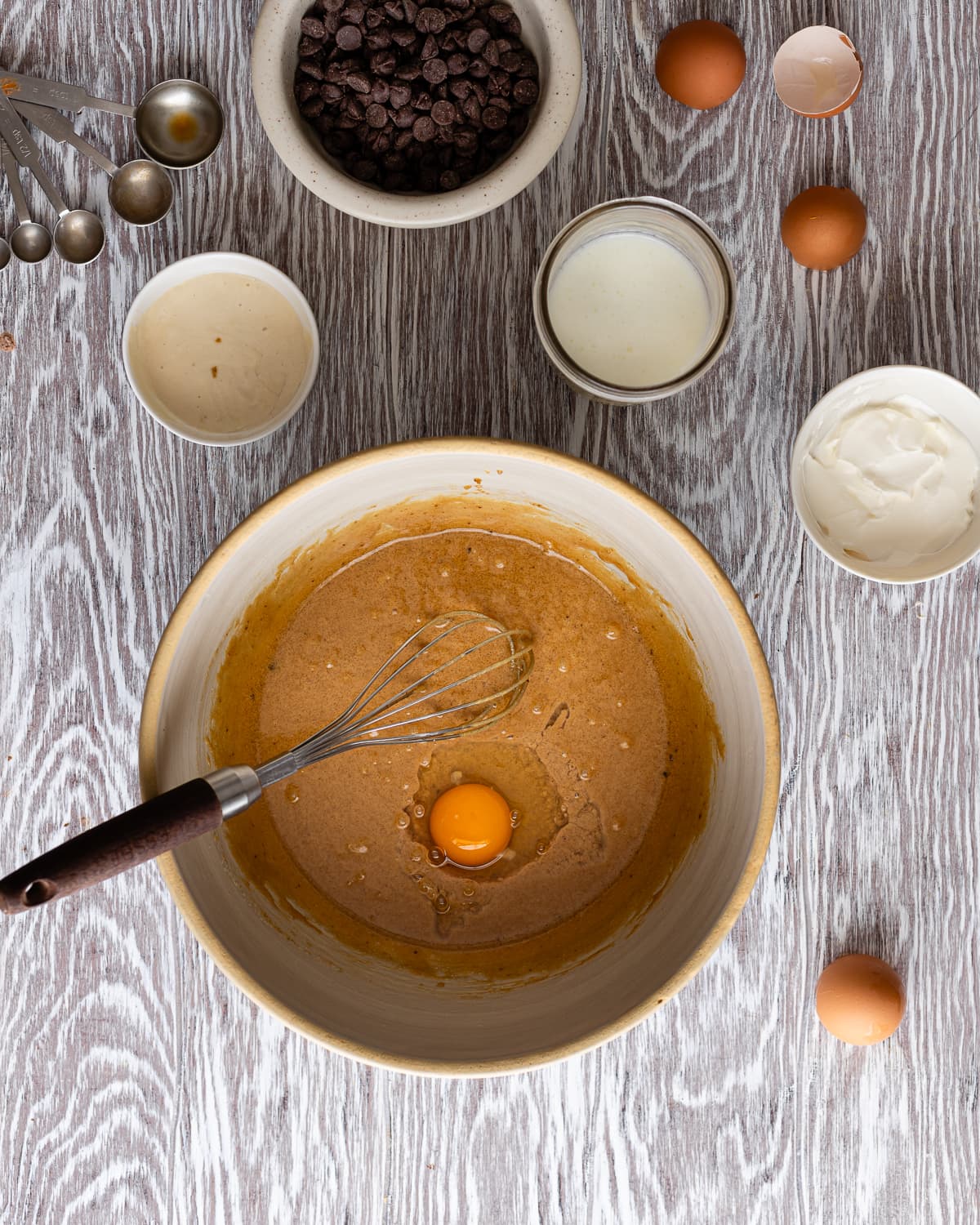 STEP 3: Add the eggs in one at a time.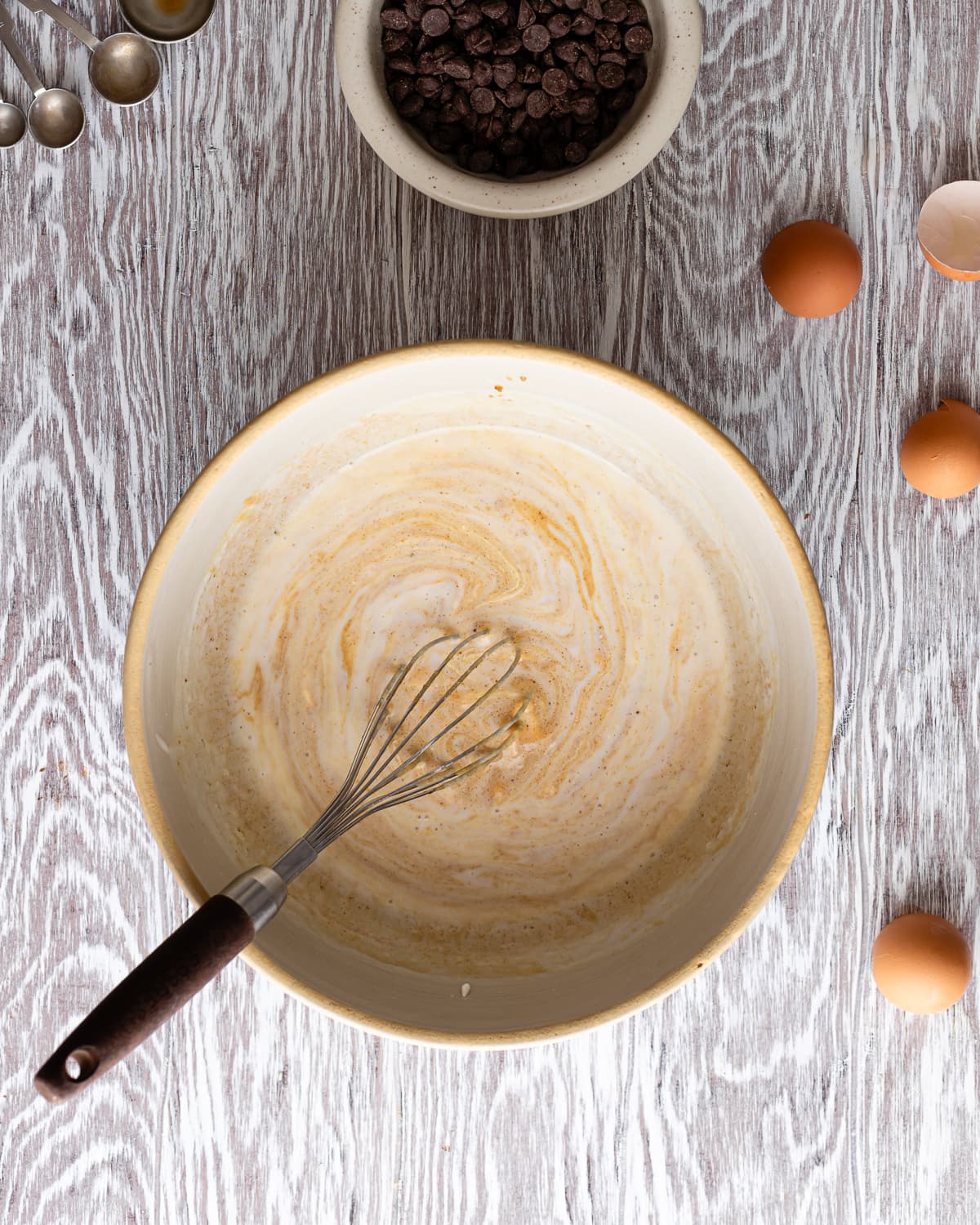 STEP 4: Stir in the sour cream, buttermilk and sourdough discard.
TIP: Make sure the sourdough discard is completely dissolved in your batter or you may end up with gummy spots in your muffins.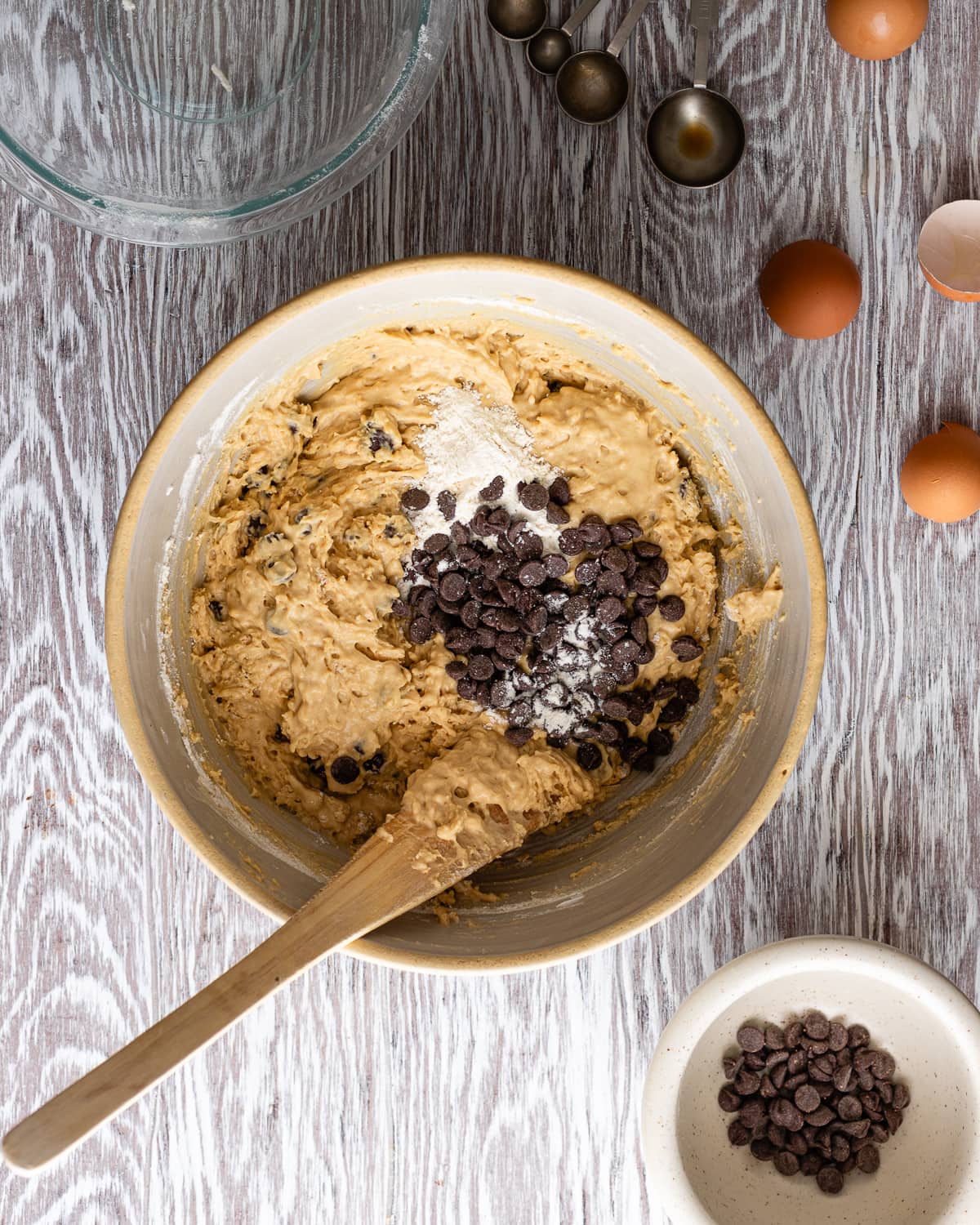 STEP 5: Fold the dry ingredients into the batter a third at a time, add the chocolate chips in with the last bit of flour.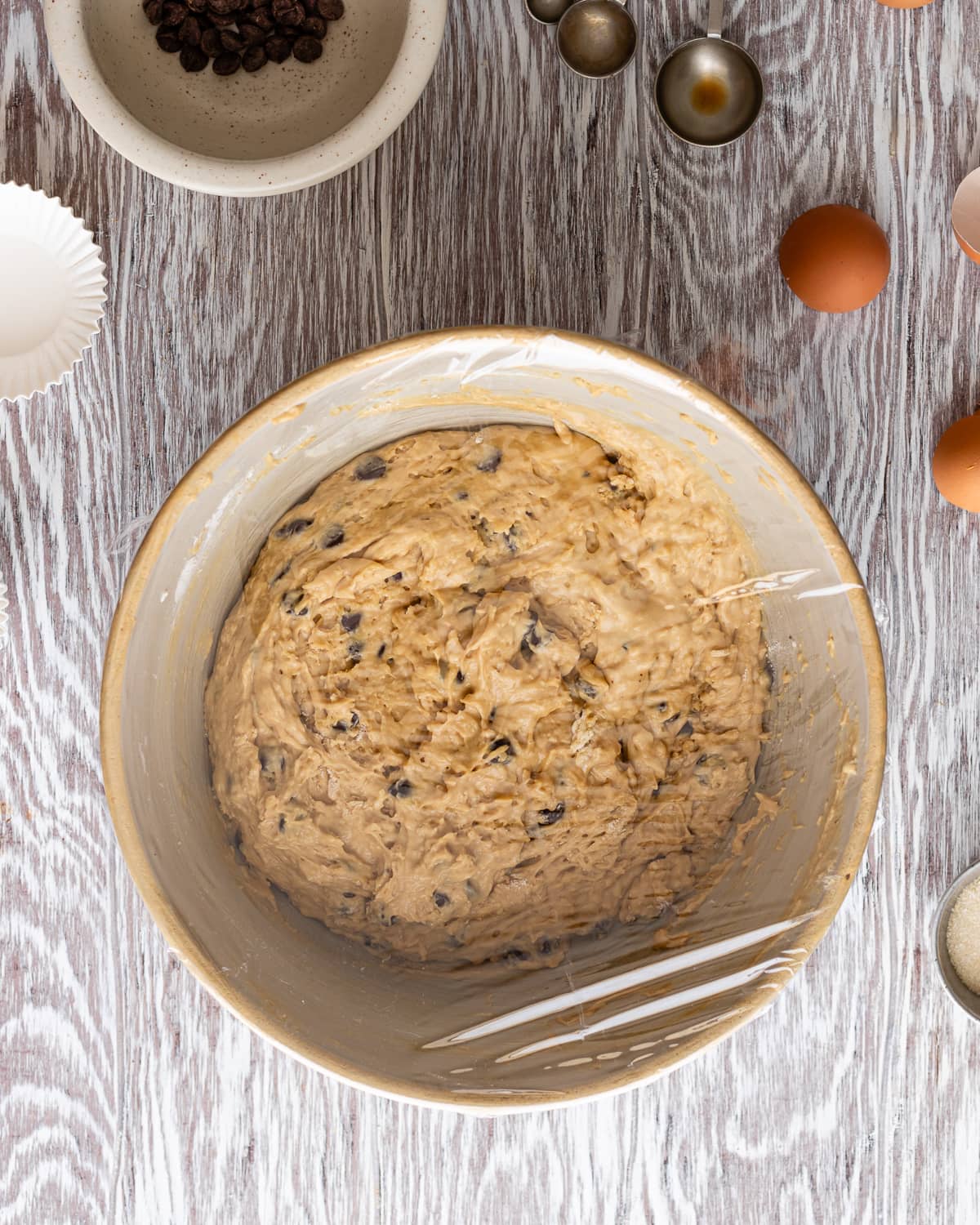 STEP 6: Let the batter rest for 1 hour before baking your muffins.
TIP: For tall muffin tops, don't skip the rest period. Letting the batter rest allows the flour to fully hydrate and the gluten to relax leading to taller muffins with a plush, pillowy crumb.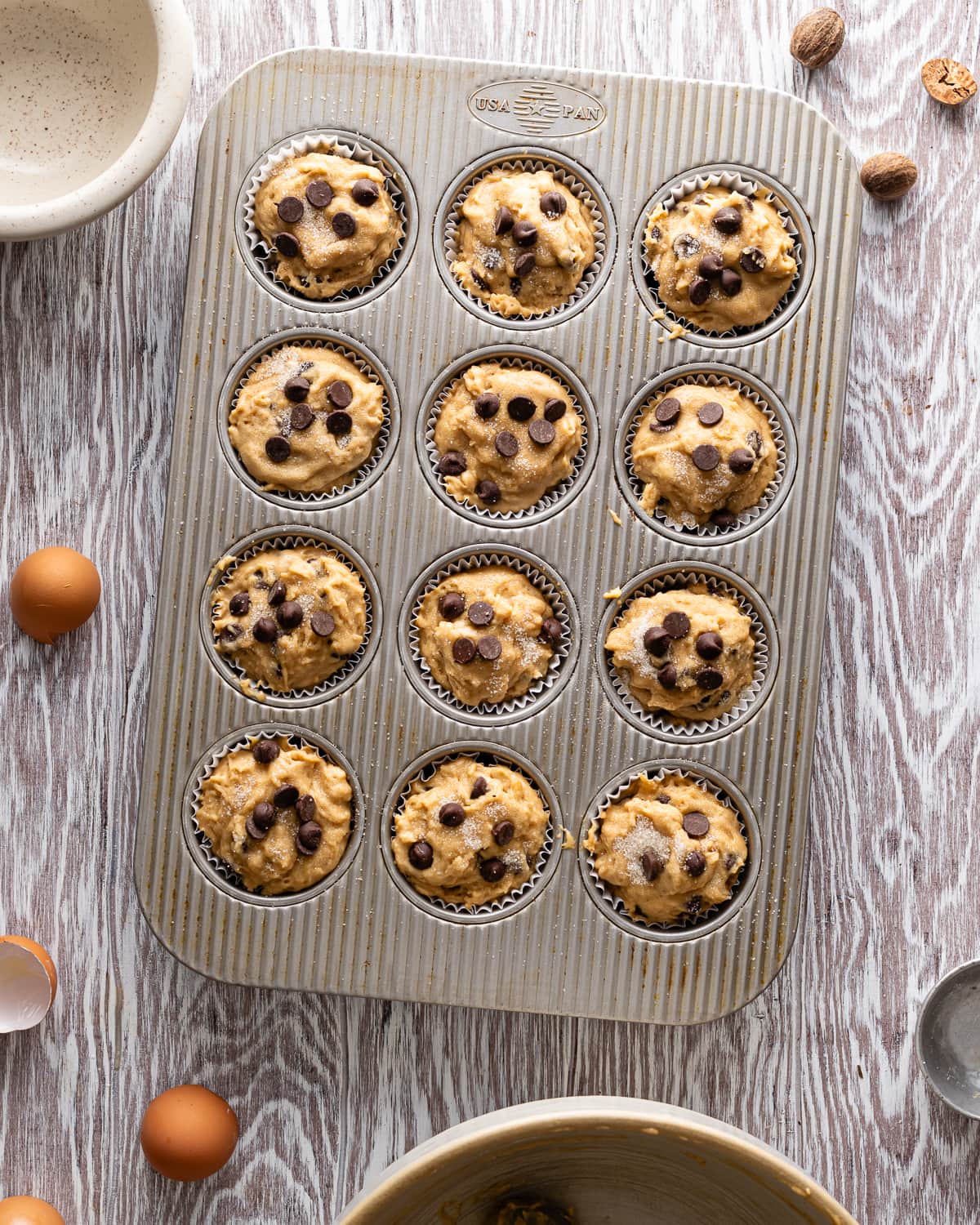 STEP 7: Portion out muffin batter, top with extra chocolate chips and cane sugar.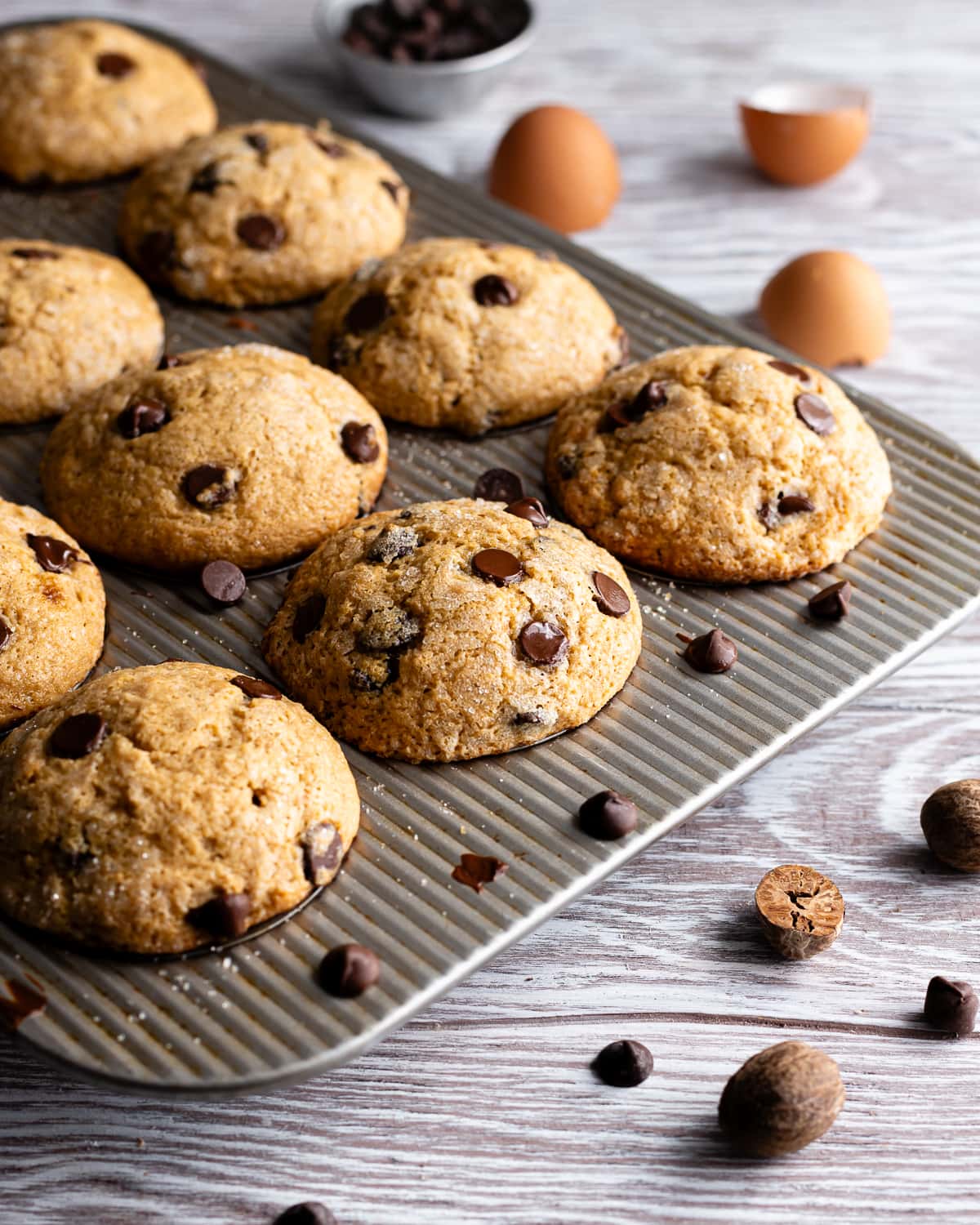 STEP 8: Bake at 375 F for 20 to 25 minutes.
TIP: Sprinkling sugar on top not only adds a delightful sweetness and crunchy texture but also contributes to the structural integrity, ensuring these muffins maintain their tall bakery-style muffin tops.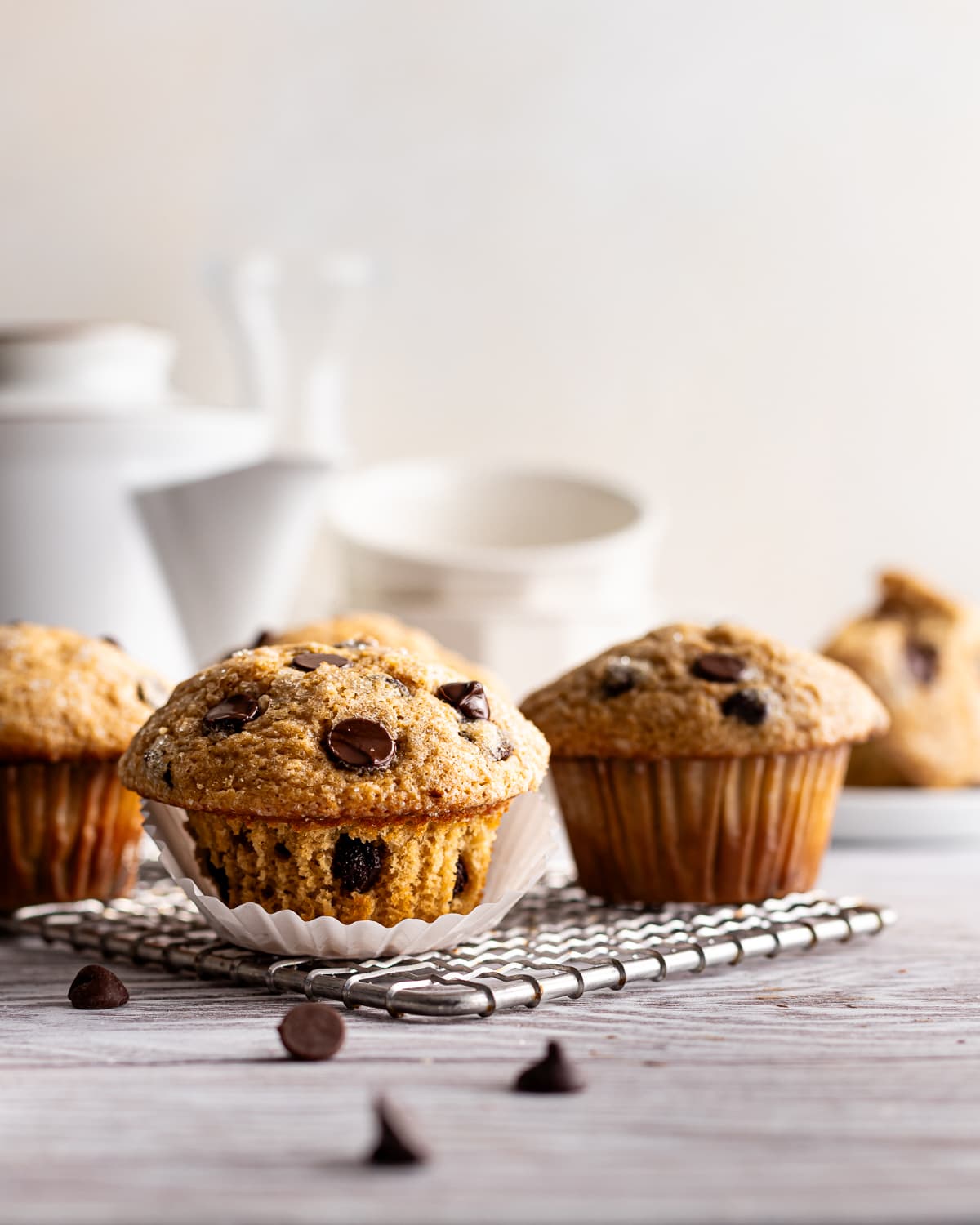 How to get tall bakery-style muffin tops
Test your leaveners for freshness: Combine a pinch of baking soda and baking powder with a drop of vinegar. If the mixture fizzes, then your leaveners will work.
Fold in the flour gradually: Folding the flour in increments will prevent lumps and too much gluten development, resulting in plush, tender muffins.
Start hot and turn down the temperature of your oven: Preheat your oven to 425 F and then turn down the temperature to 375 F when you put your muffins in the oven. The initial high heat will encourage your muffins to rise high while baking at a lower temperature will gently bake your batter without burning the muffins.
No peeking!: Do not under any circumstances open the oven door. Heat escapes every time you the door is opened, if your muffins are not completely baked in the middle, this will cause your muffins to sink and become dense and gummy.
Don't let the baked muffins cool in the muffin tin: The muffins will overbake if you allow them to cool in your hot muffin tin; transfer them to a wire rack to prevent carry-over cooking.
Recipe FAQs
I don't have enough sourdough discard, can I still make this recipe?
Absolutely! Simply use the same proportion of freshly fed sourdough starter in the recipe. Your starter won't add a strong tangy flavor to your muffins, but will still work. 

If you don't have a starter, but still want to try out this recipe, simply add 28 grams of all-purpose flour and 28 grams of water to your batter.  
Why are my muffins so flat?
There's a few reasons that your muffin tops didn't rise:

Leaveners are past their prime: Your baking soda and baking powder may no longer be effective and not able to leaven your muffins.
Muffins sank before baking fully: You may have opened the oven door before the center of your muffins is fully baked, unfortunately, this would cause them to sink and the center to be dense and gummy.
You may have measured your ingredients incorrectly: Weigh your ingredients to make sure your proportions are correct.
Low oven temperature: The high initial temperature encourages the muffins to rise. 

Why are my muffins so gummy?
You may have developed too much gluten in your batter. It helps to fold your flour into the batter ⅓ at a time to ensure all of the flour is incorporated without overmixing.

Opening the oven door before your muffins are fully baked could also cause them to be too gummy. In this case, your muffins will sink and the interior will be gummy. 
You may also like
Did this recipe rise to the occasion?
⭐⭐⭐⭐⭐
We knead your feedback! Did our recipe impress your taste buds? Leave a star rating and write a review to help us create even better recipes.
I read all the comments and love hearing your feedback.
THANK YOU!
Sourdough Discard Chocolate Chip Muffins Recipe
Sweet, plush and filled with rich chocolate chips, these Sourdough Chocolate Chip Muffins are perfect for breakfast or a sweet ending to your day.
This section may contain affiliate links
Ingredients
Batter
300

grams

all-purpose flour

10

grams

baking powder

½

teaspoon

baking soda

6

grams

salt

¼

teaspoon

nutmeg

113

grams

unsalted butter

melted

100

grams

cane sugar

100

grams

brown sugar

2

egg

large

226

grams

buttermilk

56

grams

sourdough discard

56

grams

sour cream

14

grams

vanilla extract

200

grams

chocolate chips
Instructions
Make the batter: Whisk together the dry ingredients. Set aside.

300 grams all-purpose flour,

10 grams baking powder,

½ teaspoon baking soda,

¼ teaspoon nutmeg

Stir the melted butter and sugars together until fully dissolved.

113 grams unsalted butter,

100 grams cane sugar,

100 grams brown sugar

Add the eggs one at a time, and whisk until the mixture looks lighter before adding the next egg.

Stir in the remaining wet ingredients and vanilla extract.

226 grams buttermilk,

56 grams sourdough discard,

56 grams sour cream,

14 grams vanilla extract

Gently fold a third of the dry ingredients in at a time.

Fold 1 cup of chocolate chips with the last third of the dry ingredients. Set ⅓ cup of chocolate chips aside.

200 grams chocolate chips

Let the batter rest: Cover the bowl with plastic wrap and let the batter rest at room temperature for at least 1 hour at room temperature or up to 48 hours in the refrigerator before baking.

Prep: Preheat the oven to 400 F. Line the muffin tin with liners.

Portion out batter: Divide the batter evenly among the crevices of the prepared muffin tin. The batter should fill the crevices to the top.

Top the muffins with chocolate chips and sprinkle with cane sugar.

Bake: Place the muffin tin on the middle rack of the oven, close the door and immediately turn down the temperature to 375 F. Bake the muffins for 20 to 25 minutes, or until a toothpick inserted in the center comes out clean.

Do not open the door before the 20-minute mark or your muffins will sink!

Enjoy and store: Serve the muffins fresh from the oven and enjoy! Store any leftovers in an airtight container for up to 3 days.
Tips
These recipes were developed and tested using grams for precise measurements. To increase your chances of success, I recommend investing in a kitchen scale. I've included rough volume estimates (in tablespoons and cups), but they might not be totally accurate.
Remember all ovens are unique, these recipes were tested in my oven which runs cooler than others. You might need to lower the temperature if your bake appears to be browning too quickly. Monitor your bake closely and make adjustments if needed.
Notes
Start with room temperature ingredients, they are easier to mix and will make a smoother batter. 
You can use active sourdough starter or sourdough discard for this recipe. 
Make sure your baking soda and baking powder are still fresh or your muffins will not rise. 
Don't open the oven door while your muffins are baking or they will sink and become soggy. 
Don't forget to turn the oven temperature down after putting the muffins into the oven or your muffins may over bake, dry out and burn. 
Nutrition
Calories:
354
kcal
|
Carbohydrates:
51
g
|
Protein:
4
g
|
Fat:
15
g
|
Saturated Fat:
9
g
|
Polyunsaturated Fat:
1
g
|
Monounsaturated Fat:
3
g
|
Trans Fat:
0.3
g
|
Cholesterol:
52
mg
|
Sodium:
170
mg
|
Potassium:
131
mg
|
Fiber:
1
g
|
Sugar:
29
g
|
Vitamin A:
336
IU
|
Vitamin C:
0.04
mg
|
Calcium:
105
mg
|
Iron:
1
mg