Immerse yourself in the spirit of fall baking with these easy and delicious Sourdough Pumpkin Whoopie Pies. You'll love this sandwich cookie composed of cream cheese frosting nestled between two plush, cakey pumpkin cookies. Made with sourdough discard and infused with warm spices these whoopie pies are quick to make and are ready in just 45 minutes!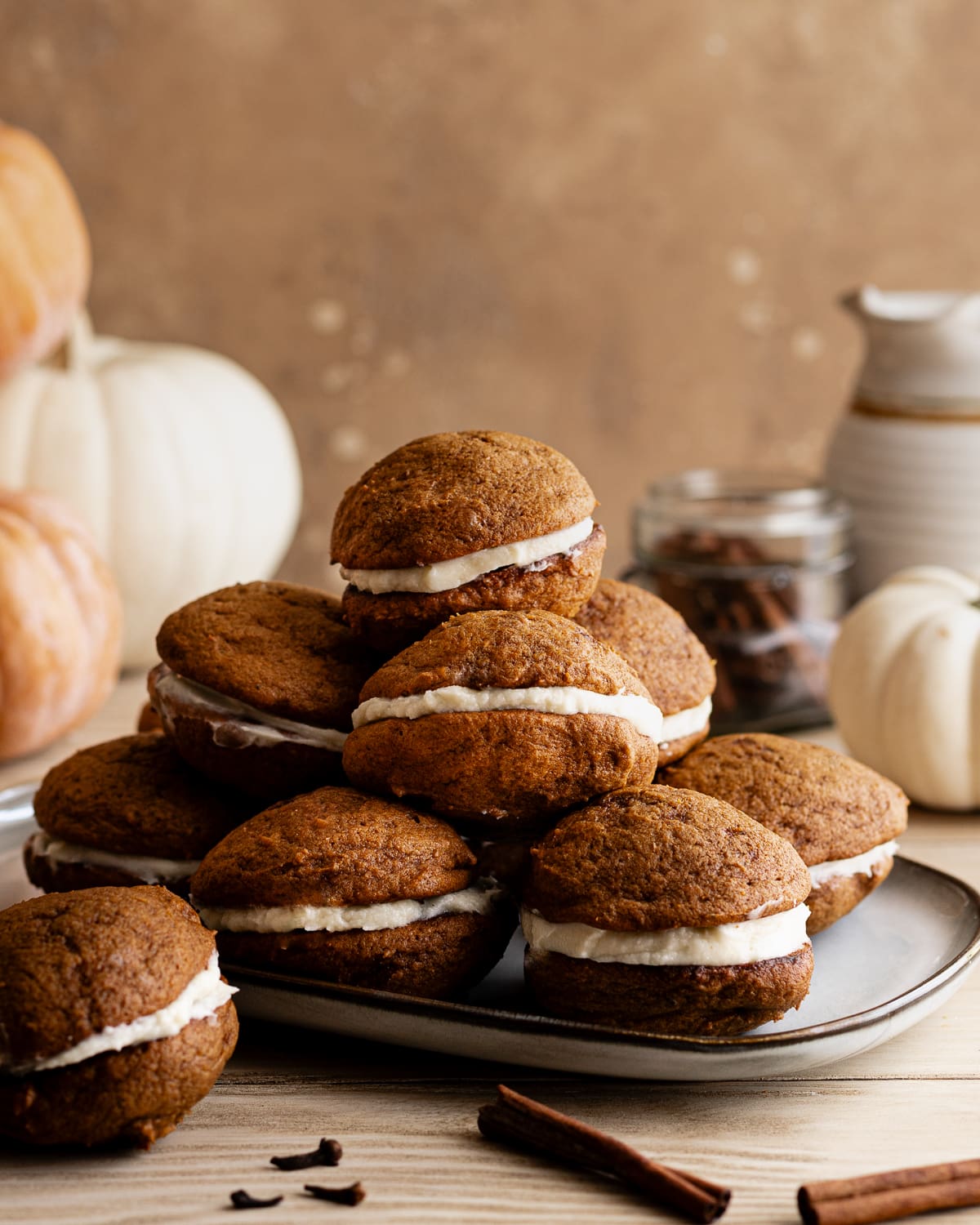 Jump to:
A Household Favorite
I first published this Sourdough Pumpkin Whoopie Pie recipe on Patreon in 2021. It was my most popular exclusive recipe and was shared by so many of my Patrons. I've wanted to publish this recipe here on my blog for some time and this year, I finally had the time and opportunity to do so!
These whoopie pies are always a hit in our household and are one of my only bakes that my bf doesn't willingly give away to our neighbors. Made up of perfectly spiced, sweet cakey, cookies and a luscious cream cheese filling, I'm sure they will also be a hit in your home!
Looking for more delicious pumpkin ideas? Try my Pumpkin Sourdough Bread, Sourdough Pumpkin Cookies, Sourdough Pumpkin Bread, Sourdough Pumpkin Muffins and Sourdough Pumpkin Bundt Cake.
What is a whoopie pie?
A dessert originating in America, the whoopie pie typically features a creamy filling, often marshmallow fluff, sandwiched between two cake-like cookies. While the original version is chocolate, I've created a fall-inspired variation with cookie cakes made from sourdough discard, pumpkin puree and warm spices like cinnamon, ginger, nutmeg, and cloves. To complement the pumpkin flavor, I've switched the filling to a cream cheese frosting, which pairs perfectly with this autumn treat.
Why I love this recipe:
Uses one whole can of pumpkin puree - no leftovers!
Contains the perfect mix of spices that won't overpower the earthy flavor of pumpkin.
Quick recipe ready in less than 45 minutes!
Sourdough adds a tangy flavor and moisture that keeps these treats tasting fresh for up to a week.
Uses simple ingredients that you already have in your pantry!
Filled with a luscious and easy to make cream cheese filling.
Freezes beautifully for longer-term storage.
WARNING: This recipe will not work at high altitudes. Cakes have a tendency to flatten out at higher elevations because moisture evaporates quicker and these just will not hold their form. Read my post for more information on high-altitude baking.
Baking with Sourdough Discard
Sourdough discard adds a great tangy flavor to these pumpkin whoopie pies. Since you're not using it as a leavener, your sourdough starter does not need to be activated or fed for it to work in this recipe and you can use it straight from the refrigerator.
Older discard will have a tangier, bolder flavor than freshly-fed sourdough starter. Both will work for this recipe, you'll get a slightly different result but your bake will still be delicious!
What you need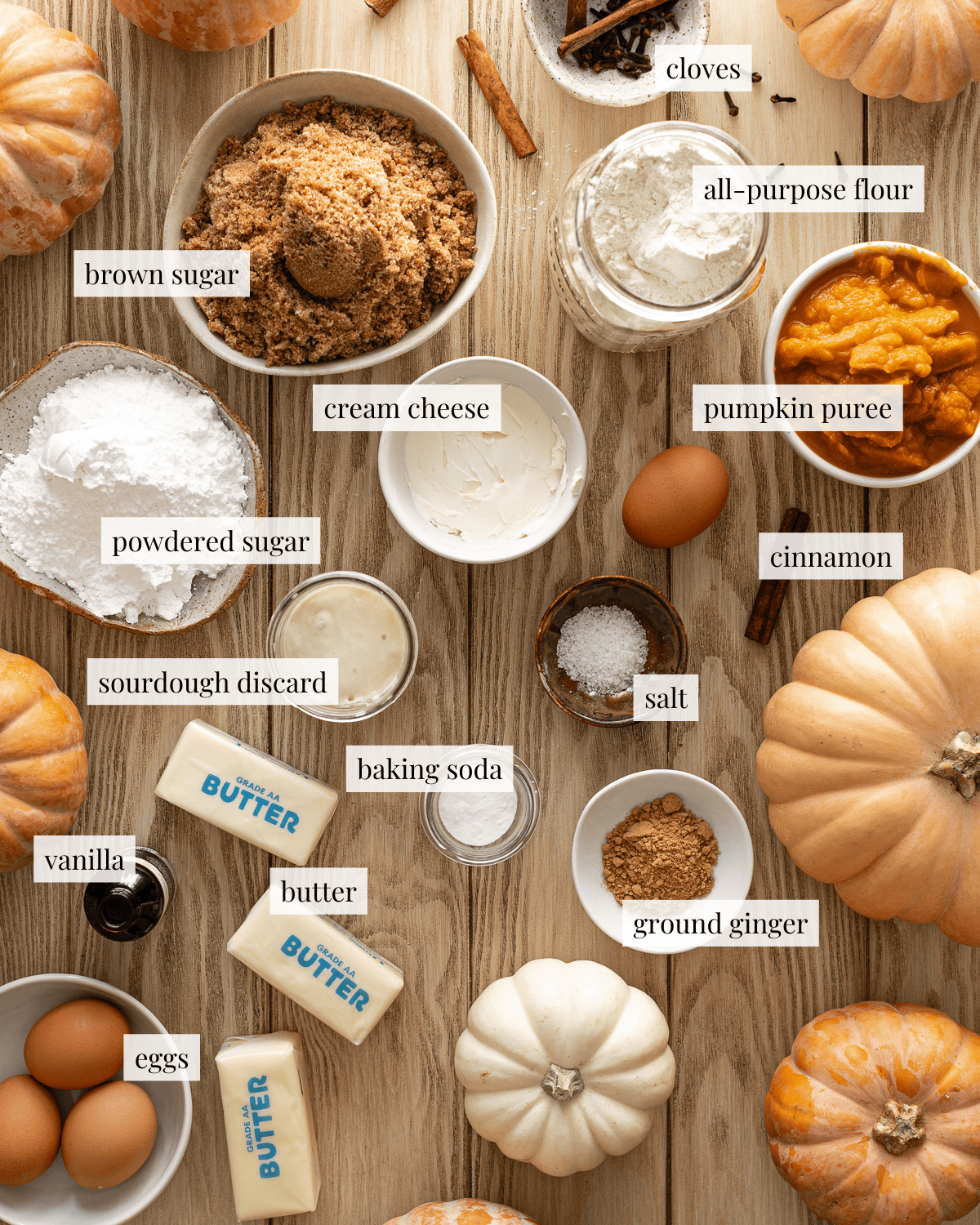 Pumpkin puree: Use canned pumpkin puree, not pumpkin pie filling since it has added spiced and sugar or homemade roasted pumpkin, which may alter your bake's texture due to varying moisture levels. It's a great ingredient that I use for everything from Pumpkin Sourdough Cinnamon Rolls to Pumpkin Sourdough Cupcakes.
Egg yolks: I tried testing these with whole eggs (because I really didn't want anymore excess whites) but my cookies spread and did not hold their shape.
Pumpkin spice: Use individual spices (whole if possible) for the best results, feel free to substitute your favorite store-bought pumpkin spice mix if you prefer. You'll need about 1 tablespoon of pumpkin spice mix.
All-purpose flour: Don't try to use another type of flour for this recipe especially whole wheat or your bake will turn out dry.
Sourdough discard: Use active sourdough starter or simply add 56 grams flour and 56 grams water to your batter.
Dark brown sugar: Reacts with baking soda to help these rise, do not try to substitute white sugar.
See the recipe card for detailed ingredient information.
Step-by-step instructions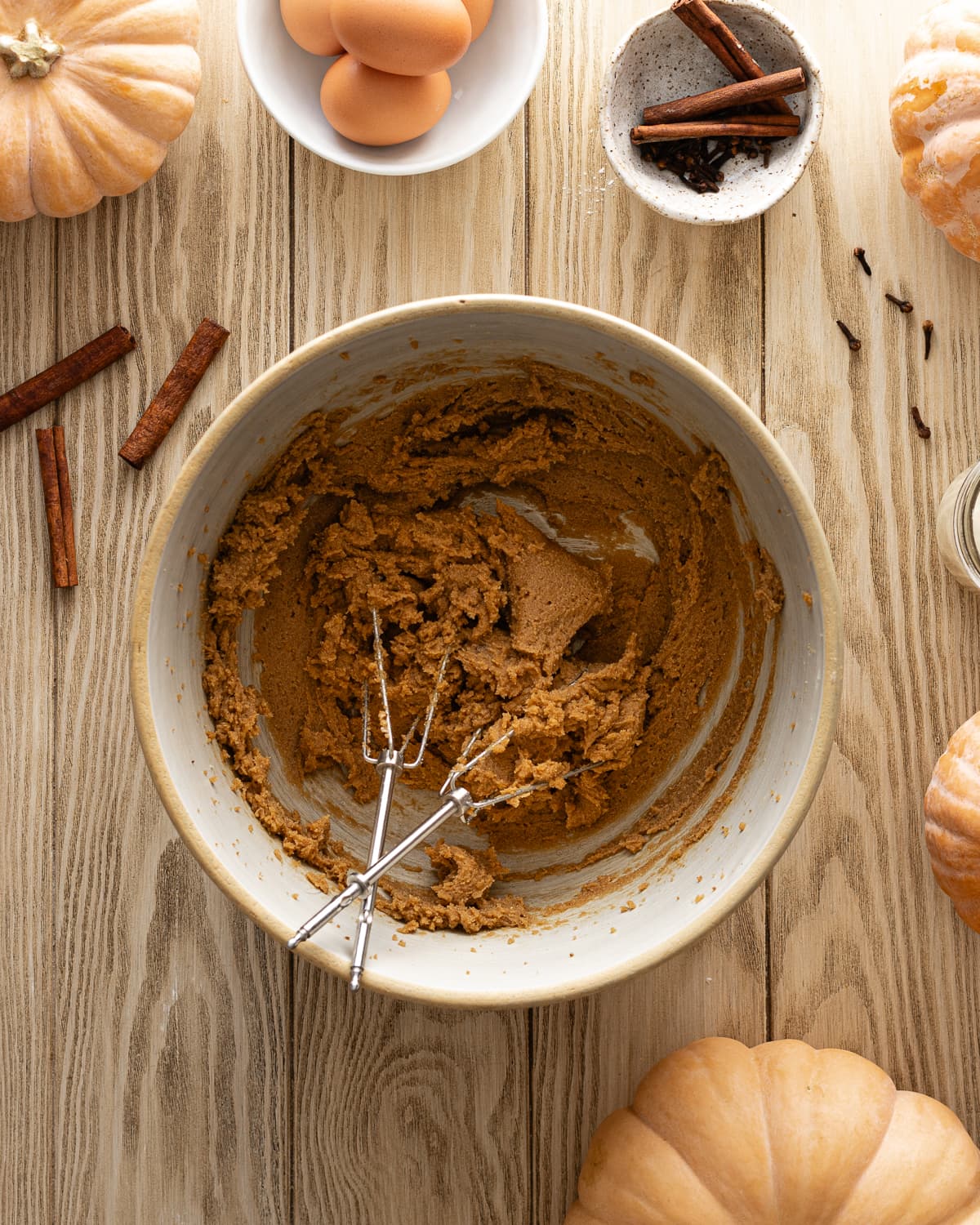 STEP 1: Blend butter and sugars until no lumps remain.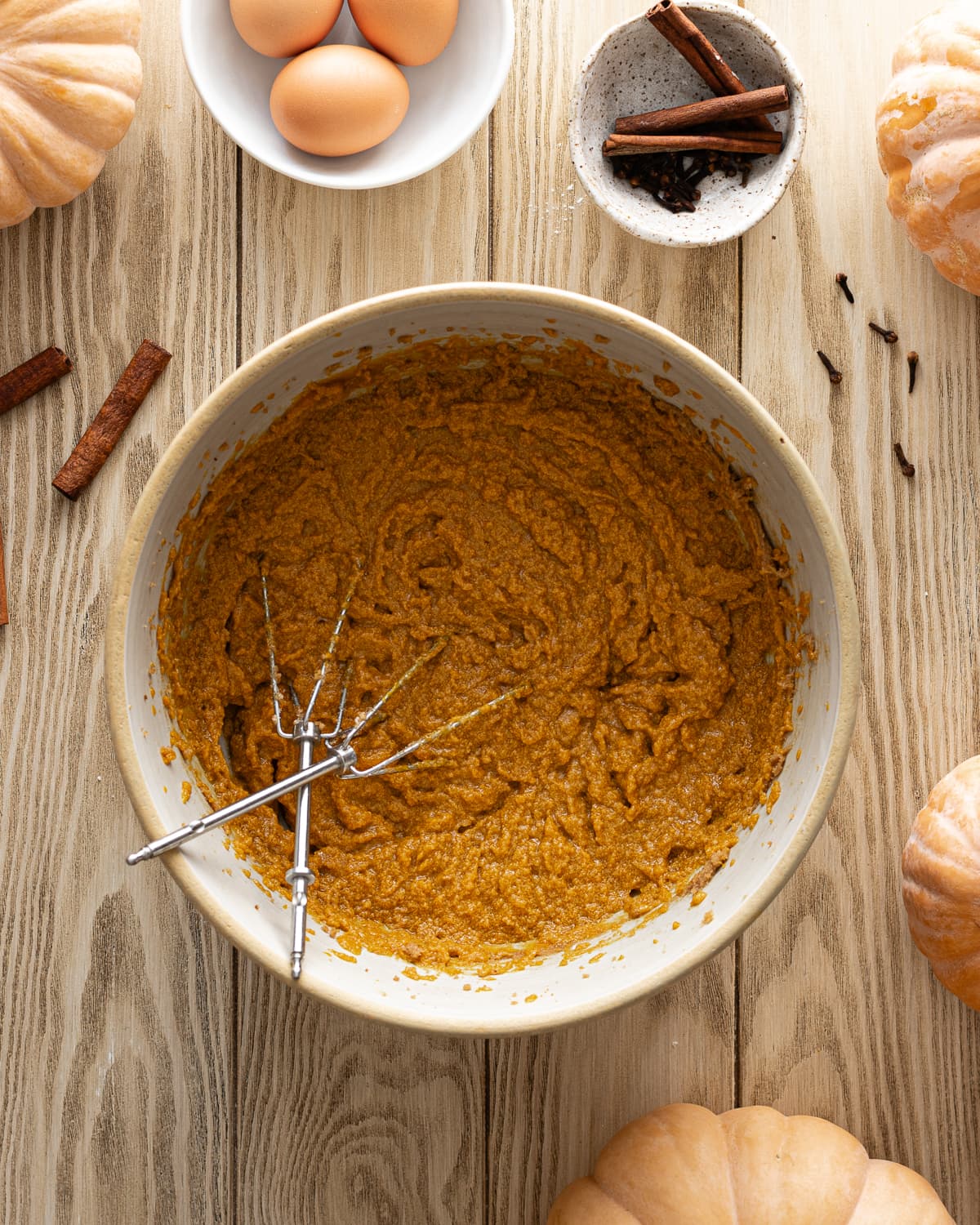 STEP 2: Add in sourdough discard, egg yolks and milk.
TIP: Check whether your baking powder and baking soda are still fresh by mixing a teaspoon with a drop of vinegar. If the mixture fizzes, they're still good to go!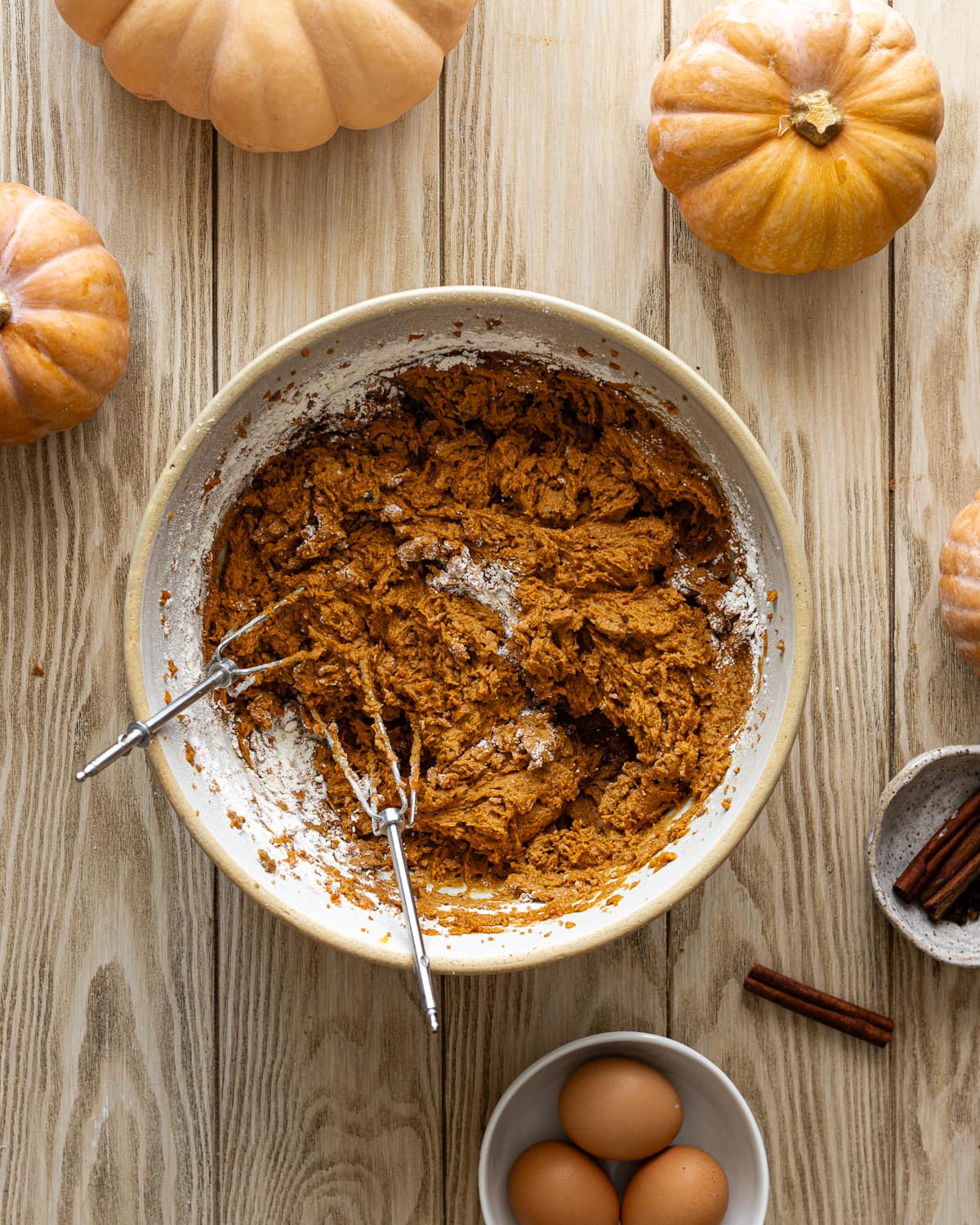 STEP 3: Mix flour in a third at a time.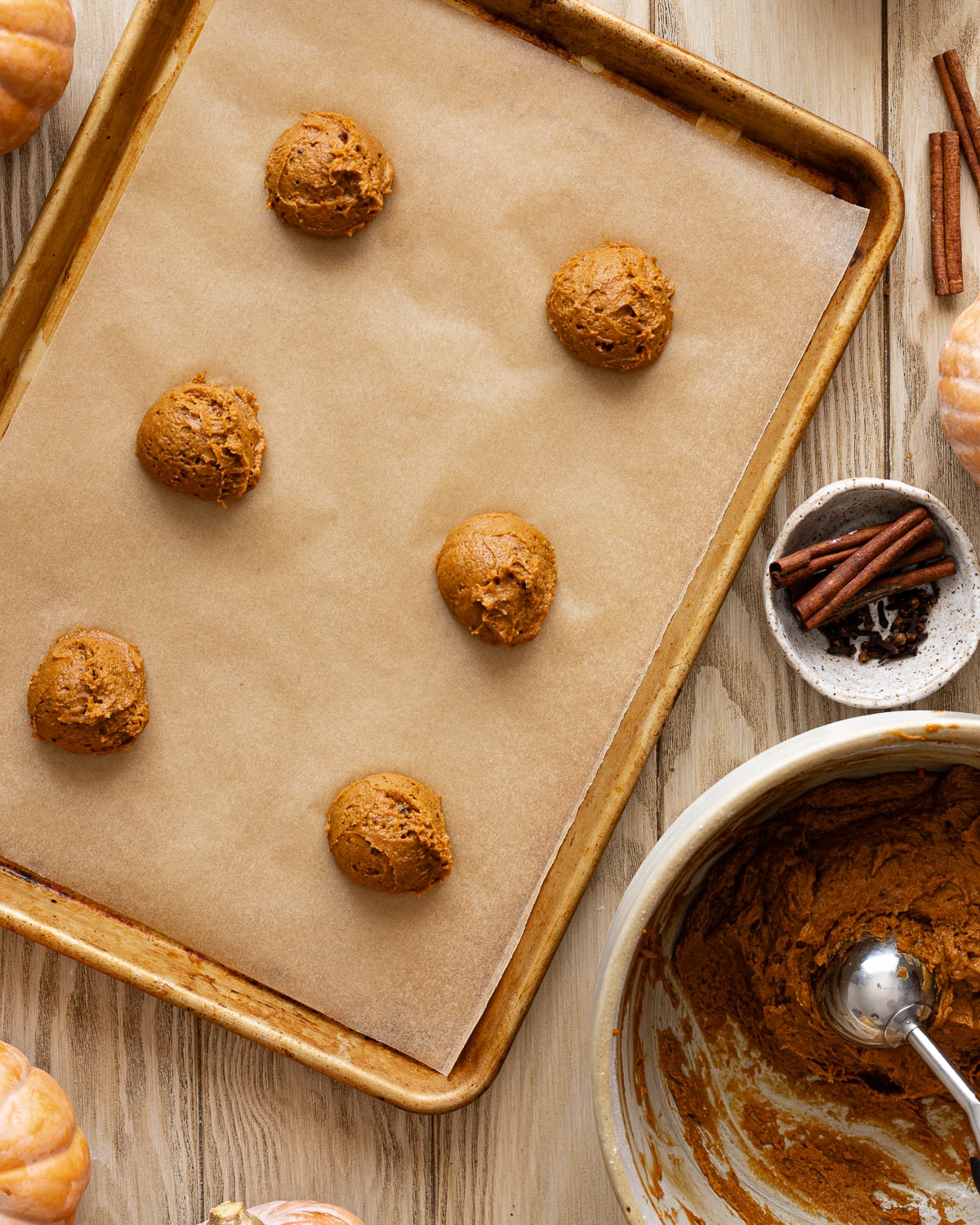 STEP 4: Bake at 375 for 15 minutes.
TIP: Folding the flour in a third at a time will prevent lumps and excessive gluten development, resulting in tender and plush whoopie pies.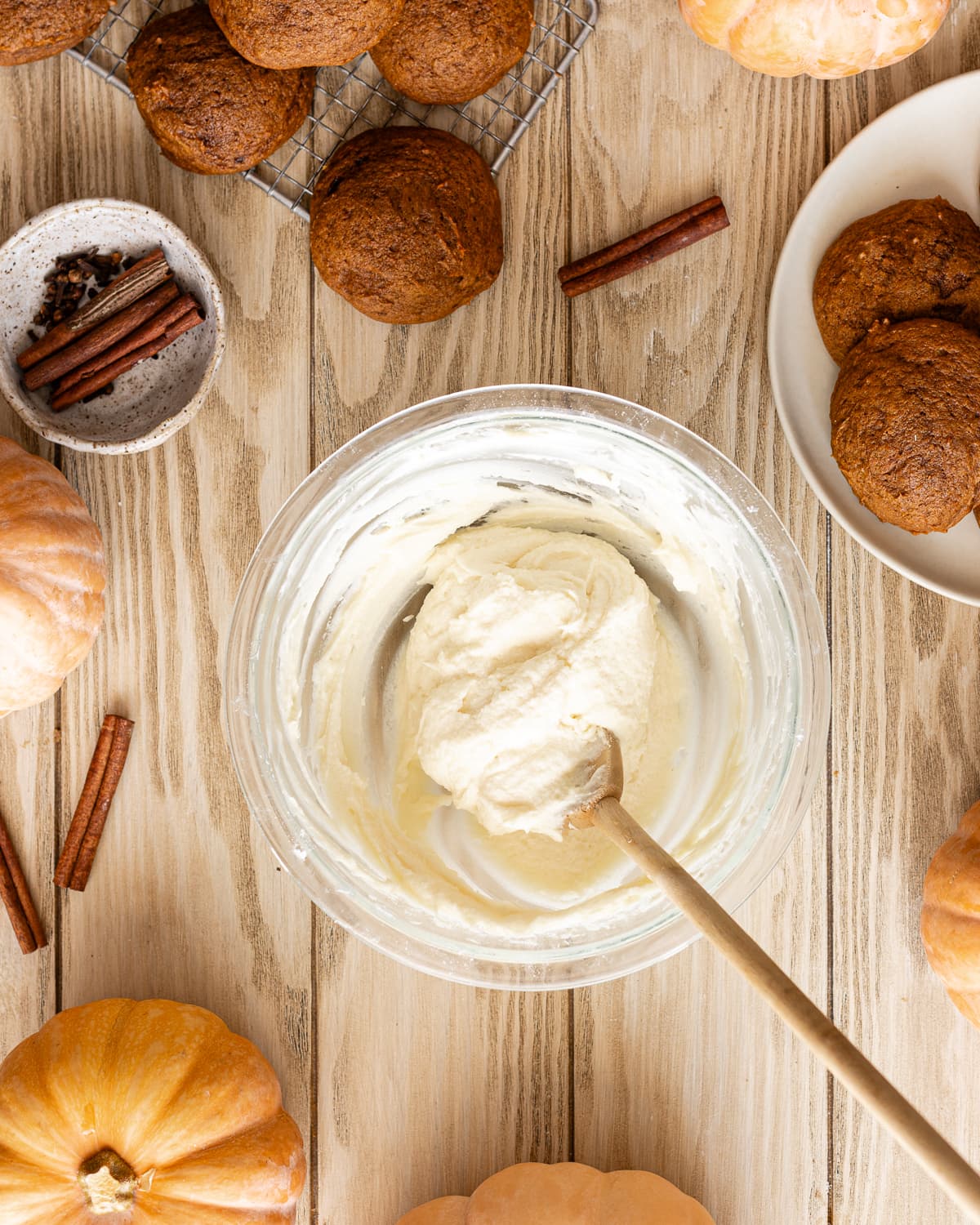 STEP 5: Make the cream cheese filling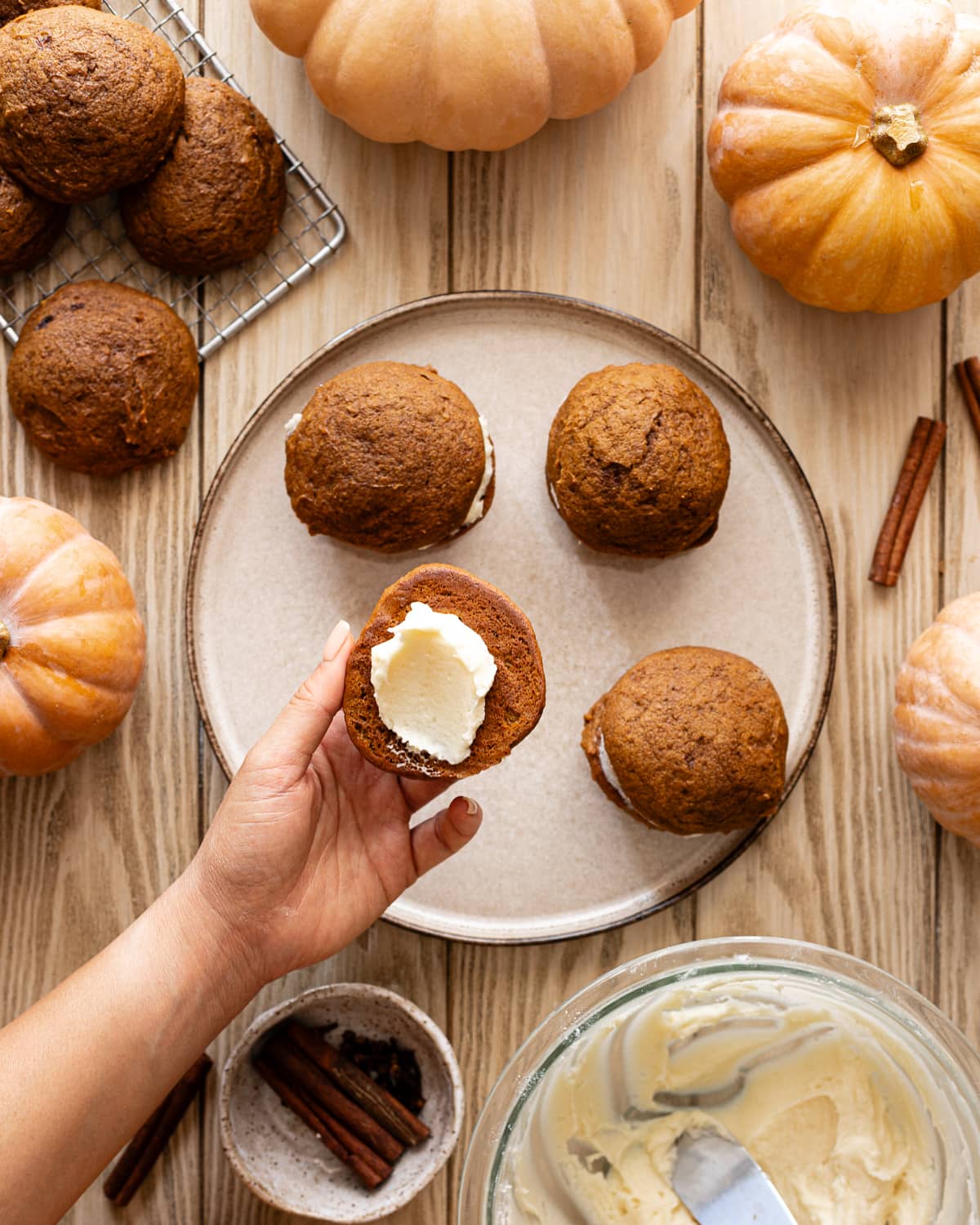 STEP 6: Fill the cooled whoopie pies
TIP: Be patient! Let the cookies cool completely before filling them. If they are too warm the frosting will simply melt off.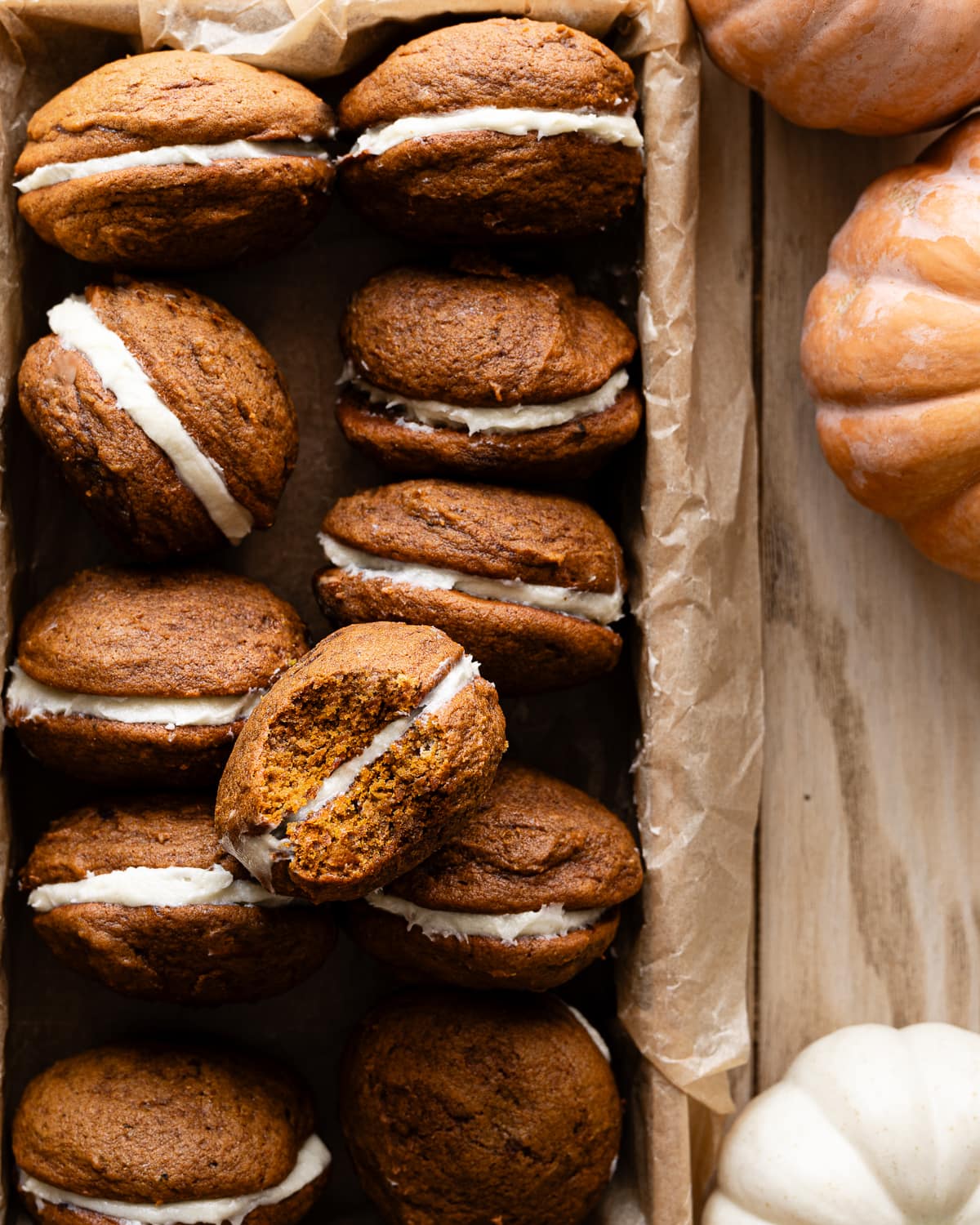 Baker's Tips
You'll do need an electric mixer for this recipe. There's a good amount of creaming in both the batter and the filling, this would be impossible to do by hand.
Expect this batter to be quite thick, in between a cake and cookie batter. Make sure you mix the batter thoroughly but don't overmix, getting all the bits in the bottom of the bowl but just until the last of the flour is fully incorporated.
Adding baking powder makes these cookies too tender causing them to break apart. The combination of acidity from sourdough discard and baking soda provides enough leavening while still allowing them to hold together.
A spring-action large cookie scoop makes for evenly-sized portions that will bake at the same rate. It also helps form the ideal shape for your whoopie pies.
These whoopie pies will rise and spread a bit so make sure you space them out on your cookie sheets. I like to stagger my batter and if I arrange them, I can fit at least 6 in one cookie sheet. However, don't try to cram them or they will stick together.
Thoroughly whip your cream cheese to avoid large lumps. I never remember to take my cream cheese out of the fridge to soften, but if you whip your cream cheese thoroughly you can use it cold straight from the refrigerator.
Recipe FAQs
I don't have enough sourdough discard, can I still make this recipe?
Absolutely! Simply use the same proportion of freshly fed sourdough starter in the recipe. Your starter won't add a strong tangy flavor to your cookies, but will still work. 

If you don't have a starter, but still want to try out this recipe, simply add 56 grams of all-purpose flour and 56 grams of water to your batter. 
Can I use homemade pumpkin puree?
Homemade pumpkin puree has a different moisture content than canned pumpkin puree. This could change the hydration level of your batter and adversely affect the result of your bake. It's best to use canned pumpkin puree (not pumpkin pie filling). 
Help! Why did my whoopie pies turn out so flat?
There's a few reasons:
- Your baking soda and baking powder may be past their prime and not able to leaven your bake.
- You're baking at high altitude - sorry these just won't work at higher elevations.
- You may have opened the oven door before the center of your whoopies are fully baked, unfortunately this would cause them to sink and the center to be dense and gummy
- You may have measured your ingredients incorrectly, weigh your ingredients to make sure your proportions are correct.
Why are my whoopie pies so gummy?
You may have developed too much gluten in your batter. It helps to fold your flour into the batter ⅓ at a time to ensure all of the flour is incorporated without overmixing. Opening the oven door before your whoopie pies are fully baked could also cause them to be too gummy. In this case, your muffins will sink and the interior will be gummy. 
You may also like
Did this recipe rise to the occasion?
⭐⭐⭐⭐⭐
We knead your feedback! Did our recipe impress your taste buds? Leave a star rating and write a review to help us create even better recipes.
I read all the comments and love hearing your feedback.
THANK YOU!
Sourdough Discard Pumpkin Whoopie Pie Recipe
Immerse yourself in the spirit of fall baking with these easy Sourdough Pumpkin Whoopie Pies. You'll love this sandwich cookie composed of cream cheese frosting nestled between two plush, cakey pumpkin cookies.
This section may contain affiliate links
Ingredients
Batter
226

grams

unsalted butter

softened

400

grams

dark brown sugar

2

egg yolks

425

grams

pumkin puree

1 can

113

grams

sourdough discard

300

grams

all-purpose flour

6

grams

salt

8

grams

baking soda

5

grams

ground ginger

8

grams

ground cinnamon

½

teaspoon

ground cloves
Cream Cheese Filling
113

grams

cream cheese

113

grams

unsalted butter

softened

120

grams

powdered sugar

5

grams

vanilla
Instructions
Prep: Preheat the oven to 375F. Line 3 baking trays with parchment paper. Set aside.

Mix the wet ingredients: Using a mixer cream together the butter and sugar until light and fluffy. Add egg yolks in one at a time. Mix in the pumpkin puree and sourdough discard until the starter has fully dissolved into the mixture.

226 grams unsalted butter,

400 grams dark brown sugar,

2 egg yolks,

425 grams pumkin puree,

113 grams sourdough discard

Add in the dry ingredients: Using a spatula (or with your mixer on the low setting), fold in salt, baking soda, ginger, cinnamon, cloves and a third of the flour, into the pumpkin mixture.

300 grams all-purpose flour,

6 grams salt,

8 grams baking soda,

5 grams ground ginger,

8 grams ground cinnamon,

½ teaspoon ground cloves

Continue adding in remaining flour and stir just until all of the flour has been hydrated, don't overmix or your cookie(cakes) will turn out tough and rubbery.

Bake: Using a 3-tablespoon ice cream scoop, drop the batter on the prepared baking sheets, at least 1-inch apart. If I stagger my cookies on my baking sheet I can usually fit 6 on each sheet.

Bake the cookies for 15 minutes or until the cookies look dry and a toothpick inserted in the center comes out clean.

Take the cookies out of the oven and allow them to cool on the baking sheet for 5 minutes before transferring them to a wire rack to cool completely.

Make your filling: Beat the cream cheese and butter together on high speed until the mixture looks smooth and softened, about 2 minutes.

113 grams cream cheese,

113 grams unsalted butter

Fold the powdered sugar into the cream cheese, add the vanilla and beat the mixture with your mixer until light and fluffy.

120 grams powdered sugar,

5 grams vanilla

Fill the cookies: Once your cookies are completely cooled, place 2 tablespoons of filling in the center of a cookie and cover with another cookie. Twist the cookies to smoosh the filling until the frosting reaches the edges.

Store: Wrap leftover whoopie pies in plastic wrap and place them inside the refrigerator to chill for up to a week.
Tips
These recipes were developed and tested using grams for precise measurements. To increase your chances of success, I recommend investing in a kitchen scale. I've included rough volume estimates (in tablespoons and cups), but they might not be totally accurate.
Remember all ovens are unique, these recipes were tested in my oven which runs cooler than others. You might need to lower the temperature if your bake appears to be browning too quickly. Monitor your bake closely and make adjustments if needed.
Notes
I recommend using weight over volume measurements.
Use canned pumpkin puree not pumpkin filling or homemade roasted pumkin. 
These freeze beautifully, simple store the wrapped whoopie pies in a ziplock bag and freeze for up to a month. Let the whoopie pies defrost at room temp before enjoying. 
Nutrition
Calories:
441
kcal
|
Carbohydrates:
56
g
|
Protein:
4
g
|
Fat:
23
g
|
Saturated Fat:
14
g
|
Polyunsaturated Fat:
1
g
|
Monounsaturated Fat:
6
g
|
Trans Fat:
1
g
|
Cholesterol:
88
mg
|
Sodium:
361
mg
|
Potassium:
89
mg
|
Fiber:
1
g
|
Sugar:
37
g
|
Vitamin A:
753
IU
|
Vitamin C:
0.02
mg
|
Calcium:
51
mg
|
Iron:
1
mg