With a delicious flaky sourdough pie crust and warm cinnamon-spiced apples that are tender and not mushy this Sourdough Discard Apple Pie will be the star of your get-together. Baking an apple pie from scratch may seem intimidating, but my easy, no-fail sourdough crust makes the challenge a bit easier.
Sponsored by Imperial Sugar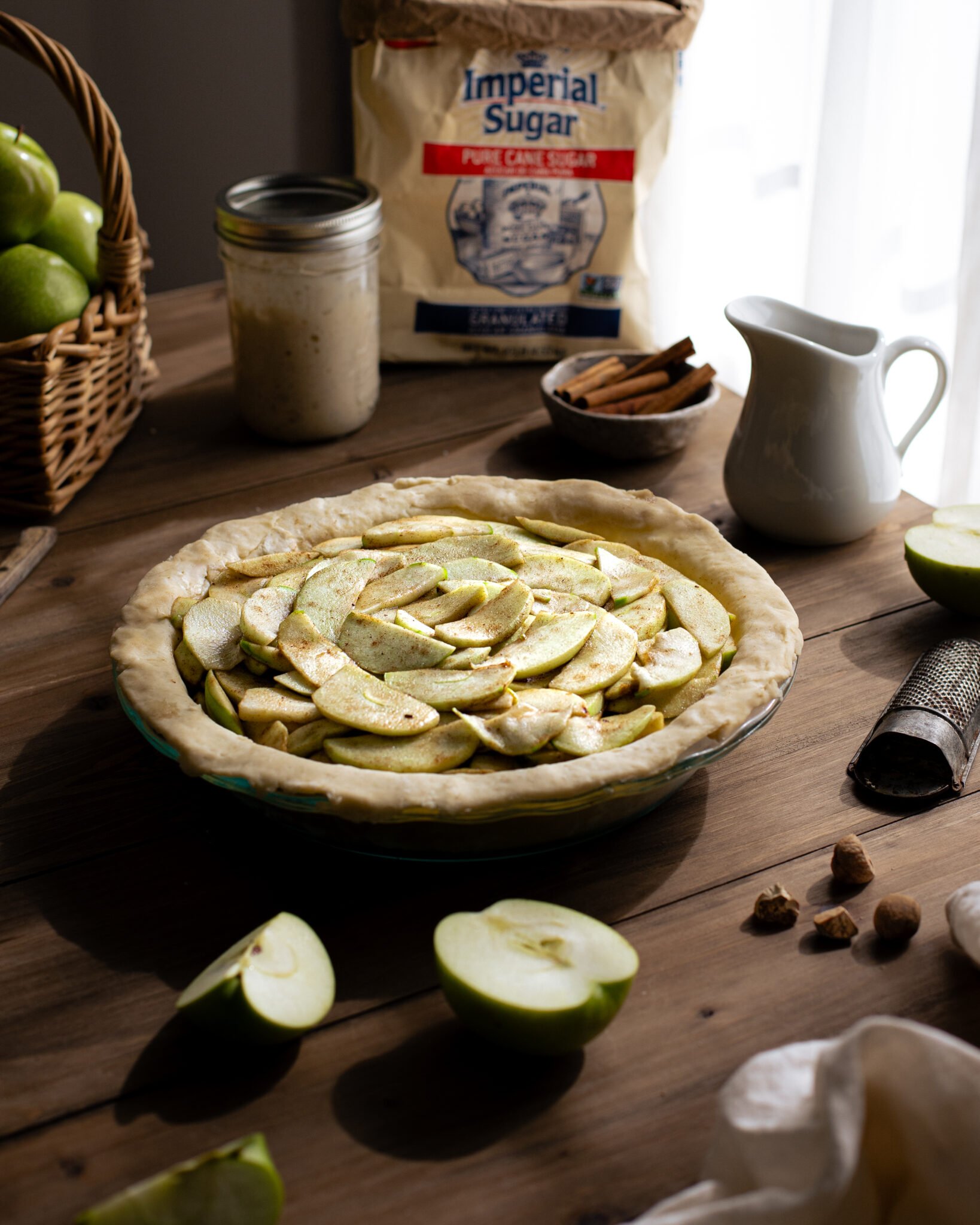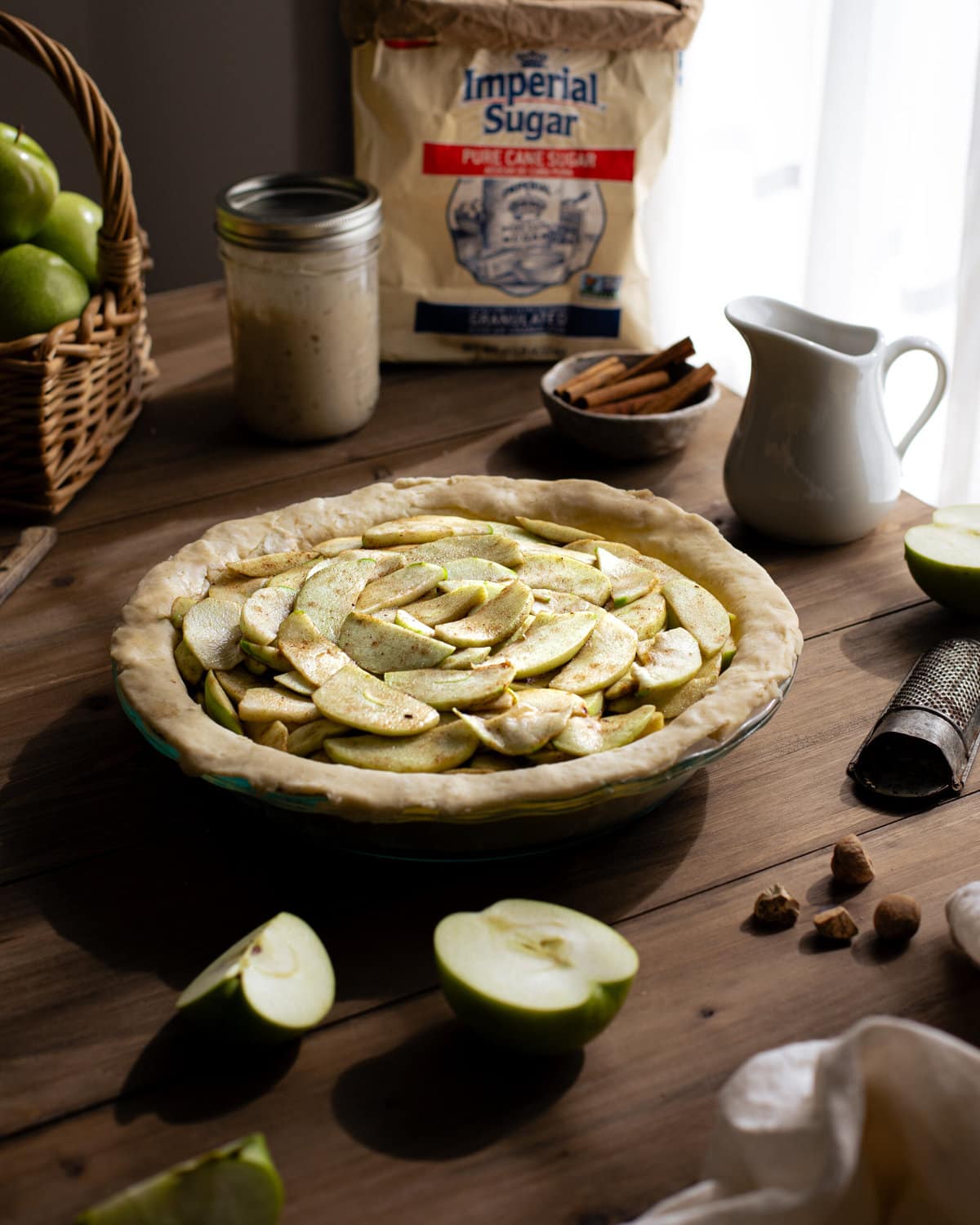 There are few things that feel nearly as special as a freshly baked apple pie. The first time I had a homemade apple pie was my first holiday after emigrating from the Philippines. One of my aunts was a wiz at baking all things, and she made the most delicious pies. Freshly baked Apple Pie still reminds me a bit of that first holiday season in America, my new home.
Jump to:
Recipe Box Series
With fall quickly approaching and apples now in season, I thought it was the perfect opportunity to finally give one of my favorite desserts a sourdough twist. So excited to finally bring you guys my recipe for Apple Pie with Sourdough Crust in partnership with Imperial Sugar.
Sugar is such a vital part of every dessert, it imparts flavor, texture, moisture, and without it, it would be impossible to make our favorite bakes. Imperial Sugar products are 100% pure cane sugar, non-GMO and provide consistently delicious results.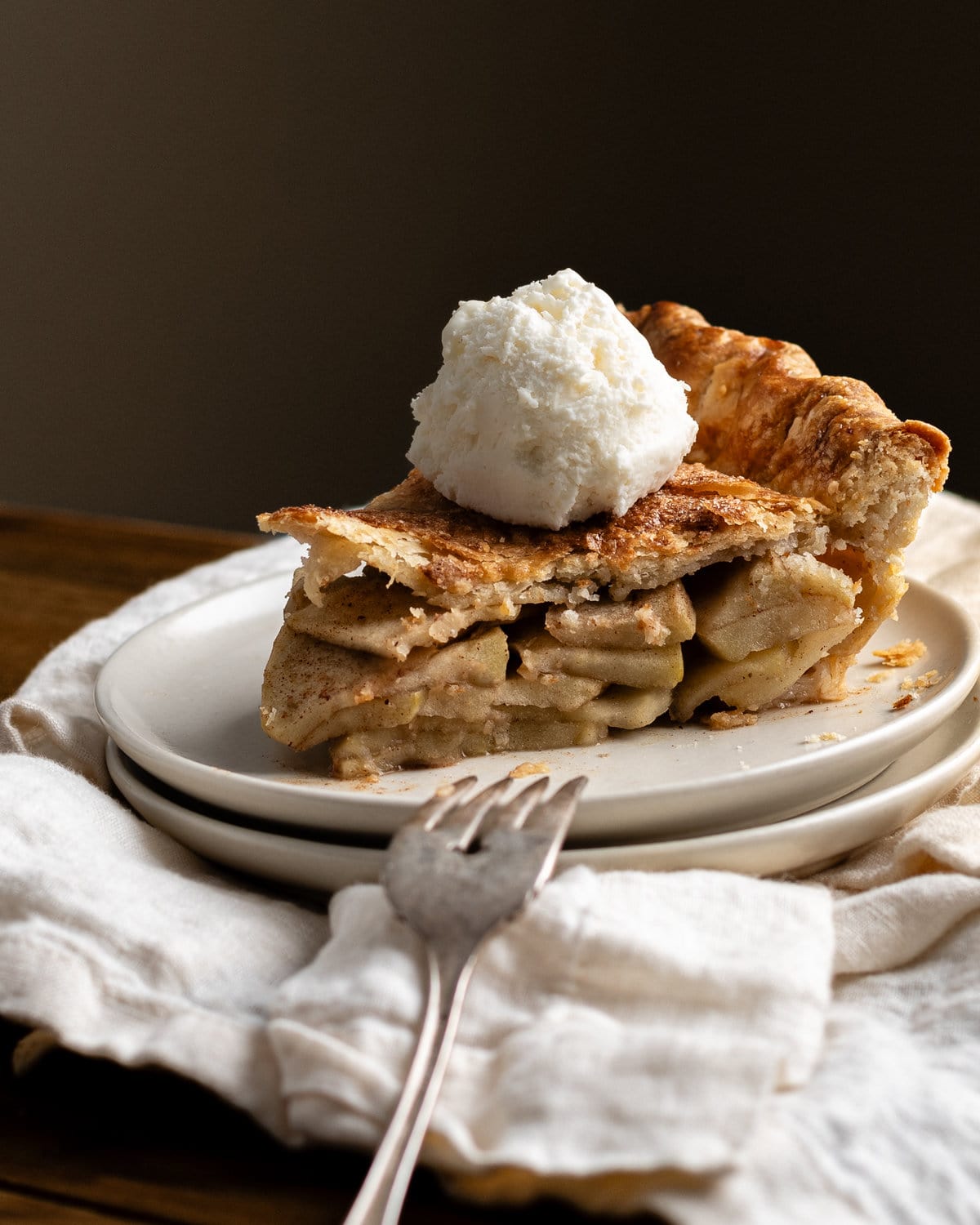 Baking with Sourdough Discard
When incorporated into buttery pastry, sourdough discard adds a slight tang. Since you're not using it as a leavener, you can use your discard straight from the refrigerator. There's no need to feed it or activate it before mixing it into your dough. Older discard will have a tangier, more acidic flavor than a freshly-fed sourdough starter. Both will work for this recipe, you'll just get a slightly different flavor profile but your bake will still be delicious!
Need more ideas for using your excess sourdough starter? Check out my favorite Sourdough Discard Recipes!
The secret to a flaky pie crust
As a bread maker, I can be a bit heavy-handed with my dough which can be disastrous for pie crusts. Pastry is truly a science, it needs the perfect ratio of fat, flour and moisture and requires a very light touch or it will bake up tough and dry. 
Over the years, here are some tips that have helped me perfect my pie crust:
Keep butter cold: Start off with cold butter, once butter melts it has a tendency to get greasy and leak out in the oven. Cold butter will stay solid and release steam as your pie crust bakes, creating the layers necessary for a flaky, tender pastry.
Use all-purpose flour: The low protein content of apple pie will keep your pie crust tender and not chewy.
Don't be tempted to add too much water: Too much water can lead to too much gluten formation. While ideal for bread baking, gluten will cause your crust to become tough and leathery. If your pie crust looks too crumbly and won't come together, only add a drop of water at a time.
Laminate your crust: Folding or laminating is a way of creating layers of butter and dough and almost guarantees a tender and flaky pie crust. For more info on lamination check out my detailed post on How to Make an Extra Flaky Sourdough Pie Crust.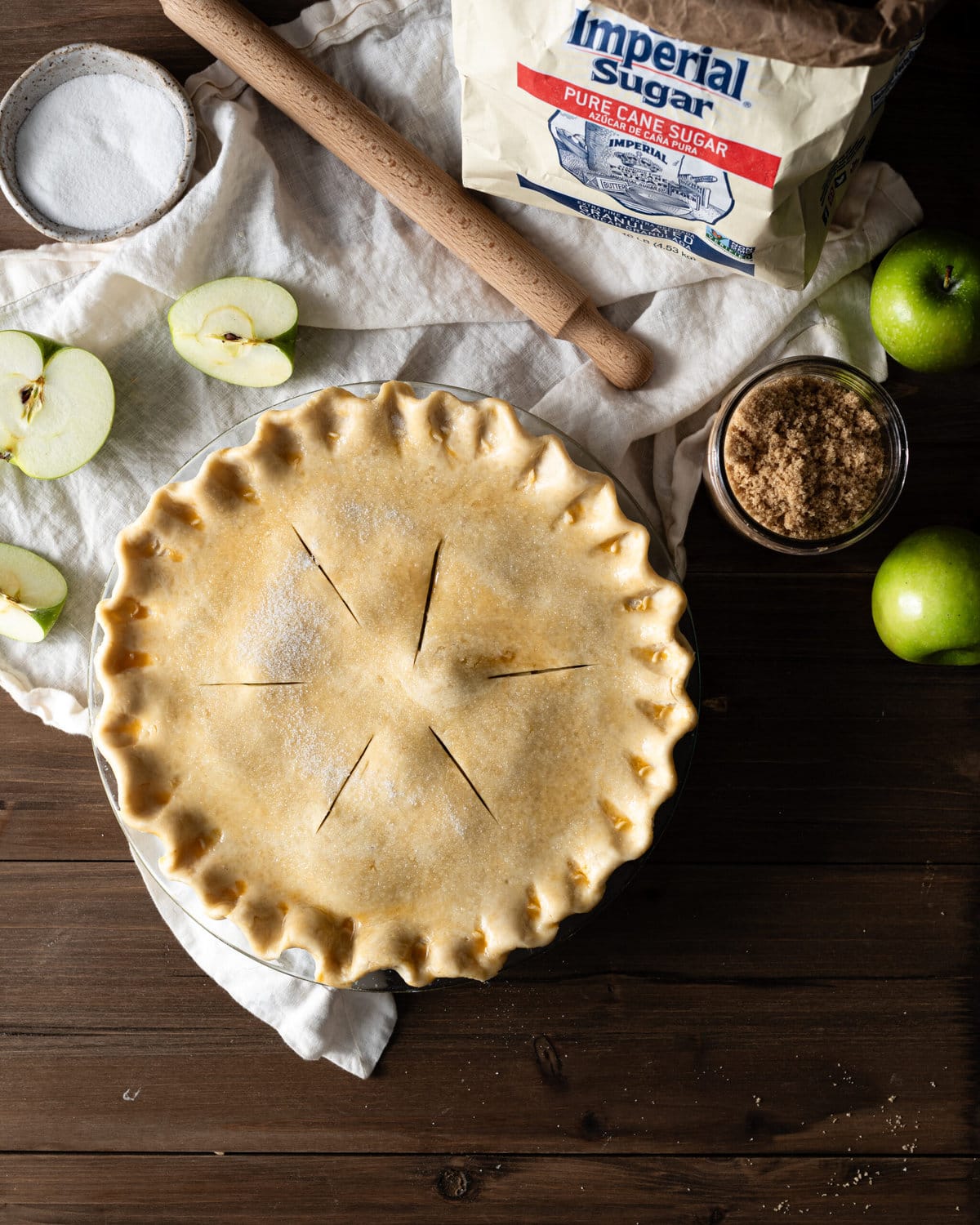 If you love pie, check out my Sourdough Pumpkin Pie recipe!
What you need
All-purpose flour: Use a low-protein flour like all-purpose to keep your crust tender. Do not substitute whole wheat.
Salt: Use kosher salt or sea salt for the best results.
Sugar: A mix of Imperial Sugar Extra Fine Granulated Pure Cane Sugar and Imperial Sugar Light Brown Sugar adds flavor and sweetness.
Apples: Use a baking apple that won't break down as it bakes, like Honey Crisp, Granny Smith or Golden Delicious. This recipe was developed using Granny Smith apples
Spices: I like to create my own mix of warm spices so I can control the flavor of my pie. You can use a store bought apple pie or pumpkin pie mix.
Butter: Always use cold butter when making pie crust, I've never tried plant-based alternatives, so I cannot recommend or guarantee your results if you attempt to use them.
Old-fashioned oats: A handy addition that helps prevent a soggy bottom. The oats absorb excess moisture from the apples and since they don't have any flavor they are totally undetectable in the baked pie. Substitute crushed graham crackers or quick oats.
Step-by-step instructions
Make the pie dough and chill for at least 2 hours
Mix the filling and let it rest for 30 minutes
Roll out the pie dough, fill pie plate and chill
Cook the filling
Assemble pie
Bake at 420 F for 35 to 40 minutes
Let the pie cool for 3 hours before slicing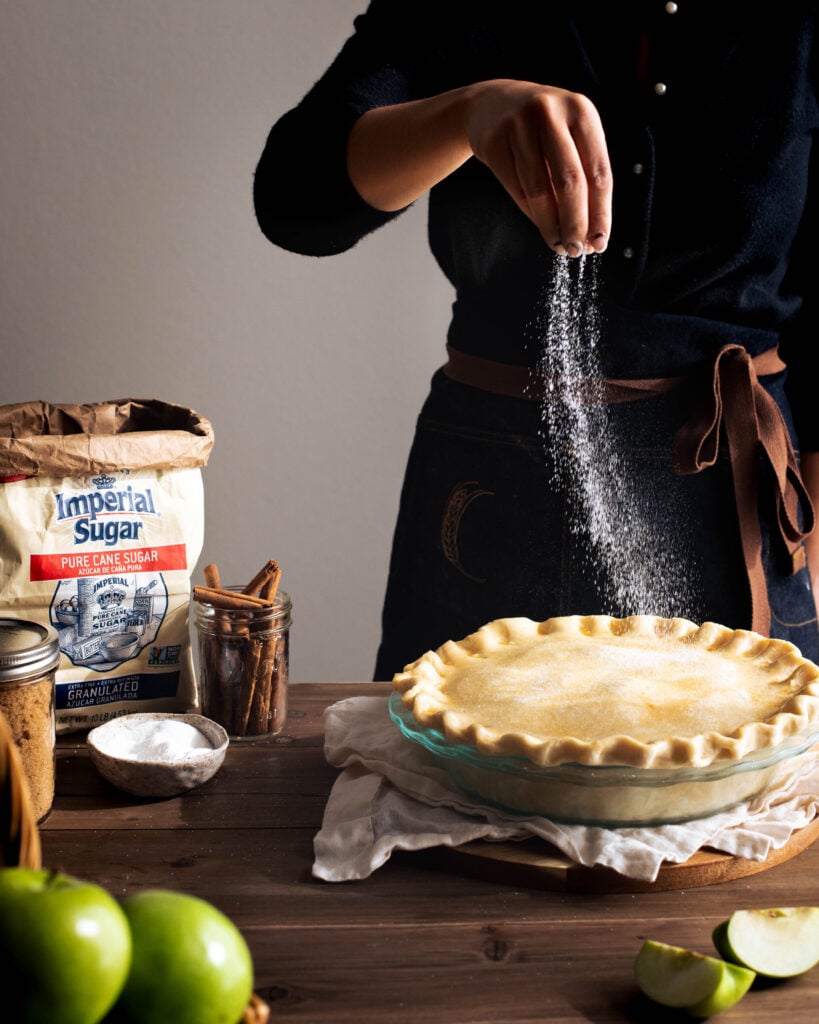 Recipe FAQs
Why is my pie crust so tough?
There are a few reasons your pie crust could have turned out tough:

1. You worked or kneaded your dough too much
2. You added too much water into your pie dough
3. Your butter became too warm and melted in the oven
My butter leaked out of my pie crust, what can I do?
Unfortunately, there's no way to save your crust at this point.

If you find that you are having a lot of trouble with crusts, try laminating your dough - it's a good way to guarantee a great result. Read more about lamination in my post about how to make an extra flaky sourdough pie crust.
Will my pie crust taste sour?
Sourdough discard complements the flavor of butter and adds a slightly cheesy flavor to pastry. It's delicious and won't be too sour or overpowering.
What are the best apples to use for pie?
I like using Granny Smith, Honeycrisp or Golden Delicious because they don't get mushy as they bake.
You may also like
---
Did this recipe rise to the occasion?
⭐⭐⭐⭐⭐
We knead your feedback! Did our recipe impress your taste buds? Leave a star rating and write a review to help us create even better recipes.
I read all the comments and love hearing your feedback.
THANK YOU!
---
Sourdough Apple Pie Recipe
Tender cinnamon-spiced apples in a buttery flaky sourdough pie crust.
This section may contain affiliate links
Ingredients
Pie Dough
226

grams

butter

cold

56

grams

sourdough discard

56

grams

water

ice cold

270

grams

all-purpose flour

4

grams

salt

24

grams

Imperial Sugar Extra Fine Granulated Pure Cane Sugar
Filling
1.3

kg

Granny Smith apples

75

grams

Imperial Sugar Light Brown Sugar

50

grams

Imperial Sugar Extra Fine Granulated Pure Cane Sugar

1

teaspoon

cinnamon

¼

teaspoon

nutmeg

¼

teaspoon

salt

22

grams

old-fashioned rolled oats

42

grams

butter
Topping
30

grams

white

24

grams

Imperial Sugar Extra Fine Granulated Pure Cane Sugar
Instructions
Prep the butter: Cut the butter into ¼-inch pieces. Place the butter in the freezer to keep it cold while you mix the rest of your ingredients. 

Make the dough: In a large measuring cup, combine the sourdough discard and water. Stir until the starter is completely dissolved. Place the mixture into the refrigerator to keep it cold.

In a large mixing bowl, whisk together the salt and all purpose flour. Toss the butter to coat the pieces in flour. Cut the butter into the flour by flattening the pieces between your palms or using a pastry cutter. Try to keep the butter pieces larger but to coat them thoroughly in butter. Having large sheets of butter in the dough will make for flakier pastry. 

Make a well in the center of the flour mixture. Add the sourdough starter mixture in the center. Using a wooden spoon or your hand, lightly toss the mixture together until the dough feels properly moistened and begins to stick together in clumps. 

Turn the dough out onto a large piece of plastic wrap. It's ok if the mixture is slightly crumbly at this point, but it should not feel wet or tacky. Enclose the dough in the plastic wrap and flatten it out into a disc. Refrigerate the dough for 30 minutes to allow the flour to fully hydrate and the butter to cool down.

Laminate the dough: Turn the dough out onto a clean work surface. Using a rolling pin, flatten the dough out into roughly a ¼-inch thick rectangle (you don't have to be exact here). Using your bench knife, fold the dough into thirds like you're folding a letter. 

Flatten the dough out once more and complete another fold. Divide the dough into two portions and form them into discs.

Refrigerate dough: Wrap the discs in plastic wrap and refrigerate them while you create your filling. Refrigerate your dough for at least 1 hour before rolling it out, you can complete this step up to 48 hours before assembling your pie. 

Make the filling: Peel, core and slice the apples thinly. Toss the apples with Imperial Sugar Light Brown Sugar, Imperial Sugar Extra Fine Granulated Pure Cane Sugar, cinnamon, nutmeg and salt. Cover the bowl with a tea towel and set aside for at least 30 minutes, up to an hour. 

Roll out the pie dough: Place one portion of dough on a lightly floured work surface. Dust your rolling pin with a little flour. Begin flattening out the dough with your rolling pin. Place your rolling pin on the middle of the dough and roll away from yourself. Rotate the dough a quarter turn between each roll until the dough is 12 inches in diameter and about ¼-inch thick.  Transfer the pie dough to a 9-inch pie plate. Ease the pie dough into the crust without stretching it too much. Press the crust firmly against the sides and the bottom of the plate. Trim the crust to the edge of the pie plate.

Refrigerate crust:  Cover the dough with plastic wrap and refrigerate while you finish preparing your filling. 

Cook the filling: Using a large colander over a large measuring cup or heat proof bowl, drain the apples for 5 minutes, you should be able to collect 1 cup of juice. Thicken the juices by heating it in the microwave for 5 to 10 minutes or until it has reduced by half.  

Assemble the pie: Take the crust out of the refrigerator and place an even layer of oatmeal on the bottom of the crust. Add the drained apples into the bottom crust, make sure the filling is spread out evenly and there are no large gaps. Pour the reduced juices over the pie and dot with butter. 

Roll out the other portion of pie dough according to the instructions above. Gently drape the top crust over the pie. Tuck the edges of the top crust under the bottom crust. Seal the dough together using your crimp of choice. Place the pie inside the refrigerator.   

Bake the pie: Preheat the oven to 420F. Place the pie on a baking sheet lined with aluminum foil. Brush the top of the pie with egg white and sprinkle with Imperial Sugar Extra Fine Granulated Pure Cane Sugar. Cut slits on top of the crust to allow steam to escape during baking. 

Bake the pie for 35 to 40 minutes or until the crust is golden brown and the apples feel tender, not mushy, when pierced with a paring knife. 

Place your baked pie crust on a wire rack and let it cool completely, at least 3 hours, ideally overnight, before slicing.
Tips
These recipes were developed and tested using grams for precise measurements. To increase your chances of success, I recommend investing in a kitchen scale. I've included rough volume estimates (in tablespoons and cups), but they might not be totally accurate.
Remember all ovens are unique, these recipes were tested in my oven which runs cooler than others. You might need to lower the temperature if your bake appears to be browning too quickly. Monitor your bake closely and make adjustments if needed.
Notes
Enjoy: It may be hard to resist the aroma of freshly baked apple pie but letting your apple filling set is essential or your pie slices may fall apart. Let your pie cool for at least 3 hours, ideally overnight before serving.  Serve the pie with a dollop of whipped cream or a scoop of vanilla ice cream.  Store: Tent the cooled pie loosely with aluminum foil and store at room temperature for up to 3 days. Reheat pie slices in a 400F oven for 10 to 15 minutes or until it's warmed to your liking. 
Nutrition
Calories:
368
kcal
|
Carbohydrates:
49
g
|
Protein:
4
g
|
Fat:
19
g
|
Saturated Fat:
12
g
|
Polyunsaturated Fat:
1
g
|
Monounsaturated Fat:
5
g
|
Trans Fat:
1
g
|
Cholesterol:
49
mg
|
Sodium:
984
mg
|
Potassium:
169
mg
|
Fiber:
4
g
|
Sugar:
26
g
|
Vitamin A:
617
IU
|
Vitamin C:
5
mg
|
Calcium:
24
mg
|
Iron:
1
mg