Chewy cookies reminiscent of snickerdoodles with an added depth of flavor thanks to the addition of brown sugar and honey. Warm notes of ginger, nutmeg and cloves make these perfect for snowy cold weather, but the thought of sandwiching scoops of vanilla ice cream between two of these cookies will have you longing for summer.
These cookies were such a triumph! I created them for an Instagram photography challenge I participated in, where I had to recreate one of my favorite food moments from a movie or show. I chose Mrs. Bean's Apple Ginger Snaps from Fantastic Mr. Fox but the resulting cookie was so good, I knew I had to share it with all of you.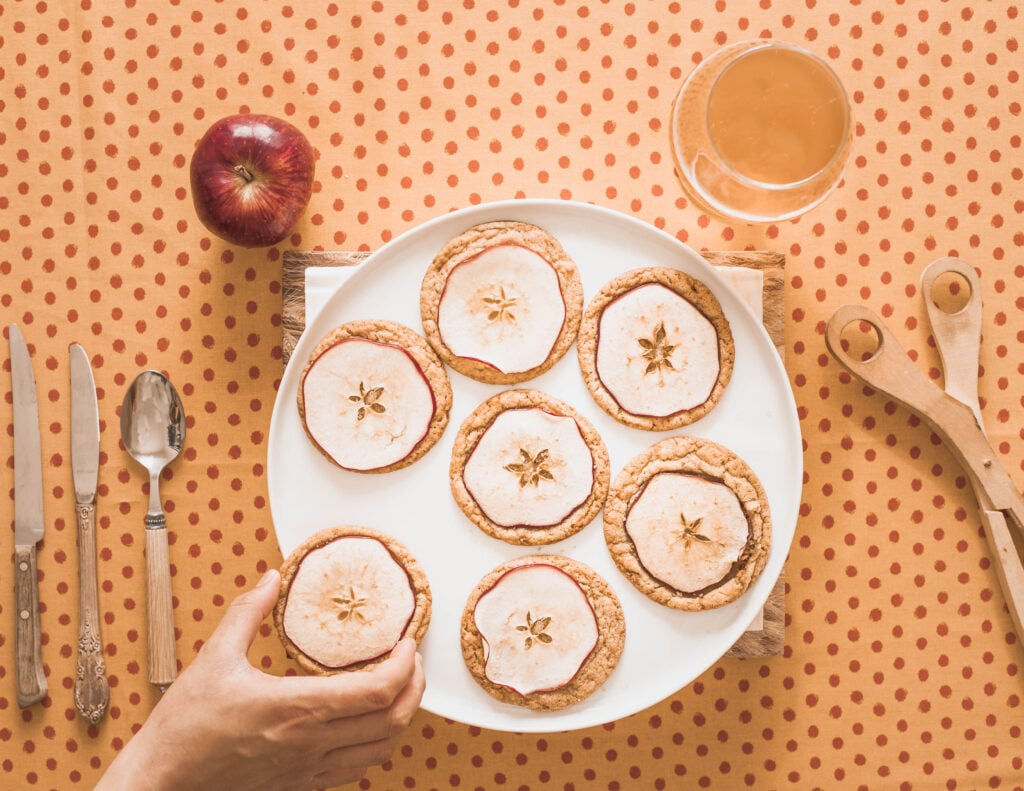 Cookie recipes are some of the most complicated to convert to sourdough because most cookies, especially chewy ones can't handle added moisture. So adding sourdough discard to cookie recipes is a delicate balancing act of taking away "water" in certain parts of a recipe without compromising the final bake. For this reason many of my attempts at sugar cookies and snickerdoodles always fell flat. That's why I was so excited when I finally produced a really good version of this cookie.
Tips for Success:
Do not over bake or your cookies will turn out crispy. They will look slightly wet when they come out of the oven, but don't let this worry you, as these will continue to bake due to the residual heat of your baking sheet.
Don't be tempted to bake these cookies straight away after mixing, skipping the chill period will result in super flat cookies.
These cookies will flatten out as they bake, but following the baking instructions in this recipe will ensure that you have cookies with crispy edges and a nice chewy center.
If you're doing multiple batches, make sure your baking sheet cools before using it again or the residual heat will melt the butter in the cookies and they will flatten out excessively.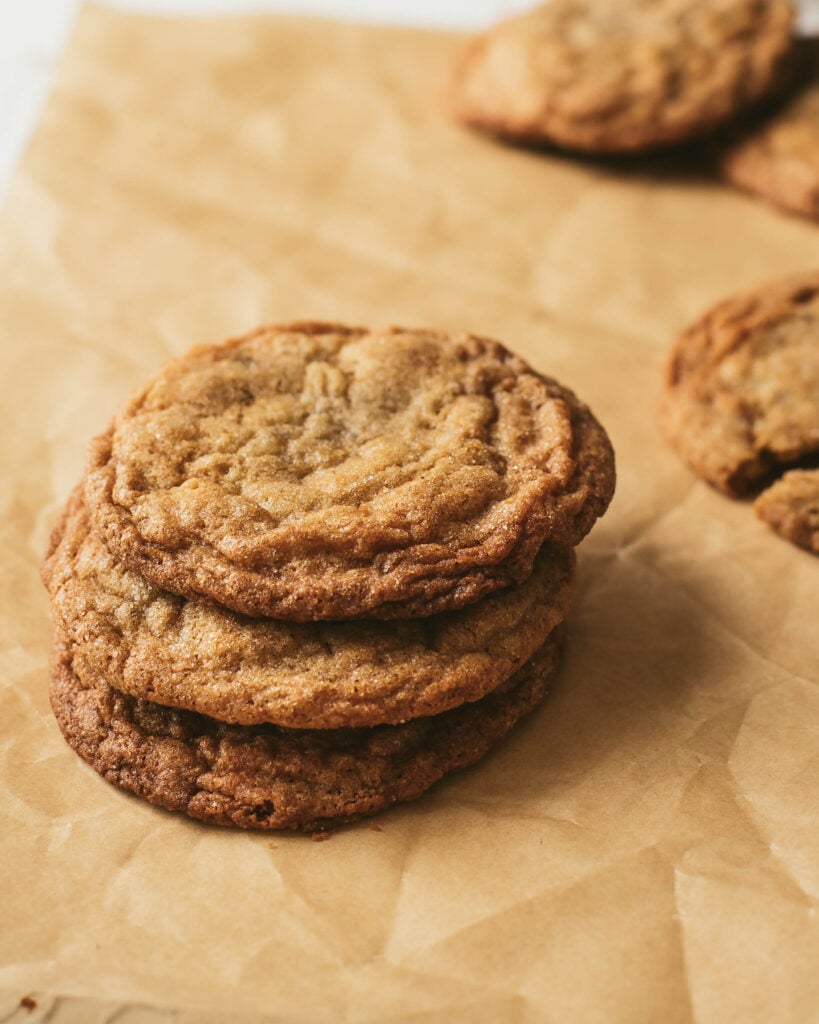 I used einkorn flour for this particular bake, but you can use a soft whole wheat flour or my personal favorite, spelt. You can also skip adding whole wheat entirely by using all all-purpose flour.
Now onto the bake!
Makes about 20 to 24 cookies
Ingredients
| | |
| --- | --- |
| Quantity | Ingredients |
| 220 grams | All-purpose flour |
| 40 grams | Einkorn flour |
| 7 grams (1 teaspoon) | Baking soda |
| 3 grams (1 teaspoon) | Ground cinnamon |
| ½ teaspoon | Ground cloves |
| ¼ teaspoon | Freshly grated nutmeg |
| 5 grams (1 teaspoon) | Grated fresh ginger |
| 3 grams (½ teaspoon) | Kosher salt |
| 169 grams | Unsalted butter (softened) |
| 200 grams | Granulated Sugar (plus more for rolling cookie dough balls) |
| 1 | Large egg |
| 50 grams | Sourdough discard |
| 30 grams | Brown sugar |
| 30 grams | Honey |
Instructions
Whisk together flour, spices and salt until well combined, set aside.
Using a hand mixer or your stand mixer, cream butter and granulated sugar and mix until it appears light and fluffy. Add egg until fully incorporated. Add in brown sugar, honey and sourdough discard and mix until well combined.
Stir flour mixture into wet ingredients until fully combined. Place your dough in the refrigerator for at least 30 minutes.
Meanwhile, preheat your oven to 375 F (190 C) and line your baking sheet with parchment paper.
After your dough has chilled, portion out 1 ½ teaspoon sized balls and roll each in granulated sugar. Place the cookie dough balls spaced two inches apart on your cookie sheets.
Bake cookies for 10 to 12 minutes or until the edges and bottom have browned but the top of the cookies appear dry but slightly soft.
Remove your baking sheet from the oven and allow your cookies to cool on the baking sheet for 10 minutes. Place cookies on a wire rack to cool completely.