These Mini Sourdough Discard Fruit Galettes are the perfect bake for a dinner party or get-together. Flaky sourdough crust filled with your fruit of choice, these delicious free-form pies are individually portioned and can be personalized any way you want.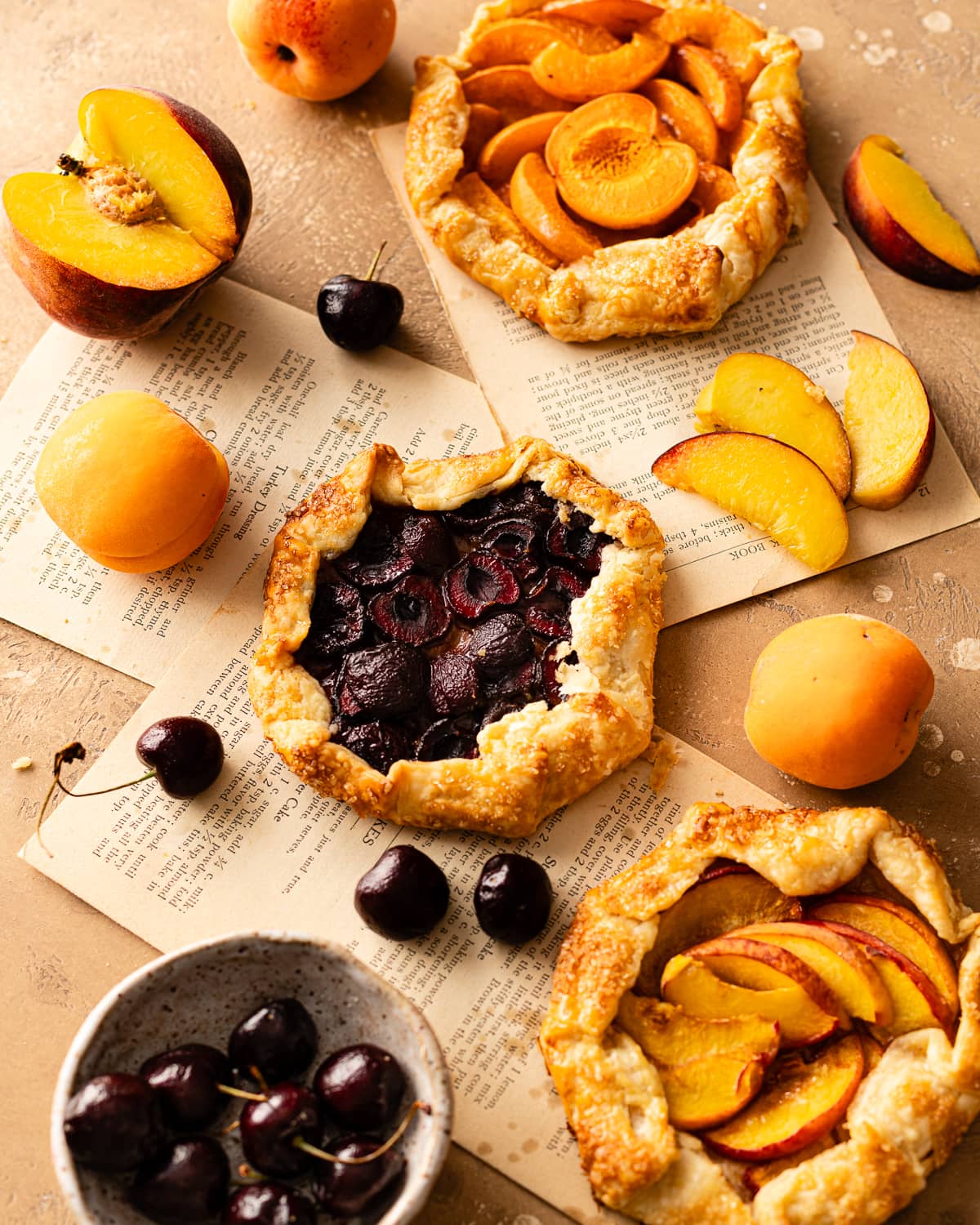 It's easy to fall in love with galettes. There's something very elegant and eye-catching about their rustic appearance. I love making these mini galettes because they are easier to put together than pies or hand pies. They may be simple, but they are just as satisfying. Serve these at your next get-together and you'll be everyone's favorite host!
Jump to:
What is a galette?
A galette is a type of pastry that originated in France. It's a free-form pie comprised of a filling, which can be sweet or savory, and a buttery crust. The crust is usually made of a pâte brisée or flaky pie dough.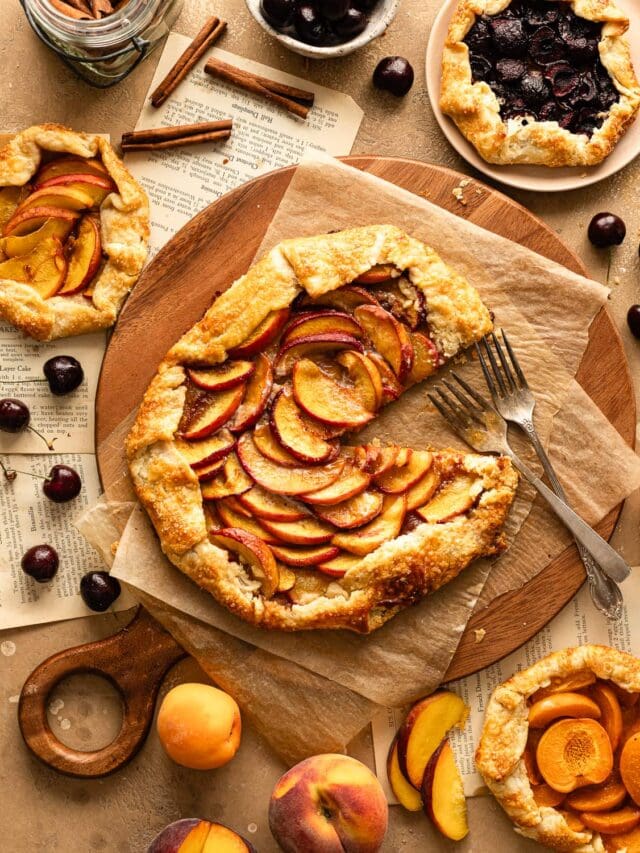 Want to make a large galette instead? Check out my Sourdough Discard Peach Galette Recipe.
Baking with sourdough discard
When incorporated into buttery pastry, sourdough discard adds a slightly tangy and cheesy flavor. Since you're not using it as a leavener, you can use your discard straight from the refrigerator. There's no need to feed it or activate it before mixing it into your dough. Older discard will have a tangier, more acidic flavor than a freshly-fed sourdough starter. Both will work for this recipe, you'll just get a slightly different flavor profile but your bake will still be delicious!
Need more ideas for using your excess sourdough starter? Check out my favorite Sourdough Discard Recipes!
Baking with seasonal fruits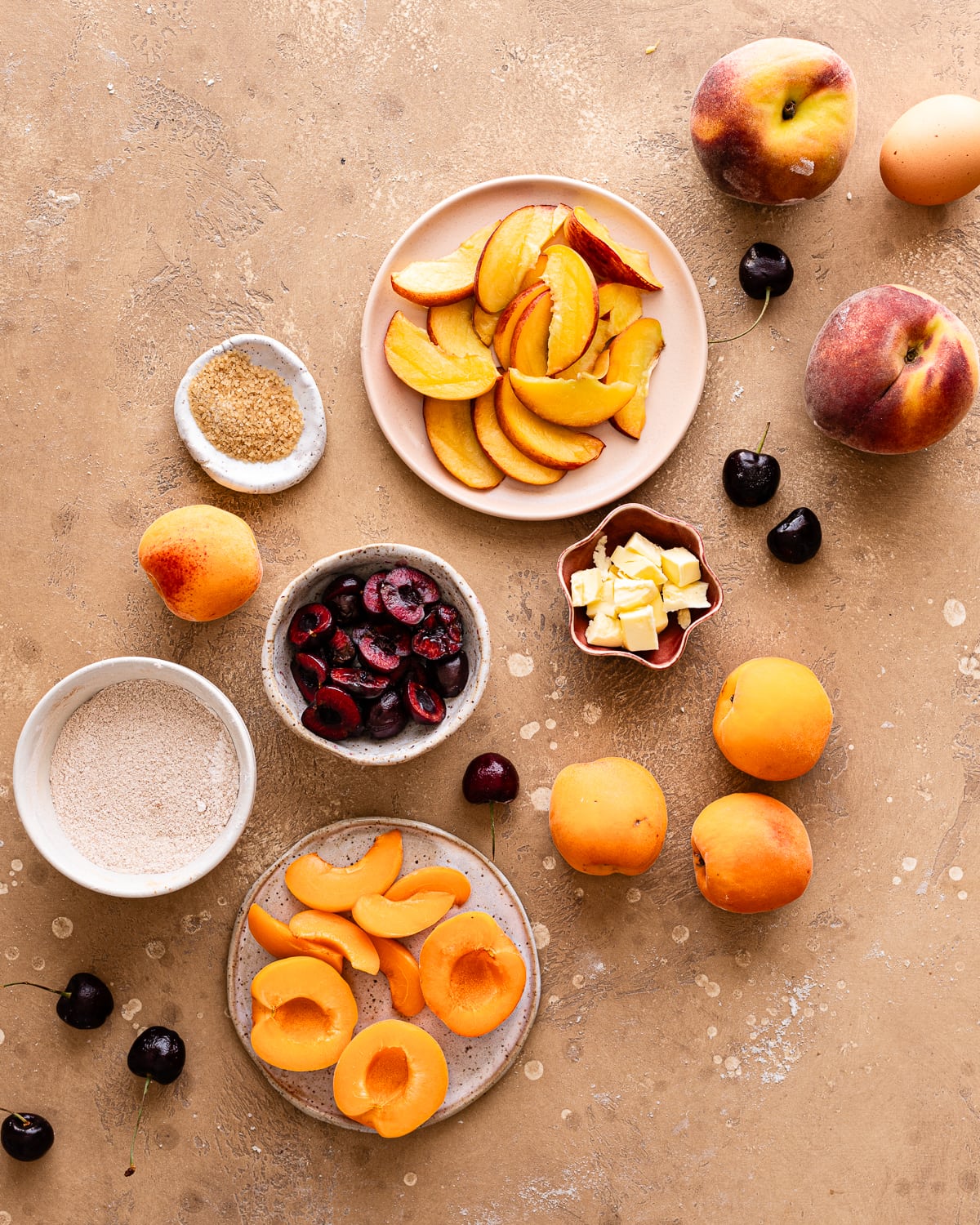 Galettes are endlessly adaptable. Here in the United States, we can buy any type of fruit at the grocery store year-round, however just because they are available doesn't mean they are good. I recommend using seasonal fruits because they are usually sweeter and more flavorful. This results in more delicious galettes! Since fruits come in different shapes and sizes, you may need to adjust the amount of the filling for the recipe.
Let seasonality guide your bake, here are some fruits you can use at different times of the year:
Spring: mangoes, rhubarb, apricots, strawberries
Summer: peaches, plums, cherries, blueberries, blackberries, raspberries
Fall: figs, apples, beets, grapes, pears, cranberries
Winter: pears, apples, persimmons
What you need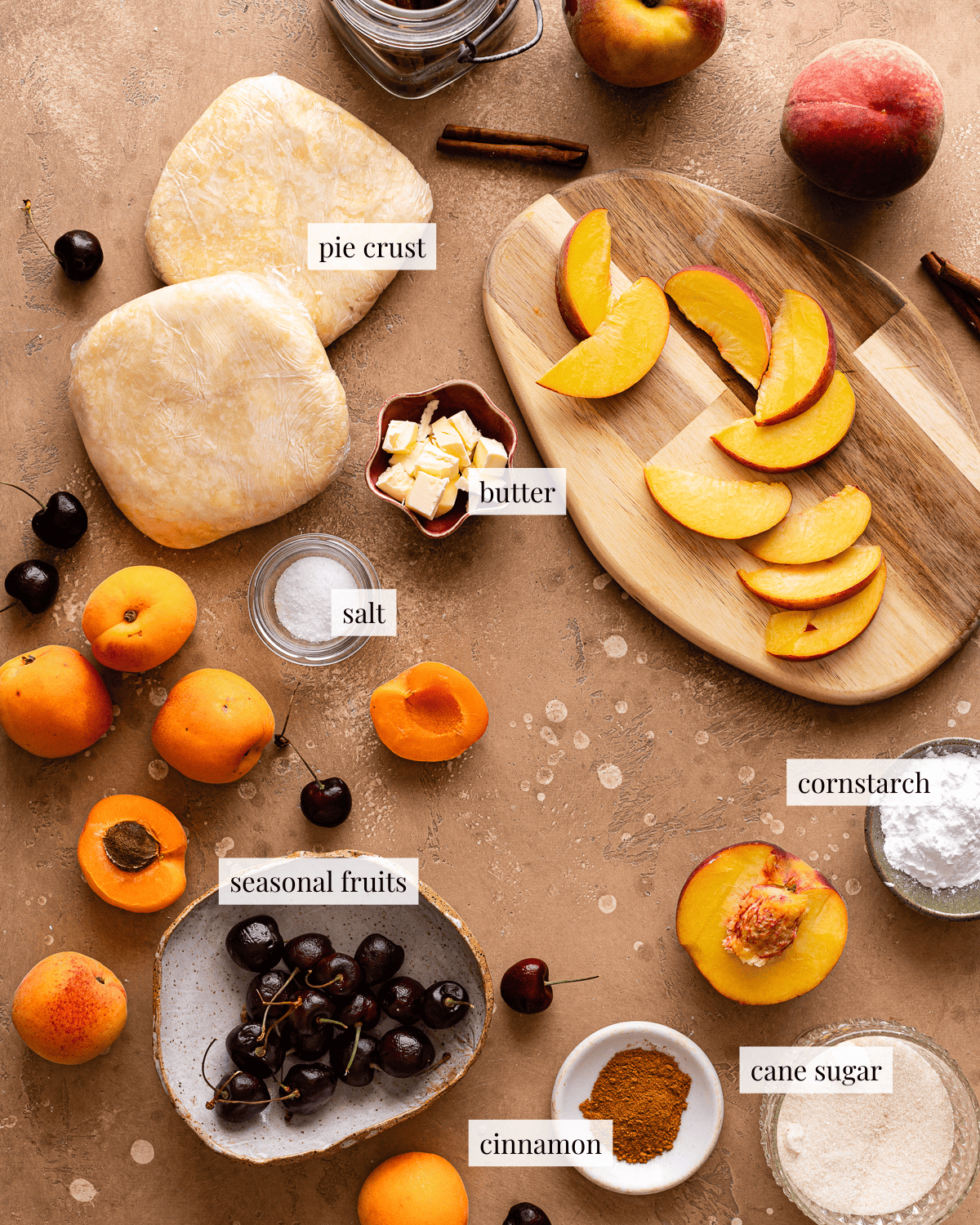 Water: For the best results, use ice-cold or very cold water for this recipe. If your dough feels too dry, don't be tempted to add too much water because it may cause your crust to become too dry and rubbery.
Sourdough discard: If you don't have any discard, add 14 grams of water and 14 grams of flour to the recipe.
All-purpose flour: Low protein flour imparts a tender texture to this crust. Don't substitute another type of flour.
Salt: Use kosher salt or sea salt for the best results. Different types of salt may have different grain sizes, volume measurements may be different depending on the brand you use (gram measures will be the same). This recipe was developed using Diamond Crystal Kosher Salt.
Unsalted butter: Use cold butter for this recipe.
Fruits: Use fresh, in-season fruits for the best results! Fill each galette with different types of fruits or use them in combination.
Cane sugar: I prefer organic cane sugar because it's produced using sustainable practices. Substitute brown or white sugar if you don't have any on hand.
Cornstarch: Thickens the batter, substitute flour or another type of starch such as tapioca or potato.
Egg: You'll need 1 egg for this recipe to help the crust brown, you can substitute milk or heavy cream but your crust may not get as dark or shiny.
Coarse sugar: Also known as raw sugar or turbinado sugar, this adds a delicious textural contrast to the crust. You can totally skip this ingredient if you don't have any on hand.
How to make homemade pie crust
Dissolve the sourdough discard completely in the water
Whisk the all-purpose flour and salt together
Work the butter into the flour using a pastry blender or your fingertips
Make a hole in the center of the flour mixture
Pour the discard mixture in the center
Stir to combine
Turn it out on a piece of plastic wrap
Use the plastic wrap to bring the dough together and lightly knead
Wrap the dough in plastic and flatten it out into a disc
Refrigerate the dough for at least 2 hours before using
Want detailed step-by-step information on how to create pie crust? Check out my recipe for Sourdough Pie Crust.
Step-by-step instructions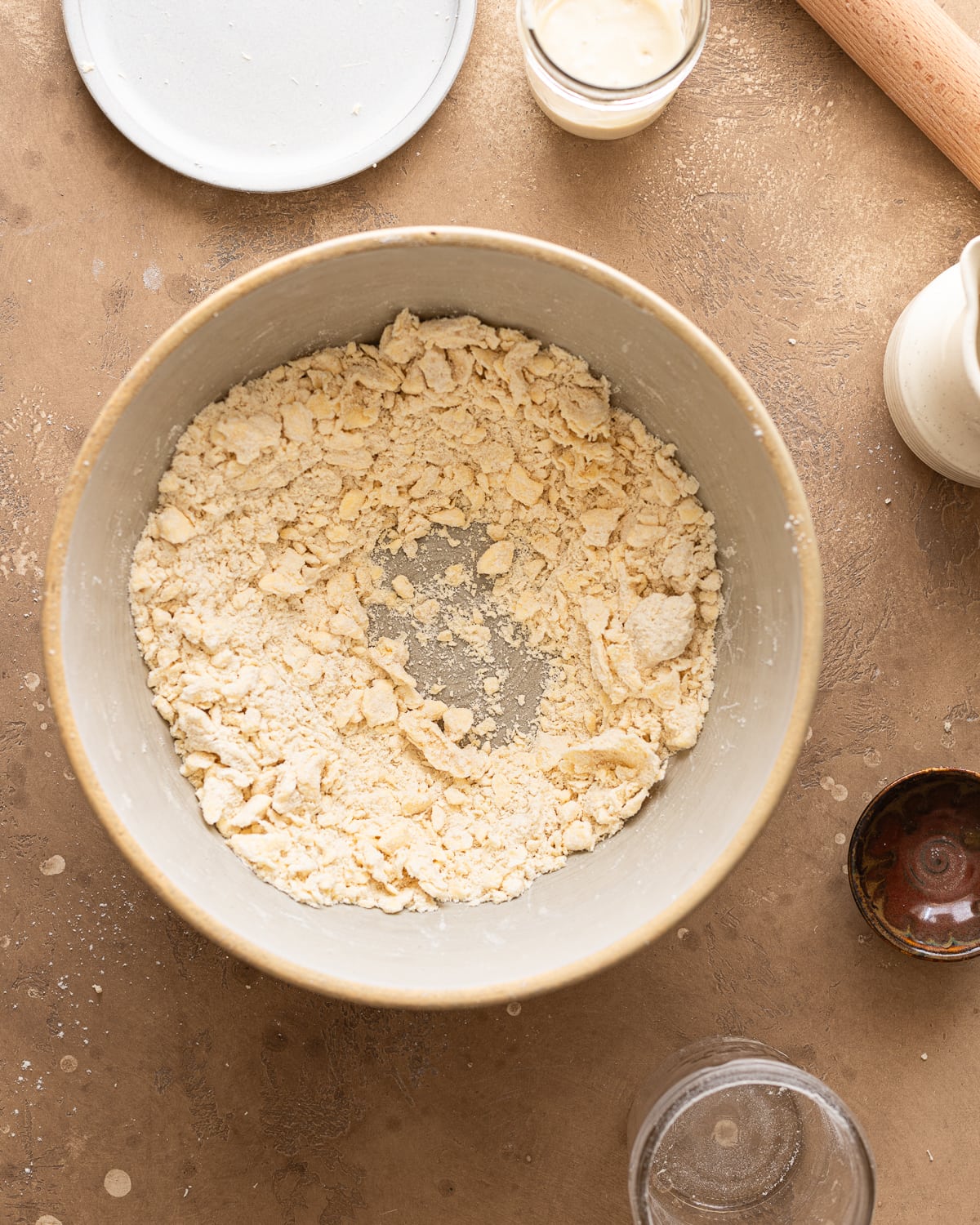 1. Make the crust and chill dough
2. Divide the dough into 4 portions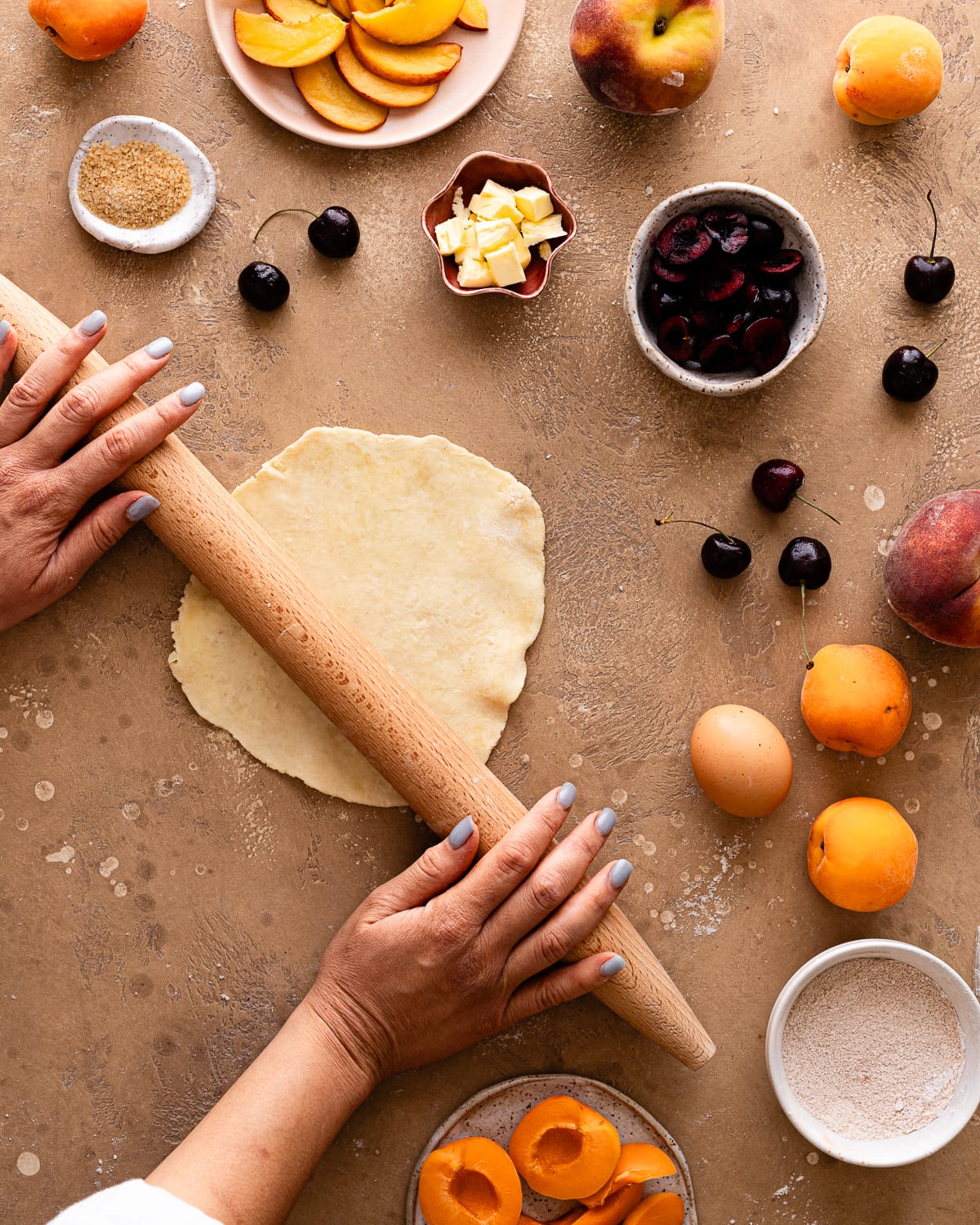 3. Round each portion into a circle and roll out using a rolling pin
4. Add cinnamon sugar in the center of the dough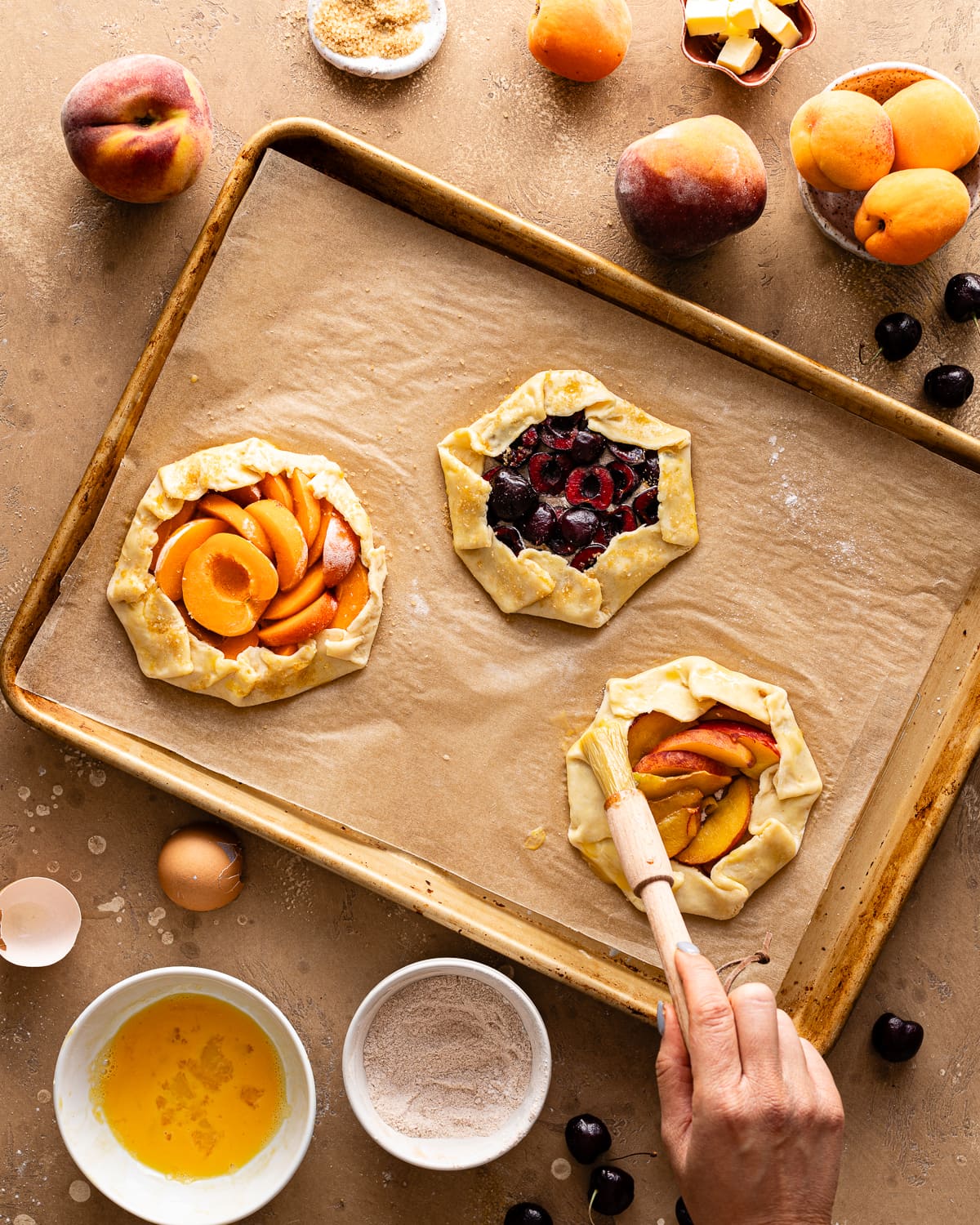 5. Assemble and finish the galettes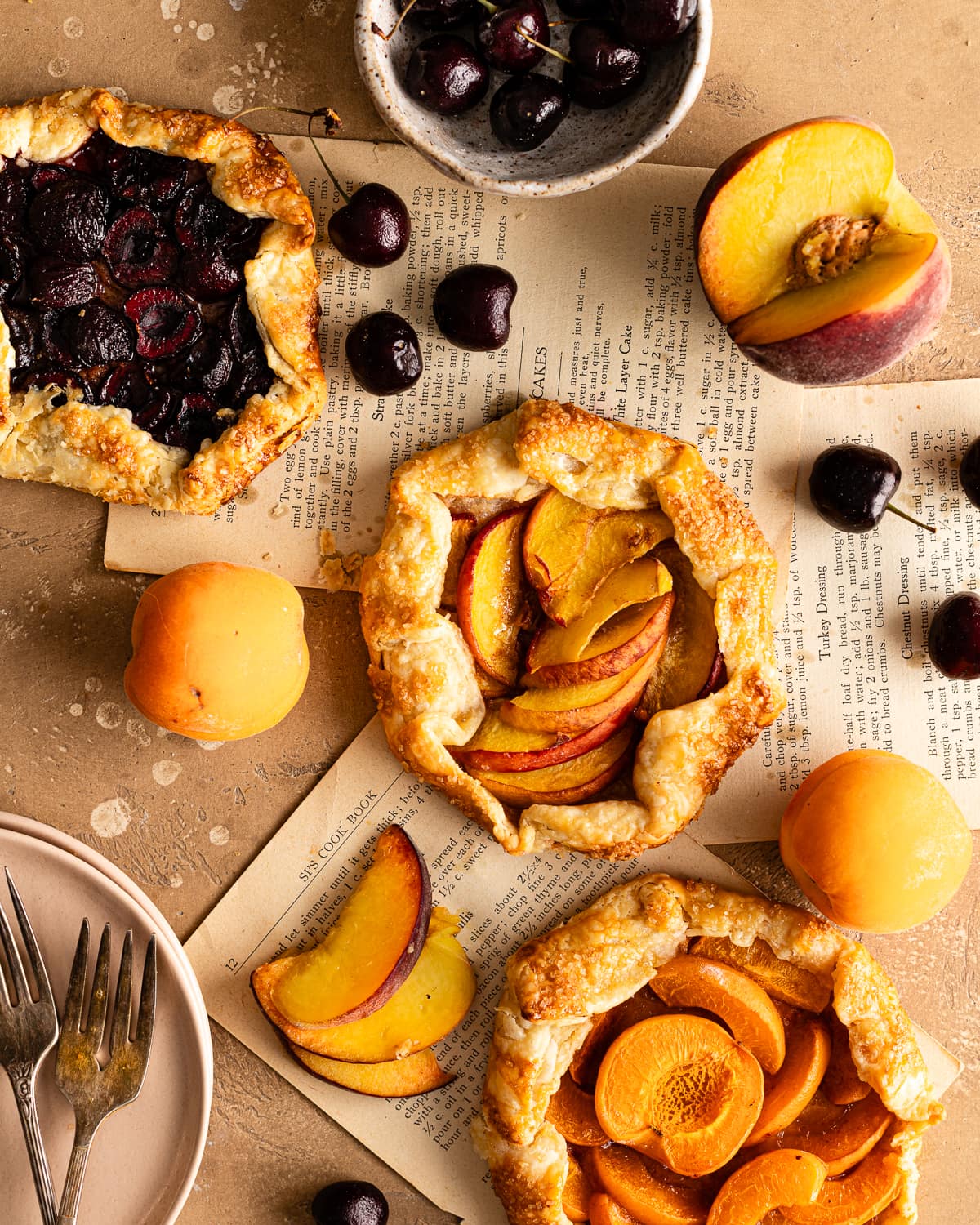 6. Bake at 400 F for 35 to 40 mins
Love mini pies? You'll love my recipes for Sourdough Blueberry Turnovers, Sourdough Fruit Tarts and Sourdough Empanadas.
Recipe FAQs
Can I make this without sourdough discard?
Yes! If you don't have any excess sourdough starter, add 14 grams of water and 14 grams of flour to the recipe. 
Why is my pie dough so crumbly?
Your pie dough may be too dry. Add a few drops of water to the dough, not too much or your dough may become rubbery, and knead the dough a few times until it comes together.

You can also skip the water and laminate your dough, this make your dough much stronger and will result in an extra flaky pie crust. For more on lamination check out my post on how to make Extra Flaky Sourdough Pie Crust. 

My dough feels greasy! What do I do?
If your dough starts to feel greasy, your butter may be too warm. Stop working, wrap your dough up, and refrigerate it for 30 minutes before continuing. 
Is galette dough the same as pie dough?
Yes! Galette dough is made with the same ingredients in the exact same way as pie dough. 
Why is my galette soggy?
Soggy galettes are usually a result of pie crust issues, as the dough doesn't bake properly and can't absorb the excess moisture in your filling. 
You may also like
---
Did you make this recipe?
⭐⭐⭐⭐⭐
Please leave a star rating and review this recipe if you enjoyed it! I read all the comments and love hearing your feedback.
THANK YOU!
---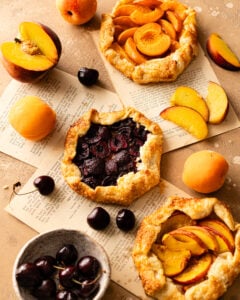 Sourdough Discard Mini Fruit Galettes Recipe
Flaky sourdough crust filled with seasonal fruits, these free-form pies are individually portioned and can be personalized with your favorite fruits.
Ingredients
Pie Dough
28

grams

ice water

28

grams

sourdough discard

120

grams

all-purpose flour

2

grams

salt

113

grams

unsalted butter

cold and cut into ½-inch cubes
Filling
50

grams

organic cane sugar

15

grams

cornstarch

½

teaspoon

ground cinnamon

optional

4

grams

salt

225

grams

fruits

sliced

28

grams

unsalted butter

cut into ½-inch cubes
Topping
1

egg

30

grams

turbinado sugar
Instructions
Make the crust: Dissolve the sourdough discard in the water. Set aside.

28 grams ice water,

28 grams sourdough discard

Whisk the all-purpose flour and salt together. Toss the butter pieces into the flour mixture and work the butter in using your fingertips or a pastry blender until all of the flour is coated in fat.

120 grams all-purpose flour,

2 grams salt,

113 grams unsalted butter

Make a well in the center and pour the starter mixture in. Mix with a spatula or wooden spoon until the dough comes together. Lightly knead the dough until a shaggy dough forms, don't overwork the dough, it's ok if there are a few dry bits remain.

Turn the dough on a large piece of plastic wrap. Gather the dough together using the edges of the plastic wrap, this prevents your dough from heating up and the butter from melting.

Flatten the dough into a disc and wrap it tightly in plastic. Refrigerate the dough for 2 hours, or up to 1 week.

Roll out the dough: Take the dough out of the fridge and rest at room temperature for 10 minutes. Letting the dough warm up will make it much easier to roll out and less likely to break.

Divide the dough into 4 portions. Work with one portion of dough at a time and wrap the rest to prevent them from drying out.

Round the dough into a small circle. Using a rolling pin, roll the dough out into a thin disc, about 6 inches in diameter. Place the rolled-out dough on a baking sheet lined with parchment paper.

Repeat with the remaining portions of dough.

Refrigerate the baking sheet with the rolled-out dough while the oven preheats.

Prep: Preheat the oven to 400 F.

Whisk together the sugar, cornstarch, cinnamon, and salt. Set aside.

50 grams organic cane sugar,

15 grams cornstarch,

½ teaspoon ground cinnamon,

4 grams salt

Beat the egg for the egg wash and set aside.

Assemble the galettes: Place 1 tablespoon (about 12 grams) of cinnamon sugar mixture in the center of each crust.

Add the prepared fruit in the center with a 1-inch margin. Fold the dough over the fruit. Add butter on top of the filling.

225 grams fruits,

28 grams unsalted butter

Brush the edges of the dough with egg wash, sprinkle coarse sugar on the crust.

Bake: Bake the galette for 20 to 25 minutes or until the crust is golden brown. Allow the galettes to cool for at least 10 minutes before serving.

Enjoy: Serve each galette with a dollop of fresh whipped cream or a scoop of vanilla ice cream.

Store: These galettes are best enjoyed the day they are baked, but will keep well in an airtight container in the refrigerator for up to 3 days,
Notes
when in doubt, use weight (gram) over volume (cups and tablespoons) measures. 
Nutrition
Calories:
503
kcal
|
Carbohydrates:
56
g
|
Protein:
5
g
|
Fat:
30
g
|
Saturated Fat:
19
g
|
Polyunsaturated Fat:
1
g
|
Monounsaturated Fat:
8
g
|
Trans Fat:
1
g
|
Cholesterol:
117
mg
|
Sodium:
605
mg
|
Potassium:
113
mg
|
Fiber:
2
g
|
Sugar:
26
g
|
Vitamin A:
1111
IU
|
Vitamin C:
1
mg
|
Calcium:
26
mg
|
Iron:
2
mg
Did you make this recipe?
I'd love to know! Leave a star rating and comment below. Don't forget to pin this recipe on Pinterest and share a photo and tag @makeitdough on Instagram