Beef Empanadas are a classic savory pastry from the Philippines filled with meat and vegetables encased in a crisp buttery crust. My take on is stuffed with an easy savory and sweet filling in a sourdough crust that's impossible to mess up.
Sponsored by Watkins 1868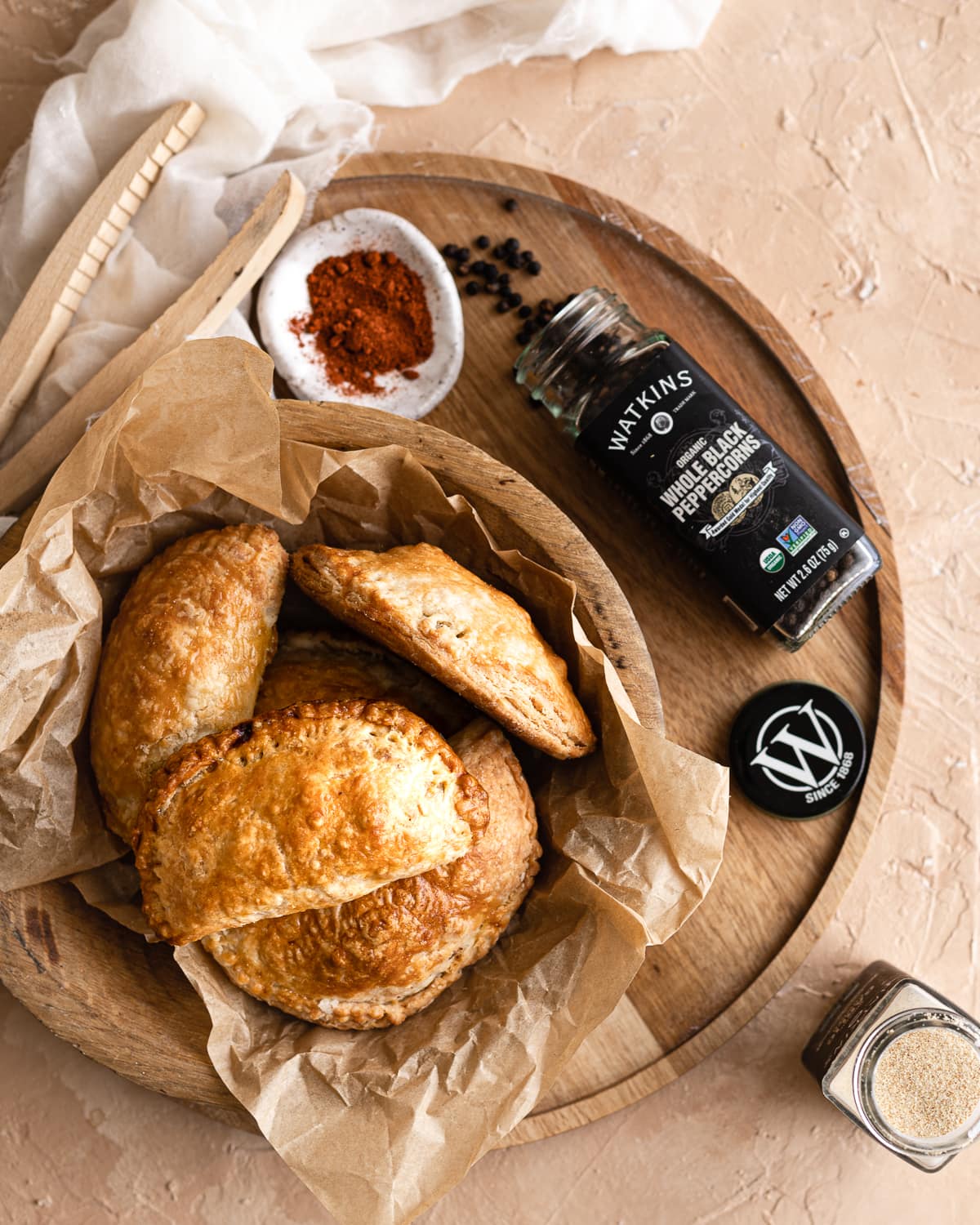 I can trace my love of food and cooking directly to my Filipino upbringing. Women in my family love to cook. Get-togethers were centered around food, and whether it was our weeknight dinners or huge family reunions, food was always lovingly prepared. My mom is an incredible cook, but she didn't bake very often which made the times when she did extra special.
Beef Empanadas were one of the few pastries that my mom would bake for us as kids. Although we had easy access to excellent pastries at our neighborhood bakeries in the Philippines, nothing beat my mom's freshly baked homemade empanadas. Now that I live hundreds of miles away from her, I've learned how to remake my favorite savory pastry whenever I want a taste of home.
Jump to:
What is an Empanada?
Empanadas are baked or fried hand pies made of a flaky crust and filled with meat and vegetables. They are eaten all over Latin America with each country putting its own spin on its local version. Empanadas were introduced to all these countries during Spanish Colonization. So even though the Philippines is more than 10,000 miles away from South America, it became a culinary staple in our culture as well.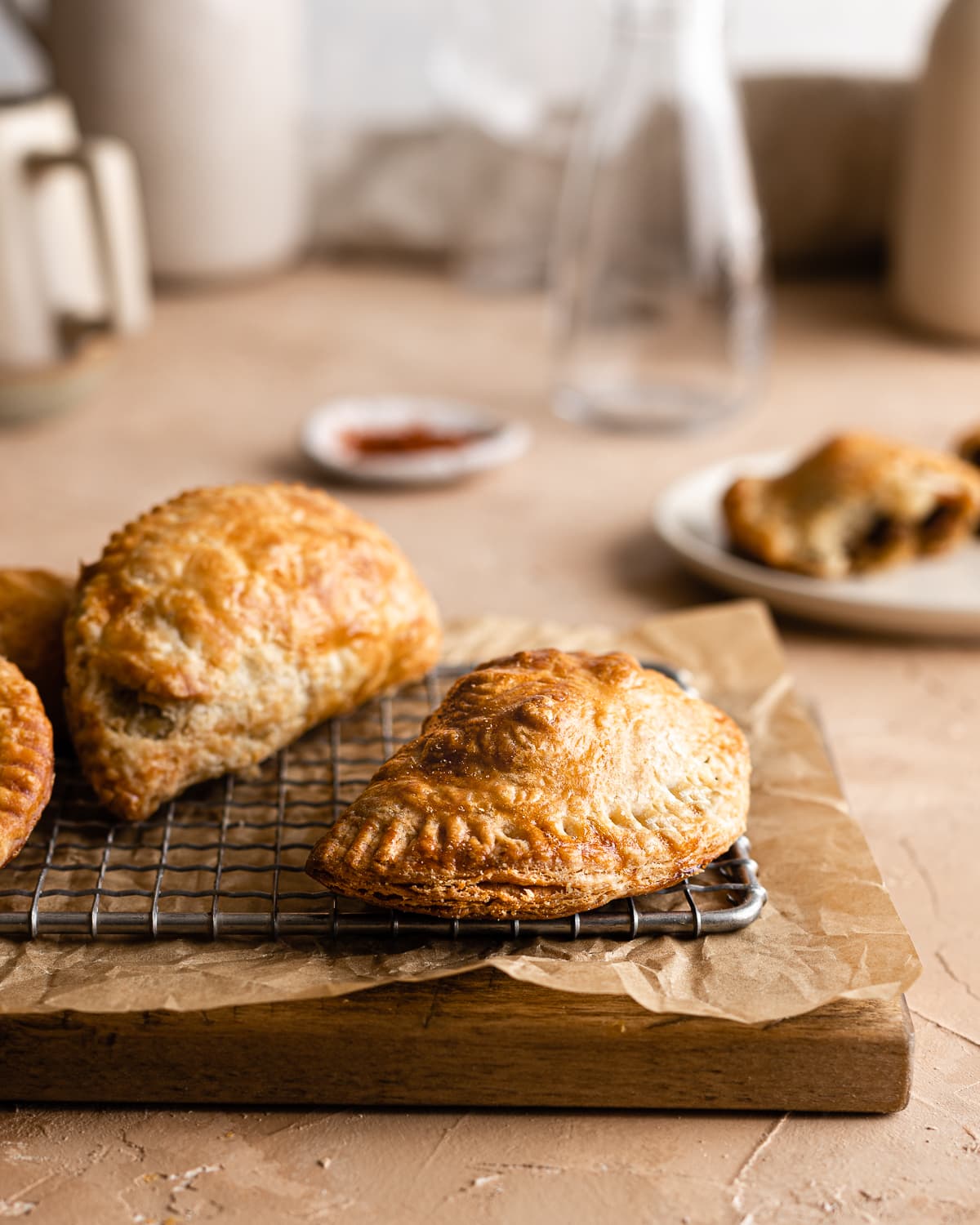 Filipino Empanadas are usually filled with beef or chicken and a combination of vegetables, usually potatoes, carrots, peas, and raisins. This mix of sweet and salty is a touchstone of Filipino food.
Baking with sourdough discard
When incorporated into buttery pastry, sourdough discard imparts a delicately tangy, almost cheesy flavor that tastes great with savory fillings. Since you won't use it to make bread rise, you can use unfed sourdough or sourdough discard straight from the refrigerator. Active sourdough starter will have a milder flavor than discard that's been kept in the fridge for weeks, both will work but you'll get slightly different results.
No sourdough discard? Add 56 grams of flour and 56 grams of water to your dough.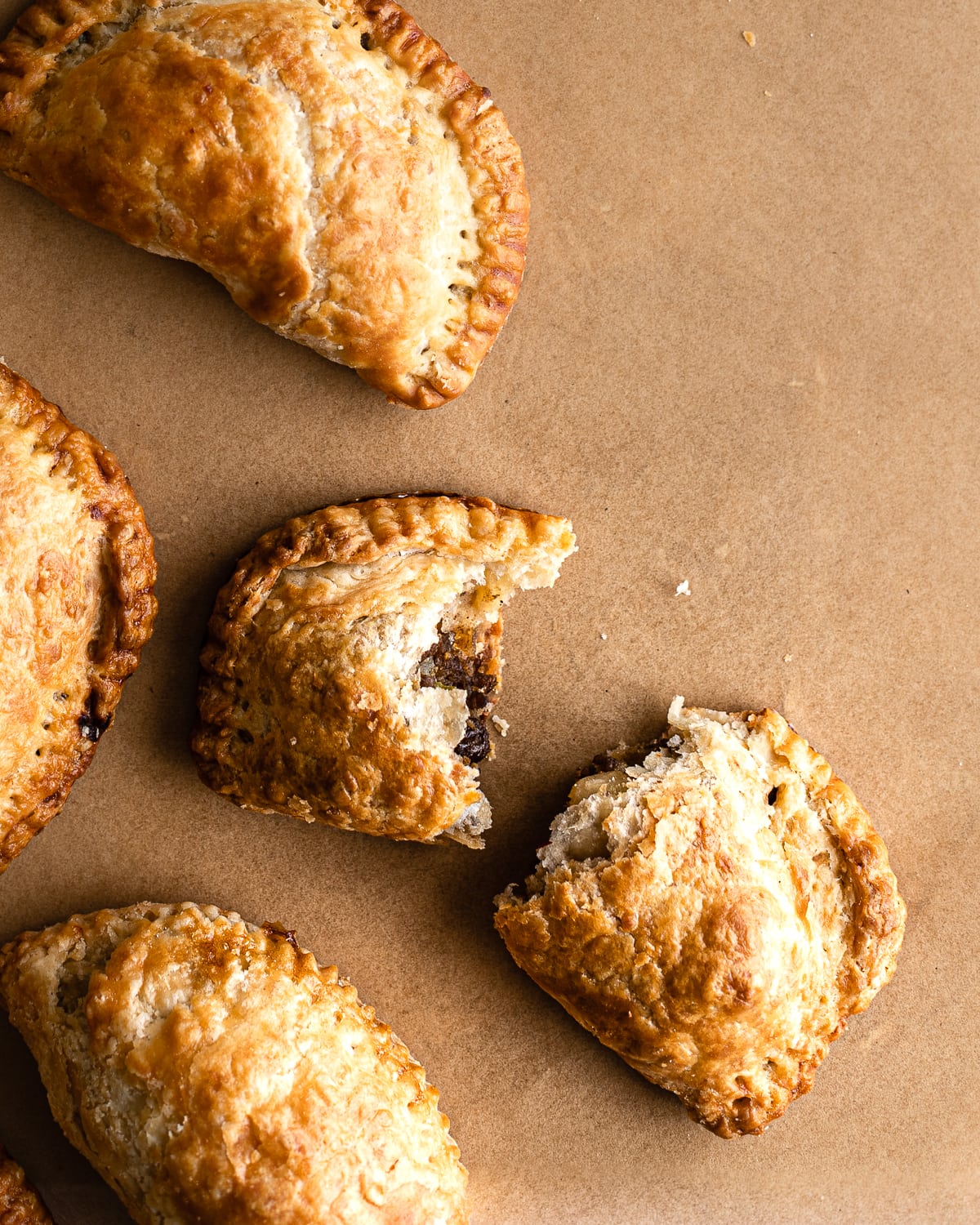 What You Need
Empanadas have two main components, a light, flaky crust, and a flavorful filling. When I was younger, I really hated vegetables, encasing them in a yummy buttery crust was my mom's way of sneaking them into my diet. To appease my picky palate, my mom would always use dried spices for flavor whenever she made these and I've followed her lead to this day.
I've partnered with Watkins 1868 to recreate this childhood favorite because I know they will deliver the most flavor to my filling. Their products are packaged for optimal freshness and are available through many retailers nationwide and at Watkins1868.com, so your filling will taste exactly like mine.
Sourdough Discard Crust
Sourdough Discard: Add 56 grams of flour and 56 grams of water to your dough if you don't have any sourdough discard.
Water: Don't be tempted to add too much water to this recipe, as a wet crust may become tough and rubbery.
Egg: Adds richness and makes the crust sturdier. If you're going egg-free, just add 50 grams of water to your dough.
All-purpose flour: Use low-protein, soft flour for a light and flaky crust, don't substitute another type of flour or your empanadas may end up dense and rubbery.
Baking Powder: A unique feature of empanada crust, it imparts lightness and tenderness to the crust.
Butter: Start with cold butter for the best results.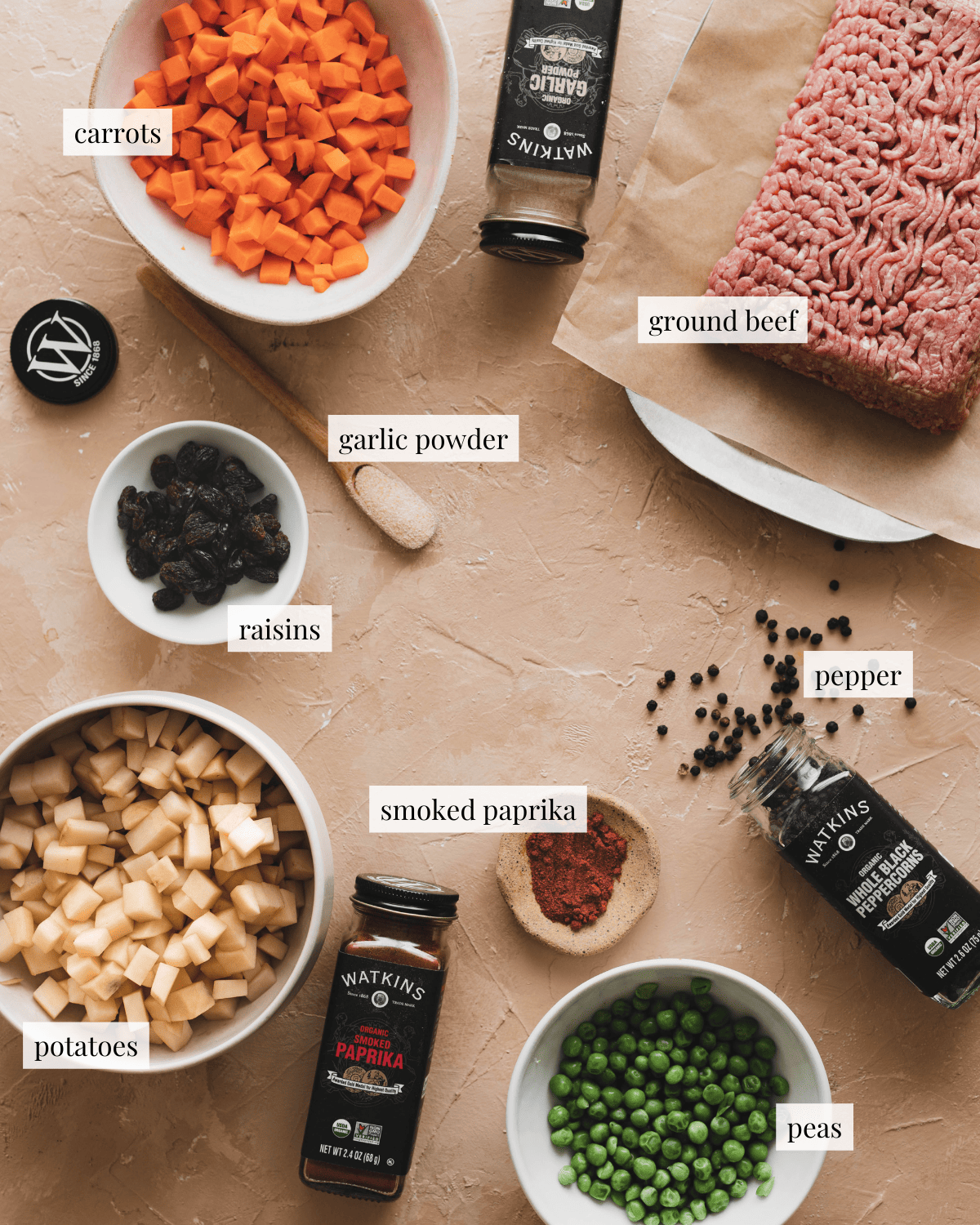 Filling
Yukon Gold Potato: Waxy potatoes are ideal for this recipe since they can hold their shape better, substitute red or purple potatoes.
Ground Beef (80/20): A good balance of fat and lean meat makes this filling rich and tender without making your empanadas too soggy.
Carrots: A classic empanada ingredient, substitute parsnip, sweet potatoes or butternut squash, if that's what you have.
Raisins: Possibly the most controversial ingredient in this recipe, raisins really round out the flavor of this filling, giving it a great balance of sweet and salty.
Peas: I used frozen peas for this recipe, use fresh if you prefer.
Watkins Organic Smoked Paprika: Non-traditional but highly recommended, adds smokiness and depth to the filling.
Watkins Organic Garlic Powder: The base for many Filipino recipes.
Watkins Organic Whole Black Peppercorns: Imparts a touch of heat that rounds out the flavor of the filling. For the best results, use freshly-ground whole peppercorns.
Salt: Use Kosher salt or sea salt for the best results.
Making Fool-proof Flaky Crust
Pie crusts is truly a science, they need the perfect ratio of fat, flour, and moisture and they require a very light touch, or else they turn out dry and rubbery. As a bread maker, I tend to overwork my dough which can be disastrous for delicate pastries like this Beef Empanada.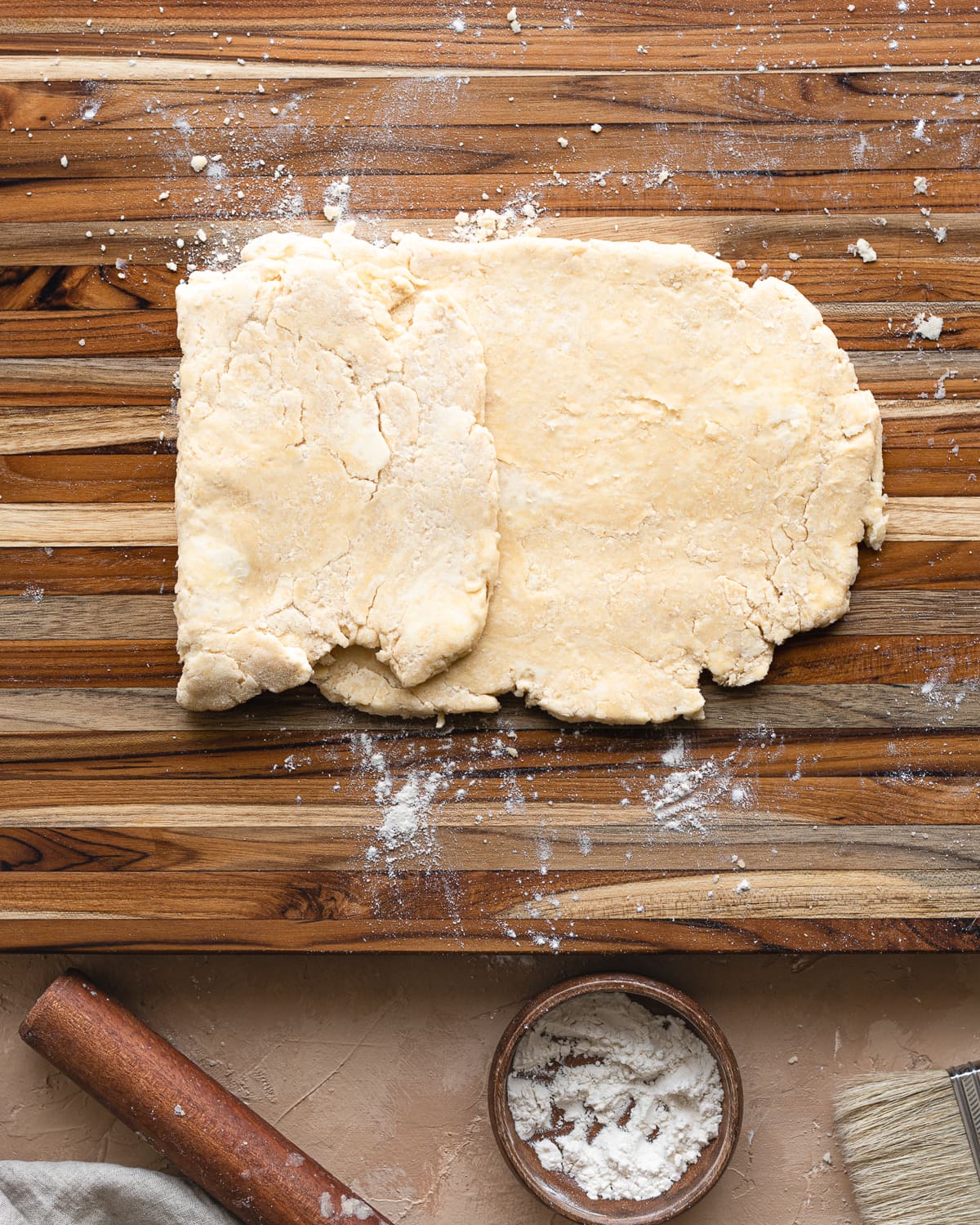 I struggled with producing perfect pie crusts until I discovered the secret to full-proof pastry: folding. Folding (laminating in pastry terms) creates layers of butter in your dough. It's the similar to the technique used for puff pastry and croissants, but a little less complicated. By taking this extra step, you'll end up with a pie crust that's guaranteed to be tender and flaky.
How to Shape Empanadas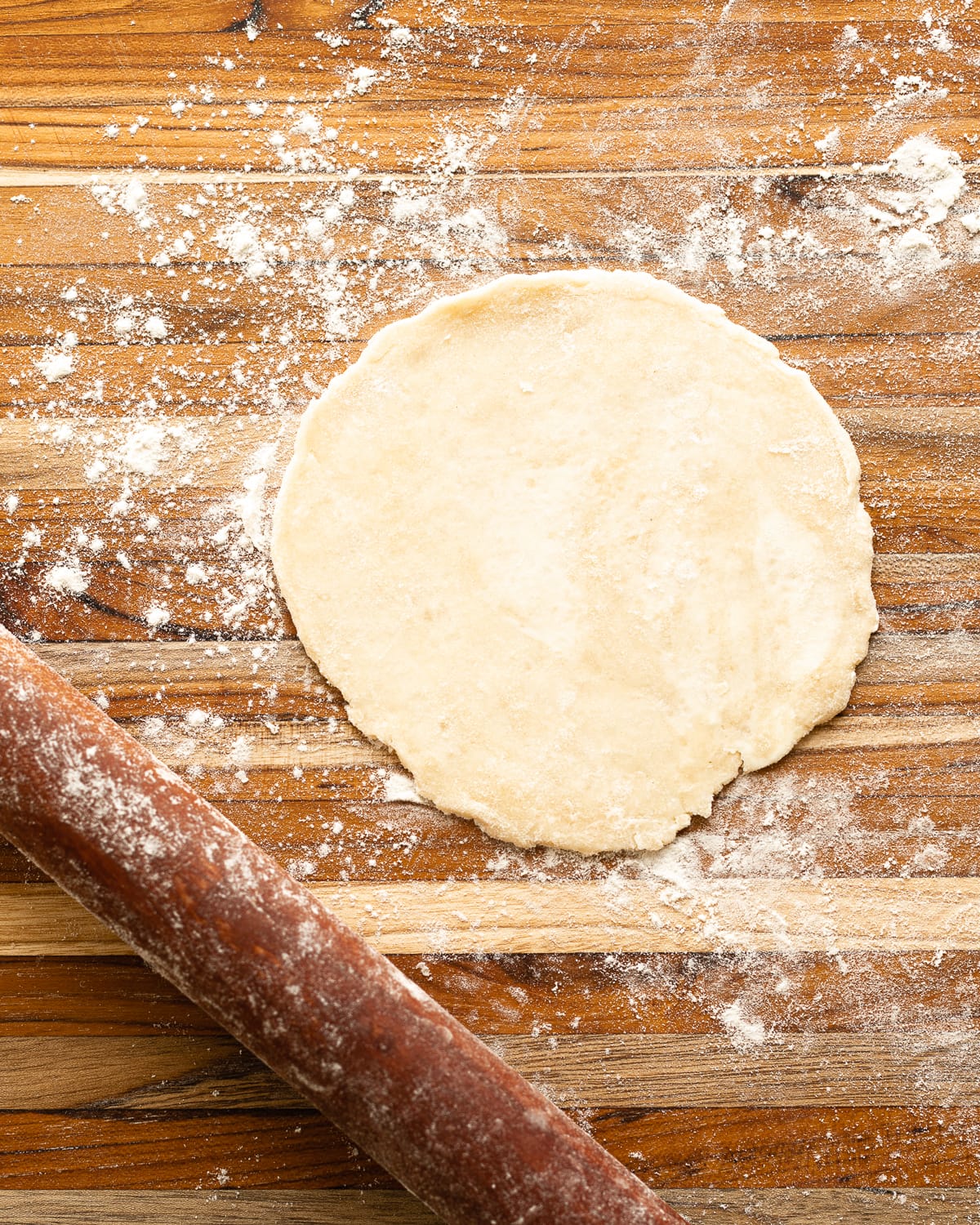 1. Roll out each portion of dough into a 6-inch disc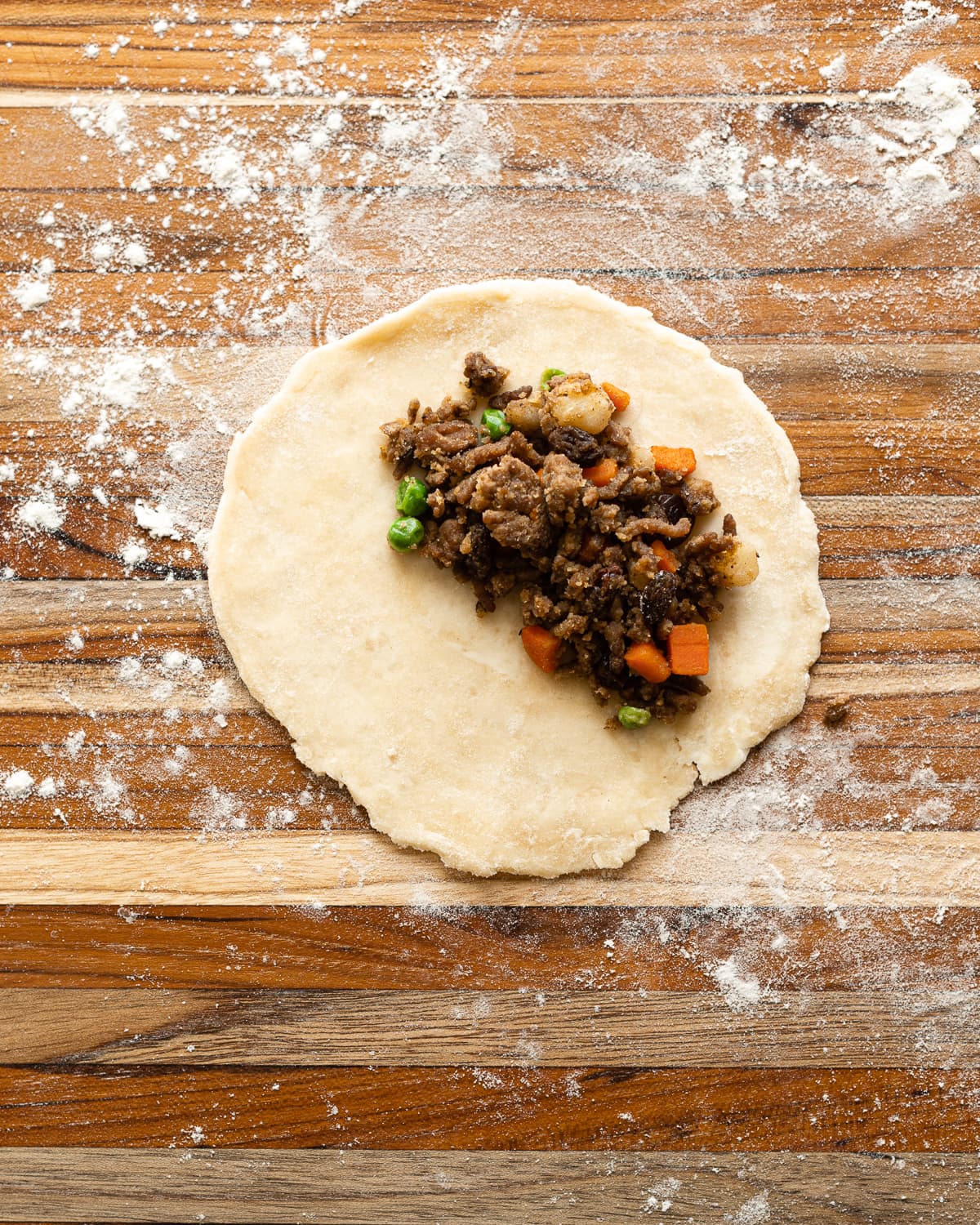 2. Fill half of the dough, leaving about a ½ inch margin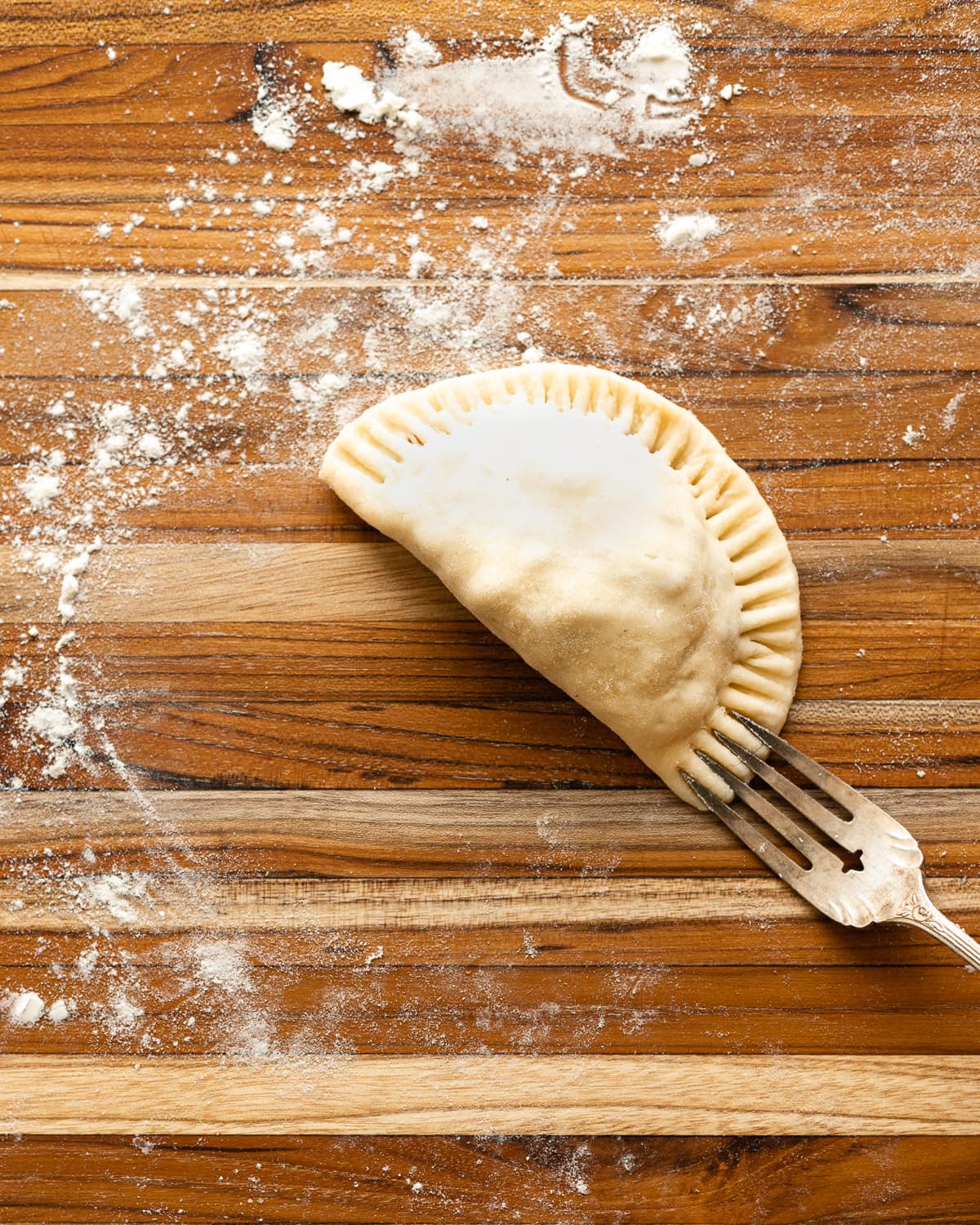 3. Fold the dough over the filling and use a fork to seal the edges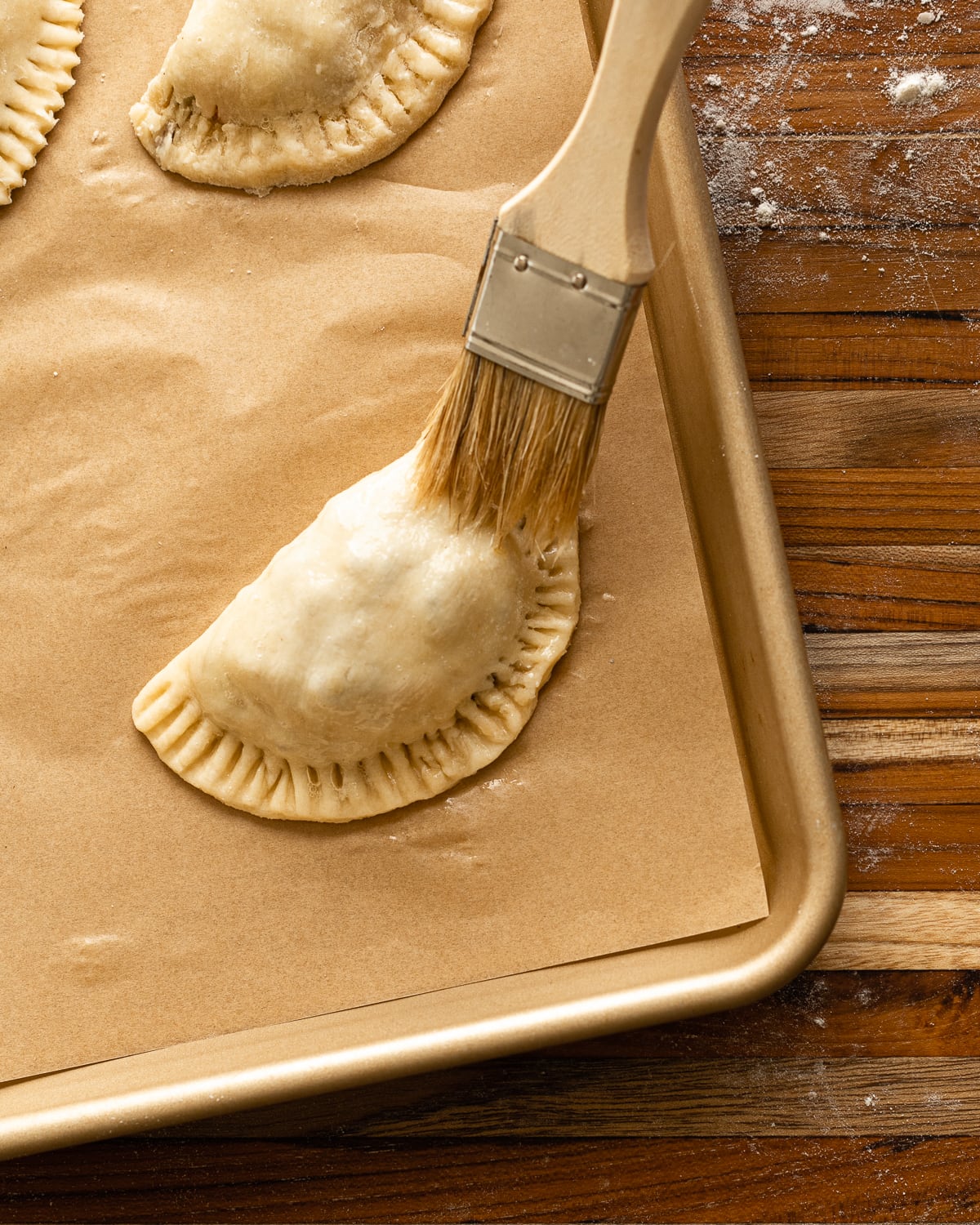 4. Brush the tops of the empanadas with an egg wash before baking
Recipe FAQs
Can I use this recipe to create sweet empanadas?
Absolutely! This crust would work perfectly for any empanada or hand pie recipe, just substitute your favorite sweet filling recipe.
I don't have any sourdough discard, can I still make this recipe?
Yes, just add 56 grams of flour and 56 grams of water to your dough. 
I don't eat beef, what can I use instead?
Yes, substitute ground chicken, turkey, mushroom, or tofu for ground beef.
---
More Filipino Recipes
---
Did this recipe rise to the occasion?
⭐⭐⭐⭐⭐
We knead your feedback! Did our recipe impress your taste buds? Leave a star rating and write a review to help us create even better recipes.
I read all the comments and love hearing your feedback.
THANK YOU!
---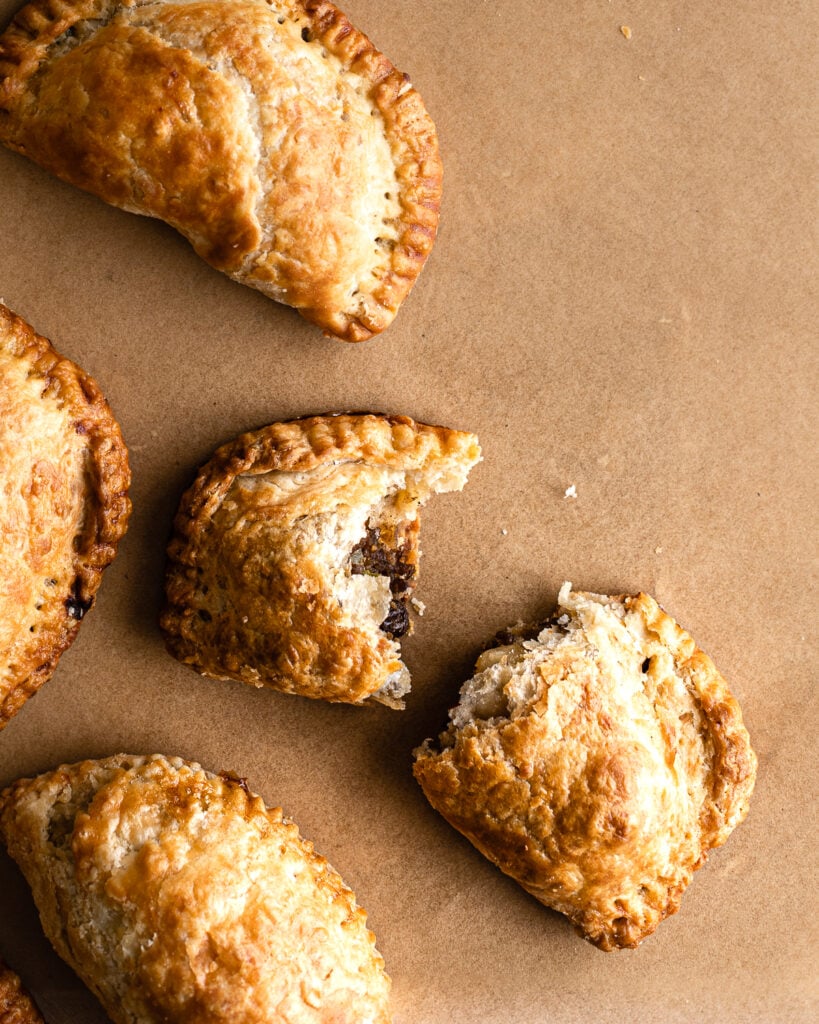 Filipino Beef Empanadas with Flaky Sourdough Crust
Beef Empanadas are a classic savory pastry from the Philippines filled with meat and vegetables encased in a crisp buttery crust. My take on is stuffed with an easy savory and sweet filling in a sourdough crust that's impossible to mess up.
This section may contain affiliate links
Ingredients
Sourdough Crust
113

grams

sourdough discard

28

grams

water

ice cold

1

egg

large

300

grams

all-purpose flour

1

teaspoon

salt

½

teaspoon

baking powder

226

grams

unsalted butter

cold and cut into ½-inch cubes
Filling
28

grams

canola oil

or another neutral-flavored oil

226

grams

ground beef

80/20

300

grams

Yukon Gold Potato

finely diced

150

grams

carrots

finely diced

75

grams

raisins

60

grams

peas

frozen

1

teaspoon

Watkins Organic Smoked Paprika

1

teaspoon

Watkins Organic Garlic Powder

1

teaspoon

Watkins Organic Whole Black Peppercorns

freshly-ground

2

teaspoons

salt

or more to taste
Instructions
Make the Dough
In a small bowl, combine your sourdough discard, water and egg. Mix until your starter is completely dissolved and no traces of egg remain. Set aside and keep the mixture cold until ready to use.

113 grams sourdough discard,

28 grams water,

1 egg

Place flour, baking powder and salt in a large bowl, toss butter in flour mixture until all butter pieces are coated. Squish the butter pieces with your fingers. Your butter should be well coated and you'll have pieces of varying sizes, from walnut to pea-sized.

300 grams all-purpose flour,

1 teaspoon salt,

½ teaspoon baking powder,

226 grams unsalted butter

Create a well in the center of the flour and butter mixture, pour the starter mixture in the center. Using a spatula, lightly mix your dough. Then using your hands, begin bringing the dough together with a light kneading motion, just until the mixture sticks together.

Turn your dough out onto a large piece of plastic wrap and bring your dough together into a disc. Wrap the dough and place it into the refrigerator for 30 minutes. This rest period will allow your butter to cool down and your flour to fully hydrate.
Laminate the Dough
Place your dough on a lightly-floured surface. Using a rolling pin flatten your dough out to roughly a 10 by 12-inch rectangle (the measurement doesn't need to be exact). Fold the shorter edges towards the middle like a letter.

Wrap your dough in plastic wrap and refrigerate for at least 2 hours or overnight before assembling your empanada.
Make the Filling
Heat your oil up in a large skillet over medium high heat. Fry the potatoes in the skillet for 5 minutes, stirring so they cook evenly. Add carrots and ground beef into your skillet, stirring occasionally until the meat has browned, about 5 to 10 minutes. Stir in the spices.

28 grams canola oil,

226 grams ground beef,

300 grams Yukon Gold Potato,

150 grams carrots,

1 teaspoon Watkins Organic Smoked Paprika,

1 teaspoon Watkins Organic Garlic Powder,

1 teaspoon Watkins Organic Whole Black Peppercorns,

2 teaspoons salt

Once the vegetables are tender, add in the raisins and frozen peas. Check your filling for seasoning and move your filling into a heat proof container.

75 grams raisins,

60 grams peas

Allow your filling to cool completely before assembling your empanada, warm filling will melt the butter in your dough!
Prep
Preheat your oven to 400 F. Line two 9 by 13 baking sheets with parchment paper.
Assemble your Empanada
Divide the dough into 12 equal portions, about 58 grams each. Round each portion of dough into a ball, place each dough ball on a baking sheet and cover with plastic wrap. Refrigerate the dough for 15 minutes before proceeding.

Working with 1 portion at a time, use a rolling pin to flatten the dough into a 6-inch disc. Add 3 tablespoons of filling to half of your dough. Wrap dough around your filing, lining up the edges. You can trim off any excess using a pizza cutter or a knife. Using a fork, crimp and seal the edges of the dough.

Place the unbaked empanada on your baking sheet and refrigerate while you shape the remaining dough portions.
Bake
Position your empanadas on your baking sheet at least 1 inch apart. Combine the egg wash ingredients. Using a pastry brush, lightly brush the empanada with egg wash.

Bake the empanadas until they are golden brown, about 15 to 20 minutes. Remove the baking sheets from the oven and carefully place your empanadas on a wire rack to cool slightly.
Storage
Empanadas are best enjoyed fresh out of the oven. Store any leftovers in an airtight container in the refrigerator for up to 1 week.
Reheating Empanadas
Heat up in a parchment-lined baking sheet in a 350 F oven for 10 to 15 mintues.
Tips
These recipes were developed and tested using grams for precise measurements. To increase your chances of success, I recommend investing in a kitchen scale. I've included rough volume estimates (in tablespoons and cups), but they might not be totally accurate.
Remember all ovens are unique, these recipes were tested in my oven which runs cooler than others. You might need to lower the temperature if your bake appears to be browning too quickly. Monitor your bake closely and make adjustments if needed.
Notes
When in doubt, use gram over volume measurements.
Nutrition
Calories:
361
kcal
|
Carbohydrates:
32
g
|
Protein:
8
g
|
Fat:
22
g
|
Saturated Fat:
12
g
|
Polyunsaturated Fat:
2
g
|
Monounsaturated Fat:
7
g
|
Trans Fat:
1
g
|
Cholesterol:
81
mg
|
Sodium:
670
mg
|
Potassium:
301
mg
|
Fiber:
2
g
|
Sugar:
1
g
|
Vitamin A:
2637
IU
|
Vitamin C:
8
mg
|
Calcium:
36
mg
|
Iron:
2
mg