Nothing says summer like hamburgers (or veggie burgers). Once you make homemade sourdough buns yourself, you won't be able to go back to those plastic-wrapped packs at the store.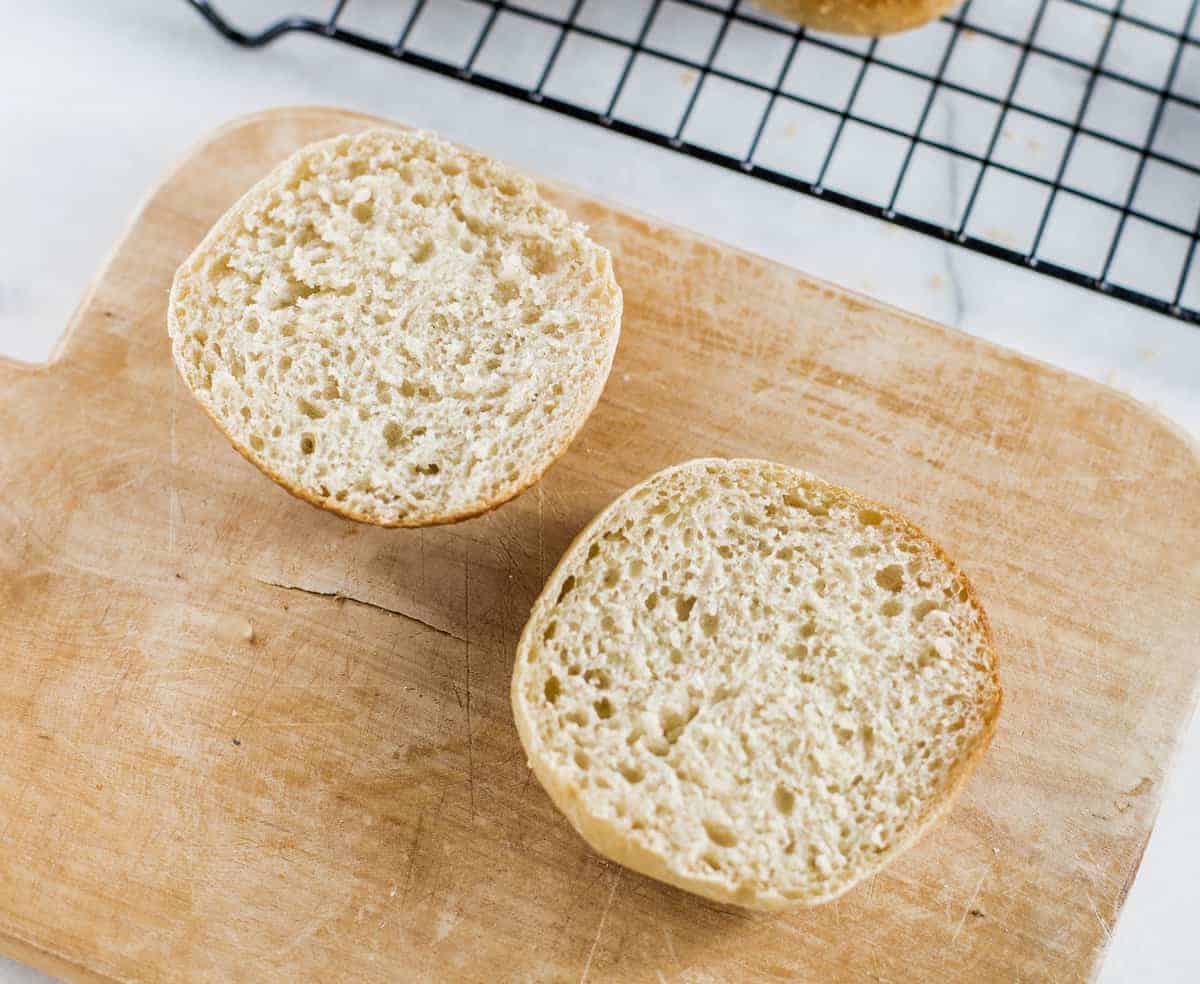 Full sourdough hamburger buns was the chosen #groupbake challenge, by the Sourdough Bread Baking group Facebook for the month of June. Unlike previous challenges, this time the admins of our group did not issue a base recipe and members were allowed to create their own take on hamburger buns.
We usually reach for potato rolls whenever we have a BBQ, so I wanted to do my own take on potato hamburger buns. Adding potato results in a more tender crumb because when boiled, potatoes starches swell and interfere with wheat flour's ability to form gluten strands, while not completely destroying gluten development. In addition, starch granules in potatoes are larger than the ones in wheat flour, allowing your dough to absorb way more water, resulting in a soft, moist crumb.
The original recipe for these hamburger potato buns come from Bread Illustrated by America's Test Kitchen. I converted their formula to sourdough, and adapted the method as necessary to accommodate the slow rise of naturally leavened dough.

I used a combination of Gold Medal bread flour and a little bit of Azure Standard Ultra Unifine Bread Flour, a high-protein, whole-grain bread flour. I love the slight nuttiness whole grains add to my bread, and prefer it to using 100% plain white flour. However if you don't regularly stock whole grain flour, feel free to use all unbleached bread flour in your mix.
Finally, I recommend using a mixer when creating this dough as it can get really sticky and unmanageable when mixed by hand. If you do need to mix this by hand, use wet hands and let the dough rest for 30 minute intervals when mixing. This will allow the gluten to relax, resulting in dough that is less sticky and easier to handle.
Now onto the recipe!
Ingredients
Levain
| | | |
| --- | --- | --- |
| Quantity | Ingredient | Baker's % |
| 5 grams | Sourdough Starter | 10% |
| 25 grams | Water | 50% |
| 50 grams | Bread flour | 100% |
Dough
| | | |
| --- | --- | --- |
| Quantity | Ingredient | Baker's % |
| 210 grams | Russet potato (1 large potato) | 87% |
| 28 grams | Butter | 11% |
| 168 grams | Bread flour | 70% |
| 72 grams | Whole wheat flour | 30% |
| 80 grams | Levain | 33% |
| 7 grams | Salt | 3% |
| 1 | Egg | -- |
| 14 grams | Sugar | 6% |
| 50 grams | Reserved potato cooking water | 20% |
Instructions
Create Levain
The night before you're ready to mix your dough, combine the ingredients in the levain section.
Set aside and allow to rise.
Cook Potato
Peel and cube potato into roughly 1-inch pieces and place in a small saucepan
Cover potato pieces with 1 inch of water and cook until about 10 minutes
Set aside 50 grams of potato cooking water
Drain potato pieces and return to saucepan over low heat. Heat until excess moisture has dried out, about 30 seconds to 1 minute
Mash potatoes using a masher, ricer or food processor.
Measure out 210 grams of mashed potato. You can reserve or discard any remaining for another use.
Stir butter into mashed potatoes until melted.
Set aside and allow potato mixture to cool before adding to the rest of your ingredients.
Mix Dough
Add flour, salt and sugar into the bowl of your stand mixer.
In a 4-cup measuring cup, beat egg into reserved potato cooking water.
Add potato mixture and levain to flour mixture and mix with your hands until fully combined (some remaining large clumps are ok here).
Mix using dough hook on low speed. Add egg and potato cooking water a little at a time, waiting until fully combined before each addition.
Continue mixing for 5 minutes. Your dough may not cling to the dough hook right away, continue scraping the dough to ensure all ingredients are fully incorporated.
***I scraped my dough from the sides and bound it to my dough hook periodically, until dough was able to cling to hook by itself.
Once dough clings to dough hook mix on medium speed for 10 minutes. Your dough should feel soft and only slightly sticky.
Allow dough to rest in bowl for 15 to 30 minutes (this will allow the ingredients to fully combine making dough easier to handle)
Bulk Ferment
Turn dough our onto lightly floured work surface. Knead for 5 minutes and shape into a ball.
Place ball into a lightly oiled bowl, or airtight container (I like to use these Cambro containers, which allow me to easily see how much my dough has risen)

Allow dough to rise at room temperature until almost doubled in volume, around 4 to 6 hours (depending on temperature - watch your dough not the clock).
Shape immediately for a same-day bake or allow dough to develop more flavor and store into refrigerator overnight. (I personally prefer the latter)
Shape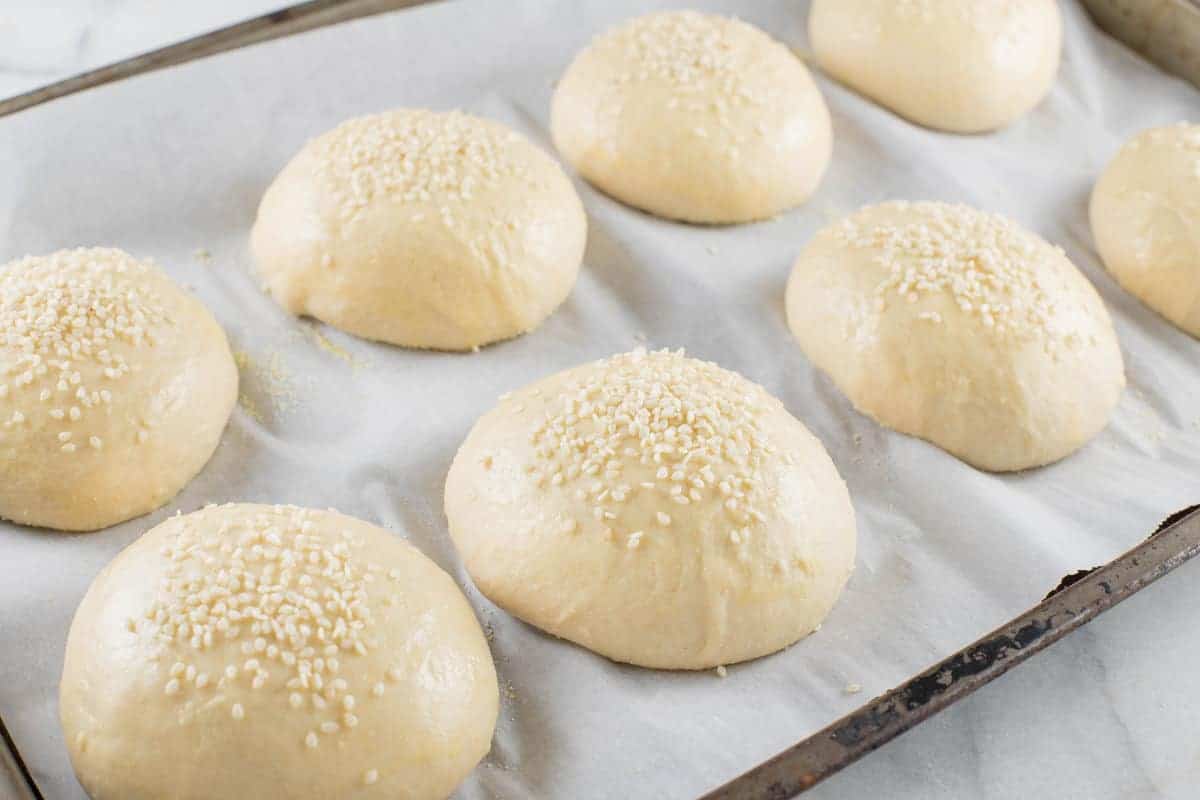 Turn dough out onto lightly floured surface (only if your dough is too sticky - this shouldn't be necessary if you chilled your dough).
Degas dough and pat into an 8 inch square.
Divide dough into 8 equal parts. Cover with plastic wrap or moist tea towel to prevent dough from drying out.
Working with 1 piece of dough at a time shape dough into taut rounds. Do this by cupping dough lightly in your hand and moving dough in a circular motion.
Flour top of dough lightly if it's too sticky to shape (not too much or you'll lose traction on your work surface).
Place dough ball on parchment-lined baking sheet. Repeat with remaining pieces of dough.
Flatten top of each piece of dough. (I didn't do this with this batch but I think the buns would turn out better if you do this).
***Divide into 12 pieces and skip flattening if you'd like to make potato dinner rolls.
Final Proof:
Allow buns to rise until puffy and doubled (around 2 to 4 hours - depending on temperature, again, say it with me "watch your dough not the clock")
Bake
Towards the end of proofing, preheat oven to 425 F / 218 C.
Beat together 1 egg and a splash of water. Brush egg wash on top of each bun. Sprinkle white sesame seeds on top of each bun.
Bake for 10 to 15 minutes or until golden brown and temperature registers at 190 F / 87 C when probed.
Transfer buns from cookie sheet to wire rack.
Serve slightly warm or allow to cool completely and enjoy.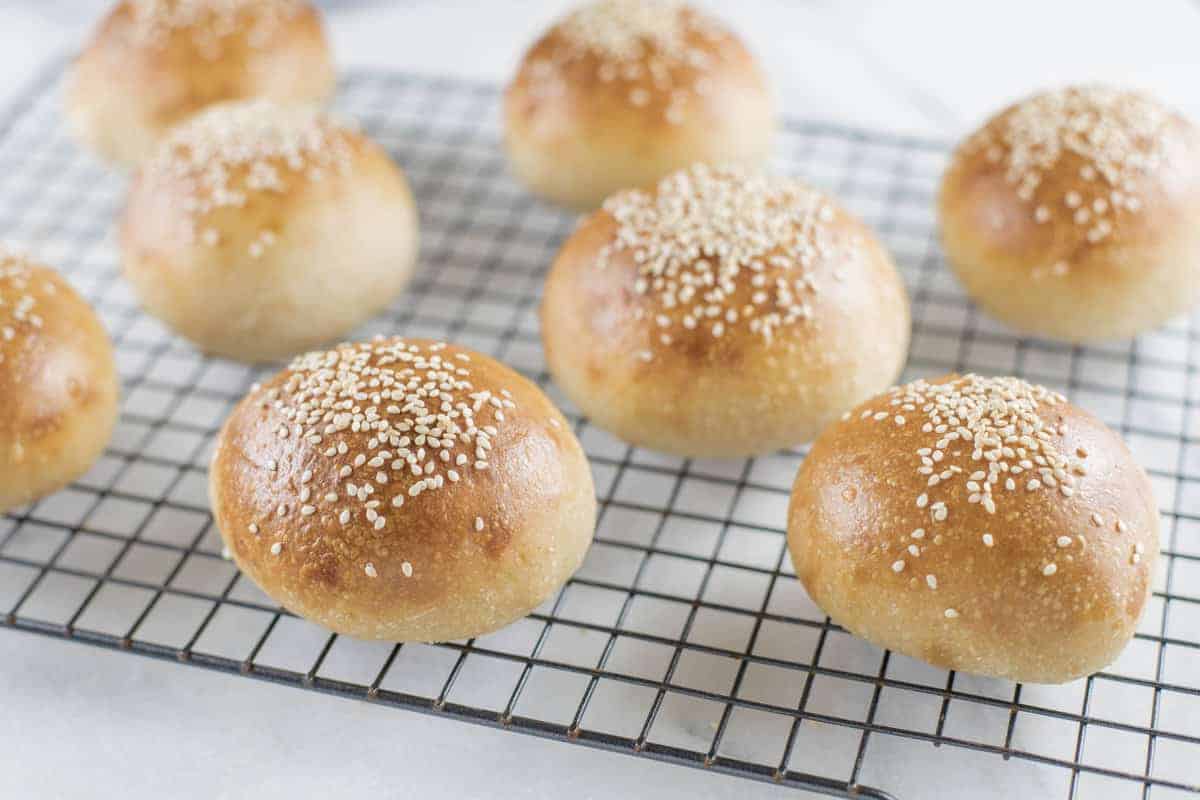 Et Voila
I really loved the result of this recipe! The buns came out so soft and tender because of the addition of the potato, with a complex flavor delivered by the delicious tang from the sourdough.
Although this mixture was a bit sticky and tricky to work with at first, scraping with a spatula, and allowing the dough to relax made the dough easier to work with and pretty manageable at the end.
I know you'll love these potato buns, slice up and grill for a minute or two for the perfect burger.
Please share this recipe if you enjoyed it! Remember to post a photo and tag me @makeitdough when you make this delicious recipe, so I can check out your bake