My New Year's resolution this year was to bake more Filipino bread and pastries. I'm adapting all of my childhood favorites into sourdough recipes that I can share with you all. I plan to create and post recipes of Filipino breads or desserts that incorporate ingredients commonly used in the Philippines and Asia, like my ube pan de coco. 
I'm starting with ensaymada, a fluffy brioche-like pastry that is extremely popular throughout the Philippines. Ensaymada are usually topped with buttercream and stay with me on this one, grated cheddar cheese. Although a bit unconventional, the cheese gives a savory twist to the bread to balance its sweet richness.
Ensaymada, like most of our breads, was introduced to the Philippines by Spain during colonization, and is an adaptation of Mallorca's popular pastry by the same name, ensaimada. The Mallorcan version is made with dough that is rolled paper thin, then brushed with butter and coiled into itself before being baked. Mallorca's ensaimadas are huge (think the size of a large pizza), while Filipino ensaymadas are usually baked in traditional brioche molds. Here I bake mine in muffin tins.
Learning how to make ensaymada completely turned everything I knew about bread making on its head. To achieve the desired texture for this particular bread, it's important to be gentle with the dough and to bake it at low temperatures. Although strong gluten development is the ideal for most breads, overworking this dough will result in a tough, chewy crumb, not the cakey, fluffy interior that ideal for an ensaymada. Being gentle, and folding instead of kneading, will allow you to produce optimal results. The best ensaymada in the Philippines are pale on the outside and soft on the inside, a low oven temperature will help you achieve this, allowing the ensaymada to rise slowly in the oven, and prevent a thick crust from forming.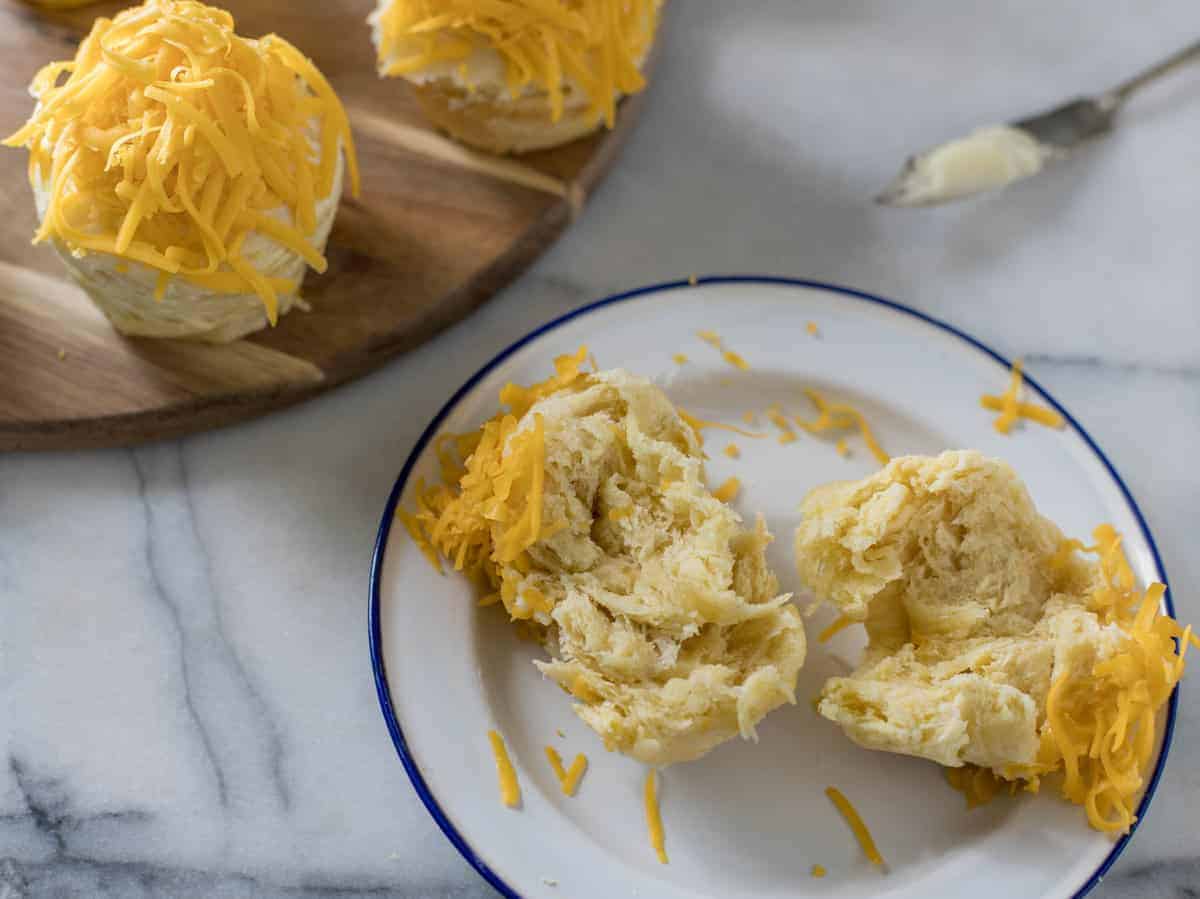 I used regular mild cheddar cheese during recipe development, but I recommend you top these with mild white cheddar instead (purely for aesthetics).
I hope you enjoy this recipe, and if you've never tried ensaymada before I'd love to know what you think!
Now onto the recipe!
Ingredients
Dough
| | | | |
| --- | --- | --- | --- |
| Amount | Unit | Ingredients | Baker's % |
| 100 | grams | Granulated Sugar | 25% |
| 300 | grams | All-purpose Flour | 75% |
| 100 | grams | Bread Flour | 25% |
| 5 | grams | Salt | 1% |
| 171 | grams | Milk | 43% |
| 3 | | Egg Yolks | |
| 112 | grams | Starter | 28% |
| 100 | grams | Shortening | 25% |
Assembly
| | | | |
| --- | --- | --- | --- |
| Amount | Unit | Ingredients | Baker's % |
| 50 | grams | Butter | 13% |
Topping
| | | |
| --- | --- | --- |
| Amount | Unit | Ingredients |
| 113 | grams | Butter |
| 60 | grams | Powdered Sugar |
| 125 | grams | White Cheddar |
Instructions
Mix Dough
Combine granulated sugar, all-purpose flour, bread flour, sugar, and salt in a large bowl and whisk together to get rid of any lumps.
In a separate bowl, stir egg yolks and starter into the milk until everything has completely dissolved.
Create a well in the center of the flour and gradually pour in milk mixture, stir continuously using your hand or a spatula until all of the flour has been hydrated.

Add shortening into the dough mixture one tablespoon at a time until all of it is fully incorporated.

Fold dough a few times in the bowl, it will feel sticky and wet, but you only need to complete a few sets of folds as you don't want to overwork this dough. Cover with cling film or place into an airtight container and allow the dough to rest for an hour.

Bulk Fermentation
After an hour, perform 1 set of folds and then cover again. You'll want to make sure the dough does not dry out and form a skin on its surface.

Let this mixture ferment in the bowl for 5 or 6 hours, depending on the temperature of your room. You'll want to allow your dough to proof until there has been a noticeable increase in volume, there's a lot of fat and enrichment in this dough so it may not double.

After the initial fermentation, place the dough into the refrigerator and allow to rest overnight. Alternatively, you can mix this dough before going to bed and allow it to proof at room temperature overnight.

Shape and Final Proof
Turn dough out into a lightly floured surface, and divide into 12 equal pieces. Roll each piece of dough into a ball, cover and set aside until you're ready to shape each piece.

Flatten each piece of dough into a rectangle and brush with softened butter. Beginning on the longer side, rolls up the dough and coil it into a tight spiral. Place coiled dough into greased muffin tin. Repeat with all 12 pieces of dough.

Cover and allow the dough to rise until it has increased in volume, this takes 2 to 4 hours depending on the temperature in your kitchen.

Bake
About half an hour before proofing is complete, preheat your oven to 350 F /176 C.

Place muffin tin into the oven and lower the oven temperature to 300 F / 148 C. Remember the low baking temperatures is what gives this bread its unique fluffy texture.

Bake for 20 to 25 minutes or until a skewer inserted into the middle of the bread comes out clean.

Once baked let the ensaymada cool down for a 10 minutes before removing from the molds. Transfer to a wire rack and allow to cool completely.

Prepare Filling, Glaze and Top
While the ensaymada cools, prepare the buttercream by creaming the 113 grams of butter and powdered sugar

Spread a thin layer of buttercream on each ensaymada and top with a generous amount of grated cheese.

Et Voila!