Sponsored by Halter Ranch
Bubbly focaccia is the perfect backdrop for edible gardens. Not only are Sourdough Garden Focaccias beautiful, they are incredibly delicious! With recreations of flowers and plants made of different vegetables, fruits and herbs, you'll get a variation of flavors and a surprise with every bite. Golden brown, with an airy interior and bubbles throughout the crumb, good focaccia is sublime, but can be tricky to get right. Using a high-quality olive oil, fresh veggies and herbs and nailing fermentation are essential!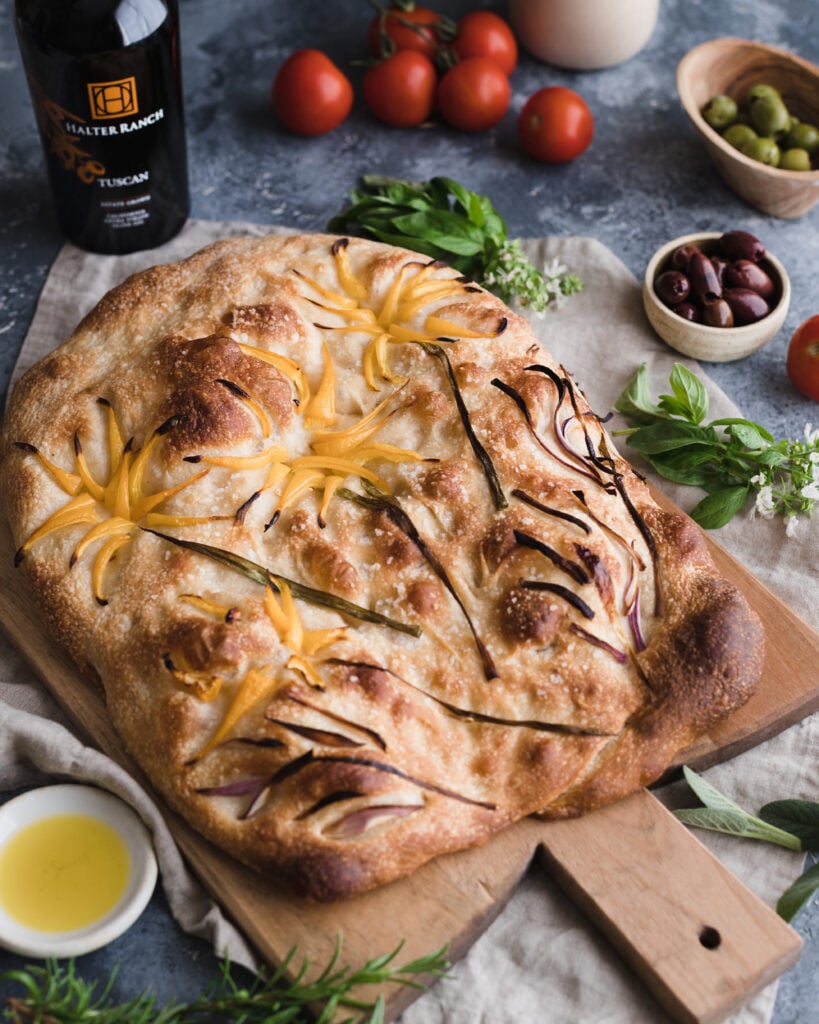 This year has proven that Sourdough Garden Focaccias were not just a quarantine fad. I was so happy to see Sourdough Garden Focaccias all over Instagram again this year because they are such an amazing creative outlet and a great source of inspiration. I remember making one every week last year. I especially loved using tomatoes from a productive pear tomato plant in our own garden last year. Did I mention these Sourdough Garden Focaccias are a great way to sneak more vegetables into your diet?
There's no tricky shaping involved in baking focaccia, but like most breads, nailing fermentation is vital to getting a good result. When I first tried my hand at it, I kept ending up with pale focaccia with a closed and chewy crumb, definitely not what I wanted. Now, I make sure my focaccia dough has noticeably increased in volume and has air bubbles throughout before ending bulk. Depending on the activity of your starter and temperature of your kitchen, bulk fermentation could Your patience will be rewarded with a delicious focaccia, that's perfectly golden with a light and airy crumb.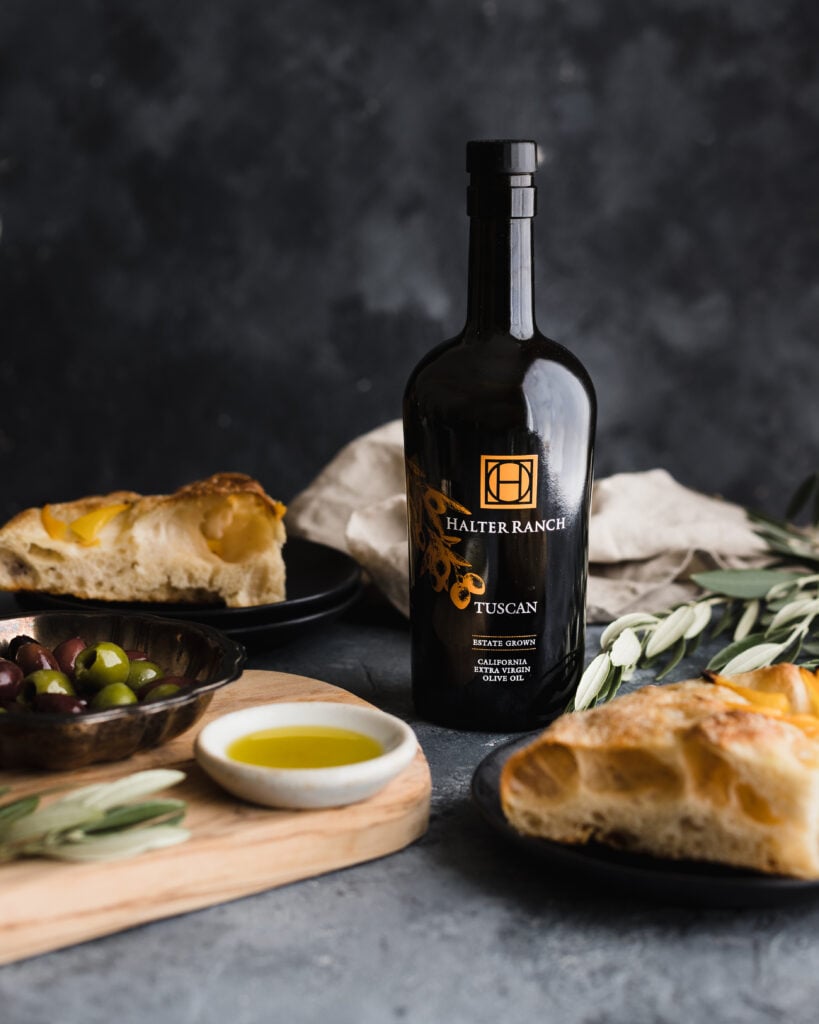 The addition of olive oil is what sets focaccia apart from any other sourdough, so using one that's high-quality is incredibly important. I developed this recipe using Tuscan Olive Oil from Halter Ranch, who sponsored this post. This olive oil is silky with a round nuttiness that's punctuated with peppery notes that complements the tang of sourdough. The olives used to line this oil are sourced directly from Halter Ranch's four-acre grove, nestled in the pristine westside of Paso Robles, CA.
To celebrate the launch of their olive oils, Halter Ranch they are giving away a bundle to one lucky winner! The bundle includes all of their new oils, Tuscan, Picual and Ancestor. Picual is a single varietal olive oil (something that's extremely rare in the world of olive oils) and has notes of vanilla that makes a delicious finishing oil. The Ancestor oil takes inspiration from two ancient olive trees growing amongst the ranch's organic walnut grove. Each bottle is made using the highest quality olives to create the finest oil produced on their property. I'm so excited to partner with Halter Ranch because they are one of my favorite brands and their vineyard is one of my favorite places in the world. The company's commitment to quality and sustainability is unmatched, their wines are some of the best I've ever tasted, and their olive oil reflects the same dedication to excellence.
Visit my Instagram for a chance to win!
My focaccia design was inspired by lavender and daisies that are sprouting all over our garden. I used scallions, red onion and yellow pepper as my topping. There are a million ways to create a Sourdough Focaccia Garden so feel free to get creative with your design and toppings. The best part about focaccia is that it's a blank canvas that's yummy even with just a topping of salt and fresh herbs. Use different combinations of vegetables and even incorporate cheeses or fruit!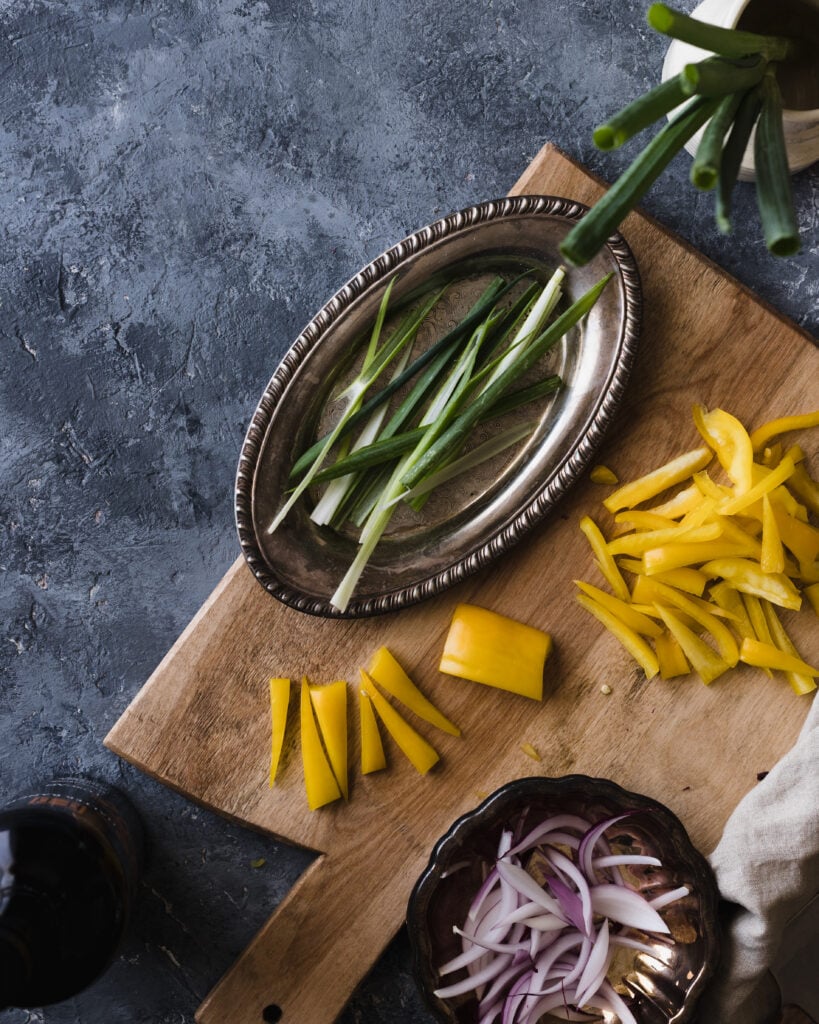 I use a combination of all-purpose flour for softness and bread flour for structure, with a little bit of whole wheat flour for flavor. I love the nuttiness and depth of flavor that whole wheat adds to sourdough bread, if you don't have any on hand or don't care for it you can use all-purpose in place of whole wheat.
Now onto the recipe!
Dough
| | | |
| --- | --- | --- |
| Quantity | Ingredients | Baker's % |
| 300 grams | All-purpose flour | 67% |
| 100 grams | Bread flour | 22% |
| 50 grams | Whole wheat flour | 11% |
| 350 grams | Water | 77% |
| 135 grams | Starter | 30% |
| 10 grams | Sea salt | 2% |
| 25 grams | Halter Ranch Tuscan Olive Oil | 5% |
Toppings
| | |
| --- | --- |
| Quantity | Ingredients |
| 28 grams | Halter Ranch Tuscan Olive Oil |
| 3 | Scallions (cut in half lengthwise) |
| ½ | Yellow bell pepper (cut into 2-inch tapered strips) |
| ¼ | Red onion (slivered) |
| 7 grams | Sea salt |
Day 1
Combine flours and salt in a mixing bowl and set aside. In a separate bowl, combine water and starter in a large bowl and stir until the starter has fully dissolved. Add flour mixture into the starter mixture until all the flour is hydrated.
Stretch and fold the dough until it feels smooth and has built some structure. Slowly drizzle the olive oil into the dough while continuing to fold the dough until the oil is fully absorbed. Place the dough into a clean, lightly oiled bowl and cover with plastic wrap. Allow your dough to rest in a warm place for 45 minutes.
Bulk fermentation begins the moment you add your starter to your dough. During this period, complete a series of 4 to 6 sets of folds at 30-minute intervals.
Allow your dough to ferment until your dough looks bubbly, has increased in volume by at least 50%, and feels full of air. This usually takes between 4 to 6 hours, depending on the temperature of your kitchen and activity of your starter.
Once your dough has fermented, prepare a 9x13 baking sheet, by lining it with a piece of parchment that's lightly coated in olive oil.
Turn your dough out on a clean, lightly oiled work surface. Fold the 4 corners of your dough towards the center, lightly lift the top of the dough and roll it towards yourself into a log. Place the shaped dough, seam side down on your prepared baking sheet. Coat the top of the dough with more olive oil. Cover the baking sheet with plastic wrap and store your dough in the refrigerator overnight.
Day 2
Preheat your oven to 500F while you prepare your focaccia toppings.
Once your oven is preheated, take your focaccia out of the refrigerator. Remove the plastic wrap and drizzle more olive oil on your dough. Coat the dough thoroughly with oil using your hands.
With your fingers spread apart, dock the focaccia by pressing your fingers in the dough until you feel the bottom of your baking sheet. This will flatten the dough and prevent any big blowouts. Dock your focaccia, lightly coaxing it to the edges of your baking sheet until your dough looks completely flat and has almost filled the baking sheet. Sprinkle a dash of salt on to your focaccia.
To create your focaccia design, start by carefully positioning your scallions on top of the dough. This will dictate where your flowers will be on your final bake, so make sure there is enough room for you to create your flower heads. I love to start at the corner of my dough and arrange my scallions diagonally to create movement and mimic a bouquet. Make your daisies using yellow bell peppers and lavender flowers using red onions.
Once you've constructed your garden, place your baking sheet into the oven. Turn the temperature down to 450F and bake your focaccia for 30 minutes until it has turned a deep golden brown.
Transfer your focaccia to a wire rack and allow to cool for 20 minutes before slicing.