A bagel with a well of caramelized onions? Although I'd never actually eaten a bialy, the moment I discovered them, I knew I had to master baking them.
Bialys look like bagels, but they are much easier to make. Unlike their bread lookalikes, you don't need to boil them in a caustic lye bath, and there is no complicated shaping involved. As a result, you won't get a nice shiny crust, but you'll still end up with a perfectly chewy bun that toasts beautifully and is the perfect vessel for consuming copious amounts of tangy cream cheese. My favorite way to enjoy these is coated with a thick layer of cream cheese, topped with smoked salmon, capers and red onions.
In addition to regular bread flour (Central Milling Artisan Bakers Craft), I used Central Milling Organic High Mountain, a higher protein flour (13% protein content) that helps impart a chewy texture that you expect from a bagel. If you can't access this type of flour, using normal bread flour will work just as well. But I highly recommend stocking this flour in your pantry if you are a sourdough obsessive like me because it works so beautifully for creating bread with great texture and open crumb.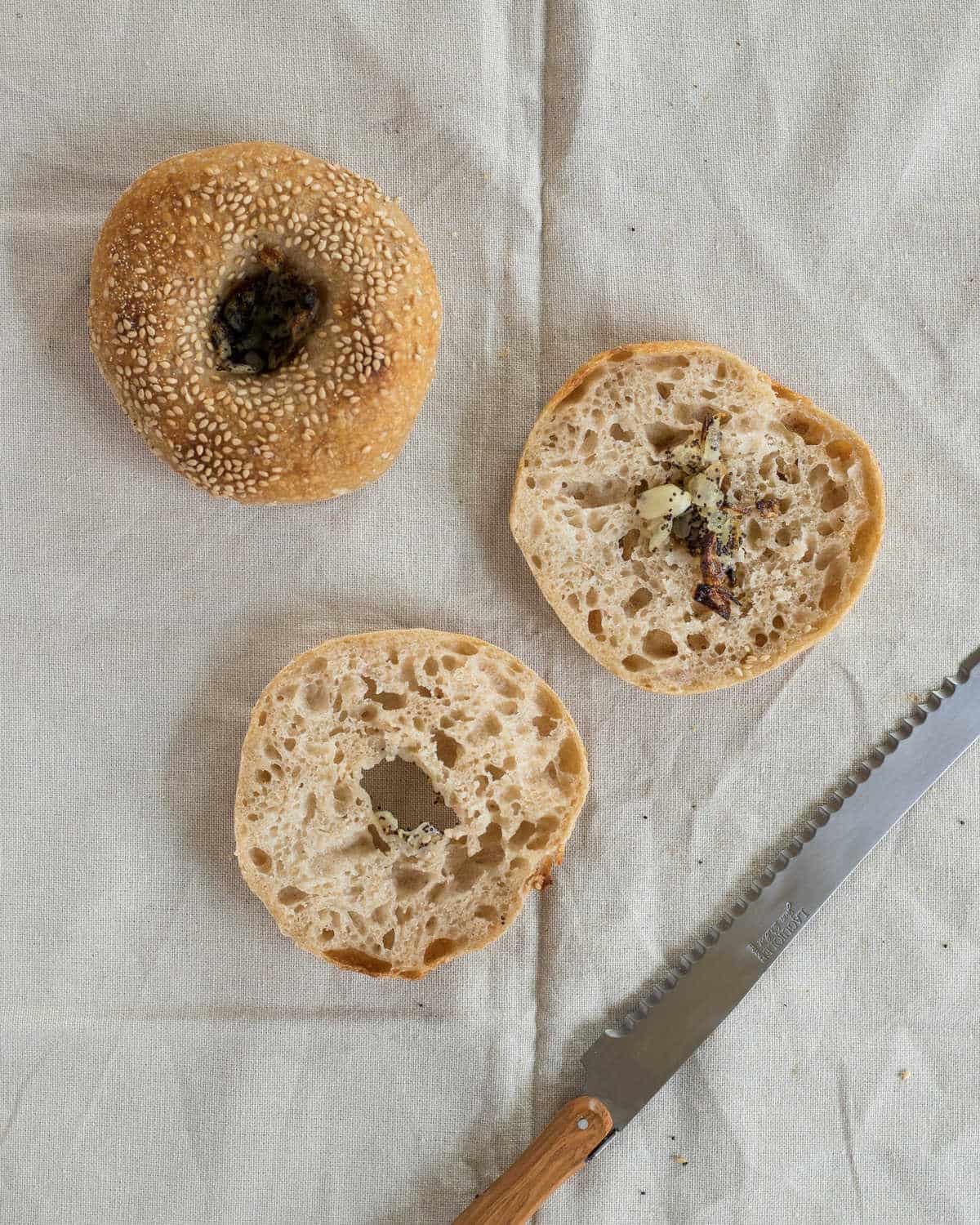 There's no special levain build for this flour, you simply have to use your active starter. In fact any type of starter will work for this bread, I've tried making this recipe with an all white flour starter and my whole wheat starter, and got beautiful results using both.
The key to achieving the bialy's signature shape is flattening the center of your bun until the dough is as thin as a cracker, while being careful not to poke a hole in the middle or you'll lose your onion filling. Not flattening the center enough will cause your bialys to rise in the middle, you'll end up with bread rolls and you'll lose your toppings.
Toppings is a highly controversial topic, purists say bialys should only be topped with caramelized onions, but many of the recipes I found online incorporate sesame and poppy seeds. I absolutely love sesame seed bagels, and since I've never actually had a traditional bialy, I opted for incorporating seeds in my recipe. I think the seeds add a really nice flavor and textural contrast, but if you are a die-hard traditionalist simply skip them (it's a free country, depending on where you're viewing this blog from). Lastly, don't be tempted to overfill, just a teaspoon will do, putting too much filling may cause the middle to become too soft and you'll lose those lovely onions when you cut them to make a sandwich.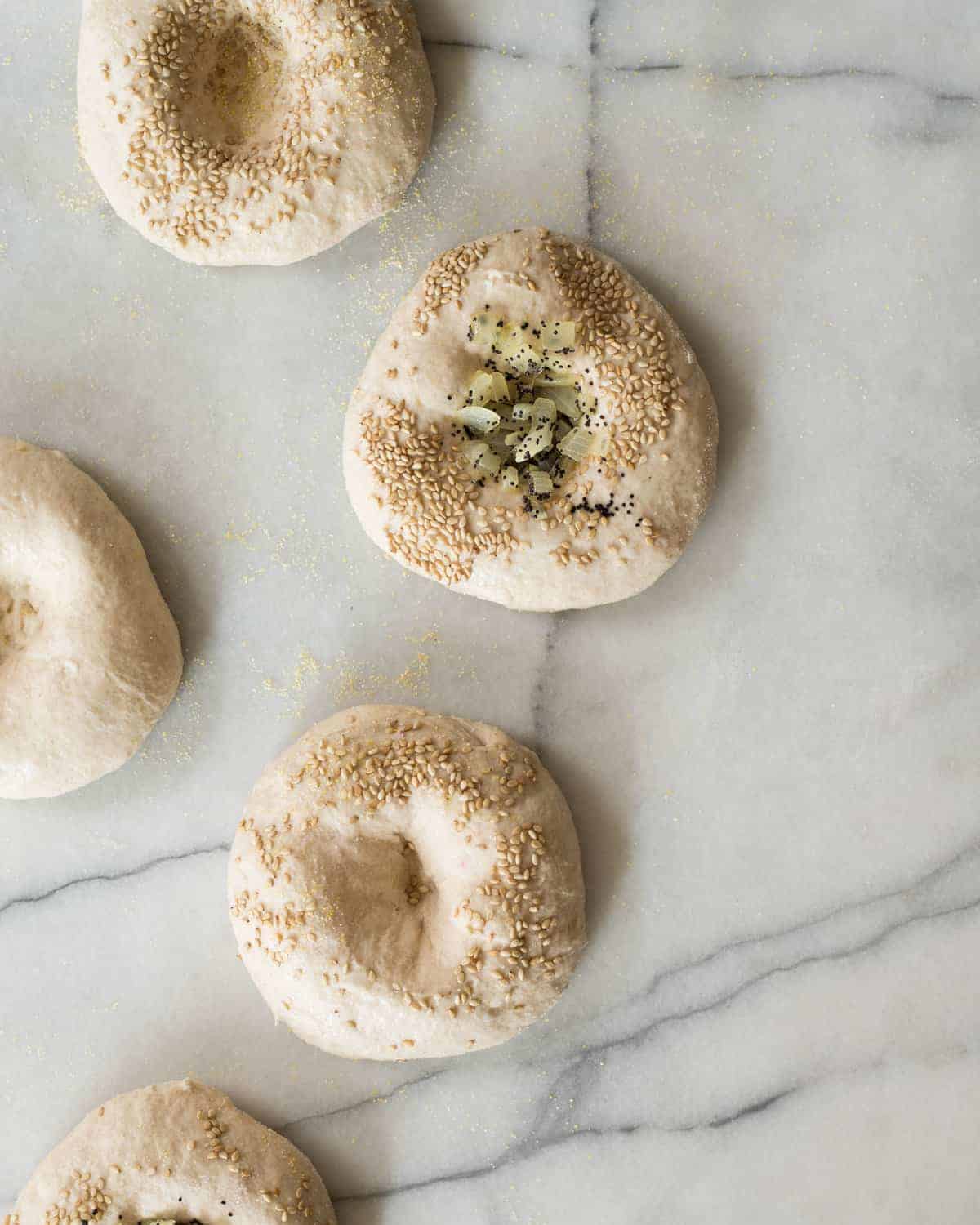 Finally, I baked these bialys in my new Challenger Bread Pan. Jim Challenger was kind enough to send me one of his bread pans to test! I wasn't under any obligation to create a post about my experience, but I really loved baking with this cloche. Although it's a bit heavier than my Lodge Dutch Oven, and I'm not used to baking with it yet so I found it a little awkward to maneuver. I've only baked using it once, but I already adore it for its versatility. The base is shallow which makes loading easier and because of its large surface area, other types of bread in the oven, not just batards or boules. I always have trouble creating enough steam in my oven when I'm not using a Dutch oven, and the Challenger allows me to easily bake with steam when creating bakes like these bialys. I'm really looking forward to trying out my new pan on pizza, baguettes and focaccia.
Now onto the recipe!
Ingredients
Dough
Topping
| | |
| --- | --- |
| Amount | Ingredients |
| 80 grams | Sweet Onion (Finely Diced) |
| 6 grams | Poppy Seeds |
| 7 grams | Olive Oil |
| 15 grams | Sesame Seeds |
Instructions
Mix Your Dough
In a large bowl, combine all of the ingredients from the dough section. Mix using your hands until the flour is hydrated and the ingredients are well-combined. Cover the bowl and allow the dough to rest for 1 hour.
Bulk Fermentation
After an hour, your dough should look smoother and no longer feel sticky. Perform 3 sets of folds in 30 minute intervals throughout bulk fermentation, either in the bowl or on your work surface. Do this by picking up one side of the dough, stretching it as far as it can as far as it will go and then fold it towards the center. Repeat with all 4 sides of the dough.
Once you've completed your last fold, put your dough into an airtight container with room for the dough to rise and let it rest untouched for 2 to 2.5 hours. You're looking for a 30% to 50% increase in volume, and for the dough to feel soft like it's filled with bubbles. I like using these Cambro containers so I can clearly see that the dough has increased in size, and that it appears webby and bubbly on the bottom.
Proof
Towards the end of bulk fermentation, dust a 9 by 13 inch baking sheet with corn meal. Turn your dough out onto a clean work surface. Divide the dough into 6 equal portions and round each into a tight ball. Place the dough balls on the prepared baking sheet. Cover the dough balls with greased plastic wrap making sure the dough isn't exposed to air, dry out and form a skin.
Place the baking sheet in the refrigerator and proof overnight.
Shape and Bake
The next day, preheat your oven to 450 F.
Heat the olive oil in a saucepan and cook onions for 5 minutes or until they appear translucent. Add poppyseeds and set aside until cooled.
Once your oven has reached the desired temperature, place sesame seeds on a plate and coat the top of the dough balls in seeds. Shape your bialys by creating an indentation in the middle of each dough ball. Carefully stretch the dough into the shape of a bagel about 6 to 7 inches in diameter, taking care not to puncture the center, and leaving a wide, flat indentation where the hole would be. Fill each well with 1 teaspoon of filling.
At this point, I placed my bialy dough, 3 at a time on my Challenger bread pan and baked them covered for 10 minutes and uncovered for another 10 minutes or until the crust appeared golden brown. Alternatively, you can bake these on a baking sheet, place a few ice cubes on the bottom of your oven to create steam and bake the bialys for 15 minutes.
Remove the bialys from the oven and serve warm; or cool on a rack and save for toasting later.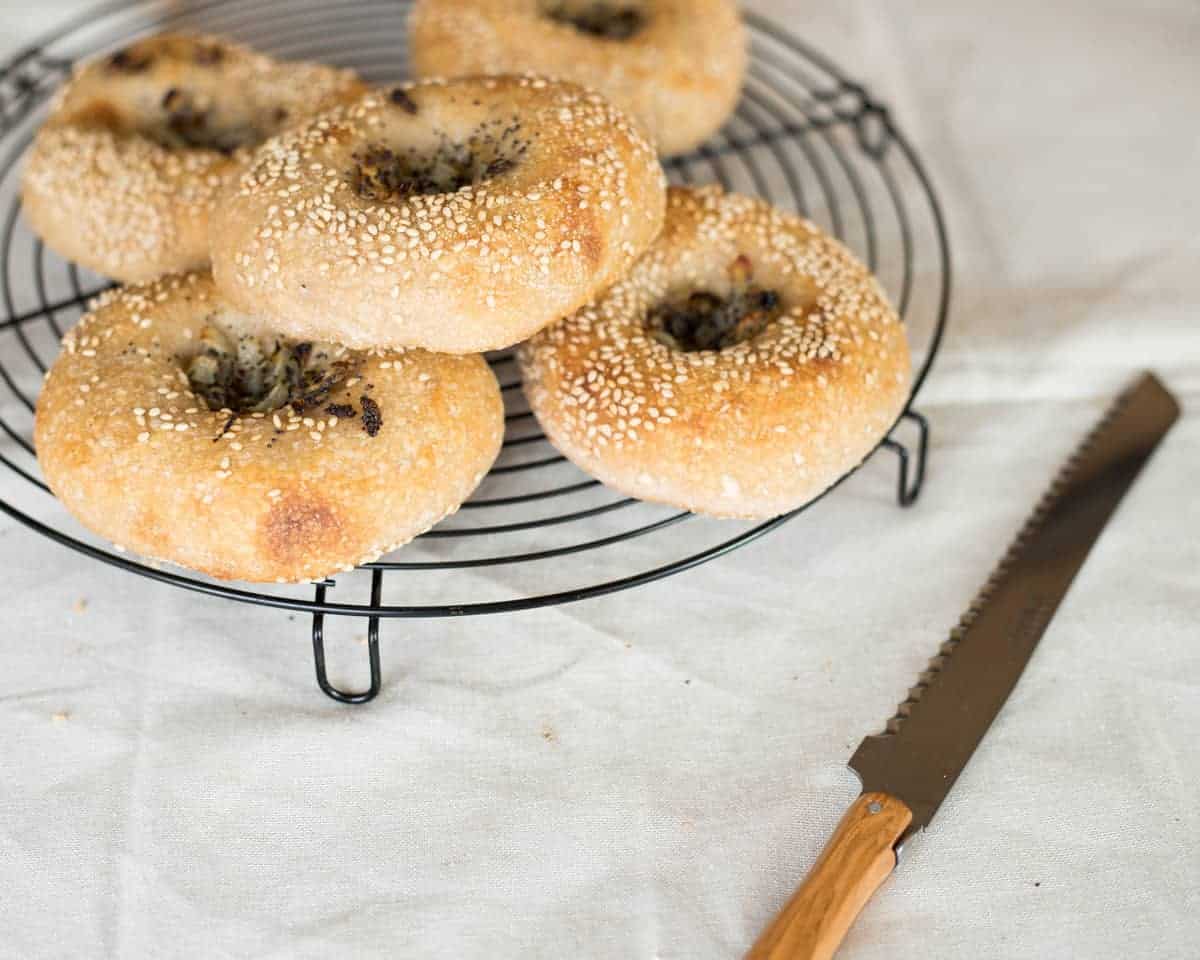 Please share this recipe if you enjoyed it! Remember to post a photo and tag me @makeitdough when you make this delicious recipe, so I can check out your bake