Thanksgiving is truly my favorite holiday. I love how it gives us an excuse to get together with our families to make and share our favorite dishes. As someone who grew up in a family of passionate home cooks, I love that this holiday is really centered around food.
Now that we're adults, each year a different member of our family hosts Thanksgiving and is in charge of the menu. But since we all love to cook, every one pitches in to show off their culinary prowess with a side dish or dessert.
Although you may not immediately think of sourdough when you think of Thanksgiving, there are so many bakes and dishes you can make with your starter or discard that would fit right in with your holiday spread.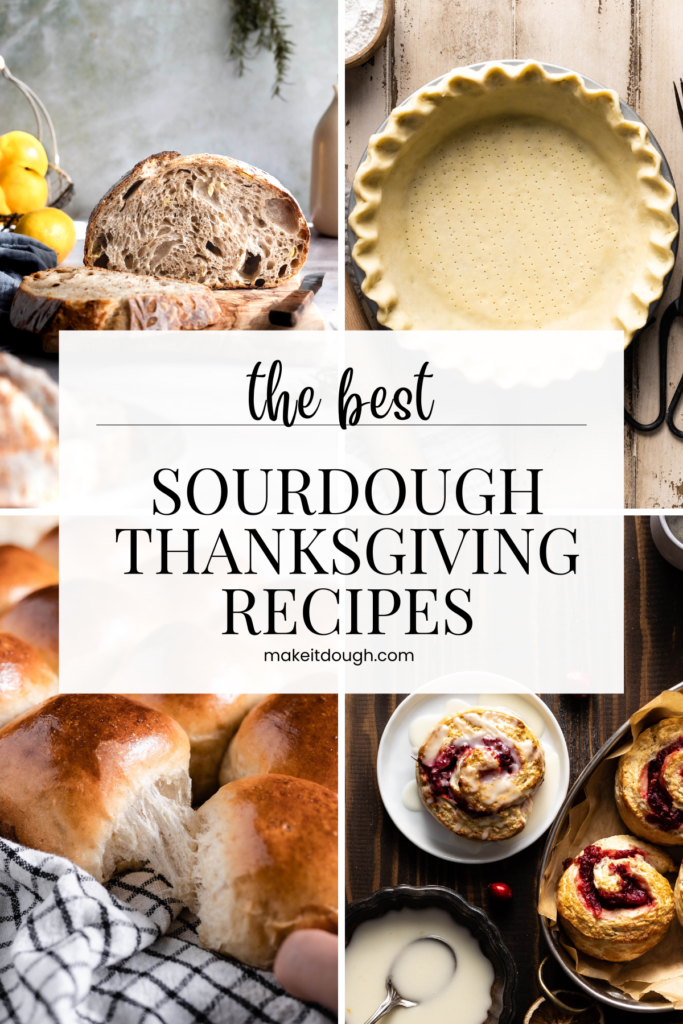 Here's a roundup of the best Thanksgiving sides and desserts made with sourdough starter or sourdough discard on Make It Dough: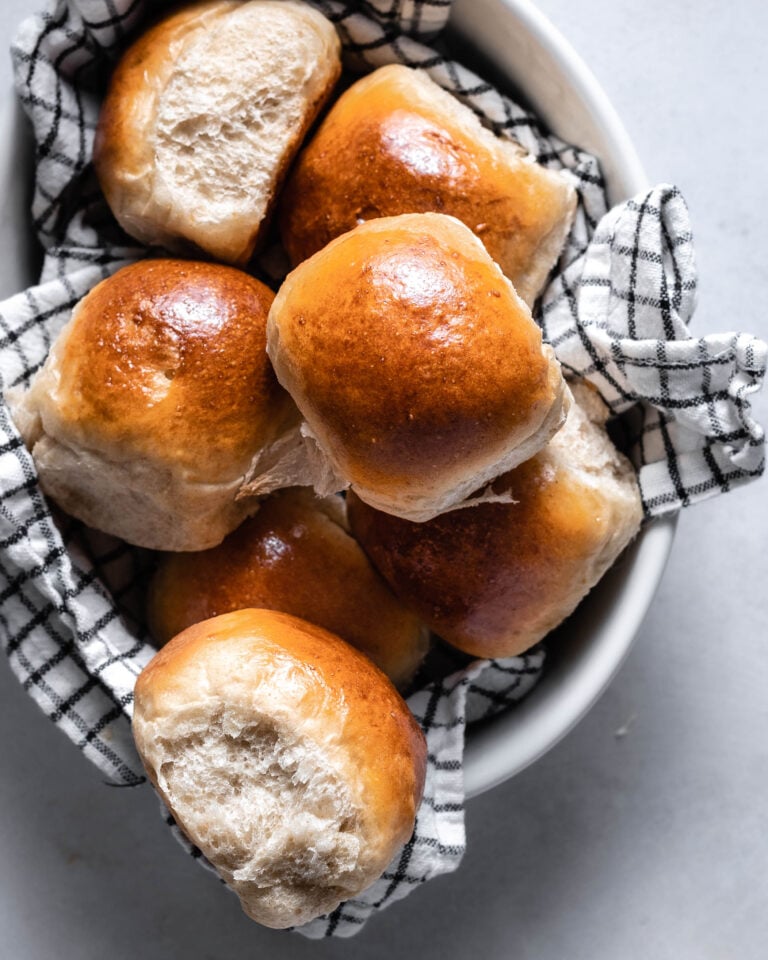 Sourdough Discard Rolls
These Sourdough Discard Rolls are so unbelievably soft, pillowy and plush. By using a combination of sourdough discard and instant yeast, you can have delicious, flavorful rolls on your dinner table in less than 2 hours.
Rosemary Sourdough Bread
This rustic Rosemary Sourdough Bread is crusty and delicious with flavors of aromatic rosemary and bright citrus. You'll love this bread dipped in soup, as a side for your holiday meal, a base for stuffing or simply smeared with a little homemade butter.
Sourdough Pie Crust
This Sourdough Pie Crust is buttery, flaky, tender and impossible to mess up! Butter and sourdough discard impart a rich flavor that serves as the perfect backdrop for any delicious fillings.
Sourdough Cornbread
Buttery sweet sourdough cornbread with a slight tang thanks to the addition of sourdough discard. This recipe uses a unique baking technique that results in a fluffy, cloud-like texture that you will absolutely love.
Sourdough Cranberry Scones
Homemade Sourdough Cranberry Scones are soft, cakey with a bright orange flavor and a sweet and deliciously tangy cranberry filling. Top these beautiful rolled scones with an orange glaze for a delicious breakfast or afternoon snack.
Sourdough Pumpkin Bundt Cake
Moist, dense and full of warm spices, this Sourdough Pumpkin Bundt Cake bakes up with a crunchy sugar crust thanks to a dusting of Imperial Sugar Extra Fine Granulated Sugar in the pan right before baking. 
Sourdough Butter Swim Biscuits
Easy and uncomplicated, these Butter Swim Biscuits are the perfect last minute breakfast. The biscuit batter is baked in a pool of melted butter, the result is a tender, cakey biscuit that's delicious served with a pat of salted butter and homemade preserves.
Sourdough Monkey Bread
Sourdough Monkey Bread is a soft, tender, naturally-leavened pastry made of rich bite-sized brioche dough that's rolled in cinnamon sugar before being baked. As the mixture of cinnamon and sugar bakes, it coats the bread into an irresistible sticky, gooey caramel.
Sourdough Pumpkin Bread
This moist and tender Sourdough Discard Pumpkin Loaf is the perfect way to use up your discard during fall when you're craving treats with rich notes of spices and the earthy flavor of pumpkin.
Sourdough Discard Biscuits
You won't believe the flaky, buttery layers in these Sourdough Discard Biscuits. These homemade biscuits are so simple to make and are made so much better with a little tang from sourdough discard. 
Sourdough Pumpkin Muffins
The perfect mix of crunchy and soft, these Sourdough Pumpkin muffins are fluffy and moist with irresistibly tall muffin tops!
Apple Pie with Sourdough Pie Crust
Warm cinnamon-spiced apples that are tender, not mushy, with a buttery flaky sourdough pie crust. Baking an apple pie from scratch may seem intimidating, but my easy, no-fail sourdough crust makes the challenge a bit easier.